YouTube
New YouTube Monetization Policy Announced: All You Need to Know
YouTube monetization policy is getting a massive facelift with the announcement of YouTube Shorts monetization. Start earning money from your YouTube Shorts when the updates goes live early February 2023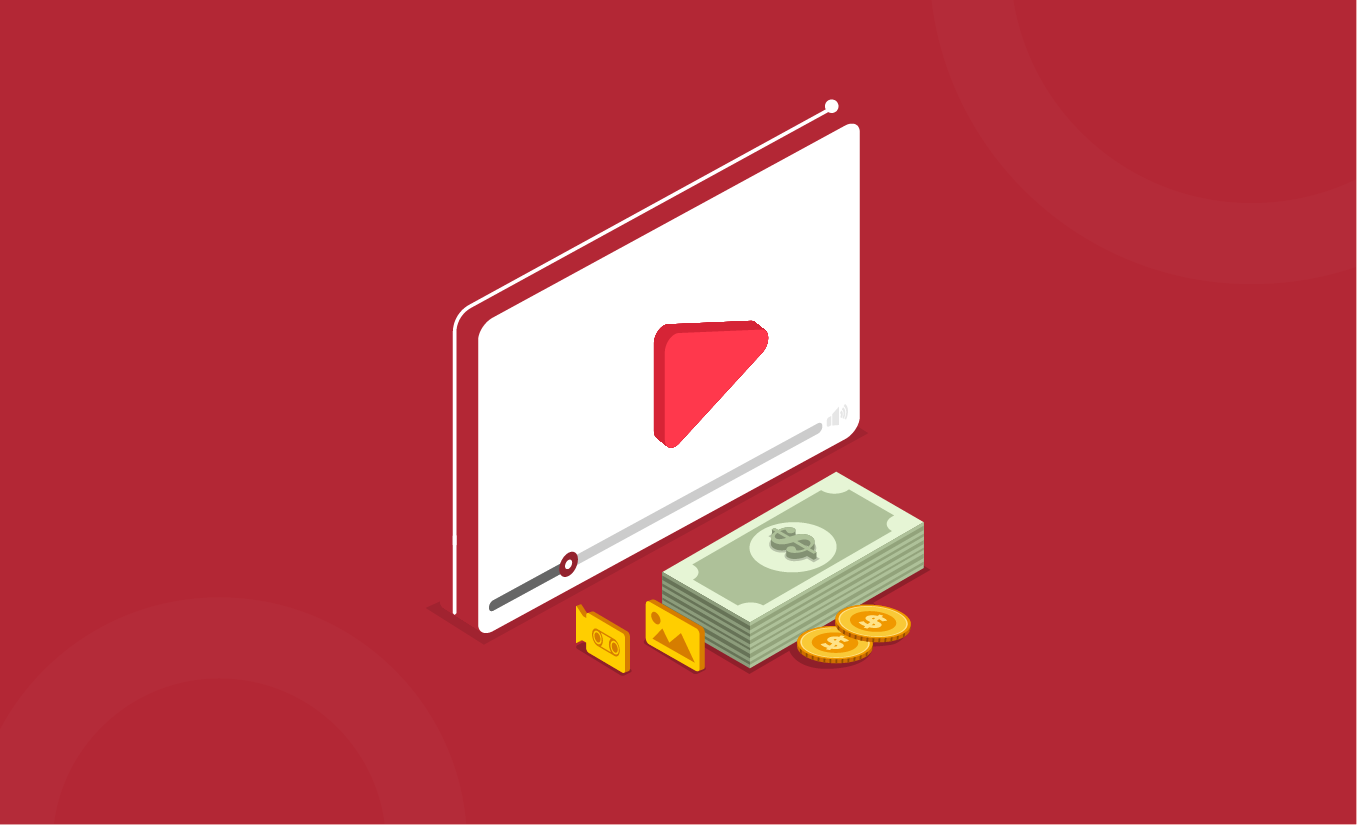 There is great news coming the way of creators who love YouTube Shorts!
The new YouTube monetization policy update has confirmed that starting in 2023, creators can start monetizing YouTube shorts and that's not all!
There are now new ways to become eligible for joining the YouTube partner program, earning opportunities from using licensed audio tracks, and a host of other updates incoming your way next year.
Let's take a closer look at what the new YouTube monetization policy will look like:
1. YouTube Shorts Monetization

YouTube Shorts has changed the lives of many creators on YouTube by helping them grow their YouTube channel like never before.
Shorts have also motivated more creators who primarily made short-format vertical videos on platforms like TikTok and Instagram, to make the jump to YouTube and build a solid community.
However, there was still a missing piece in the puzzle - Monetization!
The only problem with answering the call from YouTube's end was that YouTube already had a well-structured YouTube Partner Program which made it complicated to induct YouTube Shorts into the YouTube monetization scheme.
After taking the needed time to resolve the dilemma, YouTube has now finally introduced monetization for YouTube Shorts, with a revised revenue-sharing structure in place.
Creators can expect to monetize their YouTube Shorts (existing and new ones) as early as February 2022 and generate ad revenue.
2. New Revenue Sharing for Shorts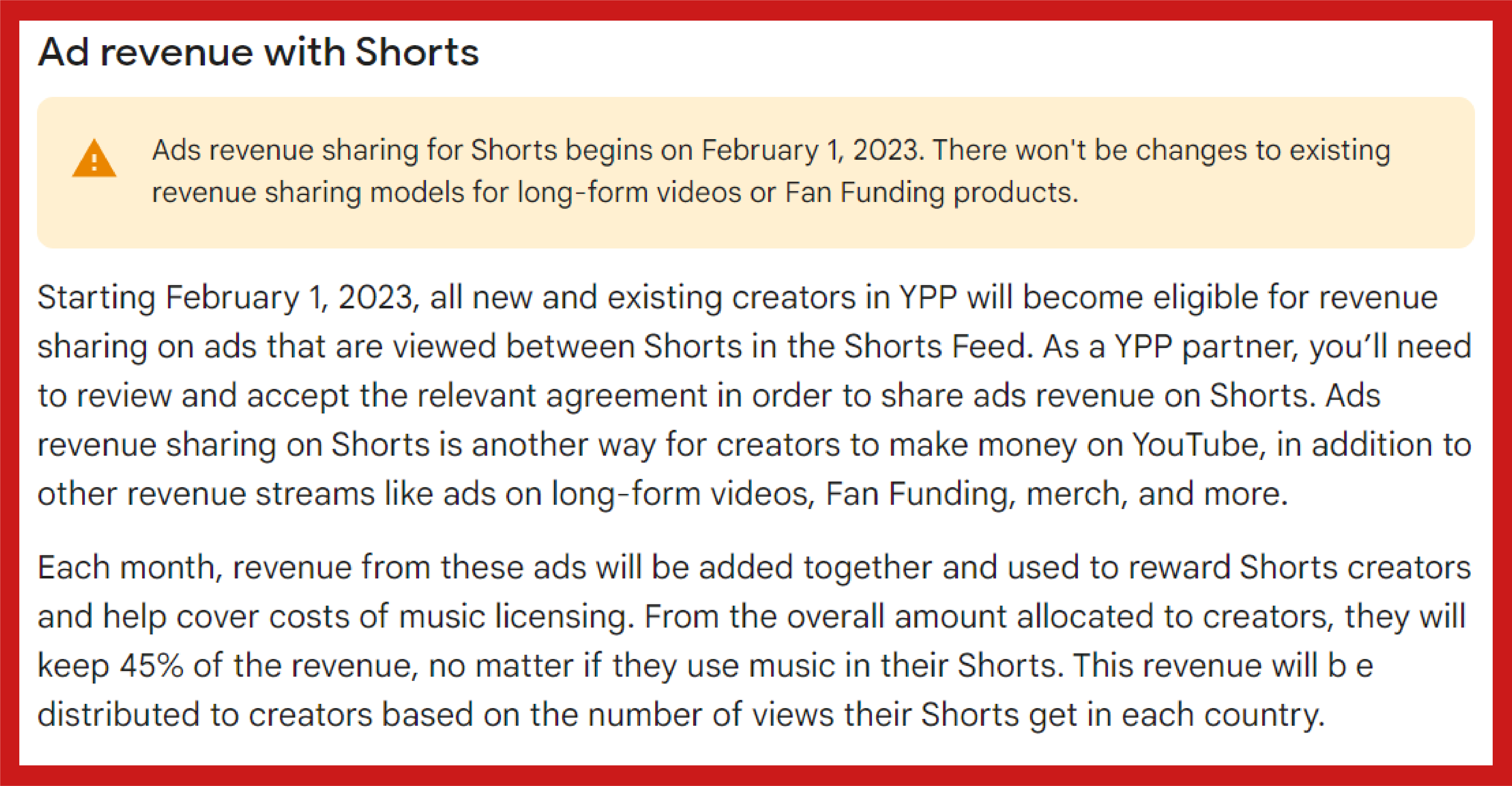 Even though Shorts monetization and YouTube's regular monetization of long-format videos are both parts of the same YouTube Partner Program, they are entirely different.
While traditional long-format videos on YouTube will continue a revenue split of ad revenue as 55% for creators, and 45% for YouTube, Shorts will only give 45% of ad revenue to the creator.
It's not yet confirmed as to why the revenue share is different, but as most YouTube Shorts are accompanied by music, it is probably a measure to compensate for the licensing of audio.
Another interesting development to note regarding YouTube Shorts revenue-sharing is that regardless of whether you have a copyright for using a music track on YouTube Shorts, you will still be able to earn money.
The amount you earn from your YouTube Shorts will depend on how many views the Shorts generates.
3. New Ways to Join the YouTube Partner Program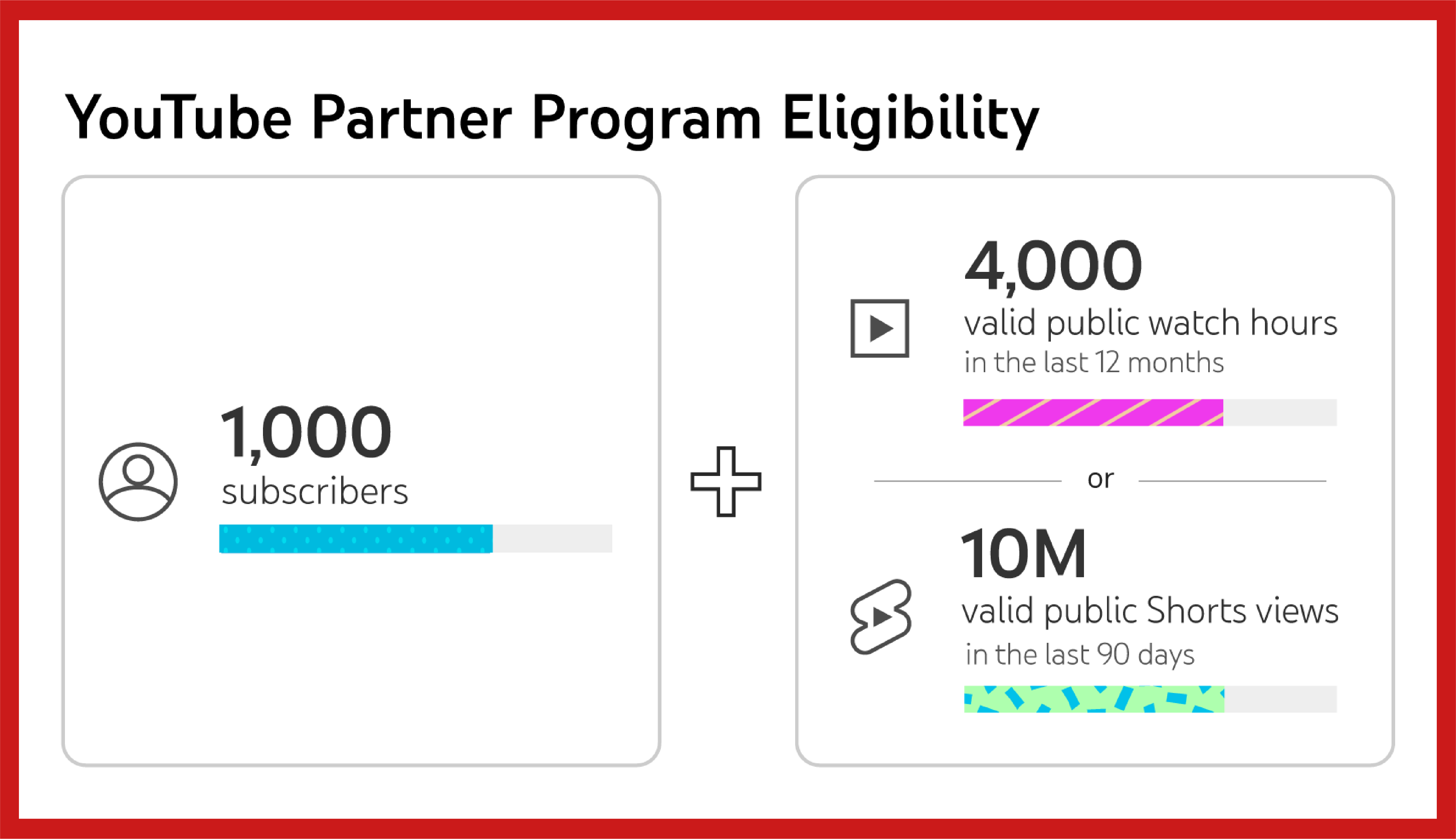 As of now, the only option creators had to join the YouTube Partner Program was to get at least 1000 subscribers and 4000 hours of watch time on their YouTube channel.
With the next update going live, creators will unlock an additional pathway to be eligible for joining the YouTube Partner Program through YouTube Shorts.
This is one of the biggest updates in the current set of upcoming updates, as this will allow more creators to become eligible for joining the YouTube Partner Program, almost instantly.
Once this update goes live, any creator who has:
At least 1000 subscribers
10 million valid Shorts views in the last 90 days
No community guidelines strikes
No copyright strikes
will all be eligible to apply for the YouTube Partner Program. If you are someone who has viral Shorts, or created viral Shorts in the last 90 days of the update going live will be eligible to apply almost instantly.
4. Music Licensing Through Creator Music

Ask any creator on YouTube about what they hate on the platform as of now, and you are bound to hear a lot of complaints about using music on YouTube, the most.
So why does that happen?
Music has always been a tricky subject for many creators, and even the slightest humming of a licensed track in the background can land creators in a copyright claim.
Any video that's caught this way ends up getting its monetization status turned to ineligible.
However, all this is changing with the latest update as YouTube is introducing 'Creator Music' - an innovative new update that will make it possible to monetize videos that have a copyright claim due to the usage of a licensed audio track!
Creator Music will allow creators to license songs from a music catalog, and if that catalog features the song that caused the copyright claim, you can buy its license.
Once you buy the license by paying an amount (which YouTube claims will be affordable for creators), you can enable monetization on videos with copyright claims, and still earn the standard revenue share of 55%!
Alternatively, creators can also choose to not buy the license and earn money from copyright-claimed videos. However, they will have to share the overall revenue with the track's copyright holders as well.
Creator Music has already been launched as a beta program in the United States, but we can definitely expect a full-fledged launch of the feature in early 2023.