Growth
Is YouTube Affiliate Marketing Still Worth it in 2023?
Is YouTube Affiliate Marketing still worth it in 2023? Let's see the potential of affiliate marketing on YouTube. Also check lucrative YouTube video ideas.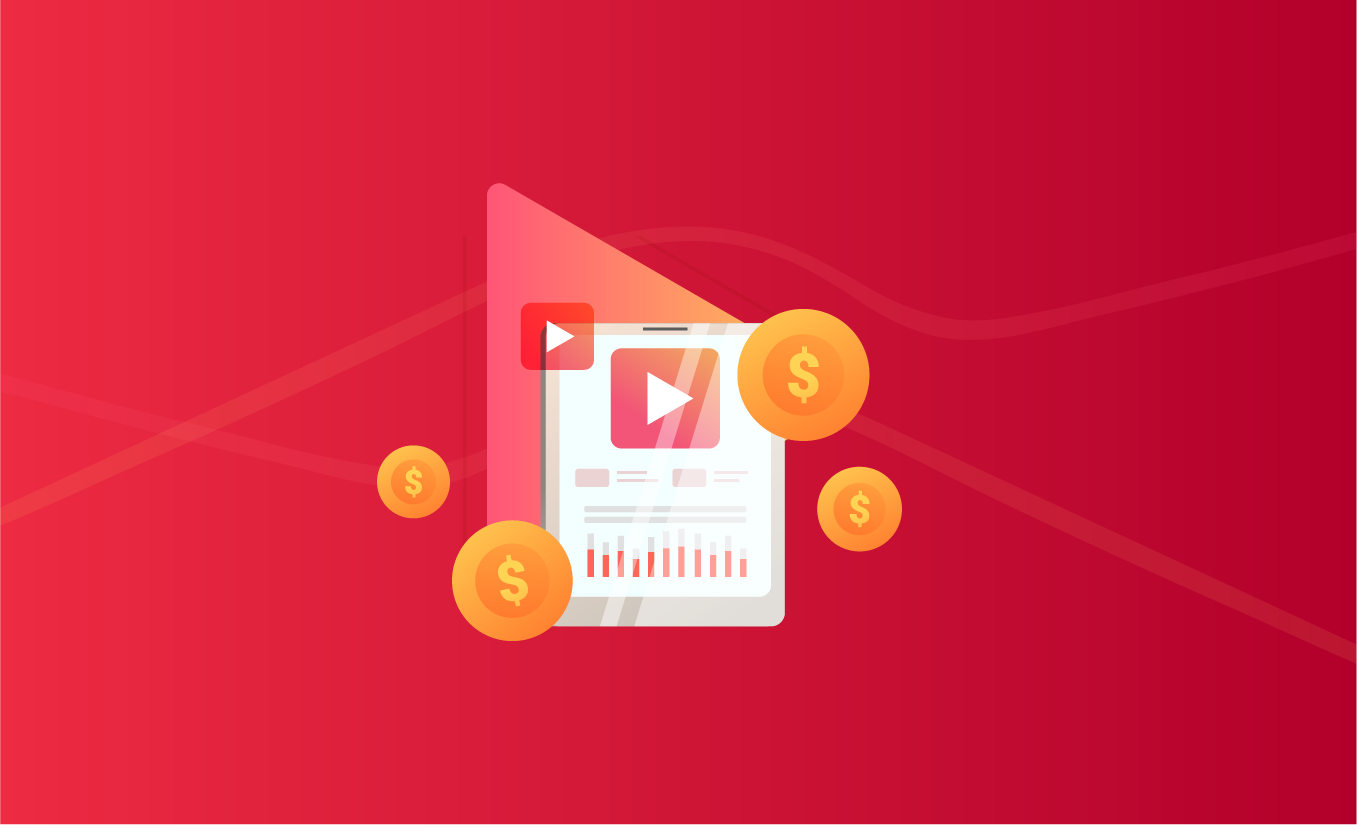 YouTube affiliate marketing, is it a thing, is it a viable source of making money in 2023?
There are so many questions that come to mind when we think of YouTube as a platform for making money. It is definitely the most prominent video streaming platform with a huge audience of over 2 million users. In fact, it is because of YouTube that many content creators can call themselves self-made celebrities.
You'll find some really good YouTubers who have earned a loyal audience by creating content geared towards teaching, entertaining, reviewing, and just generally being awesome on the internet. For example @DaveNickOfficial.
Dave Nick is an online business coach who teaches setting up the right systems to make scalable profits. On his channel he talks about YouTube automation and YouTube itself being a profitable affiliate marketing platform.
Check out the following video where Dave has shared how with affiliate marketing on YouTube you can earn 500 dollars per day!
Apart from the earning he clearly advocates - "YouTube actually pays you for bringing traffic to your affiliate links". It means while you earn revenue from commissions made by the purchases from your viewers, YouTube also pays you every month in the form of ad revenue.
So what's this article about? Is it about how to earn money by promoting products on YouTube?
No, in this blog post, we'll be breaking down the market share and other aspects of YouTube and see if it is worthy enough for affiliate marketing.
How to Make Money on YouTube?
With over 2 billion monthly active users, YouTube presents a lucrative opportunity for creators to earn a significant income. By developing a well-planned video strategy and creating engaging content, your YouTube channel can become a highly profitable venture for you as a full-time content creator.
So if you have a decent number of subscribers you can monetize your YouTube channel, with the following two prominent strategies.
Enrolling in YouTube Partner Program
YouTube Partner Program is the foremost approach for making money with YouTube.
What is YouTube Partner Program?
YouTube Partner Program (YPP) is a resource by YouTube that gives greater access to the platform's resources, monetization features, and the Creator Support team. By enrolling in YPP you can be qualified for tapping into different ways to earn revenue.
YPP follows a revenue-sharing model where it uses all monetization-enabled channels for running advertisements.
All ads that are used on a YouTube partner's video are from Google Ad bidders. Whenever the ad is viewed or clicked, the advertisers pay Google then, Google in return pays a share to the creator for offering their channel as a platform for its ads.
However, for enrolling you first have to pass the following two thresholds -
1,000 subscribers with 4,000 valid public watch hours in the last 12 months.
1,000 subscribers with 10 million valid public Shorts views in the last 90 days.
Being a part of the YouTube Partner Program provides a creator with a multitude of advantages, particularly for those seeking to implement video marketing strategies on YouTube. The most obvious and significant benefit is that it is an efficient way to increase revenue swiftly as membership in the program allows for not only channel monetization but also increased visibility and views.
Additionally, a creator can monetize its video content on this platform and on other websites as there are no exclusive contracts with YouTube. Another benefit of utilizing the YouTube Partner Program is that it provides complete control over post-performance, allowing for tracking via YouTube Analytics, and insight into user interests and the profitability of videos.
Have you checked our recent guide on Building a Personal Brand for Creators?

While YPP is a way of earning revenue from publishing content on YouTube, it's not the only method. There is a method that doesn't require a certain number of views or subscribers for generating revenue. If you have a decent number of people following your content you can go for affiliate marketing.
Affiliate Marketing on YouTube
YouTube Affiliate Marketing refers to the practice of promoting products on YouTube with an affiliate link on your channel (either in the channel description or video description) and earning a percentage made from the sale.
There are affiliate programs from different niches that you can sign up for and start by recommending them in your YouTube videos.
Did you know by creating an account on Shopper.com you get instant access to affiliate partnerships of over 25,000 brands?

No approvals needed.

Shopper.com is a platform that lets you earn by promoting your favorite products. With Shopper.com you can manage all your affiliate links in one centralized location.
How does YouTube affiliate marketing work?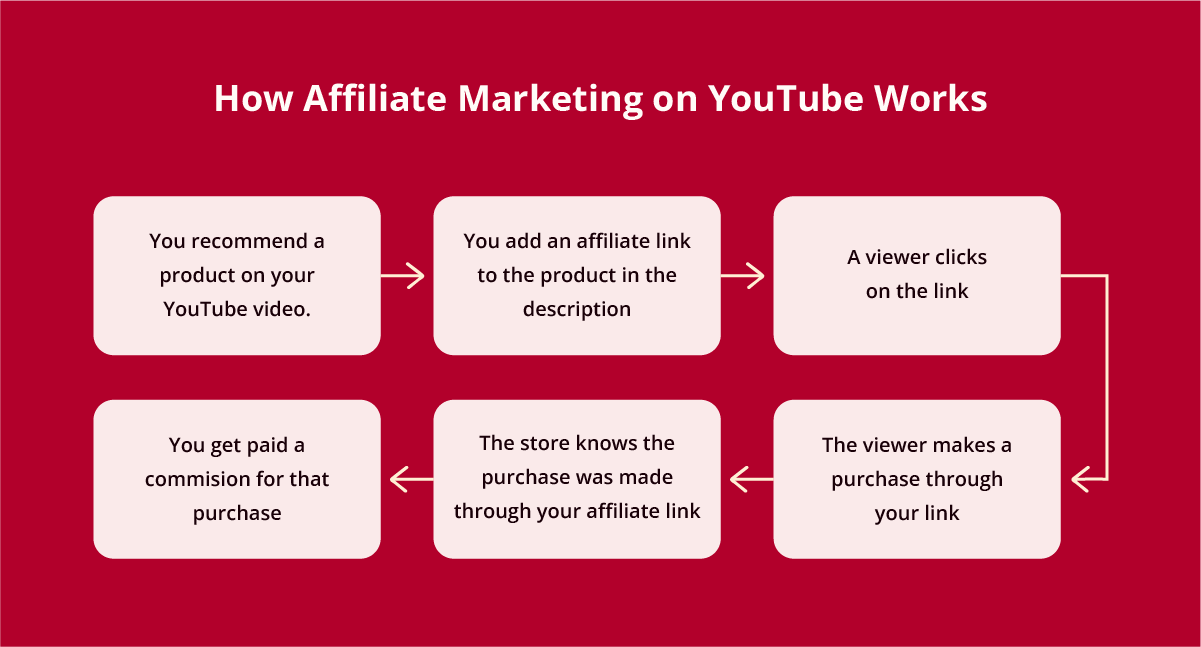 YouTube Affiliate Marketing is quite straightforward and includes the following steps:
First, recommend a product(s) in your YouTube videos that will add value to your viewers' life.
Now, add a clickable affiliate link to the product in your video description.
Viewers will click on the link and make a purchase.
When a viewer shops using your link the store gets to know that purchase was made from an affiliate partner.
Finally, you get a commission for all the purchases made from your link
Affiliate marketing has created a massive opportunity for YouTube creators to monetize their content and make money while following their passion. Also, participating in an affiliate partnership is comparatively easy than enrolling in YPP.
With YPP, your revenue is based on the number of views and subscribers you have. In contrast, with an affiliate partnership, your revenue is solely based on the number of sales generated through your affiliate links, rather than the number of subscribers or views you have.
While YouTube Partner Program and affiliate marketing are two prominent methods for generating revenue from YouTube, there are other approaches such as sponsored content, selling merchandise, super chats, etc.
We've discussed all the methods for monetizing a YouTube channel in detail in our previous articles.
Now let's discuss the question of the hour - is affiliate marketing on YouTube still worth it in 2023?
Is YouTube Affiliate Marketing Still Relevant for Creators in 2023?
In short, the answer is yes. YouTube is still a lucrative platform for affiliate marketing in 2023.
With over 2 billion active users, YouTube provides a vast audience and potential buyers from even the most niche markets. As the second largest search engine after Google, YouTube is frequently used for product reviews and recommendations. People prefer videos over textual content, and over 40% of global shoppers have discovered products on YouTube. It's no surprise then that YouTube provides an excellent opportunity for affiliate marketing.
Why should affiliates use YouTube?
Here are some reasons why you should do affiliate marketing in 2023.
1. Easy to get started
Even if you lack amazing videography skills, it's easy to get started with affiliate marketing on YouTube. As long as you have valuable information to share, you can create content without the need for advanced technical skills. Additionally, you can always use tools like ChatGPT to help prepare your affiliate script.
2. Repurpose blog content
Cross-promoting content is an excellent way to capture new audiences. By repurposing your blog posts for YouTube, you can maximize your content's reach and drive more traffic to your affiliate links.
3. No 1000-subscriber threshold
Unlike the Partner Program, there is no minimum 1000-subscriber requirement for monetizing your YouTube channel with affiliate marketing. By using YouTube SEO, keyword strategies, and networking, you can get your first few thousand video views from your target audience.
4. Minimum investment to get started
All you need to start is a camera, microphone, and a good script. These are relatively inexpensive investments compared to other marketing channels.
In conclusion, YouTube affiliate marketing is still a relevant and lucrative option for creators in 2023. By taking advantage of the platform's vast audience and leveraging the benefits of affiliate marketing, you can generate revenue and drive sales.
YouTube Video Ideas that Drive Revenue
We all know that YouTube can be an incredibly lucrative platform, but not every video has the potential to generate revenue, especially through affiliate commissions. As a creator, it's up to you to decide what type of content to create, but we'd like to share some tried-and-true YouTube video ideas that have a high potential to drive revenue.
1. Unboxing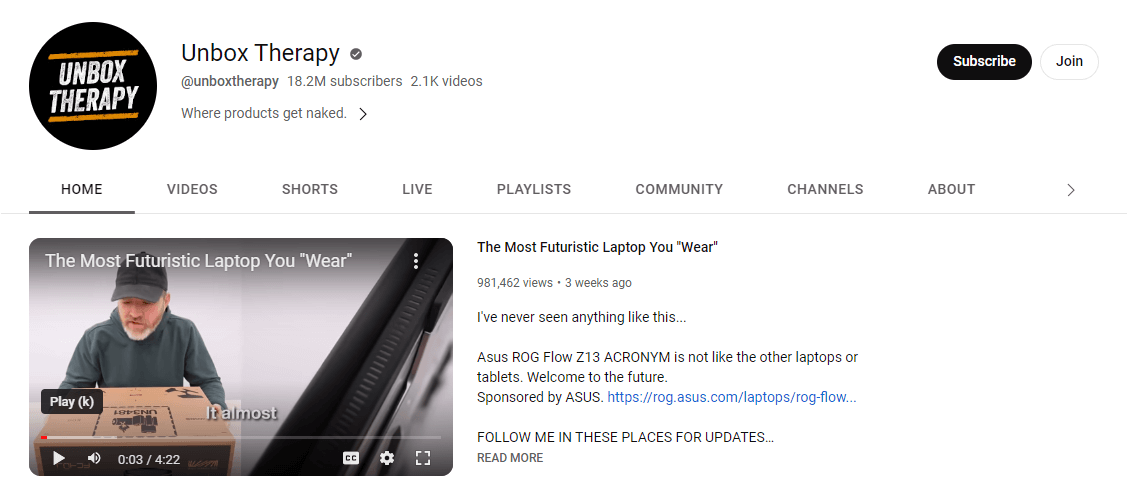 Unboxing is a category where creators literally earn money for opening a package. In unboxing videos, you'll creators unpackaging articles as a part of their "review process". One of the prominent players in this field is "@nboxtherapy".
Unbox Therapy is a YouTube content creator who specializes in unboxing and technology. The channel, which belongs to Lewis George Hilsenteger, has amassed over 18.2 million subscribers and has received more than 4.4 billion views as of April 2023.
Through Unbox Therapy, viewers can witness the thrill of unboxing the latest tech gadgets without having to spend their own money to purchase them.
2. Tutorials
Another lucrative category is tutorials or how to videos. These videos share informative content on doing a process from scratch and at the same time recommending products in order to accomplish a series of tasks. This way you can link multiple affiliate products at the same time in the description box.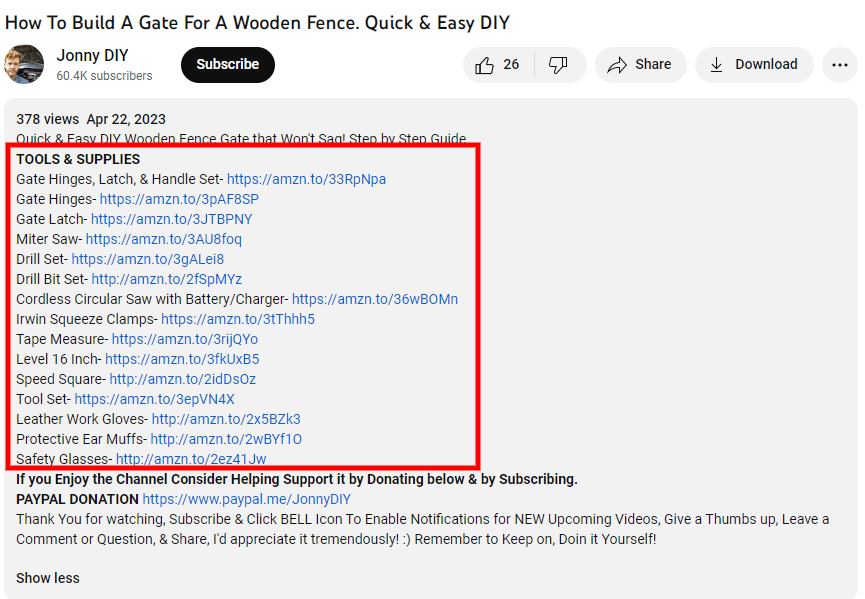 The above screenshot shows the description of a video by @JonnyDIY. As you can tell from the title Jonny has shared how one can build a gate for a wooden fence and has mentioned links to all the tools that were used during the process.

If you are planning to recommend multiple affiliate links in your description, you can recommend it as a shoppable collection. A shoppable collection can be easily created with Shopper.com.
3. Product Reviews
Creating single product reviews can be an effective way for YouTube affiliates to produce content that resonates with viewers. Audiences tend to connect with these videos because they assume the creator has personally bought and used the product, providing an authentic review based on their own experience as a buyer.
Here's an example of a review video by @nikkietutorials, sharing her honest review about Fenty Beauty products.
On her YouTube channel, she reviews both popular and lesser-known makeup brands and products. The beauty influencer has even showcased her makeup skills on celebrities such as Kim Kardashian and Drew Barrymore and has collaborated with renowned beauty brands including Ofra and Maybelline.
4. Roundups
These are another form of review posts where creators review multiple products of the same type and share their genuine opinion. For example reviewing top 10 WordPress hosting services.
However, the real value comes by emerging as an expert on the subject matter so that the audience values your opinion. You could easily do round-up videos in a popular niche and create videos with titles such as best hair straighteners, best gas BBQs, best golf driver, and so on.
So this was all about the YouTube affiliate marketing in 2023, from its viability to lucrative video ideas we covered everything. Now, let's see some frequently asked questions on the potentials associated with YouTube Affiliate Marketing.
Frequently Asked Questions

What's the Difference Between YouTube Affiliate Marketing and Brand Sponsorship?
To engage in YouTube affiliate marketing, you need to insert a link to a product that you obtain through an affiliate program. On the other hand, brand sponsorships occur when a brand contacts you and compensates you for promoting their products.
What Affiliate Offers are Available on YouTube?
YouTube doesn't have an official affiliate program, but you can include links from other affiliate marketing programs in your YouTube videos and video description.
How Do You Get Traffic to YouTube Videos?
You can drive traffic to your YouTube videos by creating content that's trending, using the right keywords, and cross-promoting it on other platforms.
Where Can You Use Affiliate Links in YouTube?
On YouTube, you can use affiliate links in the video description and on end cards. Also, you can create a collection of your recommended products and add them to the about section of  your YouTube channel.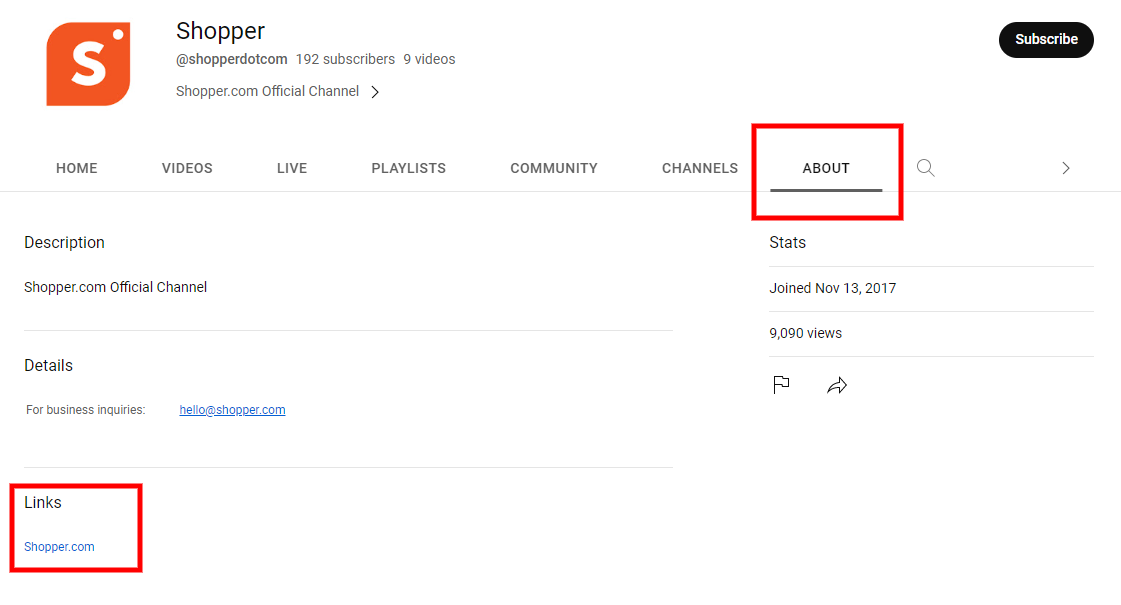 Over to You!
In conclusion, YouTube affiliate marketing is a powerful tool for creators to generate passive income, and it's still worth exploring in 2023.
With video being a crucial part of the future of affiliate marketing, YouTube offers a promising platform to reach a massive audience and increase revenue. By launching a YouTube channel alongside an affiliate website, creators can have more options for monetization and gain more control over their income.
Even though affiliate marketing is just one of the many ways to monetize a YouTube channel, it's an easy and effective way to earn commissions by promoting products you use and love. So, if you're a content creator looking for a reliable way to generate extra income, YouTube affiliate marketing is definitely worth considering.