YouTube
Best Ways to Promote Products on YouTube and Earn Money
Get access to some of the best ways to promote products on YouTube and earn money with our comprehensive guide on best ways to promote products and earn money from YouTube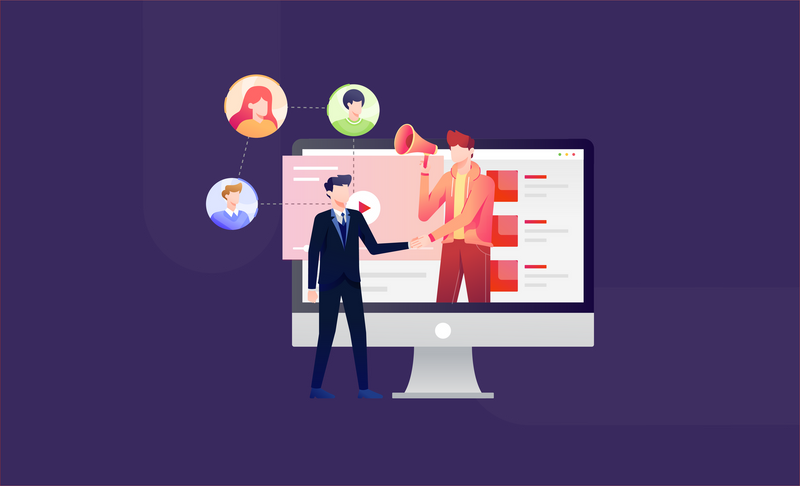 One of the best ways to improve YouTube revenue is to promote products related to your content that your audience will find interesting.
Regardless of whether you are enrolled in YouTube's monetization program, you can still generate revenue by promoting products. On YouTube channels, you can start promoting products right away.
Let's get started with some of the most effective ways to promote products on YouTube now that we have got you hooked.
How does promoting products help you earn money?
There are two ways you can earn income by promoting products: either you earn one-time fees or you earn per sale. The term affiliate marketing refers to earning commissions on every sale.
An affiliate marketing model involves a brand/ company paying a commission to each successful conversion generated by its affiliates.
In YouTube, creators promote a product or service as affiliates.
As a result, the business that owns the product or service will reward the creator with a commission.
Unlike YouTube Partner Program, affiliate marketing does not require creators to get 4000 watch hours or 1000 subscribers before they can join.
Various affiliate networks such as CJ, Awin offer affiliate programs for online retailers like Nike, Apple, Target, Walmart etc.
The possibilities and potential of affiliate marketing on YouTube are endless, so let's take a look at a few of the ways you can use it:
1. Adding Product Links on YouTube Description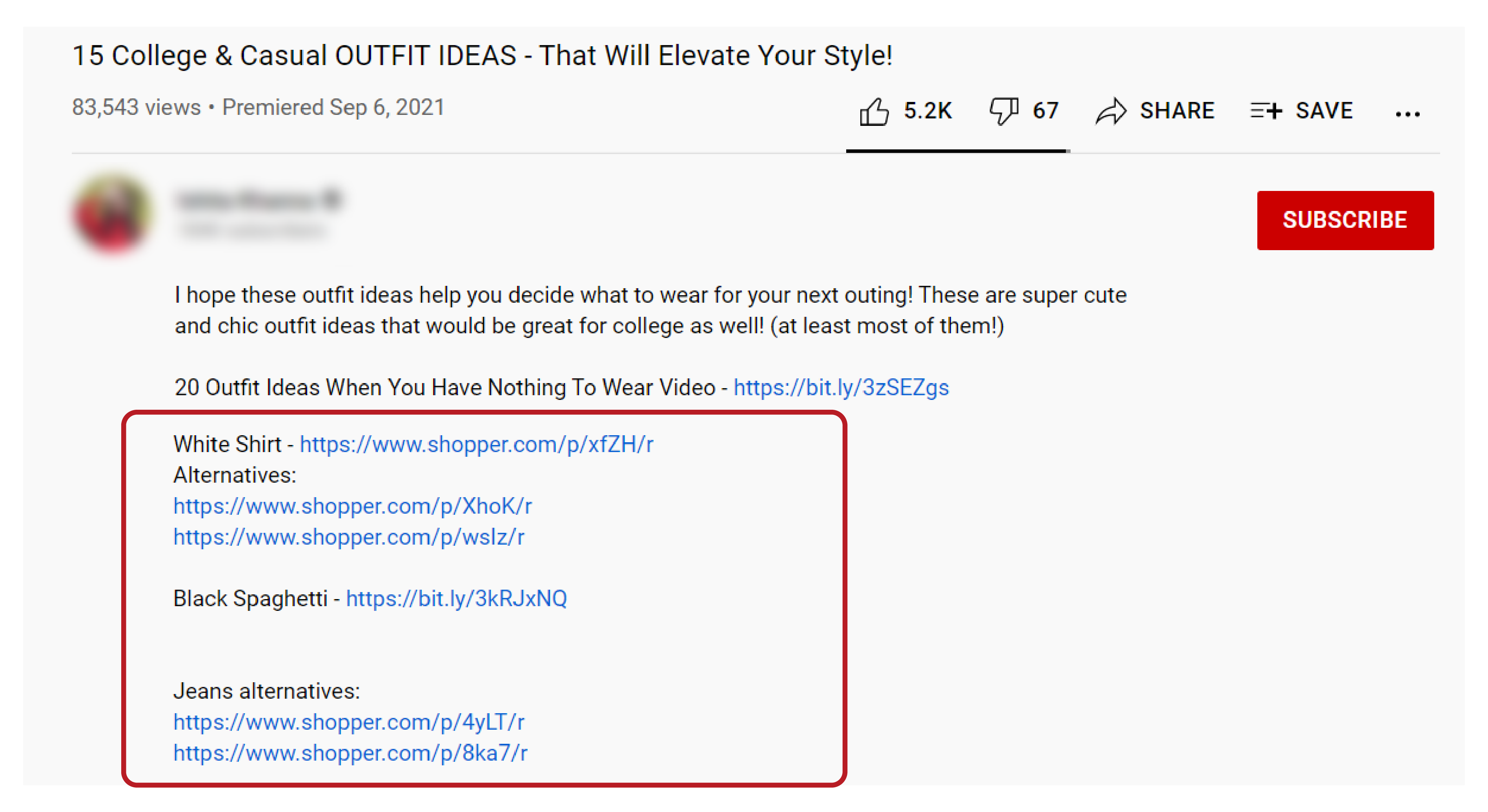 YouTube video description is a great place to add the products you want to promote to your audience on YouTube.
It is also very easy to direct viewers to your YouTube video description as you simply need to ask them to check out the description below the video.
YouTube allows creators to add up to 5000 characters to the video description. That gives you more than enough flexibility to add as many affiliate links as you want.
If you are doing product reviews, adding product links work great as the viewers will already get a clear picture of what the product is all about.
This instantly improves the chances of people checking out your products and purchasing them - ie  more revenue.
2. Promoting Products to your Community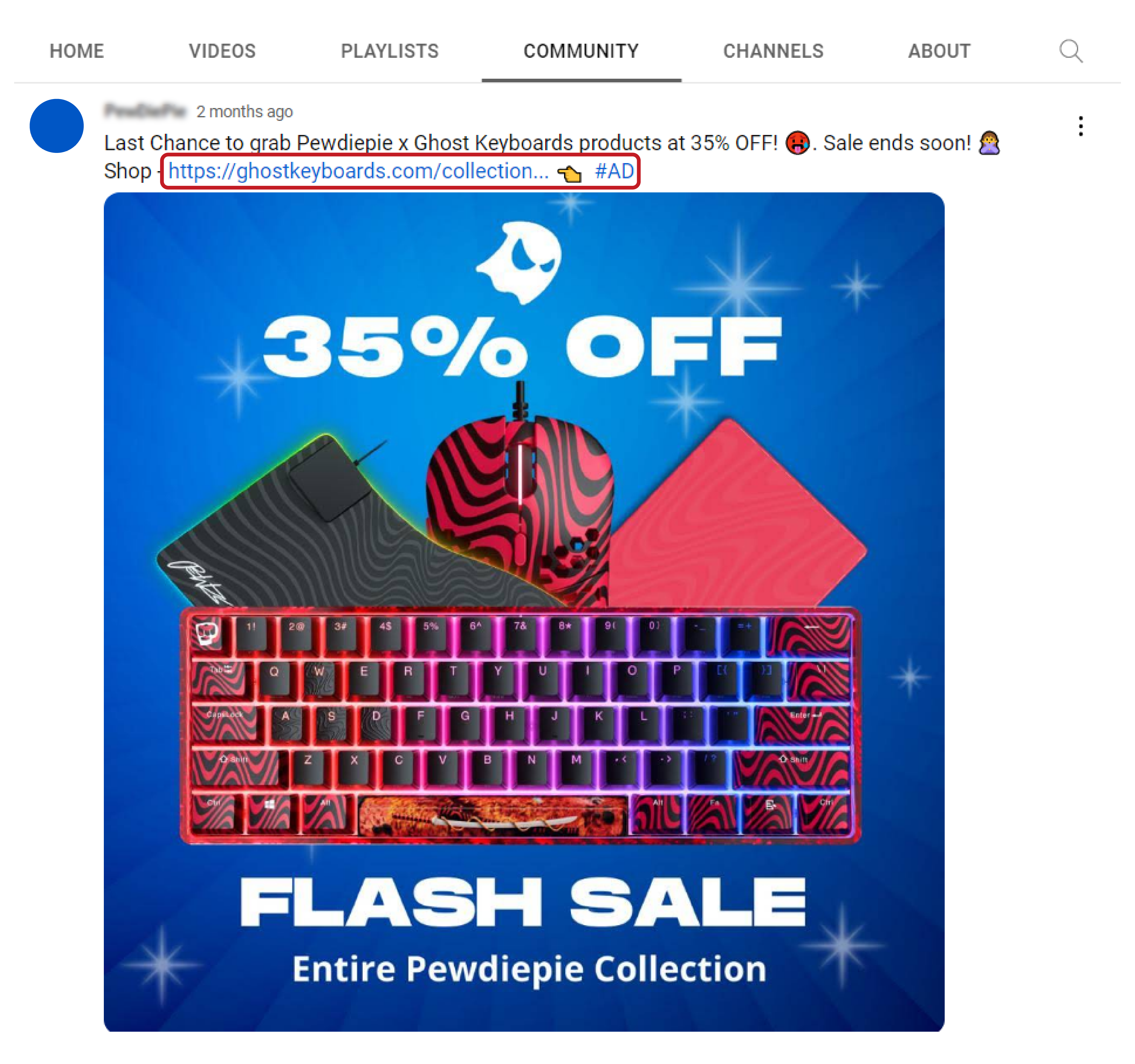 The community post feature on YouTube is one of the best ways to engage and interact with your subscribers, and viewers on the platform.
With YouTube reducing the number of subscribers from 1000 to 500 subscribers recently, the community post feature is now available for even more creators.
This makes it a great medium to promote your products!
When you add a community post, the post will be sent out to the YouTube feed of all your subscribers along with other suggested videos.
Even if someone forgot or missed checking out your video description on YouTube, they will have a second chance to do the same from the community post.
What's even great is that YouTube allows creators to share clickable hyperlinks on community posts, making it ideal for sharing affiliate links on YouTube.
You can also tag other creators on YouTube, including the brands you are collaborating with!
3. Promoting Products on your YouTube End Screen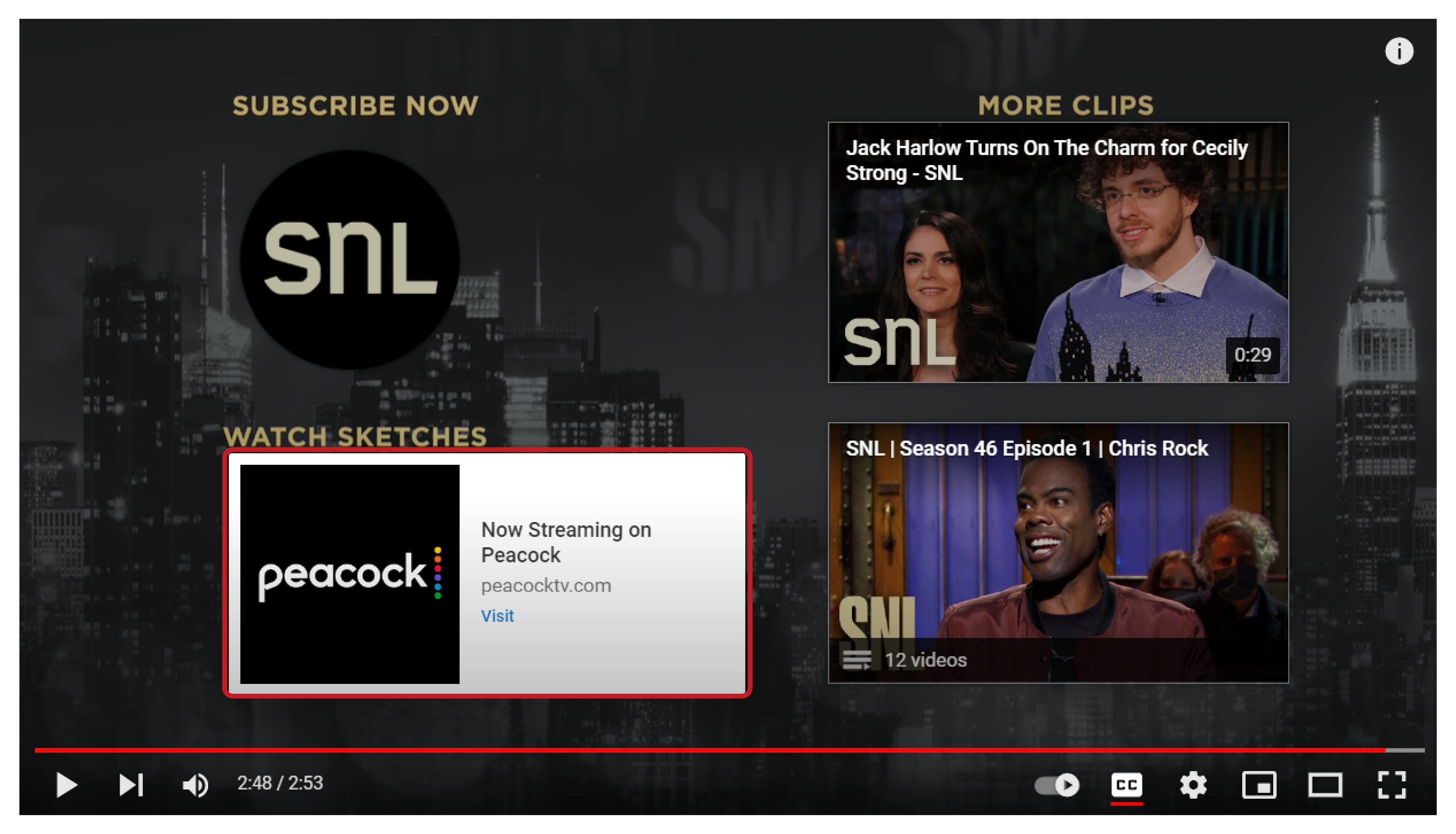 Have a channel that has monetization enabled or enrolled in the YouTube Partner Program?
Start adding links to your YouTube end screens today then! Yes, that's right. Creators who are part of the YouTube Partner Program get to add any external link to their YouTube end screens.
If you have a Shopper.com page, you can use your Shopper page link on the end screen, and direct viewers to all your products using one link.
Adding product links to the YouTube end screen is also a great way to promote products. YouTube allows creators to only add a maximum of one link, four video elements, and one subscribe button.
The best thing about YouTube end screen links is that you can add a custom message about what the link is, and add a call to action messages like 'sign-up', 'download', 'learn more', and so on.
4. Making Use of Channel Trailer & Featured Video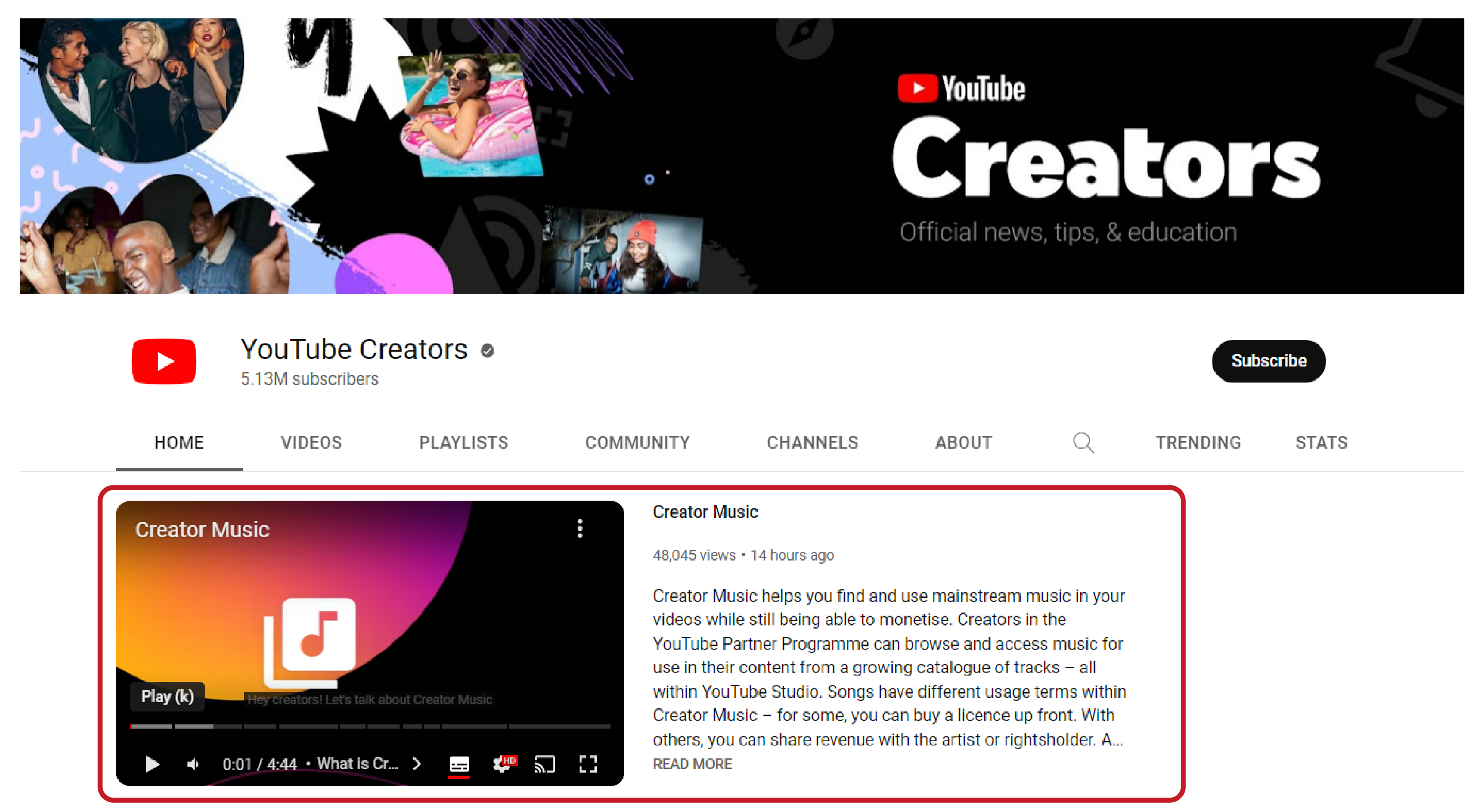 YouTube channel trailers and featured videos are two of the best features to help promote affiliate links on your YouTube channel.
Whenever new visitor comes to your YouTube channel, they will be shown the channel trailer.
However, when someone who already subscribed visits your channel, they will be shown the featured video instead.
So how do channel trailers and featured videos help affiliate marketing?
The featured video and channel trailer are both not so different from your regular YouTube video. The only difference is their placement which makes them appear as the first video on a YouTube channel.
Everything you add to the video - from the title, description, thumbnail and all appears together with the video.
By adding some of your primary product links on the top of the video description for both the featured video and channel trailer, you can give it all the attention they deserve.
Viewers are more likely to see these affiliate links than those on any other videos.
This instantly improves the probability and number of successful conversions your product links generate from your YouTube followers.
5. Adding Product Links as Pinned Comments

If you haven't been using pinned comments on your YouTube account, it's high time you did!
Any comment can be added as a pinned comment on your YouTube channel.
What makes pinned comments so special and stand out from the regular comments, is that they will be the first comment someone gets to see on your videos.
That's why it's highly recommended to add product links as pinned comments.
Contrary to how most of the leading social networking platforms work, YouTube allows creators to add clickable links in the comment section.
By adding your product links to the comments, as pinned comments, you can significantly improve and increase the chances of people coming across your affiliate links.
Whenever someone clicks on the product link on the pinned comment, they will be redirected directly to the product purchase page.
You can also add up to 10,000 characters on YouTube which gives you more than enough space to add multiple affiliate links to your comment section.