Growth
Building Personal Brand: Guidelines for Creators to Stand Out
Building a personal brand as a creator? Here are all the guidelines you need to stand out in 2023. Learn to create a unique brand guide to outrank competitors.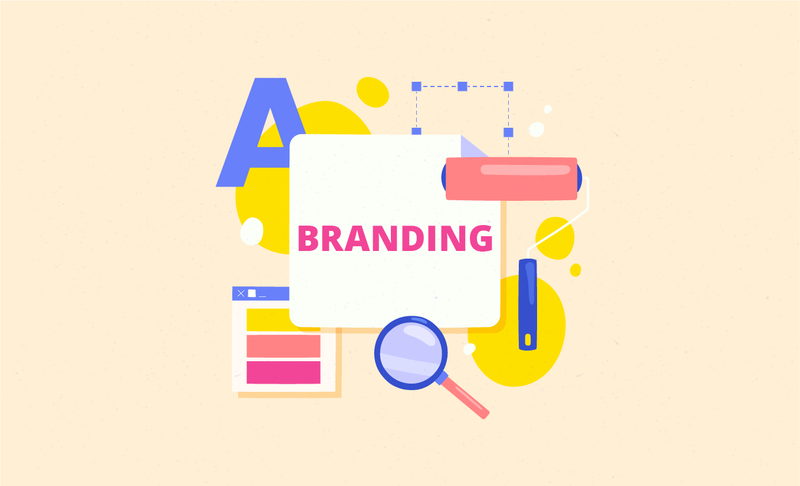 In today's competitive social media landscape, building a personal brand is crucial for influencers and creators looking to stand out from the crowd. As Hans F. Hansen once said, "It takes nothing to join the crowd. It takes everything to stand alone." This rings especially true for influencers who need to establish a clear brand voice to attract and retain their desired audience.
To achieve this, building a comprehensive brand identity guide is key. By following influencer brand guidelines, you can create consistent and compelling content that resonates with your audience, ultimately leading to greater success on social media. With the right approach, your brand can attract and retain the right followers, and build a loyal community of engaged fans.
To help you achieve this, we've put together a set of tips for building an influencer brand identity style guide in 2023. By the end of this blog post, you'll have a complete checklist for a comprehensive brand style guide that can help you build a consistent voice across all your online channels.
The Importance of Comprehensive Brand Guidelines for Influencers in 2023
Before we discuss the importance of building a brand identity, let's understand the power of influencer marketing.
As per an article by Influencer Marketing Hub, 61% of consumers trust influencer recommendations, compared to 38% who trust brand-produced content. That's the impact an influencer has on the buying decision of a shopper.
Without a consistent branded voice, a creator is like Superman without the ability to fly – they may have all the potential in the world, but they won't be able to soar to new heights and achieve their full potential.
Reasons Why Influencers Need a Brand Style Guide
Here's why every creator should follow brand guidelines -
1. Sets you apart from competitors
Having a brand identity that is easy to recognize and remember is crucial
Differentiates yourself from your competitors
Creates a unique identity that resonates with your audience
2. Personifying your business
The brand identity reflects who your business is and what it offers
Helps your audience connect with you on a deeper level
Makes your business more likable and memorable
3. Builds trust and credibility
A well-crafted brand identity can help you stand out as a reliable leader in your industry
Viewed as trustworthy and credible by your audience and competitors
Important since a majority of consumers require trust in a brand before making a purchase
4. Creates loyal customers
A strong brand identity helps to create a positive impression in the minds of customers
Leads to increased loyalty and advocacy
First-time buyers are more likely to become returning customers or even brand advocates
5. Gives your business a goal and mission
Provides a goal and mission for your business
Helps guide decision-making and actions
Helps to create a sense of pride and motivation among your employees
6. Makes digital marketing easier
A well-crafted brand identity serves as a blueprint for all the elements you need to include in your digital marketing strategy
Having a clear brand identity makes it easier to create compelling content that resonates with your audience
Promotes your business effectively
How can Creators Create a Winning Personal Brand in 2023?
When it comes to building a personal brand for creators, having a brand style guide is crucial. This guide outlines specific choices made by creators, including everything from logo and branding colors to how to use emojis and hashtags.
Essentially, it's a set of rules that dictates the presentation of you as a brand in front of your target audience, whether it's on a social media handle, website, or any other online content publishing platform.
By following these guidelines, you can ensure that your brand is consistent and recognizable, making it easier for your audience to connect with you and differentiate you from competitors.
4 Guideline for Creators for Branding
Influencers come from all walks of life, and they promote a wide variety of products and services across different niches. While there may be some unique considerations for specific industries, there are some fundamental brand guidelines that every influencer should follow.
In this guide, we'll cover all the key points that will help you establish a strong and consistent brand identity, regardless of your niche or audience. So whether you're promoting fashion, fitness, or finance, these guidelines will help you create a powerful and memorable brand that resonates with your followers.
1. Identifying your mission and vision
The age-old question "What's in a name?" may not have a straightforward answer, but it holds a lot of significance in the world of influencer marketing. Before you start promoting products and sharing your message with the world, it's crucial to take the time to understand who you are as an influencer.
This means defining your values, personality, and unique selling proposition. By establishing a clear identity from the outset, you can create a brand that truly resonates with your audience and sets you apart from the competition.
So before you jump into the world of influencer marketing, take the time to answer the question "Who am I?" and build your brand identity from there.
Here's an example of Shopper.com's Linkedin page:
As you can see in the above screenshot you'll see a consistent message in the cover image headline section, and the About section, which is, "Providing creators tools to enable commerce on any medium." The consistent slogan subtly tells the audience the vision and mission of Shopper.com.
2. Developing your visual elements
Once you've decided on the mission statement the next step is to choose the public appearance of your brand.
These are three important visual elements that go into creating a unique brand identity:
Picking the perfect color palette and font pairing for your brand can be a time-consuming process of trial and error. It's important to choose a unique font for your logo and headings and a simpler one for subheadings and body text. There are many tools and platforms available online to help you discover font pairings that work well together.
Once you have your colors and fonts selected, designing a logo is the next step. Utilizing customizable templates or creating your own with various graphics, vectors, and images can help to create a professional and recognizable logo for your brand.
It's also important to develop a voice and tone guide for all written content so that the messaging across all company materials is consistent and accurately represents your brand.
Here's an example of Starbucks's branding kit.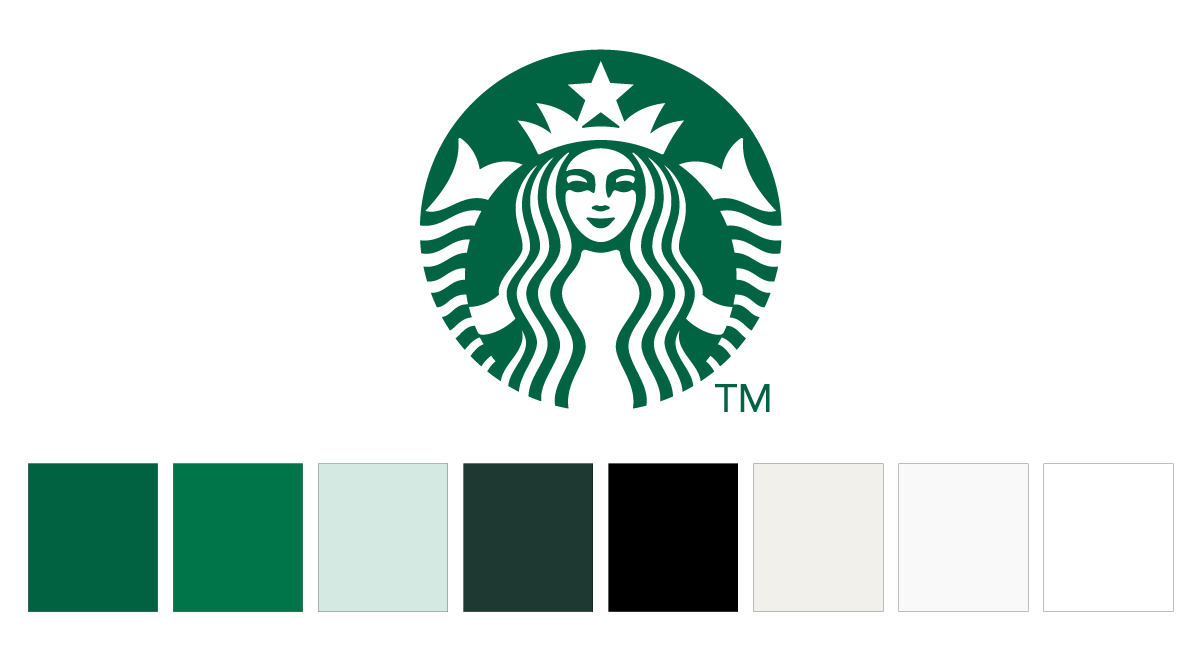 In Starbucks's color palette, you'll see a lot of greens combined with some neutral colors. The primary brand color is Siren which is the iconic Starbucks green. The primary green merges with other hues portraying the brand's rich heritage.
3. Creating a brand kit
A brand kit is a collection of a company's different brand elements. A brand kit includes primary and secondary colors, primary and secondary fonts, and multiple logo variations responsible for your brand's identity.
Usually, companies create a brand kit for content creators that'll be building content for your business so that it remains on-brand. But if you're working with a team or an agency responsible for managing your content, a brand kit can empower them to stick to the brand guidelines chosen by you.
A brand kit is very important in delivering a cohesive brand experience and the consistency of high-quality content creates trust with your audience.
Here's an example of WooCommerce's brand kit.
As you can see WooCommerce has created a web page where they have mentioned all the guidelines for delivering on-brand designs and keeping the integrity of our brand. Their brand kit involves their mission statement, voice and tone, and logo variations.
4. Incorporate your brand into marketing
Your company's brand should be evident in everything that it produces, whether it is a sales presentation, email signature, newsletter, or even the internal Zoom background.
By implementing a consistent brand in both external and internal content, your brand will become stronger. This is because employees will be familiar with the brand's colors, fonts, and logos, making it easier for them to use them when creating content.
These were some essential tips for creating an effective brand identity guide for influencers. As I mentioned earlier, the guide may vary depending on the influencer's niche and platform. However, the aforementioned four tips are fundamental and should be included in every brand identity guide. Failing to include these tips would mean an incomplete guide that lacks the necessary components for establishing a solid brand identity.
Now let's see some common bad practices that you can avoid.
Building Personal Brand for Creators: Common Mistakes to Avoid While Creating Your Brand Identity Guide
Here are some of the bad practices best to avoid:
1. Copying competitors
While researching and tracking your competitors is a must, influencers should simply guide themselves from simply copying them. Don't forget the prime objective of building a brand identity guide - ensure that you stand out.
2. Inconsistent application of brand elements
You cannot be wrong with implementing your brand elements consistently throughout your affiliate marketing strategy. Before publishing any content on any of your online marketing channels ensure that the typography, color palette, and theme are consistent.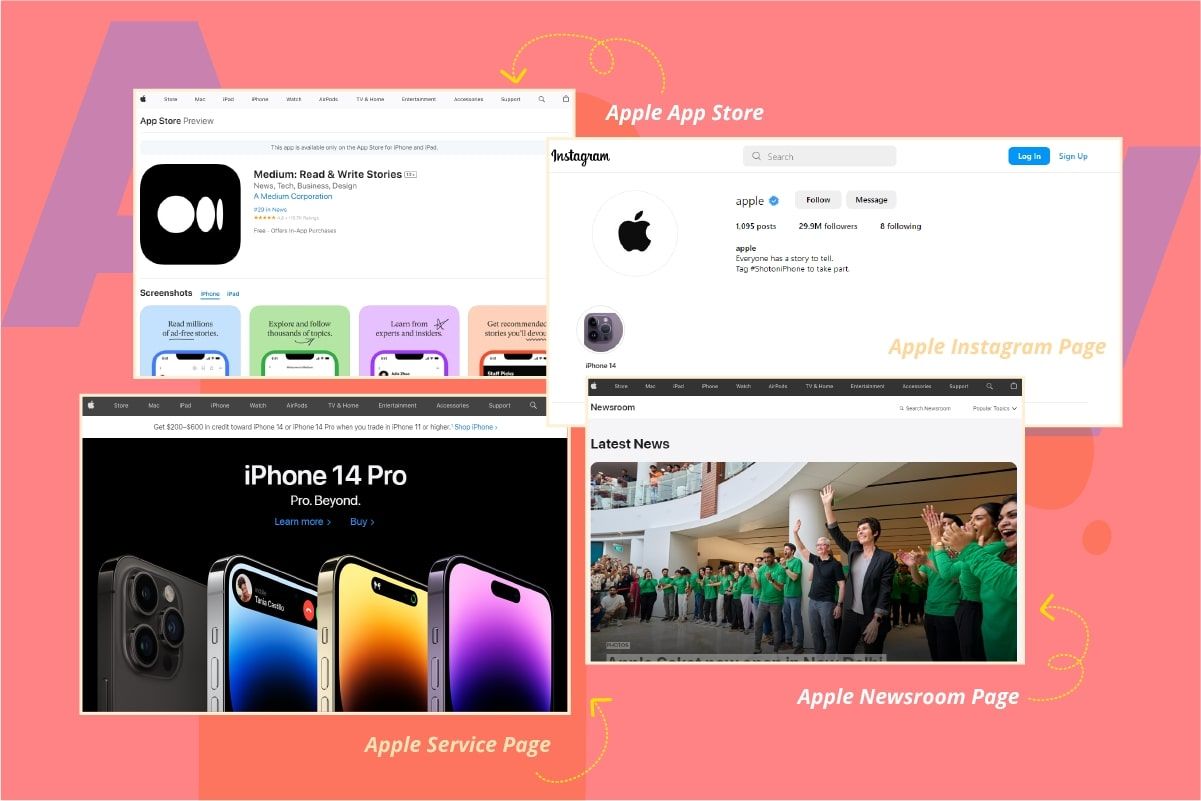 While consistency is important, there are times when flexibility is equally crucial. Adjusting your campaigns can help to keep your target audience engaged. However, it's essential to apply this flexibility consistently across all your marketing channels. For instance, if you modify the wording on your printed price list, make sure to implement the same changes to your website and social media platforms.
3. Failing to implement a design system
A branding guide is not just about defining the guidelines for logos and typography, it is how one uses these elements together. Make sure to curate an easy-to-understand hierarchy that helps the audience to easily perceive your content.
4. Lacking diversity in imagery
Although it's important to maintain a consistent appearance across all aspects of your brand identity, it should not come at the cost of inclusivity. Therefore, make sure to verify that the photographs or images you post are brand consistent while having diversity.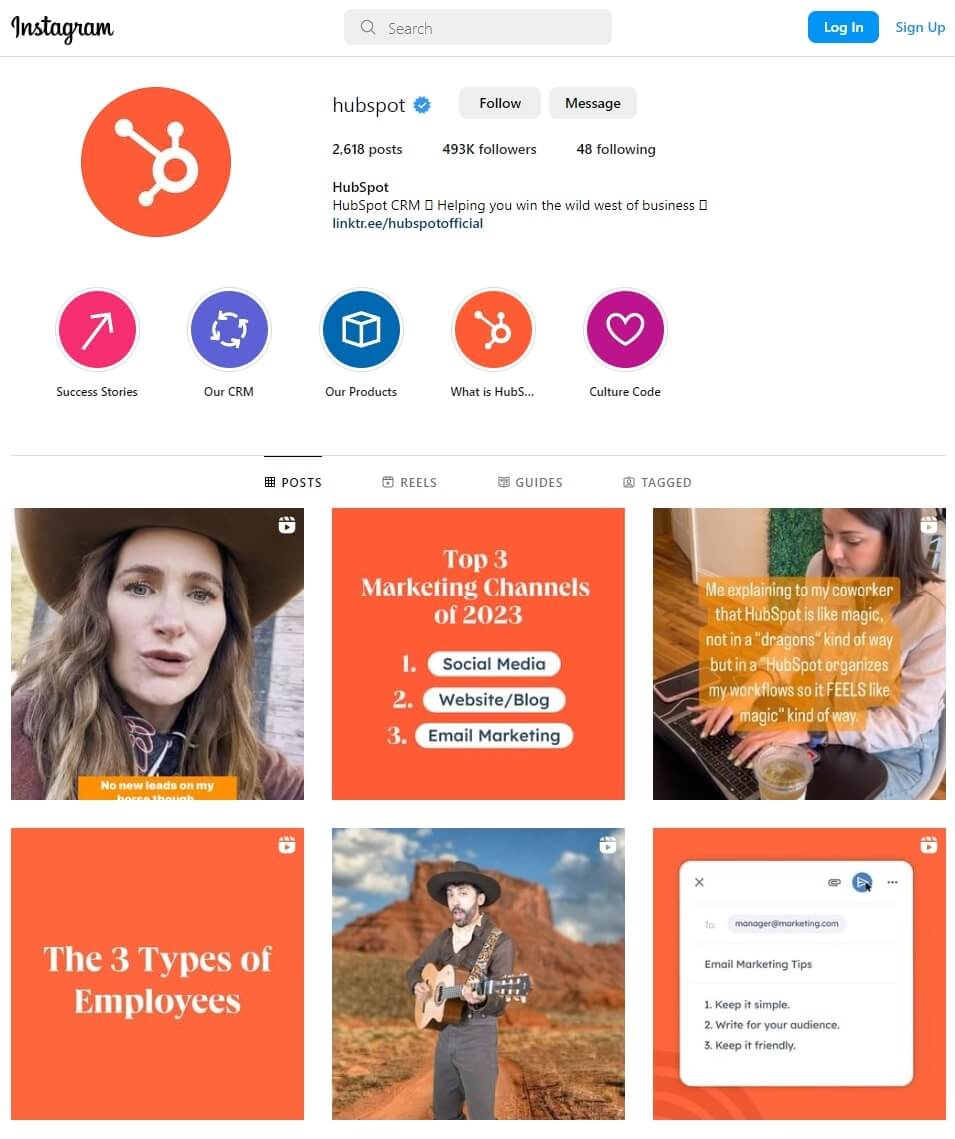 Above is HubSpot's Instagram handle, as you can see they post diverse images while consistently using the orange color. This way their feed looks quite engaging and is easily recognizable by their followers.
Shopper.com for Creators
Shopper.com is a platform designed for creators that streamlines the entire affiliate marketing process.
By creating a free Shopper account, you can easily become affiliates of 25,000 brands without any delay, and manage all their affiliate links in one centralized location. In addition, the platform offers pre-designed product displays that have been proven to generate 25% more sales, enhancing earning potential.
While with a free account you can kickstart your affiliate marketing journey as a creator, a premium account offers brand personalization options for you as a creator.
The primary objective of developing branding guidelines is to set yourself apart from the competition. To achieve this goal, you must incorporate distinctive elements that are instantly recognized by your audience whenever you post.
Shopper.com's premium platform lets you achieve this goal.
Here are some key features of the premium platform that will help your influencer brand identity guide:
1. Custom Domain
With Shopper.com's Creator account, you can create a custom domain that helps your audience uniquely identify your collection page. Along with a custom domain, you can add a custom logo and change color themes according to your preference.
2. Themes
With a Creator or Creator Plus subscription plan, you get access to some of our theme templates that are completely customizable. It is one of the many value-added benefits and services you get access to.
3. Blog
Blogging can help in building a brand by providing a platform for sharing valuable and relevant content, establishing thought leadership and expertise, and creating a community of loyal followers. Shopper Premium lets you run a blog on a cloud-based website.
These are some important upgrades that you get as our premium users, other features include API Access, Broken URL Notification, and access to 3 users to manage and edit your Shopper page. All these features come at a mere subscription that just starts at $24.99 /month.
Important Help Documents For Creators:
Over to You
As George Bernard Shaw once said, "Life isn't about finding yourself, life is about creating yourself." The same can be said about building a personal brand as a creator.
It is all about creating a unique identity that sets you apart from the rest and reflects your values, personality, and vision. To establish recognition, trust, and loyalty for your brand, consistency is key. That's where a comprehensive brand identity guide comes in.
By defining your brand's visual, tonal, and messaging guidelines, you can ensure that every piece of content you create is aligned with your brand's identity and resonates with your audience.
In today's competitive influencer landscape, building a strong personal brand identity is crucial for success. So, take the time to craft a comprehensive brand identity guide that captures the essence of your brand and communicates it consistently to your audience.