Expert
How to Monetize YouTube Videos
Interested in making money from YouTube videos but not sure how? We have you covered with a detailed step by step guide on how to monetize YouTube videos. Follow these simple tips and get your YouTube channel monetized at the earliest.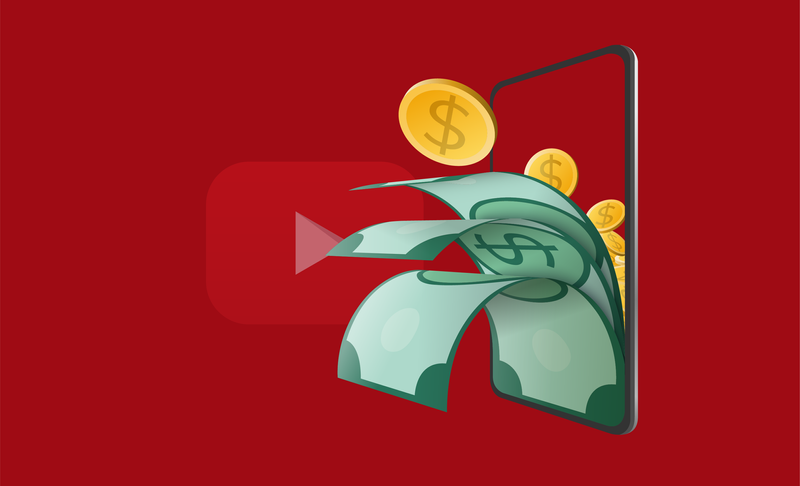 Creating content and earning money from your content is something every YouTuber out there wants to achieve. Getting into the YouTube Partner Program and receiving your first paycheck from YouTube is always special. However, finding your way into the YouTube Partner Program can be tricky at times, especially if you are just starting out on YouTube. That's why we have you covered with a detailed guide on how to monetize your YouTube videos. Get detailed analysis and info into how the monetization system works in the video sharing platform. If you are new to YouTube, you can also check out our beginners guide to start a YouTube channel and get a quick look into how the platform works.
Can anyone make money from YouTube?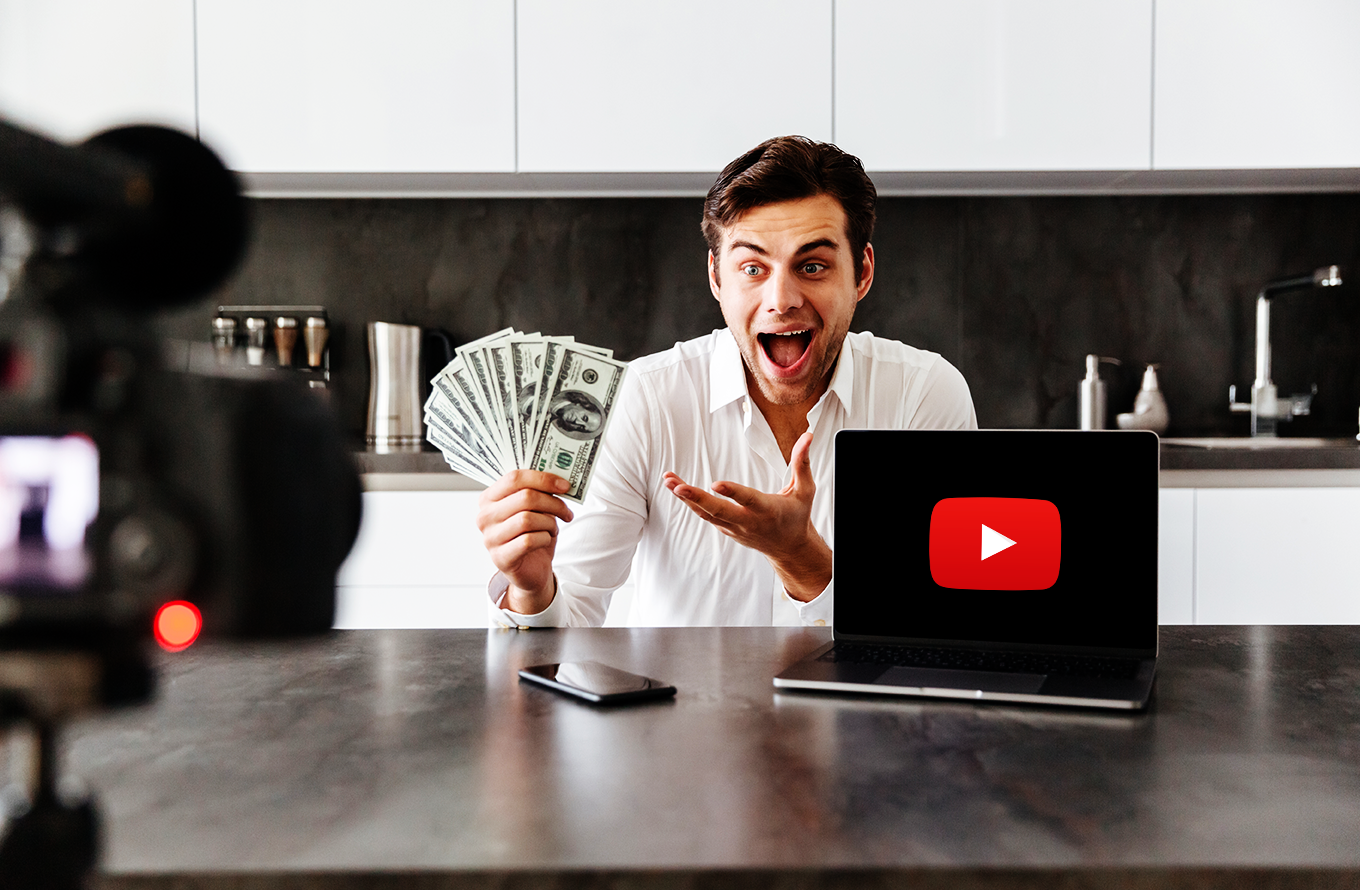 Yes, everyone who joins YouTube regardless of whether they are amateur or professional creators can make money from YouTube. All you need to do to earn money from YouTube is to apply for the YouTube Partner Program (YPP). The basic requirements that lets you apply for the YPP is to have at least 1000 subscribers and a minimum of 4000 watch hours in the last 12 months. We'll cover the YouTube Partner Program in detail below, and let you in on some interesting tips and tricks that is guaranteed to help in your YouTube journey.
What is the YouTube Partner Program?

There are millions of YouTubers around the world, and even though YouTube has associations with all of the leading brands across the world, it is not practical to pay everyone. To make sure that only content creators that put in the time and effort to produce and publish authentic videos are monetized, YouTube came up with the idea of introducing the YouTube Partner Program (YPP). To qualify for YPP, a YouTube account is required to have a minimum of 1000 subscribers and watch hours of 4000 in 12 months. Once you achieve these milestones, you can apply for the YPP account and set up a Google AdSense account to get money from YouTube for the videos you create.
How can I get 1000 subscribers?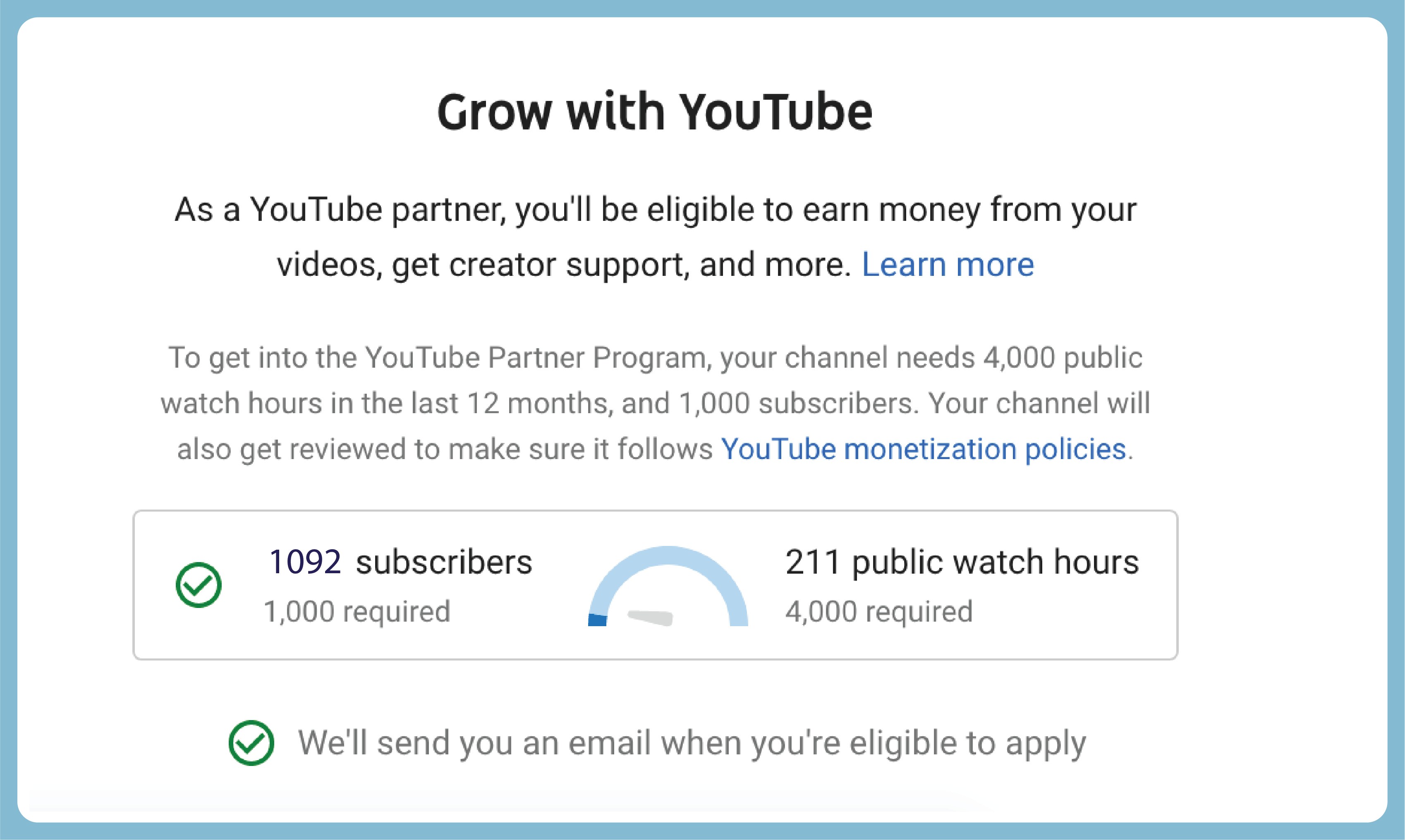 Getting to your first 1000 subscribers is an incredible achievement for any YouTuber regardless of the content they make. Here are some quick tips to help you reach 1000 subscribers.
Stay persistent by consistently uploading videos
Breakdown subscriber goals as 100, 250, 500, 750 and 1K
Work on similar video topics that bring in lots of views
Maintain a schedule and upload at least 2 videos per month
Keep tabs on negative feedback and improve on the drawbacks
Check YouTube analytics to get an idea of how videos are performing
Engage with your audience and respond to all possible comments
Download extensions like Vidiq and TubeBuddy to improve SEO
Spend time to work on thumbnail and topic research
Publish at a time that brings in most views by tracking videos on analytics
How can I get 4000 watch hours?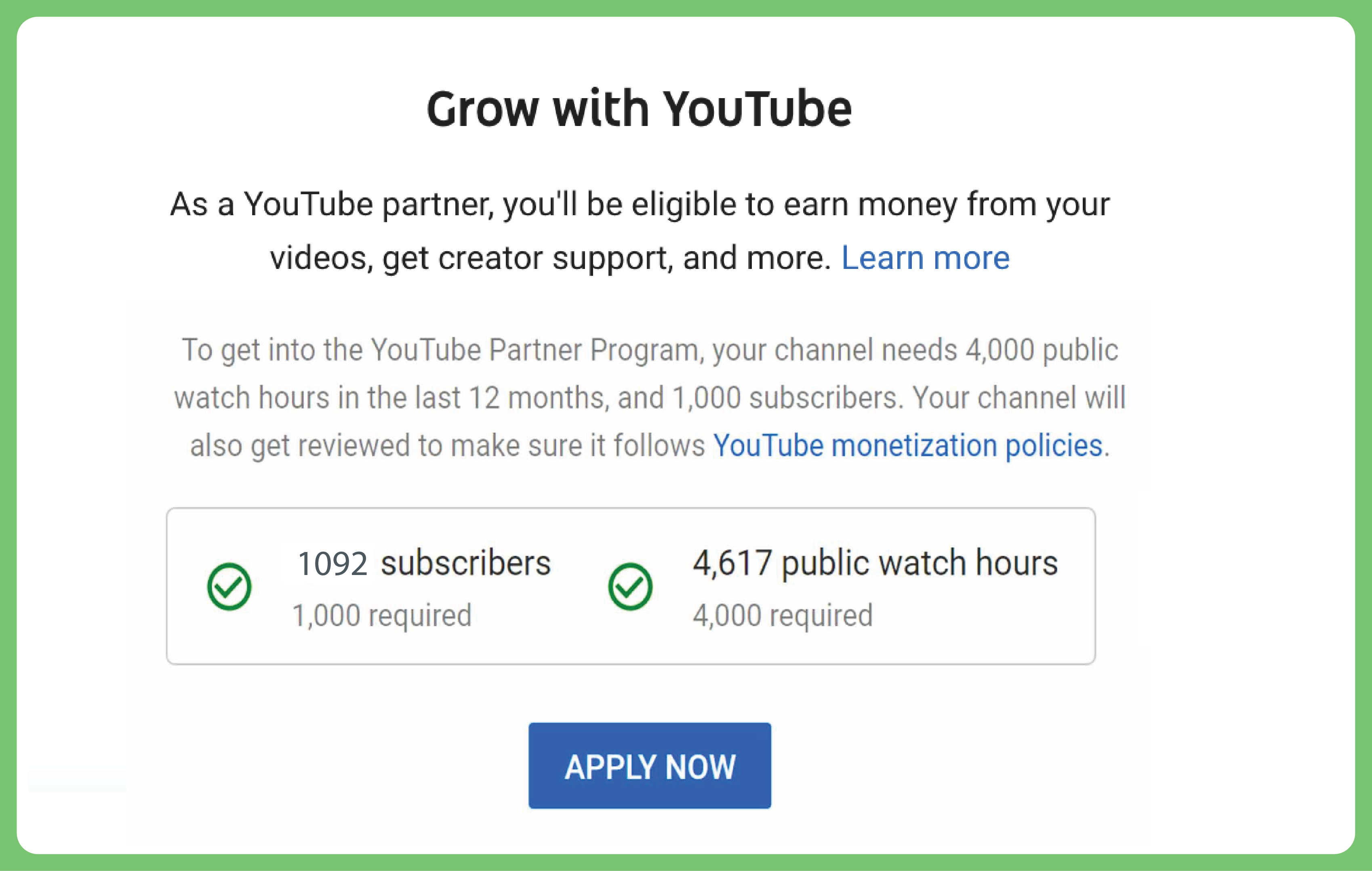 Even if you win half of the battle by getting the first 1000 subscribers, getting to 4000 watch hours is an even bigger battle. However, the challenge becomes easier as your subscriber count increases. If you didn't know already, here are some great ideas to increase watch hours on YouTube.
Live streaming is a great way to boost your channel's watch hours
Work on evergreen content that regularly brings in views
Guides, tutorials, or how-to videos boost views around the year
Stay consistent and upload videos at regular intervals
Keep tabs on feedback and improve these aspects
How do I apply for the YouTube Partner Program?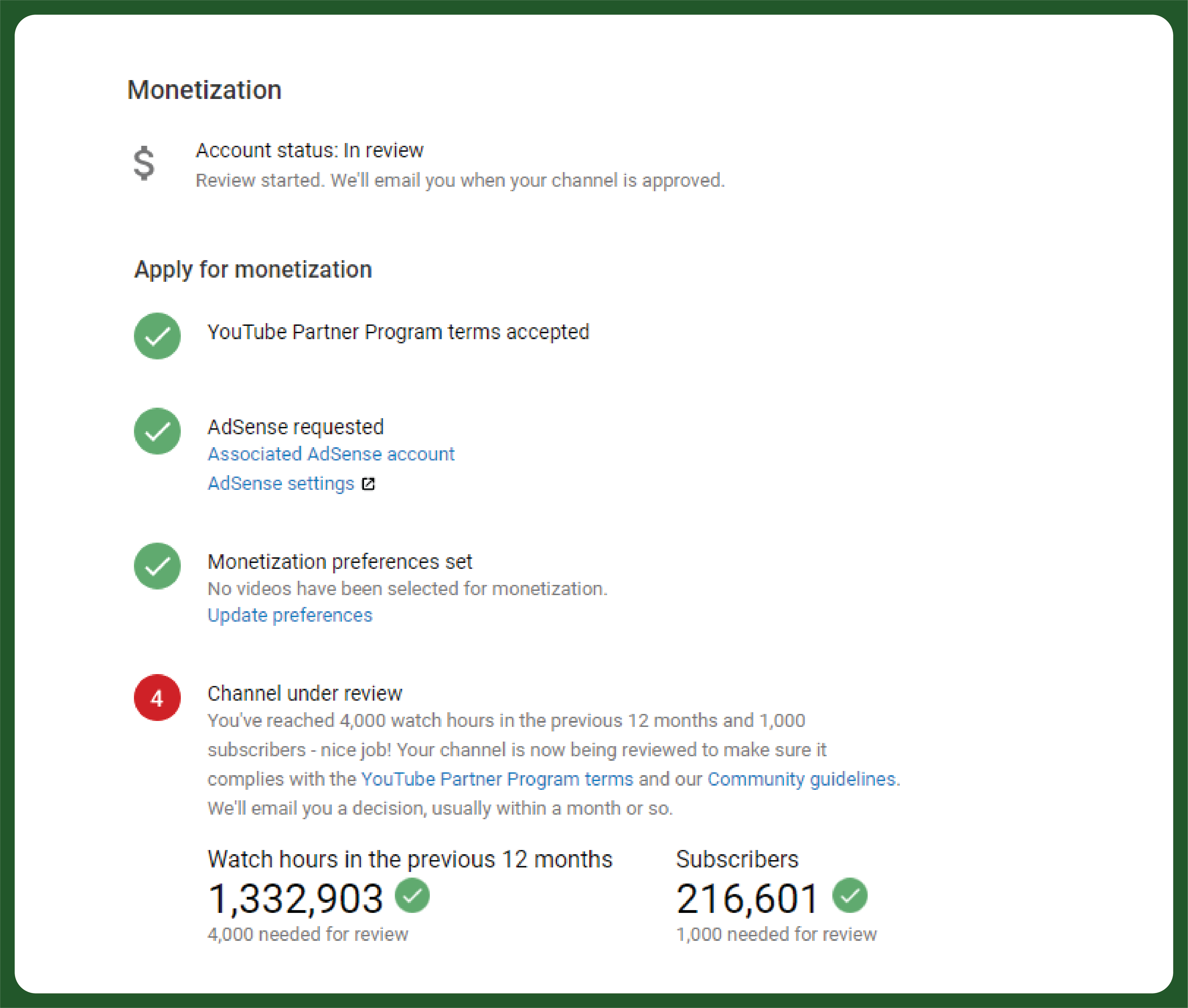 Once you hit the minimum requirements for YouTube Partner Program, you can officially apply to get your channel monetized. These are some of the primary application checklists that you need to meet in order to apply:
Enable 2-step verification for your Google account.
Make sure that your channel does not have any active community guidelines strikes
Have at least 1000 subscribers and 4000 watch hours.
Setup a Google AdSense Account.
Go to YouTube Studio and click on the Monetization tab on the left side of the page
Click on start in the Review Partner Program
Now you will have to get confirmation from YouTube which you can expect in the coming few days. A team of YouTube will review your account and either approve or reject your application. If your application gets rejected for some reason, you can reapply in 30 days.
What is Adsense and why do I need it?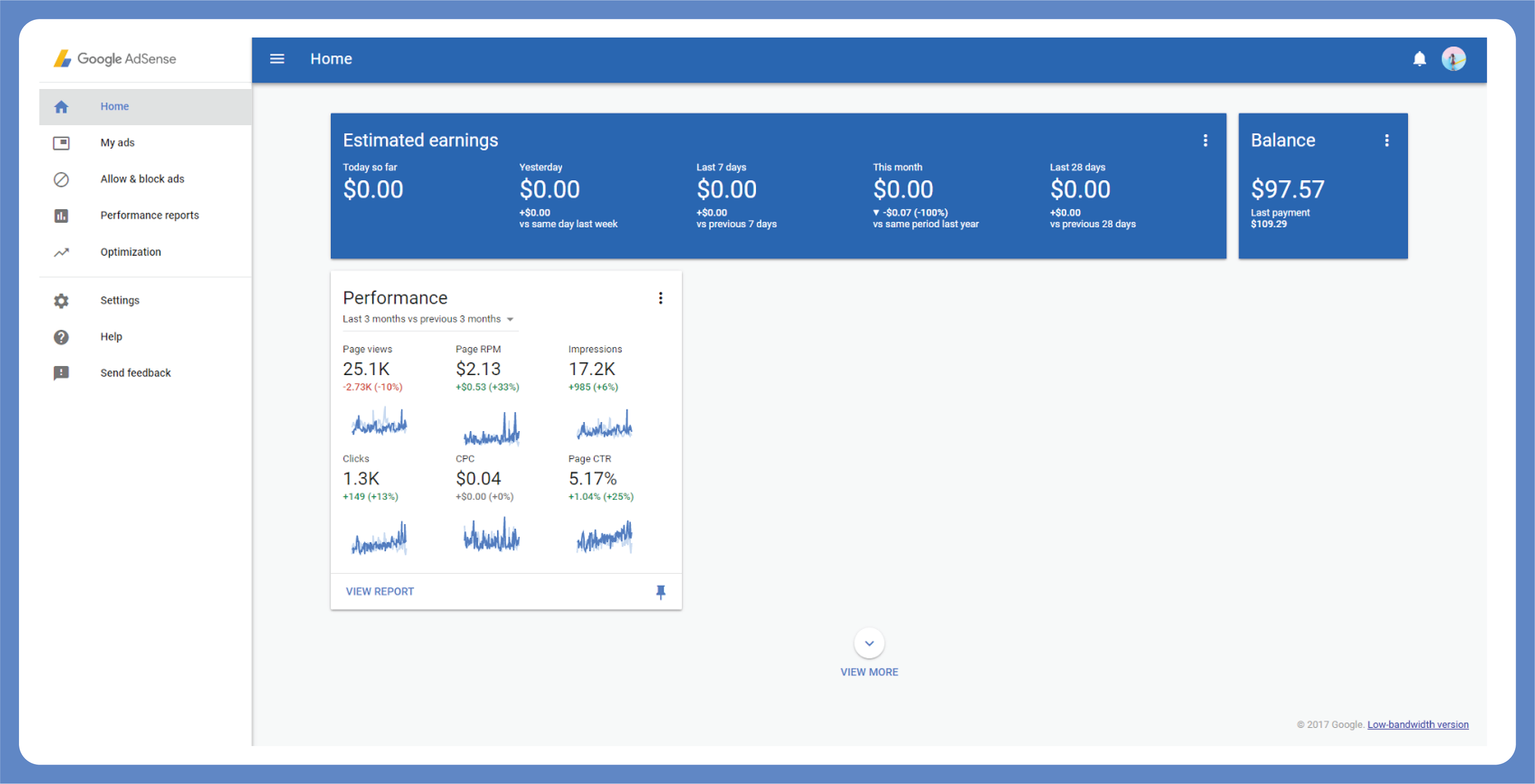 If you are planning to monetize your YouTube account, you will need to associate with an approved Google AdSense account. If you don't have an AdSense account, you can create a new account for free by signing up and filling out the necessary information on your google account. Your primary source of revenue on YouTube is through ads and Google AdSense has millions of advertisers competing for your ad space. You are guaranteed to find tailor made ads that match your content and content audience and thereby improve the chances of getting the maximum rewards from your YouTube account.
How do I setup my AdSense account?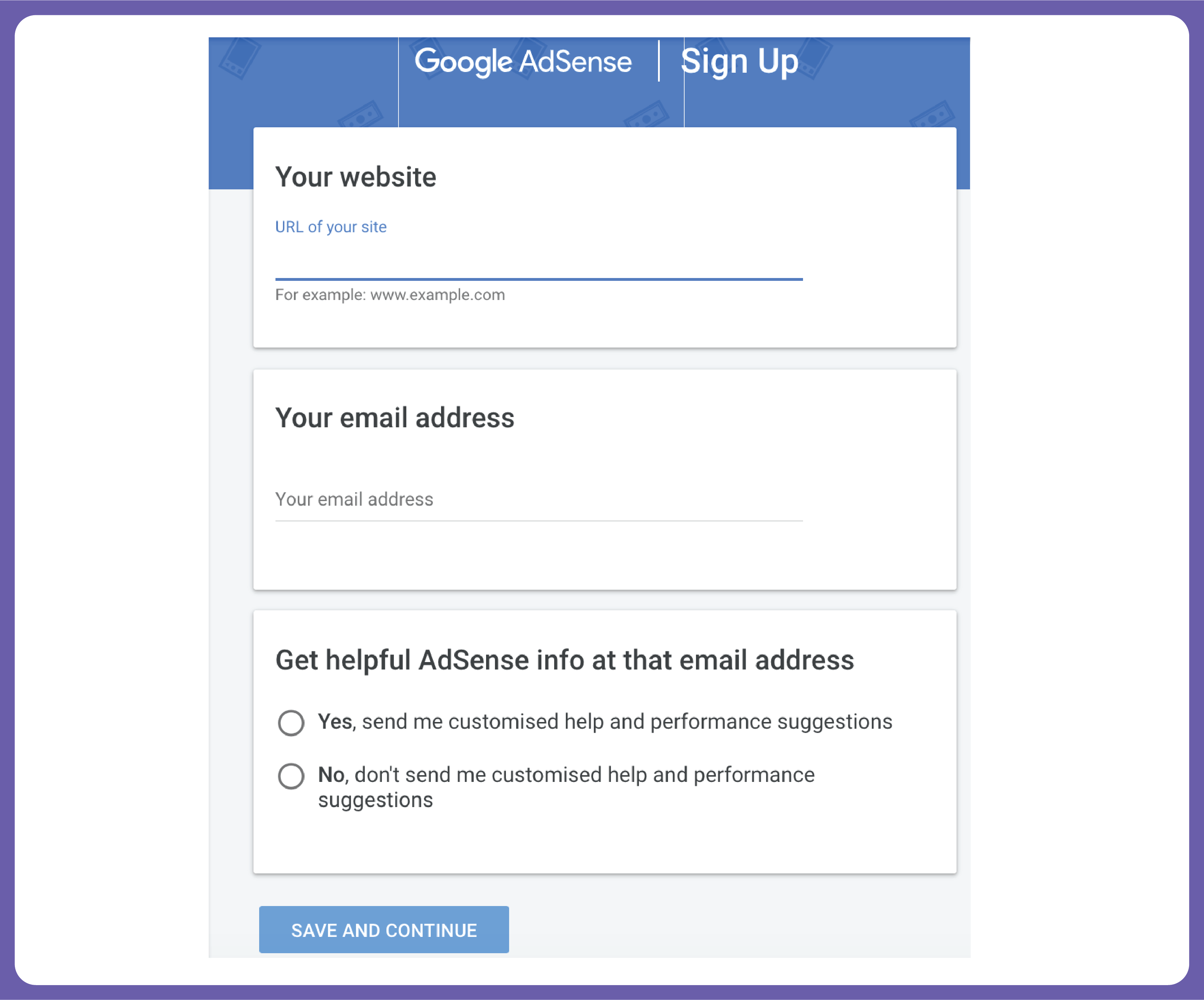 Setting up your AdSense account and linking it to your channel is pretty straightforward. If you are new to AdSense, simply follow these steps to get your AdSense account linked to your YouTube channel.
Sign in to YouTube Studio
Look for the Monetization tab on the left side of the screen.
Now click on start at the sign up for Google AdSense option.
Enter your YouTube account password and re-authenticate if required.
Now select the google account that is linked with your YouTube account.
Verify the email address and fill in the remaining information to get your AdSense account ready.
Wait for YouTube to verify your application and approve it. Once confirmed, your AdSense account will be activated.
Can I monetize my YouTube Account without 1000 subscribers?
Before 2021, you were required to be enrolled on the YouTube Partner Program which had a minimum requirement of 1000 subscribers and 4000 watch hours. However, with the introduction of YouTube Shorts and in a bid to improve the number of people trying out the feature, YouTube has now introduced the YouTube Shorts Fund. This feature allows people who don't have 1K subs and 4K watch hours to monetize their short videos. You can also reach out to the many brands out there that offer sponsorship for upcoming YouTubers. However, you will need to convince these brands that you are worth sponsoring and in a game where numbers do the talking on most occasions, it's always best to have the most possible subscribers to be considered.
How do I apply for the YouTube Shorts Fund?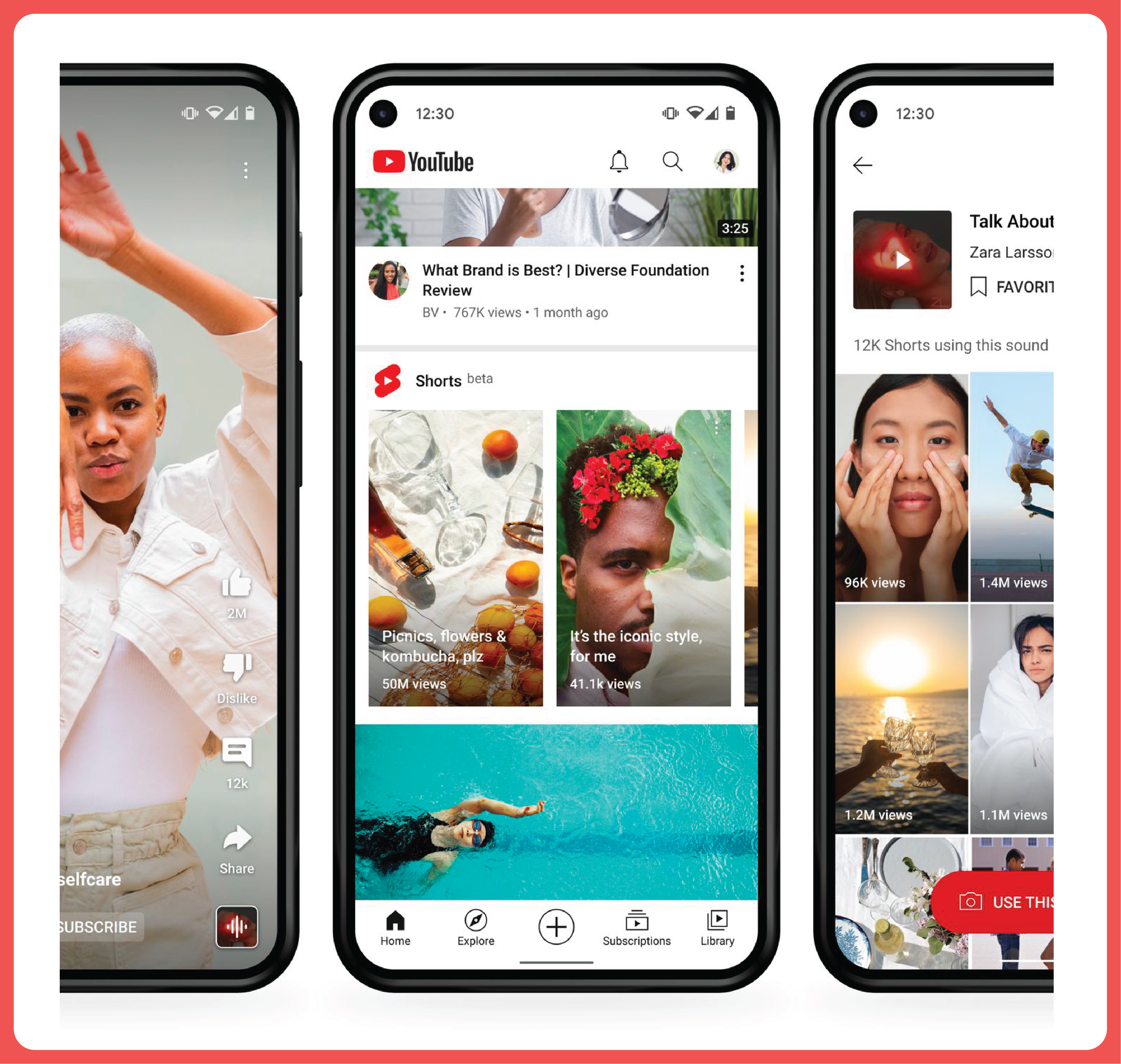 You can't, because unlike the YouTube Partner Program, that's not how YouTube Shorts Fund work. YouTube reviews content of all Shorts creators in eligible regions that have had the most engagement and shortlists creators to whom an email and YouTube notification is then sent. Only creators who upload original shorts are considered to be eligible for the Shorts Fund. If you are selected for the bonus fund, you will need to claim it before the end of the month through your AdSense account.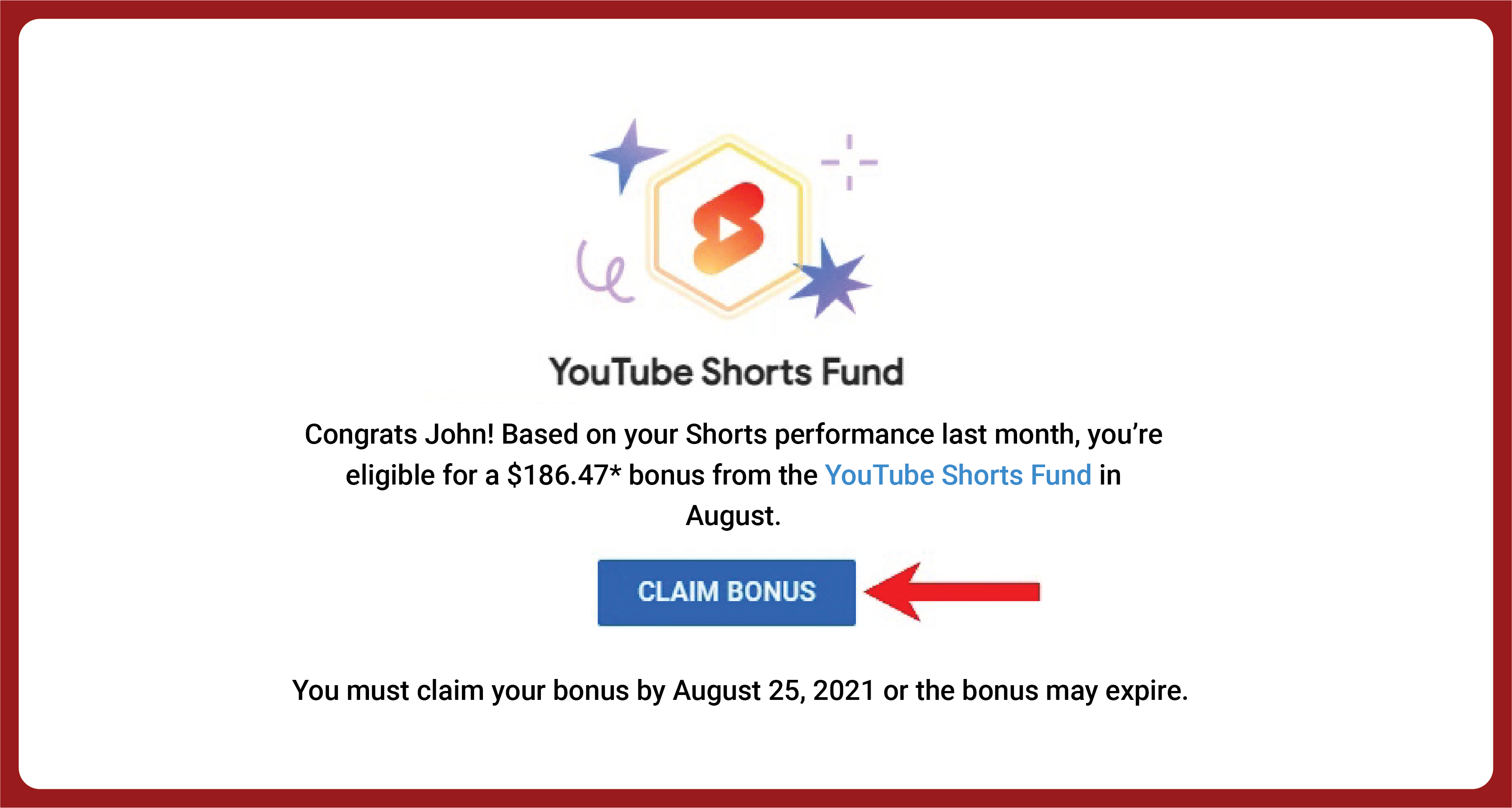 Different Ways to Monetize Your YouTube Account
There are several ways to monetize your YouTube account once you are accepted into the YouTube Partner Program. If you are not sure about how monetization works on YouTube, here is a quick guide into some of the options you have.
Ad Revenue - You can choose to turn ads on for all your videos or some videos and every time an ad plays, you get revenue. For each ad shown on your channel, YouTube takes 45% and you will receive the remaining 55%.
Channel Membership - This is more like a premium version of your channel. You can choose to have members-only videos that will limit views to users that have your channel membership. You will need a minimum of 30,000 subscribers to have this feature enabled.
Super Chats - If you have a gaming channel, you can consider enabling Super Chats and Super Stickers to boost your YouTube channel's revenue stream. Subscribers who send in Super Chats will be highlighted for a specific period, and all the revenue you get from Super Chats, go directly to your account.
Sponsored Content - Companies are willing to pay you a sum of money for promoting their products. You can reach out to different companies, or companies that can be connected to the niche your content focuses on. You can agree on an amount and make a video to earn externally.
Sell Merchandise - If you have a loyal fan base, it's just about the right time to consider creating a brand image on your channel. You can consider investing in selling your merchandise for your followers and subscribers. Every time a purchase is made, you will receive the subsequent revenue for the sale.
Conclusion
"If you are good at something, never do it for free" - this iconic dialogue from Heath Ledger as he portrayed the role of Joker in Dark Knight is true to its essence. YouTube recognizes the effort content creators put in every one of their videos. Making your way into the YouTube Partner Program is no easy task and you will have to invest a lot of time and energy to make yourself monetized. However, completing the milestone of getting your content monetized is worth all of this hard work. If you already love creating content for YouTube, you will enjoy it, even more, when you get paid for the work you love.