Growth
A Complete Guide on How to Make Money on YouTube in 2023
Discover the various proven ways to monetize your YouTube channel in 2023. Explore ad revenue, YouTube partner program, channel memberships, and more.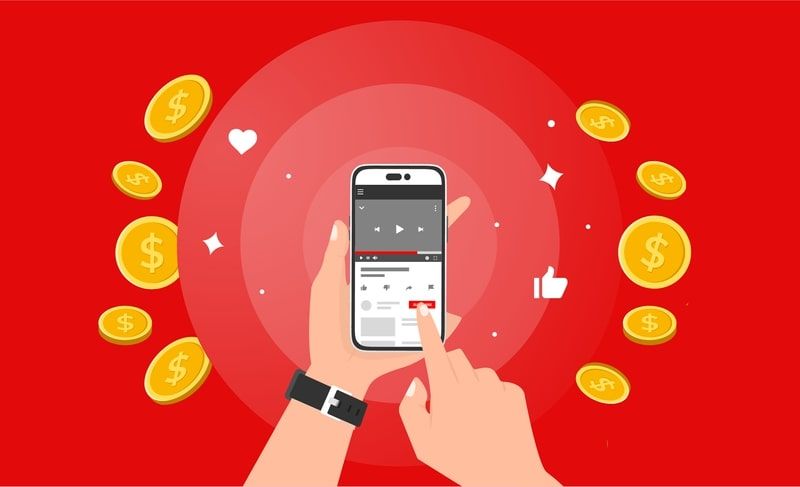 With millions of active users, YouTube stands as the unrivaled giant in the realm of video streaming platforms, offering boundless opportunities for content creators to thrive. As the largest online stage for sharing and discovering videos, it has become more than just a platform for entertainment and self-expression. YouTube has evolved into a lucrative avenue for individuals to generate substantial income by showcasing their talents, knowledge, and creativity to a global audience.
In this comprehensive guide, we will delve into the intricate world of making money on YouTube in 2023. Whether you're an aspiring content creator seeking to turn your passion into a profitable venture or an established YouTuber aiming to enhance your earnings, this article will serve as your roadmap to success. From understanding the fundamental monetization methods to uncovering the latest strategies that work in the current landscape, we will equip you with the knowledge and insights needed to navigate this dynamic platform and maximize your earning potential.
So, if you're ready to embark on an exciting journey toward financial independence and creative fulfillment, join us as we unravel the secrets behind monetizing your YouTube channel in the ever-evolving year of 2023.
Revenue Streams Offered by YouTube
YouTube has so many content formats such as Shorts, live streaming, and long-form video, and it makes sure that the creators get rewarded for making all of them. When it comes to turning your ideas into a potential revenue stream, the platform offers many options for making money.
Let's see some of the prominent features with the help of which you can monetize your channels. But to have access to these revenue streams you got to enroll your channel on the YouTube Partner Program.
What is YouTube Partner Program?
YouTube Partner Program (YPP) is a YouTube resource that gives content creators greater access to the platform's resources, monetization streams, and the Creator Support team. YPP follows a revenue-sharing model where it uses monetization-enabled channels for running advertisements.
Whenever an ad is viewed or clicked, the advertisers pay Google then, Google in return pays a share to the content creators for offering their channel as a platform for its ads.
However, for enrolling you first have to pass the following two thresholds -
1,000 subscribers with 4,000 valid public watch hours in the last 12 months.
1,000 subscribers with 10 million valid public Shorts views in the last 90 days.
By being a part of the YouTube Partner Program you get a multitude of benefits and the most significant of those is an efficient way to increase revenue swiftly. Now let's have a detailed look at all the revenue streams that you get as a participant of YPP.
1. Ad revenue and YouTube Premium
YouTube offers content creators the opportunity to earn ad revenue through display, overlay, and video ads on their channels. By monetizing their content with these ads, creators can generate income based on the viewership and engagement of their videos.
Additionally, YouTube Premium presents an exclusive avenue for earning money. Creators can receive a portion of the subscription fees from YouTube Premium viewers who watch their content, benefiting from the ad-free viewing experience provided to Premium subscribers.
2. Super Chat and Super Stickers
Both Super Chat and Super Stickers serve as effective tools for fans to show their appreciation, engage with creators, and establish a stronger presence during live streams and Premieres. These features foster a sense of community and provide creators with an additional avenue to connect with their audience while receiving financial support.
During live streams and Premieres on YouTube, content creators can provide their fans with an exciting means of interaction through Super Chat and Super Stickers. These features offer fans the opportunity to go beyond traditional messages by purchasing vibrant and eye-catching messages and stickers that not only express their support but also help them stand out in the live chat.
3. Channel Memberships
Providing channel memberships is another innovative and excellent method to provide exclusive perks to your most dedicated supporters. When fans become paid monthly members of your channel, they gain access to special advantages such as personalized loyalty badges, custom emojis, and exclusive members-only content.
The beauty of this feature lies in its flexibility: you have complete control over the rewards you offer and the pricing for each membership level. With channel memberships, you can tailor the experience to cater to your audience's preferences while nurturing a closer and more intimate connection with your most loyal fans.
4. YouTube BrandConnect
YouTube's BrandConnect offers content creators the opportunity to establish partnerships with brands for branded content campaigns. Utilizing advanced Google technology, BrandConnect analyzes your audience and identifies suitable brands that align with your content. This streamlined process aims to drive impactful results by providing full-service campaign management.
As a creator, you are presented with a range of options, enabling you to make informed decisions about the brands you wish to collaborate with. This empowers you to maintain control over your content and select partnerships that resonate with your values and audience. With YouTube's BrandConnect, forging meaningful collaborations with brands becomes a seamless experience, allowing you to create authentic and engaging branded content that aligns with your creative vision.
5. YouTube Shorts Fund
The YouTube Shorts Fund recognizes the growing popularity and impact of Shorts, offering creators a chance to earn income from their short-form content. This program serves as a catalyst for creators to explore their creativity, experiment with new ideas, and engage with the Shorts community while being rewarded for their efforts.
With a total fund of $100 million allocated across 2021 and 2022, creators who are actively producing and sharing Shorts on the platform are eligible to participate and monetize their videos.
By participating in the YouTube Shorts Fund, creators can tap into a significant pool of resources that can support their content creation journey.
6. Super Thanks
Super Thanks is a valuable feature offered by YouTube that not only adds to your revenue streams but also allows your fans to express their appreciation for your content in an enjoyable way. With Super Thanks, viewers have the opportunity to purchase a unique 'clapping' animation that appears exclusively on top of your channel's video. This interactive and visually appealing feature serves as a personalized gesture of gratitude from the viewer to the creator.
When a viewer purchases Super Thanks, their support is further highlighted through a distinctive and vibrant comment in the video's comments section. This allows you, as the creator, to easily identify and connect with your most dedicated supporters, fostering a deeper sense of engagement and community.
So these were some money avenues that the YouTube Partner Program offers to its creators. However, these are not the only ways to make money by publishing videos, there are many alternative methods and some don't even require you to have a million followers.
Earn Money on YouTube without Participating in the YouTube Partners Program
Here are a few alternative avenues for earning money on YouTube in 2023 that too without participating in the YPP.
1. Affiliate Marketing
YouTube Affiliate Marketing is one of the most prominent, lucrative, and convenient avenues for content creators. It refers to the practice of promoting products on YouTube with an affiliate link on your channel (either in the channel description or video description) and earning a percentage made from the sale.
Earning money with affiliate marketing on YouTube is pretty straightforward and it includes the following steps:
Begin by choosing a niche that is trending and has a decent amount of competition. Next, start to sign up for the affiliate programs available in that niche.
Next, start creating and publishing videos where you can recommend these products naturally. It is highly recommended to tell people how the products you can add value to their lives.

Now, add clickable affiliate links to the product in your video description, videos, and other important locations.
Now, when the viewer shops using your link, the store learns that the purchase was made from an affiliate partner. As a result, you get a commission for all the purchases made from your link.
Affiliate marketing has created a massive opportunity for YouTubers to monetize their channels and earn money even if they cannot be a part of the YouTuber Partner Program.
2. Crowdfunding Your Projects
YouTube videos such as short films require a lot of funding to be executed successfully. Well, if money is all that stands between an idea and its execution, crowdfunding is a good way to make it happen.
Whether you need financial support for purchasing better equipment, hiring actors, or covering production costs, you have the opportunity to seek assistance from your own audience and the crowdfunding community. By presenting a compelling idea, you can rally support and contributions from individuals who are passionate about your project.
Successful crowdfunding campaigns often entice potential backers by providing a sneak peek or a captivating "trailer" that generates excitement. Consider creating a video where you explain your project or offer a glimpse of what it will be like. A prime example is the popular Kickstarter campaign for "Kung Fury," a short film that pays homage to the action movies of the '80s.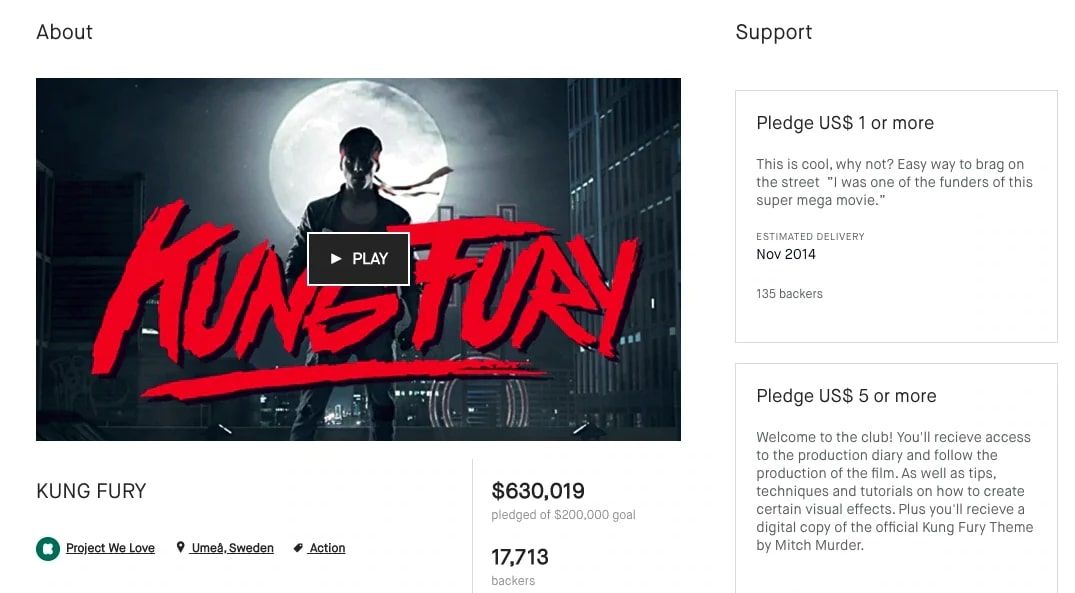 There are several renowned crowdfunding platforms that have a proven track record of supporting YouTubers and their campaigns. Kickstarter, for instance, is widely recognized and is an excellent choice for funding innovative products and creative ventures. It's important to set a realistic funding goal, as you will only receive the funds if you reach the target you've set.
3. Selling Exclusive Fan Membership
In addition to crowdfunding, creators have the option to establish "fan funding" channels, where they can seek contributions from their audience while providing exclusive perks in return.
As a content creator, you share your voice on the internet without imposing an admission fee on your audience. However, if your content is valuable and engaging, your viewers may choose to support you on an ongoing basis.
Fan funding platforms offer creators an additional avenue for people to discover their content and provide a means to connect with their most devoted audience members while offering them rewards as a token of appreciation.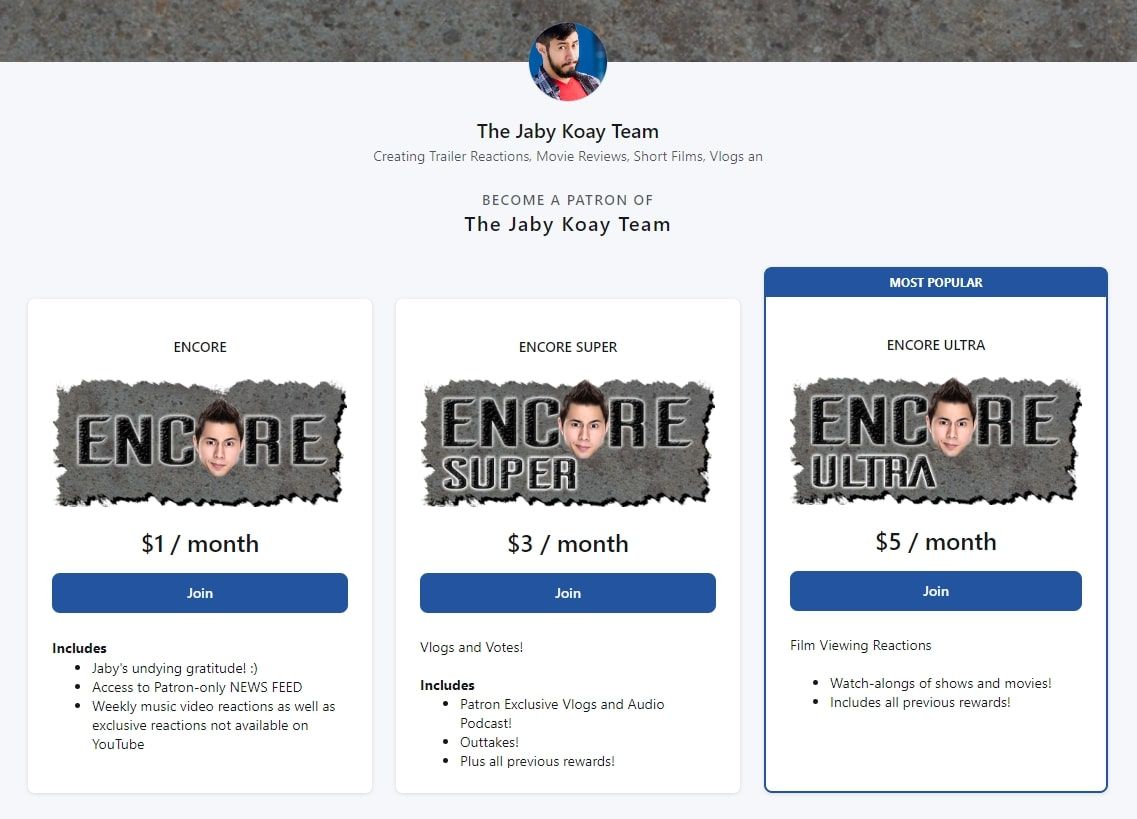 An excellent example is Jaby Koay, a renowned YouTuber who has garnered a substantial number of "patrons" on Patreon. Patreon is a popular membership platform that allows creators to establish a subscription-based service, where supporters, known as patrons, can contribute to the creator's work.
By embracing fan funding opportunities and leveraging platforms like Patreon, creators can expand their reach, cultivate a dedicated community, and reward their loyal supporters. This symbiotic relationship between creators and their audience fosters a deeper connection and ensures the continued creation of high-quality content.
4. Creating an Account on Shopper.com - Highly Recommended!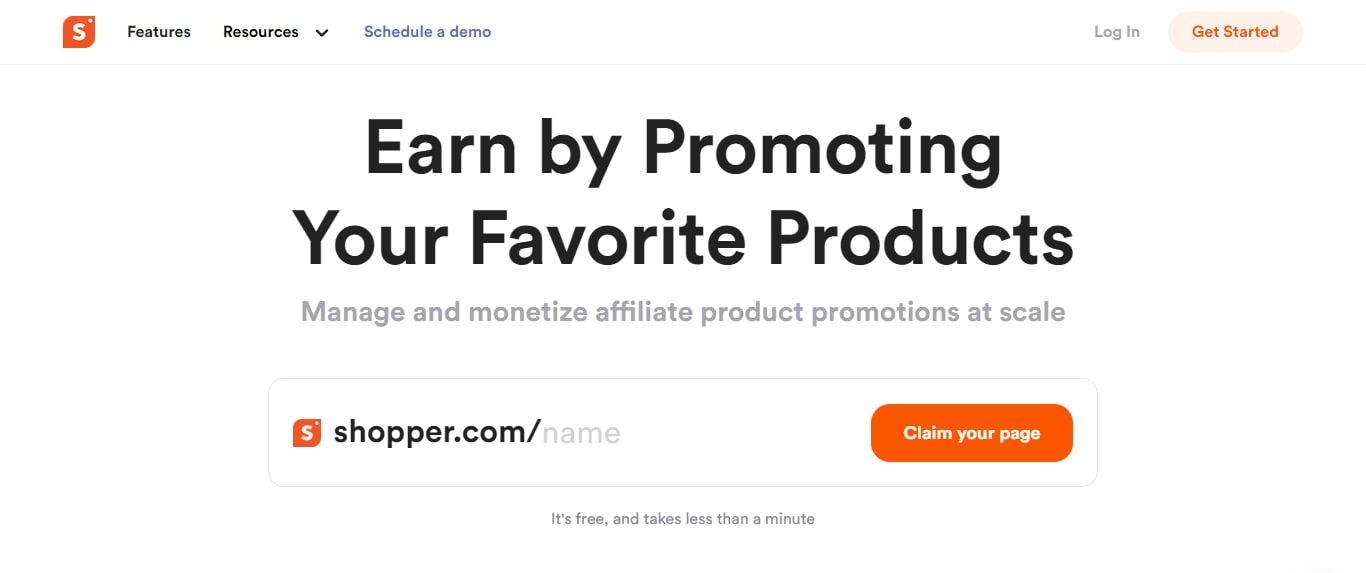 Shopper.com is a platform for creators for managing and monetizing affiliate product promotions at scale. The platform enables creators to -
1. Organize
You get a place to manage and organize the affiliate links and share them with your audience.
2. Monetize
Earn money from your own affiliate links, or take advantage of the built-in affiliate relationships with over 25,000 online stores.
3. Analyze
Real-time analytics to measure conversions from different traffic sources to understand how people interact with your products.
How to get started with Shopper.com?
You can get started with the platform absolutely free! Just visit the Shopper.com webpage and click on the Get Started button on the top right corner of the page.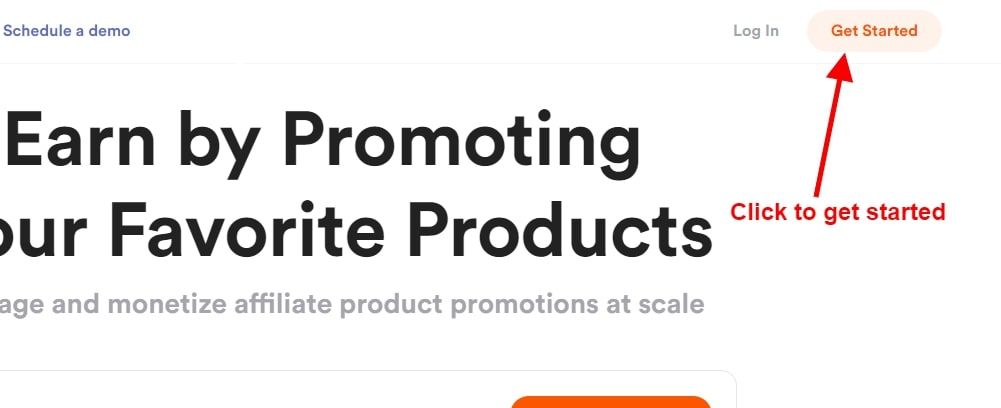 You'll be redirected to a Sign-Up page where you to fill in a few details and upon clicking on the next button you'll be asked to add links to your websites and other social media channels.
Lastly, you'll be asked, "What do you want to use Shopper for?" We highly recommend choosing the best option as per your affiliate goals as it will help us in tailoring a personalized experience for creators.
With Shopper.com, you can perform the following tasks as a creator:
List products: Create a Shopper page of all your highly recommended products so that your audience can easily access them all at once.
Earn money: This option is for creators who want to use Shopper.com for earning money through the built-in affiliate relationships. We've partnered with over 25,000 brands and by signing up you gain access to the affiliate partnership of all the brands.
Manage Products: You can also keep track of all the products that you share via the platform.
Once you're done with the signing process you can finally access your dashboard. While there are several configurations that can help you personalize your page, create and host a blog, or create a fully-functional affiliate marketing website from scratch. For this article, I'll be sharing with you how to add products and share them through your YouTube videos to generate scalable revenue.
Adding Products on Shopper.com
For adding products navigate through the following steps:
Click on the Add Product option.
You can either search for products, paste product URLs, or Import products from CSV.
Next, you'll an editor screen where you can add the product details, which include the product name, monetization option, product description, and option for rating the product.
Monetization Option
Typically there are 3 monetization options that are associated with the product you are uploading:
Default: Enable the option if you want to earn the payout associated with the sale of a product.
Custom: This option is for users who have a custom URL for the product being published.
Disable: The "Disable" is for users who don't want to monetize the product and just share it as a recommendation to their users.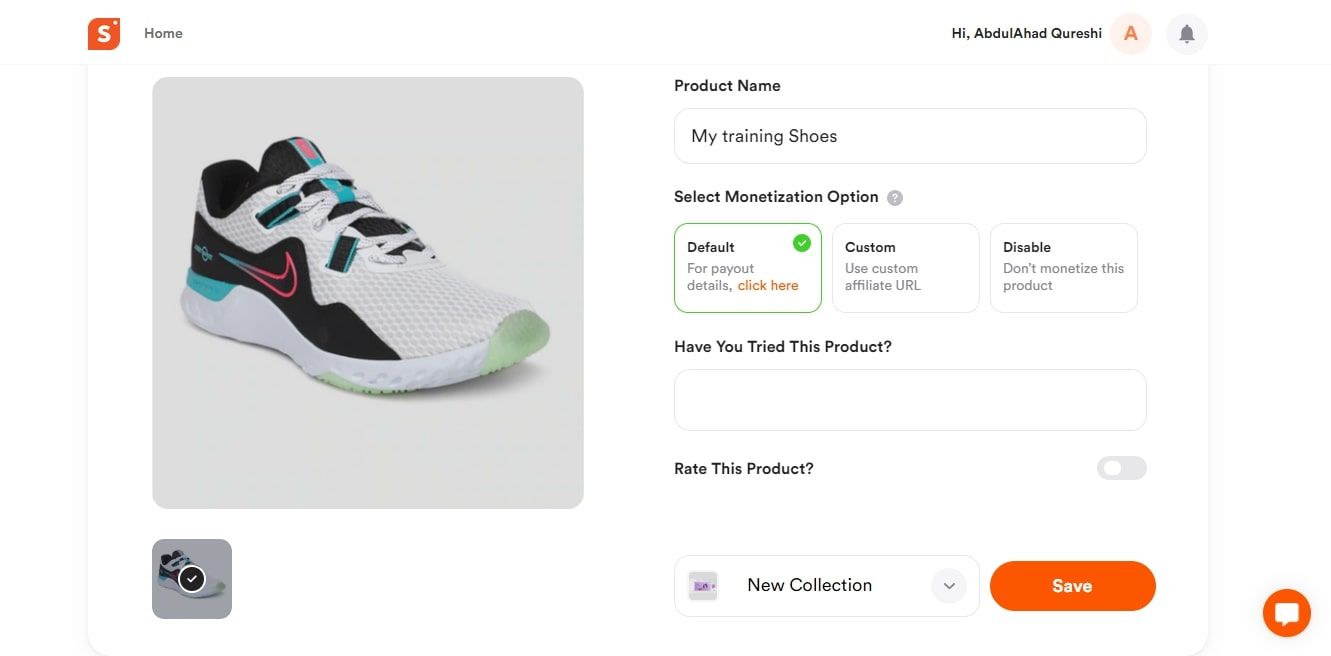 Once you've filled in all the details you can save the product and publish it for your audience to access the product. Well, as you can see starting your affiliate marketing journey with Shopper.com is very easy.
Whether you're a YouTube video creator, social media influencer, or a product review blogger by signing up to Shopper.com you can earn money by helping your audience buy the right product.
5. Share Your Expertise or Sell Courses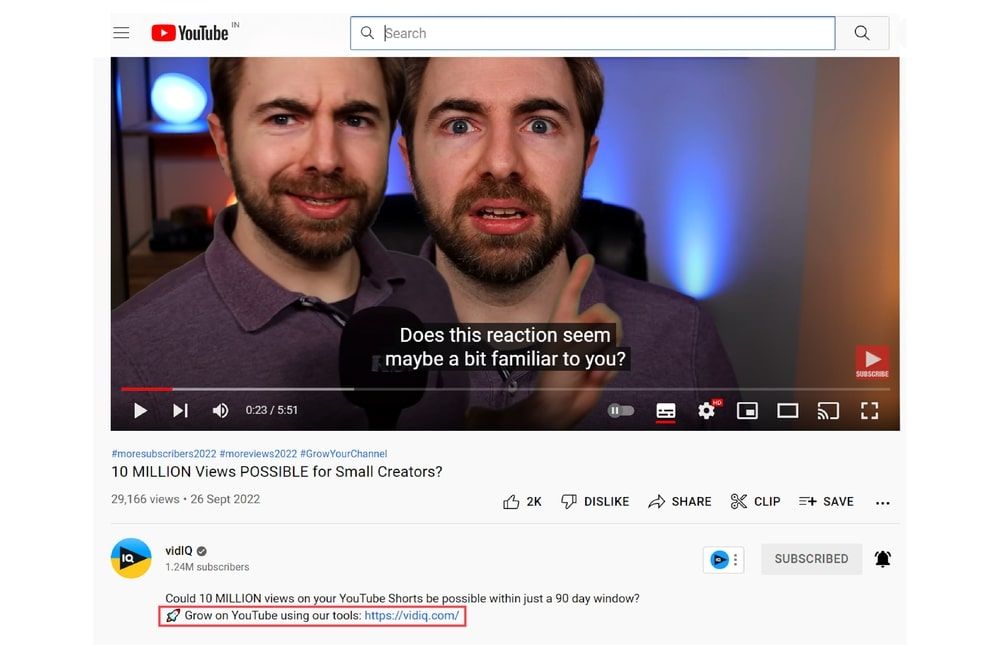 Product reviews, knowledge-sharing content, and tutorials are some of the most popular niches on YouTube today.
If you have expertise on a subject or happen to be a tutor or instructor that has the knowledge to share, YouTube can be a great place to establish yourself and sell your courses or services.
You can reach out to a target audience much quicker on YouTube as it is optimized for search.
People also treat YouTube as a platform to get answers to questions they have.
If you are someone that has the answers, provide them, and make sure you lead them to your courses or master classes by guiding them to the description box where you can share the download link or website URL.
You can also ask brands with whom you collaborate to offer you discount codes, and coupons that will again give you more commission and revenue.
6. Design and Sell Your Own Merchandise
Selling your own merchandise presents a lucrative opportunity to generate revenue and expand your online brand beyond your YouTube channel. Whether it's t-shirts, coffee mugs, tote bags, or snapbacks, the benefits extend beyond financial gains.
By offering merchandise, you increase your visibility by bringing your personal online brand and personality into the offline world. This allows your audience to connect with you on a tangible level and deepens the relationship between you and your fans. Through purchasing your merchandise, they actively demonstrate their support and become more invested in your content and community.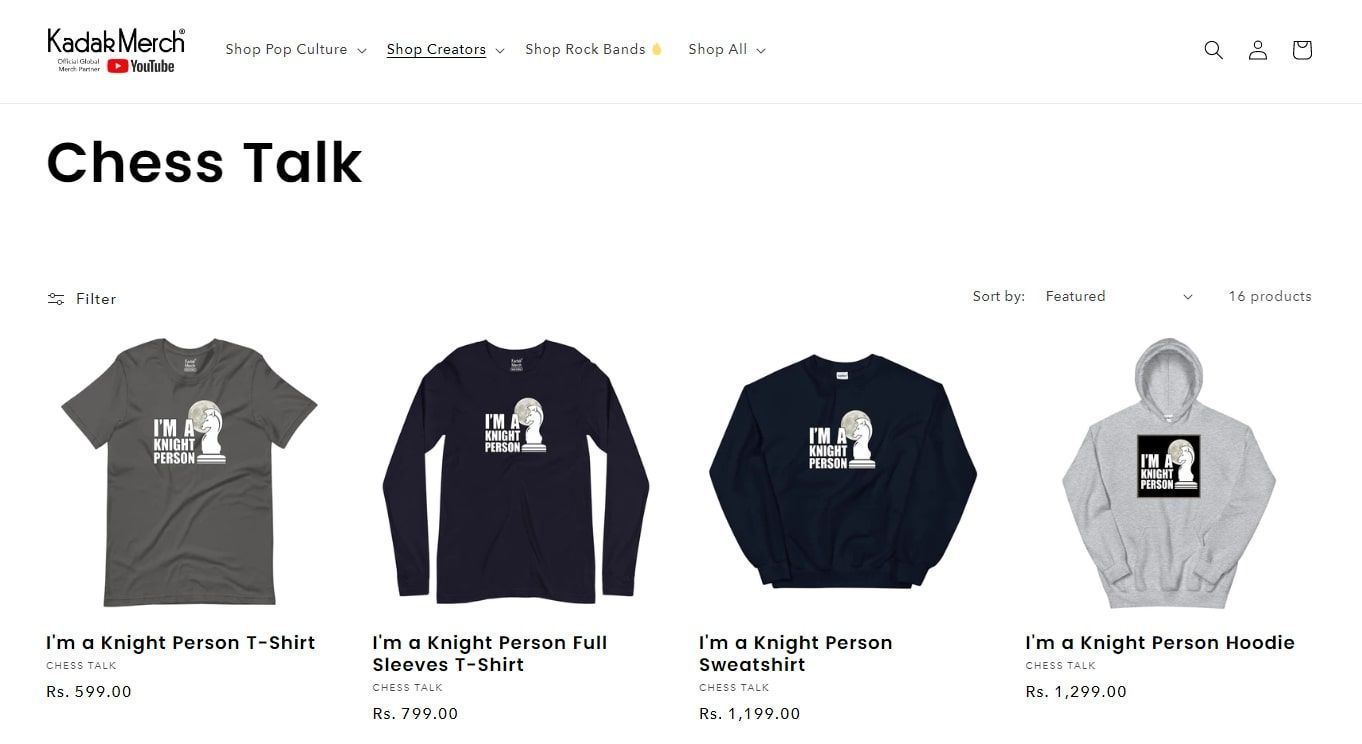 Chess Talk is a notable example of a YouTube channel that capitalizes on this avenue by selling t-shirts and hoodies through their own store, KadakMerch, exclusively featuring merchandise associated with Indian YouTubers.
However, you have the option to create and sell branded products without relying on external platforms by setting up your own online store. Begin by commissioning affordable designs for specific products, such as t-shirts, through freelance platforms like Fiverr. Next, utilize services like Shopify to establish an online store where you can showcase mockups, providing your audience with a preview of the finished products. Finally, to streamline order fulfillment, you can integrate a dropshipping service or a print-on-demand provider directly into your store.
Taking advantage of the opportunity to design and sell your own merchandise allows you to diversify your income streams, enhance your brand's visibility, and foster a stronger connection with your audience. By making your merchandise available, you offer fans the chance to support you while proudly displaying their affiliation with your content and community.
If you want to get the maximum number of views on your YouTube channel, you need to make sure that you drive more people constantly.
7. Create a Blog That Complements Your Channel
Blogs can do just that, and as they are in the written format, it makes your content accessible to a wider scope audience.
With blogging websites like WordPress, Ghost, Weebly, and many more offering free platforms to blog on, it is also relatively easy to set up a blog.
If you have affiliate partnerships or product promotions, you can also add them to your blogs and promote your products there.
Ads can also be run on blogs to further improve your overall revenue.
You only need to make sure that your blogs and YouTube channel are cross-promoted with each other.
People that visit your YouTube channel should be directed to your blog, and people that read your blogs should be making their way to your YouTube channel for this strategy to work effectively.
8. Offer Related Consulting Services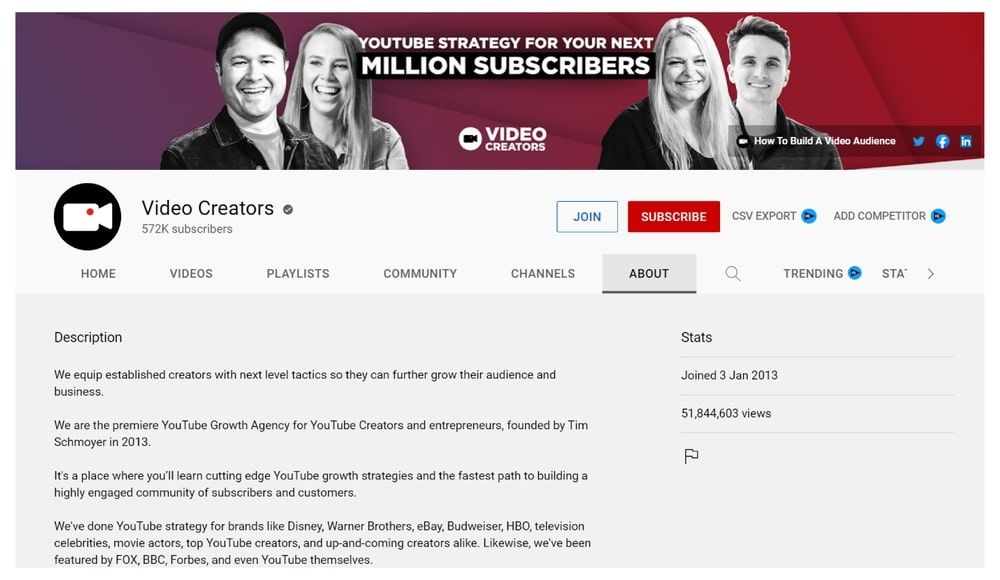 Mastering YouTube is no easy task and can be a challenge for some creators.
That's why there are always people that are on the lookout for more help to set up and make the most of their YouTube channels.
If you already have a good understanding of how YouTube works, you can consider offering YouTube consulting services, in exchange for a fee.
Not only does this help you get clients who will pay you in exchange for great tips, and tricks you share, but you will also get more knowledge and information on how YouTube works.
However, to get the maximum engagement on your consulting services, it is highly recommended to create your own YouTube channel and share related updates.
Sharing customer feedback and testimonials is also great to build trust among your YouTube community.
How to Promote Your Shopper Page on YouTube?
So we shared with you a highly recommended approach for earning money on YouTube which is creating a Shopper.com account and earning affiliate commissions. However, for making the most of your Shopper account you need to promote your link strategically on YouTube.
Here are the top 10 ways to promote your Shopper store on YouTube:
1. Introduce your store
Create hype. Let your fans know that you have something exciting planned! Your fans love your work and are happy to learn about new and exclusive opportunities. In every single one of his videos, he'll be mentioning the supporters that he has and about the Store page.
Announce it on your YouTube channel
It is always a great idea to announce the update on YouTube and other social media channels to reach your fans where they engage the most with you. Let them know that your store is live through social media platforms like Twitter, Instagram, Discord, Reddit, and Facebook. You are likely to be posting there already, so make sure that you promote special offers and renew interest in your store.
2. Announce collections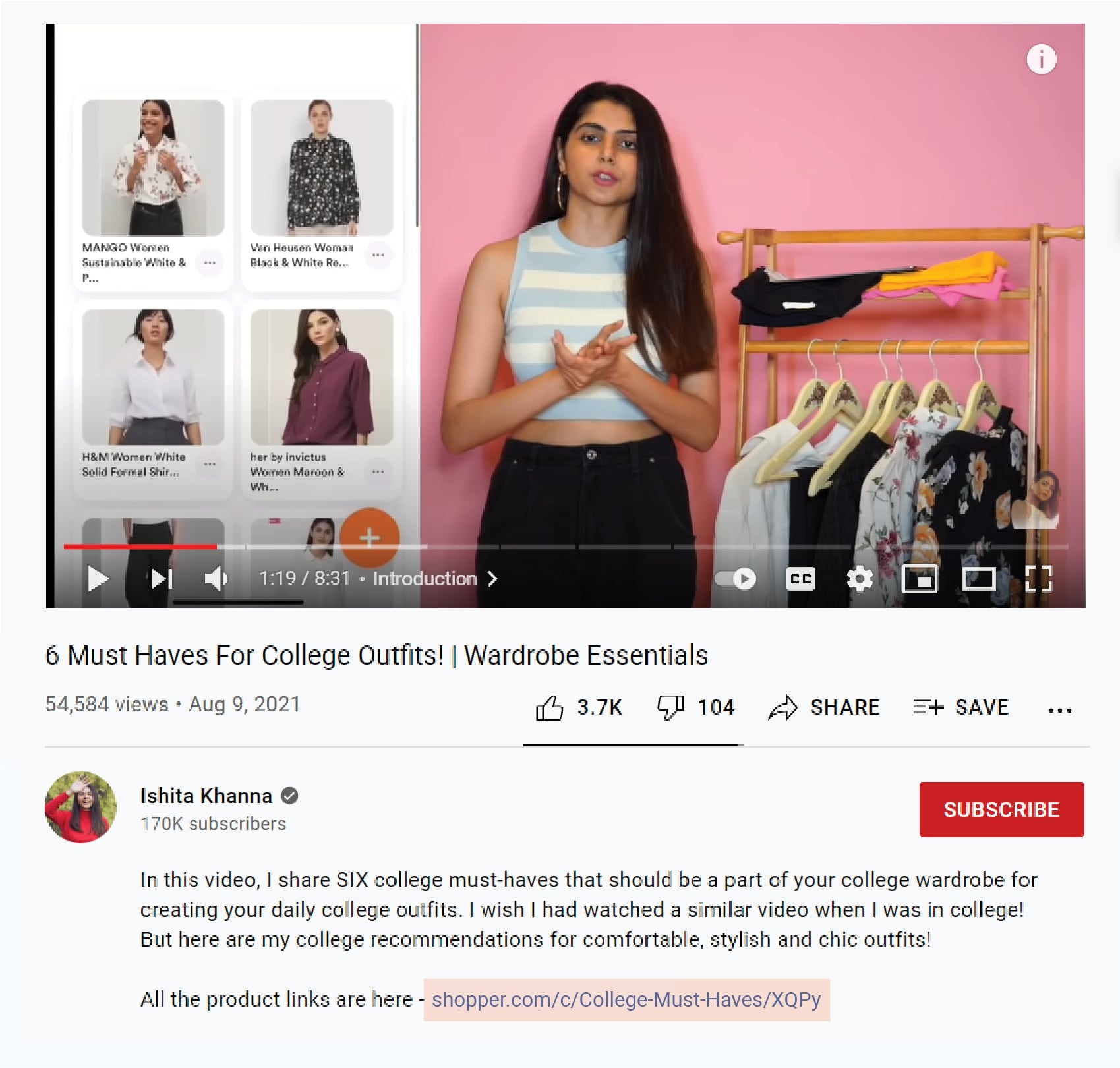 When we have exclusive offers, do always tell your followers and get the information about the collections to the maximum number of possible people around. The idea is to get maximum participation and attention to the collections and exclusive offers.
3. Host Contests
Announce contests: Introduce the store and ask your fans and followers to comment on the product they like the most and gift them the one they like the most. You can also host giveaways, that can help get the word out to the maximum possible people out there.
4. Audience Poll
Don't know what to offer? You can generate a buzz by getting your fans involved in the process. Post a poll, email them a form, or post a question on social channels and ask them what they'd like to see on your collections showcase. Remember, you're talking to your biggest fans. They will be excited about this.
5. General Promotions
Regular promotions of the platform can help more people engage with your store. The aim of hosting general promotions is to get the word out and thereby help introduce more people to our platform and the store. Can be hosted across multiple social media platforms.
6. Add to Your About Section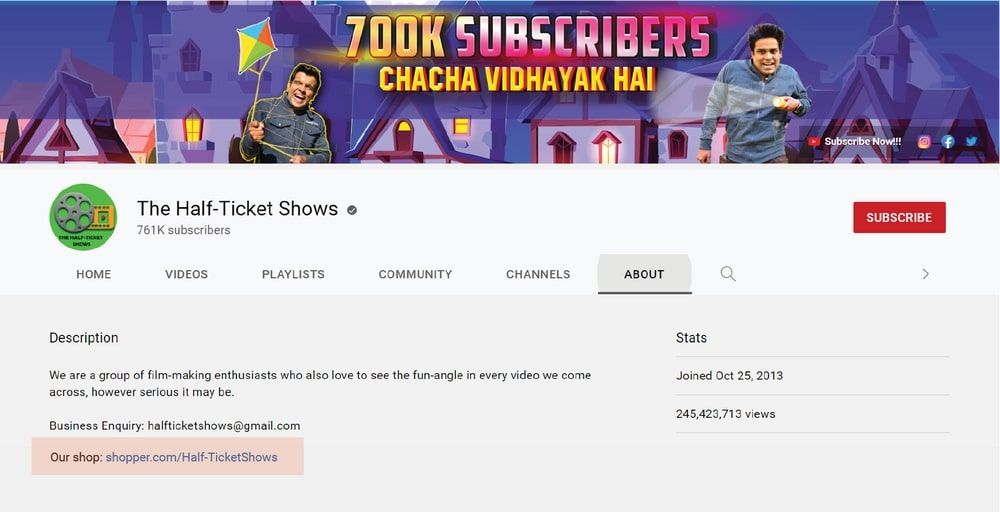 Adding the details about your store in the About section. Can be used to help your fans and followers shop for some of your favorite items from your store's collection. Also helps to improve your store's potential reach.
7. Add to Your YouTube Video Description
Almost the same as the About section but different in the sense that video descriptions have clickable links making it easier for your fans to connect with the store. You can also highlight different collections based on the video content of your choice.
How to add?
Select the video you want to add the description to and click on edit video. Scroll to the description box and paste the store link in the description box.
8. Add the Products One-by-One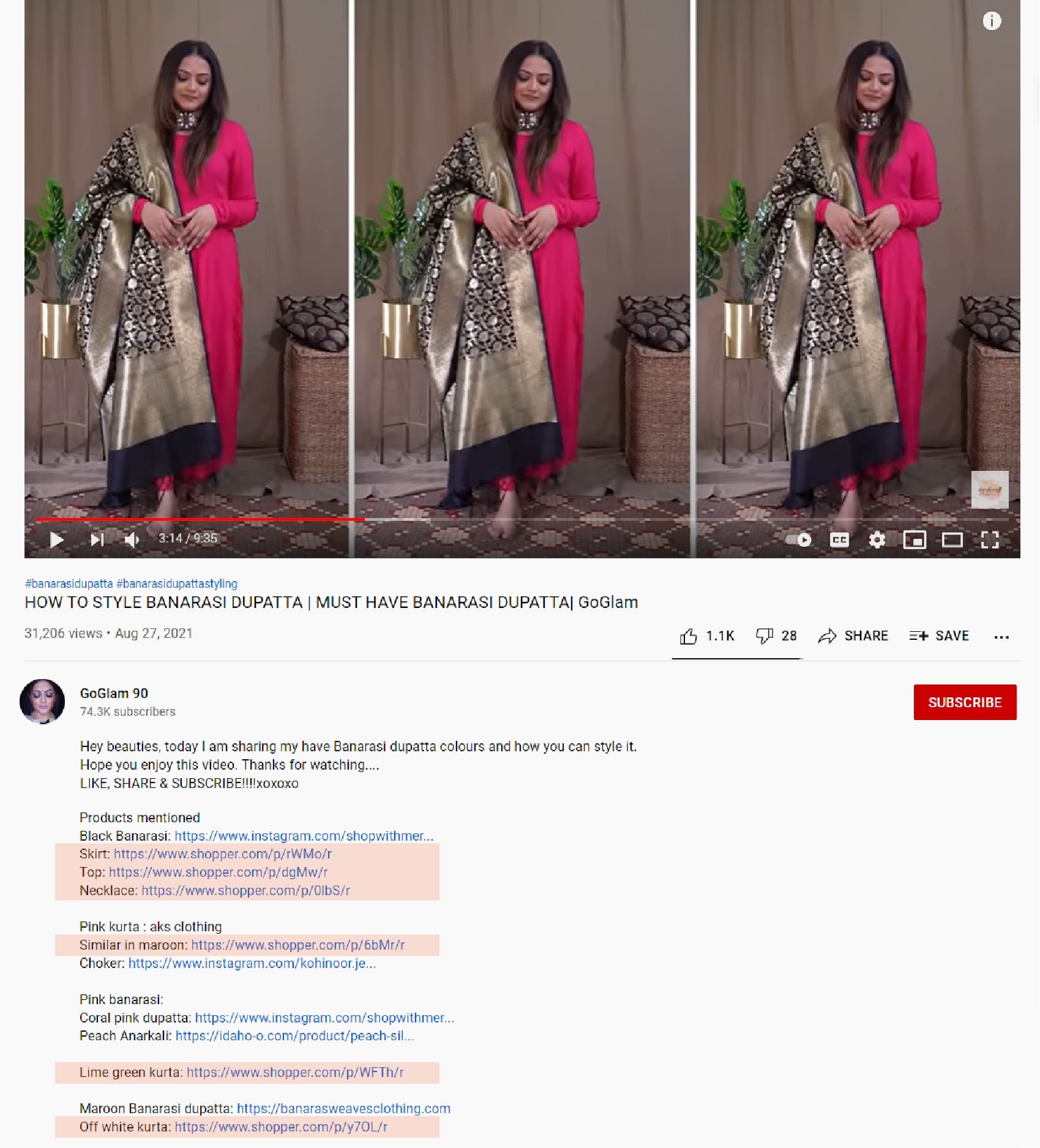 You can also add products one by one separately for easier navigation. Simply copy the product link from your store and come back to the description box. Now paste the product link on the description box one by one to have separate links.
Add the collection URL
Alternatively, you also have the option to share the link to a collection instead of individual products. Copy the collection URL and come back to the description box. Paste it over here and you can direct all your fans to a specific collection or multiple collections of your store.
9. Announce it On Your Community Tab
You can share your collections and individual products of your store with your fans and followers by sharing them on the community tab. Your fans can get a quick insight into some of the brands you use and shop for similar products with ease this way.
10. Update Your Social Links
You can update your social media links on YouTube by heading over to your channel. Click on the Customize channel and this will take you to YouTube Studio. From there, look for Basic Info and click on the add link. You can add up to five links over here, so simply copy the store URL and paste it over here to get it highlighted on your channel.
Conclusion
"If you are good at something, never do it for free" - this iconic dialogue from Heath Ledger as he portrayed the role of Joker in Dark Knight is true to its essence. YouTube recognizes the effort content creators put into every one of their videos. Making your way into the YouTube Partner Program is no easy task and you will have to invest a lot of time and energy to make yourself monetized. However, completing the milestone of getting your content monetized is worth all of this hard work. If you already love creating content for YouTube, you will enjoy it, even more, when you get paid for the work you love.