Instagram
5 Best Tips to Increase Your Instagram Revenue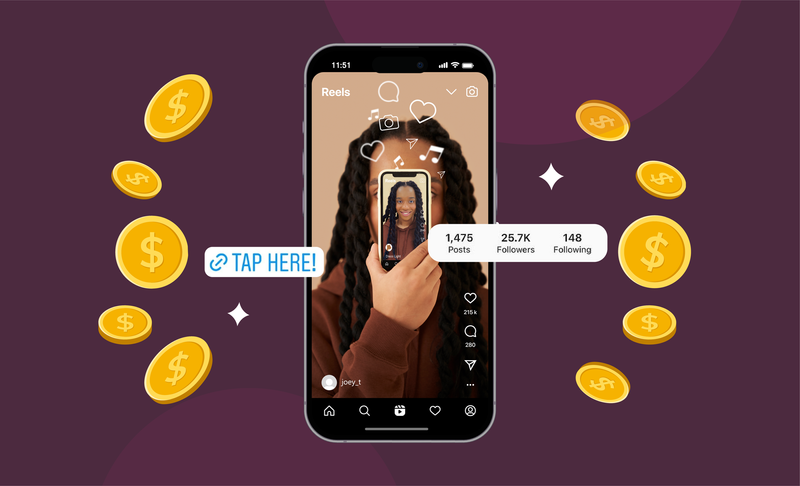 The majority of creators do not make the most of Instagram, or generate revenue from the multiple options available to them.
The revenue generation potential of Instagram is enormous - whether it's brand collaborations, affiliate marketing, influencer marketing, or any other way you can increase your revenue.
If you are struggling to earn money from your Instagram account, we got you covered.
Check out these top 5 tips to increase your Instagram revenue and earn money from the content you create on Instagram instantly!
How Much Money Can You Make on Instagram?
The payouts are different for creators on Instagram, and dependent on how many people you can reach through your content.
Most of the established brands have their presence on Instagram as of 2022, and are constantly on the lookout for more brand ambassadors.
Even though it is impossible to find an average income of established influencers on Instagram, creators can earn anywhere from $1000 to $15,000 per month as a micro-influencer ( 1,000 - 10,000 followers).
The creator's overall value goes higher up as the number of followers increases!
What are the Different Ways to Make Money on Instagram?
There are several ways to make money on Instagram, just like most of its competitor platforms.
You could experiment with the conventional strategies of affiliate marketing, influencer marketing, joining the monetization program, and doing sponsored posts.
However, if you already have an established following, you can do more like sell your own products, and merchandise, or even become an Instagram coach or consultant to help other creators.
With that said, let's take a look at some of the best ways creators can make money on Instagram:
1. The More Audience You Have, The More Revenue You Generate
Many creators fail to understand the importance of consistency and building momentum.
If you expect Instagram to automatically push your content to the maximum audience out there, you are sadly mistaken, and that's not exactly how Instagram works.
For the algorithm to start noticing your Instagram account, you need to trigger it first.
The best way to make sure that the algorithm starts noticing you is to stay consistent and post at regular intervals. In time, you will start noticing an increase in the number of followers you have.
When you post regularly, the Instagram algorithm will start considering you as a valued user and push your content out to a bigger audience, all the time.
This will all help you grow your audience and over time, this will reflect in the payout you receive from brand collaborations, and affiliate marketing.
2. Create More Instagram Reels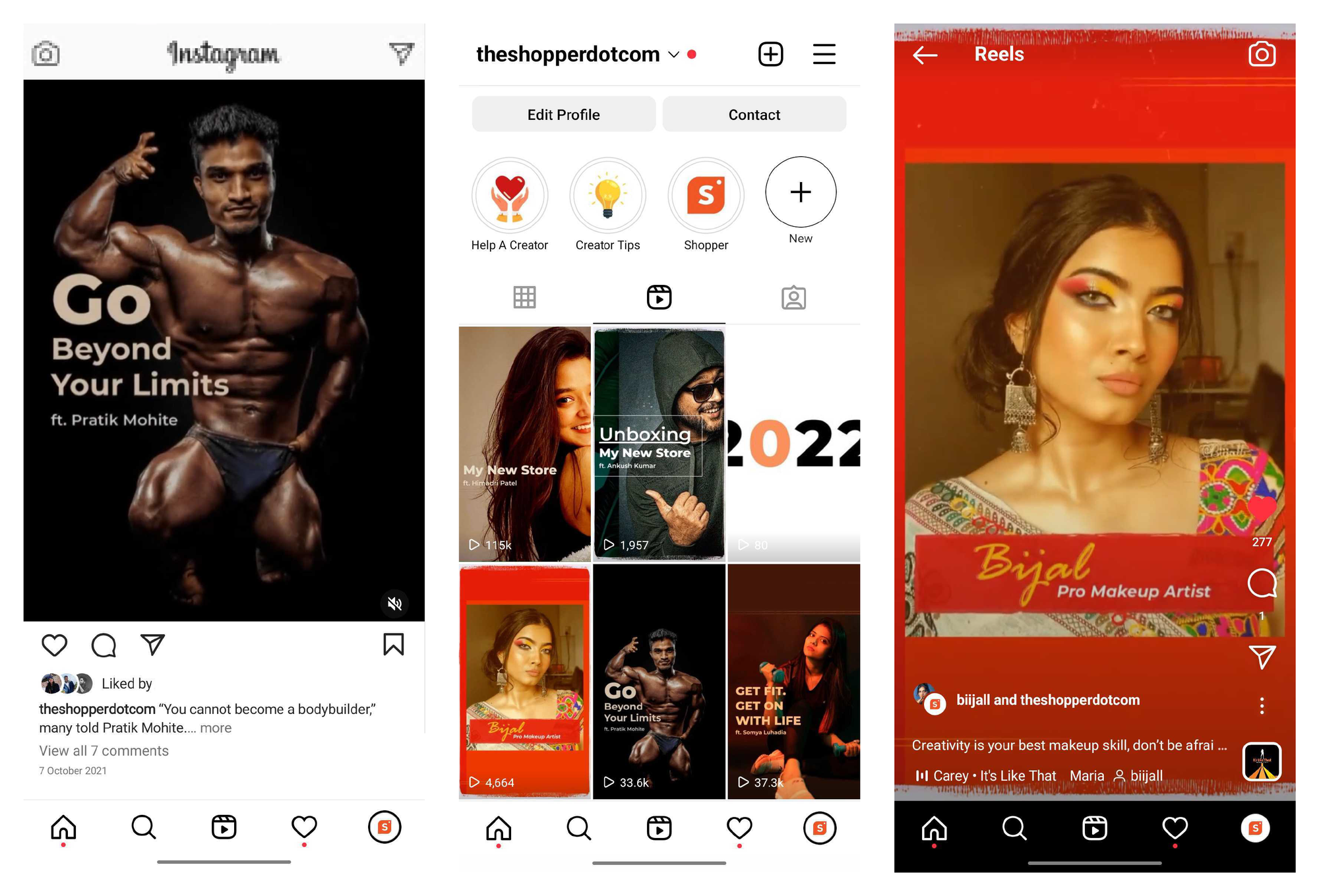 If you are still not making use of Instagram Reels, it's high time you did.
Instagram reels have been a blessing for many creators who made the most of reels and managed to achieve unprecedented growth on their Instagram accounts.
There are also plenty of collaboration opportunities with some of the leading brands for creators who consistently create Instagram reels.
Of late, Instagram merged all their existing video formats like IGTV, Instagram Videos, and Reels into one single format - Instagram Reels.
This is clearly indicating that Instagram Reels is now a mainstream feature on Instagram.
In time, Instagram Reels will become a mode of posting, which will eventually decrease the push you used to get directly from Instagram whenever you posted a new reel.
If you want to make more money from Instagram through reels, we highly recommend that you do reels now, rather than regret not making reels later!
3. Invest in Instagram Ads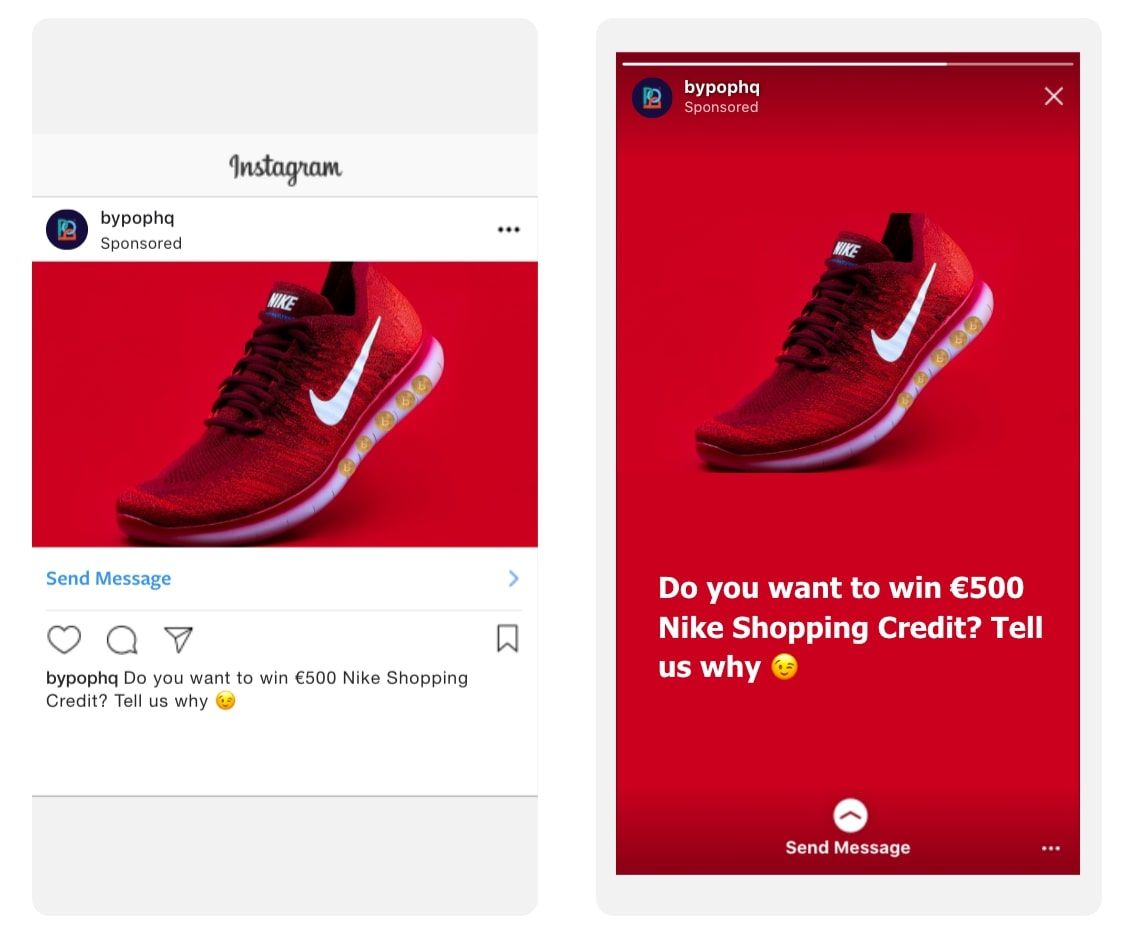 If you are finding it difficult to grow your Instagram following on the platform, you should definitely consider investing in Instagram Ads.
Most of the affiliate and influencer marketing programs require you to achieve the maximum views, and overall engagement.
By investing on Instagram ads, you can reach a targeted audience at ease and get the much-needed discoverability.
When you reach out to a bigger audience than what you normally reach out to, you also improve and increase the chance of getting noticed by a brand or marketer looking for a creator.
You can also customize the ads as you want them.
This will make it tailor-made for the viewers you want to focus on.
Boosting Instagram posts by investing in Instagram ads can also help creators get more money as the visitors to your profile will be more.
When you run Instagram Ads, you also unlock the option to link websites to your Instagram posts, which can easily boost your affiliate revenue as more people can navigate to your affiliate sets.
4. Start With Collaborations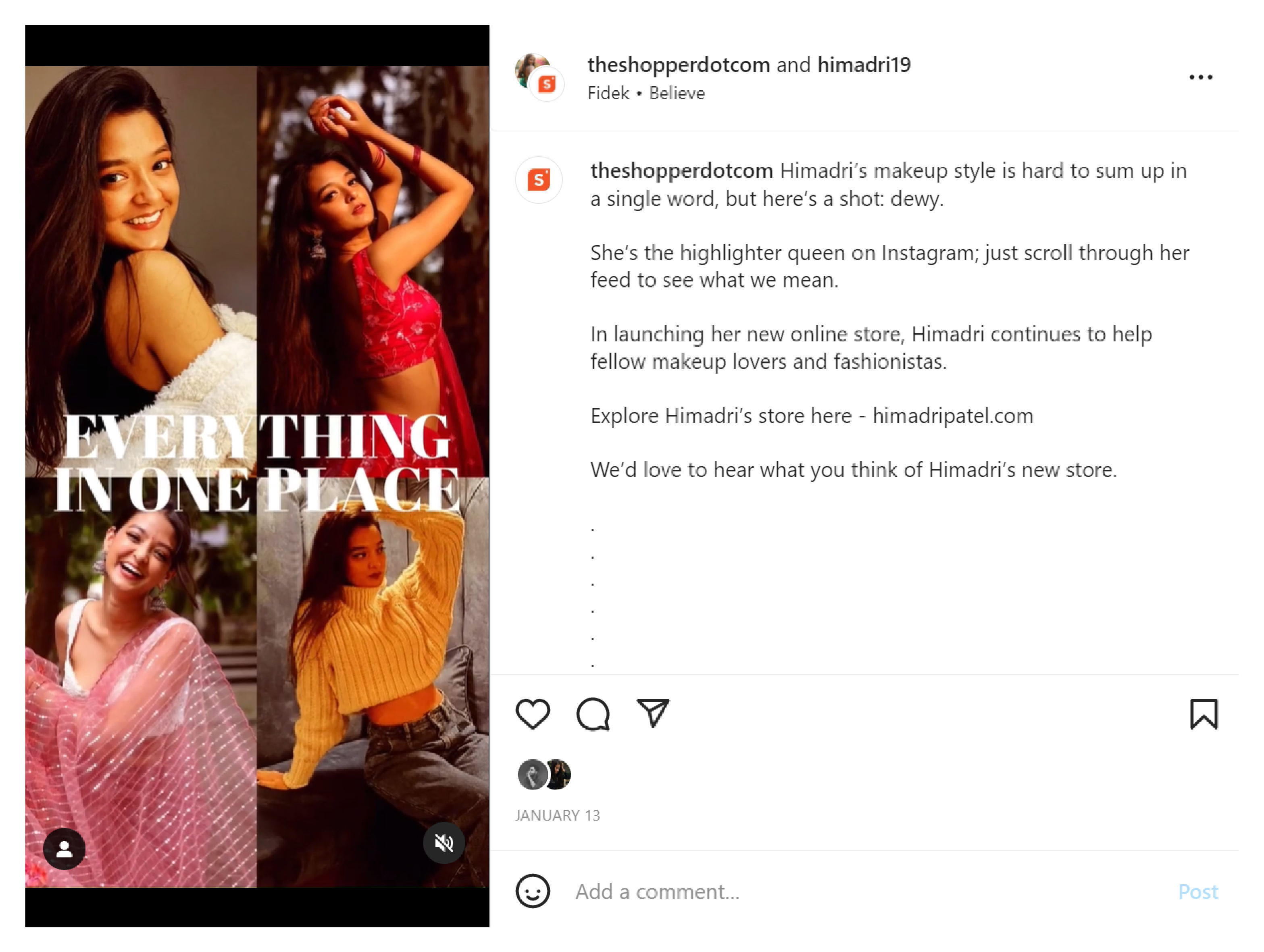 When you are starting out your journey to become an influencer on Instagram, it's important that you don't end up passing good opportunities.
You might get possible collaborations from smaller brands, or up-coming companies.
Some of the brands that approach you for collaborations might also not necessarily give you payment, and instead might be offering a free product instead.
It is highly recommended that you go forward with their proposal and do some barter collaborations (where you get free products instead of payments) when you start out.
As long as the product is genuine, and you feel that it's fair to promote such a product, go for it, and start making collaboration videos with smaller potentials.
This will also get the attention of similar brands, and gradually help you improve your business networks over time.
Such small collaborations on Instagram are also a great learning curve, and will help you prepare for collaborations with much more established brands in the near future.
As your audience builds, and business network grows, you will get better and bigger collaborations on Instagram, and eventually you will make your way to paid collaborations from established brands.
5. Use Link Stickers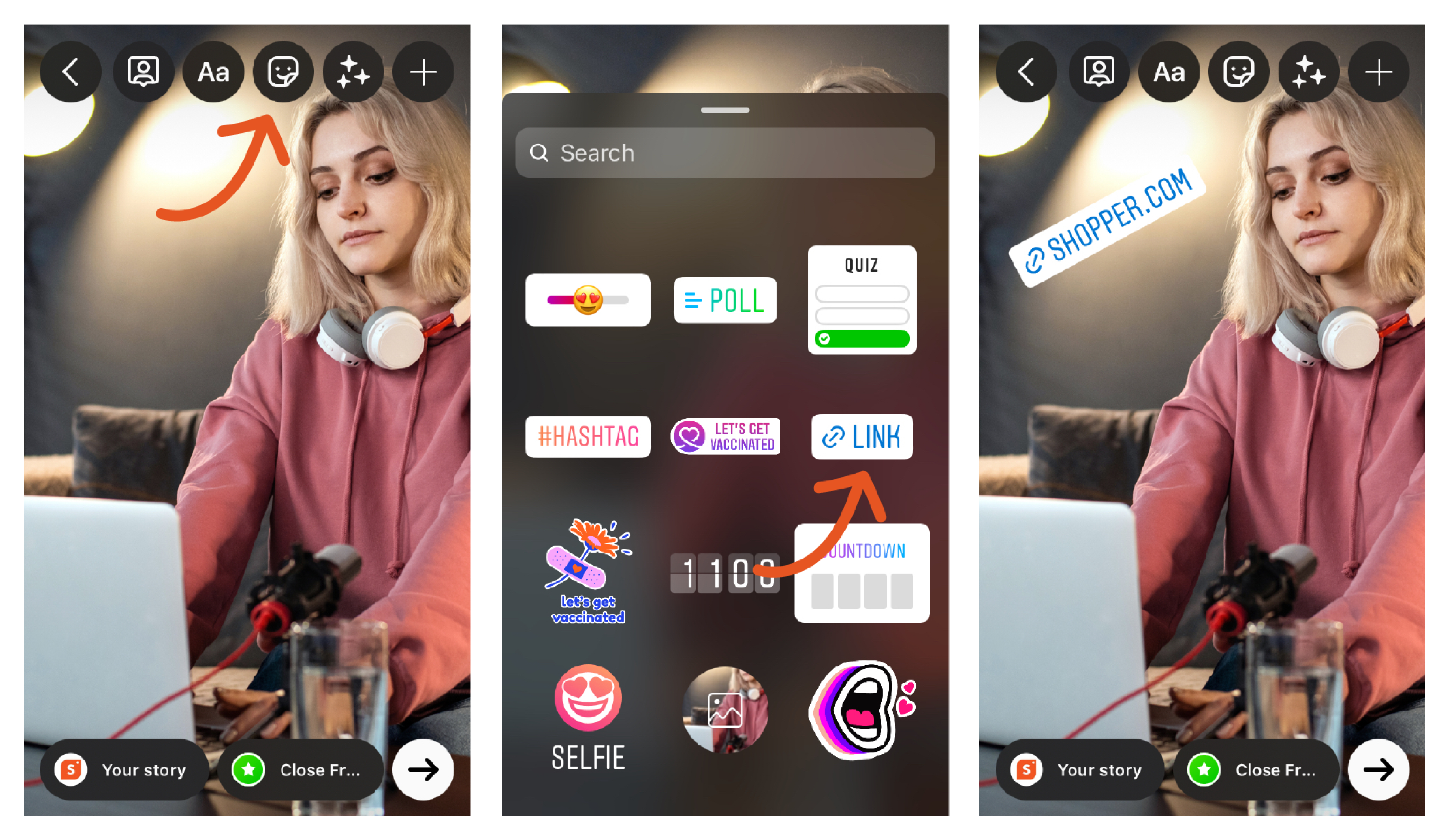 When showcasing products or services, it is important to tag them so that your audience can find them more easily. As a result, users will be able to access the product and it will improve their experience, and you can generate income through sales.
Instagram does not allow clickable hyperlinks on posts. However, you can still add links to your bio and stories using Instagram link stickers.
Instagram offers multiple options for promoting your products and services.
You can either add the product link directly to your Instagram bio or use a service like Shopper to curate a curated list of product collections. The only problem with adding the product links directly on your Instagram's link in bio is that you will have to update it every time you add a new product.
However, by using services like Shopper, you will need to only add the Shopper link to your bio, and every time you create a new video, simply tell the viewers to check out the link in your bio.
Using this trick, you can direct your Instagram viewers to all your products you promote instead of just the latest and significantly increase your affiliate revenue.