Instagram
All You Need to Know About Instagram Subscriptions
Instagram subscriptions are finally here to open new pathways for creators to monetize their content on Instagram. Learn everything you need to know about Instagram subscriptions instantly!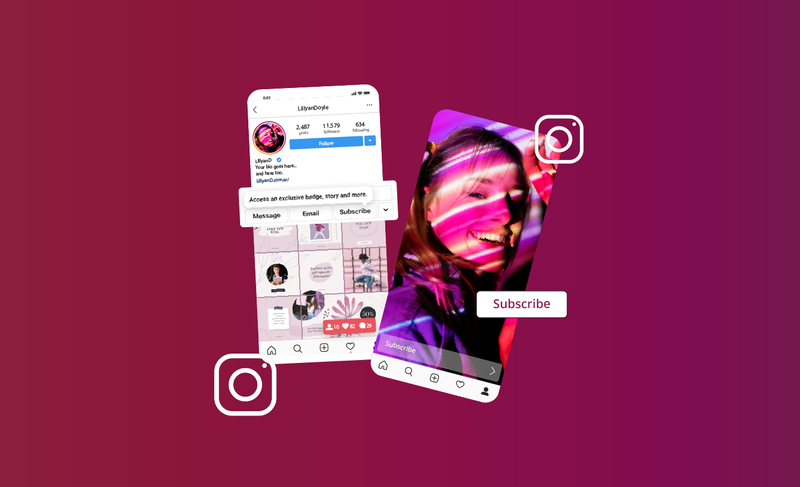 Instagram is expanding its subscription feature to more eligible users in the United States.
The Instagram Subscription feature, which was first announced way back in January 2022, was only released to a select few established creators and influencers based out of the US.
However, Instagram has now offered the feature to more eligible creators from the United States, which suggests that they will be expanding the feature to more regions very soon.
Let's take a closer look at what Instagram subscription will be all about:
What is Instagram Subscription?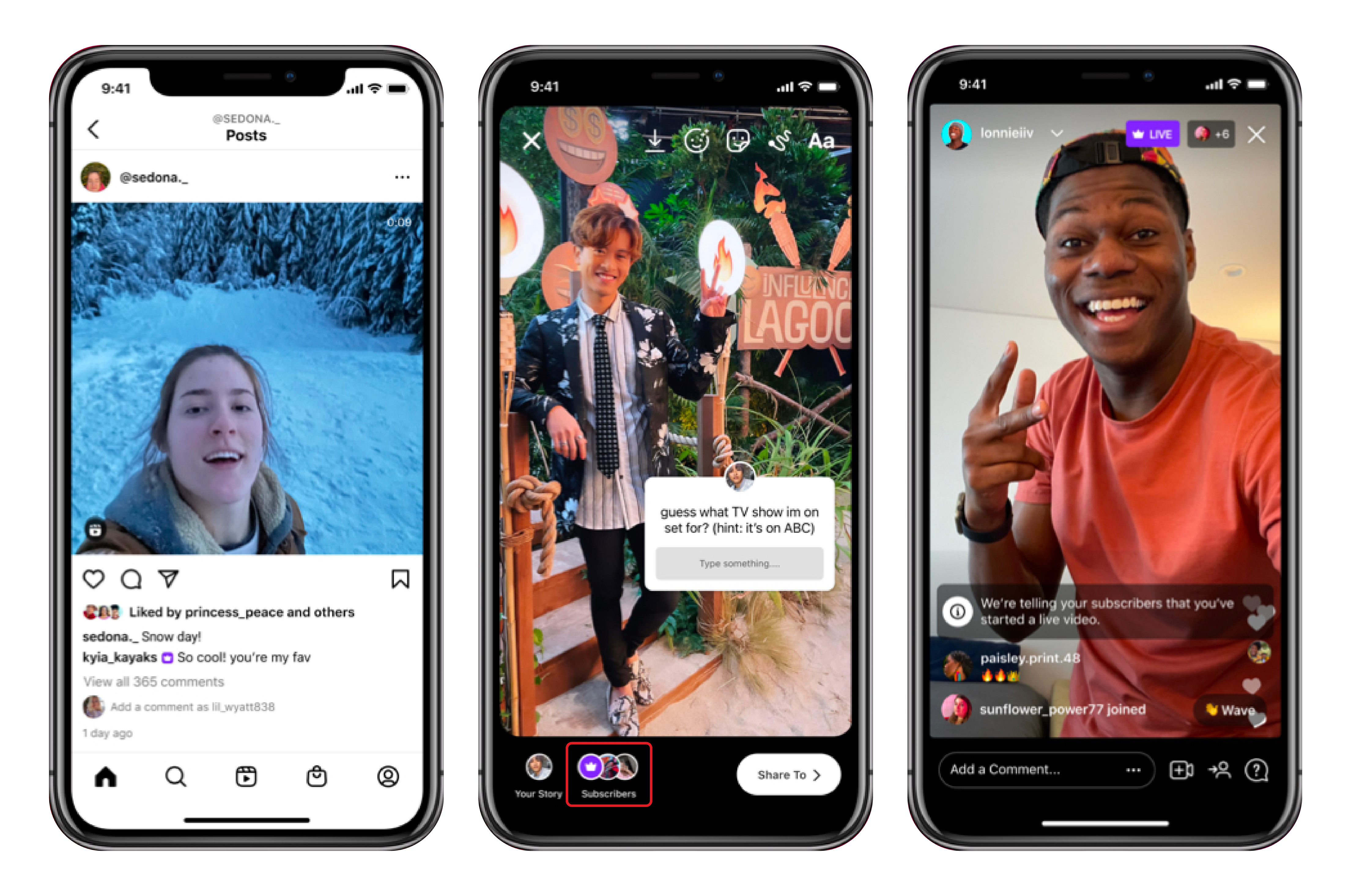 Instagram subscriptions allow creators to monetize their Instagram account by offering exclusive content, and benefits to creators who subscribe to your account with a monthly fee.
This is in line with how most other social media platforms like YouTube, Twitch, Patreon, and others provide subscription and membership-only services to their creators.
All your followers will be notified that you are offering subscriptions, once the feature gets activated on your account.
Your followers can then choose to subscribe through an in-app purchase on their account.
Once subscribed, you can create subscriber-only content like behind the scene footage, bonus clips, members-only chat, and many other interesting ways to connect with your subscribers on Instagram.
Whenever someone pays a subscription fee on your Instagram account, it will get reflected as your new earnings from Instagram.
Some of the other benefits of having an Instagram subscription are:
Subscriber Lives
Subscriber Stories
Subscriber Badges
Subscriber Posts
Subscriber Reels
Subscriber Group Chats
Subscriber Broadcast Channels
Any content that's shared this way will only be shown to followers who have an active subscription.
How Will My Followers Know That I'm Offering Subscriptions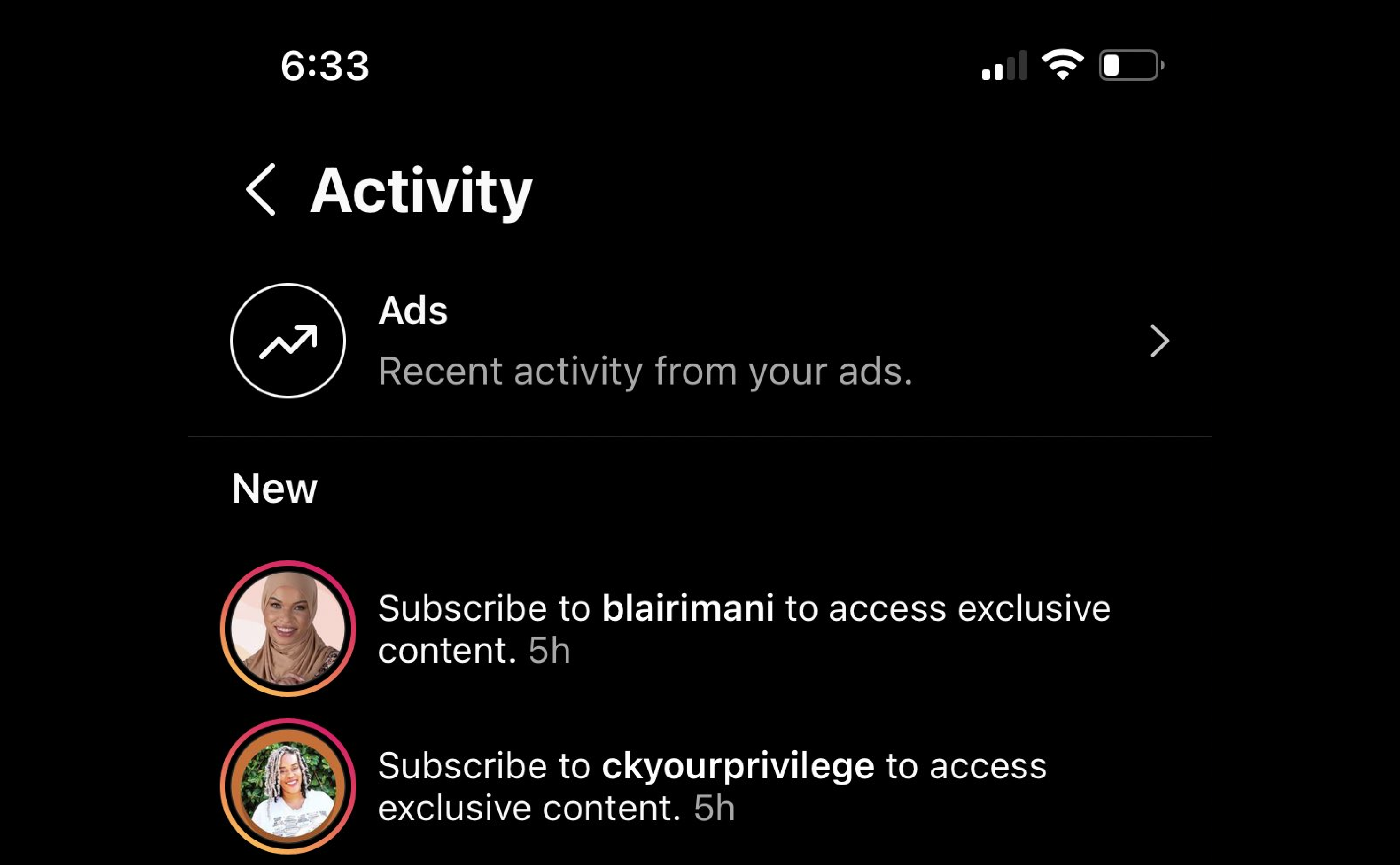 Instagram Subscriptions are not launched globally and are still in the early stages with access restricted just to a few eligible users in the United States.
However, the feature is now being offered to more eligible creators in the country.
If you are from the US, and wondering whether you are eligible to enable your subscription services, we got the answer for you!
Unless you got a notification from Instagram, alerting you that the feature is now available on your Instagram account, chances are you don't have the feature enabled yet.
However, if you did get a notification, but missed out, check your notifications again.
You will also receive an email from Instagram on the mail address that's linked to your Instagram account informing you about the eligibility for the Instagram subscription.
If you didn't receive it, chances are you are not yet eligible to enable Instagram subscriptions.
Once you enable the Instagram subscription, Instagram will send a notification to all your followers with the message "<Instagram Username> is now offering subscriptions. Subscribe to access exclusive content and subscriber-only group chats."
On clicking this, a user will be taken to the confirm subscription page where they can make payment and become a monthly subscriber to get access to subscriber-only content.
Once the subscriptions feature becomes active on your Instagram profile, you will also see it listed on your Instagram profile under the profile information.
You can create posts and stories that ask followers to click on the subscribe button to improve the overall turnout of people that become your subscribers.
How Can I Become Eligible for Instagram Subscriptions
Instagram subscriptions are still in the early stages of development and therefore pending a full-fledged launch as of now.
Even if the subscription feature is available in your region, you will still need to follow certain rules and guidelines to make use of this feature.
Instagram subscriptions will only be available for creators that meet Instagram Partner Monetization Policies and comply with Instagram Community Standards and Content Monetization Policies.
Here are the eligibility criteria that need to be met to enable Instagram Subscriptions:
You must meet Instagram Community Standards
You must have a professional account with at least 10,000 followers
You must be aged 18 years or older and live in the United States
You must agree to the Instagram Subscription Terms of Use
You must pass and remain compliant with Instagram's Partner Monetization Policies, and Content Monetization Policies.
How Do You Setup Instagram Subscriptions on Your Account?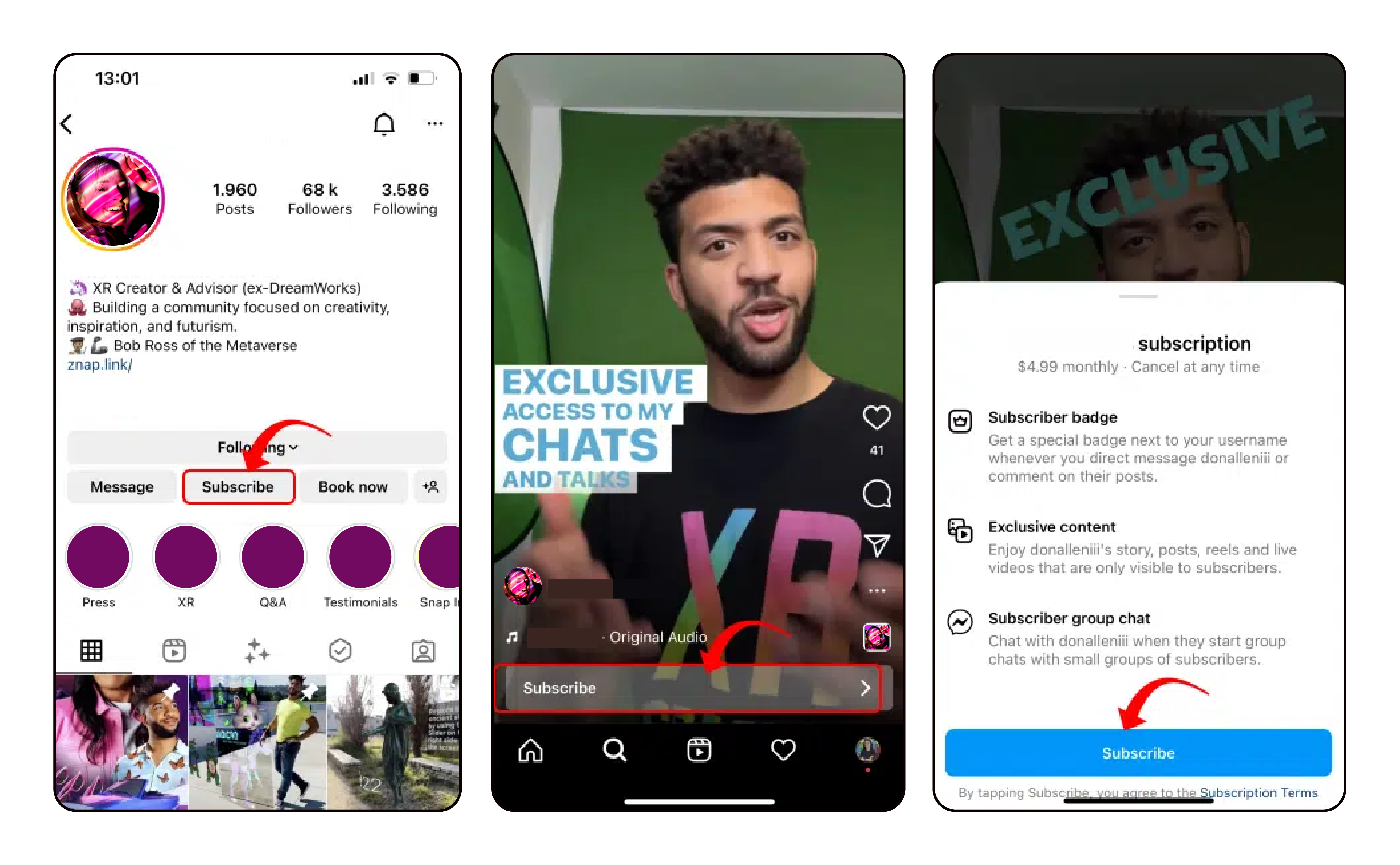 Setting up Instagram Subscriptions is pretty straightforward.
However, you will need to have the feature unlocked on your account, and as it's a relatively new feature, not everyone in the United States currently has access to this feature yet.
If you already received the notification, but are not sure about setting up your Instagram subscription, follow these steps:
Click on the 'Set up subscriptions' option from the notification.
Alternatively, you can also set up subscriptions from the Settings menu.
Tap 'Next' and Agree to Terms and click on 'Next' again.
You will be redirected to a page where you can set your monthly subscription price.
Use the calculator at the bottom to see your potential earnings based on the number of followers.
Once you finalize the monthly subscription price, tap 'Next'
Next, you will need to click 'Publish' and then 'Create'
This will enable the Instagram Subscription feature on your account, and all your followers will receive a notification that you are now offering subscriptions.
Ideally, it's always best to follow up the subscription notification with a subscription preview that will let you make some of your exclusive, subscriber-only content visible to everyone.
This will give a glimpse of what your subscription feature will give access to encourage more followers to consider subscribing to your Instagram account.
You can change the monthly price that you set by going to Subscription Settings.
Click on the 'Monthly Price' option, make your selection, and tap the 'Save' button. Please note that existing subscribers will continue to pay the existing subscription fee.
However new subscribers will have to pay the revised fee.
How Will You Get Paid for Your Subscriptions?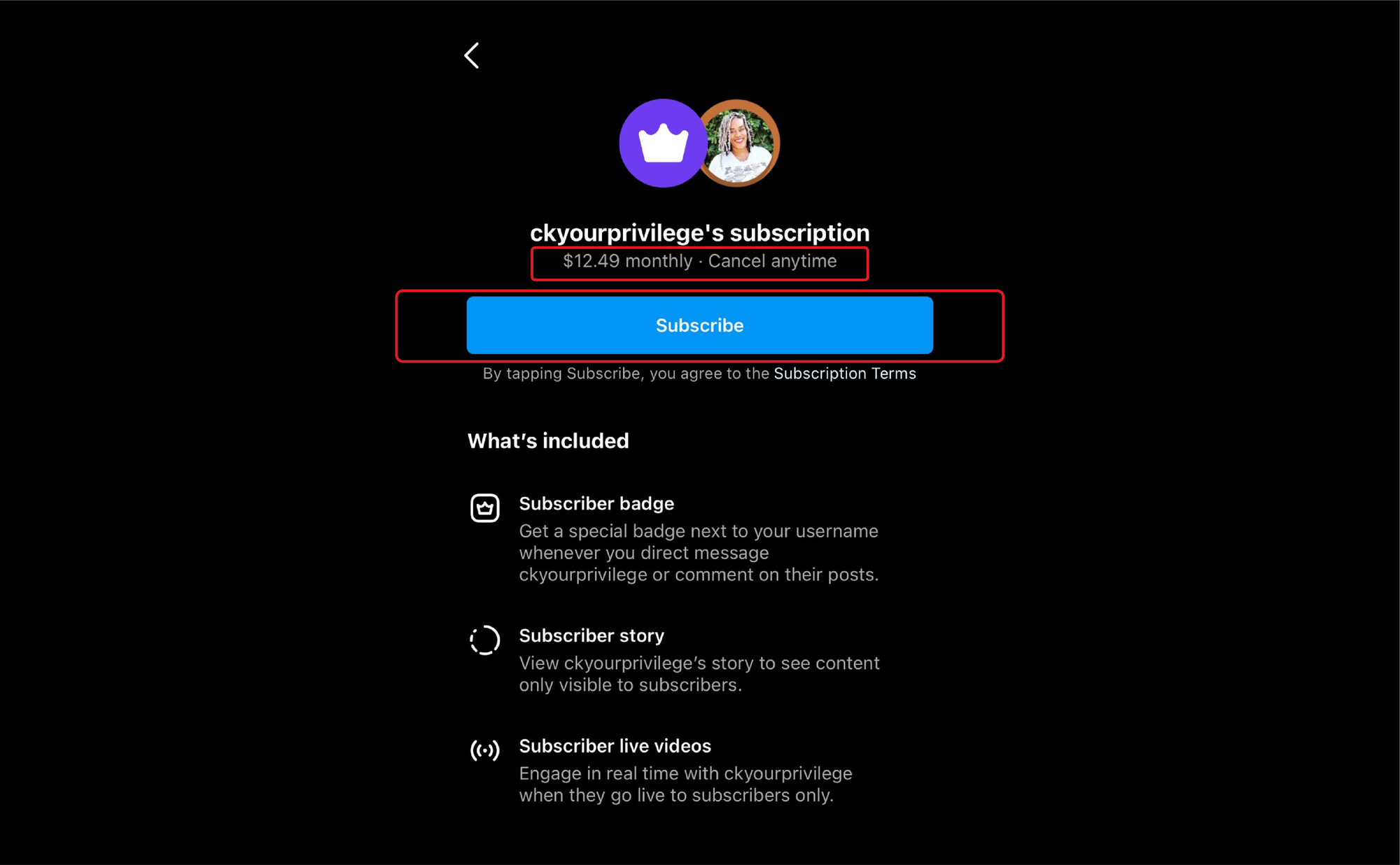 When your account becomes eligible for subscriptions, you will start seeing Instagram monetization tools appear on your account's professional dashboard.
However, you will need to have either the creator or business account to access the dashboard.
Once you have that, all that's left to do is set up a payout account from your professional dashboard on Instagram.
Whenever someone subscribes, buys a badge, or becomes eligible for bonuses, you will get the revenue reflected on your payout account.
Setting up a payout account is pretty straightforward.
Manually enter the bank account details or link your PayPal account. You can also consider signing in to your online bank account using your account credentials.
Once that's done, follow these steps:
On your Instagram business or creator account, head over to the professional dashboard.
From there, you need to get over to 'Payouts'
Next, select the 'Update payout method' option.
You will then need to choose the type of payout account you would like to add.
Follow the directions to complete your payout setup.