YouTube
Top German YouTubers to Binge-Watch in 2023
Get familiar with some of the best German YouTubers with our curated list of top German YouTubers to binge-watch in 2023. Find amazing YouTube channels from Germany and start exploring high quality content right away.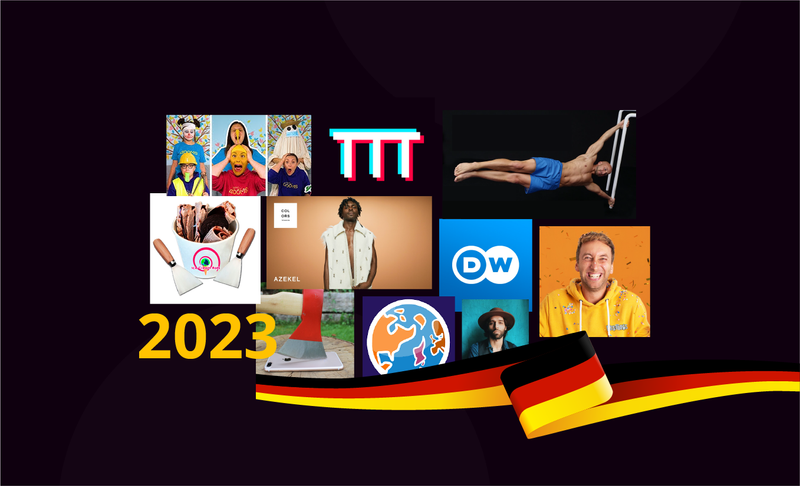 Germany has some of the most exciting, engaging, and entertaining YouTubers out there today.
Most of the established German YouTubers also cover a wide range of niches, making them ideal for anyone that wants to know and learn more about the German way of life, and its culture.
That's why we have come up with a curated list of top German YouTubers to binge-watch in 2023!
The list features German YouTubers who are active with regular uploads and cover some of the most popular niches on YouTube.
Without any further ado, let's take a look at these top German YouTubers:
1. Family Booms
Family Booms is a German YouTube channel that's run by the family of Aleks (Mummy-Booms) and Alex (Papa-Booms) along with their children Valerie, Artur, and Lil Mark.
The German YouTubers who only started their YouTube channel in 2021, shot to quick fame with more than 6 million subscribers by just creating YouTube Shorts consistently.
All of their videos are YouTube Shorts that feature the family take on different challenges, comedy skits, and funny challenge bloopers.
Another interesting thing about Family Booms is that they are open to content ideas from their community.
If you have an exciting idea, share it with them, and they might actually do it in their next video!
2. COLORS
Colors is a German YouTube channel that makes unique aesthetic music videos featuring exceptional talent from around the world.
The main focus of Colors is to bring out new artists and original sounds to YouTube.
Colors release a new song every 2-3 days and make it a point to explore new artists, new music genres and create a library of songs that you don't hear regularly.
Another interesting fact about colors is how they add a new color as a background to a new video.
Whenever they launch a new video, they make it a point to add a distinctive solid color background to the video with the artist also wearing similar color tone dresses on most occasions.
If you are into music, then this is one German YouTube channel that you should definitely check out.
3. TikTok Tunes
Heard a song on TikTok but not sure how you can find that song.
TikTok Tunes has you covered then! This German YouTube channel is one of the most active YouTube channels in the country and specializes in bringing the latest trending music on TikTok to YouTube.
The best thing about TikTok Tunes is that you can always find the TikTok remix on their channel.
Simply download the audio from the link in the description, and start using the audio on your YouTube videos almost immediately.
TikTok tunes are popular for adding at least one new song every day, which makes it an ideal channel to follow, especially if you are active on TikTok.
4. DW Documentary
Deutsche Welle, better known online as DW Documentary is a German YouTube channel that offers some of the best political documentaries and news from around the world.
DW Documentary is the official YouTube challenge of German public state-owned international broadcaster Deutsche Welle, which also runs a satellite television service in English, German, Spanish, and Arabic.
DW Documentary aims to give information beyond the headlines.
Some of their top documentaries focus on meeting intriguing people, traveling to distant lands, unraveling the complexities of daily life, and building a deeper understanding of current affairs and global events.
Most of their long-format videos are around 40 minutes long but cover different aspects with historical facts, brilliant narration, and accompanying video footage.
If you are in the mood for some political documentaries, you will love DW Documentary.
5. Calisthenicsmovement
Calisthenicsmovement is a German YouTube channel of two professional calisthenics practitioners - Sven Kohl, and Alex Lorenz who make calisthenics demonstration tutorials.
They share new videos every week which focus on different aspects of calisthenics workouts.
Most of the demonstration workout tutorials and videos created by calisthenicsmovement focus on different workout routines, with a specific focus on mobility.
Some of their concise mobility routines are easy to follow, and beginner friendly, which makes it a perfect option to consider for those interested in different types of calisthenics workouts.
If you are looking for some fitness and calisthenics workouts, you should check out this German YouTube channel.
In addition to callisthenic tutorials and demonstrations, these German YouTubers also offer full-fledged courses that anyone can join from their website and YouTube channel.
6. HaerteTest
HaerteTest is the biggest YouTube channel in Germany with more than 20 million subscribers.
The channel has been regularly uploading new videos for the last six years that feature experiments with squeezable or breakable items on an asphalt floor with the wheel of a car in movement.
This makes HaerteTest an ideal German YouTuber to binge-watch.
Crushing crunchy and soft items with a car, mentos on cola and other soft drinks are some of this German YouTuber's most popular videos, so you get an idea of the content you can expect from HaerteTest.
HaerteTest also does plenty of crash tests of popular gadgets like the Apple iPhone, Samsung Galaxy series, Hotwheels toys, and Remote Control (RC) toys.
His videos also don't have any dialogues which again makes it a good channel for anyone to binge-watch when they have free time to spare!
7. Dave Ardito
If you are into anime, manga, and superheroes, you are going to love Dave Ardito!
Does the name sound familiar? Yes, this German YouTuber with more than 3 million subscribers is the same Dave Ardito who did stunts for action movies like the Matrix Resurrections, Ninja Assassin, and many more.
He is also a cinematographer and brings his stunt and photography skills to his YouTube videos.
Some of his recreations and vines of popular anime characters like Saitama, Goku, Vegeta, Naruto, and many others feature visuals that are on par with what you see in the anime.
Dave Ardito's content is also very fresh, and unique as he is just one of the only content creators out there that brings out real-life anime characters with the same intensity as the anime.
In addition to YouTube, Dave Ardito is also active on Instagram and TikTok.
8. Freshtorge
Torge Oelrich, better known online as Freshtorge is a German comedian, web video producer, and actor from Wesselburen who shot to fame through his YouTube channel Freshtorge.
Freshtorge was one of the first German YouTubers to start a channel, way back in 2006.
He has been regularly adding new videos to his YouTube channel that feature comedy skits, and related videos from 2009.
Most of Freshtorge's videos feature Oelrich appearing as different characters like the mentally challenged "Sandra" who is still in elementary school at the age of 16, "Karina" who keeps losing her job because of her unfriendliness, the Saxon Police chief Ronny and many others.
It will take some time to get familiar with most of Freshtorge's character set, but in time, you will learn the personality traits of most of the Freshtorge characters that appear in his videos.
With such a vibrant amount of characters and evergreen content, get ready to be spoilt with binge-watch material from this German YouTuber.
9. Ice Cream Rolls
Ice Cream Rolls is a German YouTube channel, popular for its ice cream out-of-everything ASMR videos that are made in a studio in Hamburg.
The concept is the brainchild of Gil Grobe, a German ice cream maker who was introduced to rolled ice cream during his trip to Thailand back in 2015.
Grobe made his introduction to rolled ice cream as a YouTube video and it immediately went viral!
Eventually, he would decide to learn how to make rolled ice cream and started uploading ASMR ice cream-making videos which led to his channel's huge success which now stands at 12.1 million subscribers.
From Nerdy Candy rainbow ice cream to ice cream rolls with Pepsi cans - the content is so flexible and vivid, that it is only left to the creator's imagination!
If you are in the mood for some ice cream, don't miss your chance to binge-watch Ice Cream Rolls.
10 AlternateHistoryHub
What if the earth was square, what if the moon was habitable or what if YouTube was non-existent?
The answers might have unlimited possibilities and possible explanations, but there are answers to some of the "What If" questions you have on AlternateHistoryHub - a channel dedicated to answering "What If"!
The German YouTube channel uses knowledge of the population, historical facts, and geography to predict what could have happened had things gone differently.
This leads to exciting assumptions, and these assumptions make up the chunk of content for AlternateHistoryHub videos.
From geopolitical topics, to pop culture, and religion, the subjects this German YouTuber covers is vivid and full of curiosity which does give you the freedom to go on a binge-watching spree!