YouTube
Popular German YouTubers to Look Out for in 2023
Want to start a German YouTube but don't reference point? Check out this curated list of popular German YouTubers to look out for in 2023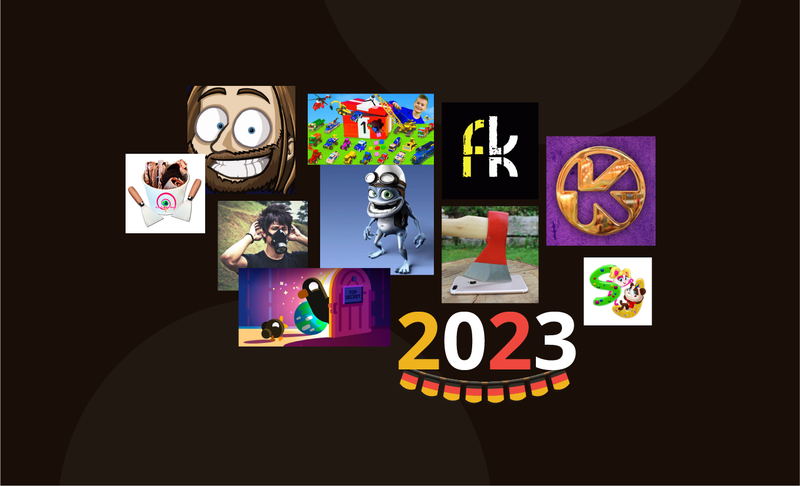 Want to know more about Germany, it's culture, people, and life?
YouTube can be a great place to look for the answers that you seek, and there are plenty of amazing creators who can help you learn more with each new video.
There are also amazing creators on almost every niche which makes it possible for everyone to find answers to what they want to know about Germany.
If you are still struggling to find the right German YouTube creator, here are some of the most popular German YouTubers to look out for in 2023:
1. HaerteTest (20 M Subscribers)
HaerteTest is a German crash test channel that regularly uploads videos featuring experiments that involve crash tests. Some of his most popular videos feature the rear wheel of a car being driven on top of squeezable or breakable items on an asphalt floor.
HaereTest is one of the most active YouTube channel in Germany with his first video being published on September 7, 2011. It is also the biggest YouTube channel in Germany with more than 20 million subscribers as of 2022.
In addition to crashtest videos featuring the rear wheel of his car, HaereTest also does unboxing videos, and various experimental tests like water resistance test of smartphones, putting products face to face like Iphone vs Volkswagen Golf and so on.
2. Kurzgesagt – In a Nutshell (19.4 M Subscribers)
Kurzgesagt - In a Nutshell is a German YouTube channel that is run by Philipp Dettmer, who is the founder and owner of an animation and design studio by the same name. The channel is popular for their minimalist animated educational content that is accessible for people of all ages.
Everyone from children to adults can consume their content due to the their informal and graphical flat 3D design style, and wide range of topics they cover on a regular basis. Kurzgesagt - In a Nutshell publishes videos on multiple topics like technological, scientific, political, philosophical, and psychological subjected.
All the videos on Kurzgesagt - In a Nutshell are narrated by Steve Taylor, and each videos span anywhere from four to sixteen minutes. The studio also has different channels for different languages like the Dinge Erklart - Kurzgesagt with German narration, En Pocas Palabras - Kurzgesagt with Spanish narration.
3. Kinder Spielzeug Kanal (19.7 M Subscribers)
If you are someone that's looking for a child friendly German YouTube channel, look no further than Kinder Spielzeug Kanal! Even though this YouTube channel from Germany specializes in creating videos that reviews toys for kids, they also make informational videos that teach children about different aspects of life.
All the videos are created with professional actors, both adults and child artists that find innovative ways to explain activities like how to recycle waste, how to take care of their teeth, and so on.
The channel also does thorough reviews of toys for kids like Paw Patrol, Masha and the Bear, Mickey Mouse, Fireman Sam, Barbie, Lego, and many more. There are no spoken dialogues, and all the videos are usually accompanied by a background music which makes it accessible for everyone without any language barriers.
4. Crazy Frog (13 M Subscribers)
Who can forget the annoying, but cute blue frog that rode an invisible motorcycle through tunnels, and buildings being chased by a bounty hunter and singing the iconic "Crazy Frog" song.
Today, the Crazy Frog song by Axel F has garnered 3.2 billion views and continues to attract regular viewers, even after 13 years of introduction.
However, what's less known is that Crazy Frog did not stop with just the "Crazy Frog" song, and continued to release a series of similar audio tracks like "Safety Dance", "Daddy DJ", "We are the Champions" and many more throughout the years.
Another interesting fact is that Crazy Frog is a German YouTube channel that continues to add entertaining animation videos featuring the iconic Crazy Frog!
5. Ice Cream Rolls (12.1 M Subscribers)
n the mood for some high quality ASMR (autonomous sensory meridian response) videos featuring German and international ice cream recipes? Check out the Ice Cream Rolls YouTube channel today then.
Run by the German Roll it Media GmbH company, Ice Cream Rolls, you can find ASMR videos of ice cream making with anything and everything imaginable.
Who would have thought that it is possible to make ice cream out of food items like Cheetos, energy drinks, red chili peppers, and many more unique and interesting combinations.
The ASMR is also of superior audio quality which makes it one of the best ASMR channels in all of Germany.
6. Freekickerz (8.67 M Subscribers)
Football is one of the most popular sports in Germany, with the country having one of the most successful national football teams that have won four world cup and many other major and minor international tournament.
Bundesliga, which is the national football league is also home to some of the most dominant football clubs like Bayern Munich, and Borussia Dortmund.
If you want to explore grassroot level footballing, or want to know more about the football culture in Germany, Freekickerz is one of the best YouTube channels out there today. Their content primarily focuses on all things football - tutorials, challenges, football tests, boot reviews, football tricks, skills and much more.
Freekickerz are also known for their consistency of posting at least 2-3 videos every week!
7. SurpriseJoe - Nursery Rhymes & Kids Songs (7.52 M Subscribers)
SurpriseJoe is perfect for children growing up thanks to their very engaging rhymes, and instructive songs that are popular across the world.
This German YouTube channel is a collective effort of a big group of artists, and the content on their channel is led by the main character Panda Bo, who teaches children their favorite rhymes.
The best thing about SurpriseJoe - Nursery Rhymes & Kids Songs is that there are always live-streams featuring different types of rhymes, and instructive songs which can be great to entertain children at all the time.
In addition to the live streams, there are also 2-3 videos uploaded every week that features new songs, as well as timeless classics.
All of their videos are created in 3d animation style and features Panda Bo taking on different roles.
8. Kontor.TV (6.05 M Subscribers)
Kontor.TV is the YouTube channel of German music label Kontor Records or Kontor New Media.
The record label which creates and distributes music on electronic dance music has a prominent roster of artists like Tiesto, Armin van Burren, Scooter and many others.
The German YouTube channel is known to regularly upload new music videos, playlists, and preview mixes of new releases regularly.
A new music video, preview, lyric videos, or music shorts are uploaded and published every two - three days, which makes it perfect to find new German music.
There are also genre based music playlists that can help you find music that you love making it perfect for those who want to explore the different flavors of German songs, and music videos.
9. Julien Bam (5.99 M Subscribers)
Julien Bam is a German YouTuber who is popular for his dance videos and slow motion videos.
Julien is an entertainer who makes a wide range of videos from dance videos, to short vlogs, behind the scene (BTS) videos of Flying Panda shoots that feature the rest of his crew and comedy vine videos.
There are also instances where Julien takes on serious topics, but the most popular videos of Julien are usually dance videos, and vines.
There is also a huge fanbase for his singing videos and Q&A sessions which he calls #HeyJu videos and answers to questions from his fans.
If you want to find a German YouTube channel that is engaging and interactive, Julien Bam's channel is something you should definitely check!
10. Gronkh (4.92 M Subscribers)
Erik Range, popularly known as Gronkh is one of the biggest German gaming channel, known for his 'Let's Play' videos.
He also does vlogs and is known to host his own gaming show called "Last Man Standing" with other YouTube creators.
Gronkh is also known for his collaborations with his close friend, and YouTube creator Sarazar.
Some of the most watched videos from Gronkh are his Let's Play Minecraft videos and his Last Man Standing videos which features two teams competing against each other in an eight hour livestream.
Gronkh also does charity events called Friendly Fire.