Expert
YouTube Channel Terminated? How to Appeal and Get Your Account Back!
Has your YouTube account been suspended? Here is a guide that will explain how to appeal the suspension and get your YouTube account back up and running.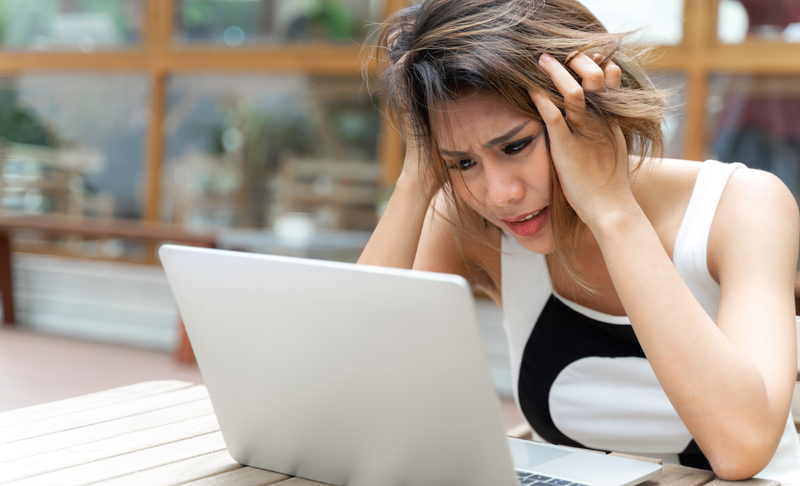 It takes a lot of patience, consistency, time, and energy to make a YouTube channel successful.
For YouTube creators, receiving an email from YouTube that begins, "We have received complaints about your YouTube channel..." and ends, "We have terminated your account" is the worst nightmare.
You can feel heartbroken if you lose a YouTube account you've worked hard on with a lot of dedication.
Despite this, you can appeal the termination and regain access to your account.
In this detailed article on YouTube channel termination, we'll explain how to appeal and get your account back.
This can be a long and exhausting process that can take weeks to complete.
Why Was Your YouTube Account Terminated?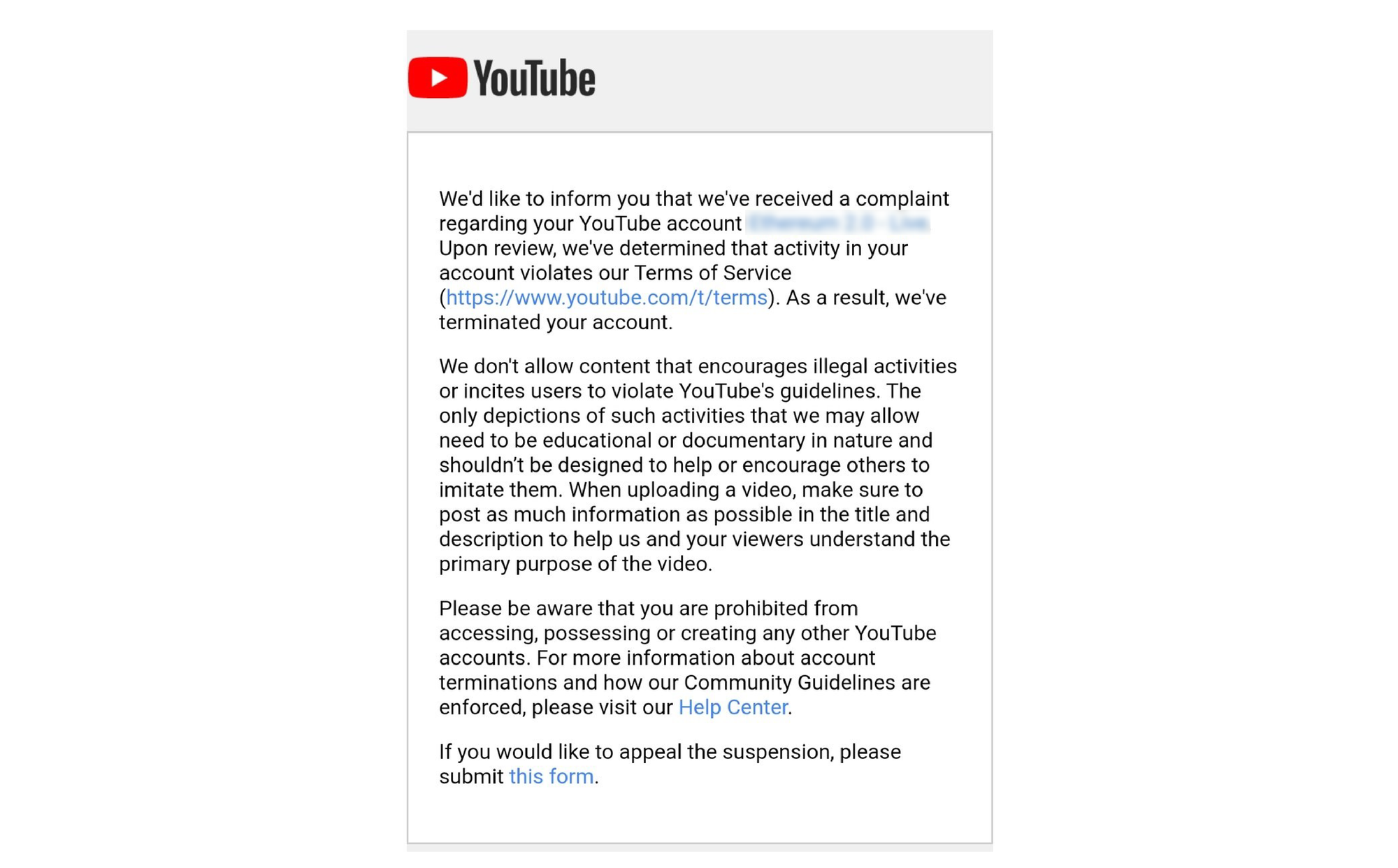 Your account could be terminated for a number of reasons.
The most common reason for getting your account terminated is a violation of YouTube's Terms and Conditions. When you have already been warned of Copyright Strikes in the past and continue to repeat the same violations, you are at risk of getting banned from YouTube.
The following are some reasons why your YouTube account may be terminated:
Community Guideline Terminations
Policy Violation - YouTube channels or accounts that associate themselves with content/comments related to hate speech, harassment, or impersonation.
Repeated Violations - Breaking YouTube community guidelines or terms of service across any form of content like repeatedly posting abusive, hateful and/or harassing videos or comments.
Severe Abuse - Even a single case of severe abuse like predatory behaviour, spam or pornography will result in the termination of a YouTube channel.
Copyright Terminations
Copyright Infringement - Using content uploaded by another creator on YouTube is against the rules of YouTube. In the event of such an event being reported, YouTube will review the content, and if found to be a copy of the original content issue a copyright strike to the creator that copied it. YouTube will also take down the video and when a creator gets three strikes, the account that posted pirated content from another creator will be terminated.
You can file an appeal if you think that your account did not violate any of these conditions to warrant YouTube account termination.
Unsure about how to file an appeal? Let's take a step-by-step approach to what you have to do to get back your terminated YouTube account:
Find Out Why Your YouTube Channel Got Terminated
The termination of YouTube channels can be painful and you will be shocked by it.
Additionally, there won't be much information about why your YouTube channel ended without warning.
That's why you should read the YouTube Terms and Conditions right away (yes, the same thing that shows up when you create a YouTube channel that you probably skipped).
As a social networking platform with millions of active users, it is crucial that you publish content that's appropriate and appealing to everyone.
Additionally, content intended for mature audiences can be set up with age restrictions.
By not having the age restrictions set up for content that's intended for an adult audience, you are going against the YouTube guidelines, and these are severe violations that can get your YouTube account terminated.
Now, if you are sure that you did not share any content from your YouTube channel, that's against the YouTube Terms and Conditions or Guidelines, it could be a mistake or misunderstanding from YouTube moderators as well.
Fortunately, YouTube moderators are very active, and they have a dedicated support team that will patiently hear your concerns and review your channel/complaint against your channel.
So how do you get the attention of YouTube moderators?
Contacting YouTube Support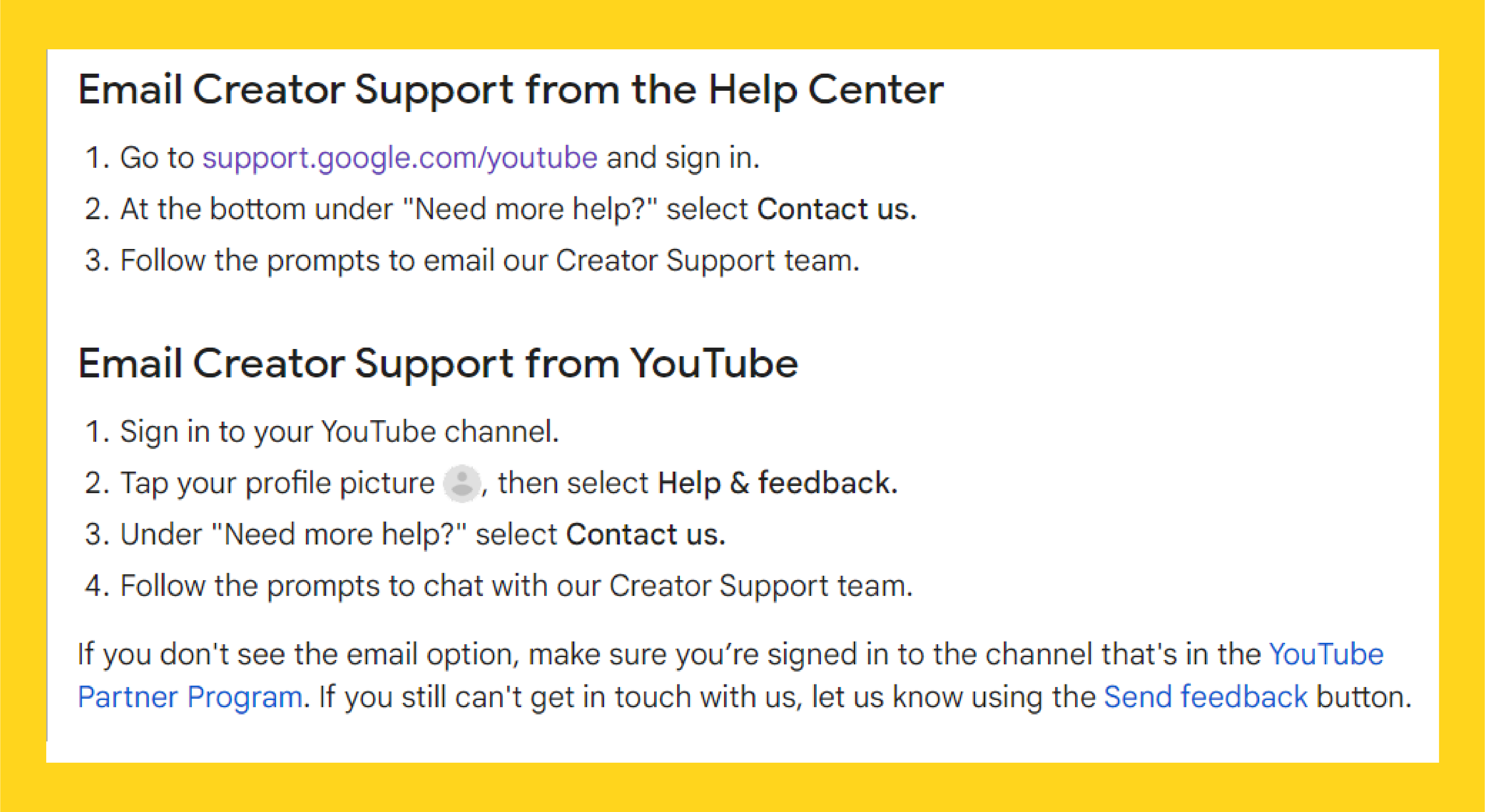 There are a few ways to get in touch with YouTube support depending on how big your YouTube account is.
Creators that are already part of the YouTube Partner Program (creators with at least 1,000 subscribers and 4,000 watch hours) get access to YouTube's Creator Support which remains to be one of the quickest ways to get a response.
However, even if your YouTube channel is small, there are several ways to get in touch with YouTube Support.
Here are some options you can consider:
1. Email Creator Support from YouTube
You can contact YouTube Support via email to let them know about your concerns and queries about having your YouTube channel terminated.
The best thing about this feature is that the chat and email support on YouTube are available in multiple languages.
The email support team for English and Spanish are available 24 hours, around the clock. However, for all other languages, you will only get a response during business hours from Monday to Friday.
Follow these steps to send an email to the Creator Support team from the YouTube website or App:
Log in to your YouTube channel
Tap on the profile picture from the top right corner
Scroll down and select the "Help and Feedback" option.
Look for the "Need More Help" option and click on "Contact Us".
Now, follow the prompts to chat with the YouTube Creator Support team.
2. Email Creator Support from Help Center
If you are having difficulties sending an email from the YouTube app, you can make use of the "Help Center". Here is a step by step guide on how to email creator support from the Help Center:
Visit support.google.com/youtube and sign in to your account.
Scroll towards the bottom and look for the "Need More Help" tab.
Simply follow the prompts to email the YouTube Creator Support team.
3. Tag YouTube Creators or Team YouTube on Twitter
If you are a YouTube creator that's active on Twitter, you must have come across the official Twitter handle of YouTube Creators and Team YouTube.
We highly recommend that you check out their Twitter handle and follow them to share a query or concern.
It's relatively easy too, as you only need to tag @YouTubeCreators or @TeamYouTube and share your question. Whenever a moderator comes across your query, they will reply to your tweet with possible answers or further questions depending on your question.
For queries that are related to YouTube channel termination, they usually ask creators to share their YouTube channel URL to review once more and get back to you with an update at the soonest.
Please note that they might be late to respond as there are hundreds of creators asking questions simultaneously and they go through all tweets individually.
Share Your Issue With YouTube Support Forums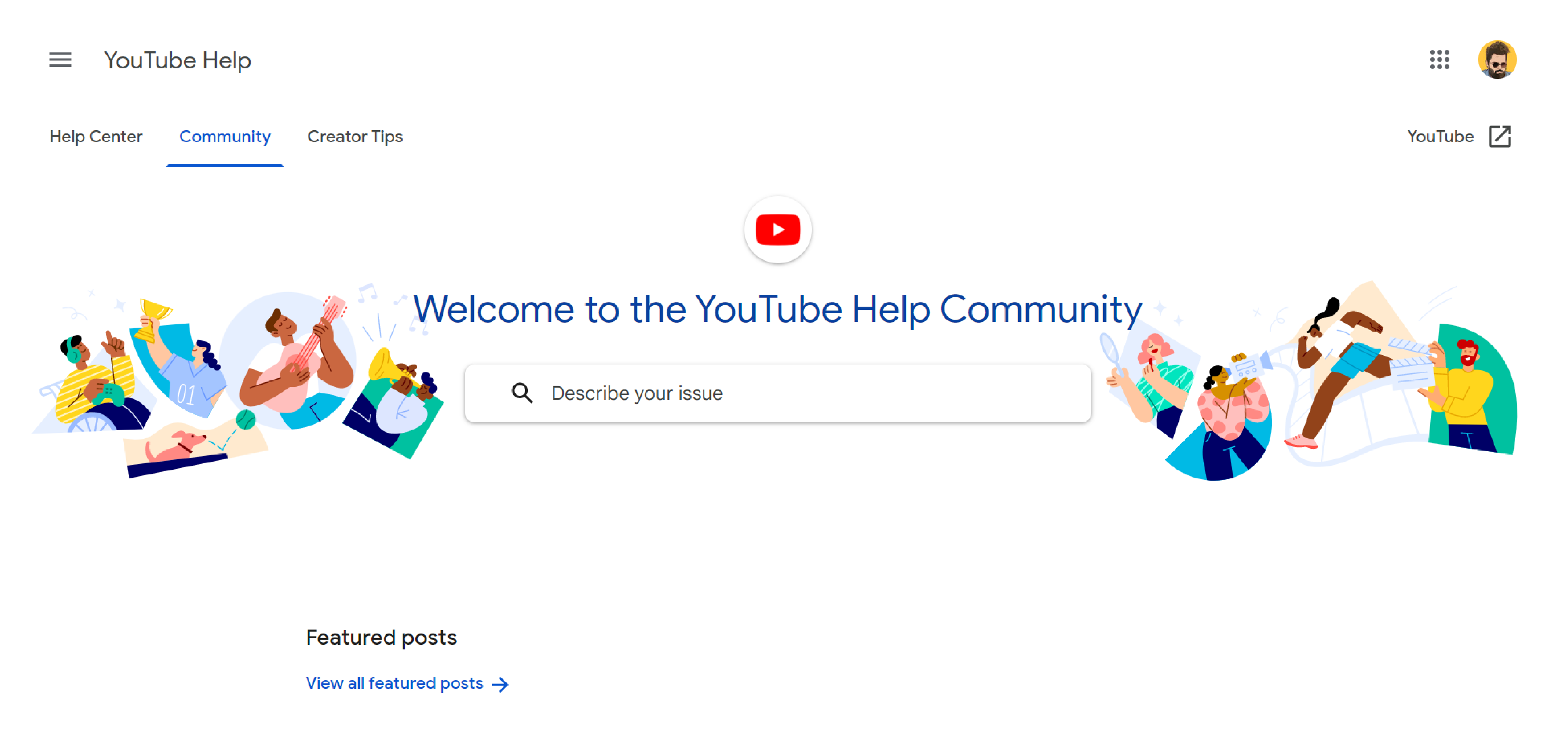 When your YouTube channel gets terminated, and you are not sure about why or how you ended up getting your YouTube channel terminated without warning, it's usually a good idea to check out some of the YouTube support forums.
Why?
Because there will be plenty of others who will be going through the same scenario and wondering what's causing the issue. There will also be creators who had previous experiences with the same.
By going through some of the discussions on YouTube support forums, you will get an idea about what you can do to get back the terminated YouTube account.
Provided you have published content that follows the YouTube Terms and Conditions, there are always chances that you will get your account back.
A bonus of YouTube Support Forums is that there will also be YouTube employees who can help you escalate your appeal or bring much-needed attention from people who may be reviewing appeals.
Post About the Issue On Other Social Media Platforms
If you don't receive a reply after sending an email about getting your YouTube account terminated, it would be a good idea to share your issue on other social media platforms.
Google has great social listening tools that give instant feedback to their support team.
By posting about your YouTube channel termination on social media platforms, you instantly increase the chances of YouTube responding to your email or sending you a different message to check what your concern is.
This will accelerate the review process and if you convince YouTube that your account was terminated for no reason, you can get your account back much faster.
File an Appeal on YouTube to Get Your Account Back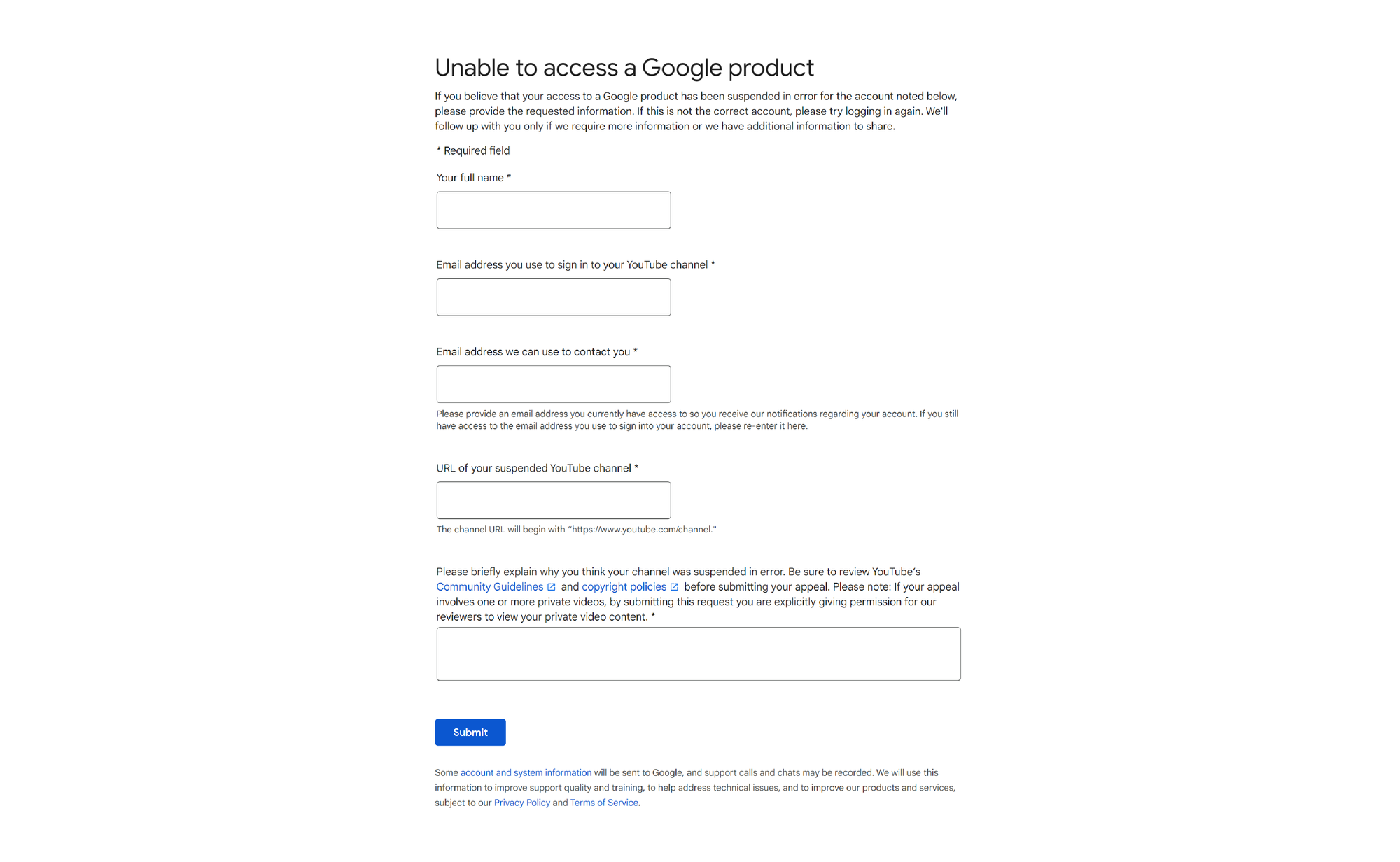 Now that we have tried every alternative option there is to get back your YouTube channel, the only thing that's left to do is file an appeal and wait until YouTube gets back.
Filing an appeal on YouTube is pretty straightforward.
If you are someone that has previously raised a complaint about issues with a Google service, you will know how to file an appeal. If not, click here to be redirected to the YouTube channel termination appeal filing page.
You are required to fill in details on required fields like name, the email address associated with your YouTube channel, the email address that can be used to contact you, and the URL of your suspended YouTube account.
You will then need to provide a brief description of why you think the channel suspension was an error from YouTube's side.
Ensure you make valid points in defense of your YouTube channel that will convince YouTube that they were indeed mistaken or misunderstood.
This will help you reclaim your lost account much faster.