Beginner
How to Use Link Stickers Effectively on Instagram
Learn how to use link stickers on Instagram effectively with our complete guide on all you need to know about how to use link stickers effectively on Instagram.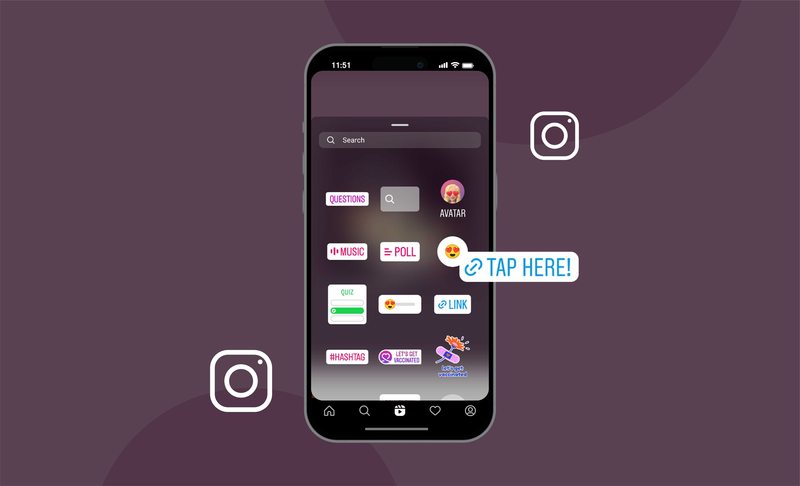 Link stickers have revolutionized the way Instagram creators engage with their audience on Platform. In the past, the coveted swipe-up feature was only accessible to those with a substantial following of 10,000 or more.
However, with the introduction of link stickers, Instagram has leveled the playing field, empowering creators of all sizes to redirect their viewers to external websites. This newfound accessibility has not only expanded the reach and discoverability of smaller creators but also opened doors to new opportunities for driving traffic and boosting engagement. Despite the immense potential of link stickers, many Instagram users are still unfamiliar with how to effectively utilize them.
In this article, we will delve into the intricacies of Instagram link stickers and provide you with valuable insights on how to make the most of this powerful feature. Whether you're a seasoned creator or just starting out, join us as we explore the best and most effective ways to use link stickers on Instagram and achieve remarkable results.
What are Link Stickers on Instagram?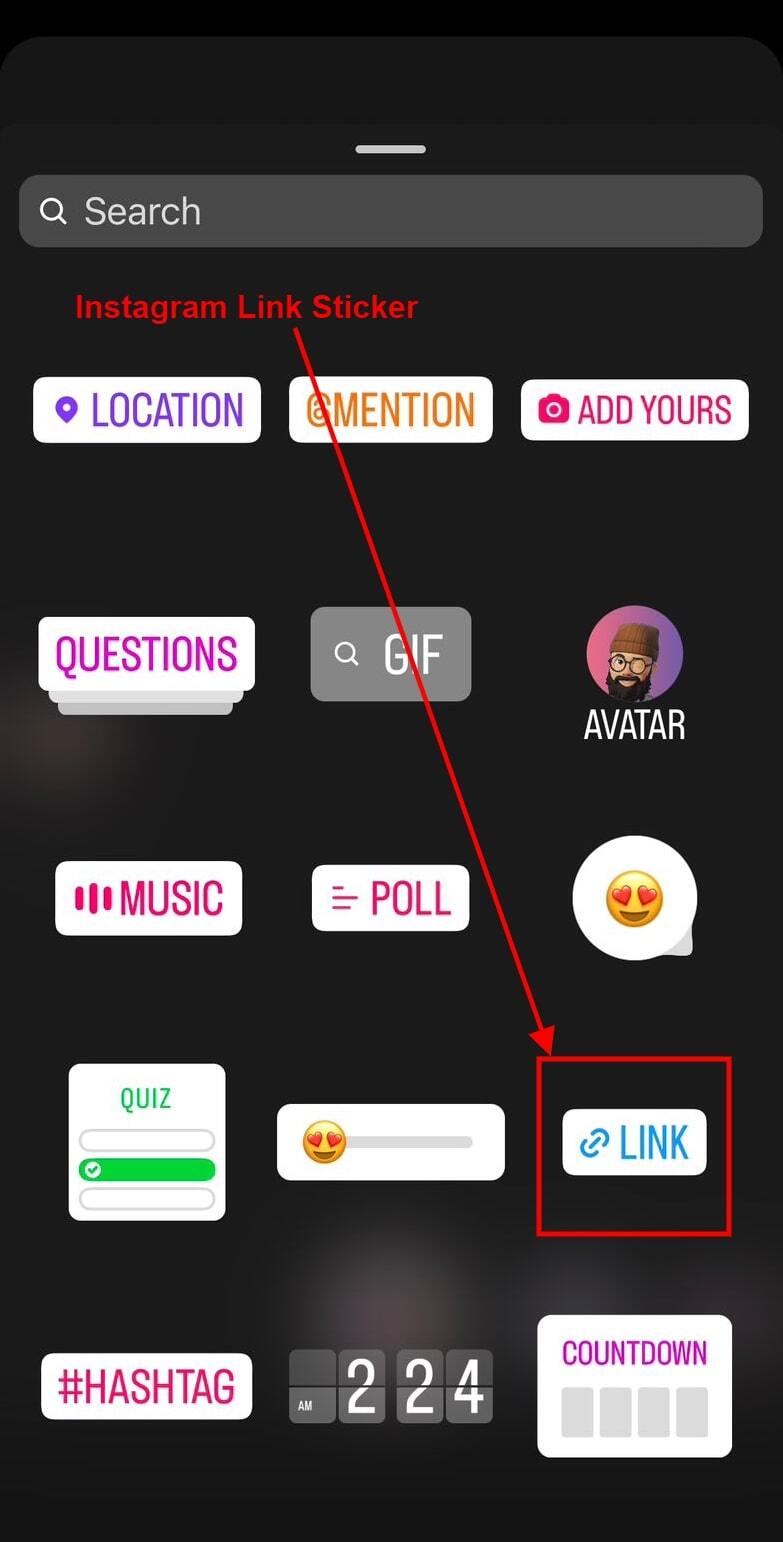 Instagram link stickers are interactive elements that can be added to Instagram Stories. They serve as a replacement for the swipe-up feature, allowing creators to easily direct their audience to external websites. Link stickers function like any other sticker on Instagram but with the added functionality of redirection.
When a user adds a link sticker to their Story, they can enter the website URL they want to direct their followers to. The sticker is then placed on the Story, visible to viewers. When someone clicks on the link sticker, they are instantly redirected to the external website specified by the creator.
This feature eliminates the need for prompting users to swipe up and provides a seamless way to share content outside of Instagram. Link stickers have become widely accessible to all Instagram accounts, regardless of follower count or verification status, making them a powerful tool for businesses and creators to link to external content and enhance their storytelling capabilities on the platform.
How to Add Link Stickers to Instagram Stories?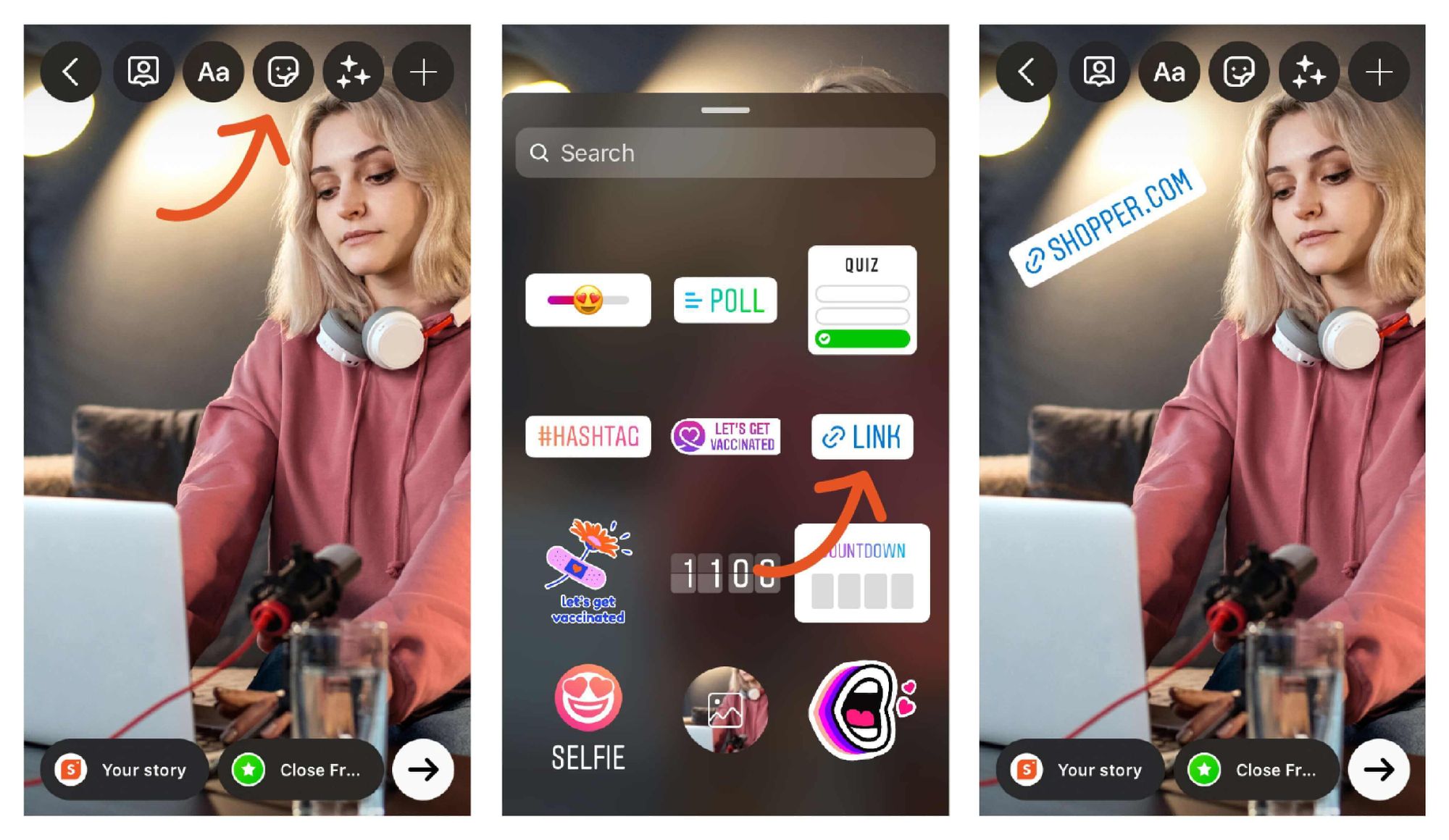 You can add a link sticker to your Instagram story in a few straightforward steps.
1. Create an Instagram Story
Open the Instagram app and tap the plus icon in the upper-right corner. Select Story and create new content using photos, videos, or text. Alternatively, tap the paper airplane icon under a post to create a story from it.
2. Add a Link Sticker
Set up your story and tap the sticker icon at the top of the screen. Find the link sticker and tap to add it. Type or paste the URL you want to include and tap "Done".
3. Place and Resize the Link Sticker
The link sticker appears in the center of your story. To move it, tap and drag it to another spot. Use two fingers to resize it or rotate it to any angle you prefer.
4. Share Your Story in DMs
If you want to share your story privately, tap the three dots in the lower-right corner, select "Send to…", enter the Instagram username(s) of the recipient(s), and tap "Send".
5. Add Your Story to a Highlights Album
To give your story more visibility, tap the plus icon on your profile, select "Story Highlight", and choose the story to add. Alternatively, tap your profile icon, tap the heart icon, give the highlight a name, and tap "Add".

These steps will guide you through the process of adding a link sticker to your Instagram Story effectively.
Why You Should Use the Link Sticker?
When utilizing Instagram Stories, incorporating Instagram stickers, particularly the link sticker, can bring numerous benefits. A link sticker is a powerful tool that allows you to direct your audience's attention away from Instagram and towards any specific destination of your choice. By customizing the URL, you have the flexibility to guide traffic wherever you desire. Whether you have an upcoming event and want to sell tickets, you're a blogger seeking to drive viewers to your latest post, or you're selling products and wish to direct people to your shop, the link sticker serves as a versatile solution.
Utilizing Instagram Stories as a marketing strategy is crucial, as a 2018 Facebook-commissioned survey revealed that 58% of users expressed increased interest in a brand after seeing it in an Instagram Story. Even more impressive, 50% of surveyed users went on to make a purchase from the brand featured in Stories. By incorporating link stickers, you provide a convenient and efficient way for potential customers to make purchases, thereby maximizing your chances of converting interest into sales.
For business owners, it's essential to gauge the effectiveness of your marketing efforts. With the link sticker, you gain valuable insights through Story Insights, allowing you to track the number of link taps. These analytics provide a clear understanding of how your Instagram Stories contribute to the growth of your brand.
By leveraging the power of Instagram stickers, specifically the link sticker, you enhance engagement, drive conversions, and gain insights into the impact of your Instagram Stories on your brand's success.
Innovative Ways to Use Instagram Stories
Instagram does not let you add hyperlinks on their platform - both on Instagram posts, as well as comments, in a bid to make sure that spam and phishing remain at a bare minimum.
The only place where you can add clickable URLs on Instagram happens to be your Instagram bio and on link stickers.
Even so, you can only add one link at a time on your bio, and your Instagram link sticker. That's why you need to check out some of the best ways to use link stickers effectively on Instagram that we cover below.

Following some of the tips, we cover will make sure that you get the maximum out of Instagram link stickers. So let's take a look at how you can do exactly that!
1. Get Creative with Your Link Sticker Placement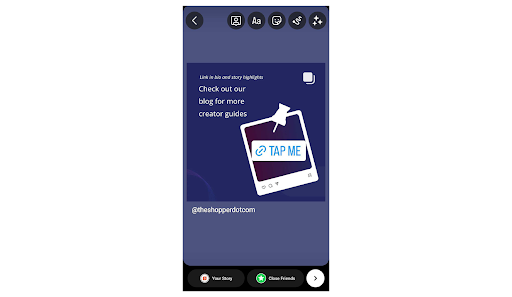 Instagram is a visual platform, where creativity can make a massive difference.
When it comes to link stickers, you want people to get straight to the point and notice the link sticker which will prompt them to click on it. You have unlimited possibilities to make link stickers visually engaging.
Try adding different elements like symbols, icons, gifs, colorful backgrounds, adding filters, and make sure to put your Instagram link sticker somewhere really noticeable.
People who view your Instagram story should be able to immediately notice your Instagram link sticker and immediately be prompted to consider clicking on it.
2. Add a Catchy Call-to-Action as Link Sticker Text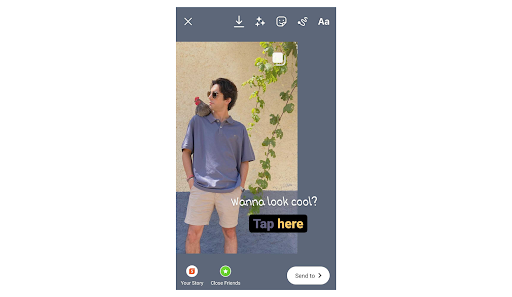 The best thing about Instagram link stickers is that you get to completely customize the text on the link sticker, which makes it easy to draw the attention of Instagram story viewers. With such an option available, you need to add catchy call-to-action as link sticker text.
Ideally, it's always best to use call-to-actions that feature something that's very relatable to what your content is all about. If you are redirecting viewers to a blog post, add something like "Tap Here to Read Our Blog", "Click Here to Read More" or simply add "Read More".
To get the best results, it's also best to add CTA elements like an arrow symbol gif or click-here gif icons that have some animation pointing toward the link sticker.
3. Redirect Viewers to Your Affiliate Product Collections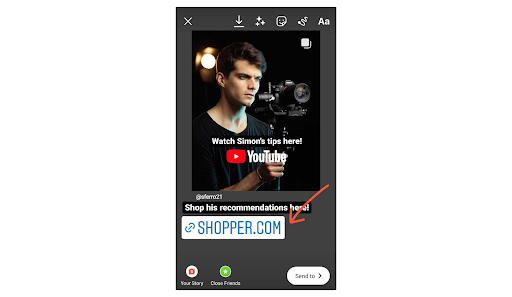 Affiliate marketing is one of the best ways to make money from your Instagram account. If you are into affiliate marketing, you need to aim at getting more clicks, and conversions to continuously generate revenue from your affiliate sets.
The best possible way to do that on a platform that does not allow you to add clickable URLs on posts is to add the affiliate product URL on your Instagram bio. With the introduction of link stickers, which are also made available for everyone on Instagram, you now have one more place to add a clickable URL to your Instagram account.
To get the most out of your Instagram account, we highly recommend that you set up a store on websites like Shopper and then use the Shopper page link on your Instagram link sticker. Not only does this instantly increase the probability of generating more sales, but it also significantly improves your affiliate revenue as well.
Whenever someone navigates to the link in the link sticker on Instagram, they will be directed to a page where all your affiliate products are visible. In the case of Shopper, you can highlight all your products in neat collections, in an organized way, with customizable color themes to get the absolute best results.
4. Share the Latest Post as a Story with Link Stickers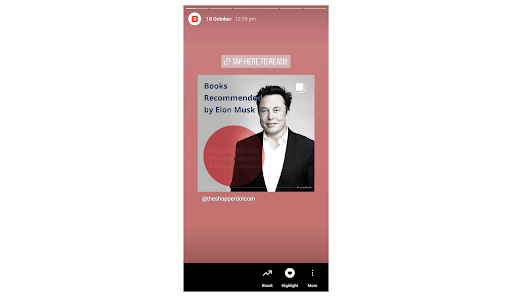 Sticking with affiliate marketing, another great strategy that can be used to further improve your affiliate revenue is to always share your latest Instagram posts as a story with link stickers.
By making use of Shopper, or any website that offers a store to highlight and showcase your affiliate products, you can keep redirecting more visitors.
This can include both new visitors, and returning viewers.
Every time they check your post, you Instantly improve the overall chances of getting more clicks, and conversions.
Even if they did not want the first product you shared, they might have a change of heart when it comes to the next product you recommend.
There will also be followers who might have missed out on your previous story.
By making it a habit, more and more viewers will start getting more opportunities to check out your product recommendations, and collections.
5. Create Highlights Featuring Multiple Instagram Link Stickers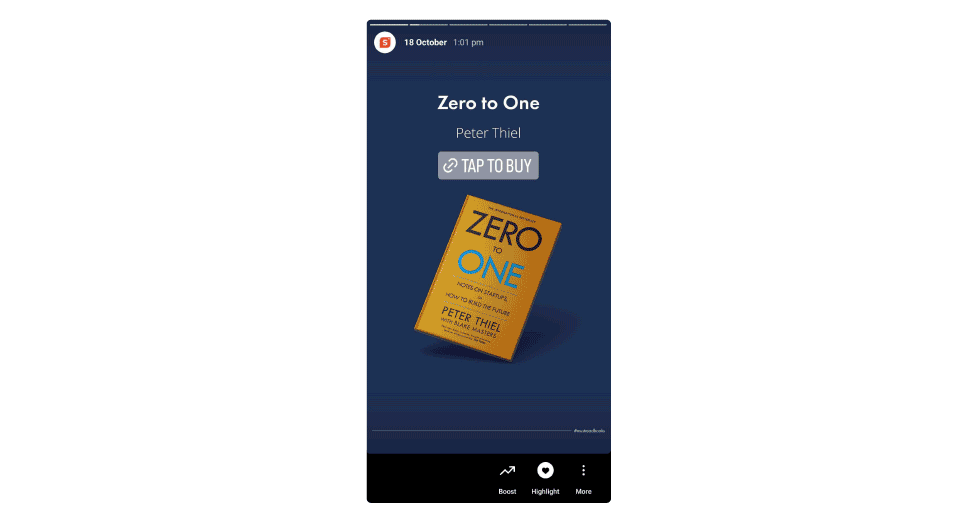 Another innovative way to make the most of Instagram link stickers is to combine the link sticker feature with another latest feature - Instagram highlight.
Both these when combined can help you create a list of story highlights that all feature different product links in a curated list.
Ideally, you need to add a story whenever you share a new post with a new product.
Add the link sticker to your story, and make sure that you include a nice call-to-action. You can also consider changing the color of link stickers to match the theme of the product's color.
Once you post the story, add the story to an Instagram highlight, and keep repeating the same whenever you add a new product.
In time, you will have a collection that features all your product recommendations, and affiliate sets.
You can even go for multiple Instagram highlights where you group similar products together. Don't forget to add an interesting cover to improve the number of people checking out the highlight and finding your affiliate sets.
What Happened to the Swipe-Up Feature?
When Instagram Stories were introduced in 2016, there was no direct way to include links in these temporary posts that lasted for 24 hours. As a workaround, users had to include the phrase "Link in Bio" in their Stories, directing viewers to their profile where they could find the desired link. This method proved to be inefficient, prompting Instagram to develop a new solution that would allow users to lead their audience to external destinations without leaving the app.
Enter the swipe-up feature, which enabled viewers to swipe up on a Story or tap an arrow at the bottom of their screen to access a link seamlessly, without having to navigate to the creator's bio. However, this feature was initially limited to verified accounts or those with over 10,000 followers. This meant that users who didn't meet these criteria were still required to rely on the "Link in Bio" approach. But in August 2021, Instagram officially retired the swipe-up feature and announced that the ability to add links to Instagram Stories would be available to all users, recognizing the need for inclusivity and accessibility.
Wrapping Up
In conclusion, link stickers have revolutionized the way creators and businesses utilize Instagram Stories to engage with their audience and drive traffic to external destinations. With the introduction of link stickers, the need for the swipe-up feature or the reliance on "Link in Bio" has diminished, making it more accessible for users of all follower counts to incorporate clickable links in their Stories.
By effectively using link stickers, you can redirect your followers to websites, blog posts, products, or any other desired destination, allowing for enhanced discoverability, increased engagement, and improved conversion rates. The customizable nature of link stickers enables you to tailor your call-to-action and guide your audience to specific actions or offerings.
Furthermore, the inclusion of link stickers in your Instagram Stories opens up new opportunities for businesses to measure the success of their marketing efforts. With the ability to track link taps and gain insights through Story Insights, you can analyze the impact of your Stories on driving traffic and achieving your brand's objectives.
Instagram link stickers have leveled the playing field, enabling creators and businesses of all sizes to harness the power of clickable links and maximize the potential of their Stories. By following the steps outlined in this article, you can effectively leverage link stickers to expand your reach, engage your audience, and achieve your goals on Instagram.
So, go ahead and start using link stickers in your Instagram Stories. Take advantage of this powerful feature and unlock the full potential of your Instagram presence to earn more with Instagram