How to Find the Best Keywords for Your YouTube Channel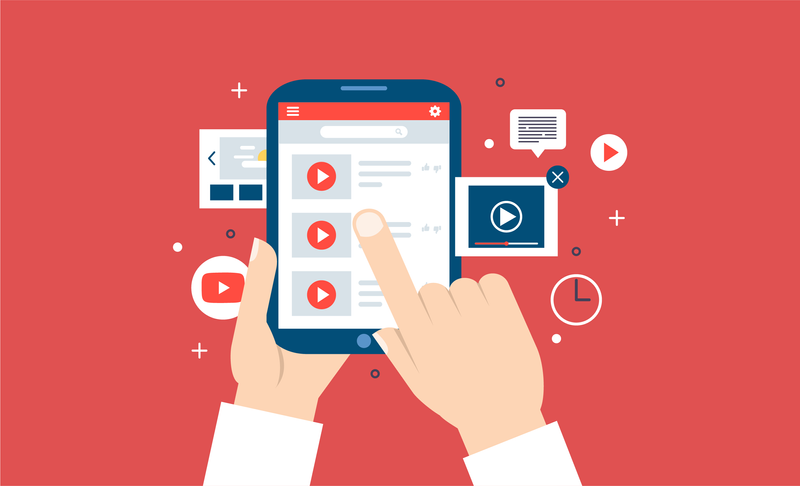 If you want to get your content - be it text or visual, to the maximum number of people on the internet, you must spend time on keyword research.
YouTube, being the second largest search engine behind Google is no different.
Finding the best keywords for YouTube can be a game-changer that can ensure that your video reaches the maximum number of viewers on the platform.
Knowing which keywords work can be difficult, especially if you are just starting out.
That's why we have you covered with everything that you need to know about how to find the best keywords for your YouTube channel.
In addition to providing the best tips and tricks, we also take you through some of the best YouTube Keyword tools that can help you grow significantly faster on YouTube.
How Do You Search for Keywords on YouTube?
Good keywords are never easy to find, but when you do find them, it's absolutely worth the time!
Why? because finding the top YouTube keywords can ensure that your videos reach the maximum number of people that search for a particular topic.
So how do you search and find the best YouTube keywords? Here are some of the options you can consider:
1) Search Directly On YouTube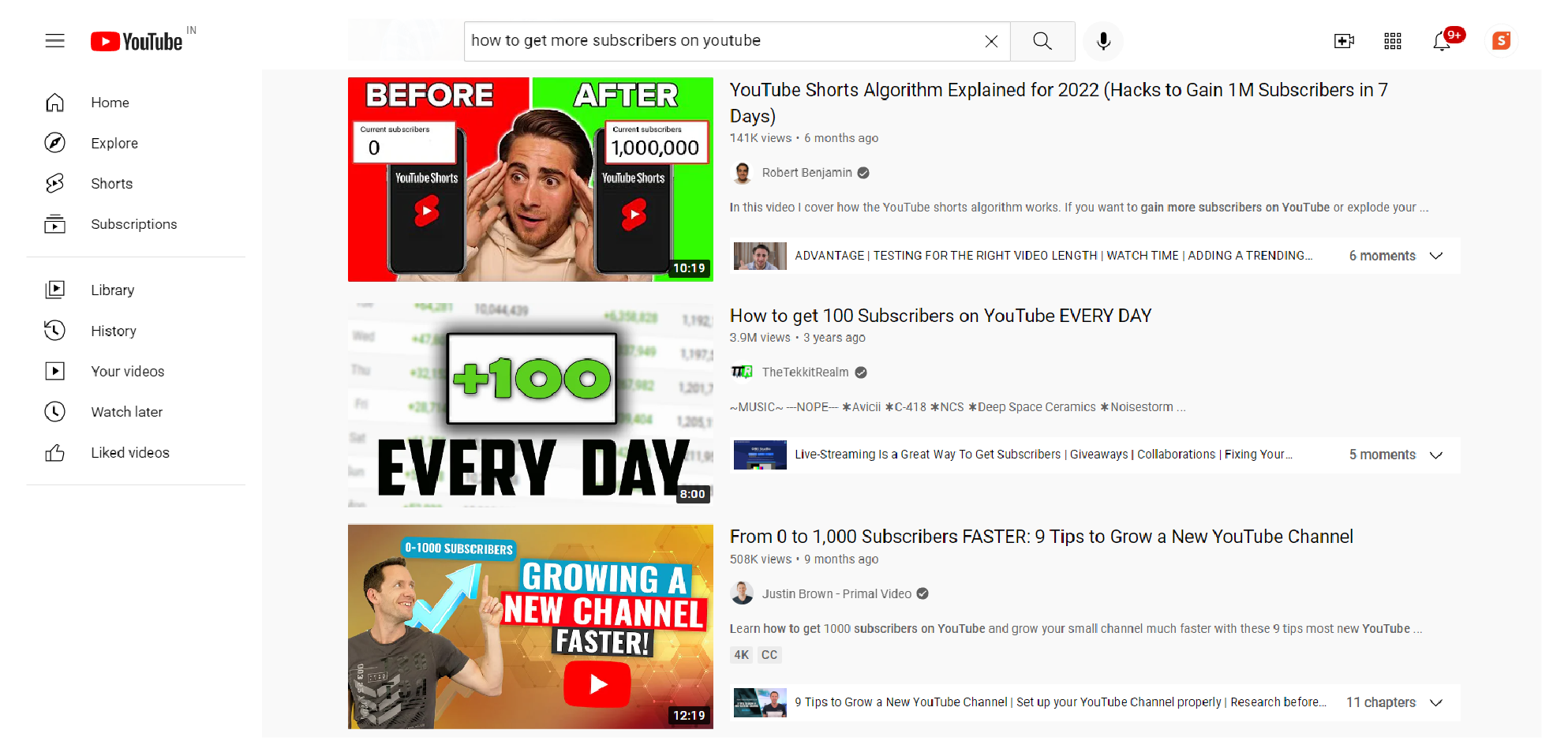 The quickest and easiest way to find the best keywords for YouTube videos is to search on YouTube itself.
If you have a video that's based on a particular topic, search the topic on YouTube and check out some of the top-ranking videos and YouTube videos with the most number of views.
Now, go through their titles and see if there is a common keyword used across most of these top videos.
Being a Google product, YouTube also features Google's auto-complete feature and shows a list of the most popular results when you type in a word or phrase into the search bar.
2) Check Out Description
When you search for keywords on YouTube through the search bar, you will notice that videos that are using the same keywords outperform other videos by having bigger views and overall engagement.
That's where SEO in tags and description come into play. In other words, it simply means that these videos are better optimized as they have a better description and usage of tags.
You can check the description of these videos to see how they optimized some of the top YouTube keywords into the description without making it obvious.
3) Think Like a Human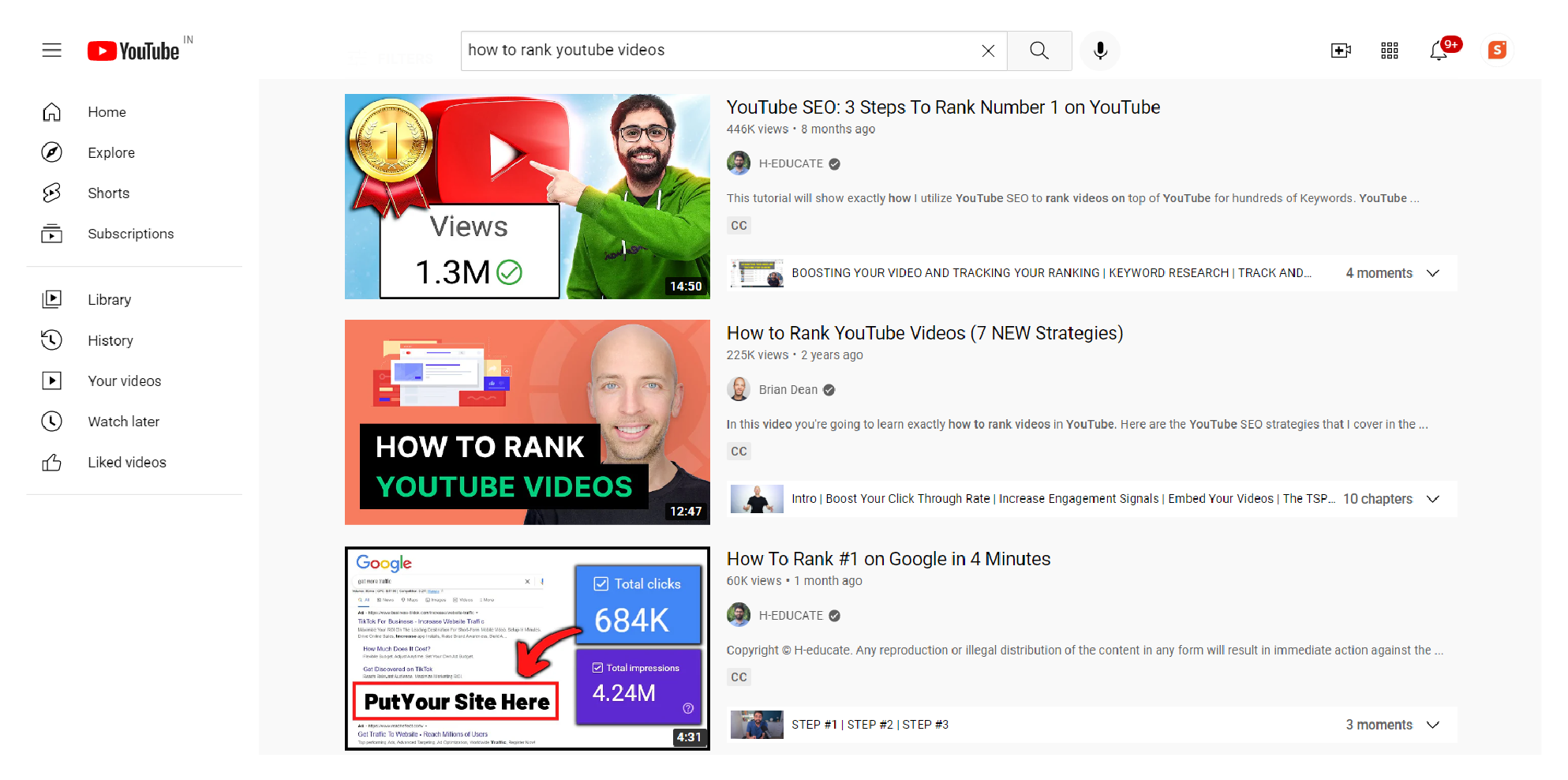 No offence intended, but there are times when we overthink SEO and end up doing more harm than any good.
When it comes to keywords on YouTube, it is very easy to get carried away.
Remember, a keyword is just a part of a key phrase that is usually a group of two to four words.
If you have a very specific category of video to upload, think about how people will find your video.
Note down the possible keywords they might search to find your video.
Planning to publish a video of an upcoming product for your brand?
Consider what a viewer will search for to find your video. Make sure that you include the brand information and a primary keyword in the title.
Ask yourself this question - what is the first thing that is more likely to pop into a viewer's mind when they search for your videos on YouTube.
4) Let YouTube Take the Lead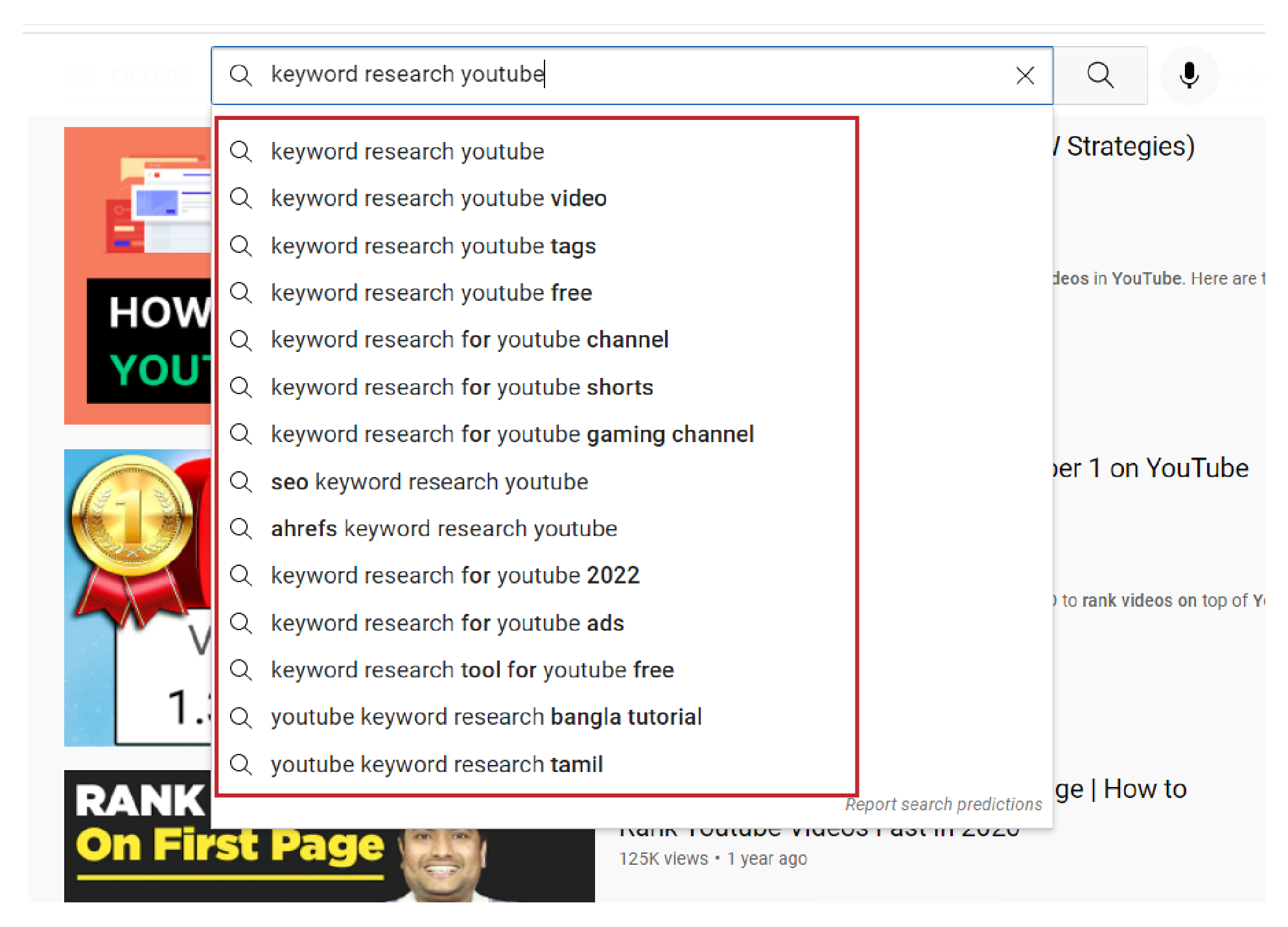 Another interesting way to get the best keyword for YouTube is to let YouTube take the lead.
Yes, that's right. By playing a simple game with YouTube search, you can get hundreds of long-tail keywords that YouTube will recommend for you.
Because of YouTube's auto-complete feature, you will see hundreds of suggestions pop up whenever you search for something.
This can also help you come up with interesting titles that can prompt people to click on your videos.
If you are posting a video about how to get more views on YouTube, but want to stand out in this highly contested video search query, simply add a space or alphabet.
YouTube will give you a list of alternatives like "how to get more views on YouTube 2022", "how to get more views on YouTube shorts" and so on.
5) Make Use of Google LSI Keywords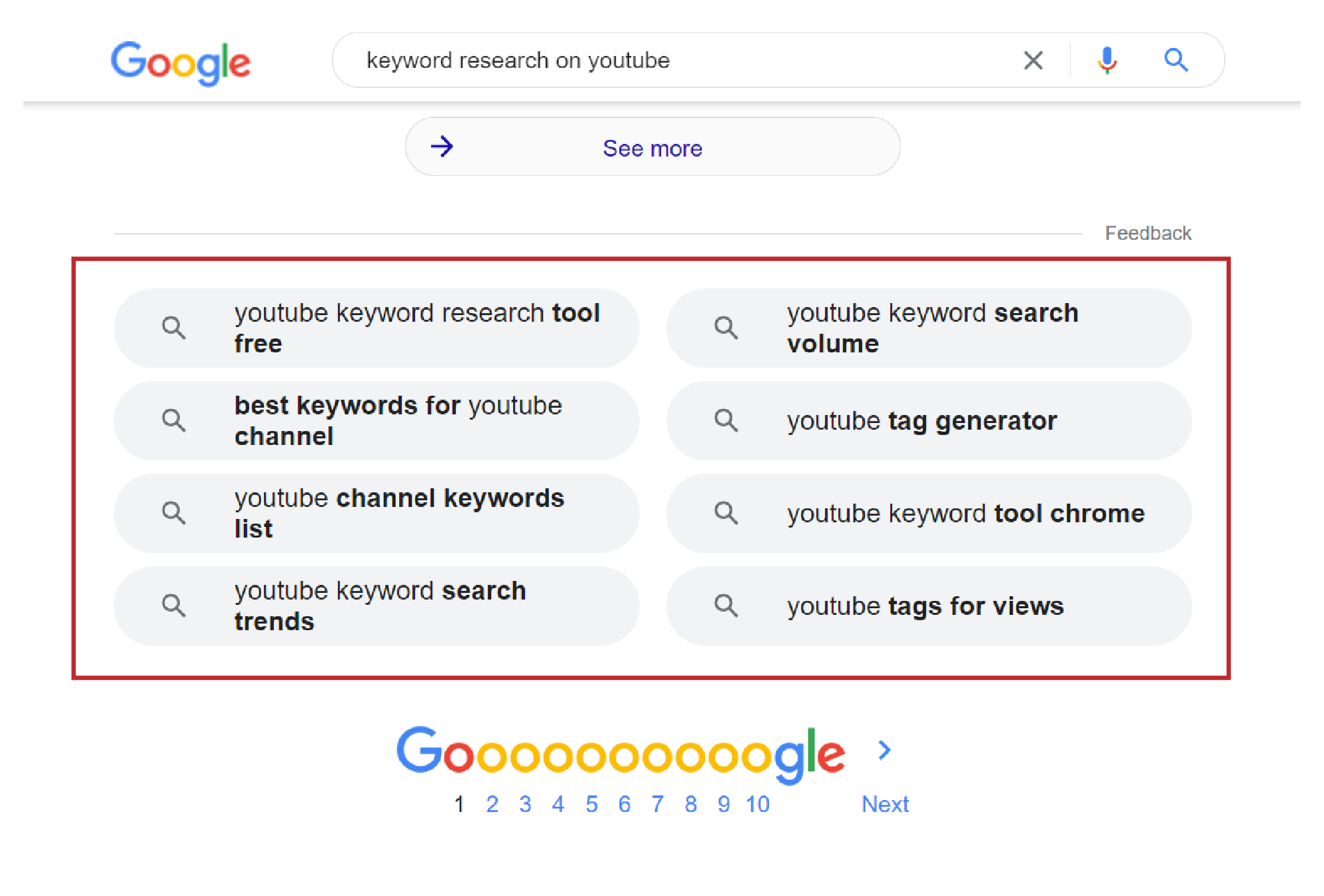 Don't worry, this is not as complicated as you think!
Latent Semantic Indexing keywords, popularly known as LSI keywords are basically related keywords that can be used with your video as tags or in description to get more views.
Contrary to how all other steps work, LSI keywords help your YouTube video get discovered more frequently on Google.
This is also one of the easiest keyword research methods out there.
Simply enter a search query that is related and relevant to your video on Google. Now scroll down to the bottom of the page.
You will see a set of LSI keywords. Simply copy-paste the keywords and use them in your description, title and tags to get more discoverability and views on your videos.
What are the Best Keyword Research Tools for YouTube
There are plenty of amazing keyword research tools on YouTube that all let you find the best keywords for YouTube.
What's even great is that most of these services are free to use or have free versions that are loaded with plenty of details like keyword analytics, comparisons and volume metrics.
Let's take a look at some of the best keyword research tools for YouTube:
YouTube Analytics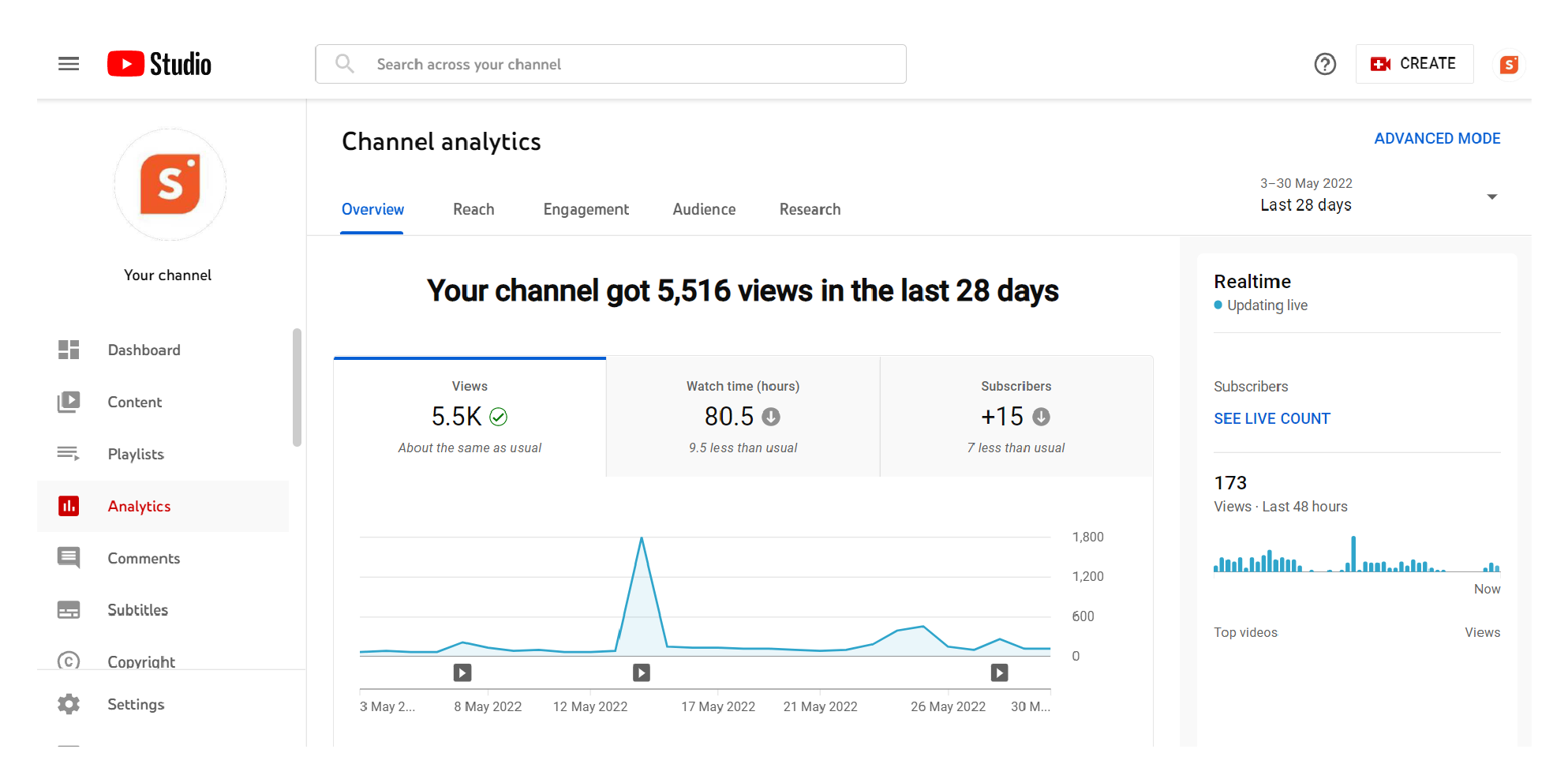 The inbuilt YouTube Analytics by itself is a cool and sophisticated tool to help you find some of the best keywords for your existing videos.
As the analytics feature is a YouTube service, they have access to your account metrics and can help you get the best keyword suggestions.
The YouTube analytics also let you know which keywords are performing or bringing in the most number of views, and which don't.
In addition to providing info on keywords, they also help to get a better understanding of your audience.
You will get a clear picture of a variety of metrics like where your audience is based out from, what videos bring them to your channel or how long they spend on your content.
2. Google Trends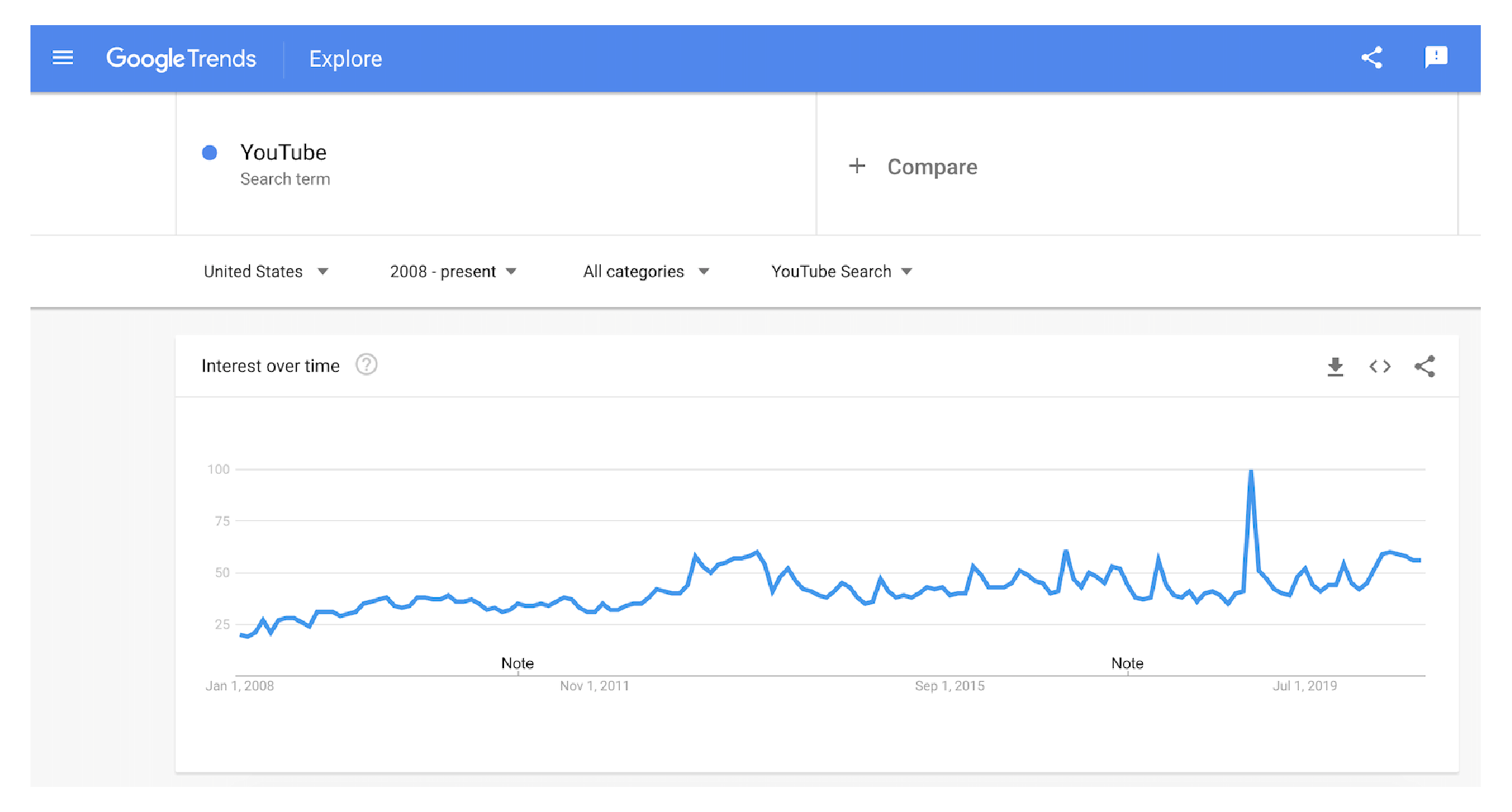 If you didn't know already, here is news for you - Google Trends has a tab that is dedicated just to YouTube content!!
Yes, that's right. Google Trends has a special tab that is dedicated just to YouTube keyword research and content.
This can help you find just how popular a particular topic is and do associated searches that are related to your video subject.
It also helps you get an idea of what related keywords you can use to add in descriptions and tags to get more engagement and better discoverability for your content.
3. VidIQ
VidIQ is one of the best YouTube keyword research tools on the internet today.
This tool makes life so much easier for any creator on the platform. VidIQ is loaded with amazing features which ensure that creators get the maximum out of the content they create for YouTube.
It's also relatively easy to use as you only need to give permission for VidIQ to access your YouTube account.
By having access to some of their paid features, you can unlock even better value-added services like keyword translator, keyword templates, and many more features.
They are also a YouTube certified online learning academy and also have an active YouTube channel that shares regular updates.
4. TubeBuddy
TubeBuddy is yet another amazing YouTube keyword research tool that lets you search for YouTube keywords at ease.
One of the highlights of TubeBuddy is its auto translator function which can easily translate content into different languages.
This is very useful as it lets you convert content in different languages and come up with keywords in multiple languages to know which keywords rank better.
They also offer a browser extension that again makes it really easy to find and select the right keywords for your YouTube videos, making it one of the best keyword tools for YouTube.
5. Keywordtool.io
If it's top YouTube keywords that you seek, with emphasis on long-tail keywords, it is highly recommended to check out keywordtool.io.
Popularly known as Key Tools Limited, and based out of Hong Kong, Keyword Tool uses YouTube search predictions to pull out search term suggestions and generate YouTube keyword ideas.
With a global directory of more than 750 long-tail keywords from search predictions, Keywordtool.io is a great keyword research tool to have.
Keyword Tool also allows you to localize results to more than 100 countries around the world and offers support for more than 80 languages.
By following some of the tips and tricks we covered, and by making use of the keyword research tools that we covered, you can find some of the best keywords for YouTube at ease.