Affiliate Marketing
Affiliate Link Disclosure - The Ultimate Guide For Affiliate Marketers
What is an affiliate disclosure? Here's an in-depth guide on Affiliate Link Disclosures to learn what they are, how they work, and how to add one to your site.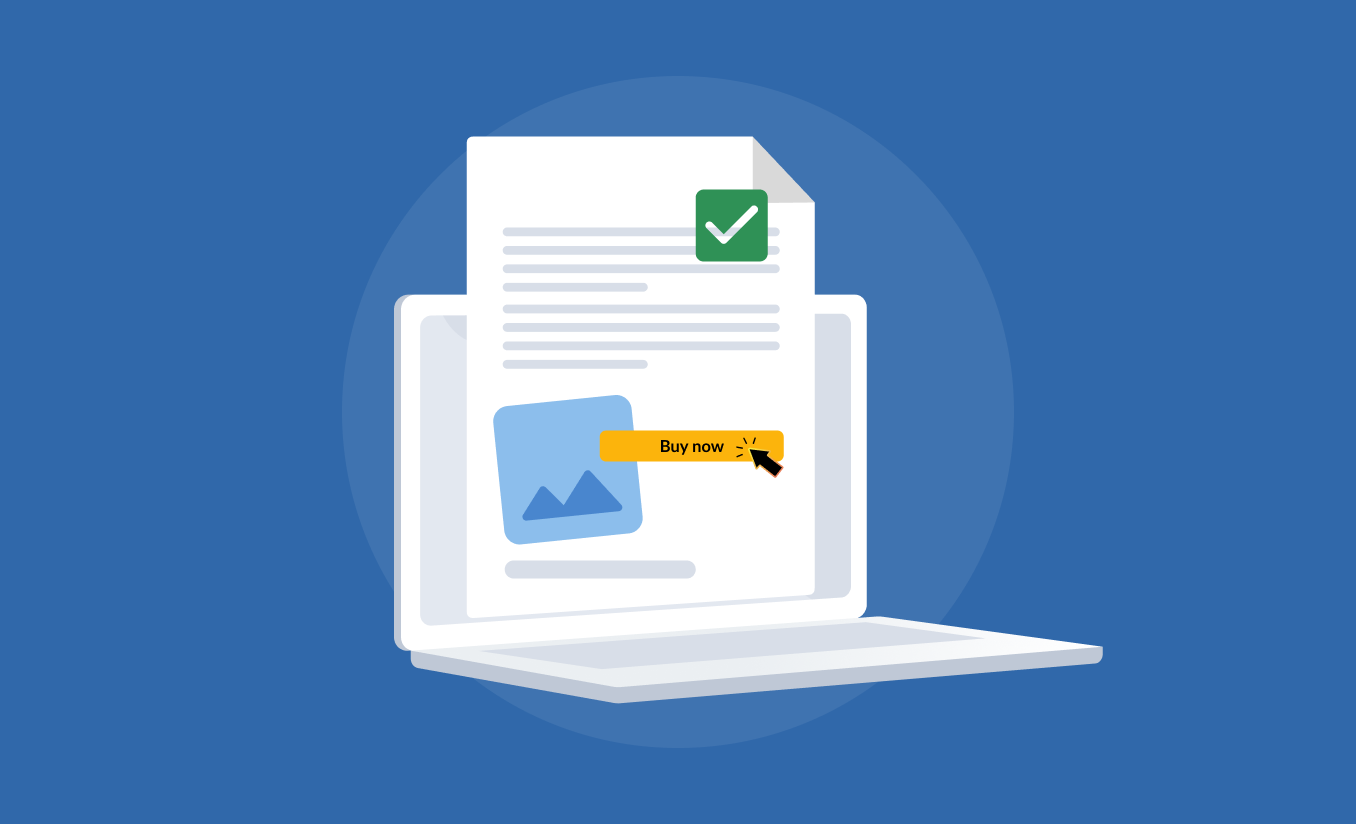 In the dynamic realm of affiliate marketing, where opportunities abound, the vigilant eye of federal regulators remains unwavering. Cast your mind back to the year 2000, a turning point when the Federal Trade Commission (FTC) stepped onto the burgeoning Internet landscape, taming the Wild West by instating pivotal regulations that commenced with the simple yet impactful concept of disclosure.
At its core, an affiliate disclosure serves as a transparent beacon, illuminating to your readers that the companies whose products grace your content's narrative have extended compensation to you.
Whether you're a devoted blogger embarking on the journey of monetizing your blog through astutely woven affiliate links, or an influencer seeking to monetize your product commendations, a profound understanding of affiliate disclosures is paramount.
In this guide, we'll break down some of the guidelines and tell you how to include an affiliate disclosure on your website through some examples.
What is Affiliate Link Disclosure?
Affiliate link disclosure also referred to as affiliate disclaimer or disclosure, is a declaration present on your website or blog that communicates to visitors that you receive compensation from companies when you promote, evaluate, or suggest their products or services.
The purpose of an affiliate disclosure is to make users aware of the existence of affiliate links. These links are web addresses that connect to products or services offered by other businesses. Site owners usually earn a commission when users buy something through these links.
Why Do You Need Affiliate Disclosure?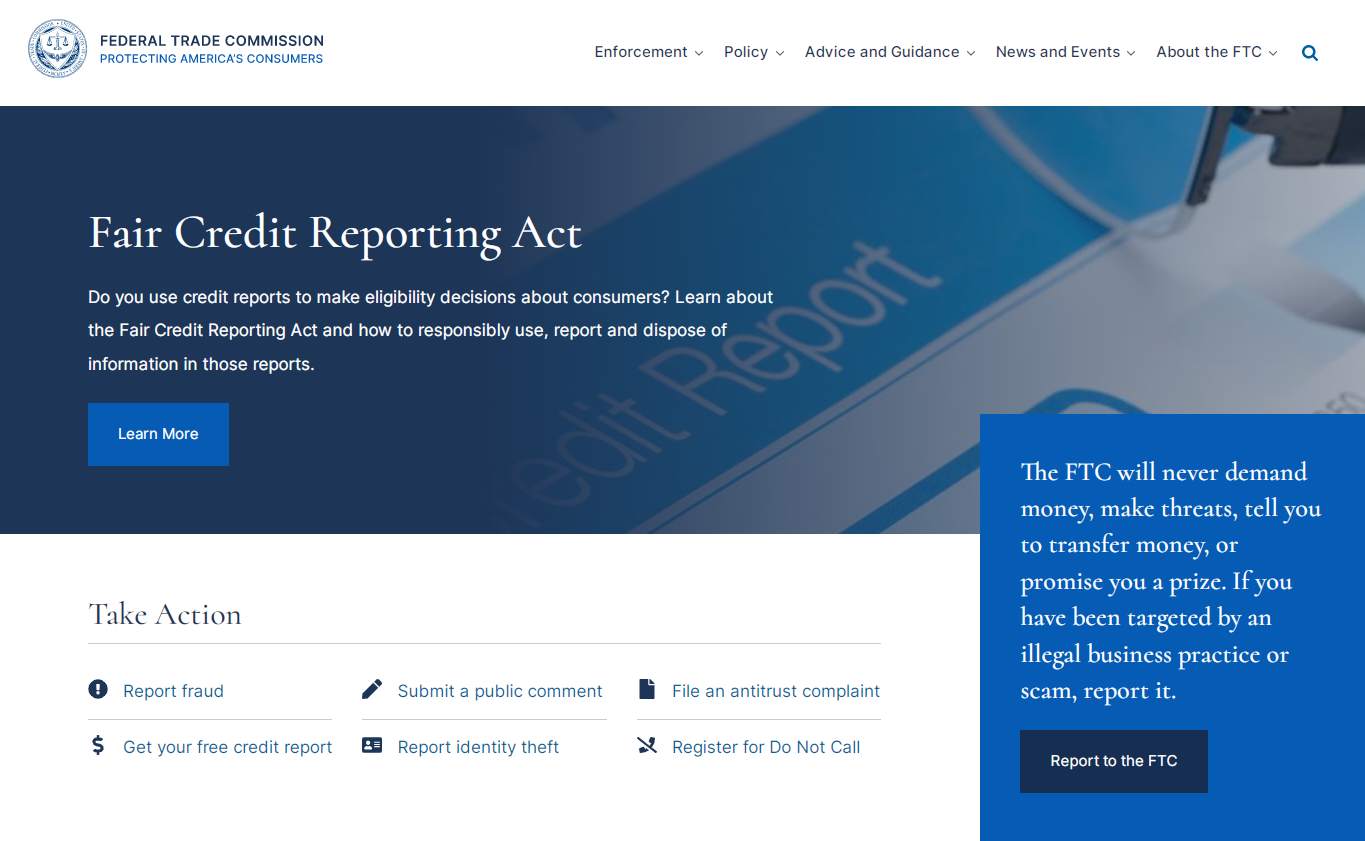 Including affiliate link disclosures on your site is not only a requirement by the Federal Trade Commission (FTC) but also a recommended business practice. Because product reviews or recommendations can impact users' choices when making purchases, having an affiliate disclosure is crucial for creating openness with your audience and enabling them to make well-informed decisions.
Affiliate Disclosure Requirements
As outlined in the guidelines of the FTC endorsement policy, it's essential to display an affiliate disclosure if you receive compensation — whether financially or through other means — from companies to discuss or assess their products on your website.
An affiliate disclosure that aligns with FTC standards should be clearly visible and evident, outlining the nature of your association with the company you're featuring. This disclosure should explicitly state that you receive compensation from them.
Additionally, apart from FTC regulations, the affiliate programs you take part in might stipulate the need for an affiliate disclosure.
For instance, the Amazon Associates Program's Operating Agreement mandates that Amazon Associates incorporate an affiliate declaration on their site, clarifying that they earn commissions from eligible purchases made through their links.

To uphold ethical practices on your business website and avoid potential legal ramifications, adhering to FTC directives and any relevant affiliate program guidelines is crucial.
How to Write The Perfect Affiliate Disclosure For Your Website?
Creating affiliate disclosures offers some flexibility in terms of wording, as long as it serves two key purposes:
Clearly labels a link as an affiliate link.
Provides an explanation of its purpose and benefits for you.
This explanation can be extensive, diving into the intricacies of affiliate programs and your rationale behind forming these affiliations. Conversely, it can be succinct, just a one-line notification clarifying the link's affiliate nature and the compensation you receive when it's clicked.
Formatting Your Affiliate Disclosure
While you have room for creativity, it's important to adhere to the official guidelines, particularly concerning presentation. Your disclosure must be easily noticeable, avoiding pale colors or small fonts that could render it inconspicuous.
Here are the main points from the official guideline:
1. Keep it Understandable
Affiliate disclosures should be composed in a manner that's readily comprehensible. Avoid overcomplicated language, jargon, or dialects that your target audience might not grasp. Opt for simple, clear wording. If the disclosure is lengthy, structure it into paragraphs for readability.
2. Avoid Assumptions
Don't presume your audience understands affiliate marketing intricacies. Stating that you utilize affiliate links isn't sufficient. Instead, clarify how clicking the links generates commissions.
3. Length Considerations
For a concise disclosure, aim for a few sentences. Here, briefly describe your compensation from clicks. If you opt for a more detailed notice, 2-5 paragraphs should suffice, permitting you to elaborate on affiliate marketing and your approach.
How to Integrate an Affiliate Disclosure?
Implementing an affiliate disclosure offers multiple approaches, including:
Manually inserting it into each blog post, email, or social media content.
Employing a widget for automatic affiliate link disclosures.
Establishing a visible link to a comprehensive affiliate disclosure page.
For seamless integration on your WordPress site, numerous plugins are available to assist you.
Where to Position the Affiliate Disclosure?
Proximity is a pivotal aspect of FTC guidelines. Mere placement on a random page won't suffice.
To align with these guidelines, ensure your disclosure resides in close proximity to the linked content. You can hyperlink to your disclosure page throughout your site while still maintaining a nearby disclosure for any affiliate content or links.
Suitable spots for linking your affiliate disclosure page include:
Site header
Footer
Sidebar
Terms and conditions page
Privacy policy

Furthermore, it's imperative to declare your affiliation with affiliates on your disclosure page.
Affiliate Disclosure Tips
Given that the FTC updates its guidance periodically, previously accepted practices may now demand revisions. To aid you in devising a personalized affiliate disclosure, we've compiled a set of top-notch affiliate disclosure tips below.
1. Employ Clear and Uncomplicated Language
Convey to your audience in straightforward terms that you receive compensation from companies when featuring or connecting to their products within your content.
If using terms like 'affiliate marketing' or 'affiliate links' that might be unfamiliar to readers, ensure their understanding by explaining them or substituting simpler phrases like 'ads' or 'sponsorships'.
Avoid excessive verbosity to maintain readability.
2. Ensure the Visibility of Your Disclosure
Besides giving prominence to your disclosure, design and format it in a manner that grabs users' attention.
For instance, guarantee that your choice of text size and color sets the disclosure apart, rendering it easily readable.
3. Steer Clear of Distracting Elements
Per FTC's digital advertising guidelines, websites must steer clear of elements that could obscure or diminish the prominence of your disclosure. These distractions might encompass surplus graphics, buttons, or links.
7 Affiliate Link Disclosure Examples
Effective affiliate disclosures are paramount in adhering to FTC guidelines and ensuring transparency with your audience. To achieve this, it's vital to craft a clear, concise policy that aligns with these standards.
Let's delve into some prime examples of affiliate disclaimers that have mastered the art.
1. Remodelaholic

Explore Remodelaholic's thorough disclosure page, covering all essential aspects. In addition to the privacy policy and limitation of liability clause, this page includes a dedicated section for Sponsored and Affiliate Disclosures. Take a look to see how Cassity, the owner, articulates her complete affiliate disclosure and other disclaimers.
2. Dan Flying Solo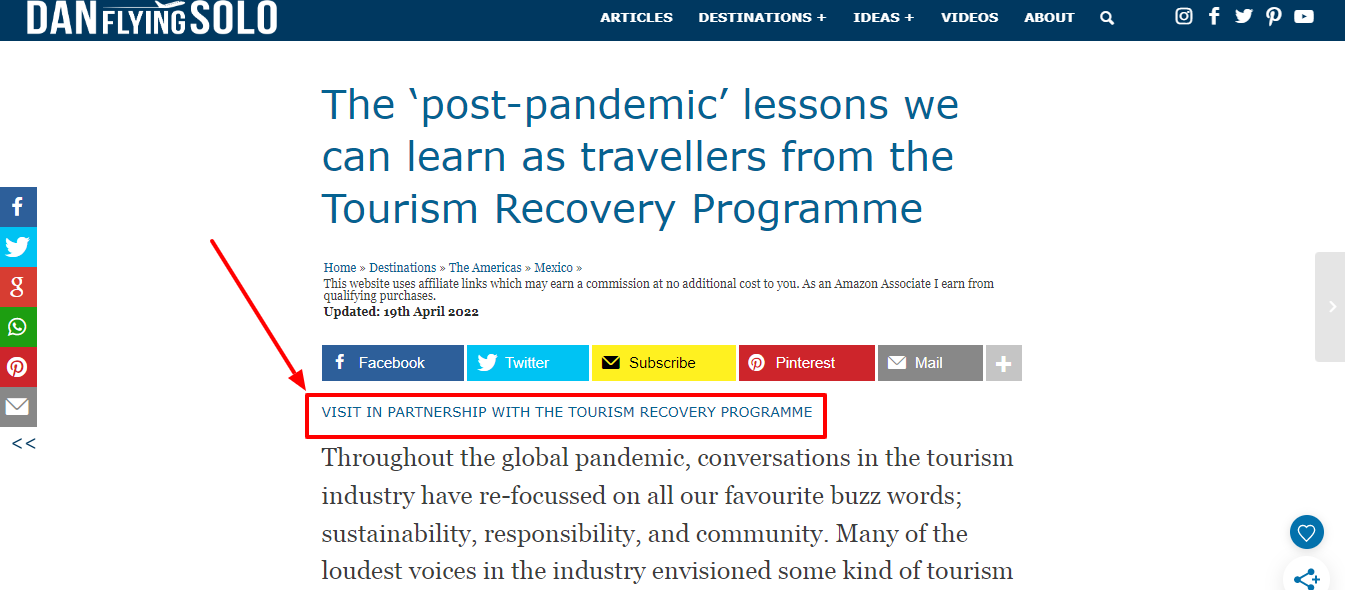 Dan, from Dan Flying Solo, adeptly incorporates his affiliate disclosure at the beginning of his blog posts. It's not only clearly visible but also precedes any affiliate links. While some improvement could be made by increasing the font size, the disclosure's placement and legibility ensure its clarity.
3. Engadget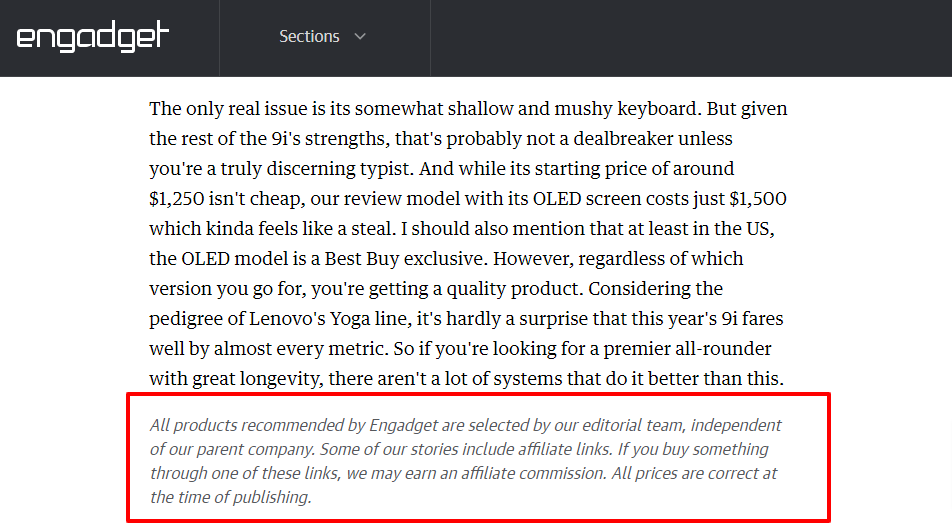 Engadget adopts a multifaceted approach to affiliate link disclosure. Their strategy involves positioning the disclosure at the end of reviews and providing a link to the Yahoo! privacy policy on every webpage. An enhancement suggestion would be for Engadget to disclose their business practices before presenting any affiliate links.
4. Outside

To gain insights into how a well-established magazine operates in the online realm, take a tour of Outside's website. Despite its initial placement at the bottom of the page, it's worth noting that Outside, which began as a print magazine in 1977, has successfully transitioned into the digital space. Given their enduring popularity, it's understandable that they leverage online revenue streams.
5. Wirecutter

Wirecutter adopts a cautious approach by featuring a concise disclosure at the outset of their reviews, along with a link to a comprehensive disclaimer on a separate page. The brilliance of their approach lies in seamlessly integrating these disclosures into their "About Us" section, presenting it as part of a relatable narrative outlining the company's mission to establish trust.
6. Tech Radar

Similar to the previous example, TechRadar keeps it straightforward and upfront with a concise affiliate link disclosure. They have masterfully crafted one of the most effective disclaimers we've encountered, crediting their supportive audience, acknowledging their use of affiliate links, and providing a link to a more extensive disclosure. TechRadar illustrates that sometimes, saying less is more than sufficient for compliance.
7. SmartBlogger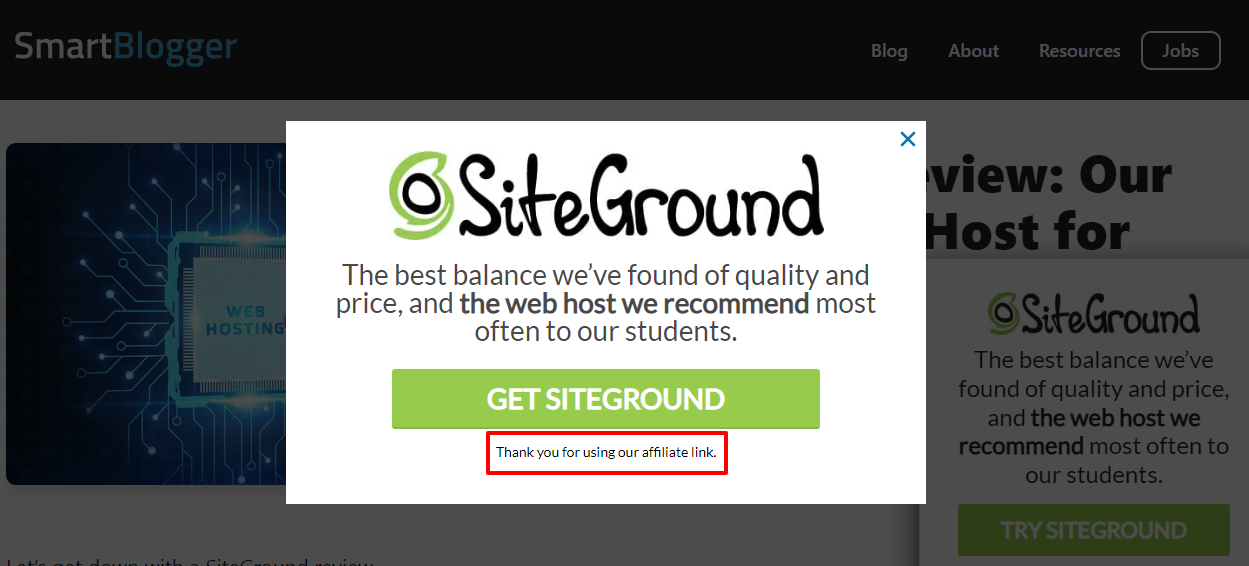 SmartBlogger prioritizes the visibility of its affiliate link disclosures through strategically placed pop-ups. These pop-ups appear upon page load and when readers display exit intent. However, an assumption that readers are familiar with the concept of affiliate links is a common oversight. It's important to remember that SmartBlogger's audience primarily comprises bloggers who may possess some knowledge of affiliate link functionality.
Over to You!
In conclusion, affiliate link disclosure is an integral aspect of ethical and transparent online marketing practices. As the affiliate marketing landscape evolves and regulatory bodies like the FTC continue to refine their guidelines, staying informed and compliant is paramount for affiliate marketers.
We've explored the importance of clarity in language and prominence in the placement of affiliate disclosures. It's clear that utilizing simple language and ensuring that disclosures are easily noticeable are essential components of building trust with your audience.
In the ever-evolving world of affiliate marketing, embracing transparency through clear and concise affiliate disclosures is not just a regulatory obligation; it's a cornerstone of trust-building and responsible online entrepreneurship. By following these tips and guidelines, you can navigate the affiliate marketing landscape with confidence and integrity.