Social Media
Breaking Down the Amazon Affiliate Program: All You Need to Know
Want to join the Amazon affiliate program, but not sure about how to get the maximum out of Amazon associates? Here is a complete guide on everything you need to know about the Amazon affiliate program.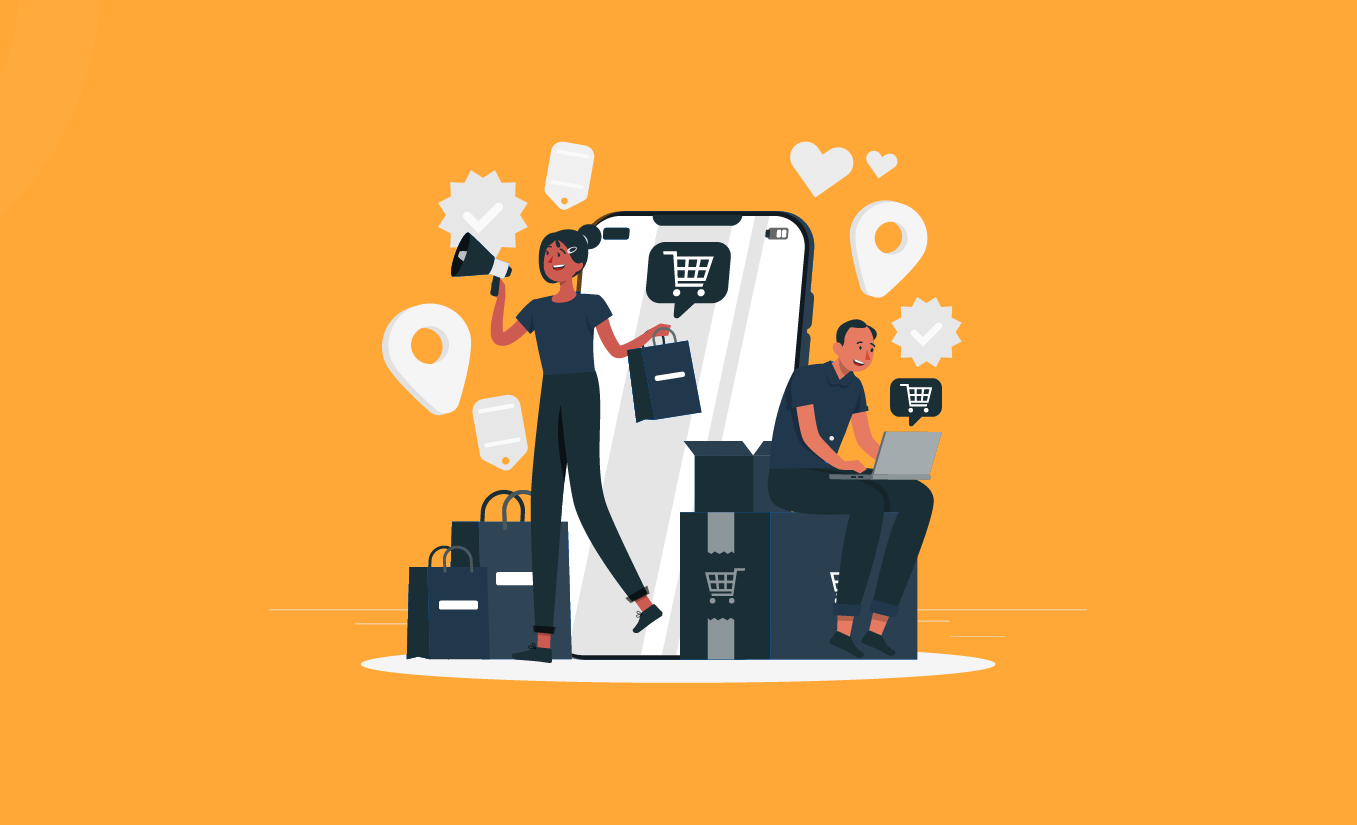 The Amazon affiliate program, better known as the Amazon Associate program is one of the first affiliate programs that most creators, interested in affiliate marketing often join.
It's easy to set up, has no prior requirements to join, and is easy to promote products as we are more or less very familiar with the wide range of products and how it's displayed on Amazon.
Because Amazon is largely accepted as one of the top destinations for e-commerce purchases, people have a genuine trust in buying products from Amazon, which again significantly increases the overall sales and affiliate commission you can earn as an Amazon associate.
However, there are several drawbacks as well in the Amazon associate program!
The Amazon Associate Program
The Amazon associate program works very similarly to how traditional affiliate programs work.
You can choose any product from the wide variety of products on the Amazon catalog, and promote it through your social media profiles as affiliate links.
Whenever someone makes a purchase through your affiliate link, you get the affiliate commission.
Once accepted into the program, you can log into your Amazon account through the landing page of Amazon associates which will give you access to the Amazon sitestripe on the top of the page.
The sitestripe can be used to generate short and long-format affiliate links, automatically include store id and tracking id on your affiliate links and choose the type of affiliate links you wish to share.
You can use the amazon affiliate links on video content like YouTube videos, Instagram Reels, or TikTok, as well as written content like blogs.
What are the Steps to Create an Amazon Associate Account?
If you already have an Amazon account that you use for shopping, creating an Amazon Associate account is pretty straightforward.
Else, you will need to first create an Amazon account by clicking on the 'Sign-In' button.
You will be prompted to enter the name, email address, and password of your choosing. Once that's done, all that's left to do is to apply for the Amazon Associate program.
Head over to the Amazon Associate website, and look for the 'Join Now' button.
Enter the details you will need to provide Amazon to start an account, and you are all set. Please note that Amazon will review all applications before you get accepted or rejected from their Amazon Associate program.
How Does the Amazon Associates Program Work?

The Amazon Associate program works just like any other refer and earn affiliate program on the internet today, where you get a commission for referring new customers to an Amazon product through your affiliate link.
Once you have completed the sign-up process for Amazon associates, you will need to enter the basic information like name, address, and contact information to complete your bio.
Next, you will need to link your social channels for easy integration across multiple regions.
All that's left to do after this is to choose a store ID that is similar to the name of your primary website and this will be used to track all your Amazon affiliate campaigns.
The final step in setting up your Amazon associates and begin creating conversions is to enter your payment and tax ID details.
Create links through the sitestrip we mentioned before, share and promote your Amazon affiliate links to generate conversions, and get paid the affiliate commission for the same.
How do I get Affiliate Links from Amazon?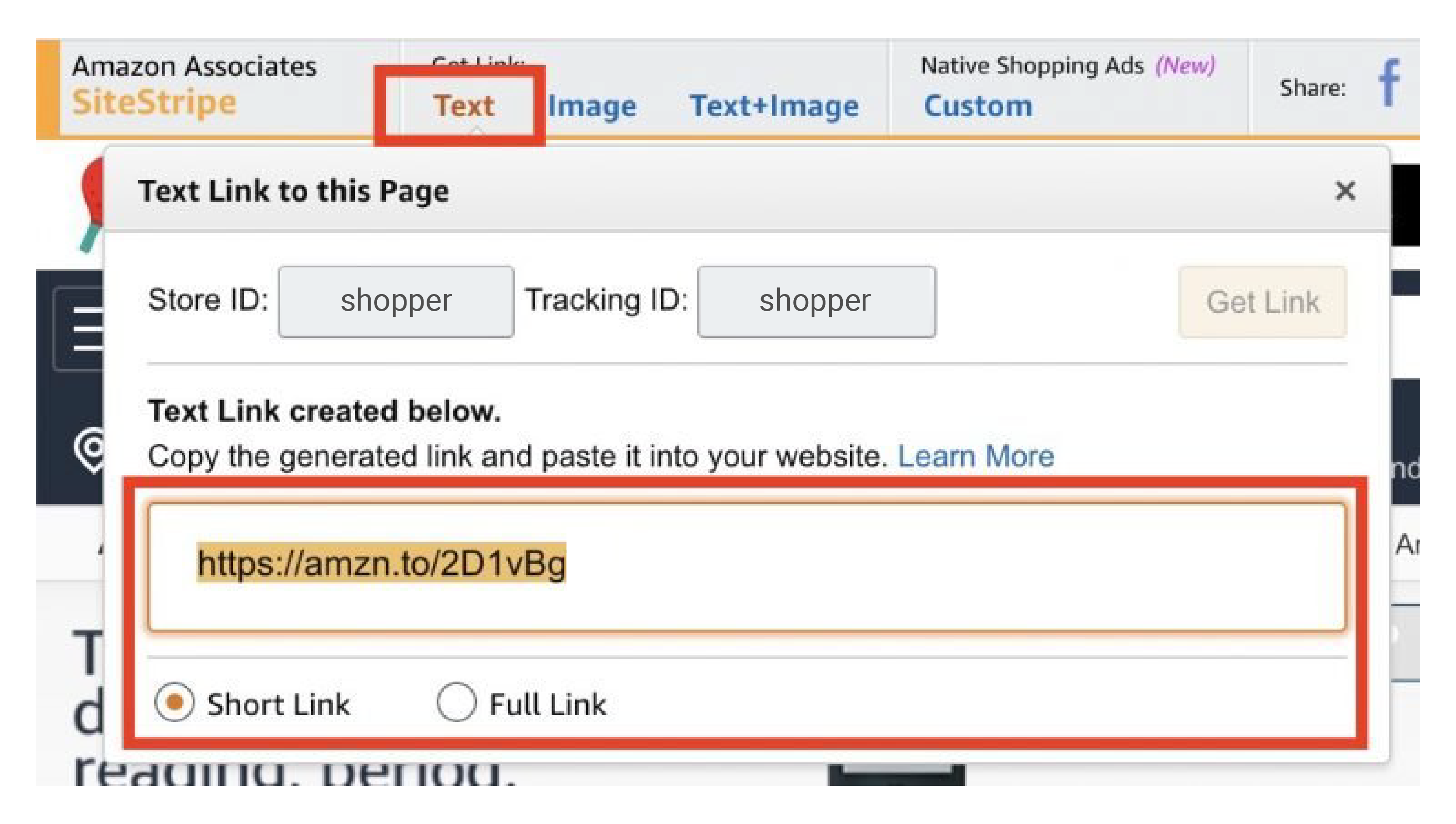 Once you have created a profile on Amazon Associates, it's quite easy to start creating and promoting affiliate links on your social media handles.
If you are not sure about how to do that, let us take you through a step-by-step guide on how to set up and promote your affiliate links.
Find the Amazon product page that features the product you want to share.
If you are logged into the Amazon Associate account, look for the sitestripe on top.
Next, click on the 'Get Link' option to get your affiliate link.
You can copy the link and share it on your website or social media channels.
Once you get an idea about how to promote affiliate links from Amazon, the next thing you should be doing is to promote your affiliate links from Amazon through social media handles.
What are the Best Ways to Promote Amazon Affiliate Links?
The key to successful affiliate marketing often comes down to how many affiliate conversions you generate through your affiliate marketing campaign.
With different social media platforms now becoming popular like never before, there are now limitless opportunities to make the most of affiliate marketing conversions.
With that said, let's take a look at some of the best ways to promote Amazon affiliate links:
1. Writing Product Reviews
Regardless of whether you are a video creator, an audio creator that uses visuals accompanied by podcasts, or a blogger writing product reviews are guaranteed to improve your overall affiliate earnings.
Wondering how?
Long story short, you can easily convince someone about the benefits of a product through a written article than through video content.
Yes, you won't be having a video demonstration on written content, but viewers can always go back to the article and read it again, and again to become convinced that this affiliate marketing strategy will work.
The next time you post a product review, back it up with a written product review on a blogging platform and link it up with your video in the video description
2. Create Social Media Posts
No two social media platforms are alike when it comes to audience and engagement.
The people you follow, and those that follow you will also be very different from one platform to the other.
That's why creating social media posts can be a boost for successful affiliate marketing campaigns.
Whenever you create a product featuring Amazon affiliate links, create social media posts that back the content, and also share the same affiliate links across all these different social media posts.
You can easily generate more views, and conversions, which will all, at the end of the day, contribute to your affiliate marketing campaign.
3. Create an Email List
Email lists are great to promote your Amazon affiliate products as they reach a wider audience, and regular followers are more likely to open your email and check out the affiliate products.
This will definitely help you generate more affiliate revenue from your affiliate marketing campaign.
Ideally, you should not be sending the affiliate links to all the people on your email list. Instead, it is highly recommended to segment your email list, based on interests, and preferences.
Make use of call-to-actions that create urgency like "Buy Now", or "Offer Expiring Soon" to create hype and generate more successful conversions.
When you segment the email list, make sure that you only add people who generally have an interest in checking out product recommendations, and who are more likely to shop online, or open affiliate links.
How Much Does the Amazon Affiliate Program Pay?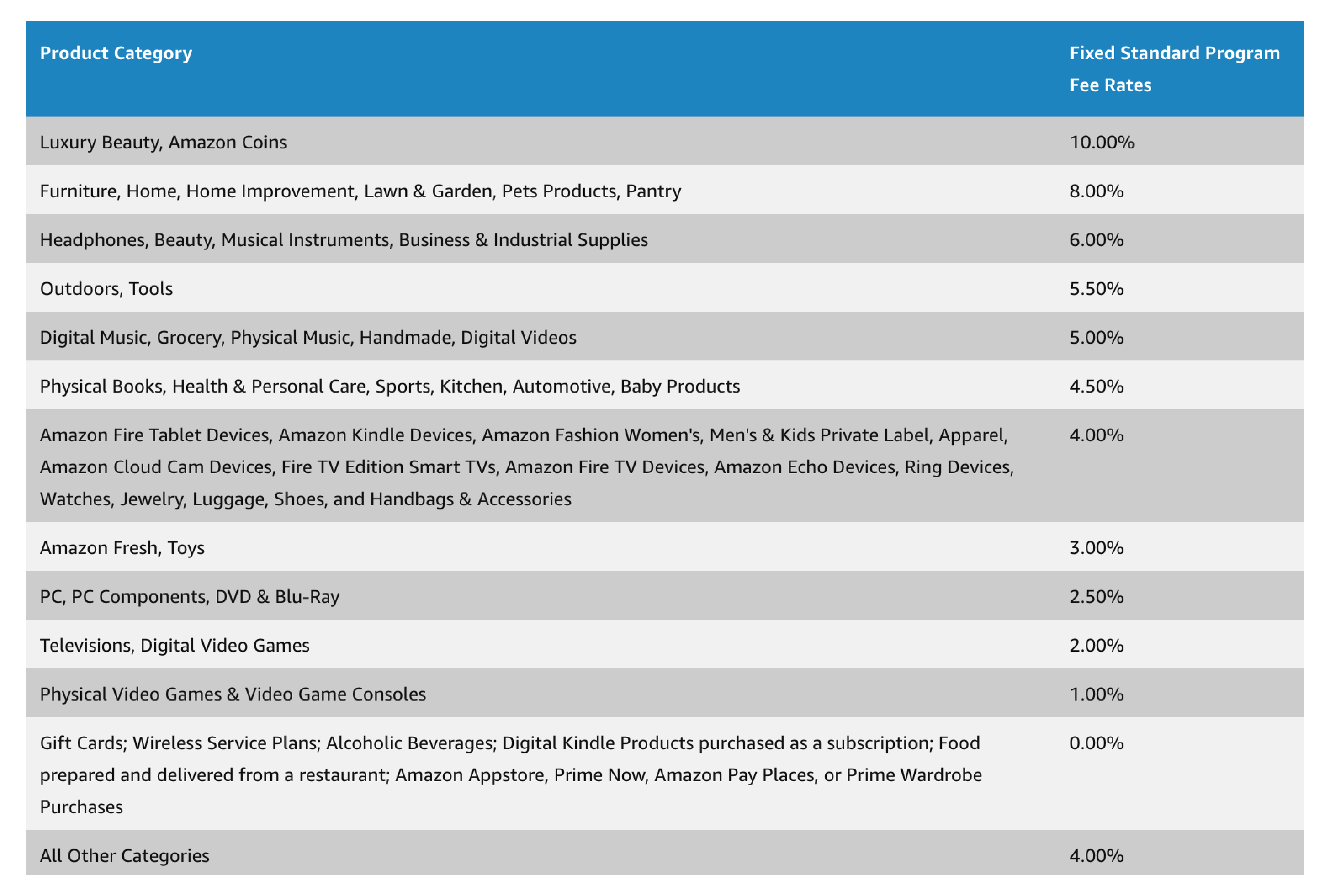 The sky is the limit when it comes to how much money an affiliate can make from the Amazon Associate affiliate program.
On average, you can expect to earn as low as $100, to $30,000 or even more as long as you unlock strategies that will bring in more views, clicks, and conversions on a regular basis.
As the Amazon Associate Program operates on a commission basis, you earn money on a percentage per-sale basis and different products have different commission rates, which ultimately decide the amount of money you make through Amazon referrals.
At the end of the day, it comes to how successful you are in convincing your followers to make purchase decisions.
Ideally, it's always best to wait it out, and join the Amazon associate program only when you have enough followers that create successful conversions, and sales on a regular basis.
How Can You Monitor Your Amazon Affiliate Campaigns
The Amazon Associate program comes with a detailed dashboard and reporting mechanism that features all the information you will need to monitor an active Amazon affiliate campaign and your overall store performance.
The dashboard is a wonderful place to start monitoring your Amazon affiliate campaigns.
By default, the dashboard comes with multiple reports that let you track some of the basic stats, and associated information you will need on ordered items, earnings, link type performance, and tracking ID performance.
For ordered items, you can get details like clicks, items ordered through links, and ordered revenue.
When it comes to earnings, you can only monitor clicks, item counts, revenue, bonuses, and commission. You can also use the Tracking ID information to see from where the conversions are coming.
Amazon allows associates to create up to 100 unique tracking IDs which can all be used across different social networking websites to keep track of affiliate campaigns across all the different verticals you are part of.
This can help you determine which affiliate campaigns bring how much individual revenue, and which social media platform you need to be focusing on over the other.
Things to Avoid Getting Banned from Amazon Associate Program
Amazon Associates is a great program to generate consistent affiliate revenue from your partnering brands or affiliate collaborations.
However, it is also a dedicated affiliate program that comes in-built with its own sets of rules, and regulations that need to be followed at all times to make sure your account stays intact and active.
If you are new to Amazon affiliate or unsure about these different aspects of the Amazon Associate program, we got you covered with some important things to keep in your mind in order to avoid getting banned from the Amazon associate program:
1. Not Directing Minimum Sales
The Amazon Associate Program requires creators to generate a minimum of 3 sales every 180 days to make sure that you retain your account.
Failure to generate at least three sales through your Amazon affiliate links will result in your account going inactive. You can still create a new account by going through all the processes you went through when you first created an account.
Ideally, best to wait until you have enough followers before joining the Amazon associates program to ensure that you get the most affiliate conversions on your profile.
2. Violation of Amazon Program Policies
Using your Amazon affiliate links for unethical practices, or places, where they should not be used, can all warrant the violation of Amazon program policies and will result in immediate account termination.
The violation of Amazon program policies can range anywhere from using Amazon affiliate links on an adult or offensive content websites to creating multiple accounts without permission, and many more.
Some other violations of Amazon program policies include failing to disclose affiliate links or sponsored content, promoting counterfeit products, manipulating customer reviews, and so on.
3. Using Amazon Logo Without Permission
Most of the conventional affiliate programs on the internet will give you access to promotional materials like logos, banners, product promotion posters, and so on.
However, Amazon does not provide such a service to any of its affiliates.
On the flip side, Amazon affiliates can be tempted into using the Amazon logo on the promotional banners they make, and this can result in your account getting your affiliate account banned without warning.
Best Ways to Get Successful Amazon Affiliate Conversions
Amazon associates program is one of the best affiliate programs out there today.
However, most creators fail to make the most of Amazon affiliates and end up not earning to the maximum through the Amazon Associates program, because they don't know how to get successful Amazon affiliate conversions.
To maximize your conversions on the Amazon associates program, follow these steps:
1. Make Use of the Right Keywords
Keywords do a great job of directing viewers with similar interests to your content.
By making use of the right keywords, you can easily create a high number of affiliate conversions, at ease by getting your content to a target audience who is interested in the products you promote through an Amazon affiliate campaign.
Always optimize written content by infusing it with the right keywords to generate the most conversions and get more eyes to your affiliate campaign.
2. Create a Sense of Urgency
Another proven strategy to improve Amazon affiliate conversions is to create a sense of urgency.
When you promote a product through the Amazon associates program, use a tone that creates an urgency to trigger more viewers into making purchase decisions.
Not only will this help generate more successful conversions, but this will also improve and increase the number of views your campaign gets.
More views mean more conversions and at the end of the day, more affiliate earnings.
3. Test, Optimize, and Repeat
If you are finding it difficult to get affiliate conversions for your Amazon associate campaigns, you need to start experimenting with different combinations and see which ones work.
For instance, you can try using different promotional tactics like sharing the affiliate links on different social media platforms, using different keywords in the description, or changing the thumbnail that creates a sense of urgency.
Make conscious efforts and monitor key statistics like engagement, retention, number of clicks, and similar stats to see which affiliate campaign strategies and combinations work.
Continue testing, optimizing, and repeating the same until you find a winning combination.