The Complete Guide on How to Use TikTok Analytics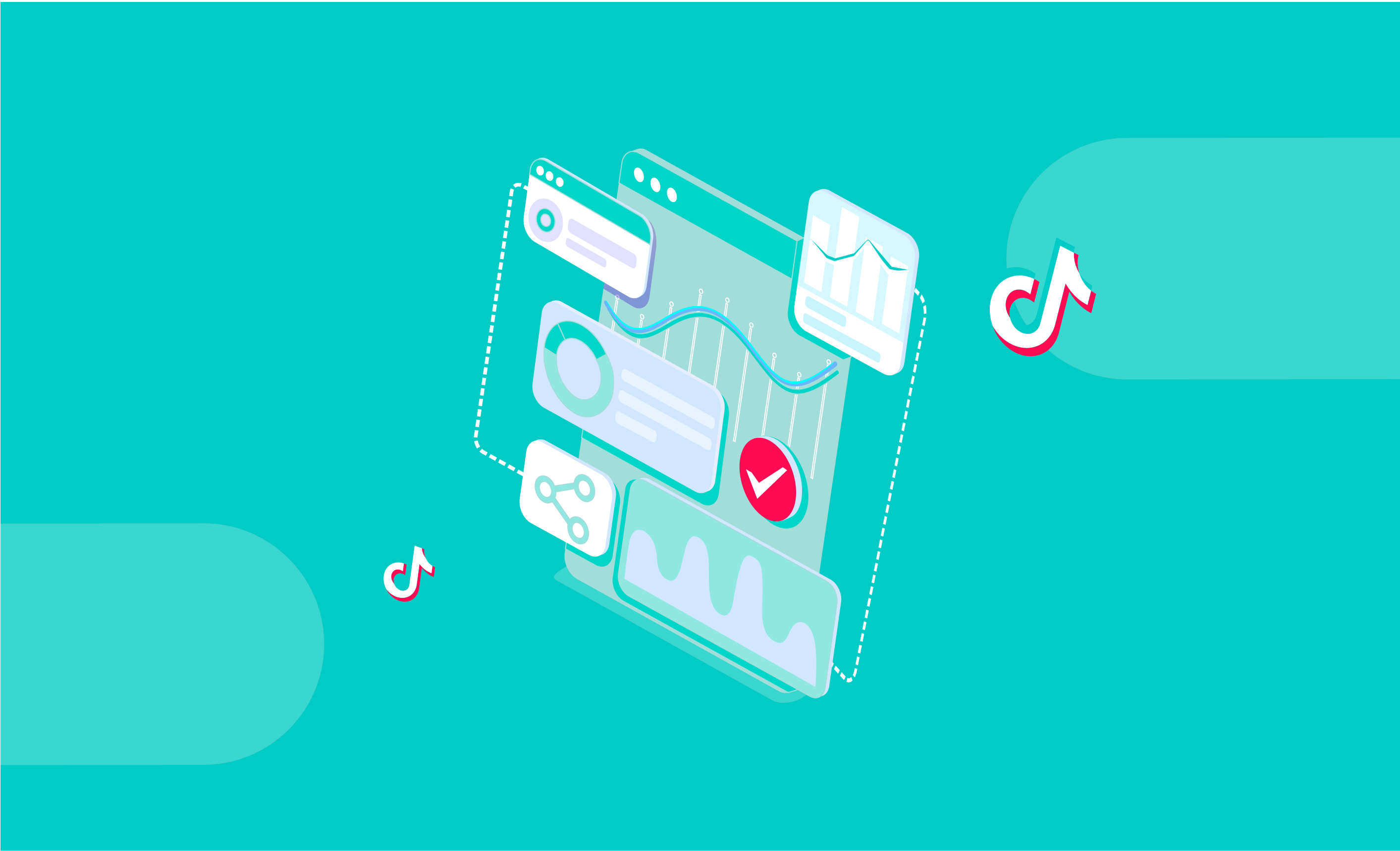 With more than one billion monthly active users, TikTok offers plenty of opportunities for creators to grow as a brand. Marketers are also noticing the potential of promoting brands through TikTok.
All this has created an environment that's ideal for creators to launch their influencer journey.
However, if you want to get the most out of TikTok, you must stand out as a top creator. With so many users to compete, that can be challenging at times.
That's why you need to know how to extract the maximum out of your TikTok account.
TikTok Analytics is your best friend to do just that thanks to the bundle of information, insights, and real-time analytics that you get access to. Review your post-performance, see what's driving traffic, and take control of your TikTok account.
Continue reading as we have you covered with every information you will ever need on how to use TikTok analytics.
What is TikTok Analytics?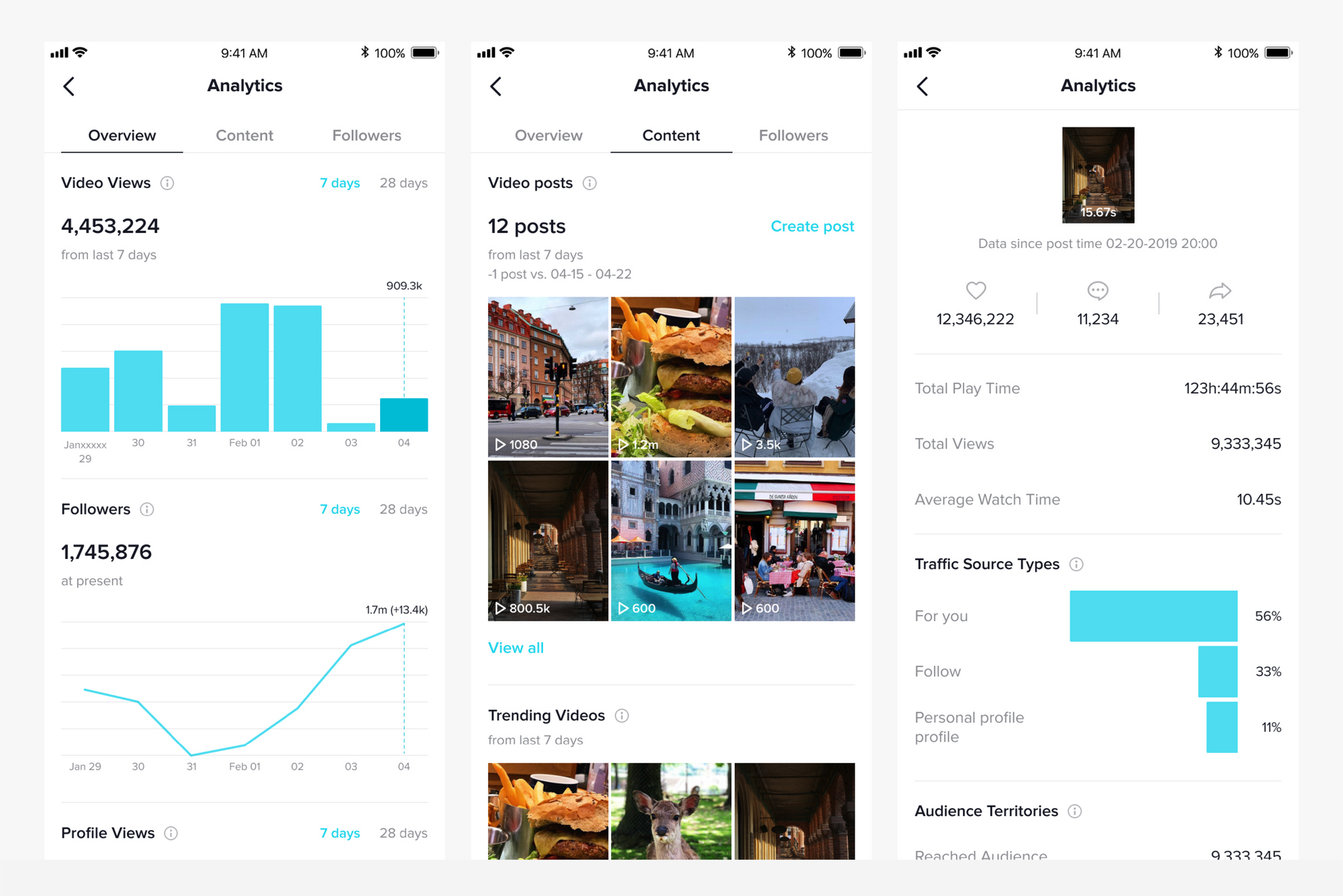 TikTok Analytics is a built-in tool by TikTok that is specially designed to help creators and businesses on the platform to get access to useful insights and metrics.
You can use TikTok Analytics, just like any other analytics tool to measure how your video is performing.
Users on TikTok have been demanding the analytics feature for a while, and TikTok answered with a really good analytics feature.
Not only does it cover everything from video viewers, to followers and other relevant data, but it also ensures that you get the updates in real-time, making it a really handy tool to have.
Who Can View TikTok Analytics?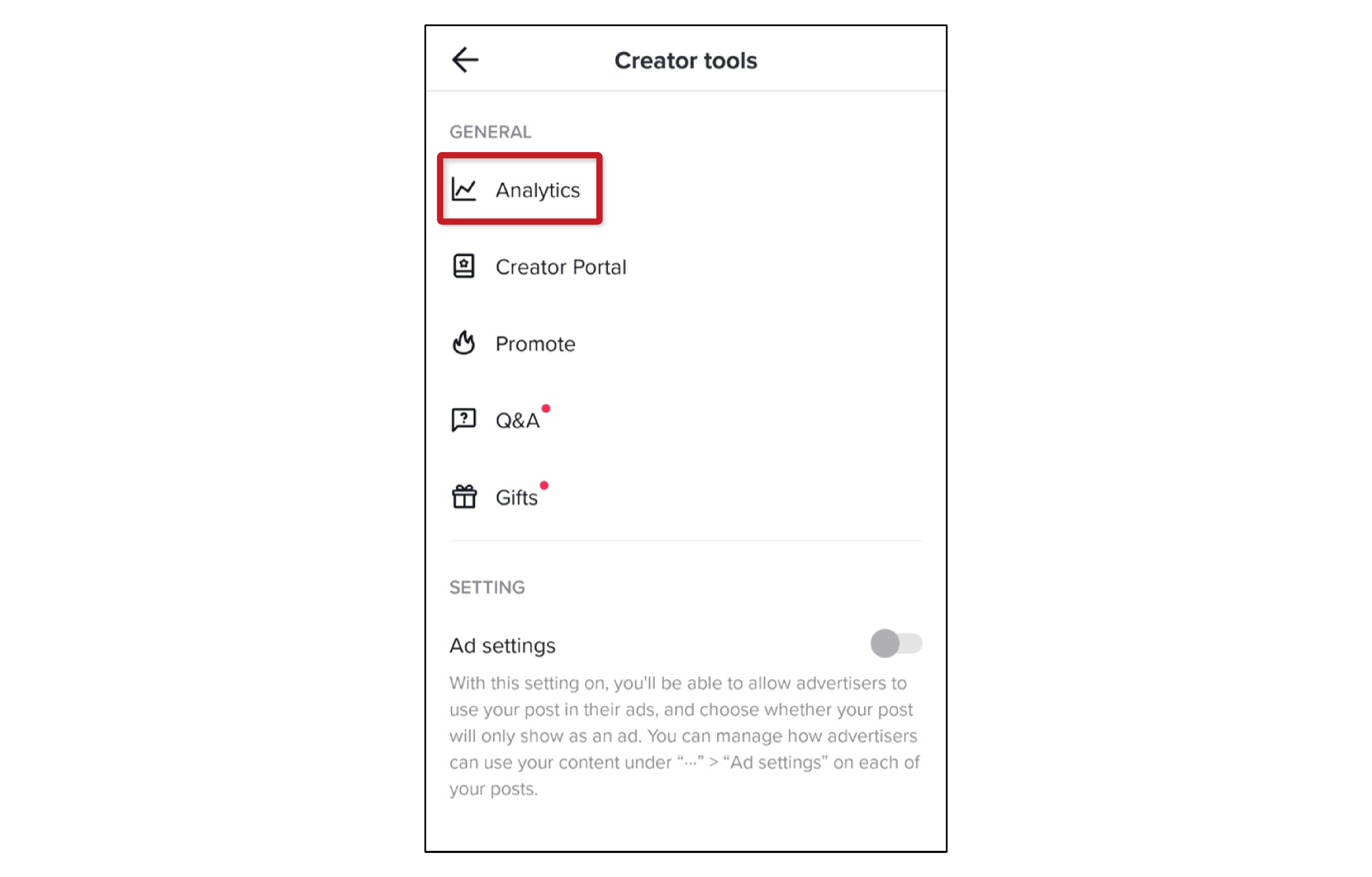 TikTok Analytics is available for anyone who has a TikTok Business account.
Anyone who has a TikTok account can switch their account to a business account with the steps we cover below. There are also many other benefits of switching to a TikTok business account.
In addition to getting access to TikTok Analytics, you also get features like exclusive sounds, insights on video performances, access to TikTok's Business Creative Hub, and early access to new features.
If you are unsure about how to switch to business accounts, follow these steps:
Log in to your TikTok account and navigate to your profile.
From there, open the "Privacy" option, and click on "Settings".
Now, you need to choose the "Manage My Account" option.
From there, tap the "Switch to Pro Account".
Next, you need to select "Creator" or "Business".
Choose your industry
Now you just need to wait for TikTok to finish reloading and launch your TikTok pro account.
How to Check Analytics on TikTok?
It is pretty straightforward to check analytics on TikTok.
If you are familiar with some of the analytics features on the competitor platforms of TikTok, you would find it easy to navigate through TikTok analytics.
If you need further assistance, follow these steps then:
To Check Analytics on Desktop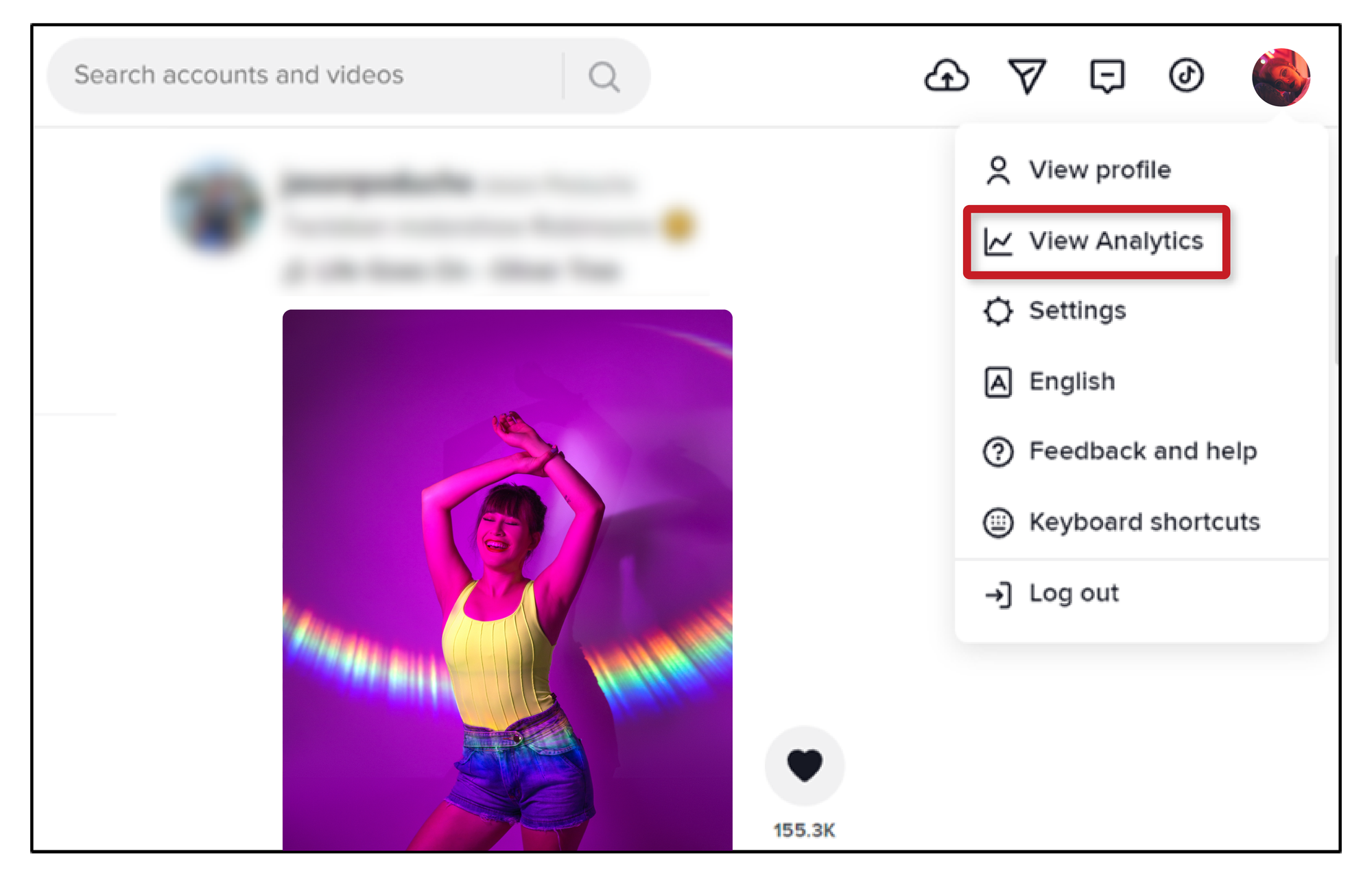 Log in to your TikTok account from your desktop
Hover over your profile picture icon
Now click on the "View Analytics" option
Alternatively, you can also visit tiktok.com/analytics
For accounts with a business account, you can head over to "Business Suite".
This will take you to the "Analytics" page.
To Check Analytics on Mobile
Launch TikTok on your mobile.
Log in to your account and go to your profile.
From there, open the "Settings and Privacy" option from the top right corner.
Next, you need to navigate to "Account".
In the "Account" menu, you need to choose the "Creator Tools" tab.
You can now tap on the "Analytics" option.
What are the Different Metrics on TikTok Analytics
TikTok Analytics is primarily divided into four different sections: overview, content, followers, and LIVE. All these different metrics have further sub-categories with different statistics.
Depending on the type of analytics you want to check, you can go through the required options.
Here is what each category on TikTok analytics features:
1.Overview Analytics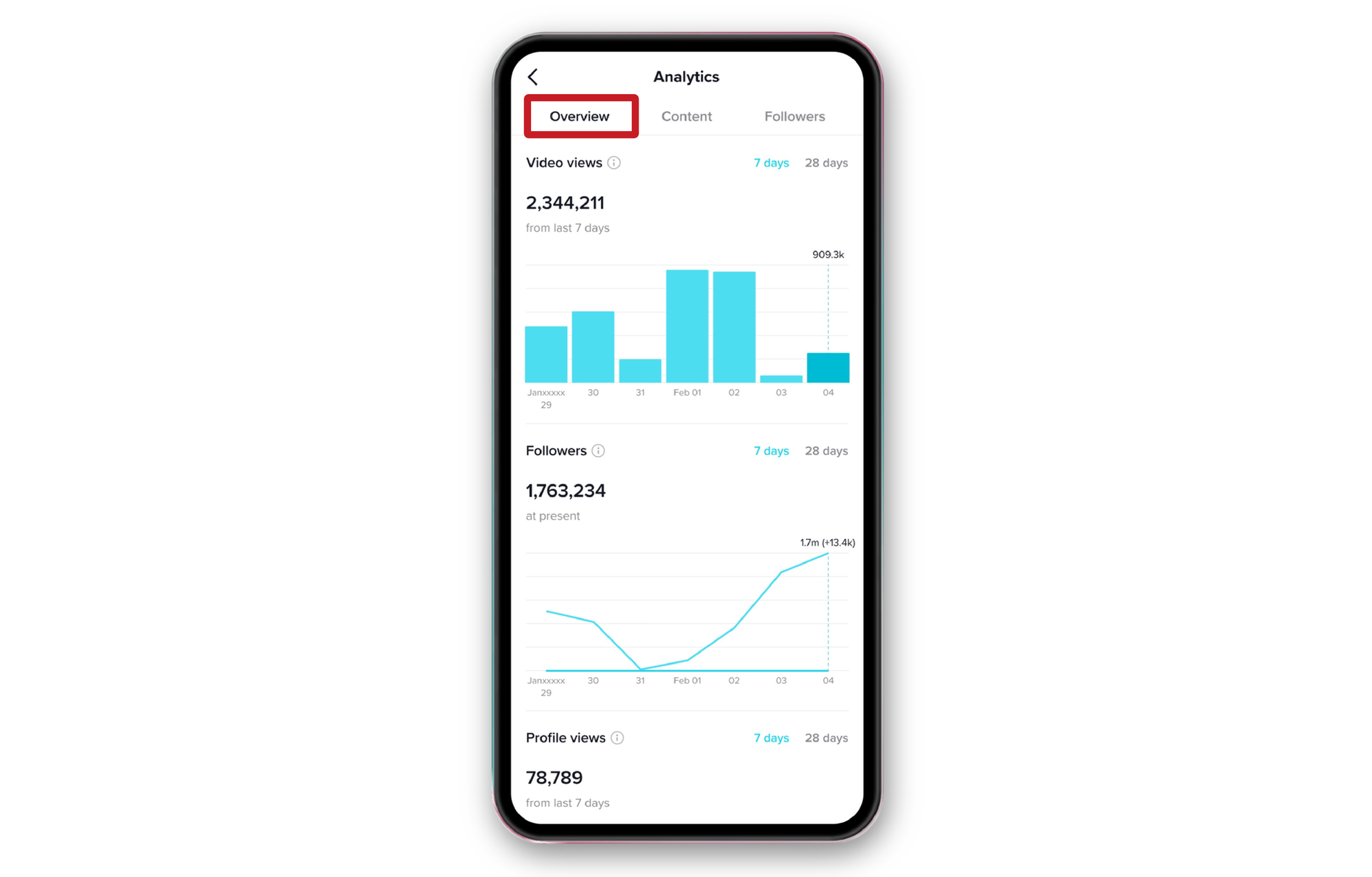 The overview tab on the TikTok Analytics is your go-to feature on the analytics to get a quick overview of how your account is performing. You can get an idea of how your TikTok account is performing by going through some of the subcategories in the overview listed below.
Video Views
If you want to know how many views your TikTok video has received in the last few days, you need to check the video views tab. There will be a bar graph that features how many views your video received in the last 7, 28, or 60 days. You can also set up custom date ranges.
Profile Views
If it's account metrics like the number of likes, comments, and shares that your video has received in the last few days, you can check out the profile views tab. Just like the video views tab, you can check profile views for the last 7 days, 28 days, 60 days, or custom date range.
2. Content Analytics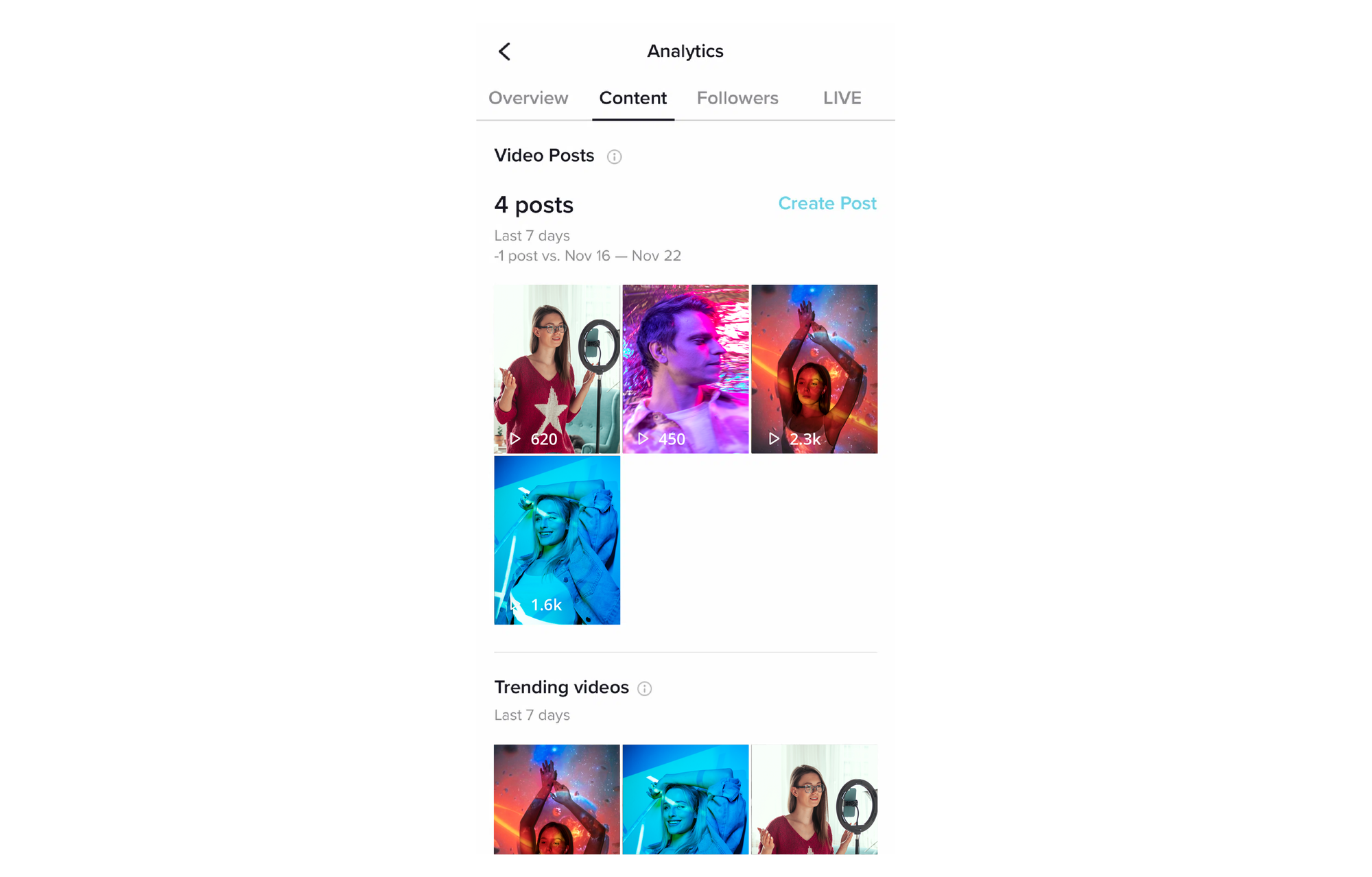 The content analytics tab can be defined as an extension of the overview tab, but a much more definite data as to how your content is performing. Get more insights and specific information about your TikTok profile with content analytics metrics, listed below:
Video Posts
Want to know how many views your last video managed to get? Video posts feature in content analytics has you covered. You can also get an idea about how one video or the last 9 videos have performed in a previous period.
Video Views by Section
If you want to know how viewers are finding your video, you need to check the video views tab by going through the video views by section. This is great to know if people find your videos from the "for you" feed or from your "profile".
Video Views by Region
If you want to know into what region of the world your TikTok video has reached, you need to check out the video views by region. You can optimize your videos accordingly and reach out to a bigger audience from the region your video is reaching out to.
Trending Videos
If you want to double up on content that works, the trending videos are just about perfect! This section shows you the top 9 videos with the fastest growth in the number of views during the last 7 days.
Average Watch Time
This section is self-explanatory and lets you in on all the information you need to know on the average length of time, people watched your videos. This can help you create future videos that can retain an audience for longer durations.
Total Play Time
This section shows you the cumulative watch time from all users that viewed your video. Total play time is a great metric to get an idea about the performance of your videos.
3. Follower Analytics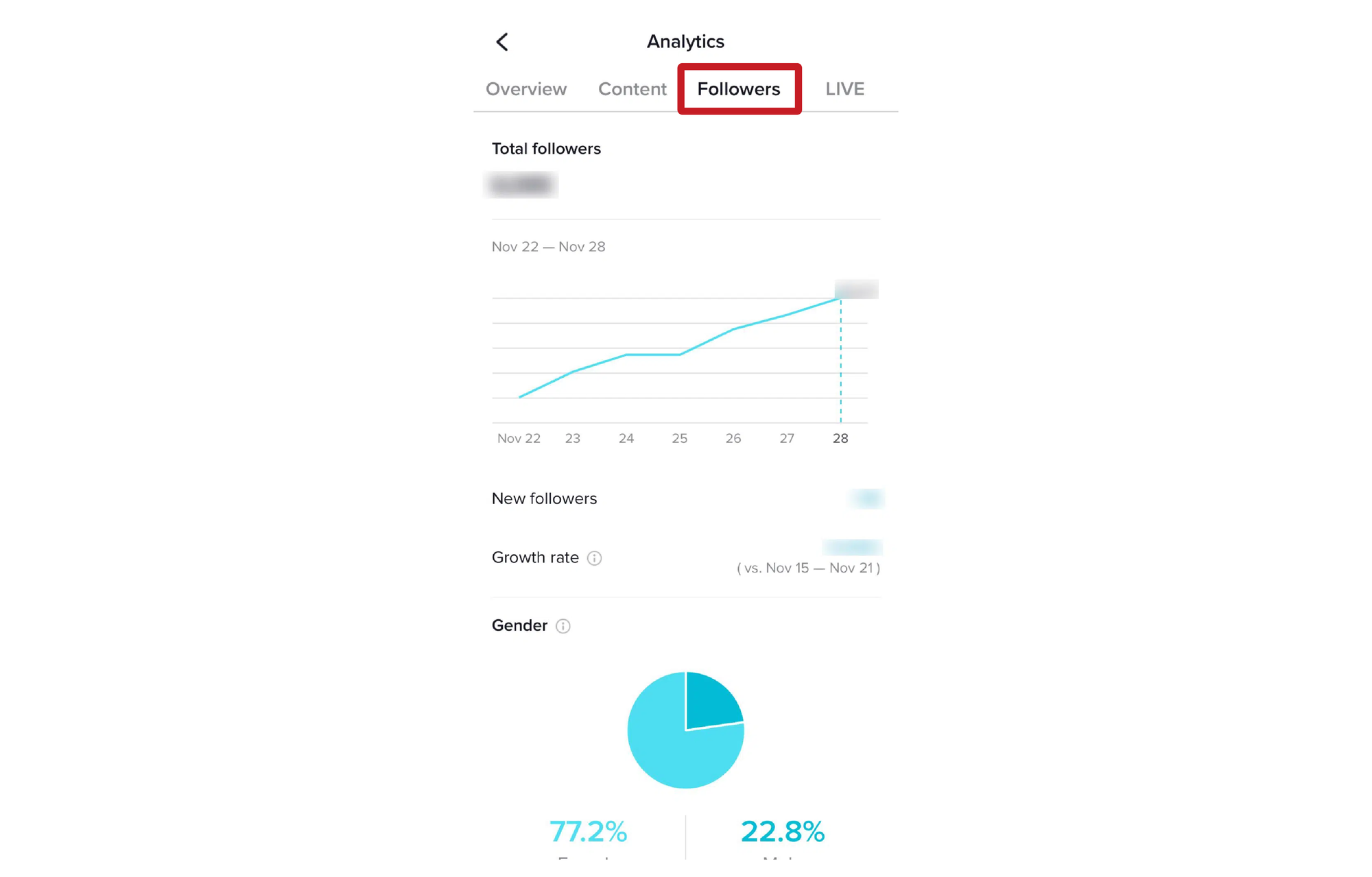 The number of followers you have on TikTok is a clear indicator of your growth on the platform. That's why follower analytics is one of the most popular tabs in TikTok analytics.
Learn all about follower analytics, and improve your growth on TikTok by getting more information about audience demographics instantly!
Here are the subcategories of "Follower" analytics:
Followers
Get all the information you need about the number of accounts that follow you with the "Followers" tab. You can also get an idea about how many new follows and unfollows you got in the last 7 days by checking the net follower information tab.
Growth Rate
Want to know how much your TikTok profile grew? Check out the growth rate tab to get information about the number of followers you gained or dropped against the previous date range.
Gender
This is a tab with specific information about what gender of people makes up your followers. The gender tab is showcased by a pie chart that denotes the percentage of followers by gender. You can improve your reach by optimizing your content strategy with a better idea of gender demographics.
Follower Activity
This section lets you in on statistical data of what some of the most popular times and days of your TikTok profile are. You can get an idea about the hours and days when your followers are most active. This can help you post content at the time when people are most active and get more engagement.
4. LIVE Analytics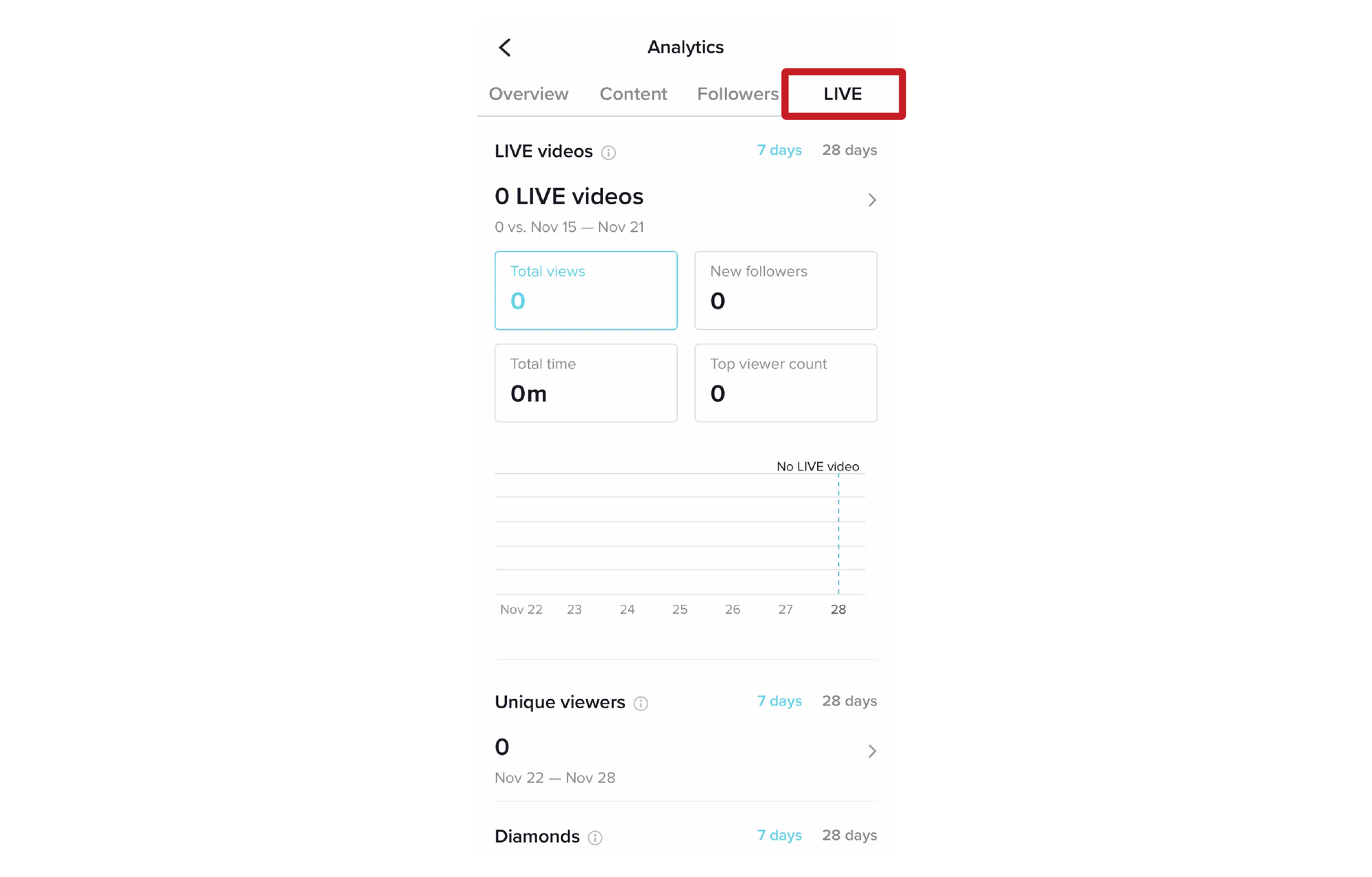 This is specific to TikTok creators who make use of the live feature on TikTok. If you have hosted live videos in the past week, or month, you can get plenty of useful insights about the live video performance over here:
Total Views
Get insights on the number of viewers that watched your video within a selected date range.
Total Time
This is an analytical representation of the time you have spent hosting live videos within a selected date range.
New Followers
This is an insight that showcases the number of new followers you got from hosting a live video within the selected date range.
Unique Viewers
This is the analytical representation of viewers who watched your live video at least once
Top Viewer Count
This is the highest number of viewers your live video got at one specific time within a selected date range.
Diamonds
Diamonds are the virtual gifts on TikTok. Any user can send diamonds to any creator during the live stream and the creators can exchange these for money through TikTok.
What are the Benefits of Using TikTok Analytics
There are several benefits of using TikTok Analytics, just like any other analytics feature.
However, contrary to how most analytics, you can instantly get an idea of where your growth on TikTok is lacking by going through TikTok Analytics.
Thanks to the detailed metrics that are available, it's very easy to optimize your content better with TikTok Analytics. Here are some more key benefits of using TikTok Analytics:
Improve overall engagement by optimizing your content.
Find content topics that bring in the most engagement and double up on them.
Get the best times to post depending on follower activity on your TikTok profile.
Find out how people are finding your video and create more leads.
Get further insights as to how your posts are performing.
Understand the target audience and deliver content that people want.
Monitor the growth of your TikTok account.