Expert
YouTube Verification Badge: How to Get One
Having a verification badge on your YouTube channel gives your channel credibility. We cover everything you need to know about how to get verified on YouTube in this article.
About 300 hours of video content are uploaded to YouTube every minute.
That's why earning the verification badge is important. Having the verified badge will make you stand out among the crowd!
Getting the grey tick mark on your profile requires a lot of hard work.
Obtaining a verification badge will definitely help you boost your brand image and earning potential.
Find out how you can obtain the YouTube verification badge.
What is YouTube Verification?

It is likely that you have noticed a grey check mark sign or notation of the musical staff next to some YouTube channels' names.
You may have wondered what those symbols are there for?
Long story short, that's the  YouTube verification symbol. A mark which signifies the fact that the bearer of this symbol is a verified user.
The verification badge confirms the authenticity of the account by confirming its credibility. The mark guarantees that the channel belongs to a real person, or to an established artist or organization.
But wait, doesn't YouTube ask everyone to verify their account when you sign up?
Yes they do. But that is different from getting the YouTube verification badge. How? We have you covered with that as well.
YouTube requires you to verify your account with your phone number, just to prove that you are not a bot. This does not give you a grey tick mark which is the mark of verified users on YouTube.
The YouTube verification process is meant for established creators who have the potential of ending up with imposters.
With the verification badge, viewers can easily confirm that they are following the authentic account of their favourite creator.
Here's what you need to know about YouTube verification
If you think that having a verification tag next to your channel name gives you some extra privileges on YouTube, you are not alone.
In fact, many people think that having a verification badge has some value added benefits.
Unfortunately, there are no additional benefits for those who have the verification mark.
The badge is just a visual add on to your YouTube account that adds legitimacy and credibility, thereby building trust with fans and followers.
While there are no direct benefits provided by YouTube, there are some implied advantages or perks that come along with the tag.
When your followers realize which account belongs to you and which is operated by you, they are less likely to follow fake and impersonated accounts.
How to get a YouTube verified badge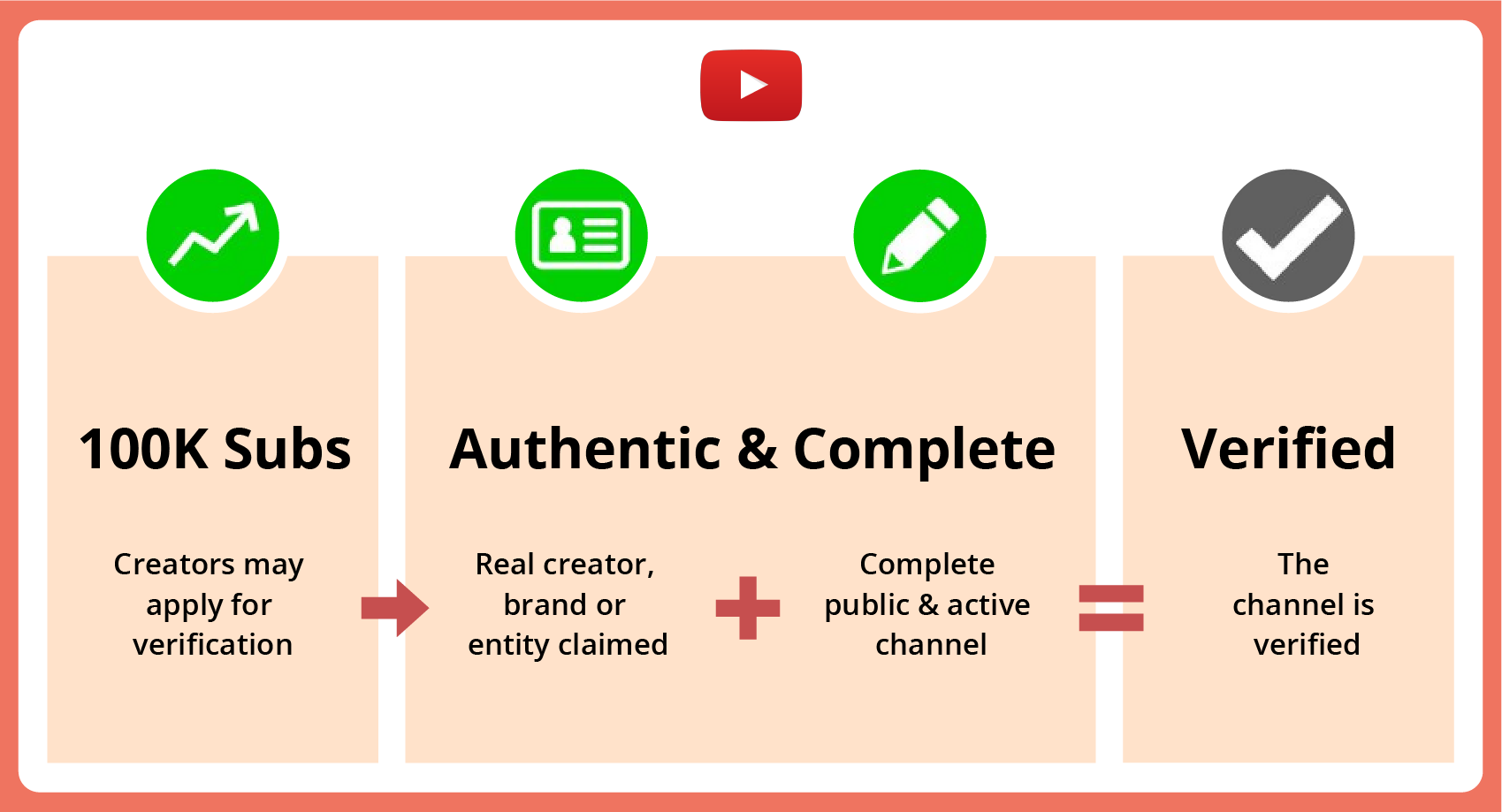 To get a verified badge on YouTube you need to meet certain criteria.
You only needed to have more than 100k subscribers to get the grey checkmark. However, since October 2019,  YouTube has modified eligibility criteria for verification.
Getting a verification badge now requires:
More than 100,000 subscribers.
Having no violations of community guidelines.
Abiding by the YouTube terms and conditions.
Making sure that the channel is authentic.
Having a complete profile with a profile picture, bio, and other information
Being consistent with uploads and content.
If you meet the above criteria then you can proceed to apply for the verification badge. The process of applying is very easy.
1. The first step is to visit to the support page on Google. You can also click on the following link and be directed to the page automatically.
https://support.google.com/youtube/answer/3046484?hl=en
2. Go to the section that reads "Apply for channel verification". Look for the "Apply Now" text. It will be blue if your channel is eligible for verification. Click on that text, which will take you to the application form.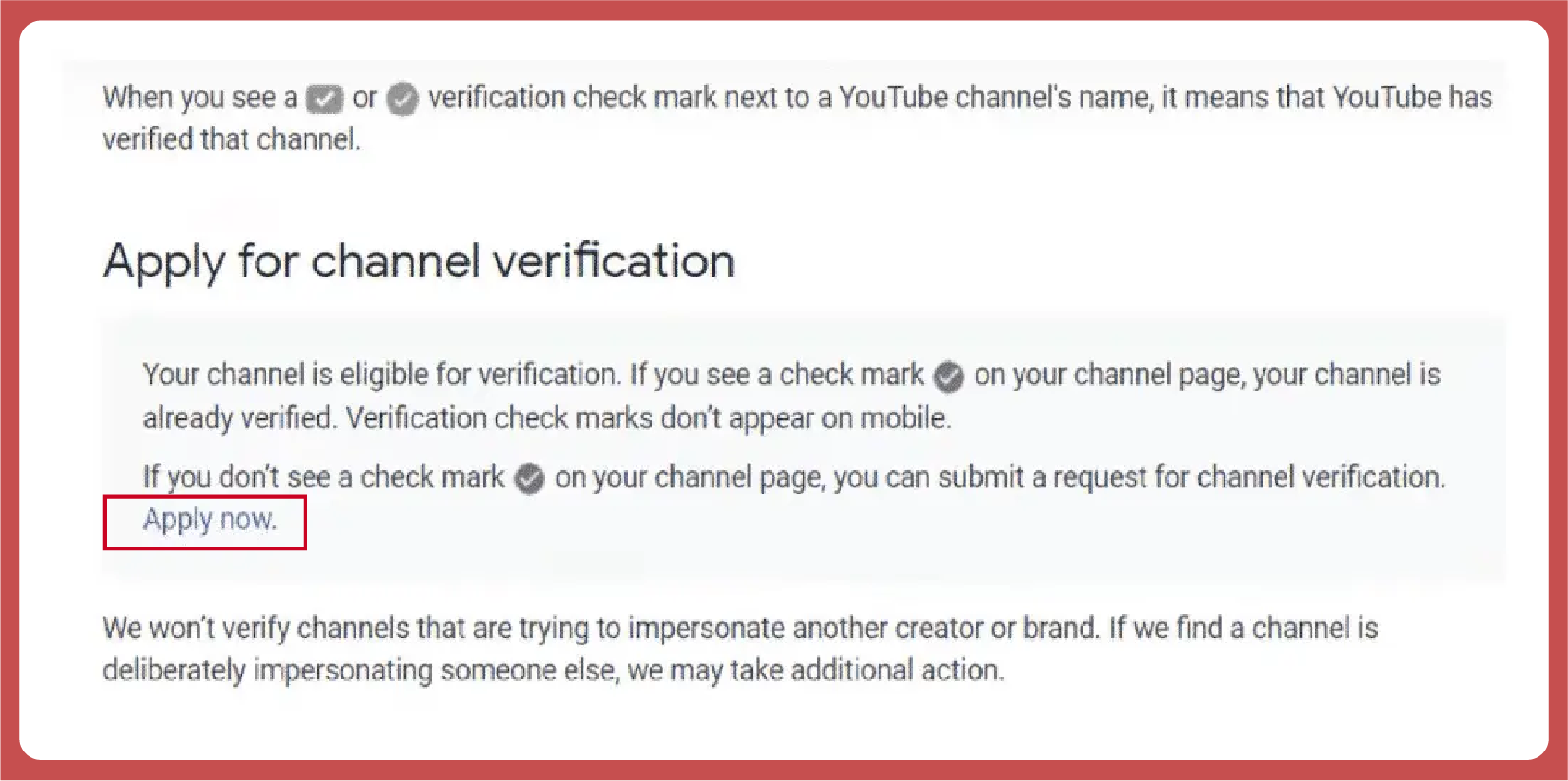 3. If your channel is not eligible for verification then you will not be able to see the text. Instead, you will get to read that since your channel has not yet reached the required subscriber mark, you are not eligible for verification. Do not get dejected.
Try to put in more effort to increase your number of YouTube subscribers.
If you managed to qualify for the process of verification, then you can fill up the application form.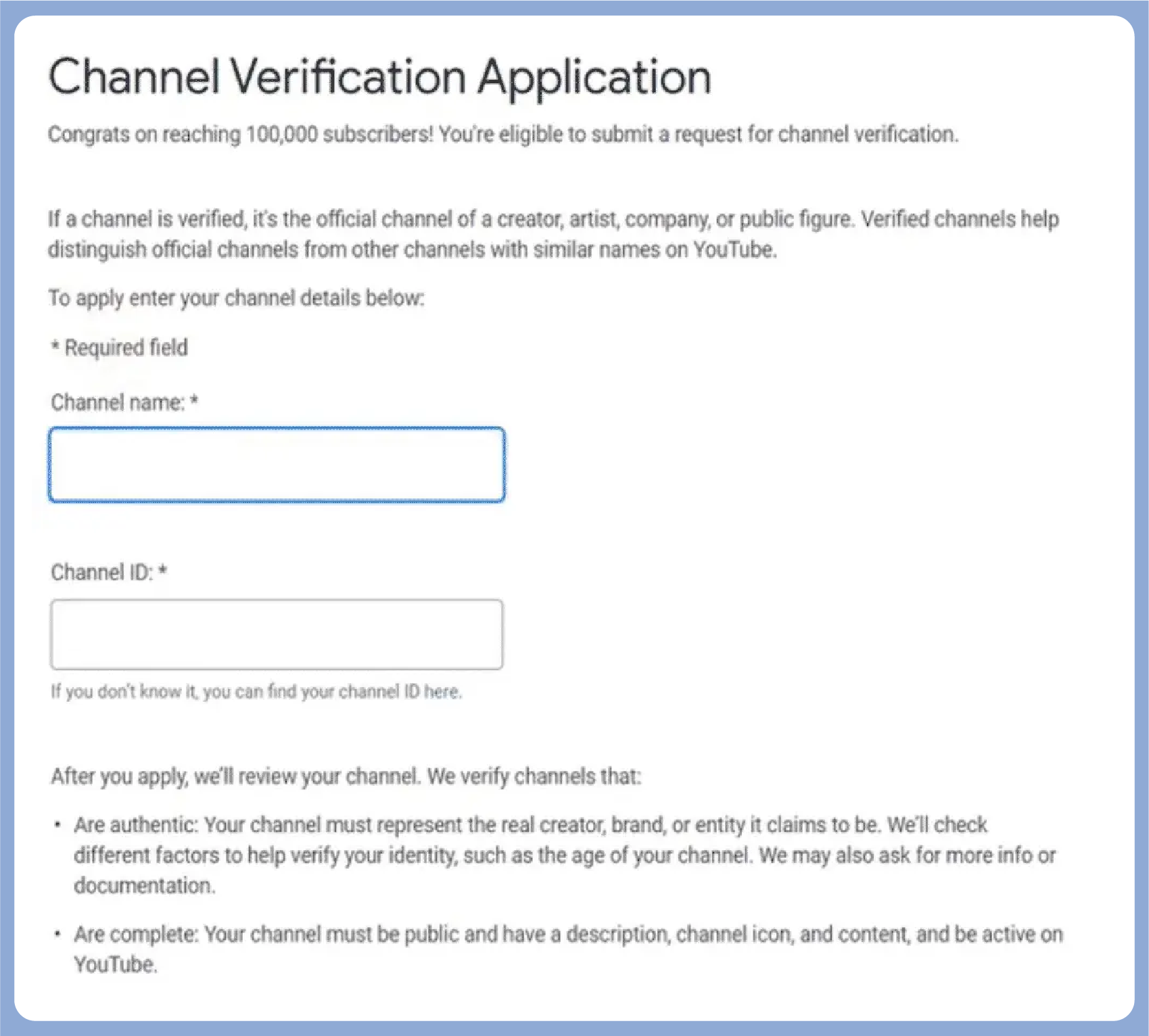 1. On the application form, you have to enter your channel name and your channel ID.
2. For getting your YouTube ID. Go to your account settings page and navigate to advanced settings. You can find your channel ID in the advanced settings page.
3. Now that you know your channel ID, complete the process of filling up the form and click the submit button.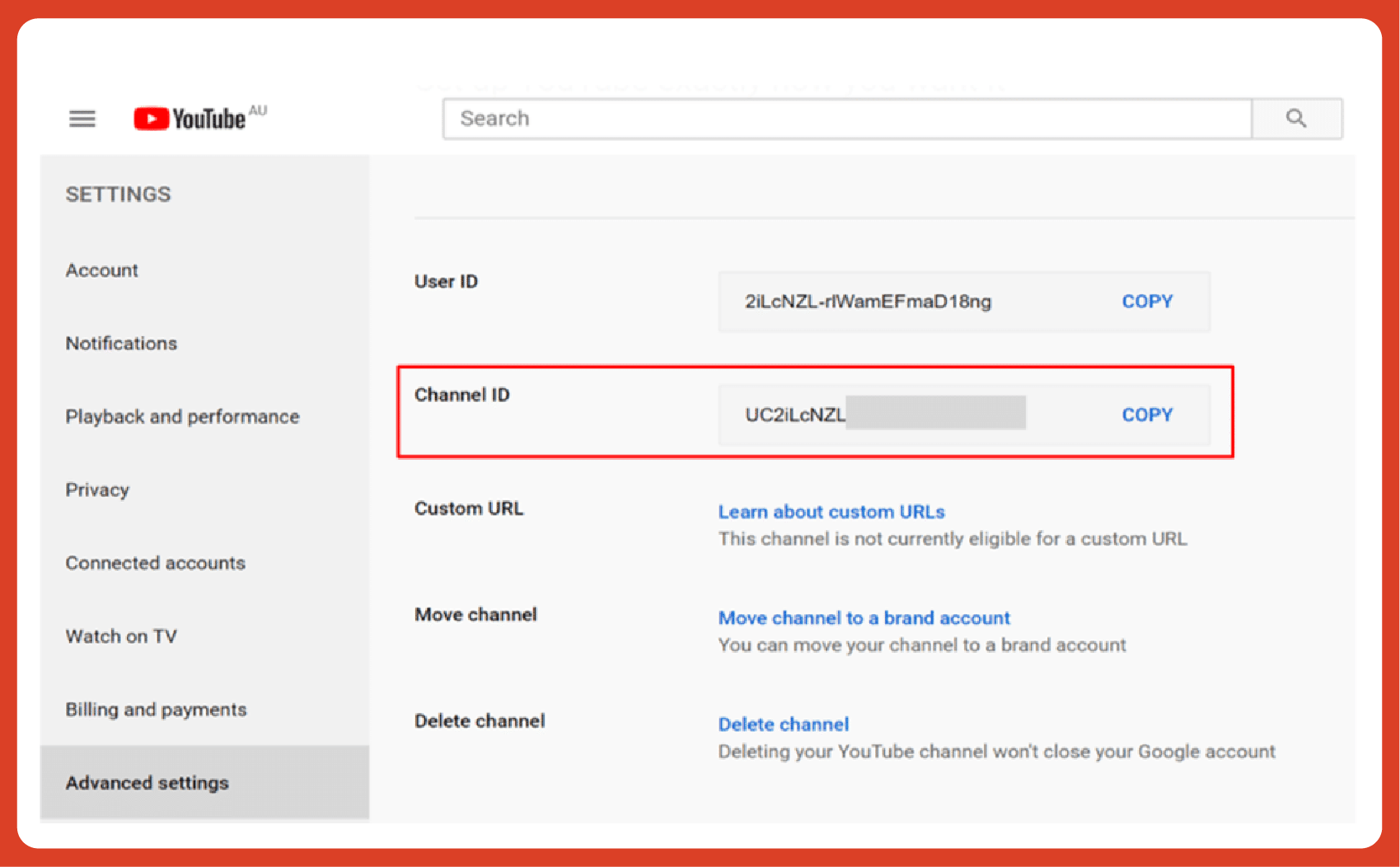 4. YouTube will notify you when your application process is complete. You will also receive a confirmation email.
Once YouTube has reviewed your application, they will let you know if it has been approved or rejected.
Obtaining the badge is not the end of your work.
To ensure that your verification badge stays intact, you are required to do some maintenance consistently. Just make sure that you stay active and apply new content every now and then.
The YouTube verification badge criteria also include adherence to the community guidelines and not violating the platform's terms and conditions.
You must also not change the channel name.
FAQs about YouTube verification badge
How many subscribers do you need to get a verified badge on YouTube?
You need more than 100,000 subscribers to be able to apply for the verification badge on YouTube.
It might seem challenging to achieve this enormous number of followers. However, it is not as difficult as it appears.
You will have to be consistent in producing quality content for your subscribers.
You can also reply to the comments which will increase engagement on your channel. This helps in building trust and cooperation between you and your followers.  
You will also need to learn how to promote your YouTube channel for free.
How long does it take to get verified on YouTube?
YouTube may take a few weeks to notify you about whether or not your verification has been approved.
The most important thing is to reach the number of subscribers needed to be eligible for verification. This can take time! However, patience is a virtue.
In Summary,…
There is no doubt that achieving the verification badge on YouTube comes with a certain amount of prestige.  Acquiring this badge is no easy task.
Never give up. Focus on your goals and you will soon be rewarded.