Social Media
Popular US YouTubers to Look Out For in 2022
Let's take a look at some of the popular YouTubers from the United States that you need to look out for in 2022!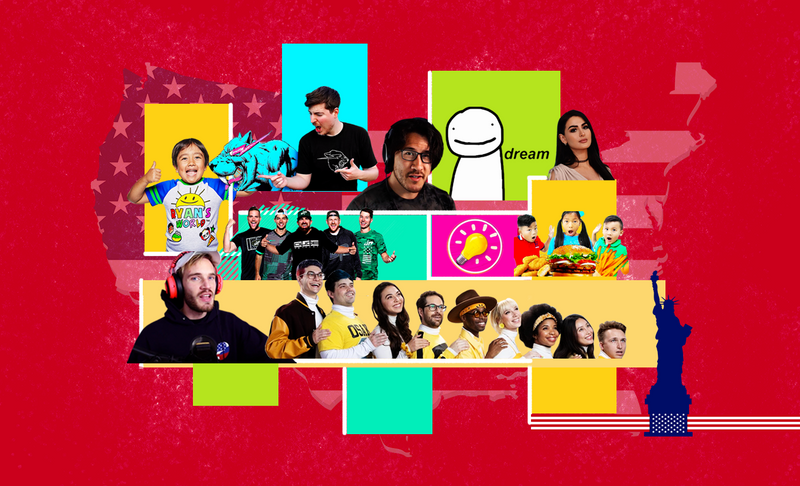 YouTubers from the United States are some of the best in the world. There is intense competition between the American YouTubers as to who the best is.
With established channels like PewDiePie and CocoMelon holding station, and creators like MrBeast growing with every new video, the US YouTube creator scene is exciting like never before today.
That's why we have you covered with a list of popular YouTubers from the US to look out for in 2022.
Regardless of the niche, you are creating content on, these creators are a good reference point to help you make the best content or generate amazing ideas.
Let's take a look at some of the popular YouTubers from the United States that you need to look out for in 2022!
PewDiePie (111 M Subscribers)
Felix Arvid Ulf Kjellberg, better known as PewDiePie is one of the biggest creators on YouTube with an impressive audience of more than 111 million subscribers.
PewDiePie is known for his Let's Play videos and was one of the first YouTubers to bring out the gaming genre on YouTube. However, he is also into other genres like comedy shorts, reaction videos, formatted shows, and vlogs.
PewDiePie is also a great example of how creators can make use of a community to take their growth and content to the next level.
He is also famous for his online feud with T-Series, the Indian music record label which began after the subscriber count of T-Series started getting close to PewDiePie who was at that time the most subscribed channel on YouTube.
Even though PewDiePie is a Swedish, majority of his subscribers are from the United States.
MrBeast (93.5 M Subscribers)
Jimmy Donaldson, also known as MrBeast is one of the fastest-growing YouTube creators in the world today.
MrBeast is an American YouTuber who is best known for hosting expensive stunts and contests for creating YouTube content. He is also credited with pioneering the genre of making content from challenges and contests on YouTube.
Even though MrBeast followed the style of many gaming channels with Lets Play videos, he eventually evolved over time and started creating stunt videos.
It was his counting to 100,000 videos going viral on YouTube that raised his popularity level on the index. He gradually progressed from Let's Play and gaming videos to niches like challenges and donation videos.
MrBeast is currently one of the most viewed channels in the United States and is expected to cross 100 Million by end of 2022.
5-Minute Crafts (76.2 M Subscribers)
The name of your YouTube channel has a lot of significance in finding the right audience.
What do you expect from a channel that's named 5-Minute Crafts is exactly what you get from the channel, and this has helped them reach a subscriber count of more than 76 million in just 6 years.
Their content primarily focuses on answering primary questions and how-to tutorials for do-it-yourself (DIY) projects.
Is it a surprise that some of their simple life hacks like using toothpaste to heal minor burns on the skin, and how to make ice pack videos have millions of views?
5-Minute Crafts is also a perfect illustration of how creators can make use of people's problems and offer solutions to gain their trust and earn a subscriber.
It is also a clear indicator that there is a huge demand for simple life problems on YouTube. If you have the answers, start a YouTube channel and share it today!
Dude Perfect (57.4 M Subscribers)
If you think that sports and comedy are not an ideal combination, it is high time that you checked out the YouTube channel of Dude Perfect.
This American sports and comedy group of five American YouTube creators - Tyler Toney, Garett Hilbert, Cody Jones, and twins Cory and Coby Cotton is one of the most subscribed sports channels in the United States with more than 57 million subscribers.
The group is also famous for experimenting with different sports like Golf, Basketball, Football, Bowling, and many more.
There is also great demand for Dude Perfect Challenges like Trickshots, and Battle Videos where the group competes against each other.
Most of the battles they host will also have a unique set of rules to make them more interesting.
Toys and Colors (35.2 M Subscribers)
Toys and Colors is an American-Filipino YouTube channel that also happens to be one of the most popular children's channels in the United States.
The channel features the adventures of three kids - Emma, Jannie, and Wendy.
Toys and Colors usually publish video covers of pre-established songs like "Wheels on the Bus", and "Johnny Johnny Yes Papa",
They publish kids' theme content like pretend play, toy reviews and similar related content.
Toys and Colors are also really popular for the exotic toys they review, DIY science experiments, educational content like the importance of eating healthy, fun challenges, and camp adventures among others.
Toys and Colors also have multiple channels for different languages like Spanish, Chinese, Vietnamese and Korean.
Markiplier (32.6 M Subscribers)
Mark Edward Fischbach, also known as Markiplier is a leading American YouTube gaming content creator and vlogger who is known for his horror game playthroughs and comedy sketches.
Markiplier is also a co-founder of clothing company CLOAK, along with fellow American YouTuber Jacksepticeye.
Mark is famous for sharing gameplay videos of horror games like Neverending Nightmares, Five Nights at Freddy's, Amnesia: The Dark Descent, and SCP - Containment Breach among others.
Markipliers style of commentary, in-depth gameplay and engaging presentation have all contributed to his growth as a leading creator on the platform.
He is also known for his engaging and entertaining collaborations with PewDiePie, Jacksepticeye, CinnamonToastKen, Muyskerm and others.
Ryan's World (32.3 M Subscribers)
In the human age, Ryan Kaji is just 10 years old, but in YouTube numbers, he has 51,189,275,306 views and 32 million subscribers as of early 2022 for his YouTube channel Ryan's World.
Ryan's YouTube channel is one of the most-visited children's channels in the world.
Children of all ages love his simple presentation style of educational videos, pretend play, science experiments, music videos, skits, DIY tutorials, and other videos.
The young creator is often dubbed as the "Boy King of YouTube" because of how elegant and professional presentation of video content.
Ryan was just 3 years old when his parents, Shion and Loann Kaji started Ryan's World and uploaded their first video which now has more than 52 million views.
Another amazing thing that Ryan Kaji's channel does is that they donate all the toys that are reviewed on their channel to a local charity.
If you have plans of starting a kids' channel on YouTube, Ryan's World is a good reference point.
SSSniperWolf (31.4 M Subscribers)
Alia Shelesh, better known as SSSniperWolf is famous for her reaction videos, commentary, DIY videos, and gaming videos.
The name of SSSniperWolf is inspired by her favourite Metal Gear character - Sniper Wolf. Even though Alia started out as a gaming channel, she moved on to different genres later.
As of 2022, the majority of her content is focused on TikTok reaction videos where she will go through a set of TikTok videos and react to the same.
When she is not doing reactions and other related content, she does playthrough videos of games like Fortnite, Call of Duty, Minecraft and Among Us.
SSSniperWolf also has a second channel called Little Lia that primarily focuses on Do It Yourself videos, life hacks, and beauty vlogs.
Dream (29 M Subscribers)
Dream is one of the most mysterious YouTube creators in the world!
Why? Because no one really knows who Dream is, apart from his charismatic male voice that comes up as voiceover commentary on his gameplay videos of Minecraft.
Dream is one of the biggest Minecraft channels on YouTube with a subscriber count of more than 29 million.
His Minecraft Manhunt series which involves other players trying to bring down Dream before he beats the game is one of the most searched and popular Minecraft video series on YouTube today!
Even though he started his YouTube channel back in 2014, no one knows how Dream looks in real life as he hasn't revealed his face in all this time.
There are also plenty of conspiracy theories and clickbait videos about Dream's face reveal that have been going on YouTube for ages now. However, just like how the street artist Banksy has remained anonymous, Dream also remains a streamer without a face.
Only time will tell if Dream will ever reveal his true identity, but thanks to his superior content quality of Minecraft content, it does not matter much to his subscribers and viewers.
Replicating an anonymous challenge with just your voice might work if this sparked an idea for your upcoming YouTube channel.
Smosh (25 M Subscribers)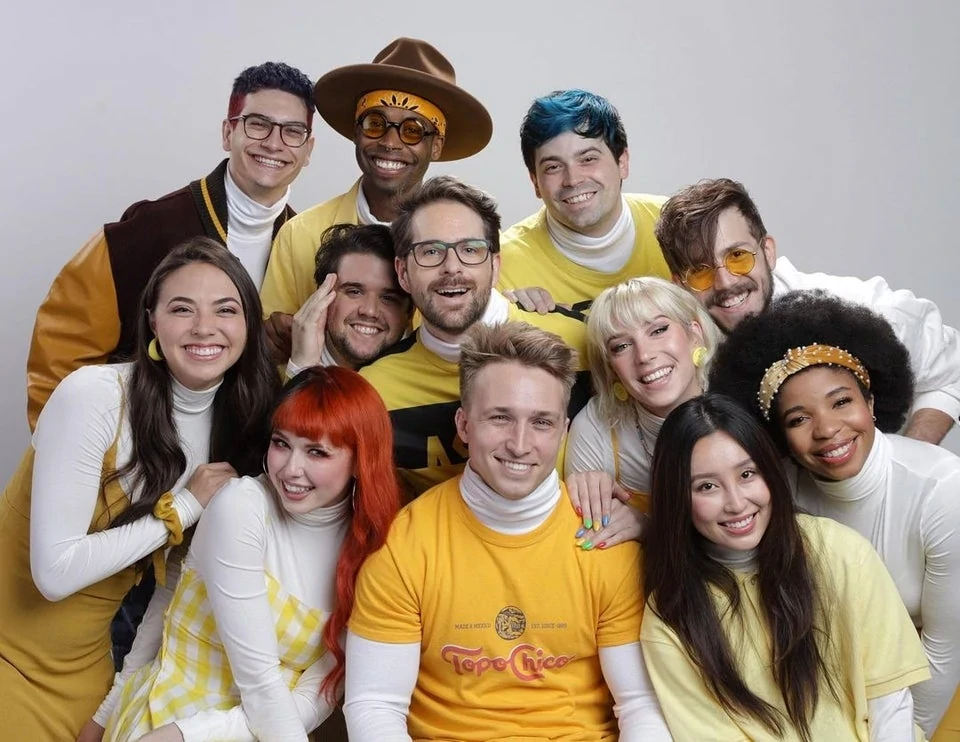 Smosh is an American sketch comedy YouTube channel that was founded by Ian Andrew Hecox and Daniel Anthony Padilla.
They are also one of the oldest YouTube channels in existence today after having its official launch back in 2006. However, it was a particular video on "Pokemon Theme Music" that helped them rise to popularity.