Beginner
How to Get More Views on YouTube Shorts
Unlock the true potential of YouTube Shorts and learn everything that you need to know on how to get more views on YouTube Shorts. Follow the steps in this detailed guide to taking your YouTube growth to the next level.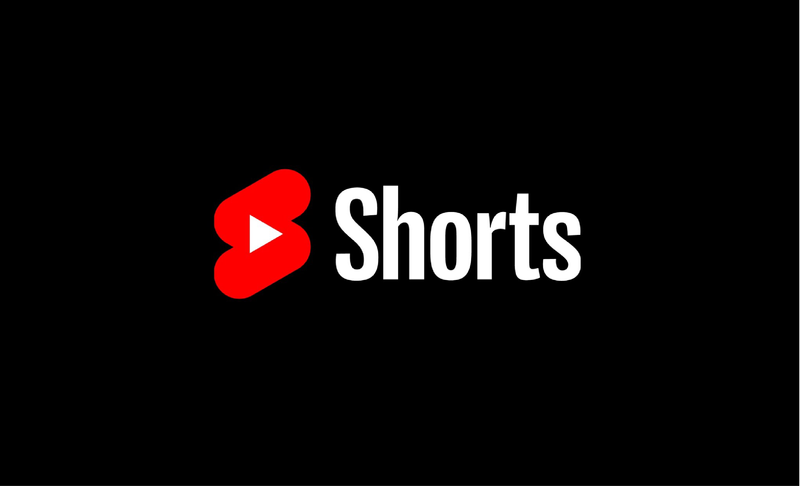 The biggest challenge YouTube Short creators face today is that they are getting fewer views than in the past.
We have put together some awesome tips and tricks for improving your YouTube Shorts views. Additionally to improving your discoverability, more views on YouTube Shorts will also boost your subscriber growth.
The shorter length of YouTube Shorts makes them more likely for random users scrolling through their feed to watch them.
Follow these simple tips, and implement them on your next YouTube shorts to get insane engagement like never before.
If you are new to YouTube, here is our detailed beginner's guide on how to start a YouTube channel. Without any further ado, here are some exciting ways to get more views on your YouTube Shorts.
1. Spend Time to Research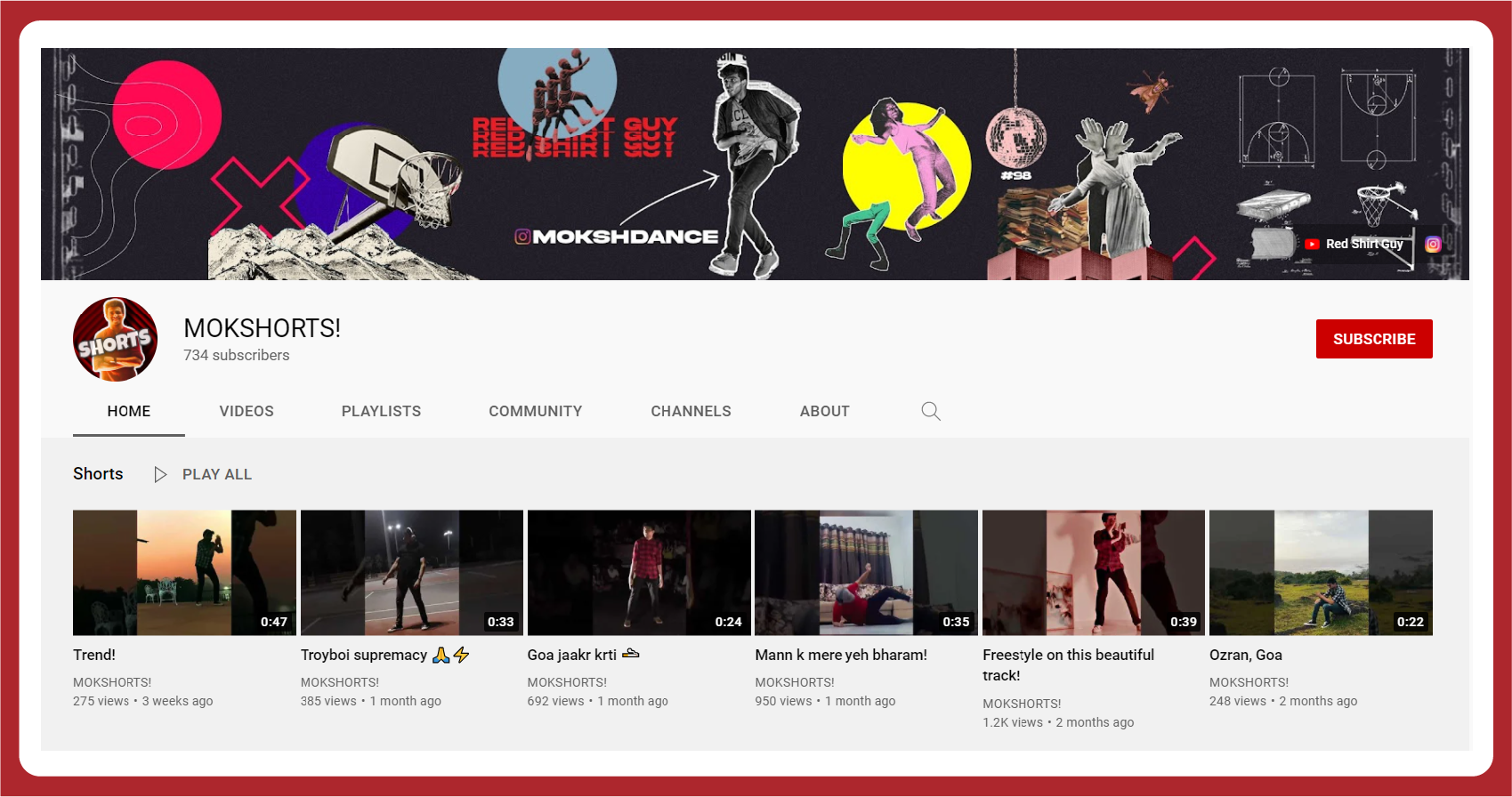 It's important to focus on the Shorts topic based on what your followers are used to seeing.
If you have a niche that you built your followers on, they won't be too interested in watching other content. Even if it's just a YouTube Shorts, you must stick to what works for your channel.
Spend time researching the different options you have and see what creators that make similar content to yours publish as Shorts.
Draw inspiration from topics that are parallel to your regular content by searching the Shorts feed on your account. Come up with a plan that allows you to compress your content into a 60 second or less video.
With the right amount of time spent on research, you are guaranteed to find amazing ideas that will work, with some trial and error.
2. Create a Separate Playlist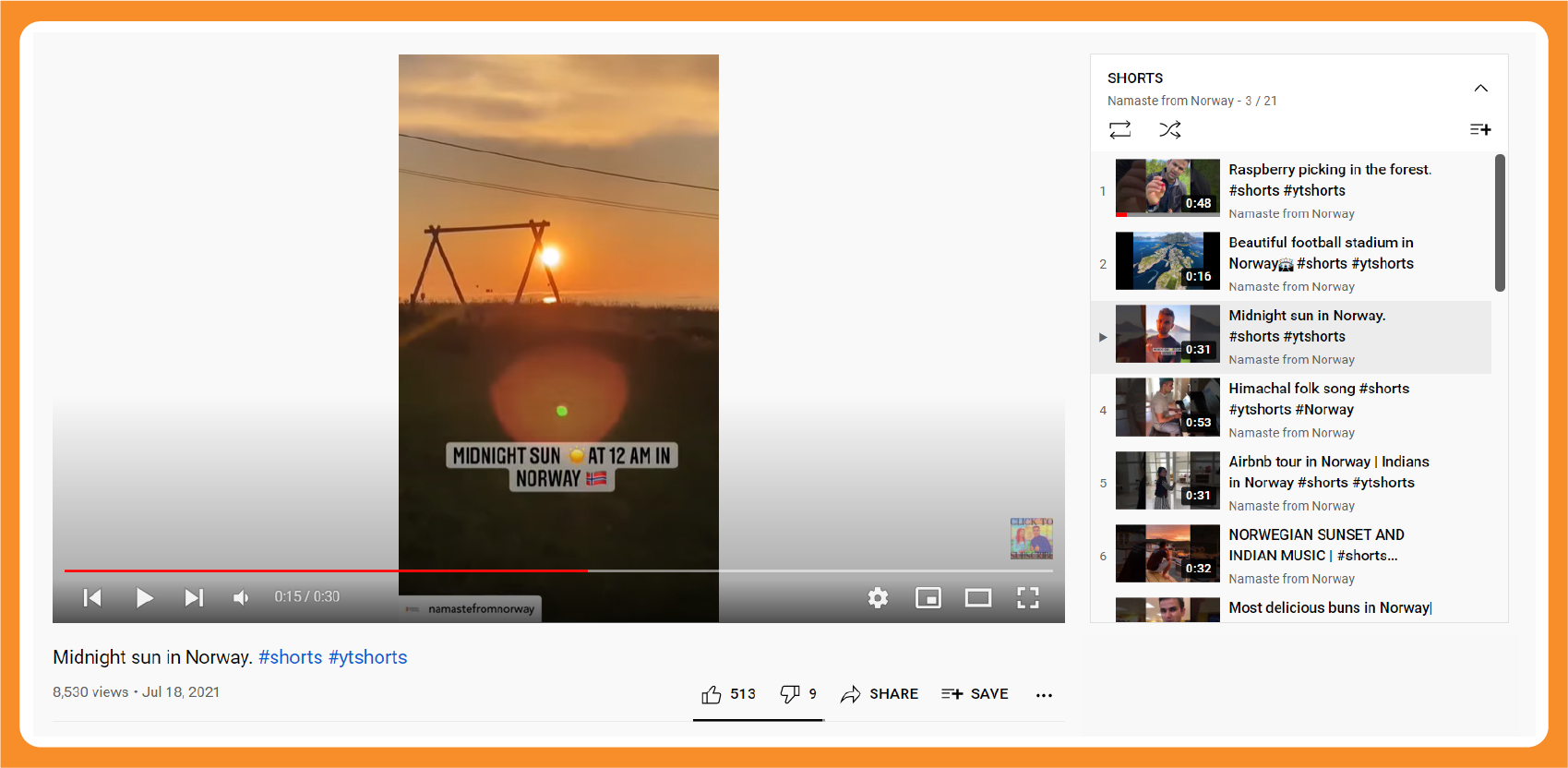 The option of creating a playlist on YouTube has to be one of the most underrated features on the platform.
Creators often ignore creating a playlist because they fail to notice its most powerful feature - the ability to make people stay for longer durations.
Yes, that's right, you can make use of the playlist feature to have people watch more content, and consider subscribing. When you add multiple videos to a single playlist, visitors can be attracted by their interest towards the playlist, and end up watching more than one video from your channel.
This definitely helps in improving the overall time that people stay on your YouTube channel. This also means that people now have more time to consider if they should subscribe to your channel or not after going through a playlist.
Even if YouTube highlights Shorts on top of a creator page, it is therefore important that you create a dedicated playlist for YouTube Shorts.
3. Use the Right Metadata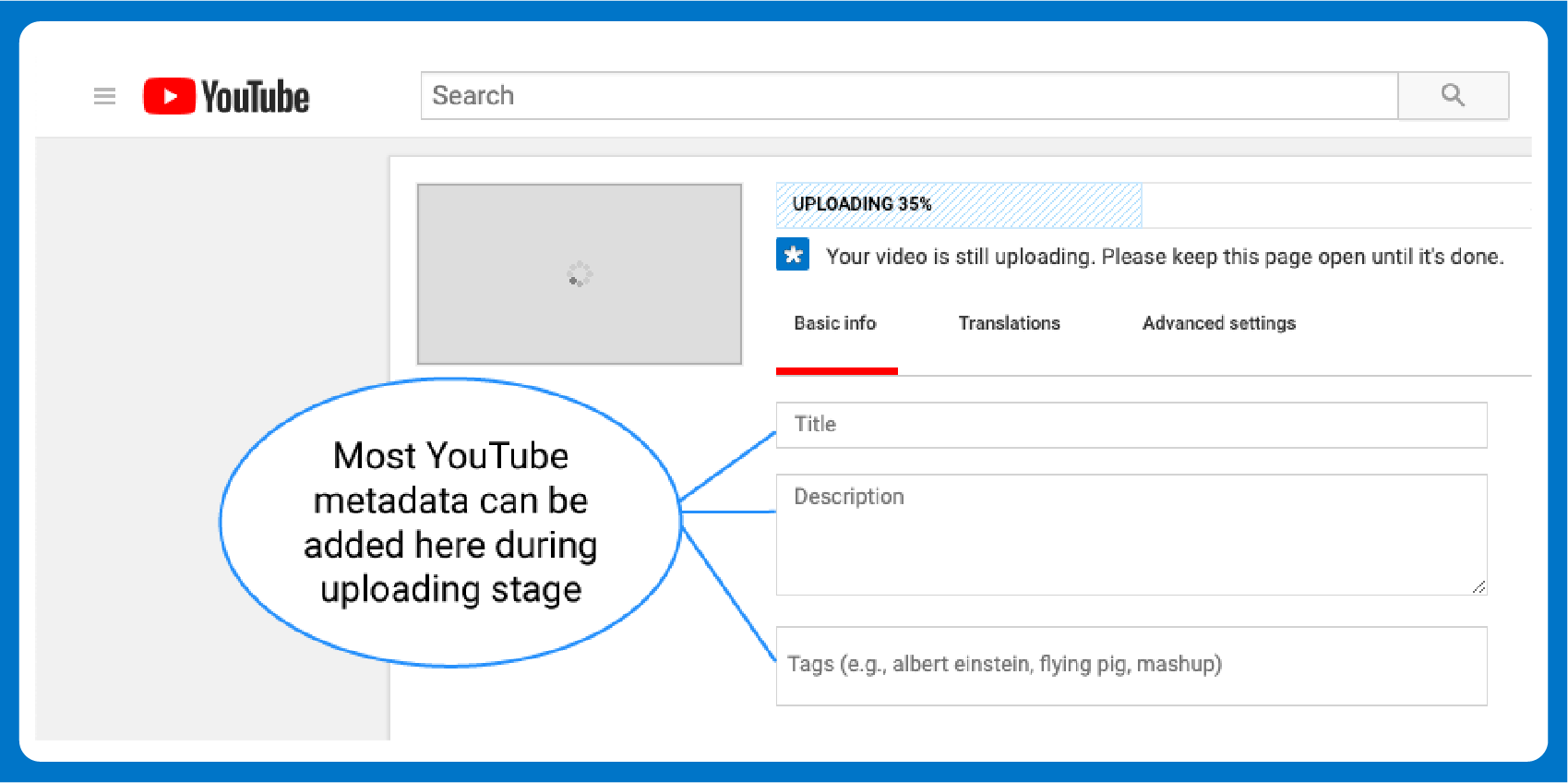 Using the right metadata like the right keywords on the title, SEO optimized description, the best tags, and channel tags all help improve the number of views and engagement.
YouTube Shorts also require you to follow the basic metadata structure and demand the usage of the right keywords for maximum engagement.
Websites like Vidiq and Tubebuddy offer free extensions that do the research for you.
You only need to pick out the keywords that work best for your content from the suggestions they recommend. Optimizing your YouTube Shorts in the right way can help you improve your engagement rapidly, especially in the initial stages of publishing your Shorts.
Spend some time with keywords on titles and subheadings to see what all works. You can also consider checking out competitor keywords and titles of the ranked videos.
Ranked videos, including Shorts, have good metadata and replicating similar content will ensure that you get the best engagement and response. There are also chances for some of the ranked videos recommending your content when you use similar keywords and tags.
4. Make Use of Hashtags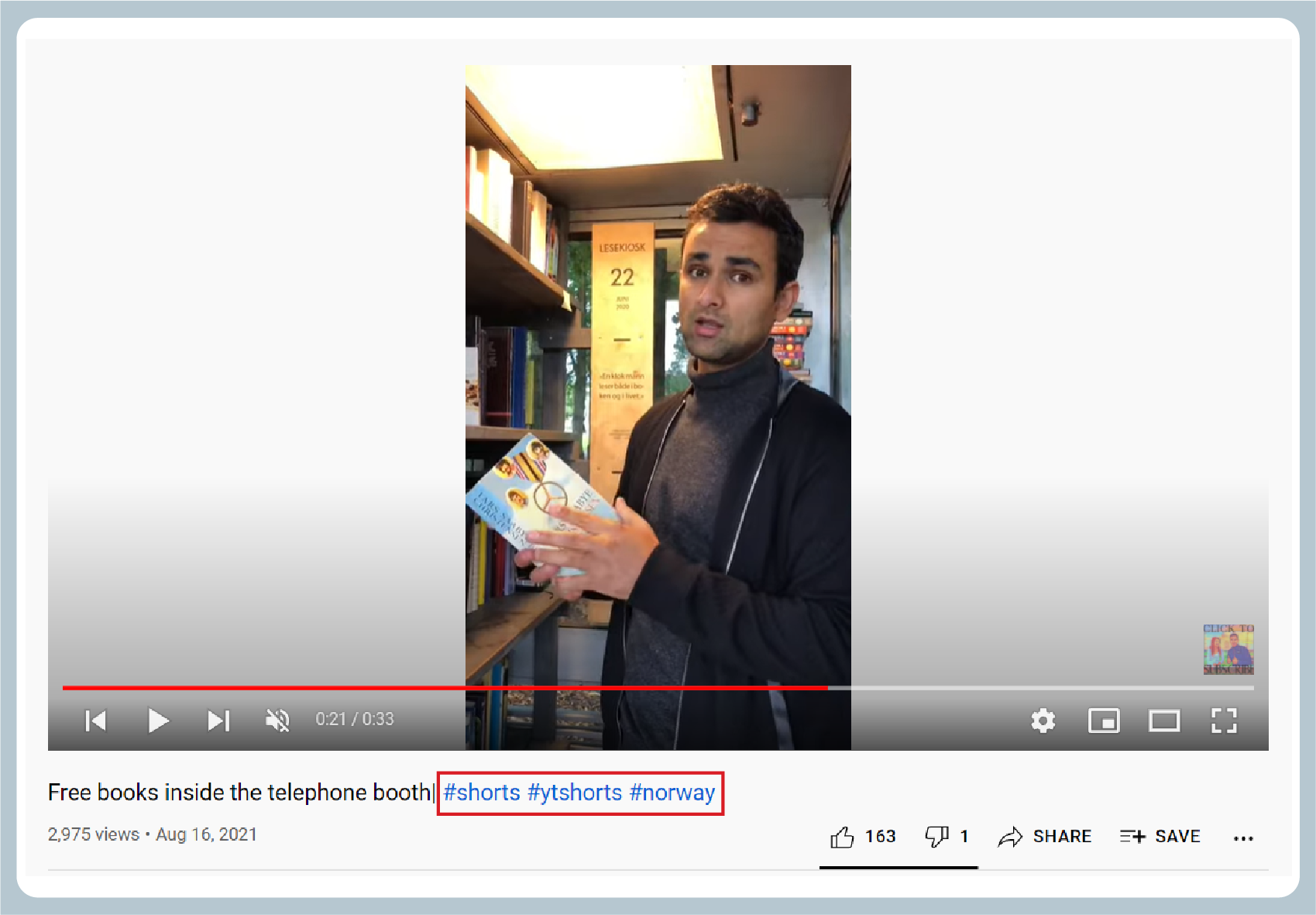 When Shorts was first introduced as beta, any video that was 60 seconds or less, in vertical format and having the hashtag #Shorts was automatically converted into a YouTube Shorts.
With the full launch, you now have the option to create Shorts directly from the creator studio, just like how you upload a normal video on YouTube.
You no longer need to include the #Shorts for your video to be converted into YouTube Shorts. However, it does help with the YouTube algorithm in picking up your video as a Shorts and recommending it to visitors that watch similar Shorts.
Once you have finalized a topic, add the meta description, and proceed to enter the video description, take a break and give a line to add three content related hashtags.
YouTube now also lists out how popular each hashtag is by showcasing the number of times the entered hashtag has been used. You will get an idea about which hashtags has the biggest audience by entering the hashtag.
While you can use up to 10 hashtags on your videos, the hashtags that are entered as the first three will be highlighted on your video feed as clickable hashtags.
Visitors who click on the hashtags of other creators with the same hashtags on their videos will also get a list of videos that will also have your video listed on the results. You can increase the number of views and chances of discoverability by using the right hashtags.
5. Utilize End Screen and Cards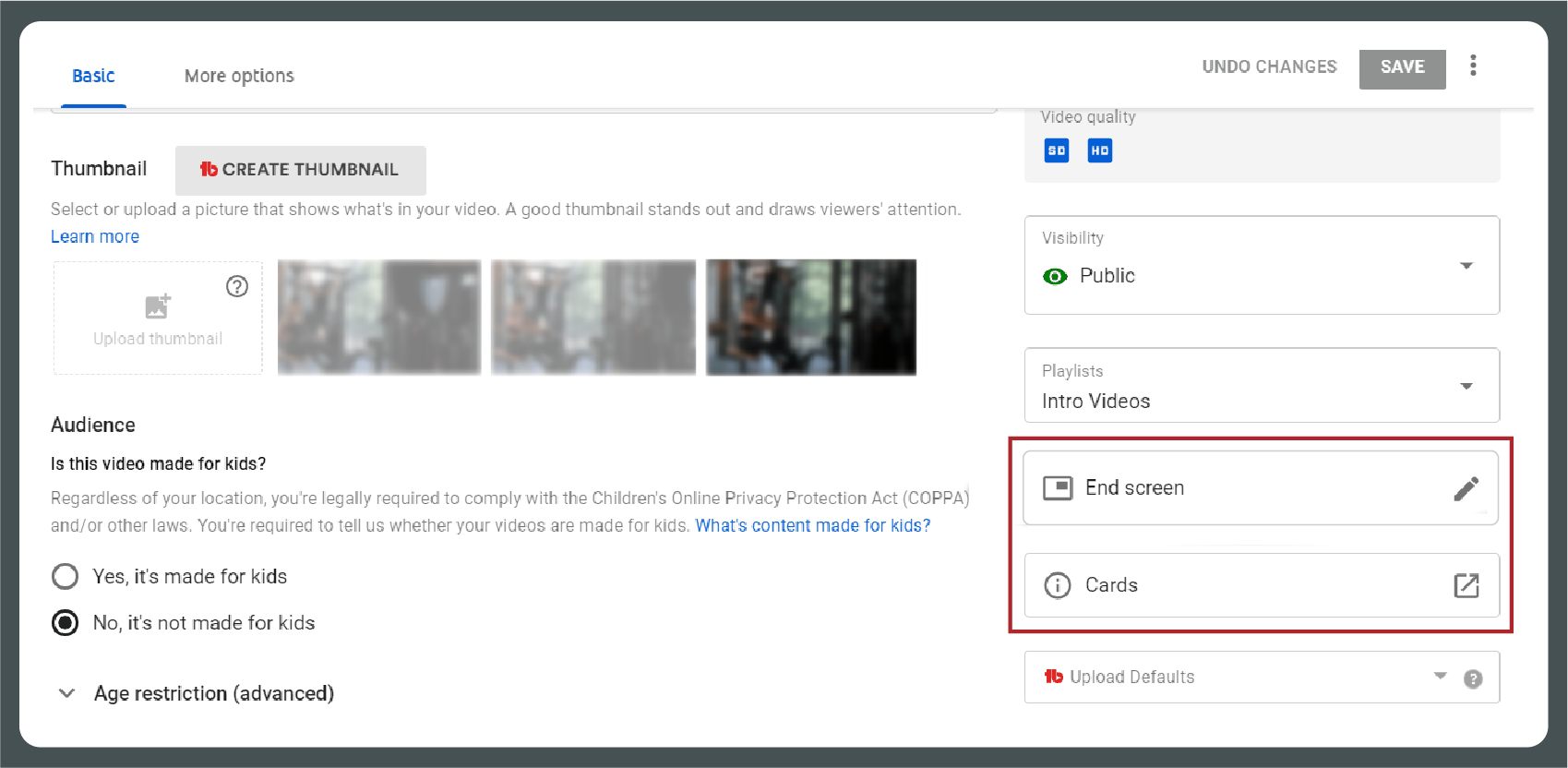 If you are a creator that gives more emphasis to regular videos with the occasional YouTube Shorts, there is a quick way to still drive traffic into your Shorts.
Simply make use of the YouTube features like end screen, and cards to direct people towards Shorts that they might have missed. YouTube allows you to add up to five cards and four end screen elements (plus the Call to Action).
When it comes to adding cards, simply direct them to your short videos by adding a card that leads them to Shorts or a playlist the features all your Shorts.
Alternatively, you can also add the Shorts playlist or individual Shorts as video elements on your end screen to get more views of your Shorts.
A good strategy to improve your Shorts views is to add exciting captions that make people click on the cards. You can instantly increase your conversion rates this way for all your short videos.
6. Know What to Include and Exclude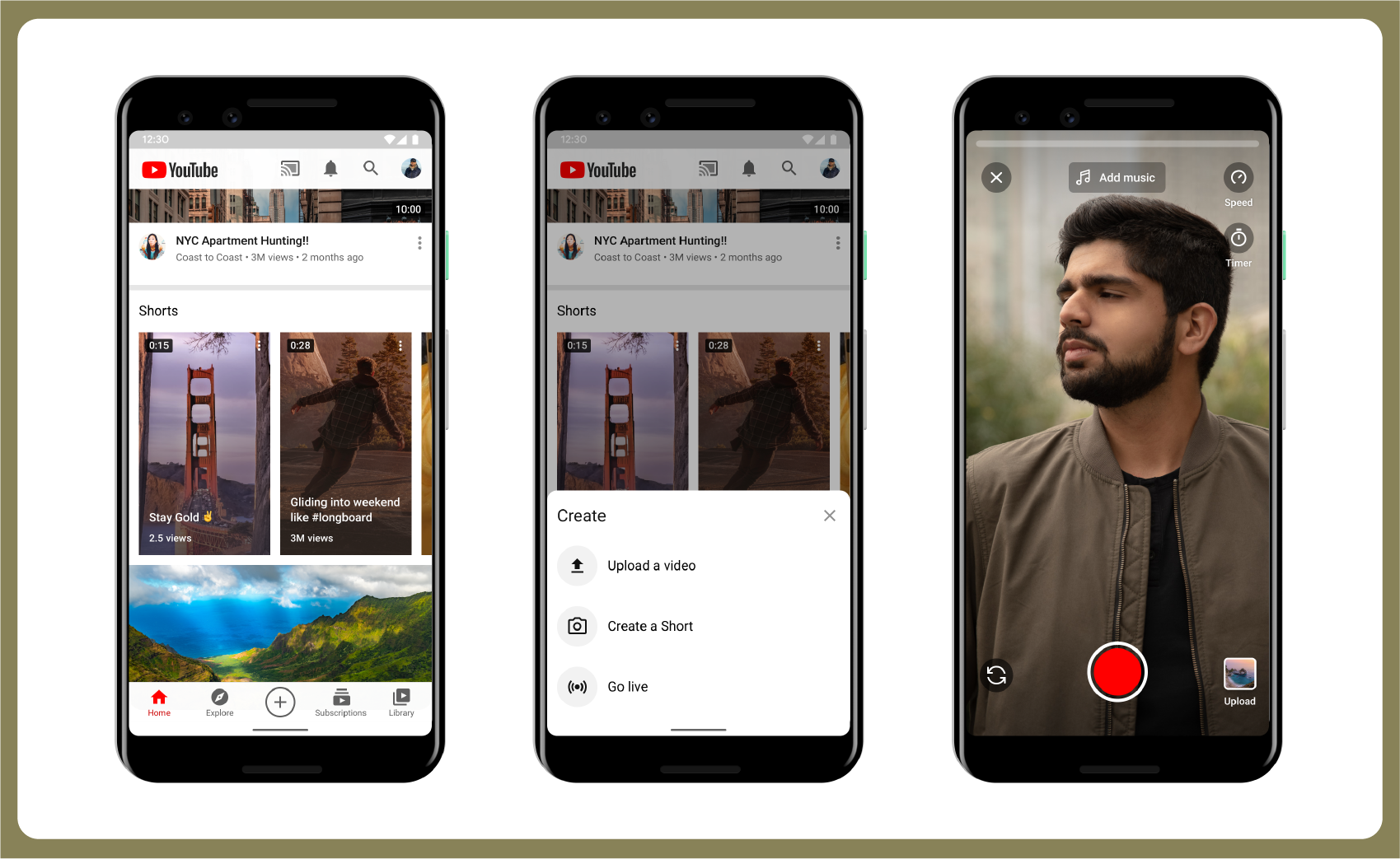 60 seconds or less if you already have footage to edit, and 15 seconds or less, if you are using the Shorts Camera.
Confused? well, that's the maximum duration that YouTube allows you to play around with when it comes to YouTube Shorts.
If you are editing video that was captured with an external device like a mobile camera, or DSLR, you have up to 60 seconds of content to work with. However, if you are capturing original content with the Shorts camera on a smartphone, you are limited to just 15 seconds.
It is important that you know what to include and what to exclude in this time frame.
Do not hesitate when it comes to deleting videos. Not every bit of video that you captured can be used at times. Sometimes, you will have to sacrifice a perfect shot and replace it with something less flashy for the final result.
When it comes to Shorts, you must make sure the final edit is restricted to 60 seconds or less.
If you go overboard even by one second, the video will come out as a regular YouTube video, even if you add the #Shorts in your content. If views are your top priority, spend time editing and come out with the best possible video output.
7. Design a Thumbnail
Thumbnails are not necessary for YouTube Shorts as most views are generated through auto-play of related content.
However, they do help in improving your views when people scroll through the Shorts feed.
Therefore, it is always good to spend time designing a thumbnail and adding it to your YouTube Shorts. On a general note, it is always good, if you add it before publishing the video for the first time.
It also helps to increase the views by using thumbnails that match the video title or description, so that users can relate to the content.
If you publish a YouTube Shorts without a thumbnail, YouTube will automatically pick out some screenshots and set a default thumbnail and offer alternatives to choose from. However, since Shorts are usually hyperactive, they do tend to be pixelated at times.
That's why it is always good to work on a unique thumbnail separately and use it on your YouTube Shorts to improve the number of views you get.
8. Add Shorts to Featured Section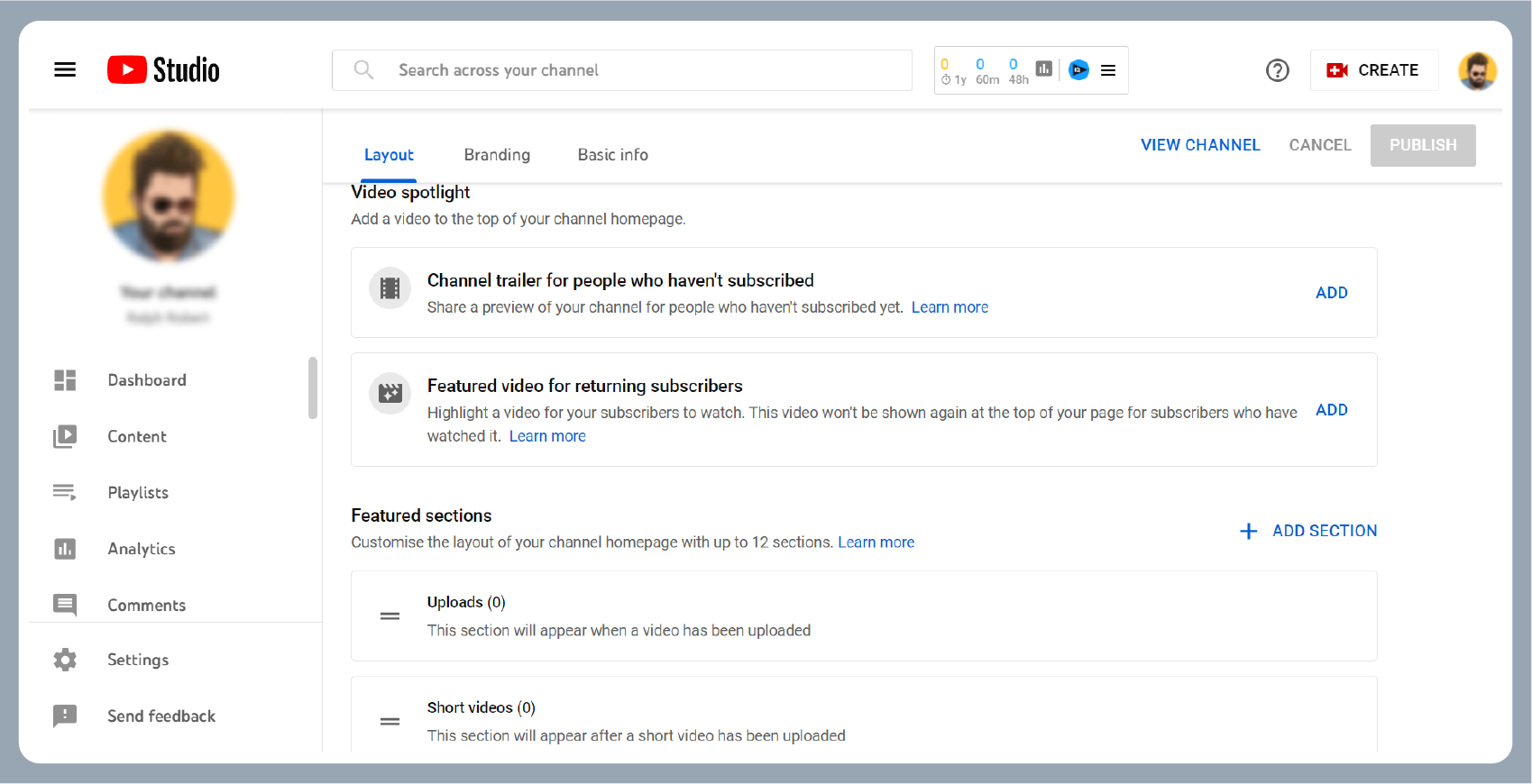 The Featured Section help visitors get a quick idea about what your channel is all about.
Due to YouTube Shorts being the shorter format of videos, it has more probability of creating interest for random visitors that visit your profile.
The featured section is entirely customizable and you have the creative freedom to add as many sections as you wish to add. You can also add videos individually, playlists or lists with a set of videos.
You can also combine this feature with the feature video and channel trailer option which can be accessed from your YouTube profile. Follow these steps to set up your featured section.
Click on the profile button on the top right corner
Now tap the 'Your Channel' option to access your profile screen
From there, click on 'Customize Channel'
You can setup layout, branding, and basic info on this screen
Add channel trailer, featured video, and videos to the featured section here
Click on 'View Channel' to review the changes
Once you are satisfied, click on publish to have the new layout applied
For best results, consider adding a featured section with an interesting title that features all your Shorts and set it up on the top of your featured section.
9. Promote Your Shorts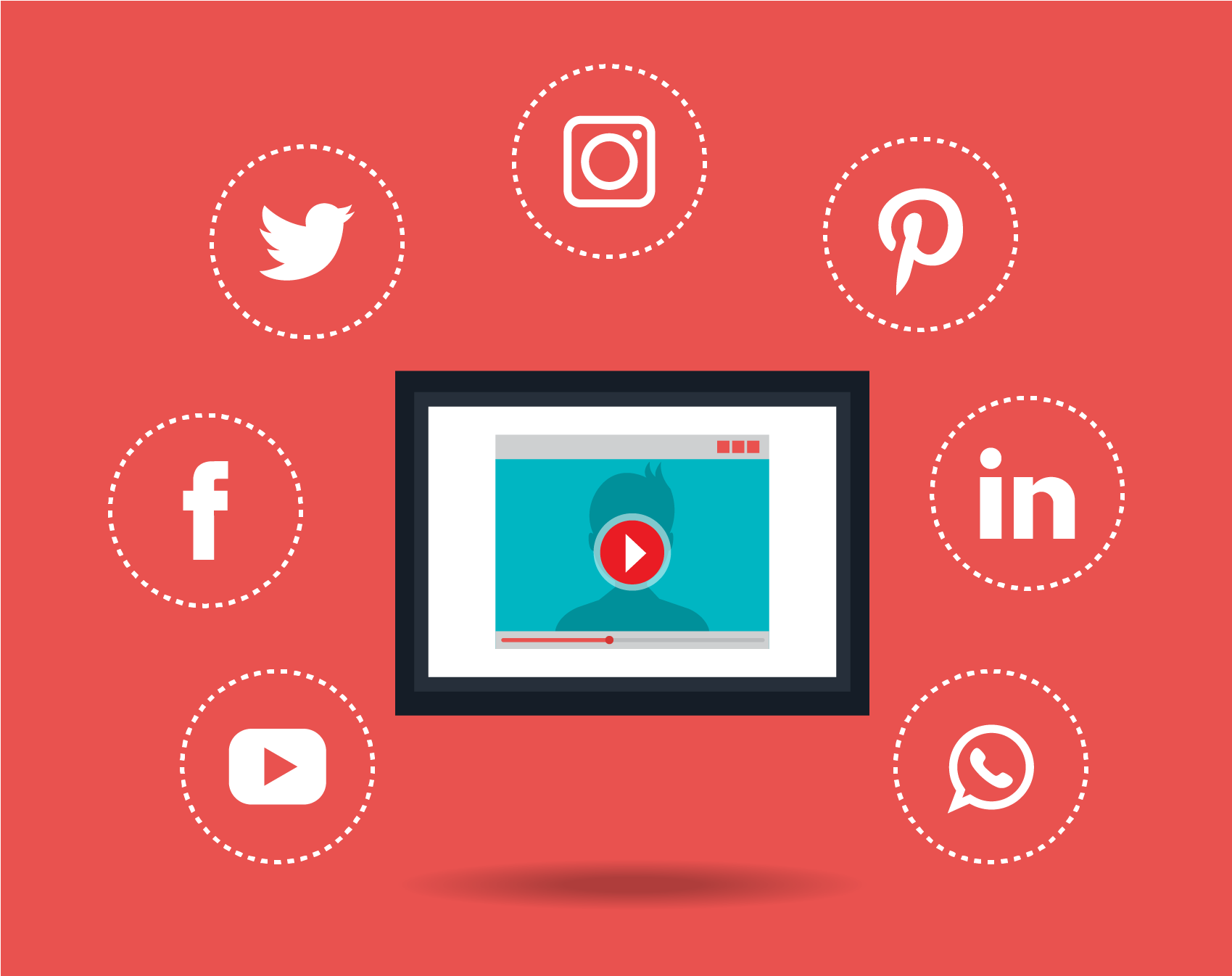 You now have plenty of options to promote your YouTube content.
While it's difficult to convince people to check out videos of longer duration, everyone would be willing to spend a minute to see a Shorts.
Make the most of this and share your Shorts video with friends and family.
If you are active or have accounts on other social media platforms like Facebook, Instagram, Twitter, Snapchat, WhatsApp, Discord and Pinterest, consider sharing your YouTube Shorts over there.
Online forums like Reddit and Quora also offers ample opportunities by offering dedicated subs and discussions where you can share your YouTube Shorts. There are subreddits focused specifically on YouTube Shorts that are guaranteed to reel in plenty of views.
Ask your friends and family to share your Shorts videos on their social and personal circles.
If the YouTube algorithm picks up that your videos are reaching a wider audience, YouTube will start sharing your video as recommendations to users who have a matching search pattern.
You can also make use of cross-app capabilities to share stories with the designated hyperlinks to promote your Shorts across the different social media platforms.
10. Take Part in Challenges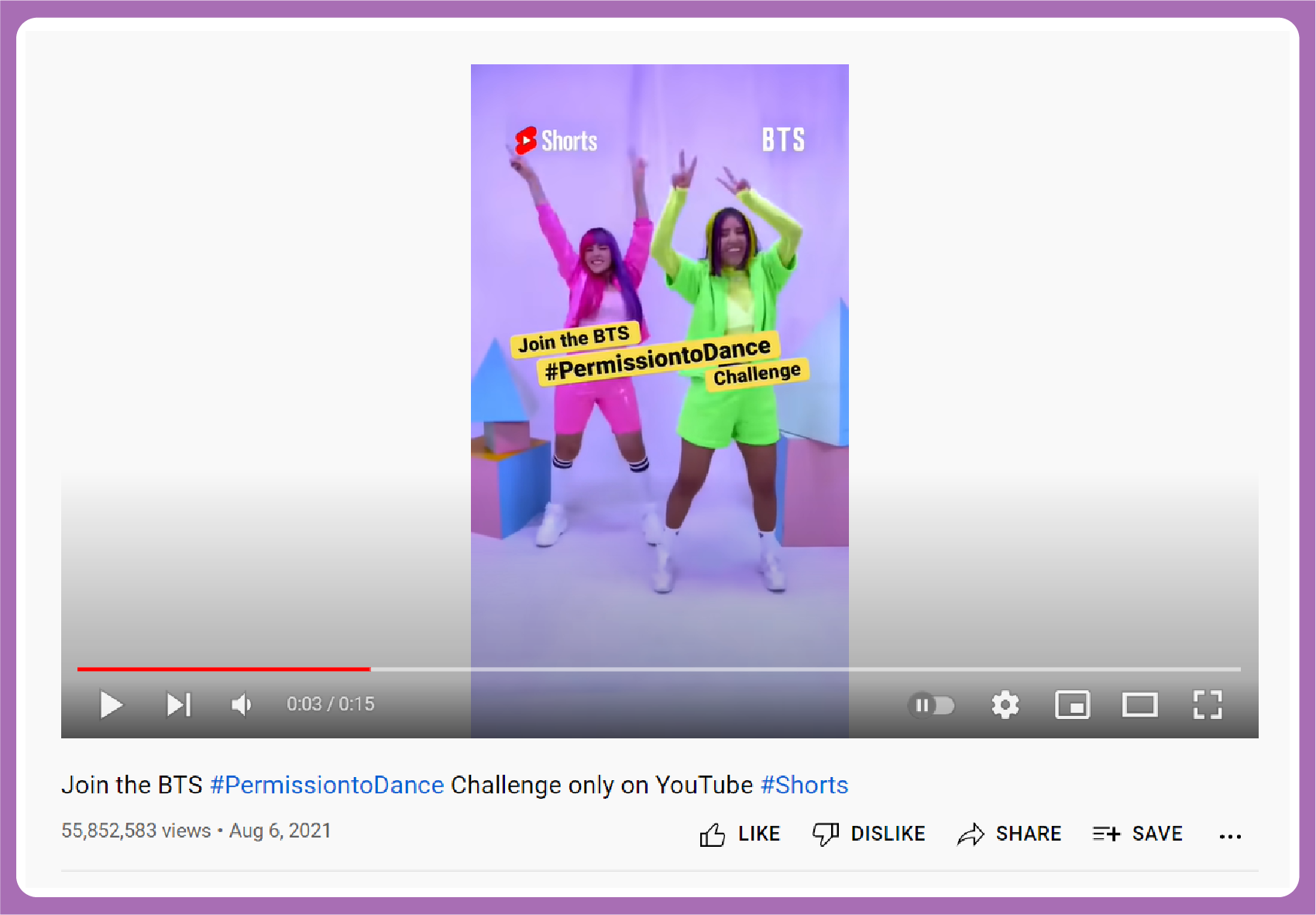 There are always fresh challenges to take part in on social media these days.
With YouTube introducing Shorts, they are also popping up in large numbers, similar to how it is on TikTok and Instagram. Take part in challenges that meet your niche or contests that your audience will love.
Timing is important when it comes to YouTube Shorts challenges. The early bird gets the worm, and that's why you must publish the video before others do.
Be the first to take part in a challenge and use the right metadata and description to direct visitors who come searching for the challenge. Every time, an influencer or established YouTuber attempts the challenge, it will get reflected with an instant boost on your account.
Being an early challenger will also help get your video ranked in the initial stages of the challenge which will make it a whole lot easier to improve your overall views and engagement.
Celebrities often endorse their new movies with challenges, and there are always chances for TikTok trending challenges to start trending on YouTube as well.
Keep a watchful eye on the changing trends and make hay while the sun shines to get the maximum possible views on your YouTube Shorts.
To Summarize,
Take your YouTube journey to the next level by working on creative YouTube Shorts that can consistently bring in more views and engagement.
You can see faster growth for your channel's overall content by having enough focus on YouTube Shorts. However, it does take more time than regular YouTube videos for Shorts to see growth.
It's important that you stay patient throughout the process as it can take some time for your YouTube Shorts to start reeling in views. Once, the algorithm understands that your Shorts is something people like to watch, you will see massive spikes in the number of views.
Hopefully, some of the tips we covered in the article can also contribute to helping you get more views on YouTube Shorts.