Beginner
A Guide to Choosing the Best YouTube Video Size
Finding the best video size on YouTube is always a challenge. However, if you have a general understanding of how YouTube works, and which length of videos are preferred, it is relatively easy. Here is a detailed guide to help you get access to the best video size for your YouTube channel.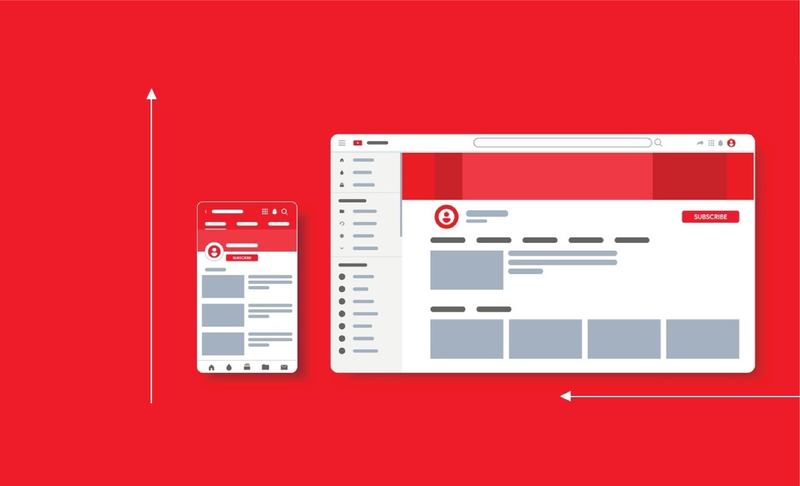 Getting the most views and audience engagement is something every creator wants to achieve in their YouTube journey. Having the right resolution, and video size allow visitors to watch your videos at a quality they enjoy watching YouTube videos at, making it a win-win solution for both creators and their followers. Therefore, it is important that you find the right combination that works for your channel at the earliest. The faster you find the ideal video size for your content, the better your chances are at getting the most engagement and views on your videos from the set go. Thanks to YouTube Studio, creators today have the power to get a detailed insight into how videos are performing. It makes the whole challenge of finding the best audience experience much easier. When you combine this with the best time to post videos on YouTube, you can expect significant growth and improved overall reach for all the content you publish on YouTube.
What is the best size for a YouTube video?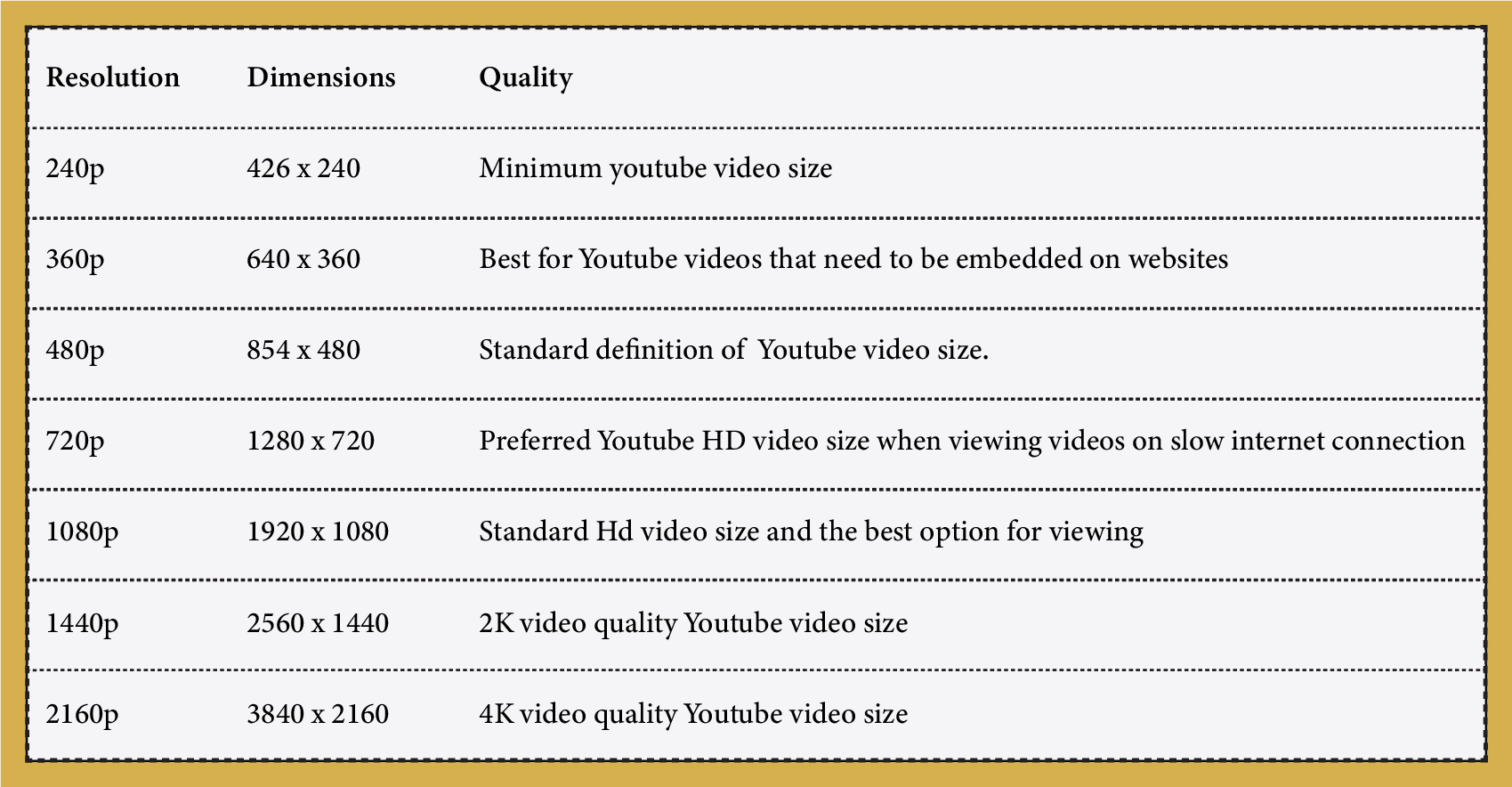 There is no single answer for this question as the best size for a YouTube video depends entirely on the type of content you make. As a general reference, you can consider checking out the table below to get an idea of how the different YouTube video sizes work. You can go for a resolution based on the video output requirement you want.
Which video formats does YouTube support?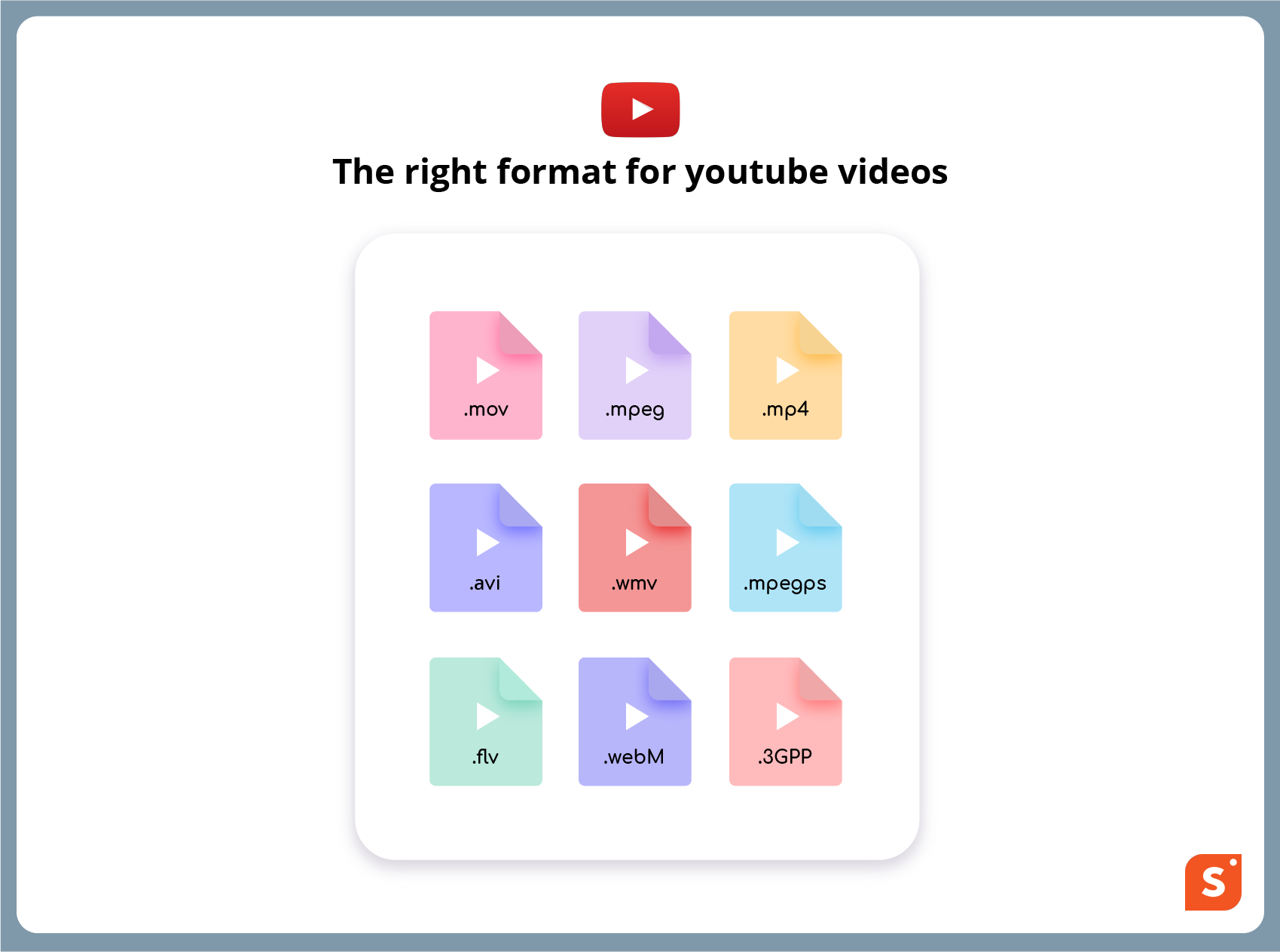 YouTube accepts all videos that are made in the formats of .mov, .mpeg. mp4, .avi, .wmv, .mpegps, .flv, webM and 3GPP. However, MP4 videos that have AAC audio codec and H.264 video codec are considered as the absolute best format for YouTube videos. The primary reason to consider this format as the best is that you can get the highest video quality at a smaller file size that is easy to upload and process for both the creator and YouTube.
Things to remember while recording your YouTube video
To have videos that are optimized for viewing on YouTube, it is important to create videos that match the resolutions offered by the platform. This makes the whole editing process that much easier and gives your viewers the flexibility of watching the videos on a quality they prefer. If you upload a video that was recorded in 1080p with 60 frames, your followers can watch them at any resolution from 144p to 720p 60 frames, and up to 1080p (HD resolution). Depending on the equipment you have, and because the video has 60 frames per second, YouTube might even provide an option to view the video on 1440p and 2160 (2K and 4K).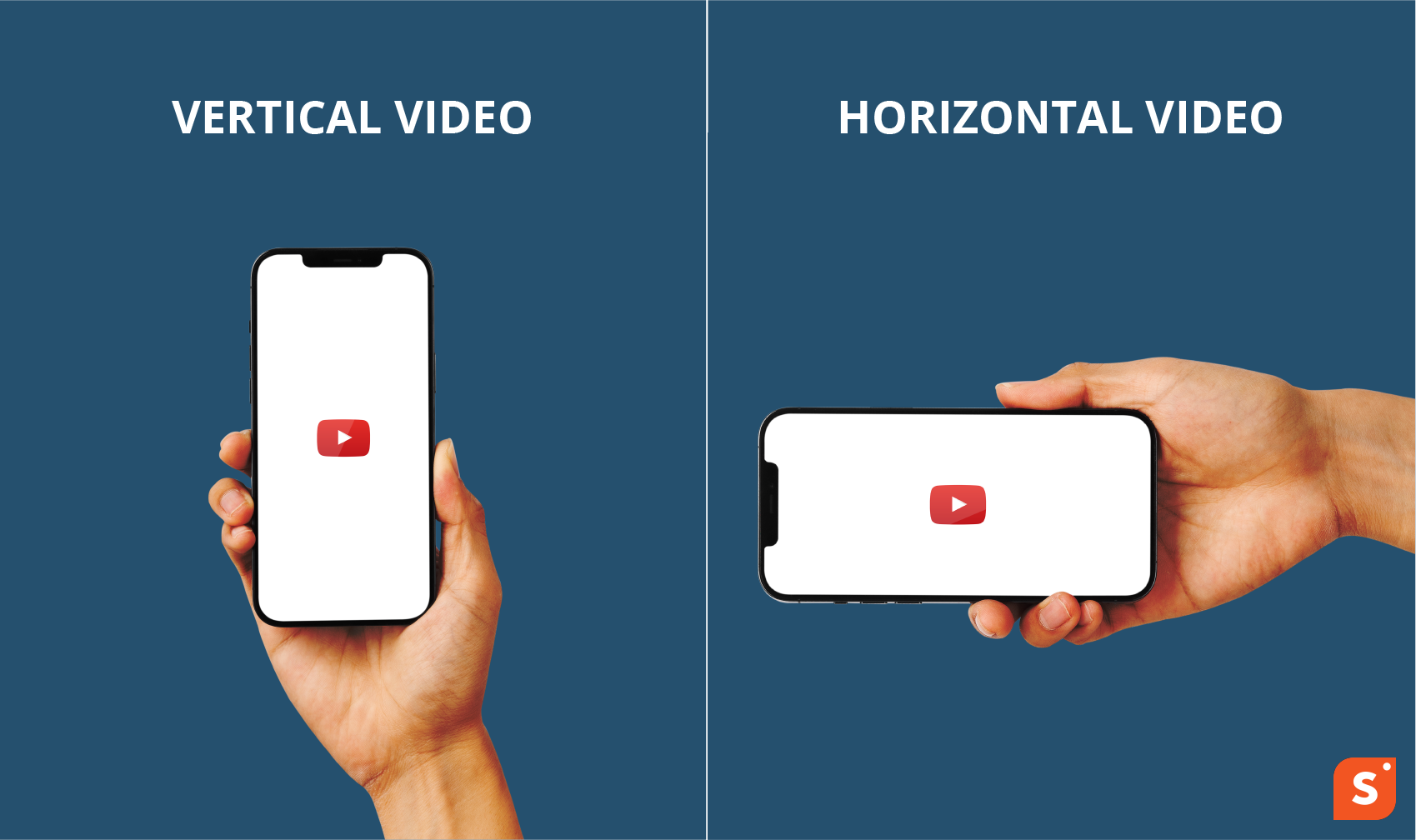 You should also record videos that are above one minute as landscape videos so that your fans can get full-screen coverage on your videos. YouTube has a landscape view on the default view and mini-player (apart from YouTube Shorts which has vertical/portrait view as the default option). Because the default view for YouTube is landscape, YouTube applies white buffers to vertical videos making it odd to view on a tablet, desktop, or television.
What are the different aspect ratios of YouTube?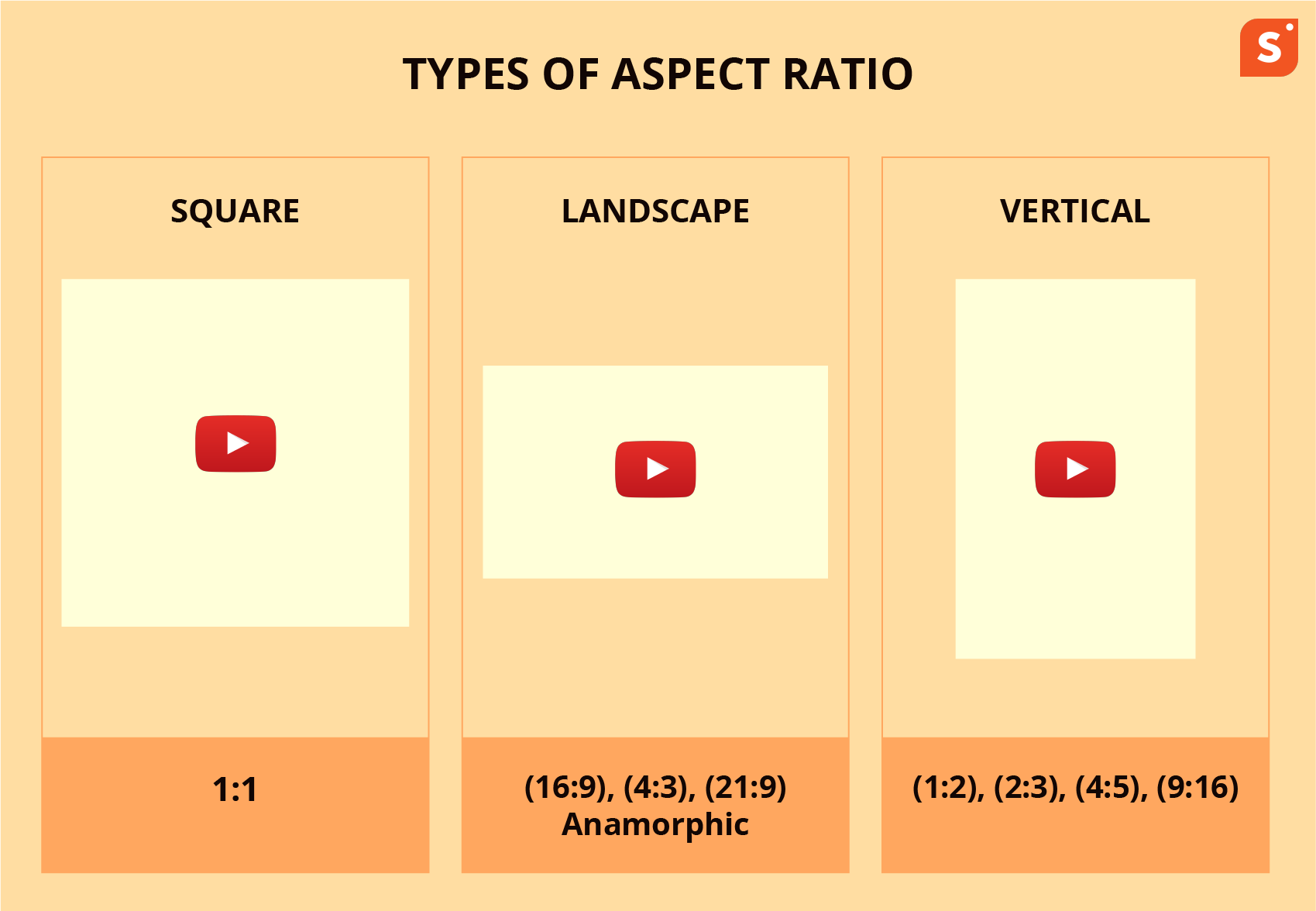 YouTube supports multiple aspect ratios and allows creators the flexibility of uploading videos in square, landscape and portrait formats. However, by default, YouTube has an aspect ratio of 16:9, which makes it sensible to create videos in the landscape format. With the recent introduction of YouTube Shorts which comes with a vertical default view, creators can now focus on short format videos that are shot on vertical formats with aspect ratios like 1:2, 2:3, 4:5 and 9:16. Shorts focuses on short format videos which are one minute or less and rivals YouTube competitors like TikTok and Instagram Reels.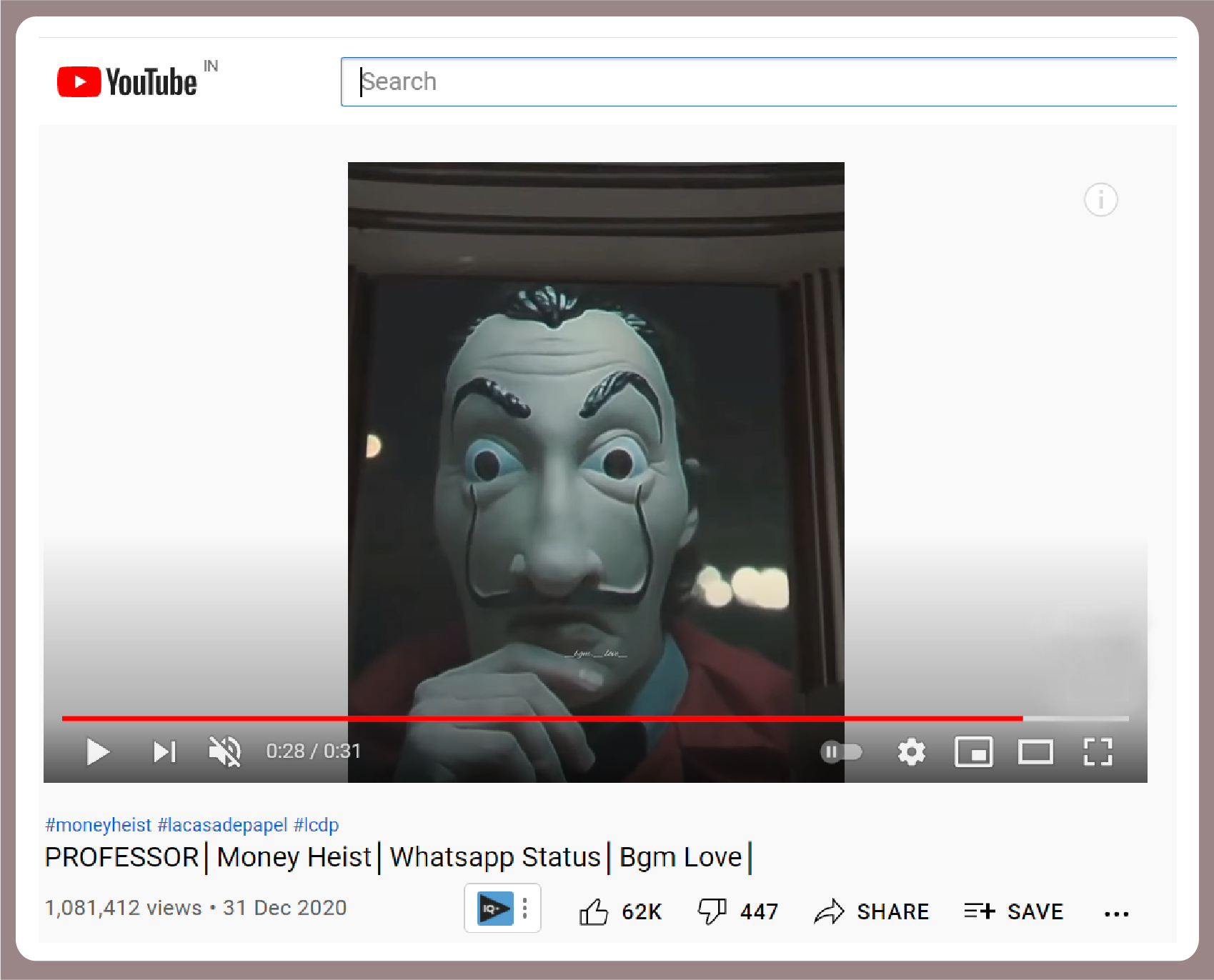 It is highly recommended to stick with the default aspect ratio of 16:9, 4:3 or 21:9 for longer YouTube videos so that your followers can go for the full-screen view and get the best coverage across all platforms like mobile, laptops, desktops, iPad, and television. Videos that are shot in vertical format (9:16) on smartphones will only cover a tiny part of the video and will feature a white background that takes away the impact of the content.
Which video format should I use to get the best resolution on YouTube?
MP4 is arguably the best video format for most of the leading social media platforms out there and it's no different for YouTube as well. The reason for MP4 to be considered as the best format is the combination of high image quality and lower file size than MP4 files offer. Most of the MP4 files have the default audio codec of AAC-LC and video codec of H.264 which ensure that the overall size of the video file is maintained at smaller sizes. Most smartphones also record videos by default in MP4 format which again reduces the need for complex conversions.
Does YouTube have a maximum video size limit?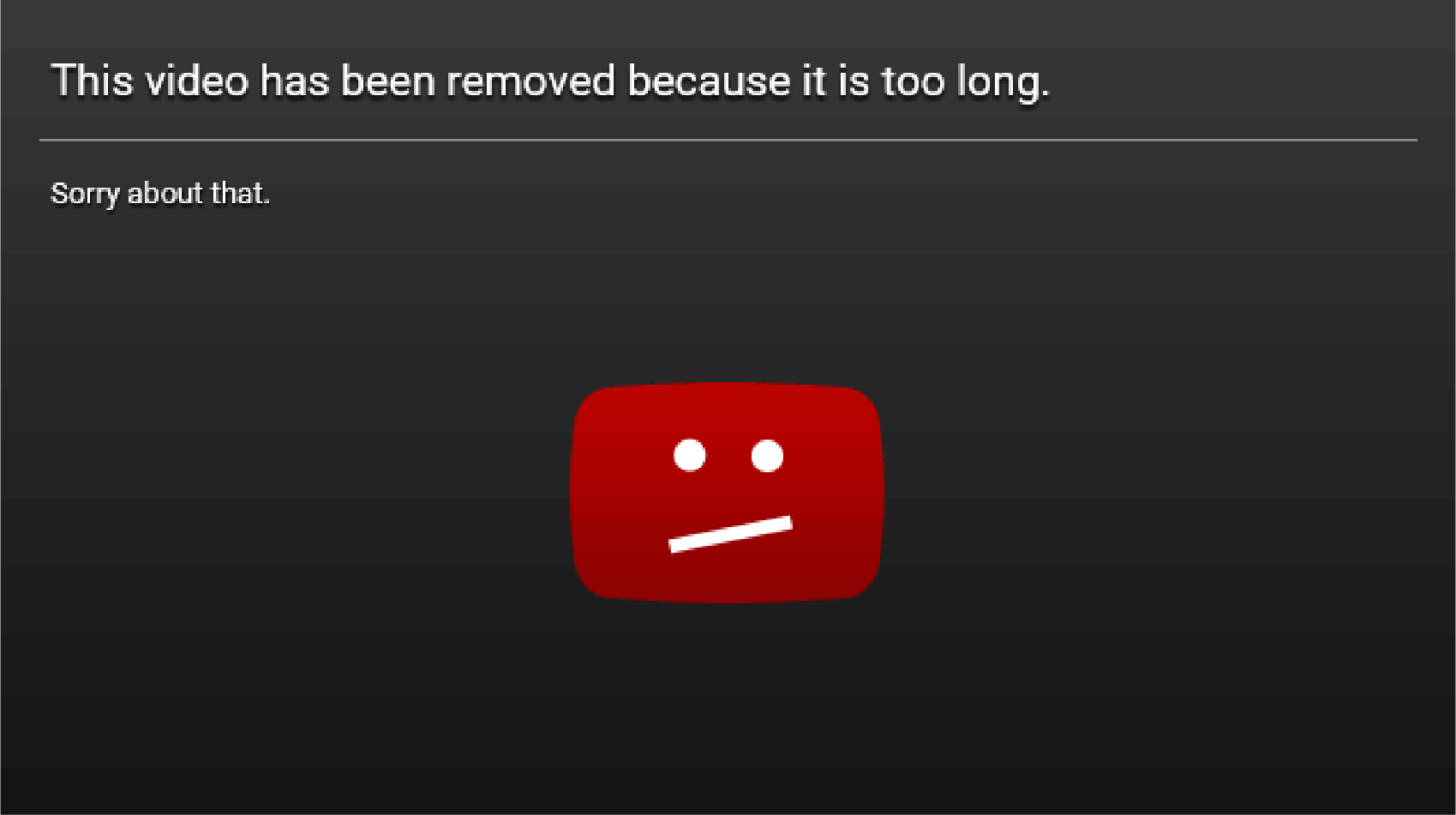 Even though you can upload long videos on YouTube, the platform does come with a maximum limit on video size. You are only allowed to upload videos with a maximum file size of 128 GB. If you end up uploading a video that is more than 128 GB, YouTube will immediately reject the upload. You can still upload the video on YouTube by compressing the content through a good video editor. Some of the leading video editing platforms let you reduce the video size without compromising on video quality, making it a win-win solution.
What to do if your video upload is stuck in the middle of processing?
Ask any creator what their worst memory of uploading a video on YouTube is and you are guaranteed to come across creators that have had extremely long upload times the most. However, this issue does not necessarily mean that your video is maybe over 128GB or 12-hour limit, which are two of the maximum limits YouTube sets for their uploads. So what exactly causes your video upload to get stuck in the middle of processing, and what can be done to solve this issue?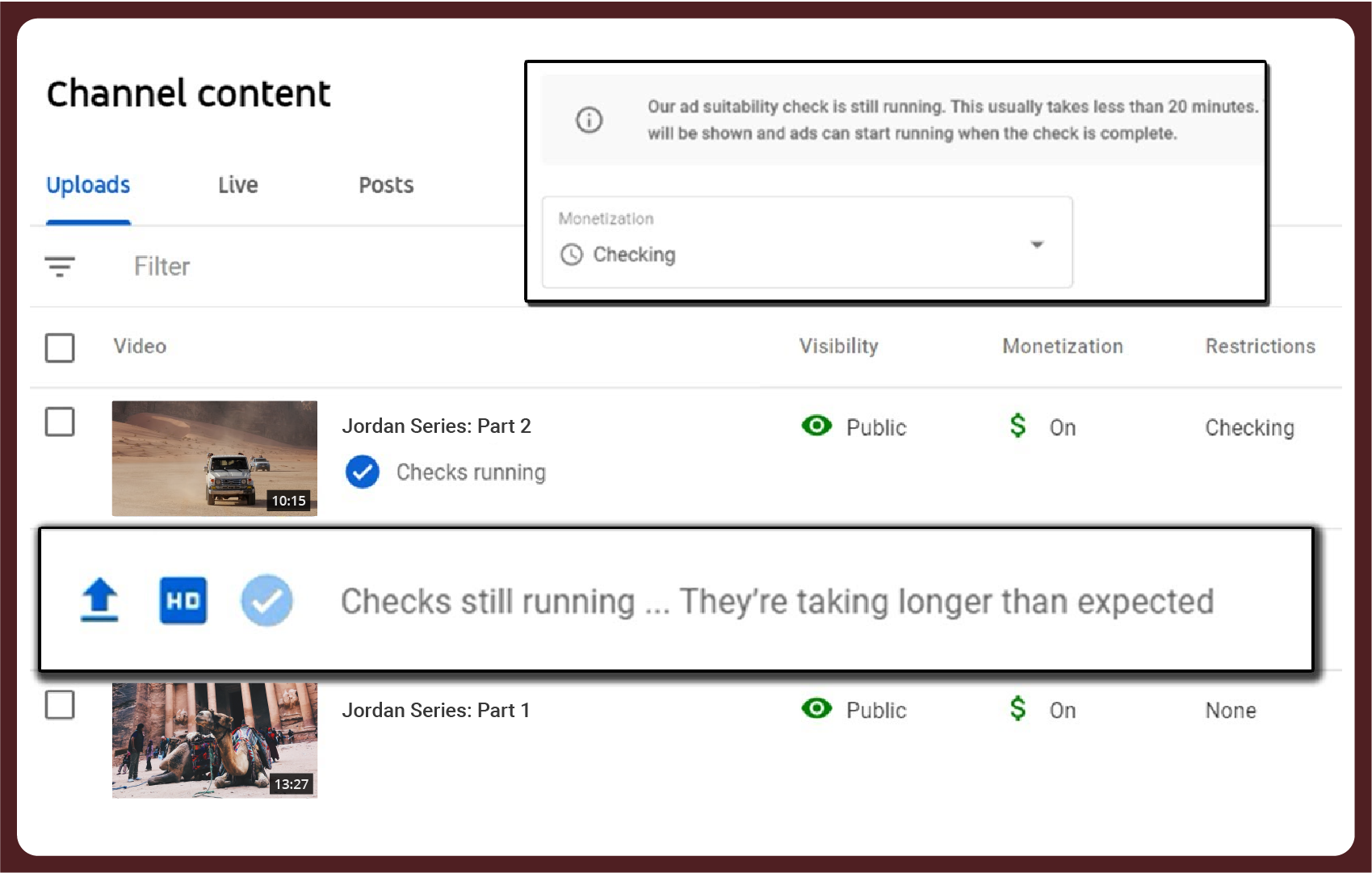 There are many possible reasons for your upload to be stuck in the middle of processing. If you are not sure about how YouTube uploads work, a 5-minute video which was recorded in the 720p format can use up to 80 MB of your storage, whereas the same video recorded in 1080p (HD) would be using the double amount of storage (160 - 170MB). Based on the quality, you will get an idea about how much your video size will be. If you think the video is above 128GB, it's best to cancel the upload and compress your video before trying an upload again.
It is also recommended to check your internet connection to see if the network is stable enough to process a large upload. Upload speed takes a toll during peak hours, and it eventually ends up in uploads needing longer durations to complete. You can check out some of the websites that do speed tests to see if it's an internet issue.
What is the ideal length for YouTube videos?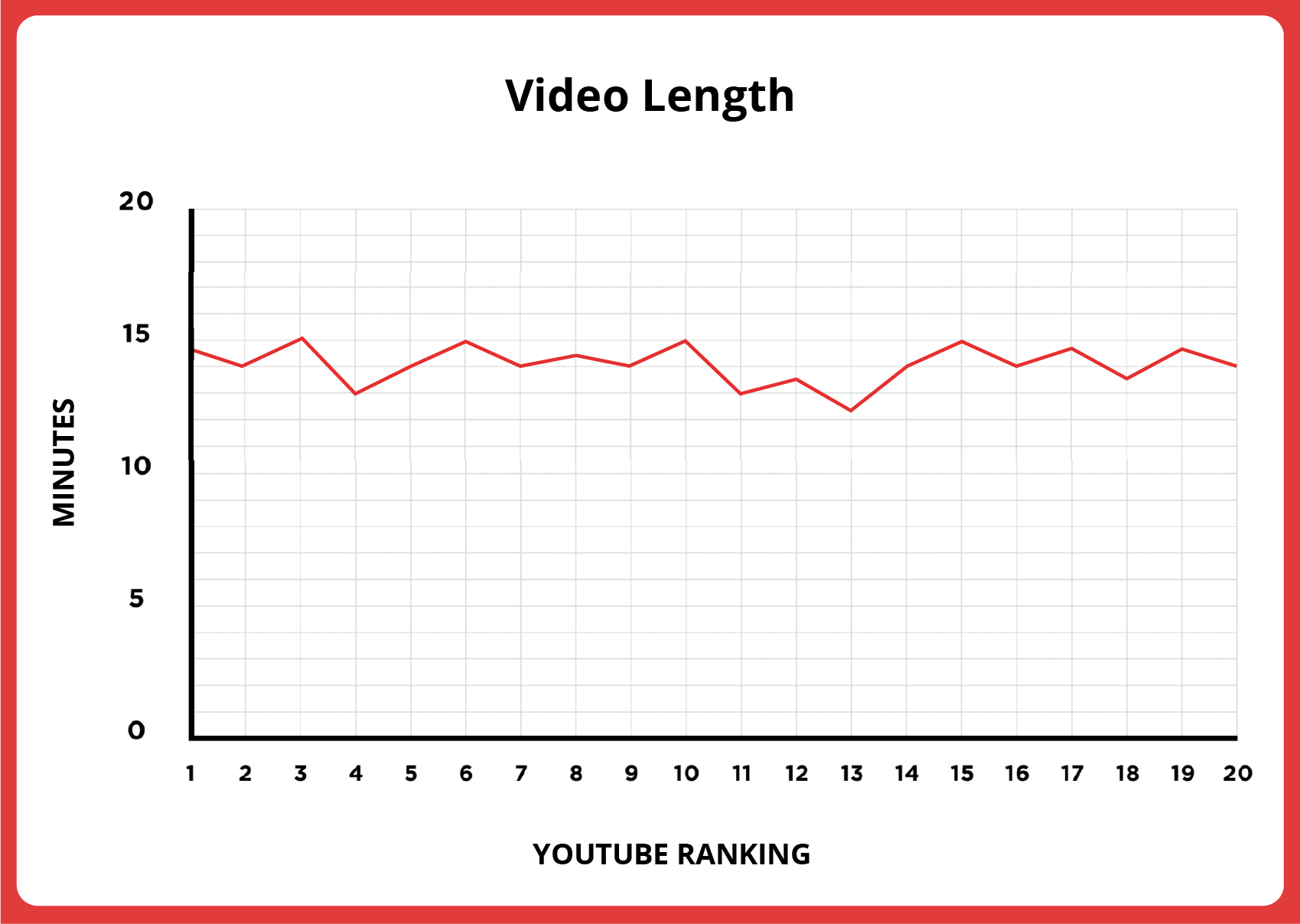 Even though the maximum length of videos on YouTube is up to 12 hours or 128GB, videos that are shorter seem to have the most impact on the platform in most case scenarios. Ideally, you would need a video to be in the range of anywhere around the ten-minute window to get the best results. However, videos that are generally between seven to 15 minutes of duration tend to work very well on YouTube. Even longer videos that are in and around 20 minutes also work in bringing in views consistently. Long story short - it's always best to publish videos that are straight to the point and drag the content instead.
How can you find the best length for YouTube videos on your channel?
No two channels and their audiences are similar by any means whatsoever on YouTube. Therefore, audience engagement, views, video content, and length will all have different effects. While any video that is in the range of 15 - 25 minutes should work fine across any YouTube channel, it does not necessarily mean that it will work for your channel as well. That's where the Analytics feature of YouTube Studio comes into play. Thanks to the consolidated report analytics provided to creators, you can get an idea about audience retention for all videos and see how long they tend to watch your videos. You can also calculate the watch hour change, and check the top videos of a particular period like the previous week. If you notice videos of similar lengths performing well, you should consider doing more videos that are of similar length to get the best results from your YouTube Channel.
Conclusion
YouTube algorithms can be a tough nut to crack and it can be difficult to predict how a video performs. However, delivering quality content is something everyone can do in their comfort. Understanding the basics of how most of the video's lesser-known features like aspect ratio, resolution, and video format all helps, in the long run, to ensure that your channel continues to grow. We hope this detailed guide on how to find the best video size helped you understand some of the lesser-known features of YouTube.