Beginner
Best Time to Post Videos on YouTube
Finding a prime time that works best for your YouTube videos can help you gain up to 5 times more views than you normally get. If you haven't been maintaining a schedule which time works for your YouTube account, here is a detailed guide to know about the best time to post YouTube videos.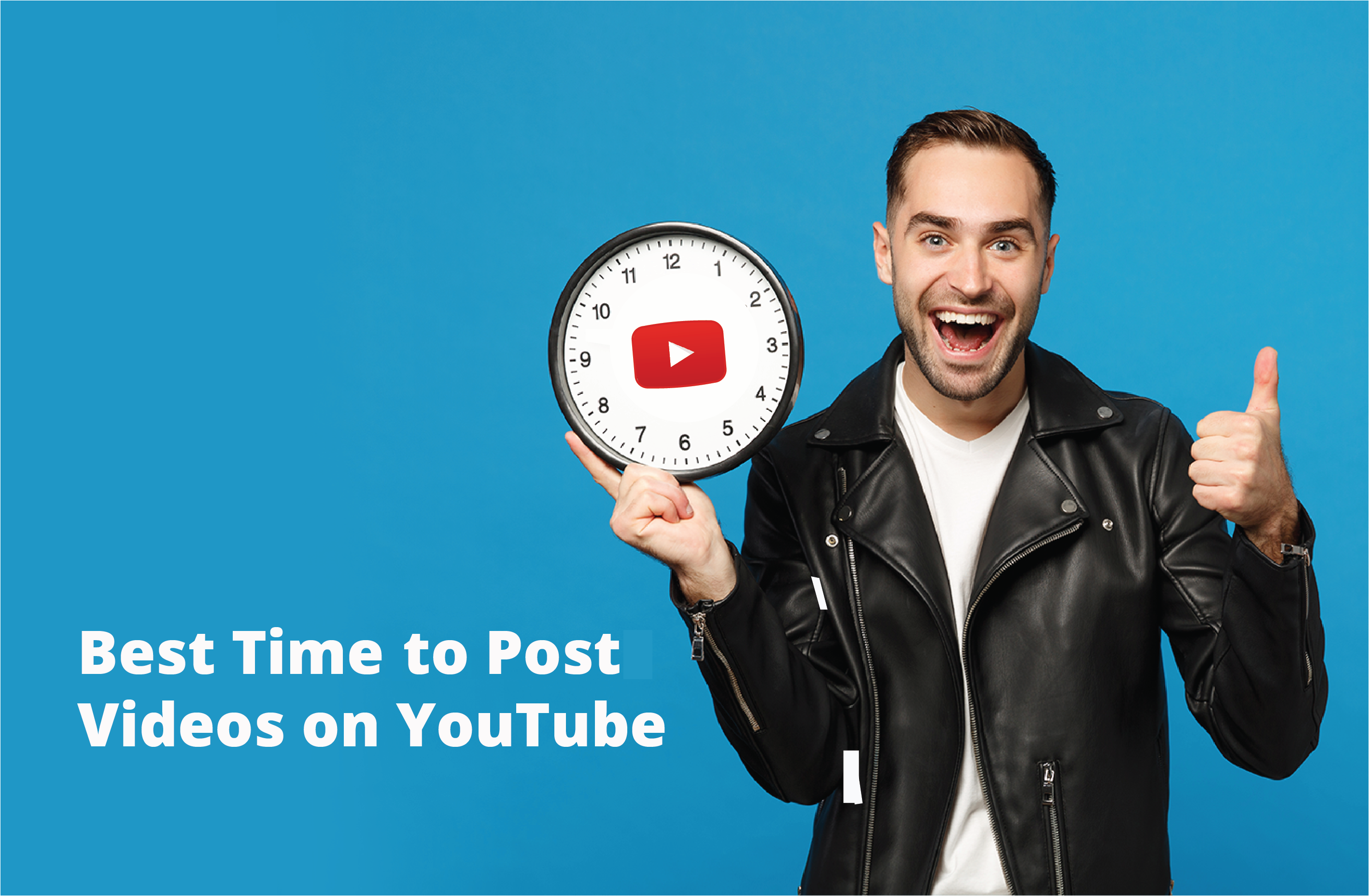 If you want to succeed in getting the maximum possible views from your YouTube channel, it is important to find a prime time to post your YouTube videos. Timing is so important, that finding the perfect time to upload videos can help you get the maximum engagement as soon as the video gets published. Therefore, spending time to find a perfect time to publish your videos can help a lot in the growth of your channel. YouTube also offers a wide range of in-built tools to help you find the best time to post videos on their platform thanks to their ingenious analytics. However, there are a few more ways that you can use to find the absolute best times to post videos on your YouTube channel.
Get More Engagement on YouTube by Posting on These Times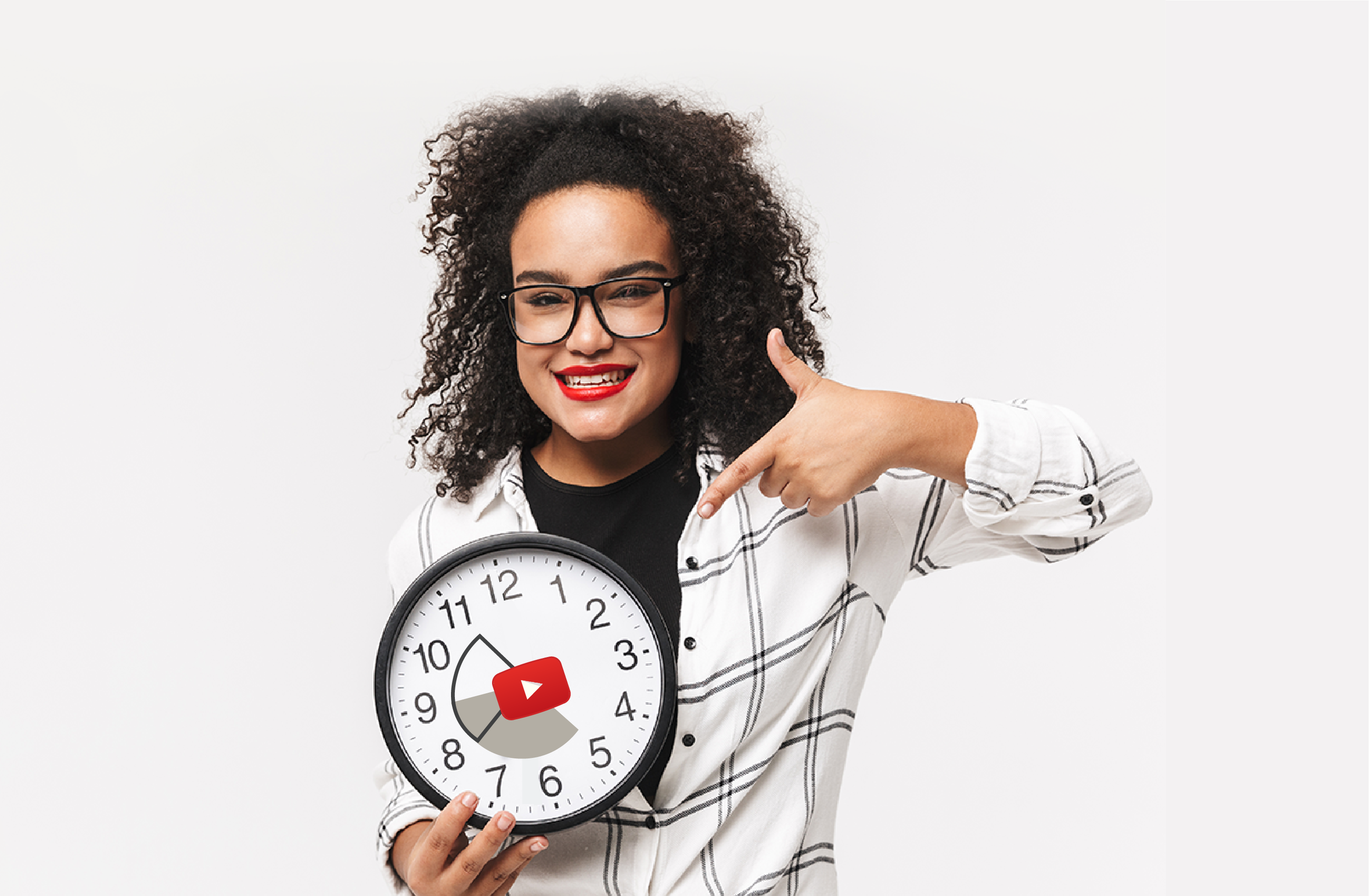 While this is generally a great idea to try out, it is not necessarily guaranteed to work for everyone. No two audiences are alike in most case scenarios and your subscriber's target age group can also vary a lot depending on the genre your content focuses on. Therefore, the response from trying out these generally great times to post videos can have different effects for different people and their YouTube channels. However, on a general note, it's worth experimenting with these timings and see how your videos are performing.
Best Days and Hours to Post YouTube Videos
Monday to Saturday - 5 PM to 9 PM
Sunday - 8 AM to 11 AM

Does the time of posting actually matter on YouTube?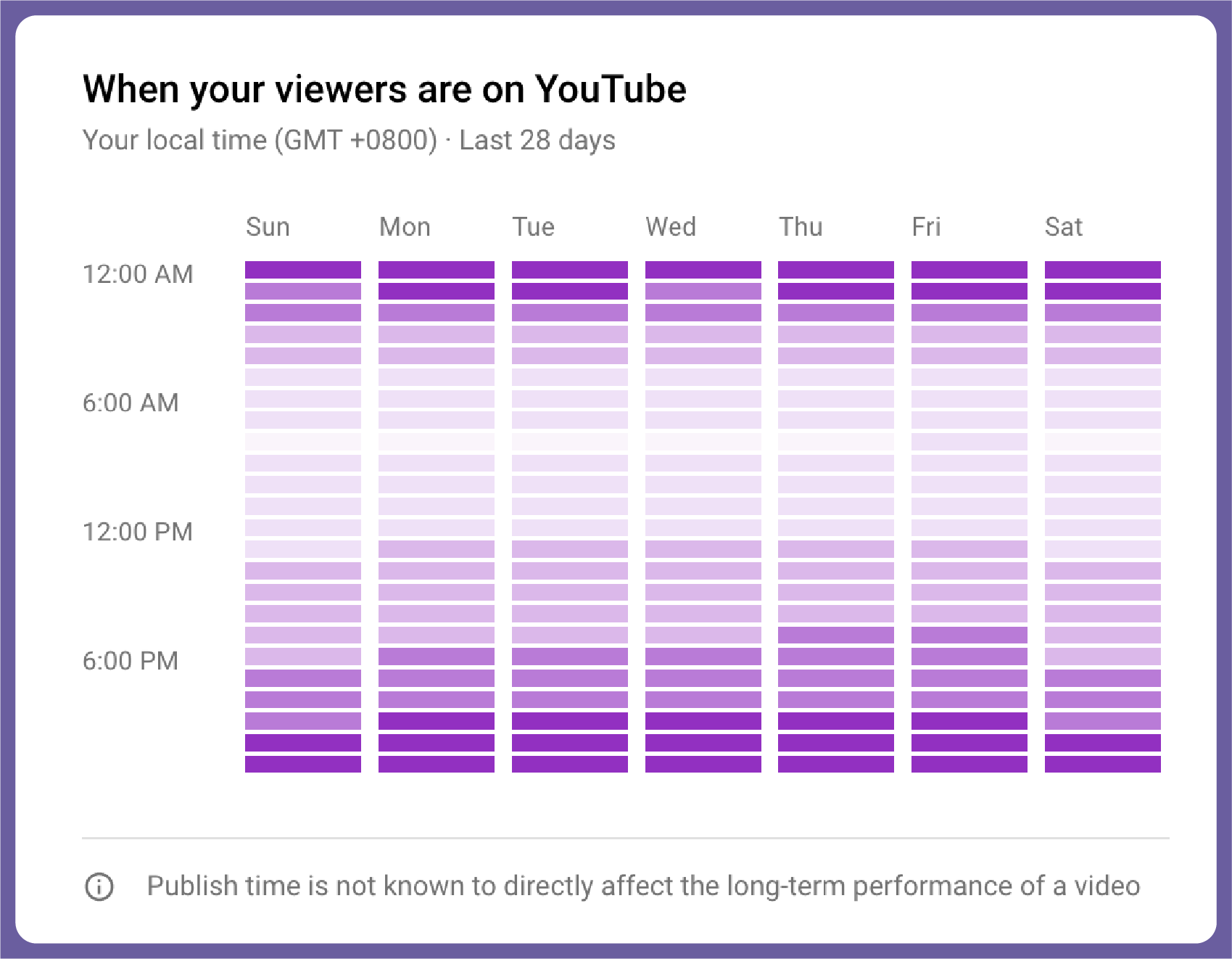 Even if you spend hours editing a video and post it at a time when everyone else is sleeping, you will not get the response you expect. Long story short - the time of posting matters a lot. All your subscribers receive a notification when you publish a video, and if you publish the video when everyone is away from the computers or mobile phones, chances are higher for them to miss your notification. If your target audience or subscribers are mostly working individuals or students, posting videos during the daytime is also not recommended as many might again miss the chance to go through your video. Ideally, you should be posting videos after working and school hours end (after 4 - 5 PM) on weekdays, and on mornings during weekends (after 8 AM) to get the best results from your videos.
Understanding the Basics of YouTube Analytics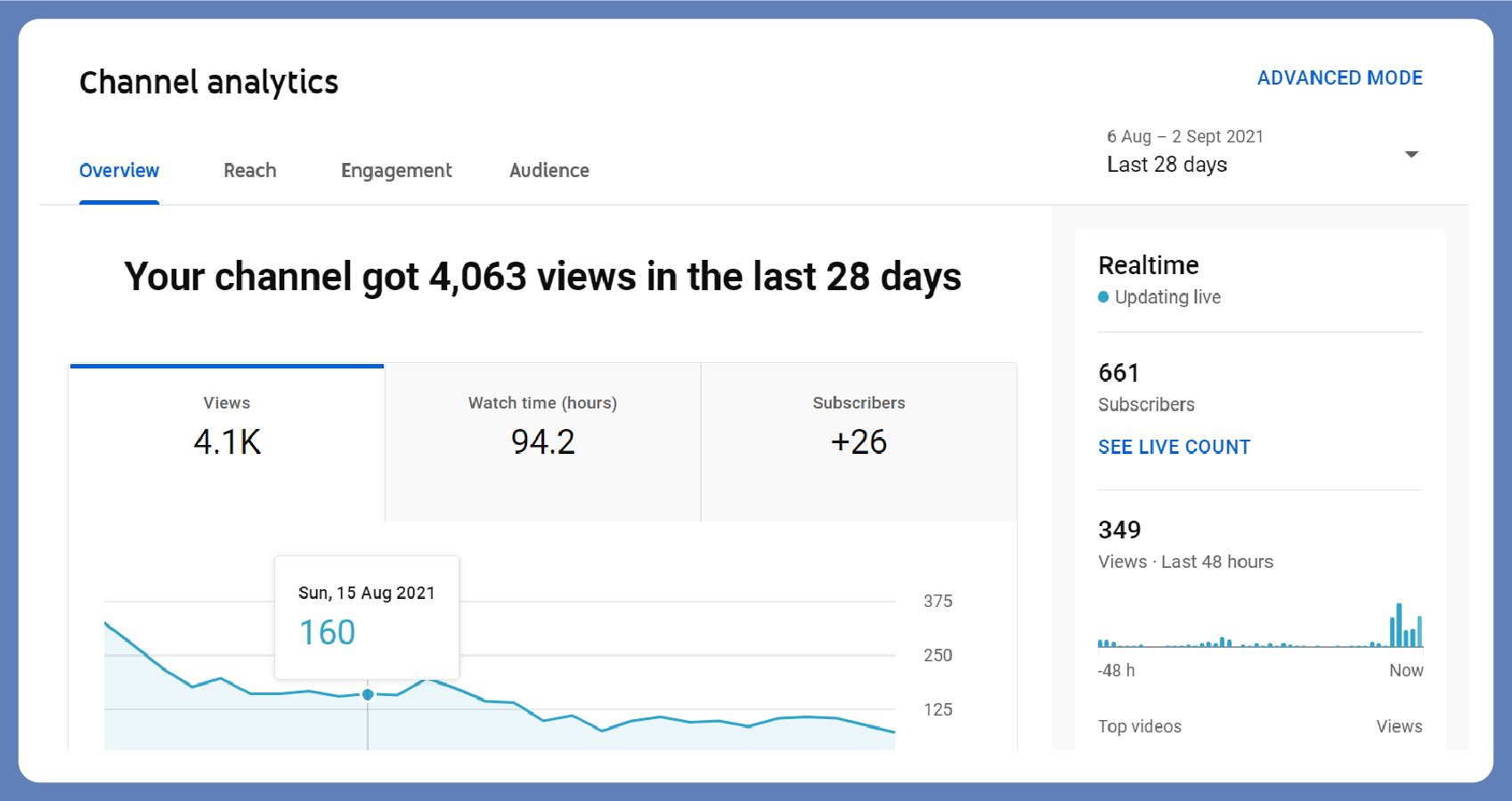 The introduction of YouTube Studio has made life easier for all creators on the platform. One of the best features of YouTube Studio has to be the YouTube Analytics that lets you track the performance of your YouTube video. Get instant access to metrics like typical performance, top videos, real-time performance over the last 48 hours or 60 minutes, and performance of latest videos along with reports of traffic to your content. You can also get a basic idea about how your videos are performing in different locations, along with which devices bring in the most views.
With this information, you can easily track which time brings in the most engagement on your videos and thereby time your next videos accordingly. You will also get an idea about what kind of videos work for your YouTube channel and what does not. You will also get an idea about what your competitor channels are working on through the suggested videos option. If you are new to YouTube and still figuring out the basics of how YouTube works, you can refer to our beginner's guide on how to start a YouTube channel for all the information you need.
How to use YouTube Analytics in finding the best time to post videos
YouTube Analytics is the perfect tool for creators to figure out the perfect timing for publishing a video. Here is a step-by-step guide on how to make the most of YouTube Studio.
Open YouTube Studio.
Head over to the Analytics tab.
Click on the Overview option
On the right side, look for the real-time option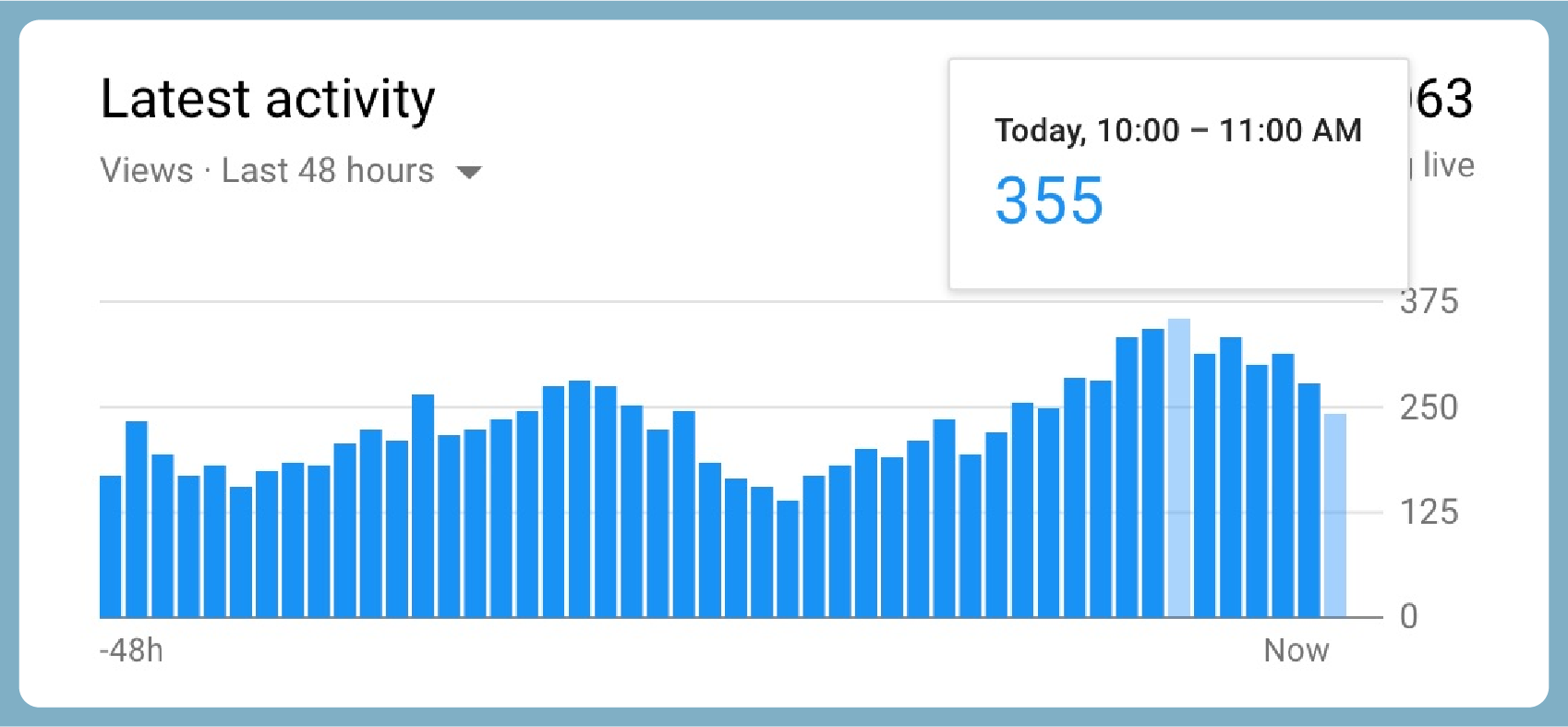 If you check the graph, you will see a spike during a particular time on a regular basis. This is often your channel's peak time or the time that gives the most views on your channel. Chances of getting the maximum are highest when you post around the same time regularly.
Understanding Your Target Audience and Demographics
Time zones have a solid impact on how your video performs. Hence, it is always important to have an understanding of your target audience and demographics. Checking out the 'Advanced Mode' from YouTube Analytics is the easiest way to get a better insight into which age group and location your subscribers mostly comprise of. You can find this option towards the top right side of your Analytics page.

Once you have that figured, the next thing you need to do is get a better idea about the demographics and primary age group that is visiting your channel and adjust your time schedules accordingly. To get an idea about demographics, you only need to come back to analytics and scroll down until you come across the Geography tab.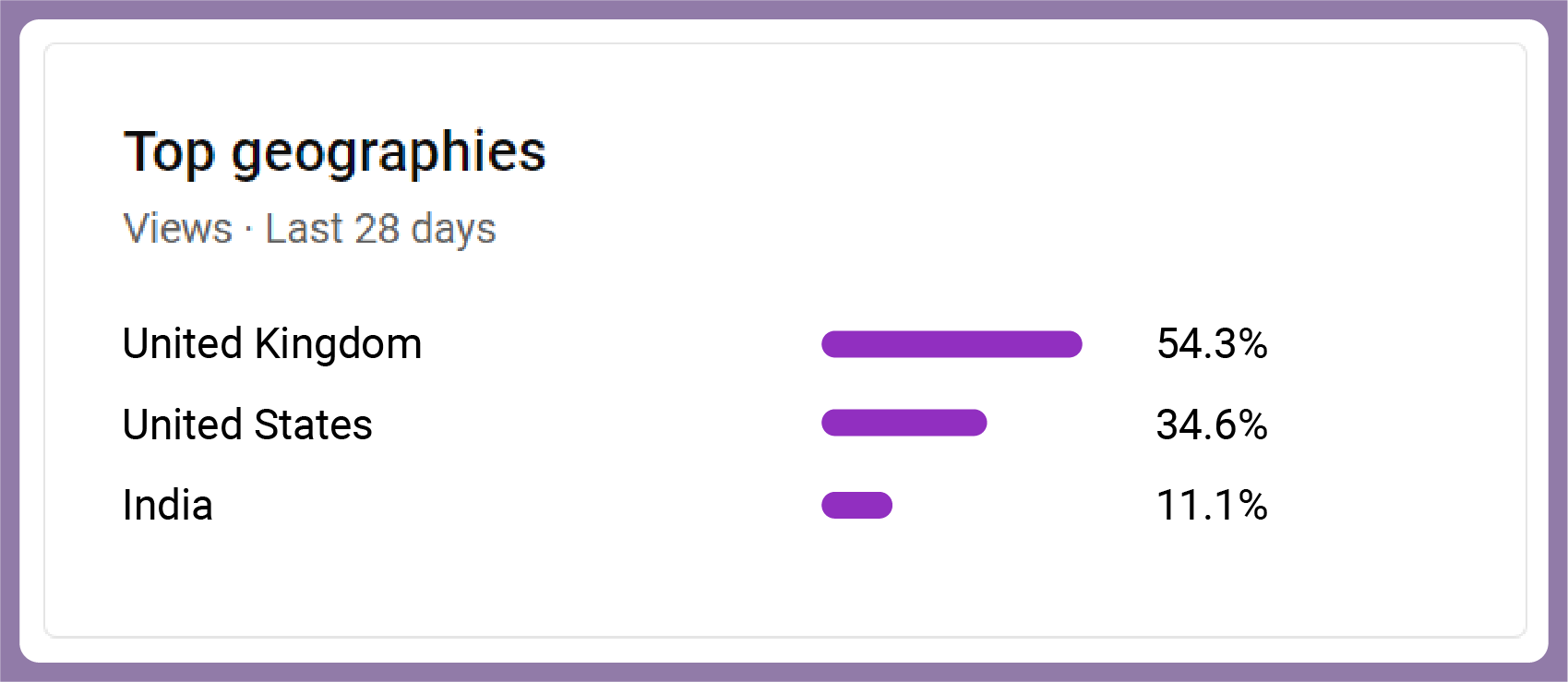 For further clarity on the age of your audience, you need to again scroll down on the analytics page until you come across the tab 'Age and Gender'. This will showcase a detailed report on the ratio of different age groups of people that visit your YouTube channel.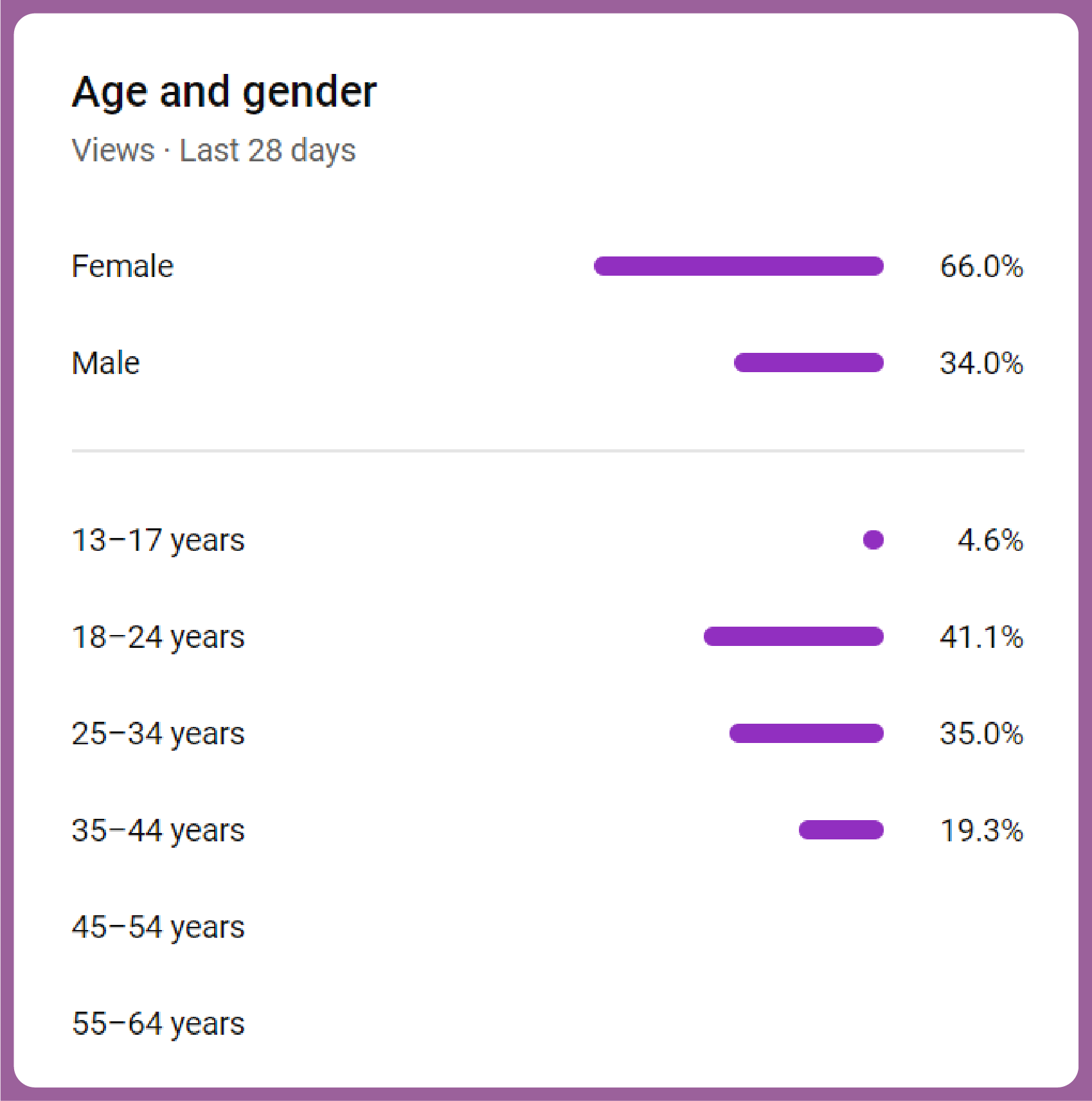 Focusing on content accordingly can help increase the discoverability rate and setting schedules based on the data you collect from YouTube Analytics further ensures that all your videos have the maximum possible visibility.
Should you always publish immediately after uploading?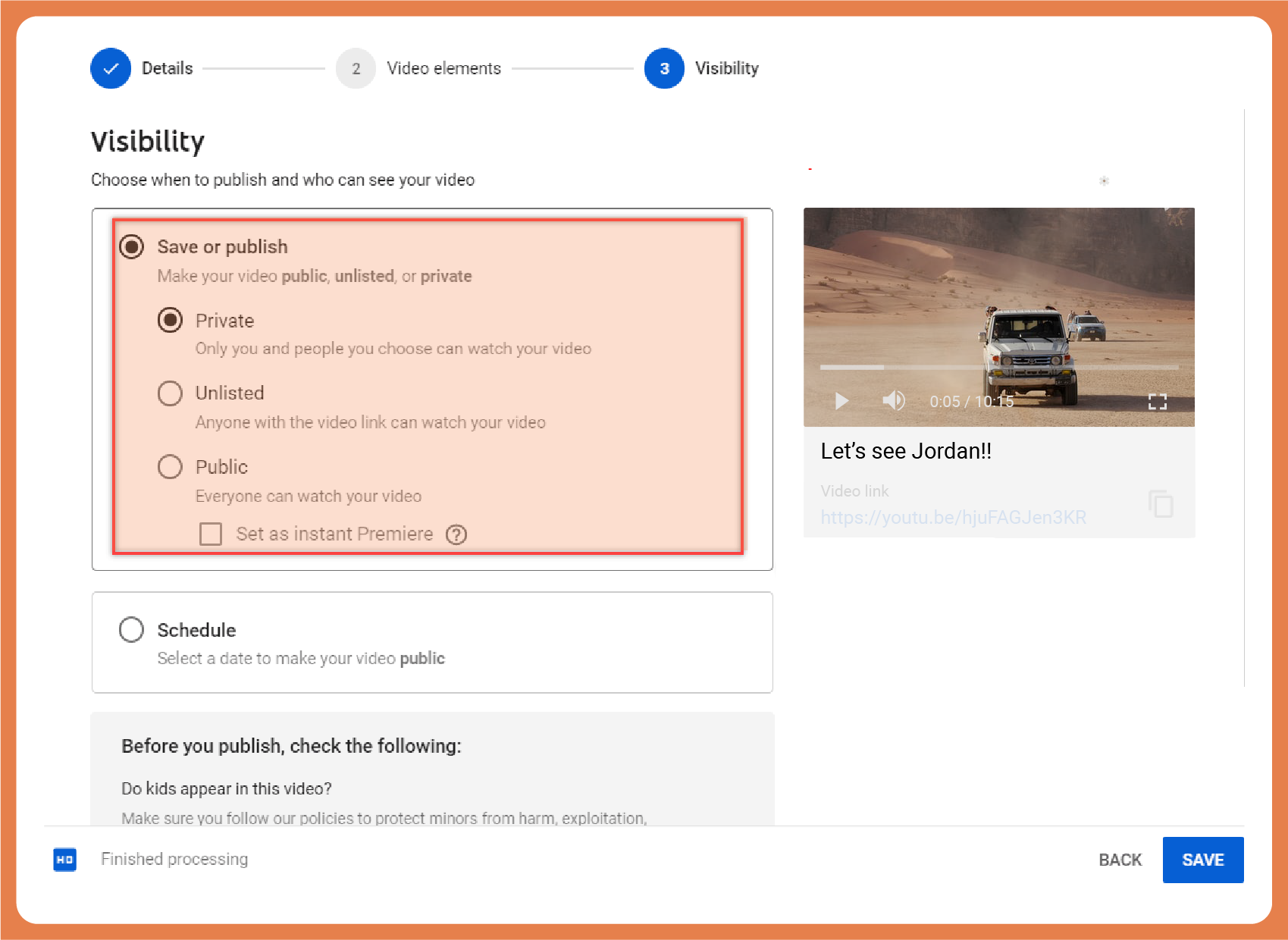 Creators, who are relatively new to YouTube often make the mistake of publishing their first video as soon as they upload it. However, this is not recommended and that too for multiple reasons. While it is not a bad idea to publish during the day on weekends, it is always best to upload videos after 5 PM on all other days. Another drawback with publishing immediately as you upload it is that initial viewers won't have access to High Definition versions (720p, 1080p, HD, 4K etc). YouTube needs time to get this ready, so it is always best to upload early and publish at a time when videos get the most engagement.
Why should you post YouTube videos before peak time?
Once you have figured out a prime time for your channel, you can experiment uploading in and around that to see how it affects your overall performance. If you are receiving the peak views in the one hour between 8 PM - 9 PM, it helps to upload by 5 PM and have it published by 6 PM - 7 PM. You will have plenty of time to make sure everything's right and the HD version will be available by the peak time, making it a more enjoyable experience for the visitors. YouTube also needs time to index and analyze the video so that they can suggest it to more viewers.
Which are the best days to publish new videos on YouTube?
As a majority of the global viewers on YouTube are found to be school-age children or young adults, Thursday and Friday are considered as the absolute best days to publish new videos. A reason for having two weekdays, instead of weekends when more people are free is that viewership generally ramps up on Thursday and continues this way until it peaks on Saturday and then starts cooling down by Sunday afternoon.
However, weekends are also great to publish new videos and you are guaranteed to get great results by uploading new videos on Saturday and Sunday mornings. Ideally, you would want to get the video uploaded around 9 AM to 11 AM on Saturday to extract the maximum potential of every video.
Can the time of publishing be the same on weekdays and weekends?
If you want the maximum views, engagement, and performance extracted from your videos, you should always maintain a schedule. It is alright to a great extent to have your videos uploaded in the evening every day, but any other time is always a gamble. As we have already mentioned before, the majority of YouTube viewership is either school-going children or young adults who spend most of their weekdays working. By default, this results in all videos that are published during the daytime of working days having less engagement when you compare it with videos published after 5 PM or during the weekends.
Is it good to premiere your videos on weekends?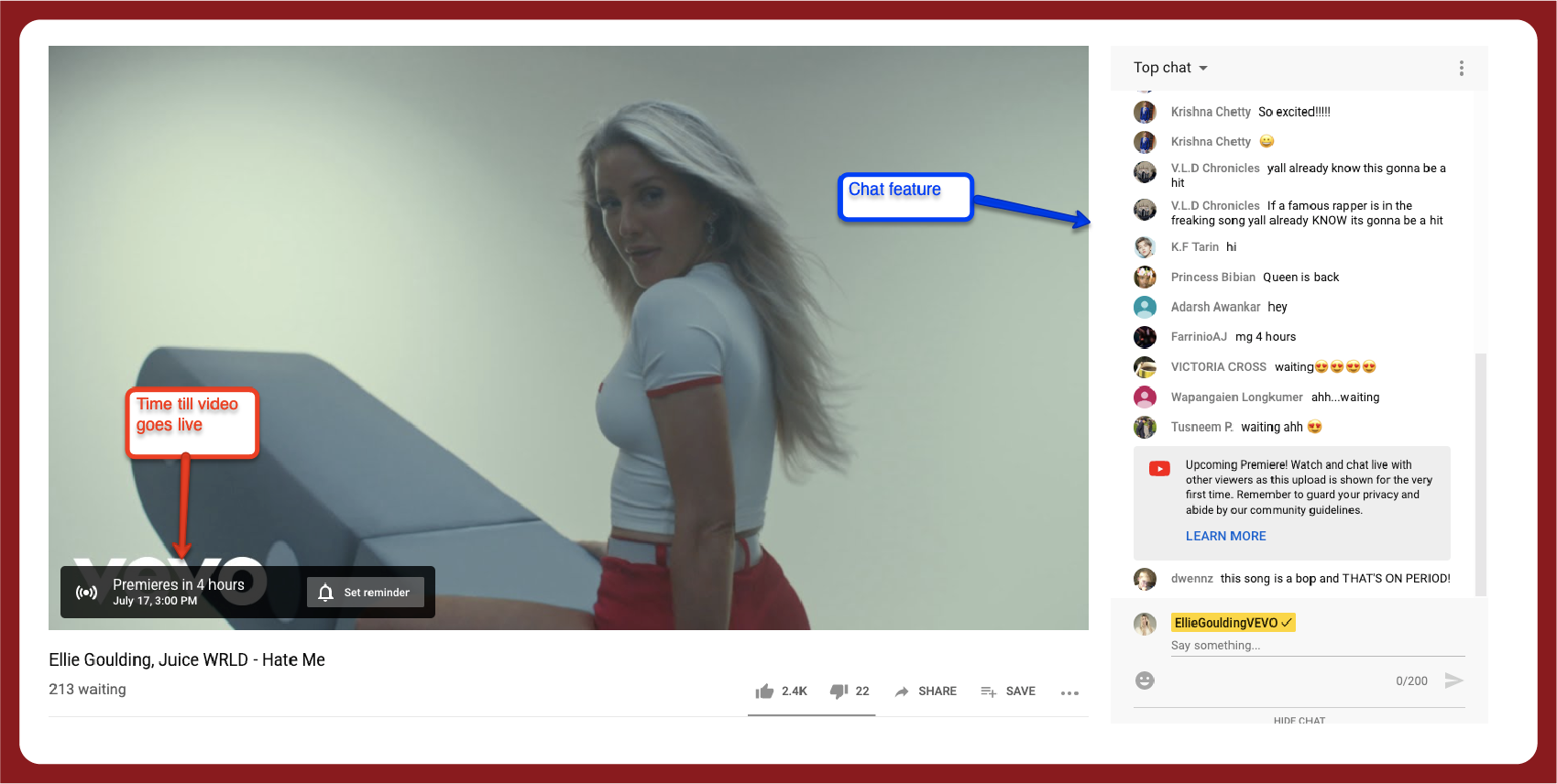 If you have more than 500 subscribers, it is always great to use the premiere option now and then to get an instant boost on views and engagement. However, the timing of the premiere is very important and can be the difference-maker in reaping the results of the premiere option. So what exactly is the premiere option?
YouTube provides creators with the option to schedule a video and publish it at a designated time. The main advantage of using the premier option is that your video will send out two notifications from your channel. The first notification will alert visitors about your upcoming premiere. The second notification will be sent out as the timer for the premiere starts counting down. A live chat feature will also be available throughout the premiere which further helps you to interact with your fans in real-time.
You will also get a real-time update about how a particular time slot works in terms of bringing in views and engagement. This will help you confirm if the time choice works or not. If you don't want to wait, but still see how a particular time slot works, you can also go for the instant premiere option which starts the counter immediately and premiers your video with live chat.
Conclusion
YouTube is all about trial and error plus consistency and experimentation. It can take you a couple of tries before you can find that sweet spot that brings in the maximum viewership of your channel. It is always best to start trying out different schedules when your channel is starting so that by the time you have a decent following, you will be well equipped with a solid schedule. If you stick to a regular schedule, your viewers will also come back to see new content based on the time that you usually upload new videos making it possible to have really high engagement all the time.