YouTube
10 UK YouTubers to Binge-Watch in 2023
Here are 10 UK YouTube channels that you can binge watch for hours and hours in 2023. If you are looking for some inspiration or not sure about how to find UK YouTubers that create quality content, we got you covered!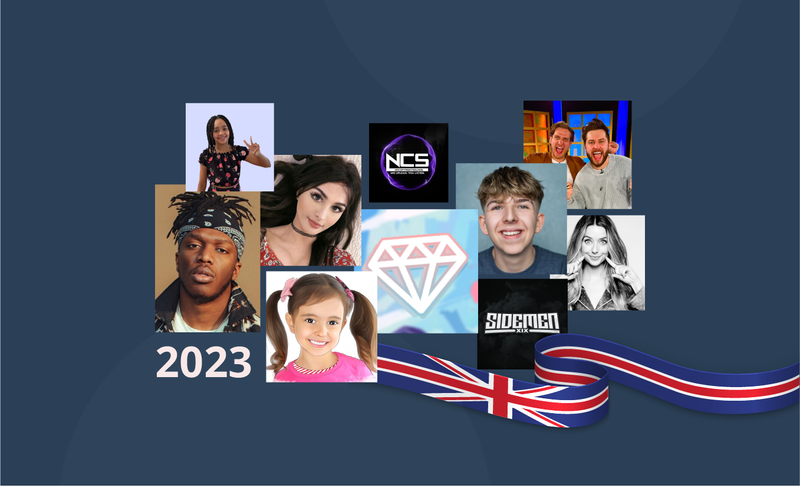 YouTube is a wonderful place to spend your free time binge-watching videos.
If you are from the UK, there are hundreds of amazing creators on YouTube, whose videos you can watch over and over again throughout the day.
The best thing about some of the most popular UK YouTubers is that they always make sure that the British humor and entertainment aspect are spot on in their videos which keeps the viewers coming back for more.
If you are short of options, or simply want to explore some new YouTubers from the UK, we got you covered with a curated list of 10 UK YouTubers to binge-watch in 2023:
1. JJ Olatunji
Olajide Olayinka Williams Olatunji, better known as KSI is one of the most subscribed UK YouTubers today with more than 16 million subscribers on the platform.
KSI, who recently changed his YouTube name to his real name JJ Olatunji is popular for his sarcastic and funny reaction videos.
He also makes collaboration videos and challenges with his group the Sidemen, which also features established YouTubers like Miniminter, Zerkaa, W2S, Behzinga, Vikkstar123, and TBJZL.
As of 2022, KSI mostly makes reaction videos where he reacts to funny videos, stunts gone wrong, epic fails, and even his own old videos.
Apart from being a YouTuber, JJ is also a musician, actor, and professional boxer, with his music channel, KSI with 24 million subscribers being the second most subscribed YouTube channel in the United Kingdom.
If you are looking to relax and spend some time binge-watching some funny reaction videos, you should definitely consider checking out JJ Olatunji's YouTube channel.
2. SSSniperwolf
With 32 million subscribers, Alia Marie Shalesh, popularly known as Sssniperwolf is an American-English YouTuber, based out of Liverpool.
Sssniperwolf started her YouTube channel in 2011 on a different channel called sexysexysniper which primarily focused on short vlogs.
The channel kicked off pretty well and even had 50,000 subscribers before she chose to delete the channel and decided to create an entirely new YouTube channel Sssniperwolf.
While she started off with gameplay videos, Alia eventually moved over to reaction and challenge videos. By 2020, she started getting a huge growth spurt with regular visits to the trending page.
If you are on the lookout for an active UK YouTuber to binge-watch in your free time, you can definitely consider checking out the regular uploads from Sssniperwolf.
As a bonus, you can also check out some of her collaborations with Dhar Mann for some engaging, funny, and exciting content.
3. Emily Tube
Emily Tube is one of the best UK YouTube channels for children that is popular for its child-friendly content like pretend play, toy reviews, and children's activities like kids having fun in the swimming pool, learning colors with balls, and others.
The channel, run by nine-year-old British YouTuber, Emily Cozmiuc was started in 2014 when Emily was still a toddler.
Emily Tube's channel is managed by Emily's parents, but the nine-year-old continues to be an active UK YouTuber who regularly uploads new videos.
One of the best things about Emily Tube is that her community of subscribers has seen Emily grow up from a toddler to a nine-year-old thanks to the 770 uploads on her YouTube channel.
Some of Emily Tube's most popular videos 'Walking Baby Doll at Playground', and 'Catching Baby Dolls Aprender Colores' both have 389 million, and 234 million views each, making them two of the most watched children's videos ever.
4. DanTDM
Daniel Robert Middleton, better known online as DanTDM (formerly TheDiamondMinecart) is one of the most popular UK YouTubers out there today with 26.5 million subscribers.
He shot to fame for his gaming videos on Minecraft, but he later moved over to multiple games like Roblox, Fortnite, Sonic, Pokemon, and Among Us.
One thing that separates DanTDM from most of the established YouTubers is that all of his content is child friendly, and can be watched by people of all ages, and from all walks of life with the same intensity.
When he is not creating content for his YouTube channel, DanTDM works on books and has also released a graphic novel called 'Trayaurus and the Enchanted Crystal' that features characters from his channel like Grim the Skeleton Dog, Dr. Trayaurus, evil scientist Ocean man, and many others.
DanTDM is not a UK YouTube channel that shares new videos every day, but you can always find at least two new videos every week on his YouTube channel.
If you are searching for a UK YouTuber with family-friendly content that's perfect for a group watch, it is highly recommended to check out DanTDM's videos on YouTube.
5. NoCopyrightSounds
Regardless of whether you are in the mood for some fresh tracks, or want to find that perfect music track that goes with your new YouTube video, NoCopyrightSounds (NCS) has you covered!
With almost 33 million subscribers, NCS is the most subscribed YouTube channel in the United Kingdom.
They are also one of the most used music record labels on YouTube that offers copyright free/stream-safe music to the YouTube creator community.
All of their tracks are free to use and you only need to add the track information to your video description to use their music on your YouTube videos.
If you are into music or want a consistent supply of new tracks, you must definitely check out NoCopyrightSounds as they add a new song every day.
There are thousands of artists on the label, and new artists are onboarded regularly.
You can find works of artists that work with different genres like House, Dubstep, Trap, Drum & Bass, Electronic Dance Music, Electro Pop, and many more on NCS music.
Some of the most popular songs today like Alan Walker's Fade, Cartoon's On & On, and Lost Sky's Fearless are all NCS releases. As these were copyright-free, many YouTubers made use of these tracks which widely popularized these tracks.
6. Dan Rhodes
If you are interested in magic tricks, you are going to love Dan Rhodes!
Daniel "Dan" Rhodes is a 19-year-old UK YouTuber who is popular for his magic trick videos that he shares on his YouTube channel Dan Rhodes.
With more than 17 million subscribers as of date, you might think that Dan Rhodes started out with magic tricks on YouTube. However, it was actually a reality show - Little Big Shots (UK) where Dan made his debut.
He would later follow this up with Little Big Shots (US), and Britain's Got Talent before making the transition to TikTok.
Eventually, he would also launch his YouTube channel which didn't find any traction in the early days.
However, his TikTok account blew up and this helped him get around 15K subscribers on YouTube, but it was the introduction of YouTube Shorts that really kickstarted Dan Rhodes's YouTube career.
Dan Rhodes was one of the creators on YouTube that benefited the most from YouTube Shorts as he instantly went from 18,000 subscribers to 100K subscribers after he started posting YouTube Shorts regularly.
This growth would continue to date where his subscriber count has grown past 17 million with an average of 100 million views every day.
If you want a daily dose of magic, you now know where to look!
7. Sidemen
Sidemen are a group of seven UK YouTubers - KSI, Miniminter, Zerkaa, Behzinga, Vikkstar123, TBJZL, and W2S who collaborate together to make vlogs, challenge videos, sketches, and many more.
Apart from the group members, Sidemen also do collab videos with some of the most prominent YouTubers like MrBeast, Logan Paul, and many others.
If you are checking out Sidemen, it is highly recommended to watch some of their Sidemen Sunday series videos which have their absolute best content, along with the Sidemen Show which features 7 episodes included as a YouTube Original series.
The Sidemen also does a lot of charity events through their YouTube channel.
If you want specific content of Sidemen like short videos or reaction videos, check out their four other YouTube channels - SidemenReacts, MoreSidemen, SidemenShorts, Sidemen en Espanol.
Sidemen also host occasional contests where they invite others, along with entering challenges hosted by creators like MrBeast as team Sidemen.
8. Tiana
Tiana (formerly known as ToysAndMe ) is a UK YouTuber who is considered to be the youngest girl in the history of YouTube to cross 10 million subscribers on the platform.
She is based out of Nottingham, England, and creates content that primarily focuses on unboxing, toy reviews, skits, Q&A, daily routines, and pranks.
The channel is run by Tiana Wilson and her parents who also frequently make appearances on Tiana's YouTube channel.
An interesting fact about Tiana's YouTube channel is that she started her YouTube channel at the age of 7, back in 2015.
Most of her content back then was created and published by her parents Nigel and Cherina.
If you are searching for a UK YouTube channel to binge-watch light humor, pranks on parents, or child-friendly content, you can check out the many videos from Tiana.
9. Zoella
Into makeup and skin-care videos, but can't find a beauty and lifestyle guru that has content that matches your requirements?
Zoella has you covered!
Zoe Elizabeth Sugg is popular on YouTube as Zoella and Zoe Sugg with both channels having a combined total of 14 million subscribers.
Even though Zoe shot to fame on YouTube through her primary YouTube channel Zoella, she hasn't uploaded any new content to the channel with 10.8 million subscribers for the last 4 years now.
However, she does maintain consistent uploads on her second channel Zoe Sugg, with 4.93 million subscribers.
Most of her content on both YouTube channels features videos on fashion, lifestyle, skincare, product recommendations, product reviews, and daily vlogs.
Zoe also has her own line-up of skincare and beauty products called Zoella Beauty
10. Woody & Kleiny
Paul Wood and Paul Klein, are more familiar with the audience on YouTube as Woody & Kleiny is a UK YouTube duo that is popular for their intense challenges, skits, and vlogs.
The duo however did not start their career as entertainers through YouTube.
Instead, they initially started as a freestyle football duo that appeared on Britain's Got Talent. However, an injury for Kleiny prevented them from playing football again which led to the creation of their YouTube channel.
Today Woody & Kleiny with more than 10 million subscribers regularly upload YouTube shorts primarily on their channel which also feature their friends taking on challenges like hammering a nail to a tree trunk, swipe challenges, pranks between friends, and many more.
Some of the most popular videos on their YouTube channel continue to be the Best Pause challenge which has now accumulated more than 46 million views.
Their prank war series are also very engaging and entertaining if you are into watching friends prank each other and get their revenge.