If you are new to Shopper, you may wonder how to start earning.
But worry no more, for we have you covered with everything you need to know about how to earn money with Shopper.
There are a few ways for creators to earn money on Shopper. From making use of the auto monetization feature to generating affiliate revenue, the options are many.
Shopper also has a dedicated analytics feature which is accompanied by an earnings report that tells you how much money you have generated by adding products, coupons and deals, and affiliate links.
However, it should be noted that you will need to add your bank details to withdraw the revenue you generate through your Shopper account.
Now that we've covered the basics, let's take a detailed look at the different aspects you need to know about how to earn money with Shopper:
What are the different monetization features of Shopper?
Creators have multiple options to monetize their content through Shopper. If you are new to social media or not sure here is a quick look at the different options you have:
Affiliate Marketing
If you are a creator on social media platforms like Instagram, YouTube and TikTok, you will be no stranger to brand collaborations and affiliate marketing.
Affiliate marketing is one of the easiest ways for creators to earn side revenue on social media platforms by promoting a brand or product through their social media platform.
Having a Shopper account that lets you showcase all your affiliate products into neat collections is a great way to boost your affiliate marketing visibility.
You can add your affiliate links to the products you add on Shopper, and whenever someone views your product collection and makes a purchase, you get the affiliate revenue.
Enable Monetization
Don't have affiliate partnerships but still want to showcase products and make some extra bucks out of it? We have you covered with three different monetization options that offer monetization for everyone who has a Shopper account.
Yes, that's right, by showcasing a product and making successful conversions through sales, you get a percentage of the total order value per sale by enabling monetization on your account.
There are three different monetization options you get as a Shopper user:
1) Default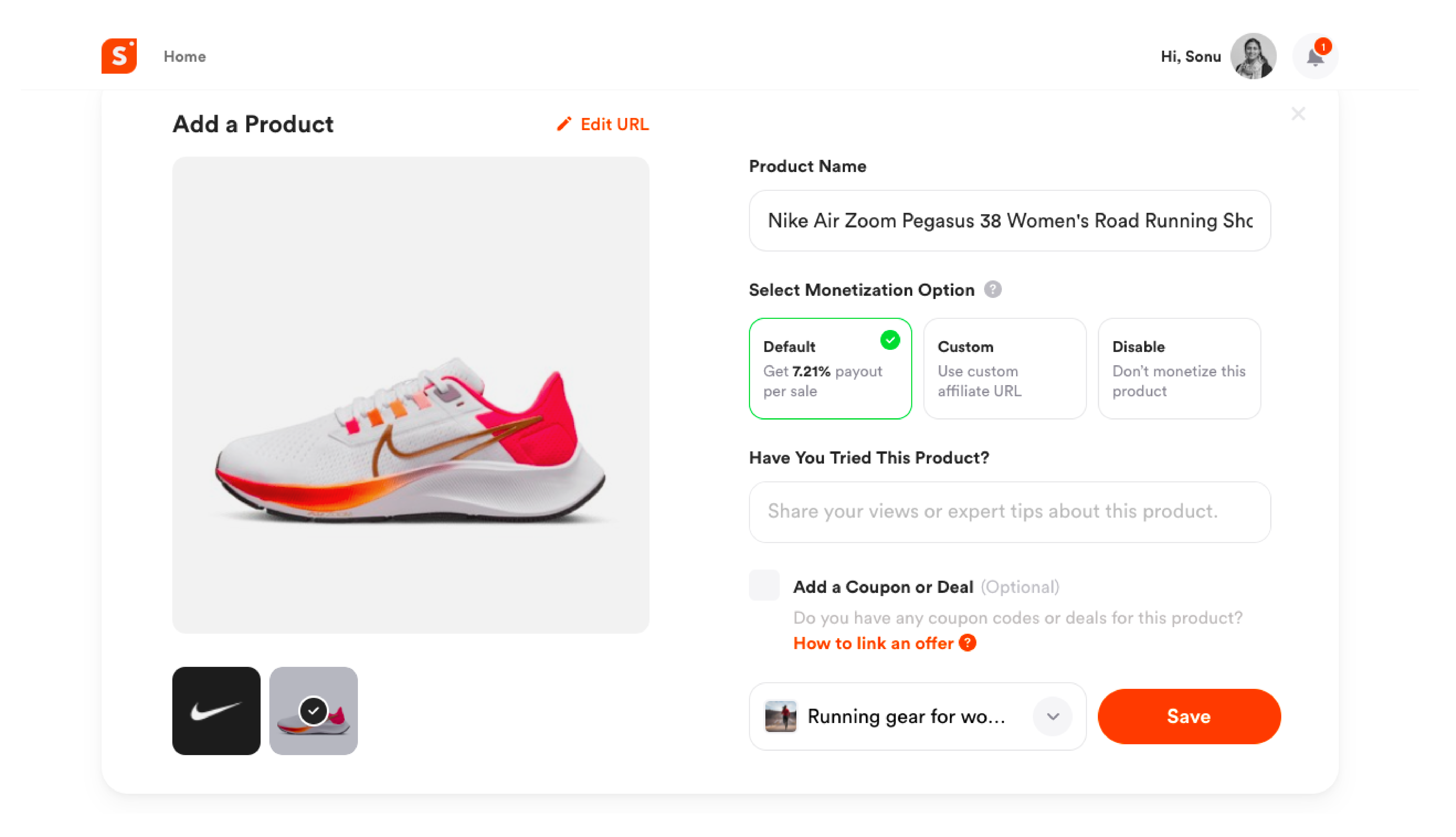 If you have monetization enabled on your account, by default you get a percentage of the total order value every successful sale you generate. This option will be enabled by default unless you change it on the add product screen, or switch to any of the other monetization options listed below.
2) Custom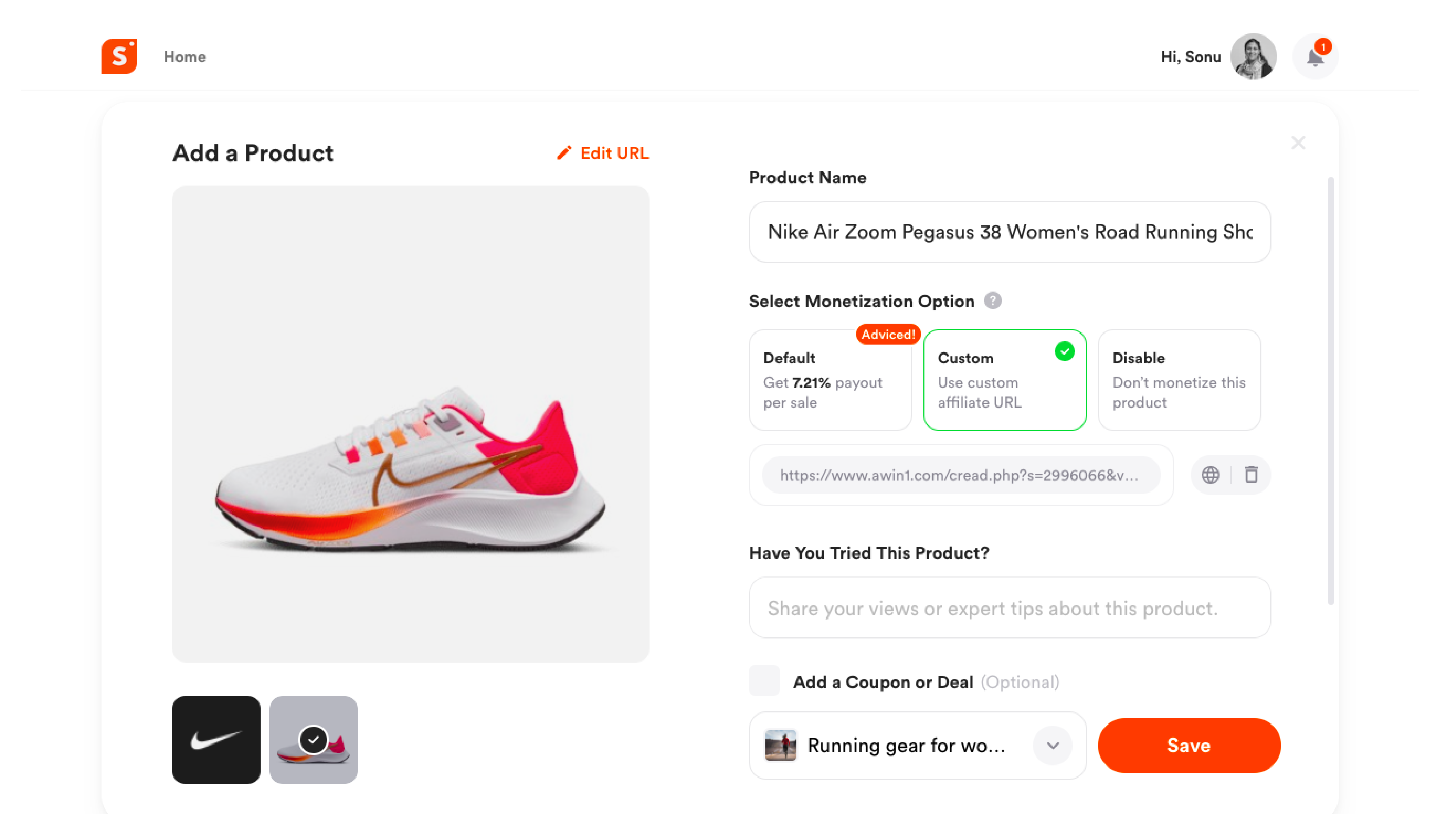 Now if you are a creator with affiliate links, you can go for custom monetization and get the monetary benefits directly from the affiliate partner. This monetization feature works like how your usual affiliate monetization works and gives you the commission value the brand you are collaborating with has on offer.
Affiliate store links can also be added for affiliate programs like Amazon Associates automatically by entering your affiliate store code. This way, you won't need to manually add affiliate links, as we will do it thanks to our auto monetization feature.
You only need to confirm your affiliate code and save it on your Shopper account.
3) Disable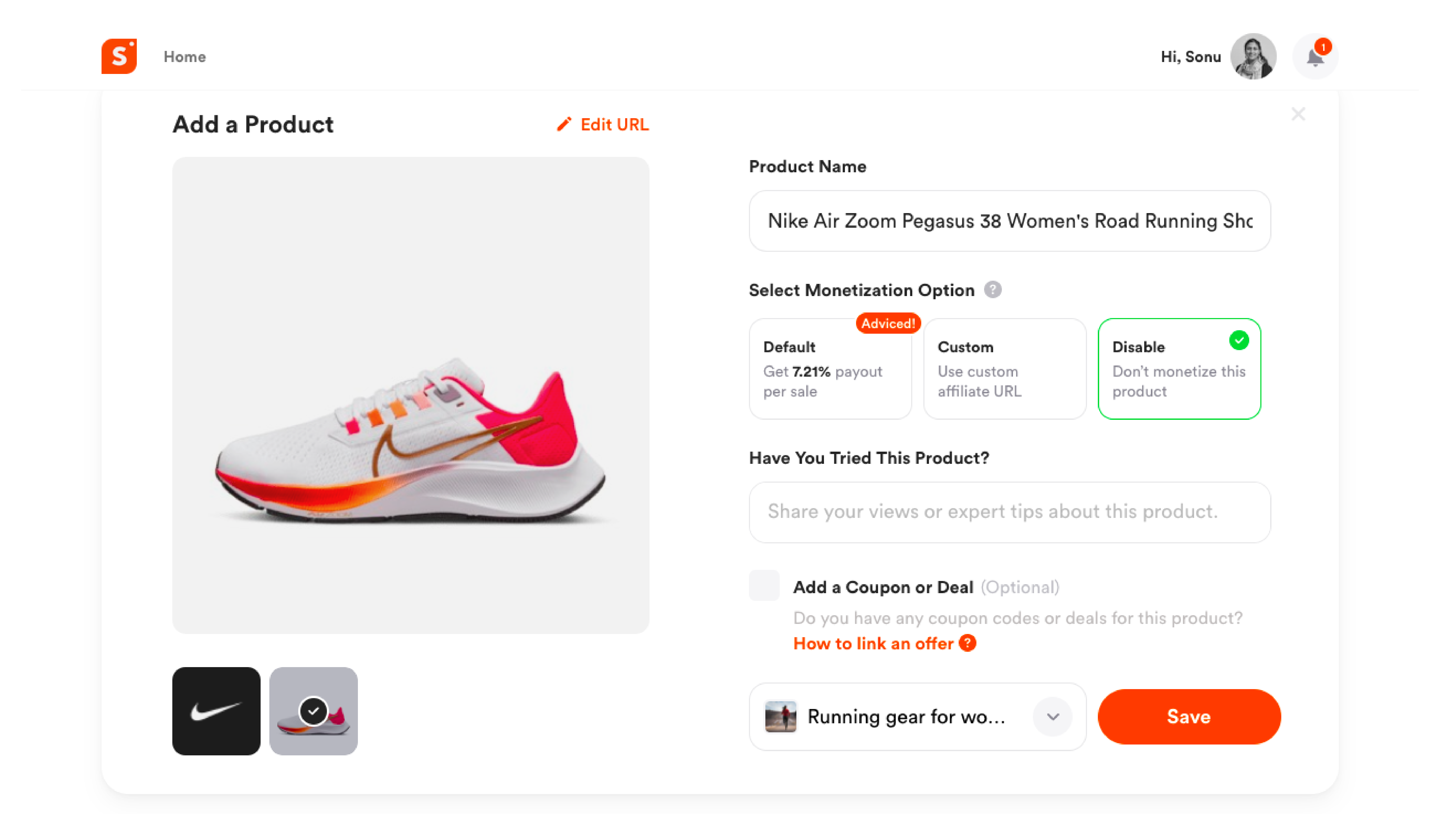 Don't want to monetize the products you are sharing? There is an option for that too on Shopper!
Sometimes, there are scenarios where you are sharing or showcasing your merchandise or product. Maybe you are currently collaborating with a brand that does not give commissions per sale and you need to disable monetization.
By opting to disable monetization, you can still showcase products and direct visitors to the product page where they can make a purchase. However, if you disable monetization, this will not generate any affiliate revenue for the successful conversion.
How to earn money on Shopper by adding coupons or deals?
Another easy way to earn money on Shopper is to share coupons or deals before they expire!
Yes, that's right. All those discount coupons, promo codes and lifetime deals that you don't use can be traded in for quick cash. Even if you don't need them, someone else might.
People can search, find and use your coupon.
In return for helping them find amazing discounts, Shoppers rewards you with a payment that can be withdrawn at any given time. Now, who doesn't love a win-win way of monetization where you get paid for sharing a discount code for someone in need!