YouTube
YouTube Updates That Every Creator Needs to Know in 2022
YouTube has rolled out a series of latest updates to help improve the creator experience. If you didn't know already, here are all the latest YouTube updates that every creator needs to know in 2022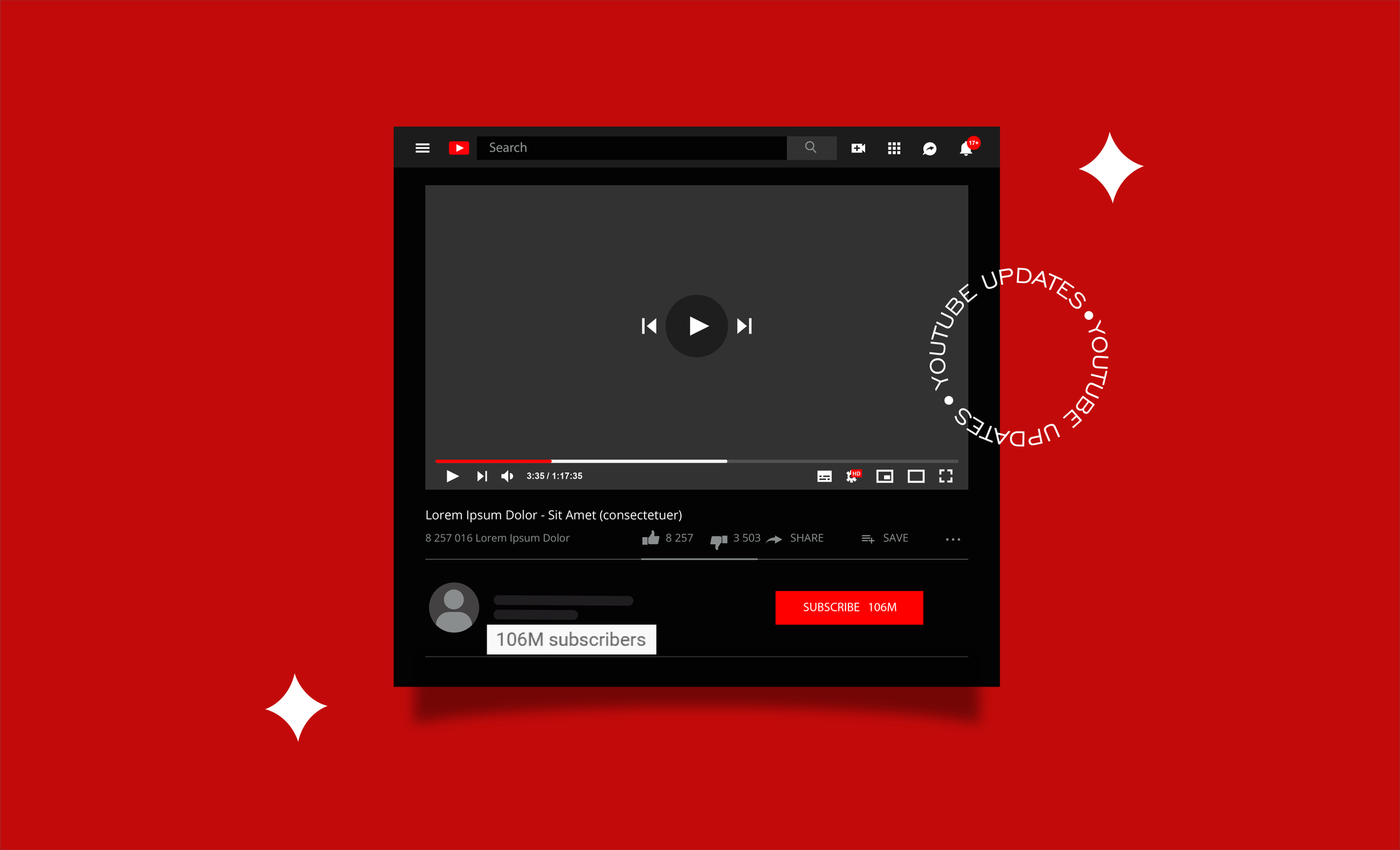 YouTube never stops evolving and this has always been the case since its inception back in 2005.
Creators love YouTube for its simplicity, accessible interface, and of course consistent updates that aim to improve the overall creator experience.
That's why it helps to stay in the loop of what's happening in the world of YouTube.
If you have been slacking off from some of the latest updates that made their way to YouTube in 2022, we got you covered.
Here is some hot and spicy intel into some of the latest YouTube updates that every creator needs to know in 2022!
1. You Can No Longer Hide Your Subscriber Count

Not sure if this is good news or bad, but you can no longer keep your subscriber count private.
As of July 31, 2022, you can no longer hide your subscriber count, as YouTube finds impersonators making use of this feature to create fake channels across the platform.
Before this update, creators had the flexibility of keeping their number of subscribers private on the platform.
Only the channel name would be displayed to visitors, and the subscriber count would be blank!
The hide subscriber count feature was great for creators that were just starting as viewers would not judge them based on their subscriber count, and give them more chances.
However, YouTube believes that this feature is misused in instances where people impersonate popular YouTube channels. As the number of subscribers remains hidden, it can be difficult to tell whether the account is real or impersonated.
If you are someone that's kept your subscriber count private, check your channel to see it available as public now!
2. Restricted Usage of Special Characters
Facebook was one of the first social networking platforms to restrict people from using special characters, and fonts on their Facebook usernames.
YouTube used to allow the same for channel names, but it's all changing now.
With the new restriction in place, you will not be able to spell "YouTube" as "¥ouⓉube" anymore. This is again introduced in a bid to reduce the number of spam accounts on the platform.
However, not all special characters are getting the hammer. Some of the characters will still be allowed as if nothing changed.
Ideally, it's best to keep the channel name in the simple alphabet as it instantly improves your overall discoverability chances, and boosts the ease of finding you on the platform.
So why did YouTube suddenly introduce restrictions to special characters?
The reasoning is the same and stems from the fact that people use special characters as a walkaround to impersonate the names of popular YouTube creators. With restrictions on special characters enabled, this trick won't work anymore!
3. Enforcement of Stricter Comment Moderation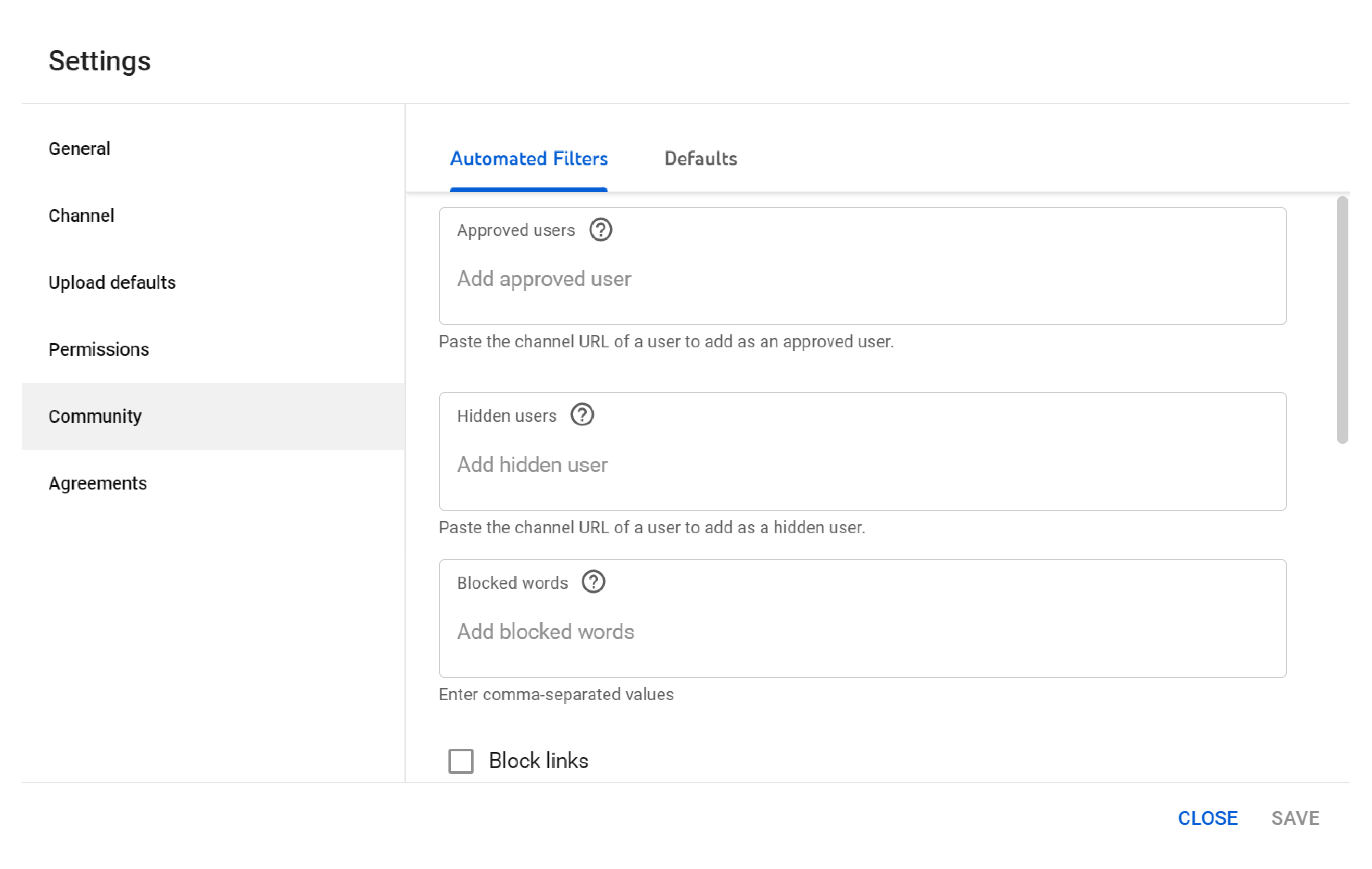 Cyberbullying is becoming a major issue across all social media platforms today.
The situation is no different when it comes to YouTube as well. However, there have been a lot of conscious efforts from the side of YouTube to combat the issue.
Among these series of updates, the latest one happens to be stricter comment moderation.
As a result, you now have added options to automatically hold comments for moderation. These comments will only be available for the general public to see after you approve them.
If you know where this option is, you will now see a new field - Increase Strictness added to the list.
If you didn't know about the comment moderation option, follow these steps to enable the comment moderation feature:
Log in to your YouTube account and go to YouTube Studio.
On YouTube Studio, scroll down the left side menu panel until you come across "Comments"
Tap the "Go to Settings" option from the right side of the screen.
You will be redirected to the "Community" tab on the Settings page.
By default, "Hold potentially inappropriate comments for review" will be enabled.
You can enable the new option "Increase Strictness" to hold even more comments for review.
This will further strengthen YouTube AI to detect inappropriate comments and spam links.
Whenever a spam or abusive comment is added to the system, it will be automatically filtered and held for review here.
Creators can either approve the comments if they were held up incorrectly, delete them, or report spam as per their requirements.
4. Channel Membership Gifting Beta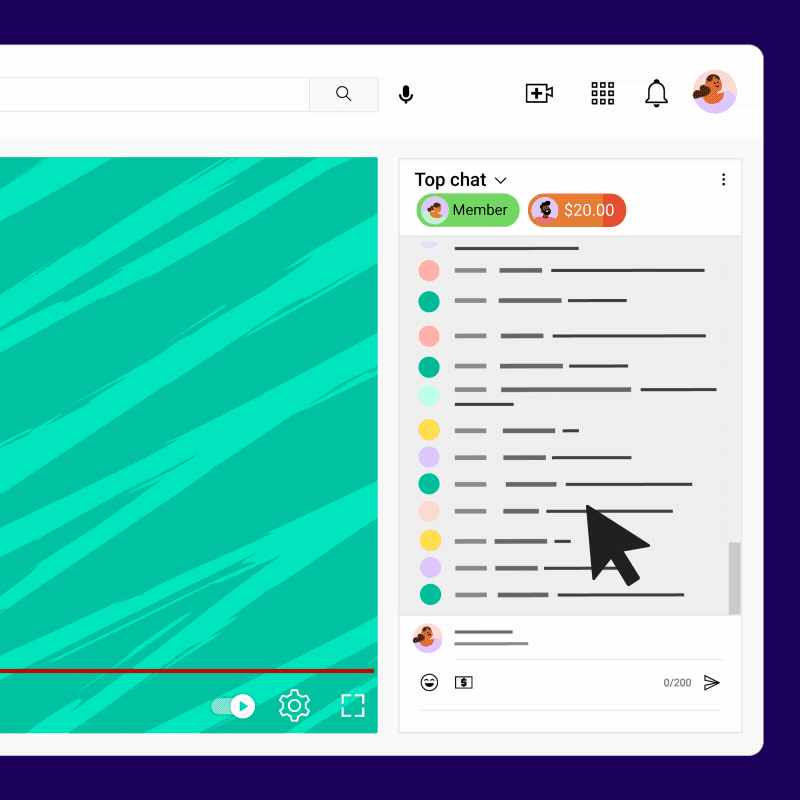 If we notice the path YouTube has taken in its recent updates, it's quite clear that they have been doing a lot of cross-platform research to improve YouTube as a platform.
In line with this, they have now introduced a beta feature of channel membership gifting, something that's very reminiscent and relative to the gifted subscription feature on Twitch.
With this new beta launch, YouTube now allows viewers to buy channel memberships as a gift for other viewers.
Even though the full channel membership feature is yet to be rolled out, select creators will be getting this feature to see how effective it will be on YouTube.
This is a great update from the creator's perspective, as it offers creators a new way to earn revenue directly from their audience, who can afford to buy gift memberships.
According to YouTube, the membership gifting will be a 1-month gift membership which members on beta participating channels can buy during live streams and premieres.
Once redeemed, gift membership will provide up to 1 month of channel membership perks.
5. YouTube Shorts is Now Available on PC, Tablets, and Mobile Web
Not sure if you noticed this update, but YouTube Shorts is now available on desktop, tablets, and mobile web thanks to the dedicated "Shorts" option being made available!
When Shorts was initially launched, as a competitor to TikTok, and Instagram Reels, it was primarily optimized for mobile phones only. Even so, you needed the YouTube app to watch YouTube shorts.
As YouTube Shorts became an instant hit, YouTube has now made it available across all devices.
If you want to watch YouTube Shorts from a desktop, simply head over to YouTube on a browser, and check out the left-side menu panel on your YouTube home page.
You will see the "Shorts" option below the "Explore" option.
On selecting the option, you will be redirected to the Shorts feed where shorts will play on loop, back to back.
For tablet and mobile users, there will be a dedicated button at the bottom of the YouTube app, and a browser that will direct users to YouTube shorts.
Apart from these major updates, there have always been some more minimal enhancements, and updates from January 2022.
YouTube is definitely heading in the direction of improving the overall creator experience.
Some of the other updates that came this year until July 31 involve a new subtitle editor permission level in YouTube Studio, and supervised experience on more apps, and devices.
The subtitle editor permission allows creators to assign users the role of subtitle editor.
Anyone with the role will be able to edit and add subtitles to your video. On the other hand