YouTube
YouTube Shorts Monetization: Everything You Need to Know
The much anticipated YouTube Shorts monetization is finally here. Starting early 2023, here is everything you need to know about the upcoming YouTube Shorts monetization!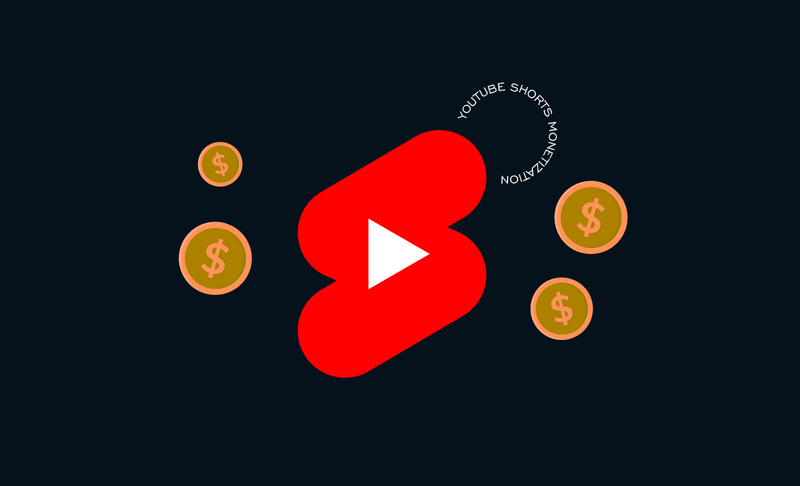 2023 is right around the corner and there is some really good news for creators on YouTube!
The much-anticipated update to monetize YouTube Shorts is finally confirmed and will help creators increase their overall earnings from the YouTube Partner Program.
Creators who are not yet part of the YouTube Partner Program will also be able to make use of YouTube Shorts thanks to the new YouTube Shorts Monetization update changing the eligibility criteria for joining the YouTube Partner Program.
When is the YouTube Shorts Update Going Live?
YouTube Shorts, which was introduced as a competitor for popular short-format vertical video-sharing interfaces like TikTok and Instagram Reels was an instant hit among creators.
Not only did it help creators get more views, discoverability, and reach to their channel, but it also made established creators on platforms like Instagram, and TikTok make their way to YouTube.
With the introduction of YouTube Shorts Monetization, this is only going to get better.
As of now, the YouTube Shorts Monetization update is expected to launch by February 2023.
Who is Eligible for YouTube Shorts Monetization?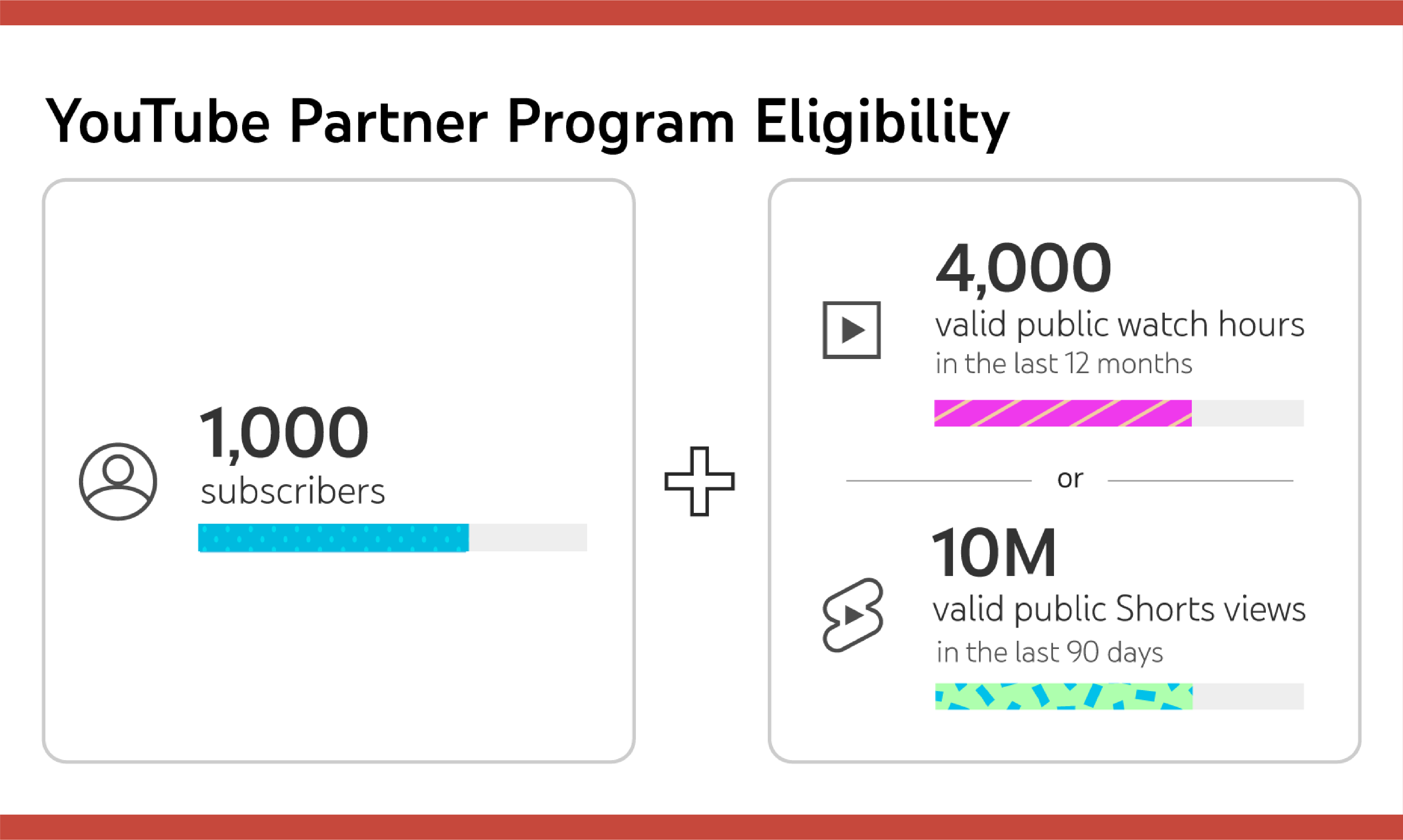 Even though YouTube Shorts Monetization is a major update, it does not really change much for those who are already eligible to earn money from YouTube Partner Program (YPP).
If you are already part of the YouTube Partner Program or have at least 1000 subscribers, and 4000 watch hours in the last year, you are eligible to join the YouTube Partner Program.
Creators who are already part of the YPP will start receiving money from the views their YouTube Shorts generate from February when the update goes live.
However, there is still some good news for YouTube creators who are not yet part of the YPP.
If you have 1000 subscribers, and manage to get at least 10 million public views on your YouTube Shorts in 90 days, you can now become eligible to join the YouTube Partner Program, even if you don't have 4000 watch hours.
How Does the YouTube Shorts Monetization Work?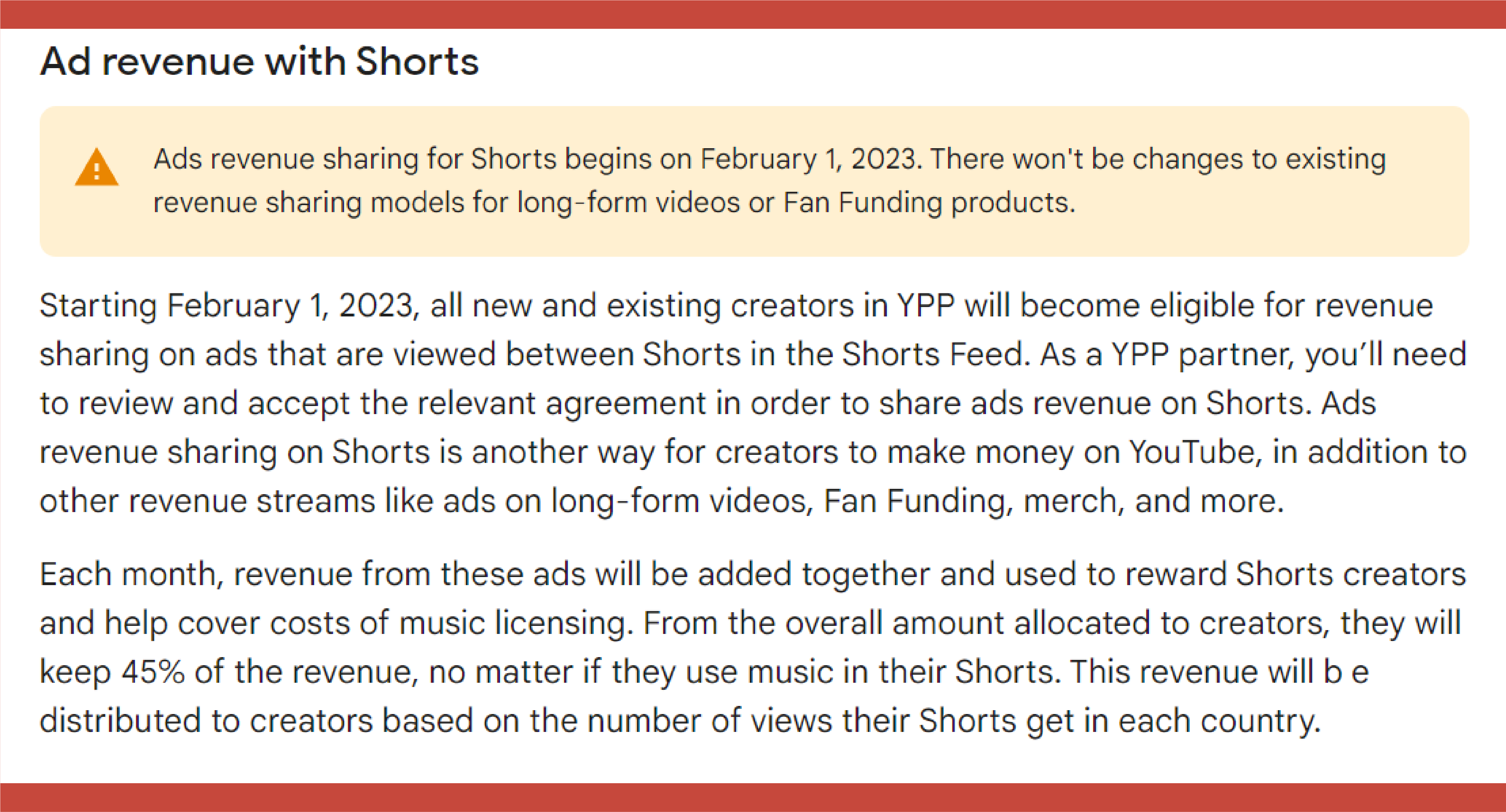 While YouTube has confirmed that they will be monetizing Shorts from February, and will allow creators with 10 million public YouTube Shorts view in 90 days to apply for the YouTube Partner Program, that's almost all the information we have as of writing.
The only thing that we do additionally know is that the ad-revenue split will be a little different from the existing format of YouTube ad-revenue sharing for long-form content.
According to the current YouTube Partner Program system, creators get 55% of the total ad revenue, whereas YouTube gets to keep the remaining 45%.
With YouTube Shorts, however, ads will not be part of every video, and instead will only be shown in between a series of YouTube Shorts playback.
However, as long as your YouTube Shorts get views, you will keep earning revenue from these ads, but the only downside is that you will only get 45% of the total ad revenue, instead of the existing 55% for long-form content.
Coincidentally, you can still earn money from Shorts that have Music copyrights from established record labels as YouTube will be buying licenses for most of the audio tracks on the platform.
We have to assume that this is the place where the 10% we are missing from the traditional monetization ad-revenue sharing structure is going for YouTube.
At this moment in time, these are still assumptions based on what YouTube has revealed about the YouTube Shorts update, and only time will tell what the update will look like!
All in all, YouTube Shorts getting monetized is still a massive update for creators struggling to get success with long-form videos, and those who are desperately looking for ways to increase their total watch hours to more than 4000 in a year.
What About the YouTube Shorts Fund?

The YouTube Shorts fund was a relief to many creators who could not join the YouTube Partner Program as it allocated funds to any creator who crossed a threshold of views, and engagement.
With the new monetization update confirmed for YouTube Shorts, we have to assume that YouTube Shorts Fund, which was launched for 2021 - 2022 will also cease to exist or not get renewed.
However, this was to be expected as YouTube had made it clear way back in 2021 that the $100 million YouTube Shorts Fund was only going to be around for two years.
While there is still no certainty on who YouTube considers eligible for the YouTube Shorts Fund, as it is often given out to random users with viral views on most occasions.
Regardless, the YouTube Shorts Fund, which can range anywhere from $100 to $10,000 can be a huge bonus for creators, especially smaller creators that are struggling to make ends meet.
But, on the flip side, creators who did not get a chance to make money from their YouTube Shorts through the YouTube Shorts Fund can now generate revenue from their YouTube channel with the introduction of the latest YouTube Shorts update.
What are the YouTube Shorts Policies to Remember?
YouTube moderation is the same for all its content, regardless of whether you post videos, community posts, or audio.
Any content that's not original, has plagiarized, copyrighted content, hateful or derogatory content, or simply put, content that should not be on YouTube will be immediately removed from the platform.
What's even worse is that in the event of your infringement being severe enough, you can warrant stringent actions like YouTube channel termination and removal from YouTube Partner Program.
All the basic guidelines for YouTube Partner Program and monetization are also applicable to YouTube Shorts:
You should have a Gmail account that's connected to your YouTube channel that will be monetized and must have completed the verification process.
You should adhere to the YouTube community guidelines and policies at all times.
You must create content that's within the boundaries of YouTube policies and should not mention drugs, spam, abusive behavior, language, or discriminating content.
YouTube Shorts that have content that breaches YouTube Community Guidelines, policies, and copyright laws will not be eligible for monetization