TikTok
Viral TikTok Products That Every Creator Needs to Have
Check out these viral TikTok products that can help creators make video content of the highest quality. Get more views, impressions, and engagement on all your videos instantly!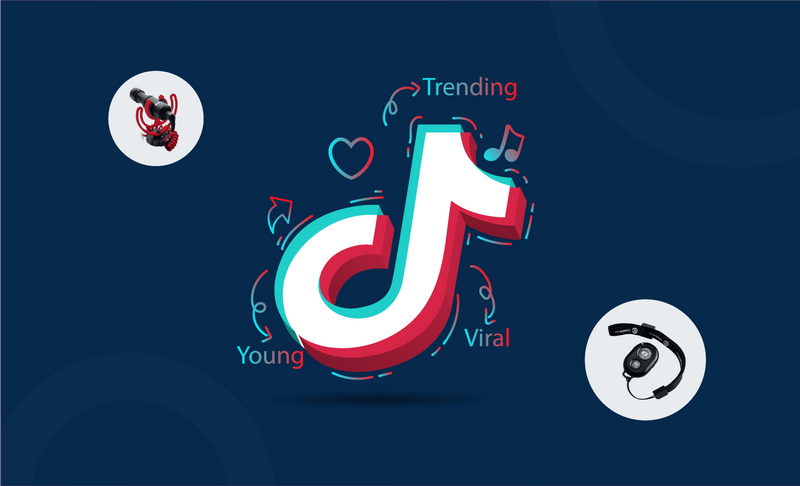 We've compiled a list of the products used by some of the most popular content creators. Check out these innovative, yet unique TikTok products every creator should have!

Take your content to the next level with some of these viral TikTok products:
1. Bluetooth Camera Remote Shutter
When it comes to TikTok videos, ideas can come from anywhere, at any time.
If you are alone when an idea pops, and you are finding it difficult to record your TikTok video by yourself, a bluetooth camera remote shutter is your best friend then.
Connect the bluetooth camera remote shutter to your smartphone through bluetooth.
Set your camera in the best place, or place it on a tripod. Now get into the position you want to record the video in, and press the record button to start recording.
You will no longer have to run to place after starting the recording on your smartphone, and wave goodbye to video cropping and trimming for good!
2. Phone Cases
Getting that perfect video for TikTok might require you to keep your phone at awkward places.
Sometimes, you might also need to put your phones at heights that can make or break your phone.
To make sure that you don't end up putting your phone at a risk of fall damage, it is important that you invest on a solid phone case.
While action cameras like GoPro Hero and DJI Action come with hard shells and can be upgraded with protective cases that will keep your camera safe in the events of a fall, phones are fragile.
Apart from a minimal layer of security like screen protectors and gorilla glasses, most phones are exposed to big damages when they fall.
Make sure your TikTok footage stays extra safe by investing on the right phone cases today.
3. Face Tracking Tripod
Take your TikTok videos to the next level instantly, and that too without anyone's help by making use of the innovative face tracking tripod.
This TikTok find comes in-built with human face tracking and intelligent recording feature that can automatically track human face or body.
Wherever you go or move, the tripod follows your movement to capture all your moves, and expressions on the go!
The best thing about this auto face tracking tripod with a built-in camera, you also don't need to download any app or connect bluetooth devices.
This face tracking tripod also comes in-built with a 360 degree rotation, has a phone holder, and is compatible with video apps like Facebook, Zoom, and supports live streaming photo and video shooting.
4. Compact On-Camera Shotgun Microphone
There are two main types of videos you can create for your TikTok account.
The first one is lipsync where you sync your lips to an already existing audio or viral dialogue, or music track and the other one is where you use your own voice or add voiceover.
If you are someone that makes the second type of videos on your TikTok content, you will definitely need a compact on-camera shotgun microphone to make sure you get the best audio output.
A good microphone can be a game changer when it comes to video content as it not only improves your overall video output, but improves accessibility and audience retention for your viewers.
There are plenty of brands like Rode, Boya, Sennheiser, and many others that offer high quality audio through a line-up of amazing compact on-camera shotgun microphones.
For TikTok creators that want the best audio, this is one product that's definitely a must-have.
5. 10-Inch Ring Light With Multi-Modes
From trending TikTok challenges like the infinity challenge, to just creative lighting videos that inspire, ring lights have grown to become a key element of most TikTok creators.
Not only does it help you get the right amount of light on your face, but ring lights also add a ring to your eyes which adds to the total aesthetic of a video or photograph.
If you are someone that makes a lot of videos on TikTok, that highlights and gives emphasis to your face, and eyes, it's always great to consider purchasing a 10-inch ring light with changeable multi-modes.
While some ring lights come in-built with features like tripod, there are others that have a default setting of at least 3 modes of lighting (warm, cool, and neutral).
There are also ring lights that allow you to adjust the brightness according to your preferences and requirements, along with ring lights that support rgb bandwidth and a host of different colors.
At the end of the day, it all comes down to what the creator prefers and can use to get the maximum from the video they make on TikTok.
While these gadgets can definitely help you improve your overall video output on TikTok, there are plenty of other tools that can do a similar job in improving the quality of your TikTok content.
For instance, you might not be a fan of ring light, and instead would prefer something like a soft box light, or key lights instead. Not everyone loves going wireless, and there are others who would prefer a wired microphone or lavalier microphone instead of going wireless through a shotgun.
Whatever product you are comfortable with, go with it!
However, if you are someone that's not sure of which viral TikTok product to choose for your content creation needs, look no further and check out the products we recommended above!