Top US Gaming Influencers on YouTube in 2022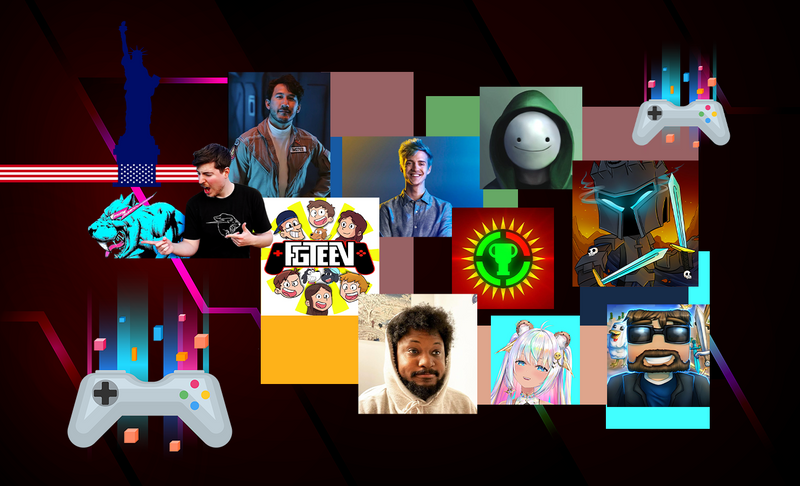 In the US, gaming is one of the most popular YouTube categories.
Despite the fact that some of the prominent gaming creators based in the US, such as PewDiePie, MrBeast, and SSSniperwolf, started as gaming channels, they are now more into the entertainment genre.
However, this hasn't stopped the growth of the gaming category in the United States.
By early 2022, there will still be hundreds of established video game creators on YouTube.
The gaming community, along with e-sports scene in the US is also growing at a rapid rate.
E-sports and competitive games are dominated by teams based in the United States, like Team Liquid, Evil Geniuses, Team Secret and one of the most established e-sports teams FaZe Clan.
When it comes to starting your own YouTube gaming channel in 2022, you will need some US gaming influencers as a reference.
Here are some of the best gaming influencer on YouTube from the United States:
1 Markiplier (32.6 M Subscribers)
Mark Edward Fischbach, better known online as Markiplier is the biggest gaming creator in the United States as of early 2022, with 32.6M subscribers.
He shot to fame for his intriguing and spooky gameplay videos of horror games like Neverending Nightmares, Amnesia: The Dark Descent, SCP - Containment Breach, and Five Nights at Freddy's.
Mark is also a vlogger, philanthropist, podcast host and co-founder of the clothing company CLOAK, alongside fellow YouTube gaming creator, Jacksepticeye.
Markiplier is also popular for his alter egos like the pink mustached Wilfred Warfstache, Darkiplier, Bim Trimmer and others.
Markiplier initially intended to create a channel for sketches and portraying different characters which also led to the creation of his YouTube name Markipiler which is a combination of Mark and Multiplayer.
2 Dream (29 M Subscribers)
Dream is an anonymous YouTube gamer who is popular for his Minecraft related gaming content.
He is also the co-founder of Dream SMP, which is one of the biggest whitelisted invite only Minecraft servers on YouTube.
Dream SMP is also the most watched Minecraft server and features leading creators like the other co-founder, YouTube gamer GeorgeNotFound, TommyInnit, LazarBeam, Vikkstar123, Technoblade as regulars.
The server is also frequently visited by popular gaming creators on YouTube like MrBeast, CorpseHusband, Ninja, Pokimane and others.
Dream is famous for not revealing his face in any of his videos and no one knows how Dream looks. This has also made his YouTube profile picture of a smiley face and green background his iconic branding, and something everyone relates to Dream.
Dream is also really popular for his Minecraft series "Minecraft Manhunt" which involves one player attempting to finish the game without dying and other players attempting to stop this by killing the player as he tries to beat the game.
3 MrBeast Gaming (26.9 M Subscribers)
MrBeast Gaming is the secondary channel of American YouTuber Jimmy Donaldson, better known online as MrBeast.
MrBeast Gaming is a perfect example of how creators who are currently creating content on other genres like entertainment can start their gaming YouTube channel and emulate similar success.
Even though MrBeast's primary channel is miles ahead with more than 90 million subscribers, MrBeast Gaming now has 26.9 Million subscribers and happens to be the third most subscribed gaming channel in the United States.
MrBeast Gaming also allows Donaldson to retain his gamer status which some of his contemporaries like PewDiePie, KSI and Logan Paul lost as they switched over to entertainment genre.
Even though the number of uploads in MrBeast Gaming are comparatively low (1-3 videos per month), they do bring in a lot of views and overall engagement.
Minecraft series like Last to Survive, Challenges, and GTA V content are some of the highlights of MrBeast Gaming.
4 Ninja (23.9 M Subscribers)
Richard Tyler Belvins better known online as Ninja is an American YouTube gamer known for his gameplay videos and live streams.
Ninja is one of the best professional battle royale players, popular for his competitive gameplay videos on First Person Shooter (FPS)/Battle Royale games like Fortnite, Valorant, and Warzone.
He is also popular for his goofy and energetic personality that is on full display in his videos.
Considered by many as the best Fortnite player in the world, Ninja also recently surpassed Ali-A to become the most subscribed Fortnite channel on YouTube.
Ninja is also the most followed streamer on Twitch with more than 16 million followers and 540 million views overall.
Ninja is also one of the big YouTubers who has his subscriber count hidden even though it was visible when he hit 23.9 million subscribers back in December 2021.
5 SSundee (20.5 M Subscribers)
Ian Marcus Stapleton, popularly known online as SSundee is an American YouTube gaming creator who is known for his Minecraft videos.
However, SSundee also plays other related games like Among Us, Fortnite, and PokemonGO among others. He also used to play Call of Duty videos back in the day and was known for collaborations with others popular gamers like Lanceypooh and Crainer.
SSundee is also known for having an alter-ego called Derp SSundee, whose interesting interactions with Lanceypooh's alter ego Eddy had a lot of fans and viewers behind them.
SSundee is also a great example to showcase that it is absolutely okay to take a break from YouTube gaming and return.
He took a hiatus from YouTube from 2017 to 18 in order to focus on personal life and came back to hit 20 million subscribers within the next two years.
6 FGTeeV (20.5 M Subscribers)
The Family Gaming Team, better known online as FGTeeV is a one of a kind, family gaming channel, known for their gaming videos.
The objective of their YouTube channel is pretty much self explanatory and part of their name too - Family Gaming Teams Extraordinarily Entertaining Videos (FGTeeV).
They are also one of the most watched YouTube gaming channel in the United States with more than 20 billion views overall.
FGTeeV is run by the family of Duddy, also known as Duddz/FeeGee/DDG, his wife who goes by the name of Moomy, and their children Shawn, Chase, Mike and Lexi.
They cover a wide range of games from GTA V to child friendly games like Talking Ben, The Baby in Yellow, Ratchet and Clank, along with horror games like Five Nights at Freddy's and many others.
Duddy apparently started this one of a kind channel as to find answers to why people would watch other people just play a video games.
This led to his own style of gameplay where it is partly game review and partly improvised comedy sketch videos, with sometimes gaming videos that are centered around music also making an appearance.
7 CookieSwirlC (17.6 M Subscribers)
Candace, better known online as CookieSwirlC is an American YouTuber who is popular for her Roblox gameplay commentary and toy reviews from series like Barbie, My Little Pony, Monster High, Shopkins, Disney's Frozen and others.
Most of her content are made for kids and she follows a storytelling style of gameplay.
In addition to popular games like Roblox, she also plays online horse games like Star Stable. CookieSwirlC recently also debuted as a virtual tuber (VTuber) with her character making it's official debut.
Candace also has two other channels apart from CookieSwirlC, which are known as HoneyHeartsC, and Sugar8Cupcake.
Apart from her main gameplay content, she also plays other Roblox games like The Really Easy Obby, Escape Grandma's House Obby and others.
8 PopularMMOs (17.3 M Subscribers)
Patric "Pat" who is better known online as PopularMMOs is an American YouTuber who is famous for his Minecraft content.
He covers everything from Minecraft Mob Battles and Arena Battles to epic modded Let's Play videos of Minecraft, Mod Showcases and Minecraft Mods vs Maps gameplay content.
Even though he is a Minecraft gamer, he used to play a lot of Roblox and Fortnite as well on his YouTube channel.
All published content from PopularMMO starts with his iconic intro which has stayed the same for more than 7 years as of 2022.
Pat is also famous for his Minecraft series "The Challenge Games", and "Epic Proportions". There are also plenty of viewers for his Roblox videos which is usually joined in by his ex-wife, and YouTube creator GamingwithJen.
PopularMMOs has also introduced a lot of memorable characters in his gaming series like Captain Cookie, Nomis and Simon, Candyman, Lost Miner and many others.
9 The Game Theorists (15.7 M Subscribers)
Matthew Robert "MatPat" Patrick, popular as The Game Theorist is an American YouTuber popular for breaking down and analyzing the science behind some of the most popular games on the planet.
Some of his most popular breakdown videos feature popular games like Mario and Super Smash Bros, Minecraft, Five Nights at Freddy's, and Bendy and the Ink Machine.
He also makes it a point to include clever humor and related topics into the different game videos to make it even more exciting.
The Game Theorists has also collaborated with popular YouTubers of all genres like Smosh, Markiplier, Dream,  TheJWitttz, The Warp Zone and TheNationalDex among others.
In addition to his Game Theorists channel, Matthew also own three other YouTube channels called the Film Theorists, the Food Theorists and GTLive (GameTalk Live).
Film Theorists and Food Theorists follows the same structure as Game Theorists with the only major difference being movies, tv shows, and food being decoded and analyzed instead of games.
10 CoryxKenshin (13.3 M Subscribers)
Cory Williams, better known online as CoryxKenshin is an American gaming YouTuber who is known for his witty commentary and gameplay videos of horror games.
He is also into action and fighting games with playthrough videos on RPG horror games like Outlast, The Evil Within, and Corpse Party being some of his most popular videos.
CoryxKenshin also addresses his fans as Samurai, and considers himself to be the Shogun.
He uploads new content, two times per week, and has multiple game series running at the same time episodically.
Cory is also a firm believer who is known to share a bible verse at the outro of his live streams.
He is also very notable for his multiple hiatus periods from YouTube without any uploads or new content. CoryxKenshin always returns after a hiatus and consistently grows his subscriber base after a long break.