Top UK Gaming Influencers on YouTube in 2022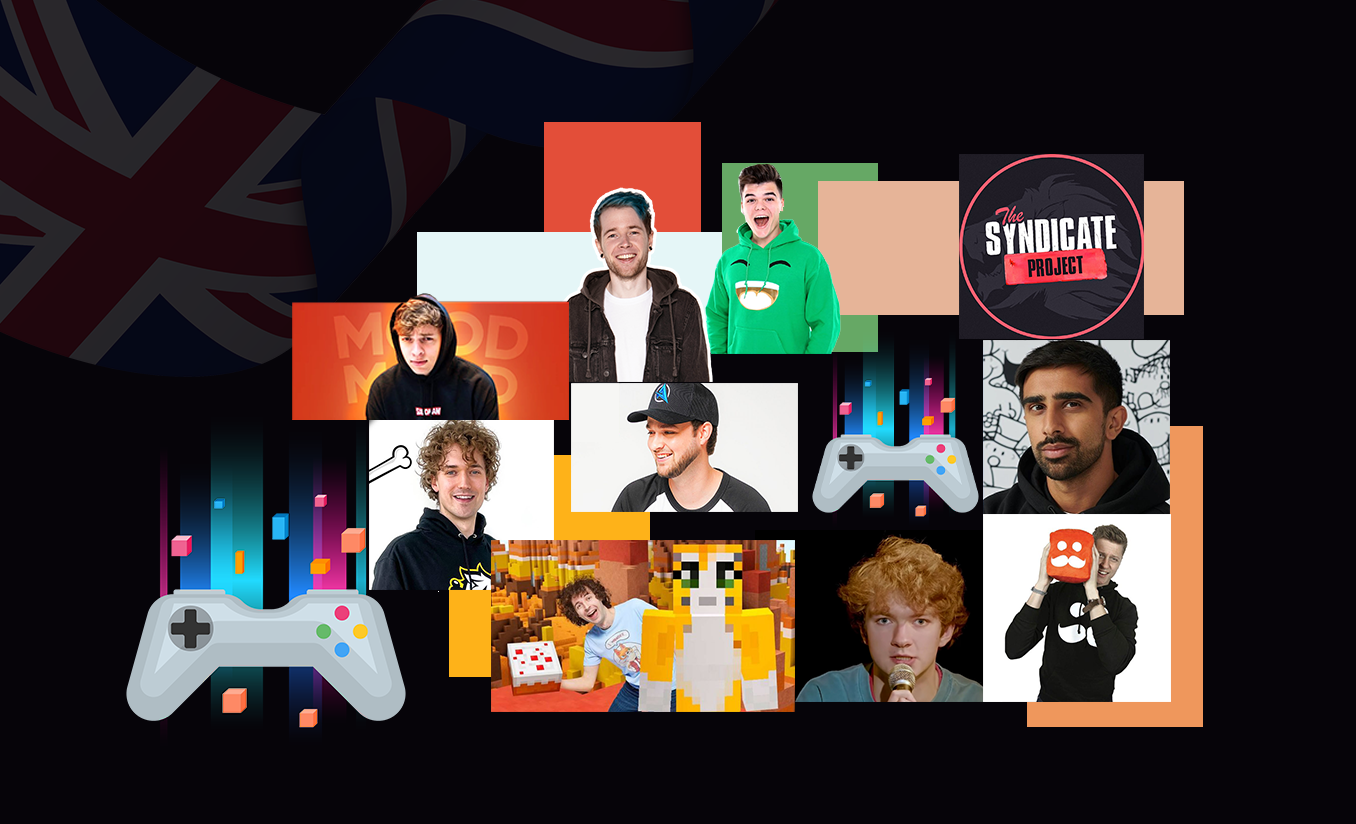 Gaming is one of the most popular genres on YouTube today.
The UK has some of the biggest gaming creators on YouTube. Across the country, there is also a growing community of competitive and creative gamers.
If you live in the United Kingdom and want to start a gaming channel on YouTube - be it competitive gaming or live streaming for fun, we've got you covered!
You can start by following some of the top content creators on YouTube in the UK in 2022:
1 DanTDM (26.1 M Subscribers)
Daniel Middleton, better known by as DanTDM (previously known as TheDiamondMinecart) is the biggest British YouTube creator, popular for his gameplay and commentary videos.
DanTDM is also the biggest gaming channel on YouTube in the United Kingdom with 26.1 million subscribers.
Dan shot to popularity for his interesting and engaging gaming content on popular, child friendly games like Minecraft, Roblox, and Pokemon.
Apart from these games, Dan is also famous for his livestreams and gameplay videos of games like Fortnite, Rocket League, and Tomodochi Life.
While he used to upload new gaming content on a daily basis up to 2018, he has slowed down on uploads but still makes sure to have a couple of gaming content uploaded every month.
In addition to his primary gaming channel, DanTDM also has a vlogging channel called MoreTDM, DanTDM Live where he streams games, and a shorts and clips channel DanTDM Shorts.
He also has an inactive YouTube channel for Pokemon called PokemanDanLvl45.
2 Jelly (22.7 M Subscribers)
Jelle van Vucht, also known as Jelly is a Dutch YouTube creator who is famous for his gaming videos on Minecraft, GTA V and Fornite.
Jelly initially arrived on the YouTube scene with the group Robust which also had two more YouTube creators Slogo and Kwebblekop.
The group later started individual gaming channels with Jelly growing out to be the biggest creator from the group. Even though Jelly is a Dutch creator, his YouTube channel is based out from the UK.
Jelly considers himself as a child friendly YouTube creator and it was his sense of humor that made his gaming videos, even more popular. This has helped him gain a large number of subscribers in just a few years.
He is also popular for his Fortnite Deathrun codes and creative codes.
In 2019, Jelly became associated with G-Fuel, one of the biggest brands in the gaming category by becoming their brand ambassador.
Jelly is also one of the most watched gaming channels in the UK because of his consistent and regular uploads.
3 Ali-A (17.5 M Subscribers)
Alastair James Aiken, popular as Ali-A (formerly Matroix) is one of the fastest growing gaming news and gameplay channel in the United Kingdom.
With a subscriber count of 17.5 million, Ali-A is now the third most subscribed YouTube channel in the Fortnite community, and the 9th most subscribed YouTube channel in the UK.
He is famous for his first person shooter gameplay and live streams on popular battle royal games like Fortnite, and Call of Duty.
Ali-A is also very consistent and makes sure that a new video is published every day. His Minecraft series "Ali-A's Adventure" is one of the most watched video series on the Minecraft game.
Just like DanTDM, Ali-A also has multiple channels like More Ali-A that exclusively uploads PokemonGo, Minecraft content and vlogs, Ali-A Plays for Call of Duty content.
He also has a collaborative channel Clare and Ali which features uploads with his wife and YouTube creator Clare Siobhan.
4 Tommyinnit (11.6 M Subscribers)
Thomas "Tom" Simons, better known online as TommyInnit (formerly known as Channelnutpig) is one of the biggest and fastest growing Minecraft content creator in Great Britain.
He is notable for his collaboration with leading YouTube creator Dream.
TommyInnit is part of the Dream SMP invite only multiplayer Minecraft server where he plays as himself with other YouTubers who got invited to Dream SMP.
Tommy is also known to be an active participant in several Minecraft communities like SMPEarth.
TommyInnit content also consists of Minecraft Championship, hacking, mods, and Hypixel Skyblock videos.
In additon to his primary channel, you can also watch Tommy's content on his other channels TommyVODS, TommyOutit, and Tomaye.
5 Slogo (10.7 M Subscribers)
Joshua Robert Temple, known online as Slogo (formerly Slogoman) is British YouTube gaming content creator who is famous for starting the Robust group with fellow creators Jelly and Kwebblekop.
He is popular for his Minecraft gameplay videos which he now plays alongside Jelly and another English YouTube creator Crainer.
However, contrary to some of his friends, Slogo started uploading GTA 5 gameplays in the initial days and most of his initial videos were gameplays of GTA V story mode.
He was also friends with Brad, aka TheGamingLemon, who was already an established gamer known for his Grand Theft Auto videos, and this helped Slogo get a good boost of subscribers while starting out.
Slogo also has a group on Roblox called "Slogo's Best Friends", and plays games like Among Us, Counter Strike, Human Fall Flat, Stick Fight and others.
6 Stampylonghead (10.5 M Subscribers)
Joseph Mark Garrett, popularly known online as stampylonghead is one of the most engaged Minecraft YouTube channels from the United Kingdom.
Originally created as a YouTube channel to share vlogs and console gameplays, he moved to Minecraft content soon afterwards.
Stampylonghead's uploads on Minecraft in the initial days were set in his Minecraft world called Stampy's Lovely World and garnered a lot of attention.
Even though it was the first world he ever created in Minecraft, people loved it and eventually, this would set the stage for his future videos and longest-running and most consistently popular game series.
Stampy also loves going on livestreams and engaging with the community on the livechat.
When he is not playing Minecraft, Stampy published gaming content on other child friendly games like Terraria, Super Mario series, Pokemon, Zelda: Breath of the Wild, Ratchet and Clank and others.
7 Syndicate (9.75 M Subscribers)
Thomas George Cassell, known better online as Syndicate (formerly TheSyndicateProject) is an English YouTuber, known for his gameplay and commentary gaming content on YouTube.
Even though the original gaming channel of Syndicate started out with let's play videos of Halo and Modern Warfare 2, it was his zombie mode gameplay in the Call of Duty: Black Ops game that shot him to popularity.
However, he later jumped on the Minecraft let's play series like most of the other creators from England with his own series called "The Minecraft Project".
Syndicate was also really popular on Twitch in the platform's early days and was one of the most followed streamers back in 2017.
In addition to his YouTube channel, Cassell is also an enterprenuer and had started a multi-channel network called Jetpak which aimed to introduce a more fair payment model for the revenue made by creators.
Syndicate also has a vlogging channel called Life of Tom, along with three inactive channels called Syndicate Plays, Syndicate Royale, and Syndicate Reacts.
8 Mumbo Jumbo (8.33 M Subscribers)
Oliver "Oli" Bortherhood also known as Mumbo Jumbo is another English YouTube creator who is popular for his Minecraft videos.
He shot to fame for his redstone builds, and has plenty of Minecraft building series like the Hermitcraft, and Piston Houses.
Majority of his content are focused on building tutorials with emphasis on how to build amazing structures on Minecraft, along with testing of new features being introduced in the platform.
Mumbo is also one of the earliest joiners of whitelsted Minecraft server Hermitcraft SMP.
Even though Mumbo is Minecraft YouTuber, he started out as a Call of Duty content creator with his friends and regularly updated gameplay clips of the FPS game.
However, this all changed after he came across a Minecraft video and started doing gameplay videos on the same.
He was soon invited to Hermitcraft SMP and has been a member since season 2. With more than 8 million subscribers, he is now the most known Hermit on Minecraft.
9 Vikkstar123
Vikram Singh "Vik" Barn, better known online as Vikkstar124 is a gaming content creator based out of Sheffield, England.
Vik is a member of "The Sidemen" along with leading YouTube creators like KSI, Miniminter, Zerkaa, TBJZL, Behzinga, and W2S. He is also one of the leading gamers in the group and is quite popular in gaming communities of Minecraft, Call of Duty and FIFA.
Vikkstar is also an active member of Minecraft group "The Pack" where he plays Minecraft with others.
The best thing about Vikkstar123 as a gaming content creator is his consistency in uploading daily videos. Among his videos, there is great demand for his "How to Minecraft" series where he plays with other YouTubers.
In 2020, Vikkstar received the invitation to join one of the most active Minecraft servers - Dream SMP where he plays alongside leading gaming creators on YouTube like Dream, TommyInnit, LazarBeam, and others.
10 Crainer
Benjamin Dreyer Vestergard aka Crainer is a Danish gaming YouTuber who is currently based out from the United Kingdom.
Crainer is known for his child-friendly gaming content of popular games like Minecraft, and his collaborations with one of the biggest gaming creators in the UK - Jelly.
After Kwebblekop left the Robust gaming group that was comprised of Jelly, Slogo and Kwebblekop, Crainer joined and formed the new trio.
In addition to spending time on Minecraft, Crainer also plays other child-friendly games like Roblox, Among Us, Crab Game, GTA V and many others.
Cranier follows a style of having two new video uploads every day and continues to maintain the consistency till date with two new uploads being published regularly.