Instagram
Top Instagram Coaches to Follow in 2023
Instagram coaches are great sources of information to get you started on Instagram, the right way. Here are some of the top Instagram coaches that you need to follow in 2023!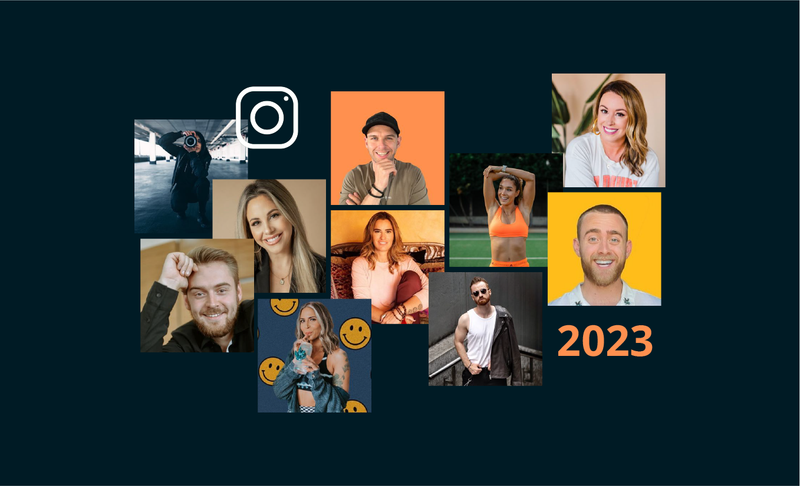 The demand for coaches has never been greater than it is now.
Today, there are Instagram coaches for almost every niche out there, and most of the advice they offer is of high value as well.
It helps to know who some of the top Instagram coaches to follow in 2023 are to get the most engagement, followers, and reach in your niche.
These top Instagram coaches can help you grow in 2023:
1. Insta Coach Mike (@instacoachmike)
With more than one million followers on Instagram, @instacoachmike is one of the biggest Instagram coaches out there today who is popular for his guides and how-to videos.
Most of Instagram coach Mike's content focuses on various aspects of Instagram like Instagram story ideas, trending reel audios, tutorials, and similar topics of interest
The idea behind his coaching account is to empower ideas to more creators and help them grow on the platform as a creator regardless of the niche they create content on.
2. Nordic Scott (@nordic_scott)
If you are in the photography niche, or simply want to learn some simple hacks and tips on how to improve your photography content, @nordic_scott is a great option to consider.
Get everything from creative photo ideas to best body angles, how-to guides, more information about exposure and other technical ideas related to photography, and much more.
Nordic Scott also shares some of the best apps and software that creators must have and can use to get professional-looking content on their Instagram accounts.
3. Dr. Nicole LePara (@the.holistic.psychologist)
Dr. Nicole LePara is one of the best psychologists in the world and the most followed psychologist on Instagram with more than 5 million followers.
If you are someone that's struggling with mental and psychological issues, or simply want some extra motivation to get things done, updates from @the.holistic.psychologist can be your daily dose of motivation.
The best thing about Dr. Nicola LePara is that her content is not restricted to any age, and people from all walks of life can consume her content with the same intensity.
4. Kayla Itsines (@kayla_itsines)
For all the women on Instagram, Kayla Itsines is your one-stop destination for all your fitness goals.
With specific training programs designed for women in different stages of life, including pregnancy and post-pregnancy programs, @kayla_itsines has you covered.
In addition to having specific programs, Kayla also regularly uploads training routines and video tutorials on her Instagram account for her followers.
Most of these videos emphasize form and have text to further improve the accessibility of learning the workout.
5. Shannon McKinstrie (@shannonmckinstrie)
Shannon McKinstrie is your go-to account on Instagram to grow a brand on Instagram.
With an experience of more than 17 years in media and marketing, @shannonmckinstrie has you covered with everything social media marketers need to work on brand marketing.
For all the latest updates from Instagram, feature explanations, what's trending, reel ideas, and almost anything on Instagram, consider checking out her Instagram profile.
6. Brock Johnson (@brock11johnson)
Brock Johnson is one of the fastest-growing Instagram coaches on the platform and is popular for his regular, engaging, and entertaining Instagram reels.
With an average of more than 2.4 reels on Instagram per day, @brock11johnson has an Instagram account that is a bundle of activity, featuring all things Instagram!
Most of his Instagram coaching content revolves around growth tips for creators and entrepreneurs, along with do's and don'ts, the latest feature updates, growth strategies, content planning, and Instagram tips.
7. Pete (@instawithpete)
If you are looking for some interesting Instagram growth hacks, tips, tricks, personal branding, or simple tips to grow as a creator on Instagram, @instawithpete is just about perfect.
Most of his content on Instagram is very unique and has exclusive ideas like 12 hooks for your Instagram captions, or how to triple your reel views, which make it worth investing time on.
He also has a website that features creator tools like an Instagram growth guide, and story templates for Instagram that can all help you stay consistent and share content ideas that will bring in tons of views, and engagement.
Just like most of the Instagram coaches, we covered so far, @instawithpete also shares useful tips and tricks regularly for free on his Instagram account.
8. Alexis McCloskey (@thetoughlovecoach)
Alexis McCloskey, popular as the tough love coach is a business clarity coach who is one of the best business coaches on Instagram.
Through her Instagram account @thetoughlovecoach, she regularly shares motivational content, branding-related posts, and shuffle dance moves!
Contrary to how most Instagram coaches work, Alexis prefers a much more casual approach to get the attention of viewers - sometimes dance moves, sometimes vines, but it gets the job done.
She then adds long captions explaining the topic in detail with all the possible scenarios and how you can overcome any shortcomings to improve your business' drawbacks and get more clarity in personal branding and business strategy.
9. Katelyn Rhoades (@socialmarketingqueen)
Katelyn Rhoades is an all-in-one social media coach, strategist, and content creator who focuses on improving the discoverability, and engagement of creators on social media platforms.
From reel transition tutorials to introducing creators to new trends on the platform, the @socialmarketingqueen has you covered for everything Instagram.
It should also be noted that her growth spurt on Instagram, was a direct result of her Instagram reels performance which racked up tens and thousands of viral views in no time.
For quick growth on Instagram, it is highly recommended to check out the social marketing queen on Instagram for high-quality tips, tricks, and growth strategies on Instagram.
10. Christina (@crissfilms)
Looking for a complete photography and mobile videography coach, but not sure about where to look, or tired of coming across resources that are too expensive!
Instagram being a visual platform is all about how you express your creativity, and that's where having someone like Christina as a guide or Instagram coach helps.
With unlimited tips, tricks, and hacks on photography shared through Instagram, along with a free comprehensive guide, and Instagram reels explaining some of the practical aspects, you will be spoilt with information on mastering photography and mobile videography.
Master photography like never before and start growing your Instagram account instantly by checking out Instagram coach @crissfilms.