Top Indian Gaming Influencers on YouTube in 2022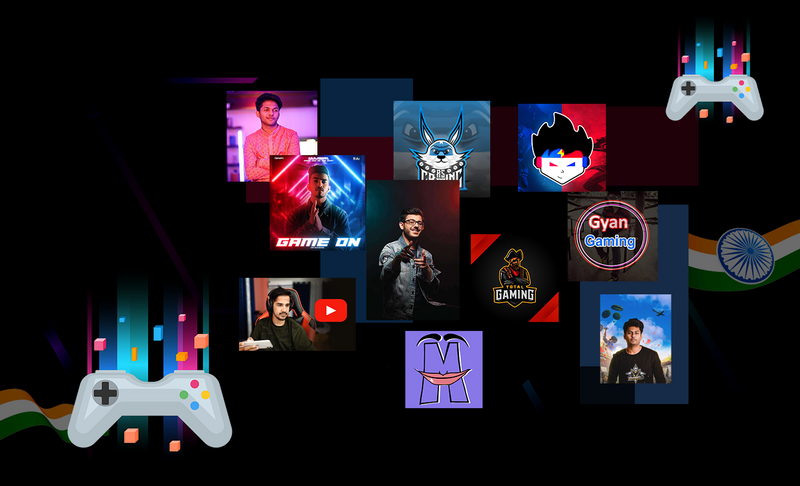 YouTube is one of the fastest-growing social media platforms in India with more new creators joining the platform regularly.
Gaming is one of the most popular genres when it comes to YouTube India.
Even though the genre is saturated, there is still a huge demand for creators across different platforms like mobile, console, and pc gaming.
Brands are also seeing the potential of promoting products through gaming channels, and several tech companies have landed great profits by utilizing gaming creators.
If you have plans to start a gaming channel on YouTube India, we have you covered with the best inspiration you could probably get.
Here are some of the top gaming creators in India, who will be a great reference point to start your gaming journey.
Without any further ado, let's take a look at some of the top Indian gaming influencers on YouTube in 2022:
1. Total Gaming (32 M Subscribers)
Ajay, better known online as Total Gaming (Ajjubhai) is an Indian anonymous YouTube creator with the biggest Indian gaming channel on YouTube.
Even though Ajjubhai has more than 32 million subscribers, no one knows who he is, as Ajay, just like popular American YouTube gamer Dream, is yet to show his face in the videos.
Ajay initially started gaming with the low-requirement mobile game Clash of Clans, and then transitioned into Garena Free Fire by 2018.
As he did not have a mobile phone that was capable of supporting the game, he played Free Fire on PC and started his YouTube channel in 2018.
Most of his initial videos featured tips and tricks for Garena Free Fire and this was received well by the Indian gaming community which shot his channel to popularity.
By 2020, he started playing games like GTA 5, Spiderman, Assasins Creed, Minecraft, and many more with gameplay commentary in Hindi.
He also has other YouTube gaming channels like Ajjubhai Gaming, Ajjubhai, TG Highlights, TG Tournament, and Total Gaming Shorts.
2. Techno Gamerz (25.7 M Subscribers)
Ujjway Chaurasia, popular as Techno Gamerz is an Indian YouTube gaming influencer who is based out of New Delhi.
Techno Gamerz is one of the fastest-growing gaming YouTube channels in India and his GTA V series is really popular for its narrative and storytelling style of gameplay.
Even though Ujjwal initially created the channel for android games like Garena Free Fire, he moved over to PC gaming.
He has been making consistently high-quality gaming content in Hindi on popular games like Minecraft, GTA 5, Beam MG, Red Dead Redemption 2, Hitman and many others.
Techno Gamerz is also famous for its detailed breakdown and analysis of some of the tutorials he shares.
Ujjwal's tutorial on downloading Dragon Ball Z, and GTA V are some of his most popular video uploads to date.
He is also known to collaborate with leading Indian gaming creators like Total Gaming on popular games like Minecraft.
3. A_S Gaming (17 M Subscribers)
Sahil Rana, better known online as A_S Gaming is a gaming creator on YouTube from India who is known for his gameplay videos, commentary, and live streams on Garena Free Fire.
Sahil started his YouTube gaming channel back in 2016, but it was only by 2019 that he first uploaded a video which was titled "5 hidden places in Bermuda map".
This video would eventually get hundreds and thousands of views and helped him get popular across the Indian gaming community and Free Fire players.
Eventually, 2020 would be a game-changer for Sahil as he skyrocketed to 12 million subscribers and he would continue this with consistent new uploads.
As of early 2022, he has more than 17 million subscribers and is no longer a Free-Fire exclusive content creator.
Some of the other games that are covered by A_S Gaming include horror games like Granny, challenge videos, and vlogs.
Sahil is also known to collaborate with big gaming channels in the country like Lokesh Gamer and Gyan Gaming.
4. Lokesh Gamer (14.6 M Subscribers)
Lokesh Raj, aka Lokesh Gamer, is one of the fastest-growing gaming channels in India on YouTube.ß
Just like some of the other top gaming creators on YouTube, Lokesh also shot to popularity through gameplay videos and live streams of the popular battle royale game Garena Free Fire.
Nicknamed "Diamond King", Lokesh is a competitive gamer known for his exceptional in-game skills and interesting gameplay commentary. Lokesh Gamer is also one of the biggest YouTube channels that are based out of his state of Telangana in South India.
Lokesh also shot to fame through Free Fire back in 2019 when the game was saturated.
However, his gameplay style and engaging persona made him stand out and grow at a rapid rate on YouTube.
In addition to his primary YouTube account Lokesh Gamer, he also has a second account called LR Gaming with 1.16 million subscribers.
5. Gyan Gaming (14 M Subscribers)
Ankit Sujan, better known online as Gyan Gaming is an Indian YouTube gamer, who is known for his Garena Free Fire gameplay videos and commentary in Hindi.
When he is not playing Garena Free Fire, Minecraft, Fortnite, Pubg Mobile, GTA 5 and Call of Duty Mobile.
Gyan Gaming is also popular for his collaborations with his friend and fellow YouTube gaming content creator Raistar.
Sujan is also one of the gaming creators in India with the most number of video uploads.
As of early 2022, he has more than 2,300 video uploads and more than 14 million subscribers. Gyan Gaming initially started with a wide variety of games back in the day.
However, he later shifted his focus to Garena Free Fire and that's when he started gaining popularity as a YouTube creator.
Gyan Gaming is also great friends with Free Fire YouTube creators like Lokesh Gaming, Raistar, and A_S Gaming.
6. Desi Gamers (12.7 M Subscribers)
Amit Sharma, popularly known as Amit Bhai in the Indian gaming community, is the Indian YouTuber behind the Desi Gamers youtube channel.
With 12.7 million subscribers, Desi Gamers is one of the most-watched Free Fire gaming channels in the country.
Amit is a great example of how persistence and trying out a different style of gameplay videos can help you succeed on YouTube.
In the initial days, Desi Gamers used to upload animated videos and even had one of his videos go viral with more than 2 million views. This helped him grow up to 15K subscribers on YouTube.
However, Amit wanted to get even bigger and started uploading gaming videos instead. Desi Gamerz also noticed that he was getting a lot more views on his live streams of gameplay videos.
Eventually, his new style of gameplay videos kept on increasing his popularity as a gamer on YouTube and he crossed 500K subscribers by August 2019 and 1 million by November 2019.
This never slowed down and as of early 2022, he is still going strong with 12 million-plus subscribers.
7. MythPat (11.7 M Subscribers)
Mithilesh Patankar, popular by his YouTube channel name Mythpat is one of the most entertaining gaming content creators on YouTube India.
Known for his comedy gaming videos on GTA and Minecraft.
Mythpat started his YouTube journey by posting guides, tips and tricks and educational videos like how-to content on popular games like PUBG and GTA 5.
He is also known to showcase some of the best GTA V mods gameplays.
He is also popular for collaborating with other YouTube creators like Saiman Says, Hindustani Gamer, Triggered Insaan and others.
Mythpat is also one of the best when it comes to using special tricks and mods to create innovative gameplay content.
He is also noted for his pranks and mimicry content where he will prepare a script and execute it with the help of his friends.
Mythpat Face Reveal video and Mythpat vs Carryminati on Pubg are two great examples where he combined gaming and his comedy scripts to great effects.
8. CarryisLive (10.9 M Subscribers)
CarryisLive is the secondary channel of the biggest YouTuber in India, Ajay Nagar, better known online as CarryMinati.
Carry started CarryisLive to stream PUBG games primarily but later switched over to multiple games based on a variety of genres.
He goes live on his channel almost every day or at least 2-3 times per week between 9 to 10 PM IST, and 11:30 - 12:30 PM IST.
Carry is also famous for giving shoutouts to random people on chat and is one of the bigger YouTubers that still accepts super chat donations, and has hosted several fundraising events through his live streams.
CarryLive was also hacked once by an anonymous hacker who asked for bitcoins through the chat as fundraising for Assam and Bihar.
However, he managed to get in touch with YouTube immediately and recover his hacked account pretty quickly.
When he is not streaming PUBG (rebranded as BGMI), he plays walkthroughs of GTA 5/GTA Online, Resident Evil, The Last of US series, and Red Dead Redemption series.
9. Two Side Gamers (10.2 M Subscribers)
Two Side Gamers is India's first duo gaming channel and the only duo gaming channel that live streams gameplay videos of Garena Free Fire.
Two Side Gamers is a collaborative channel that is run by cousins Ritik Jain and Jash Dhoka.
Apart from Free Free gameplay videos and commentary, they are also known to do gameplay walkthroughs and live streams of other popular games like GTA V, Fall Guys, and Among Us.
The duo initially arrived on the YouTube gaming scene as Clash of Clans gaming creators and worked on the same content for the first three years.
They then switched over to PUBG and eventually to Garena Free Fire which changed the fortunes and brought in a lot of views and engagement to their content.
Two Side Gamers also represented India at the eSports Free Fire Champions Cup tournament that was organized by Garena Free Fire Asia in Jakarta, Indonesia in August 2019.
In addition to gameplay videos on popular games like Minecraft, and GTA V, they also create vlogs and collaborations with other Indian YouTubers of all genres.
10. Dynamo Gaming (10 M Subscribers)
Aditya Deepak Sawant, better known online as Dynamo Gaming is an Indian YouTube gaming content creator, popular for his Pubg Mobile and Call of Duty: Mobile series.
Dynamo is one of the leading First Person Shooter (FPS) and Battle Royal gamers in the country who is also popular for competitive gaming in other multiplayer games like DOTA 2, Battlefield 1 to 4, Apex Legends, and Grand Theft Auto 5.
However, as of late, his content is primarily focused on PUBG Mobile with a mix of GTA V gameplay videos now and then.
In the initial days of his YouTube journey back in 2017, he played PUBG on PC, but it was not received well.
As the popularity of PUBG mobile increased, he switched over to PUBG Mobile and got a much warmer reception and growth in the number of subscribers.
Eventually, he would continue growing his account by streaming PUBG mobile until the Government of India banned PUBG.
He switched to Call of Duty: Mobile and maintained his viewer base by continuing the battle royale live streams and gameplay videos with commentary.
When PUBG was rebranded and launched again, he returned to BGMI and has been regular with his uploads again.