Intermediate
How to Search Filters on Instagram
How do I search for filters on Instagram? Here are several ways to search and find more Instagram filters for free, keep reading to find out how.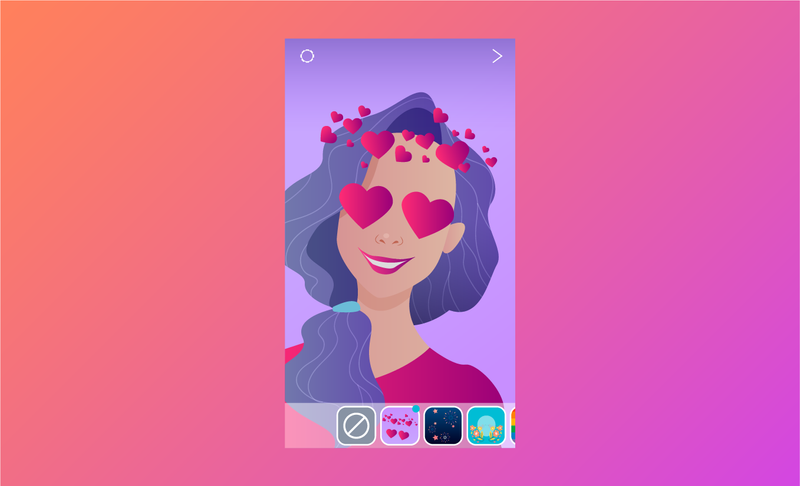 Instagram filters enhance the quality of photos and videos on the platform by adding colors and ambiance. If you use Instagram regularly, you have likely noticed that there are hundreds of filters available on the social media platform today.
The Instagram filters now come in all shapes and sizes, with some even having cool animation sequences with sound effects.
Now that Instagram has such a diverse filter gallery, you might miss out on some cool ones if you just use the default filters.
How do you find specific filters on Instagram?
On this detailed guide on how to search for Instagram filters, we will cover the steps you need to follow.
How to Search New Filters on Instagram in Effects Gallery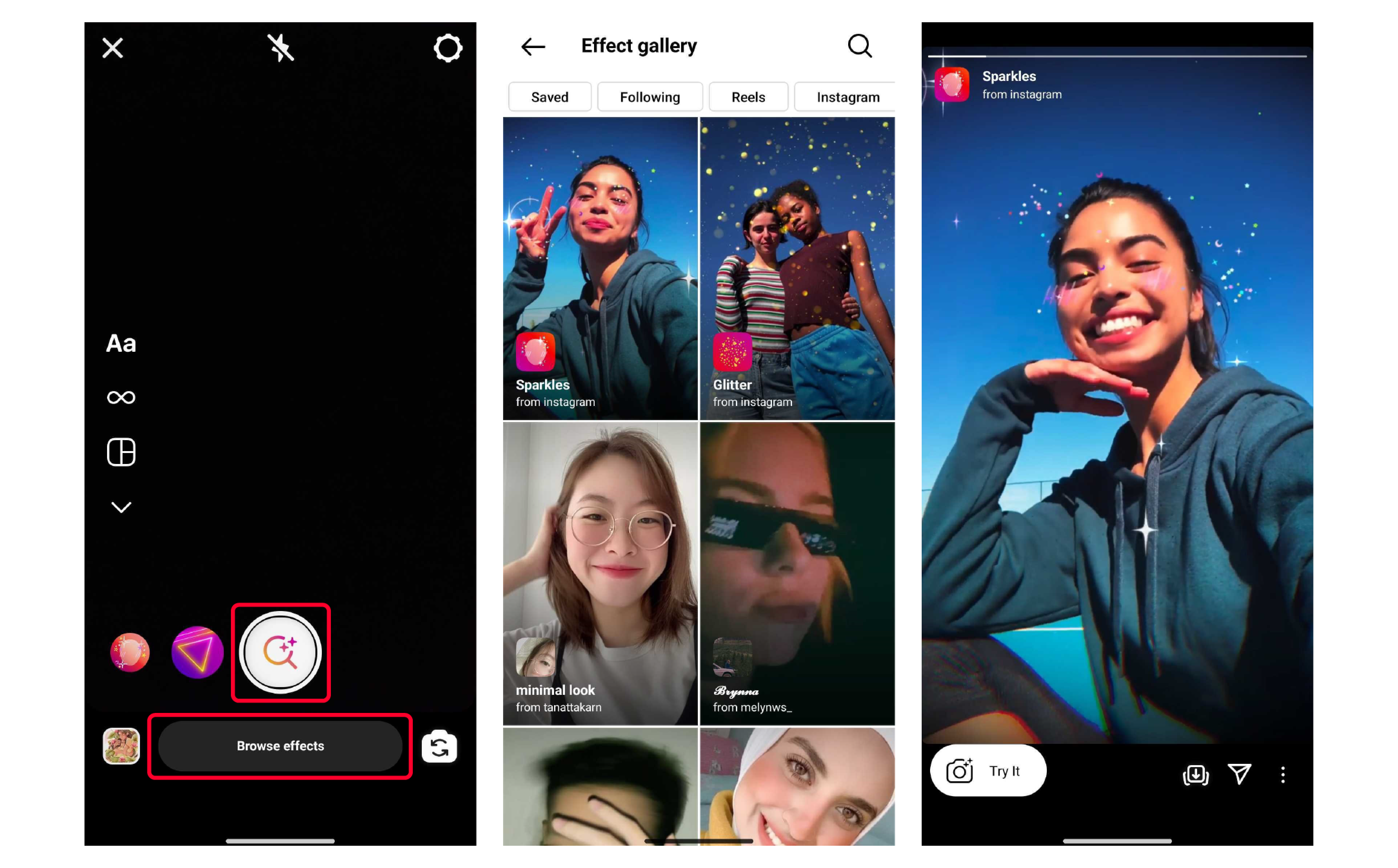 When Instagram introduced filters to their platform, there used to be only a few filters that you get to choose from the default listing.
However, as features like Instagram Stories, and Reels evolved, filters started getting more and more advanced. Instagram also start including latest technology like Augmented Reality (AR) and special effects on their filters.
Eventually, this would get even more expanded as creators got opportunity to submit filters, which after a review from Instagram started getting added to the platform.
With so many filters to choose from, it was only a matter of time before Instagram added an "Effects Gallery" to Instagram. Now creators can search for specific Instagram filters and use it on their content.
If you are unsure about how to do that, here is a step by step guide on the same:
Step 1: Launch Instagram
Open the Instagram App on your android or iOS device and log in to your account. Now head over to your profile and proceed to add a story by clicking on the "+" symbol from top right corner or swiping right from the home page.
Step 2: Create a Story
In the creator menu that, select "Story" from the drop down menu. Now swipe left until the last effect to come across the magnifying glass which lets you "Browse Effects"
Step 3: Search for the Filter
Now that you are inside the effects gallery, simply search for the effect you wish to add. You can either use the magnifying glass to search for filters by entering your search query or scroll through the many categories.
Step 4: Try and Save the Filter
Once you like a filter, proceed to try it out with your Instagram camera. If you are satisfied with the end result, click on the down arrow to save your effect to the "Effect Gallery".
How to Search New Filter on Instagram from Creator's Profile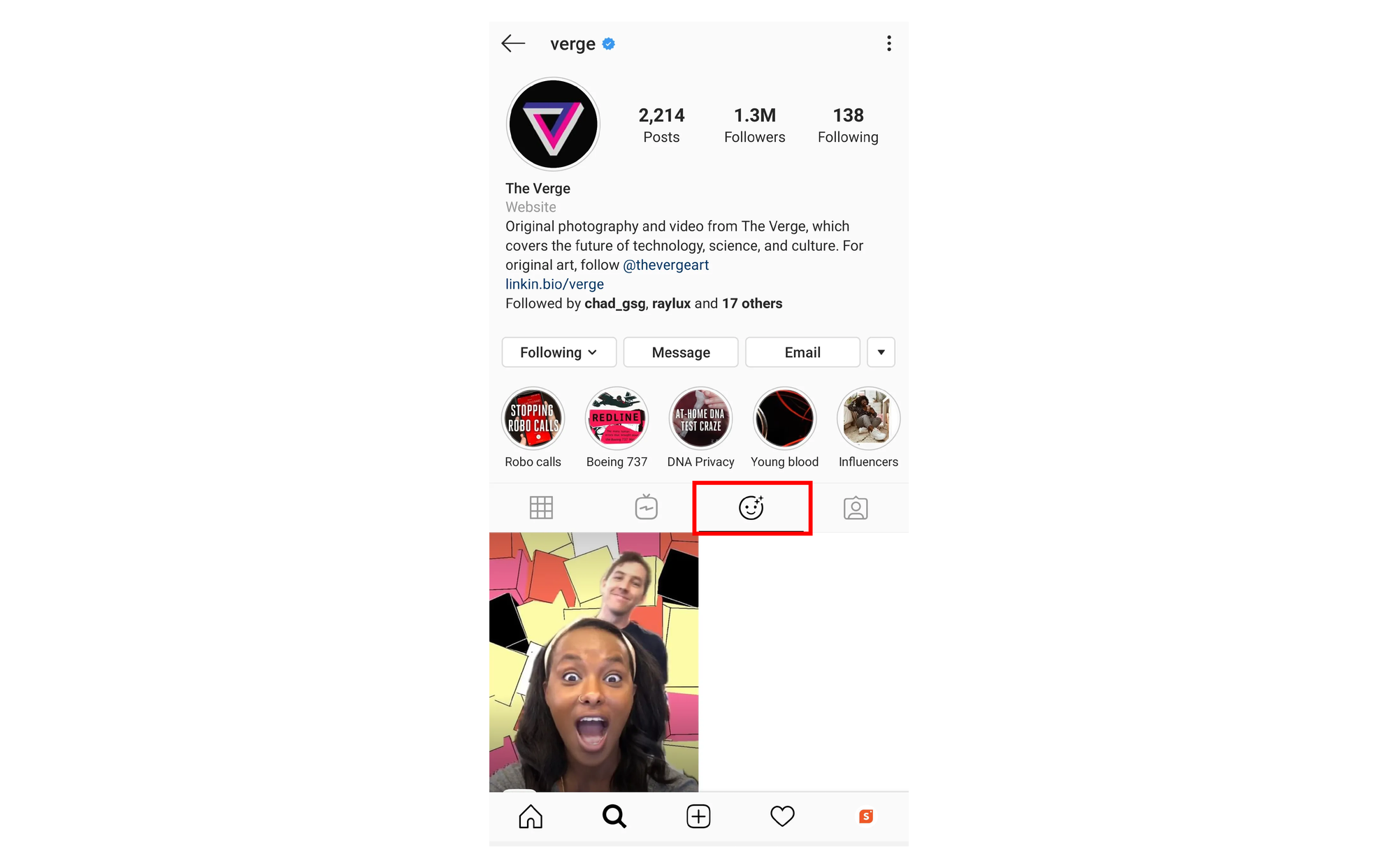 Instagram now allows creators on their platform to share their own filters on Instagram.
And the good news is, there are plenty of creators on Instagram that are using this feature to good effect. If you have a basic understanding of creating a filter, you can also create interesting filters and have it uploaded on Instagram.
Don't worry even if you don't know how to create a filter. There are plenty of others who can make quality filters for you.
You only need to search their filter and add it to your collection of filters to use it on your content.
Follow these steps to search a new filter on Instagram from a creator's profile:
Open the Instagram app and log in to your account.
Now look for the search bar and enter the name of a creator that makes filters.
If you don't know creators that make filters, go to browse effects.
From there select a random filter and click on the three dots on the bottom corner.
Tap the "More from <creator name> option to get all the filters they uploaded.
Alternatively you can also head over to Instagram's official account to get filters by Instagram.
To select filters, tap the three glitter option which comes after reels and Instagram videos option on your Instagram profile.
Select the filter that you wish to add to your video or photo by using the "Try It" option.
If you like the filter, you can add it to your filter gallery by using the "down arrow" option from the bottom of the screen.
You can tap the "down arrow" option once again to remove the filter effect from your content.
How to Search New Filters on Instagram from Friends
If you have some creative friends or creators that you follow on Instagram, it is relative a whole lot easier to search and find new filters on Instagram.
You can also use your friends to get new filters by checking out their content on Instagram and tapping the filter they used.
If a video features a filter, it will be shown above the caption. You can easily navigate to the filter and try it directly from there at ease.
Here is a step by step guide on what you need to do in order to search new filters on Instagram from friends:
Step 1: Head Over to the Friend's Profile
Open the Instagram app on your device and log in to your account. Now head over to your profile by tapping on the profile icon. Tap on the "Following" list to get a drop down of all the people you are following on Instagram.
Search for the Instagram profile who has the filter that you wish to use and head over to their profile.
Step 2: Click on Their Filter
Once you are in the profile, the next thing you need to be doing is to make use of the filter. To do that, open the video, reel or story that has the filter you want and look for the filter option above the video caption. The filter option will be accompanied by a three glitter symbol.
Tap the filter to be redirected to the filter page which will feature all the top posts with the featured filter.
Step 3: Try Out the Filter
Now that you are in the filter page with all the top performing posts that use the same filter being listed, the only thing that's left to do is to try out the filter.
Open the filter page and click on the "Try it" option. You also have the option to save the effect by using the "Down Arrow" button to download it, and check out other filters you friend has uploaded by clicking the "More" option.
How to Save and Download an Instagram Filter to Your Camera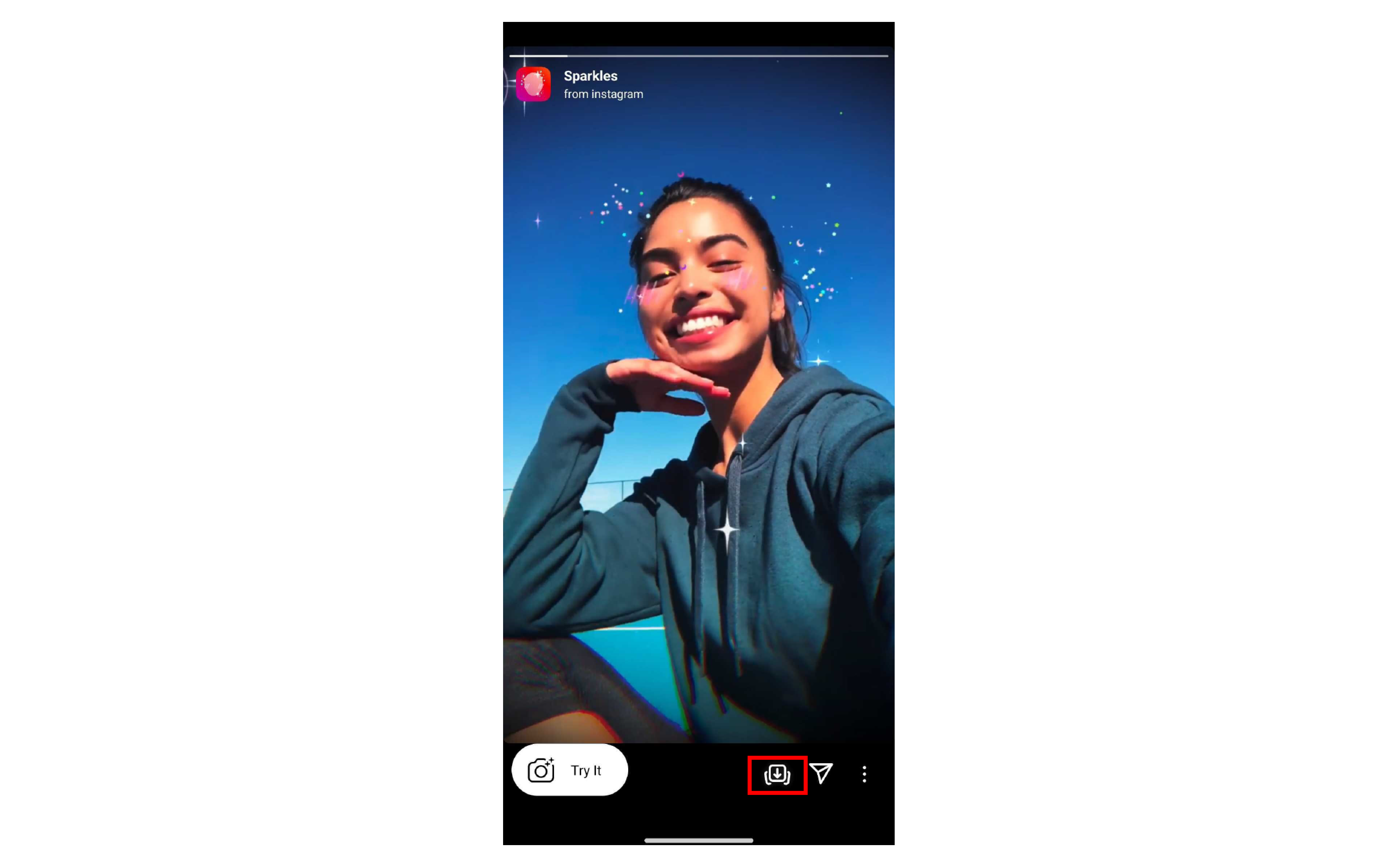 Instagram is consistently evolving and almost every feature gets better and better in terms of enhancement. The same also goes for Instagram filters that are regularly updated into a better feature.
You can expect plenty of new filters also being added to the extensive Instagram library. That's why it's important that you save a filter that you really like immediately.
It could be difficult to find it later if you fail to notice the name of the filter.
What's even great is that it's relatively very easy to save and download an Instagram filter to your camera. If you didn't know already, here are the steps you need to follow:
Launch Instagram on your device and log in to your account.
Tap the "+" icon and scroll right until you come across "Browse Filters" option.
Click the "Browse Effects" option and tap on the filter you want to save.
A preview screen will now appear which will show you how the filter will appear.
The preview screen features a "Try It" option, "Download" icon, and a "Paper Plane" icon.
To save the effect to your filter gallery, you are required to tap the "Download" button which is denoted by a down arrow symbol.
You can scroll to any filter and try it before saving and downloading the filter to your filter gallery.
You can remove a filter by tapping the "Download" option once again.
How to Find Saved Filters on Instagram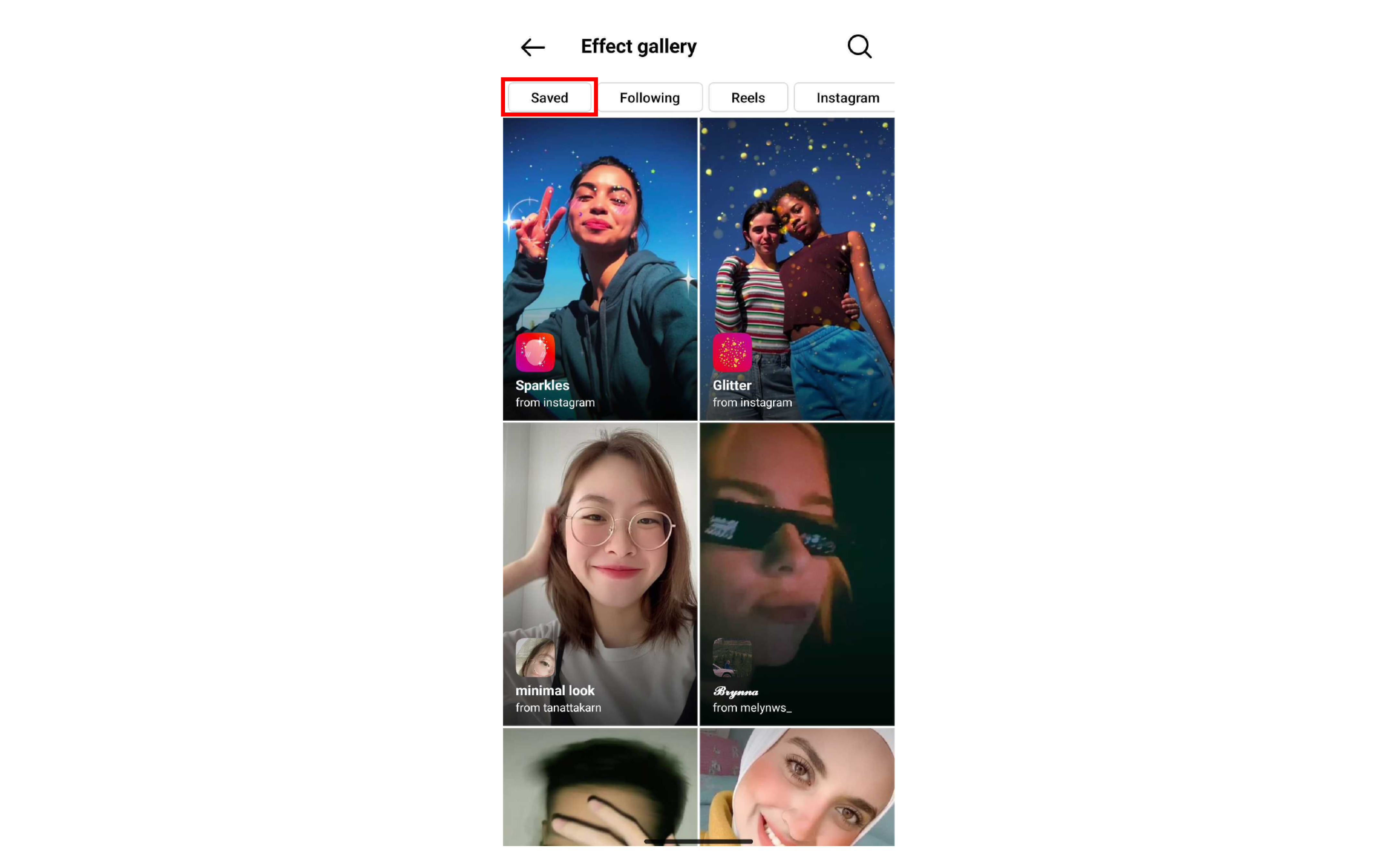 Instagram now allows users to save filters that you like. However, many creators are not sure where these saved filters on Instagram end up getting saved to.
If you are finding it difficult to access your saved filters, we have you covered!
Here is a detailed step by step breakdown on how to find all your favourite saved filters on Instagram at ease:
Log in to your Instagram account from the Instagram App.
Head over to the "Filter Gallery" by tapping the "+" symbol from top right corner.
If you are in the "Post" option, scroll towards the "Story" option.
Select the "Browse Effects" option.
You will then be redirected to "Filter Gallery".
Now, tap the "Saved" option which is the first option above the filters.
This will take you to a page that features all your "Saved" filters.
That's all you need to do to get access to all your saved filters on Instagram.