YouTube
Popular Spanish YouTubers to Look Out for in 2022
Check out these popular Spanish YouTubers to look out for in 2022 to get all the daily dose of motivation and inspiration you will ever need to start your own YouTube adventure, or simply know more about Spain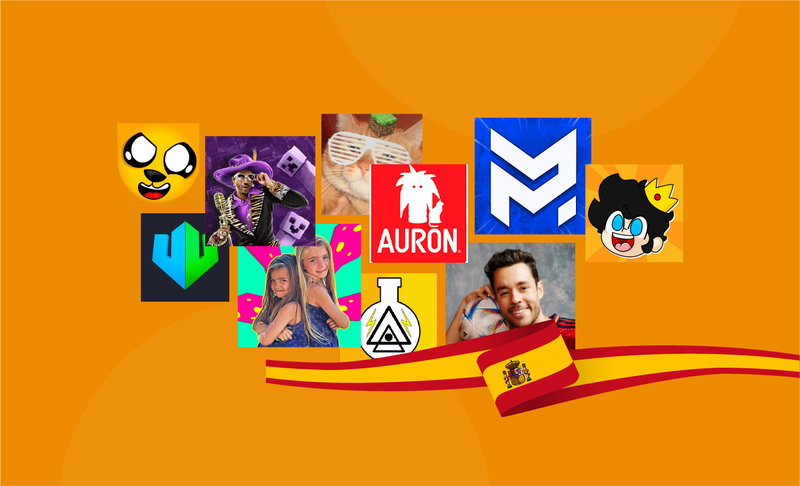 Spanish is the world's second-most spoken native language in the world, with people from more than 21 countries speaking the language daily.
Spain is also home to a lot of heritage sites, tourist destinations, historical artifacts, and many more interesting things that would raise your curiosity to know more.
Fortunately, there are plenty of Spanish YouTubers that make quality content in Spain.
From gaming to lifestyle, travel, beauty, and skincare, Spanish YouTubers have you covered with amazing video content.
If you're not sure about where to look, check out our curated list of popular Spanish YouTubers to look out for in 2022:
1. ElrubiusOMG (40.4 M Subscribers)
Ruben Doblas Gundersen, popularly known as elrubiusOMG is a Spanish YouTuber who shot to fame for his gameplay videos, skits, and vlogs on his YouTube channel.
Ruben first created a YouTube channel way back in 2006 with the channel name elruben, but he had to stop making videos on that YouTube channel due to copyright claims in 2011.
That's when he started elrubiusOMG and started creating content on Omegle, and Chatroulette which immediately went viral and started bringing him lots of new subscribers on a regular basis.
This allowed Ruben to play around with different content and niches, making it possible for Ruben to return back to gaming, vlogs, skits, reactions, and vine content.
ElrubiusOMG is also famous for his insane challenges with one of his recent challenges on Squid Game featuring more than 115 streamers from Spain competing against each other on a Roblox Squid Game.
2. Mikecrack (35.5 M Subscribers)
Miguel Bernal Montes, better known online as Mikecrack is a Spanish YouTuber known for his Minecraft and Roblox gameplay videos.
Just like elrubiusOMG, Mikecrack also had an entirely different beginning to his YouTube channel from what it is today. Mikecrack initially started his YouTube channel in 2009 to upload magic tricks but went inactive to focus on his studies.
He would later start a new YouTube channel that specifically focused on gaming content, especially Minecraft, music parodies, and animated videos. Mike also has an on-screen persona called Mike - an animated dog that looks similar to his appearance in his animation videos.
Mikecrack also maintains a good relationship with Spanish YouTubers ElTrollino, Timba Vk, and Sparta356, eventually creating a team called Los #CoMPas where they do collaboration videos.
If you are interested in Spanish animated series, consider checking out Mikecrack's animation series called "Las Perrerias de Mike" which is available on his YouTube channel.
3. Vegetta777 (33.5 M Subscribers)
VEGETTA777 is a Spanish YouTuber that shot to fame for uploading gameplay videos of Minecraft, Saint's Row, Battlefield, Garry's Mod, and many other games.
Samuel de Luque Batuecas, who is popular online as Vegetta777 is renowned for his style of narrative that follows a movie style that he calls as "muy peliculero".
Even though his YouTube videos are narrated in Spanish, he has fans from around the world, with most of his followers coming from Latin American countries.
As of 2022, he is the third most subscribed channel in Spain.
Vegetta777 often collaborates with other Spanish YouTube creators like Willyrex, Alexby, Staxxcraft, and LuzuVlogs which has also helped all of them, grow their YouTube channels.
Some of his most popular videos also feature growing YouTube channels from Spain like MYM Alkapon3, iTownGameplay, Bersgamer, DeiGamer, Sarinha, Gona89, and many more.
Vegetta777's name is inspired by the famous anime character Vegeta, of Dragon Ball.
4. AuronPlay (29.2 M Subscribers)
AuronPlay is one of the oldest Spanish YouTubers on the platform, known for his comedy videos.
Raul Alvarez Genes, better known as AuronPlay launched his YouTube career back in 2008 with reaction videos where he would go on to casually judge random topics, and people.
Most of his video reviews in the early days also featured different YouTubers, and this eventually landed him in trouble with multiple copyright strikes and the temporary closure of his YouTube account.
He then changed his content to a humorous analysis of different YouTube videos and current affairs.
Over time, as his community started to get bigger and bigger, his style of content also changed from serious topics to lighthearted content. Today, most of his videos focus on humor and less on criticism.
AuronPlay also has a secondary channel called Auron, where he uploads and live streams gameplay from popular games like Minecraft, GTA V, Among Us, and many other games.
5. Las Ratitas (24.7 M Subscribers)
Las Ratitas is a Spanish YouTube channel run by sisters Claudia and Gisele that primarily focuses on children's content like toys, make-up, clubs, and parties.
The channel is the fourth largest YouTube channel in Spain with almost 25 million subscribers.
Las Ratitas are famous for their pretend play videos that features multiple toys like toy cars and building setup.
Their video "McDonald's CON MI COCHE DRIVE THRU" which features the sisters taking care of a toy baby, and driving a toy car to toy Mcdonald's to buy a hamburger is one of their most popular uploads till date, and has more than 800 million views!
Las Ratitas videos are all narrated in Spanish, and Catalan, in a clear and precise tone.
The channel is perfect for children that are looking to improve their Spanish vocabulary and learn more interesting things about everyday toys, and make-up kits for children.
6. ElTrollino (18.4 M Subscribers)
Javier Lopez Hervas, better known as ElTrollino is a Spanish YouTuber that is famous for his funny videos that are engaging and entertaining.
ElTrollino is one of the fastest-growing Spanish YouTube channels with more than 18.4 million subscribers.
Some of his most popular videos also feature his friends and fellow Spanish YouTubers Mikecrack, Timba VK, RaptorGames, Sparta356, elmayo97, Invictor, and RiusPlay.
They also have a collaboration channel called #CoMPas to play Minecraft together.
ElTrollino, just like his friend Mikecrack also has a nickname - Vinagrito, because of his way of getting angry quickly with friends, and getting upset in games.
ElTrollino is also one of the best PvP (Player vs Player) gamers in #CoMPas.
He started his YouTube career with gameplay videos of Call of Duty which has definitely had a positive impact on his PvP skills.
7. TheGrefg (17.7 M Subscribers)
TheGrefg is a Spanish YouTuber who shot to fame for his gameplay videos on Fortnite.
David Canovas Martinez, better known as TheGrefg or Grefg is also the 9th most followed streamer on Twitch, as well as the 108th most watched Twitch streamer of all time.
Even though he is primarily into gaming content, TheGrefg is also popular for uploading content across genres like fitness challenges, comedy skits, RedBull challenges, and other related videos.
However, the focus of his YouTube channel to date remains to be Fortnite videos.
TheGrefg is also one of the few YouTube creators to have their own skins on Fortnite, along with other established Fortnite streamers like Ninja, and Loserfruit.
TheGrefg is also the founder and owner of a professional esports team - Team Heretics.
Another interesting fact about TheGrefg is that he held the Guinness World Record for the most concurrent viewers for a Twitch stream with a record concurrent viewership of 2.4 million people until Twitch streamer Ibai Llanos broke the record in 2022.
8. Willyrex (17.2 M Subscribers)
Guillermo Diaz Ibanez, better known as Willyrex or TheWillyrex is a Spanish YouTuber, known for his gameplay videos which are all narrated in Spanish.
He is also really good friends with fellow YouTube creators like Vegetta777, Bystaxx, Luzugames, and Sarinha and often does collaborations with these creators.
Willyrex is one of the oldest Spanish YouTubers to start sharing videos regularly.
The YouTube channel name of Diaz is also interesting. Diaz chose Willy, the nickname for the English equivalent of his first name William, and added "rex" as the last part because it was Latin for the word king.
An even more impressive feat from Willyrex is that he, along with fellow Spanish YouTuber Vegetta777 published a saga of books titled Wigetta.
Vegeta777, Staxx, and Willyrex also created a mobile game together called Karmarun, which is available for Microsoft, Android, and iOS and was downloaded more than 2 million times.
9. Makiman131 (15 M Subscribers)
Makiman131 is a Spanish YouTuber from Cadiz, Spain, who is popular for his interesting and engaging videos that are narrated in Spanish.
Javier, who is better known online as Makiman131 started his YouTube career with gameplay videos of popular games like Grand Theft Auto V, Call of Duty, and Minecraft and continues to alternate playing between the same games.
An interesting fact about Makiman131 is that he was a singer, composer, and producer, who switched his career around by committing to being a full-time YouTuber.
If you think it's too late to start a YouTube career, take Makiman131's YouTube journey as a source of inspiration.
Even though Makiman131 loves gaming, you can find a wide variety of videos on his Spanish YouTube channel today, that range from comedy skits to testing out different guns, and fun challenges.
10. ExpCaseros (11.4 M Subscribers)
ExpCaseros is a Spanish YouTube channel that creates experiment videos with multiple items.
Some of their interesting experiments include 24-hour challenges, foul games, life hacks, TikTok tricks, couple challenges, and many more.
There are also experiments for the whole family which makes it an entertaining YouTube channel for people of all ages, and gender.
Mayden and Natalia's fan base loves their videos on home experiments, low-cost inventions, tricks, crafts, and myth busters, but their core challenges usually revolve around food.
If you are in the mood for some interesting and engaging content that lets you stay curious, and is narrated entirely in Spanish, you can definitely consider checking out ExpCaseros.