Popular Indian YouTubers to Look Out For in 2022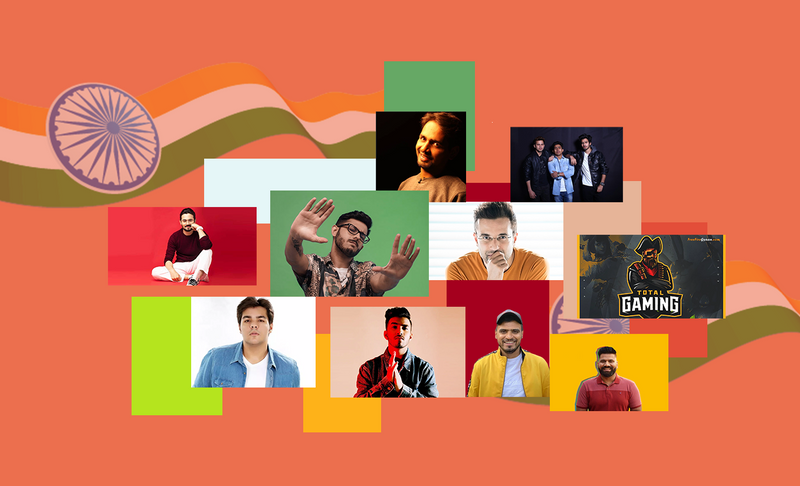 India is one of the fastest growing YouTube communities in the world today.
This was further accelerated in the past few years with more people spending more time home and consuming a lot of content from social networking websites like YouTube.
Many Indian creators also witnessed unprecedented growth recently thanks to their unique content on almost every niche.
The Indian audience on YouTube is also very supportive and welcomes high quality content with wide open arms.
But don't worry, it's not to late to start and establish yourself as a creator!
Don't believe us? Check out these popular Indian YouTubers to look out for in 2022. By the time you are done going through the list of 10 Indian youtubers, you will be inspired and ready to start your own YouTube adventure!
1 CarryMinati (35.2 M Subscribers)
Ajay Nagar, better known as CarryMinati is best known for "Roasting" videos, comedy skits, reactions, and rap music videos.
CarryMinati is the most subscribed non-corporate YouTube channel in India and the first Indian creator to hit 35 million subscribers in the country.
His channel is also one of the fastest-growing channels in the roasting and reaction genre in India with an estimated daily average of 3,000 subscribers per day.
CarryMinati started creating gaming content initially, and later switched over to roasting videos.
It was a roasting video titled "Roasting BB Ki Vines" that he made on Bhuvan Bam, who was already an established YouTube channel that went viral and projected CarryMinati to fame.
He followed this up with more roasting content and eventually started a second channel CarryIsLive to share gameplay and let's play videos of games.
CarryMinati is also famous for landing in controversies with his video "YouTube vs TikTok - The End" being one of the most viral controversies.
The video would help CarryMinati get 1 million subscribers in one day, but the video was deleted after TikTok users reported Cyber Bullying.
In response, CarryMinati's fans rated down TikTok on Playstore from 5 stars to a mere 1.2 rating.
2 Total Gaming (31.9 M Subscribers)
Popularly known as Ajju Bhai, Total Gaming is a channel run by an anonymous gamer from India, whose name is only revealed as Ajay.
He is famous for his live streams of the popular mobile-centred battle royal game Garena Free Fire. Total Gaming also happens to be the most subscribed YouTube channel in India with more than 30 million subscribers.
Even though Ajay is the most subscribed gaming channel in India, he is not a full-time YouTuber.
Instead, he works as a software engineer and considers himself a "growth hacker" that is based out of Surat, Gujarat.
All of his gaming videos and live stream commentary is in Hindi and he is famous for his engagement with fans throughout his live streams.
In addition to Garena Free Fire, Total Gaming also streams other games like Spiderman, Minecraft, GTA V, Assassin's Creed and others.
3 Ashish Chanchlani Vines (28 M Subscribers)
Ashish Chanchlani is a comedian and Indian YouTuber who is best known for his parodies and comedy skit videos on YouTube.
Even though Ashish currently has an impressive subscriber count of 28M and happens to be one of the fastest-growing YouTube channels in the country, it was not YouTube that launched his creator journey.
Following the footsteps of popular YouTube creators like Logan Paul, Amanda Cerny and many others, Ashish Chanchlani also started creating content on the vine.
He has carried over his roots from the now debunk short video app Vine by integrating it into his YouTube username - Ashish Chanchlani Vines.
Based on the current YouTube rankings, Ashish Chanclani is at present, the most subscribed comedy creator on YouTube in India, and the third most subscribed channel overall.
4 BB Ki Vines (25. 4 M Subscribers)
Bhuvan Bam, better known as BB Ki Vines is a comedy YouTuber creator in India who is known for his creation of iconic vine characters like Sameer Fuddi and Titu Mama.
BB Ki Vines was also the first independent creator in India to cross 10 million subscribers, even though he was overtaken in the rankings later by creators like CarryMinati, and Ashish Chanchlani.
Bhuvan is also good friends with Ashish Chanchlani, who are both in the same niche but follow entirely different styles of content.
Their banters on social media are popular among the fans, and there are always comparisons between the fans of both creators in the YouTube comedy community.
Bhuvan also used videos for both YouTube and Vine App, but most of his videos are not based on the traditional vine structure of the six-second vine format.
BB Ki Vines features comedy skits where Bhuvan will dress up as his different vine characters like Titu Mama, Babloo, Janaki, Banchod Das and others. They all have unique traits which make his videos more interesting.
5 Round2Hell (25.6 M Subscribers)
Round2Hell is a comedy group of three friends Wasim Ahmad, Nazim Ahmed and Zayn Saifi that is known for creating comedy skits, and short films.
The channel was initially launched as a space for the three friends to share their football game montage videos. However, these videos did not end up creating the videos they expected and this eventually led to the group moving towards comedy skits.
However, it was only after the launch of their 15th video, based on the Indian telecom service Jio shutting down that they went viral.
The success of Round2Hell after their Jio comedy skit viral is inspirational in the sense that it showcased how one video changed the entire landscape of a YouTube channel in one go.
Today, Round2Hell has more than 25 million subscribers and recently, they overtook the much more established YouTube comedy channel of BB Ki Vines in the overall number of subscribers.
6 Techno Gamerz (25.5 M Subscribers)
Ujjwal Chaurasia, popularly known as Techno Gamerz is one of the biggest gaming creators in India.
He is famous for his gameplay videos and walkthroughs on popular multiplayer games like GTA V and Minecraft. In the initial days of creating the channel, Techno Gamerz was primarily focused on gaming tutorial videos.
Later, he started doing walkthroughs and commentary content on various gaming modes of different games.
However, it was his long-running Grand Theft Auto series that took off his channel's growth to the next stage. He is also known to collaborate with leading Indian gamers like Total Gaming.
Techno Gamerz is also very popular for using mods of GTA to create amazing storylines that are engaging and entertaining.
7 Mr Indian Hacker (24.5 M Subscribers)
Dilraj Singh Rawat, better known online as Mr Indian Hacker is an Indian YouTube creator who is known for his educational videos, innovative challenges, and interesting inventions.
Mr Indian Hacker shot to fame with his crazy science experiments like "Running Bike on Water", "Anar on Table Fan" which involved tying firecrackers to a table fan and similar experiments.
On average, Mr Indian hacker receives a lot of engagement that usually ranges anywhere from 3 million to 18 million views.
He is also very active on his community pages and calls his fans the Titanium Army.
In addition to having his main YouTube account, Mr Indian Hacker also has two alternatives YouTube channels Mr Titanium and Dilraj Singh.
Mr Indian Hacker is also one of the fastest-growing tech channels in India with an ever-expanding audience that keeps on growing after every new video upload.
8 Amit Bhadana (23.9 M Subscribers)
Amit Bhadana is an Indian YouTube creator who is known for his comedy videos in the Hindi language.
He shot into the limelight after his comical reply to Adele's song "Hello" went viral on social media.
Leveraging on the success, he made another dubbing video on a song by Eminem and this was also widely accepted.
This helped his channel grow considerably well, and in quick time too. As a result, Amit Bhadana instantly became the second most subscribed non-corporate YouTuber in India.
He was also the first YouTube channel in India to hit 20 million subscribers and achieved the feat even before CarryMinati.
Contrary to most YouTube creators in India, it is also good to note that Amit Bhadana has stayed away from controversies throughout his YouTube career and continues to make people laugh with his content.
9 Sandeep Maheshwari (22.6 M Subscribers)
Sandeep Maheshwari is a motivational speaker and educational YouTuber who is based out of India.
Maheswari's entry and growth as a YouTube creator is an inspirational story of persistence and dedication.
After starting his career as a model, Sandeep Maheswari tried out several ventures which all failed.
Eventually, he started holding sessions with visitors in his small office, recorded these sessions with his makeshift cameras, and started posting them on YouTube regularly.
All these videos were received with great curiosity and interest which helped him grow his channel quickly to 1,000 subscribers on YouTube.
Carrying over his success, he got an opportunity to host bigger sessions, and this helped get the word out to more people by April 2019, he hit 10 million subscribers on YouTube.
He is very active on YouTube and publishes 1 - 2 videos on his YouTube channel every month.
10 Technical Guruji (22 M Subscribers)
Gaurav Chaudhary, better known as Technical Guruji is one of the biggest tech content creators in India with a subscriber count of 22 million as of early 2022.
He is known for making how-to videos and technical reviews of different products in the Indian market.
Chaudhary is an engineer by profession and states the motive behind creating his channel is to make easy to understand tech videos in Hindi.
Most of his subscribers are regular viewers of his videos as he uploads two videos per day.
His regular upload ranges from simple how-to videos to product introductions like new models of phones, headphones, television sets, cameras and similar peripherals.