YouTube
Popular French YouTubers to Look Out for in 2023
Looking for inspiration to start your French YouTube channel? Here are some of the most popular French YouTubers to look out for in 2022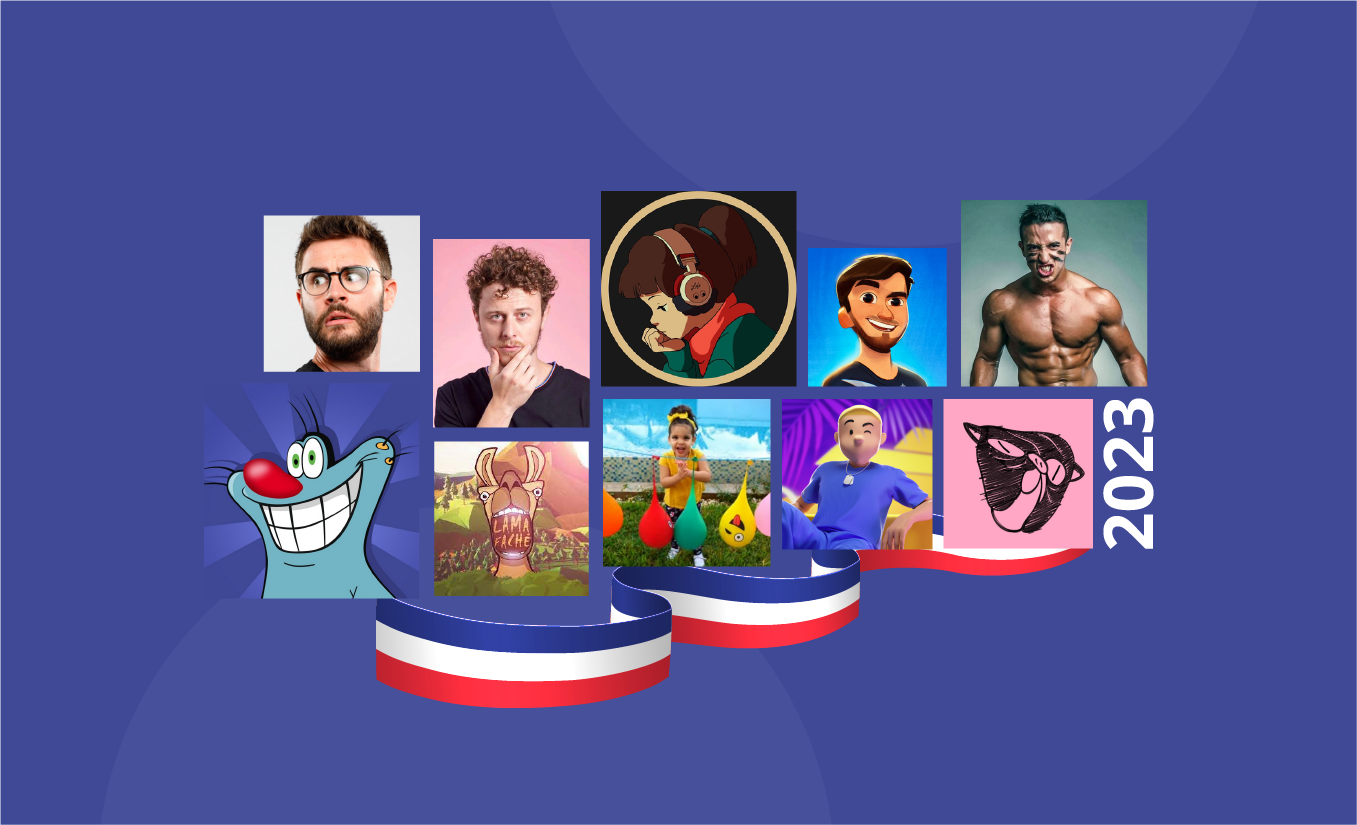 France is one of the most popular tourist destinations in the world, and more often than not, one of the most searched countries in the world.
It is very normal for you to be curious about knowing more about France, the culture, people, and lifestyle of France.
YouTube channels from France are probably your best bet at getting all the information that you need, and that too in a neat, organized, and accessible way.
Fortunately, there are plenty of amazing YouTube creators in France.
Check out our curated list of popular French YouTubers to look out for in 2023, and by the time you are done reading, you would have found out YouTubers from France that answer most of your queries!
1. Squeezie (17.4 M Subscribers)
With more than 17 million subscribers, Lucas Hauchard, popularly known as Squeezie is the biggest French YouTube creator out there today.
He is also the most well-known Francophone (French-speaking) YouTuber who has garnered more than 9 billion views on his YouTube channel where he regularly shares new and fresh content.
Squeezie specializes in Let's Play commentaries of popular video games, along with vlogs, and often collaborates with another popular French YouTuber, Cyprien Lov.
He initially started the channel with a focus on the massively multiplayer online role-playing game (MMORPG) Dofus, but later moved on to other games.
Squeezie was also the youngest French creator on YouTube to gain more than one million subscribers at the age of 17. The content from Squeezie is completely narrated in French, but you can use the auto-translate option to turn on subtitles and learn the beautiful language of France.
2. Cyprien (14.4 M Subscribers)
Cyprien Lov is a French Comedy YouTuber, who shot to fame with his comedy sketches and skits on Dailymotion under the name of Monsieur Dream.
He eventually transitioned to YouTube under his real name Cyprien and has amassed more than 14 million subscribers as of 2022. With more than 2.6 billion views, he is currently one of the fastest-growing French YouTubers out there.
Most of the videos he creates on YouTube are comic skits and short films that are written by Cyprien himself.
He has also co-produced an audio-based web series called L'Epopee temporelle (The Time Saga) and a comic book series called Roger et ses humains (Roger and His Humans).
Cyprien also had a good relationship with French YouTuber Squeezie and made videos together for a short period. They even had a collaborative channel called "Bigorneaux et Coquillages" which went inactive in 2019.
3. Norman Fait Des Videos (12 M Subscribers)
Norman Jacky Cyril Thavaud is a French comedian and blogger that is famous for his short comic YouTube videos which are published through his YouTube channel Norman Fait Des Videos.
The channel name which translates to Norman Makes Videos initially started creating short comic videos back in 2011 and two months later, his video "The Bilinguals" went viral and projected him to fame.
Norman also made collaborations with some of the established French YouTubers like Cyprien, Hugo Dessioux, and Marc Jarousseau.
They also eventually went on to form a team - Le Velcrou and also have a YouTube channel where they share collaboration videos of comedy skits which also see some of the mainstream French comedians make appearances regularly.
If you are looking for some French comedy vine videos, you should definitely consider checking out Norman Fait Des Videos.
4. Lofi Girl (11.5 M Subscribers)
Lofi Girl, formerly known as ChilledCow is a French YouTube channel and music label that live streams lo-fi hip-hop music around the clock.
The YouTube channel is famous for the Lofi Girl Japanese-style animation of a girl studying or relaxing. The anime art was an instant hit when it was introduced and its impact on the channel was so huge that the channel even changed its name from ChilledCow to Lofi Girl.
The channel, which was launched by Dimitri aims to promote underground lo-fi hip-hop beatmakers.
The best thing about Lofi Girl is that the channel is online 24/7 and live-streams relaxation music that can help people who are working or studying.
Lofi Girl is also the proud owner of two of the biggest live streams on YouTube which were both more than 13,000 hours long and had more than 800K likes each.
5. Oggy (11.1 M Subscribers)
Oggy is the official YouTube channel of the popular cartoon character Oggy, also known as Oggy and the Cockroaches.
You can keep track of Oggy and all his adventures by subscribing to this French YouTube channel.
Even though Oggy is a French YouTube channel, all the episodes on Oggy that are published every week, are narrated in English.
In addition to weekly episode updates, the YouTube channel of Oggy also features short excerpts, behind-the-scenes videos, and a lot more.
Oggy's YouTube channel is perfect for children who are fans of the blue bubbly cat, that loves to fight with three hideous cockroaches - Joey, DeeDee, and Marky that are determined to make his life miserable.
Check out the Channels tab to access the Oggy YouTube channel in different languages.
6. Lama Fache (9.2 M Subscribers)
Lama Fache is a French YouTube channel that is known to bring out spectacular and informative content about different facts, myth busters, and entertaining content from around the world.
The channel covers a wide range of videos like animals protecting their owners, body transformations, natural disasters, and many other interesting incidents and experiences.
Lama Fache also does myth-busters videos where they break down the different facts.
This French YouTube channel is also one of the most active channels in the country and consistently uploads at least one new video every day.
All of their content is narrated in the French language, making it an ideal platform to learn and master the French language instantly!
7. Tibo Inshape (8.73 M Subscribers)
Thibaud Delapart, better known as Tibo InShape on YouTube, is a French YouTuber who is popular for his videos on bodybuilding and sports.
Tibo initially started his YouTube channel to share his bodybuilding videos.
However, started getting more views, and subscribers as he transitioned over to videos that had humor bodybuilding, and nutrition advice.
He is also popular for his signature "Daaamn" quote when he starts a video, along with his "enorme et sec" (translates to huge and ripped in French) which he often says in his videos.
Tibo InShape also narrates his videos in French.
In addition to bodybuilding and fitness videos, Tibo does vlogs, short videos, nutrition, vines, skits, and reaction videos as well.
8. Les Boys TV (8.25 M Subscribers)
Les Boys TV follows the adventures of siblings Adel and Amira who pretend play with their father who occasionally dresses up in different costumes.
The French YouTube Channel is also one of the biggest kids' channels in the country, and regularly updates new videos and multiple live streams.
The topics of their video content range from simple skits to pretend play, tutorials on topics like how to brush, how to take care of babies, and daily vlogs as well.
Apart from Adel, Amira, and their Dad, other family members and relatives of the French YouTubers also make occasional appearances in the Les Boys videos.
Les Boys TV is also popular for its challenge videos, dress-up skits, and comedy skits. If you are looking for some child-friendly YouTube channels from France, Les Boys TV is just about perfect.
9 Michou (7.95 M Subscribers)
Miguel Mattioli, popularly known as Michou is a French YouTuber who is famous for his Fortnite video game and humorous skits on his YouTube channel.
Even though it was his videos on Fortnite that shot him to fame, Michou initially started his YouTube channel with gameplay videos of Clash Royale.
After becoming an established creator on YouTube, Michou expanded his channel's content to different niches like music videos, gaming, vlogging, and also collaborations with fellow French YouTube creators.
Michou is also part of a Fortnite team called "Team Crouton" that he formed along with Fortnite players Inoxtag, LeBouseuh, Valouzz, Pidi, Doc Jazy, Apo, and Dobby.
Today, Michou's channel features everything from gaming content, to vlogs, comedy skits, challenges, collaborations, and much more in the French language.
10 Amixem (7.87 M Subscribers)
Maxime Chabroud, better known as Amixem is a French YouTube creator who is popular for his gaming videos, vlogs, and humorous skits.
In addition to his YouTube career, Amixem is also involved in dubbing, music, and acting, and also has his online clothing store.
During his early days, Amixem made videos on the game BattleField with a friend and once he had an active community of followers, he moved into multiple other niches like vlogs and videos on the periscope application.
He also later formed a team called "Redbox" with other French videographers like VodK, Neoxi, Joyca, Mastu, and Cyril.
Redbox is dedicated to editing and production of videos
If you are looking for a French YouTuber who covers a wide range of content that ranges from vlogs to gaming content, and comedy skits, Amixem is perfect!