Online stock trends during COVID-19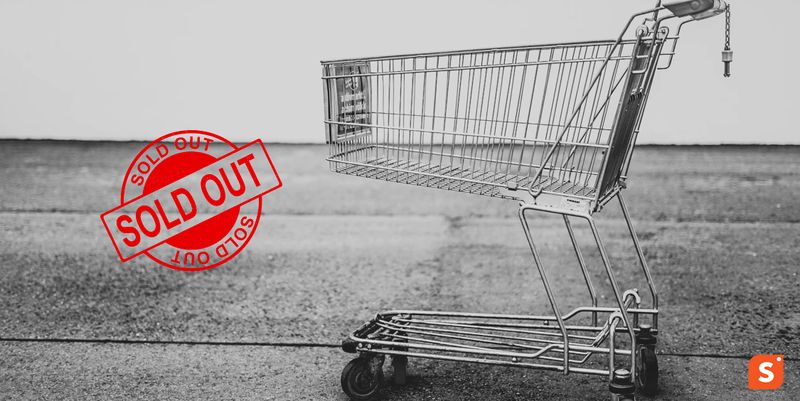 Our back in stock notifications unveil the most unexpected shopping trends in some of the biggest eCommerce markets
Empty shopping racks. Pricey online articles. Shopping in the time of COVID-19 has thrown up similar pictures worldwide. Days progress, stocks get replenished, but customers rarely know that the stuff they are searching for are back in stock.
And the situation is universal.
At the onset of the pandemic, we reached out to our community to lend a helping hand in the ways we could. A number of our community members wrote to us that they were experiencing high levels of out of stock products which puts them and their family at higher risk when they visit physical stores.
We dipped our toes in the situation, took a deeper look by setting up a tracking system for millions of products sold by major retailers in the US, UK and India, and saw some interesting trends.
Started with shortage
We focused on top online retail stores, including Amazon, Walmart, Tesco, Sainsbury's, Waitrose, Big Basket, Target and Flipkart from the US, UK and India. Medical equipment was the first to notch the shortage list, followed by food and essential supplies. However, as lockdown extended, shortages shifted to products related to working from home and entertainment categories.
We started product monitoring from March and launched it to beta users the next month. We observed the following interesting trends in the past three months.
Out of stock trends
The trends were hiding in plain sight. We just had to pick up the threads. Our web crawlers continuously checked the status of each product, while the Shopper.com browser extension noted particular products that were out of stock and alerted the shopper when the commodity was back in stock.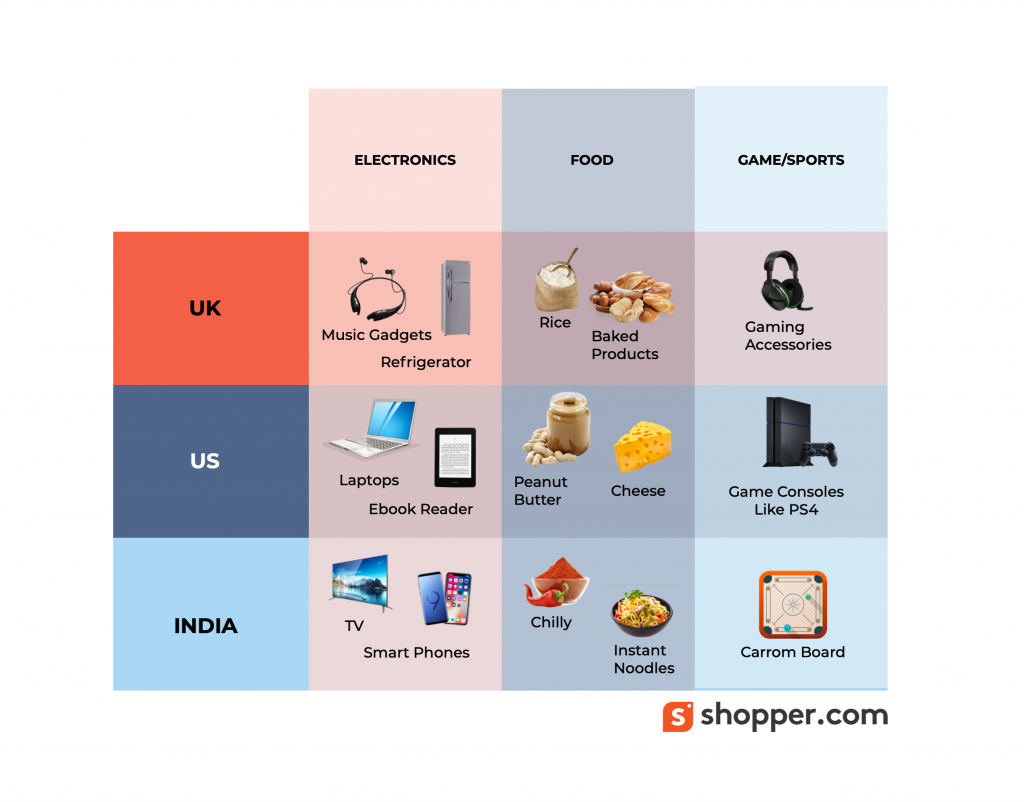 Gaming accessories and game consoles topped the home entertainment section sales in the UK and US respectively, while in India, the chart-topper was Carrom board!
Product category based out of stock trends
For a clear perspective we have broadly divided the products into three main categories.
Electrical items and electronic items
Entertainment gaming and exercise
Food and medicine
Almost 65-70% of out of stock products belonged to the electrical and electronic items category followed by the entertainment category in UK, USA and India. Although the main category is same for all three countries, the actual products in the category differ significantly.
The top category in the US is of electronic items. In this category, the demand topped for laptop computers and ebook readers in the last three moths. 67% of our users from the US were looking for these compared to 13% users who searched for home entertainment systems including gaming consoles. Only 10% users marked essential food products as out of stock.
The top category in UK is also electronics and electrical items. Almost 60% of the products that were marked out of stock, were electrical items. The top products in this category were TV, fridge, home theatre systems and head phones. There was also a huge surge in demand for indoor and outdoor exercise equipments including Bicycles and Treadmills. Almost 15% of all items that were out of stock belonged to this category. We have seen a rise in demand for food items with long shelf life that constituted 18% of the demand. Relatively low I.e. 5% demand was for other products such as vitamins and sanitisers.
In India, over 70% of the out of stock products were from electronics and electrical items categories. TV and mobile phone toped the charts followed by food (20%) and then board games (5%) such as Carrom board and Chess.
Generally, there's a trend that typically the out of stock products are back in stock within 8 days for electronic items and 5-14 days for other items.
Dip in the west, peak in the east
It is a given that online shopping adoption is high in the western hemisphere. We found out that COVID-19 has become the seminal event that pushed online shopping ahead of physical retail in developing economies; India, in our case.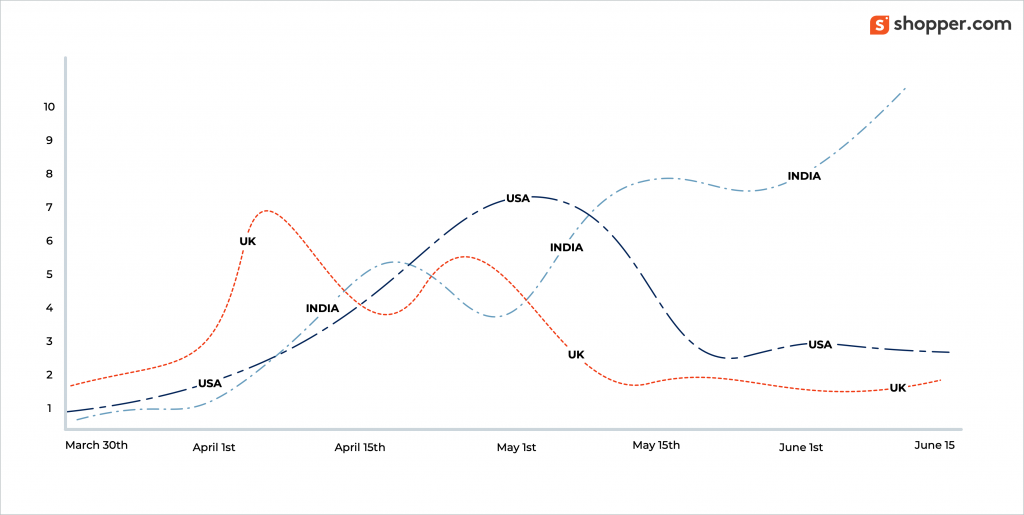 Online shopping peaked in the UK after the first week in April 2020 and steadily dipped by July first week. In the US, where the shopping started increasing, peaked by May first week and started slowing.
The number of products that went out of stock online peaked in the UK after the first week of April 2020 and steadily dipped by June first week. In the US, the number of out of stock products started increasing in initial weeks, peaked by May first week and started slowing down towards the end of May.
India witnessed relatively fewer out of stock products in the initial weeks. However, as time progressed and lockdown strengthened across the nation, number of products that went out of stock also started rising. By mid-June, the number of online products that went out of stock in India were way ahead of that in the US and the UK, and it continues to grow rapidly.
Sneak peak into technology
We have deployed two ways to accomplish the task.
Web Crawler: dedicated web-crawler continuously checks the products' status.
Browser extension: When users browse products that were out-of-stock, and then if the stock is back, the plugin will trigger a notification to everyone who is watching the product.
Efficiency and Error correction
We have an automated ticketing system if stores return error while crawling. This may be mostly due to change in site layout, or the product may have a different URL. Our DomCare management team gets notification about these stores and they will manually change the DOM reader method to accommodate these errors.
Conditions apply
Tracking the products that were back in stock was never free of hiccups. Sometimes multiple customisation like size, colour, weight etc. led to wrong stock detection. Some stores that removed out-of-stock products listed them as new products when they were back in store. For several retailers in the US and India, geographies also mattered. Given the multiple distribution centres these retailers have, shoppers from different regions experienced different stock information. For example, a product that was available in one region was out of stock in another region and shoppers from these regions saw different stock levels.