Expert
How to Join TikTok Creator Fund
Think about becoming a creator if you would like to earn money from TikTok. Here's how you can join the TikTok Creator Fund and start earning money today.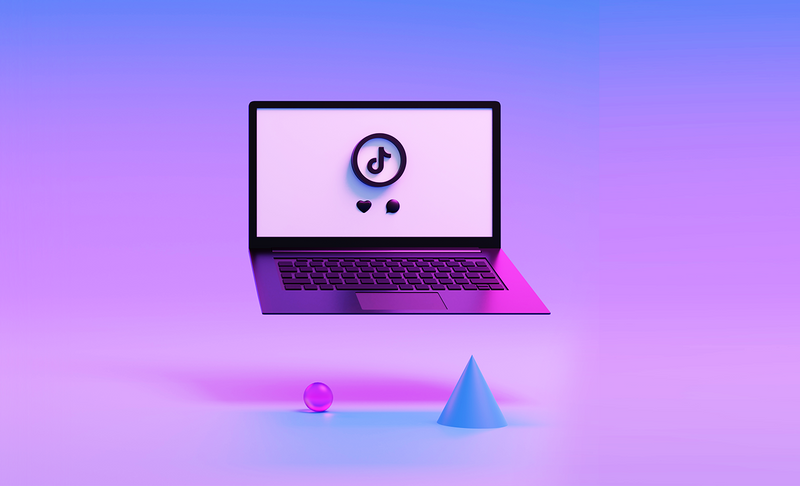 TikTok Creator Funds allow creators who meet certain content requirements to generate revenue from their content regardless of their following.
Therefore, it is important to better understand how TikTok creator funds work.
Let's take a look at how you can participate in the TikTok creator fund.
What is the Creator Fund on TikTok?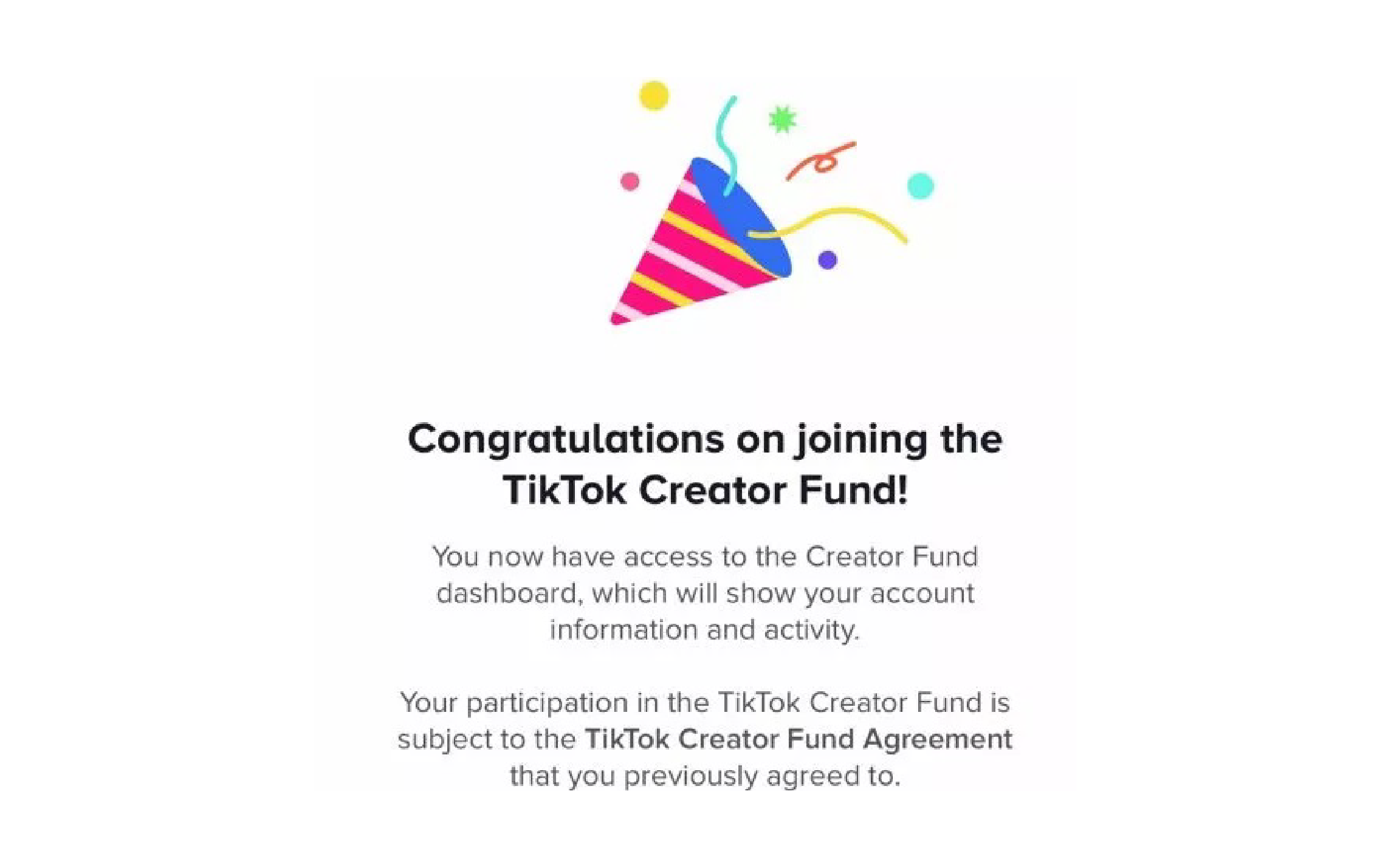 TikTok is one of the most popular platforms today and offers multiple ways to generate stable revenue through influencer and affiliate marketing.
Some of the leading creators on the platform earn up to $5 million from their content on TikTok.
However, it is not exactly the same for every creator that's on the platform. The TikTok Creator Fund, which was launched in the Spring of 2020 makes monetization more accessible to creators.
The creator fund on TikTok was so popular that TikTok announced that they will be increasing the fund which launched at $200 million to $1 billion, and will be distributed in three years to qualifying creators.
Even if you don't have a large following on your TikTok account, creators that make really good content that brings in consistent views and engagement can now generate revenue through the creator fund TikTok.
So is the creator fund on TikTok the same as other monetization features that you see on platforms like YouTube?
According to the TikTok Newsroom update, the "TikTok Creator Fund is not a grant or ad revenue sharing programme. Creators receive funds based on a variety of factors from their videos".
The article on creator fund TikTok goes on to say that the funds you receive from the creator fund are directly proportional to how your content performs on the platform.
Criteria for Joining the Creator Fund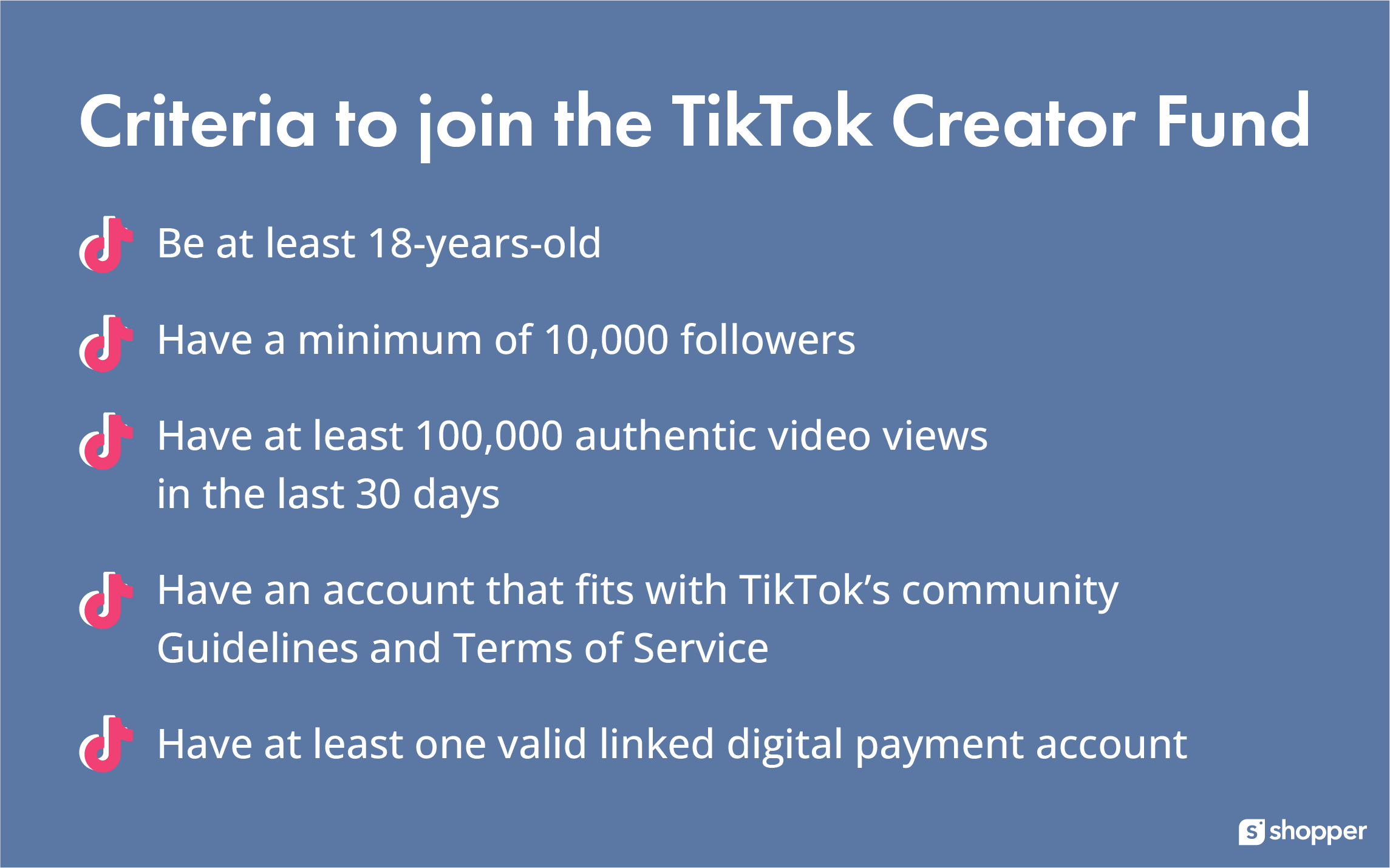 Can anyone on the platform join the TikTok Creator Fund?
Theoretically yes, but technically no in the sense that there are specific content criteria that a creator needs to follow before they can send a Tiktok creator fund application.
The basic criteria to join the creator fund on TikTok is that creators will need at least 100,000 authentic video views in a period of 30 days from the date of applying to the creator fund, in order to be eligible.
Here are some more criteria a creator needs to follow in order to be eligible to join the creator fund on TikTok:
The creator must be at least 18 years old
The creator must have at least 10,000 followers.
The creator must be a resident of the United States, United Kingdom, France, Germany, Spain or Italy.
The creator must have an account that adheres to TikTok Community Guidelines and Terms of Service.
How Do Creators Apply for the TikTok Creator Fund?
Any creator on TikTok who meet the requirements is eligible to apply to the creator fund on TikTok through the TikTok app.
If you are not sure about how to send the Tiktok creator fund application, follow our step by step guide on how to apply for the TikTok creator fund:
Step 1 - Switch Your TikTok Account to Pro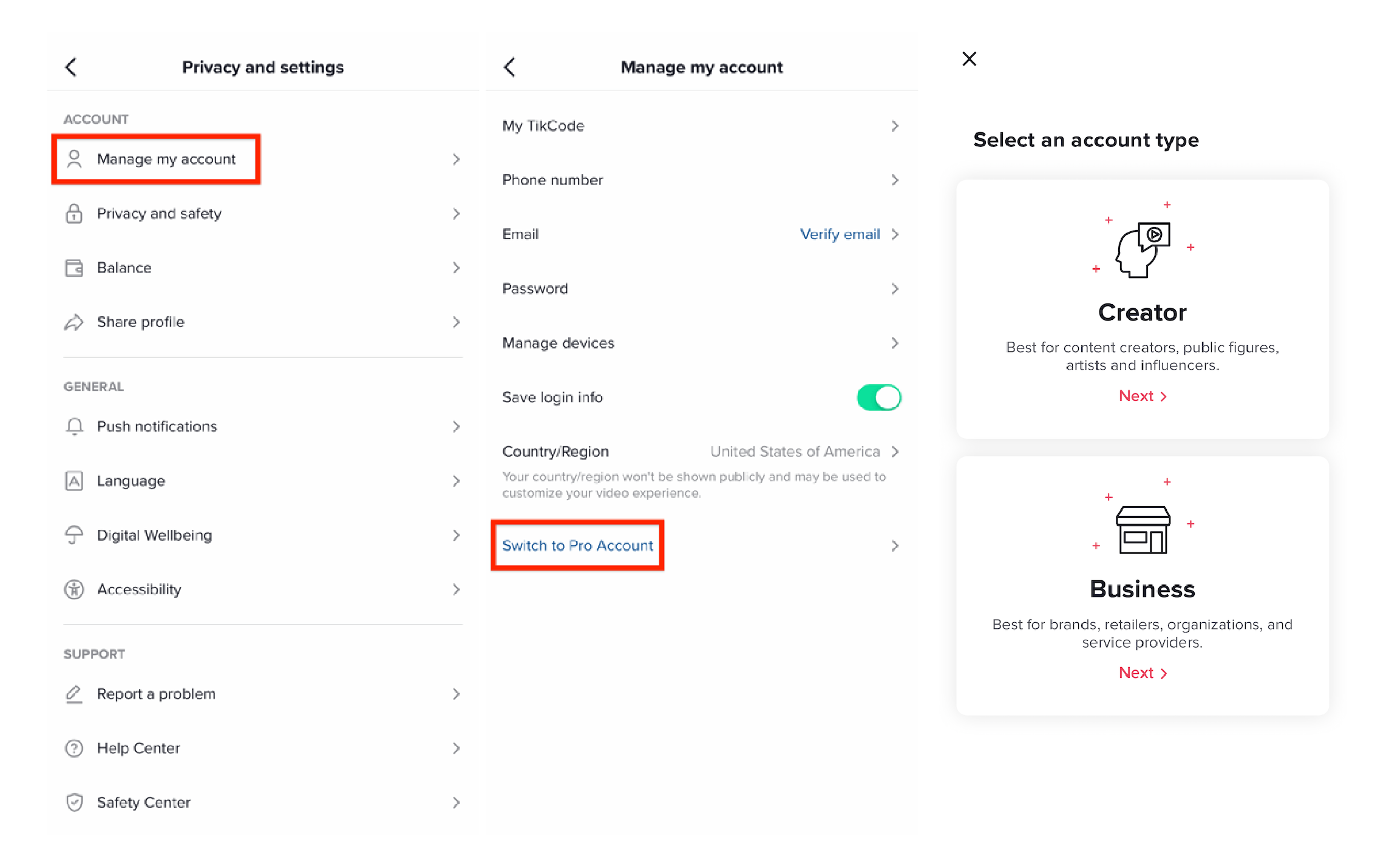 The TikTok Creator Fund requires you to have a Pro account.
If you have been using a personal account that you get by default, the first thing you need to do is switch to a pro account (don't worry, it's really easy).
Follow these steps to switch to a pro account:
Launch TikTok and log in to your account.
Go to your profile and look for the three lines at the top right corner.
Scroll down until you come across "Manage Account"
From their head over to "Account Control" and tap on "Switch to Pro Account".
You can either choose a creator account or go with a business pro account.
Note: You can send the TikTok creator fund application with both the business pro account and creator account.
Step 2 - Apply for the TikTok Creator Fund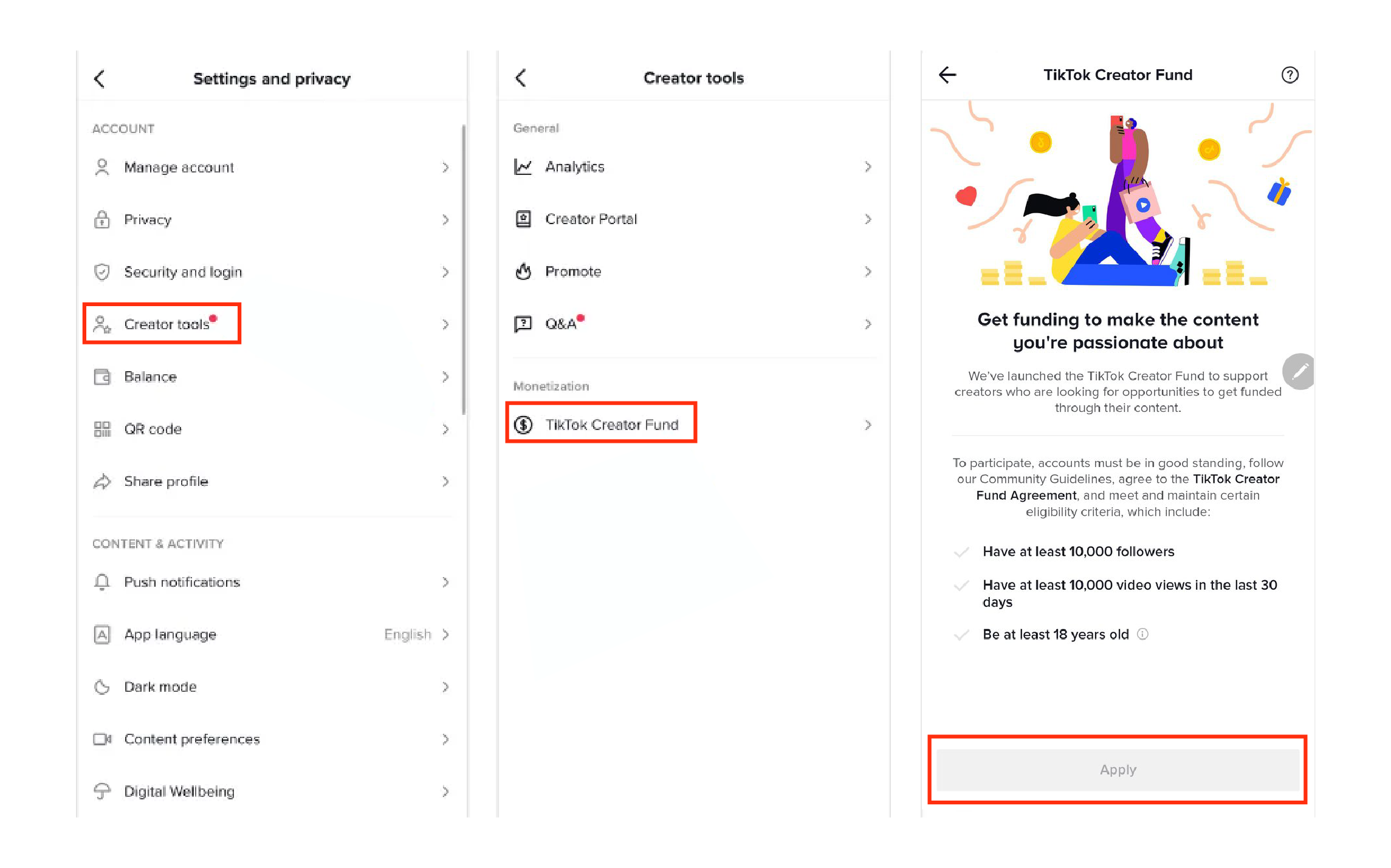 It's pretty straightforward after switching your account from default to a pro account.
Regardless, here is everything that you need to do in order to apply for the TikTok Creator Fund:
Head over to your profile and tap the three lines at the top right corner.
From there, look for the "Settings" option and click on it.
Scroll down until you come across "Creator Tools".
You will see an option called "TikTok Creator Fund" which you need to tap next.
Confirm that you are over the age of 18 by tapping the checkmark.
Read and accept the TikTok Creator Fund Agreement.
Tap the "Apply" button that will turn blue if you are eligible to apply.
Step 3 - Wait for Confirmation from TikTok
After submitting the TikTok creator fund application, all you have to do is sit tight and wait.
A team at TikTok will review your application and once that's done, you will receive a notification from TikTok on what their decision is.
If you have your TikTok creator fund application, don't feel dishearted (it's not the end of the road and you can still get into the creator fund on TikTok). You only need to wait for 30 more days to re-apply again!
How to Become a TikTok Creator?
If you are making content on the platform, and accessing the app from a country where TikTok is legal, then yes you are a creator on TikTok.
As a creator, your primary objective should be to consistently grow your TikTok following and get more engagement. Not only does it help in building a community, but it is also important to start generating revenue through programs like TikTok Creator Fund.
However, before you start posting content on TikTok, it's important that you find a niche.
Stick to the niche you choose, keep track of the latest updates on the same, and make more content based on the niche you decide to go with.
Being a creator on TikTok, and being an established creator on TikTok are two entirely different things. There are millions of creators on TikTok and creators like Charlie D'Amelio and Khaby Lame stand out because of their unique content.
You also need at least 10,000 followers and 100K unique views for your TikTok video in 30 days to join the creator fund on TikTok. That's why it always helps to become an established creator on TikTok sooner, rather than later.
What are the Benefits of Being a TikTok Creator?
The creator economy in general is one of the fastest-growing industrial sectors out there as of early 2022.
All signs are pointing towards even bigger growth with more technological advancements like the metaverse, cryptocurrency and non-fungible tokens (NFT) increasing their popularity with every passing day.
Time is just about right to consider becoming a full-time creator on social media platforms, and TikTok being one of the largest and fastest-growing platforms across the world is just about perfect.
There are several benefits to being a TikTok creator or influencer. Let's take a look at some of the key benefits that you get from being a creator on TikTok:
Generate Stable Revenue from Your Content
One of the best things about being a creator on a leading social media platform is that they can help you generate stable revenue.
At a time when a major pandemic almost brought the world to a stand-still, creators still managed to make inspiring and entertaining content without major disruptions.
Being a full-time content creator is an employment option that tens and thousands of creators follow today. However, it does take time and a lot of consistent effort to build a community and become successful on creator platforms today.
That's also why platforms like Shopper are an integral part of success for a creator today. By setting up your own store, and directing followers to your affiliate products through one link, Shopper helps you earn more and increase your revenue stream from the content you create.
Promote Yourself as a Brand for Partnerships
Celebrities used to run the show when it came to partnerships and campaigns with leading brands but gone are those days.
The rise of influencer marketing and the potential of huge engagement that influencers generate through their social networking feeds has helped increase the demand and need for creators more than ever.
Creators are no longer seen as just a personality or entertainers. Rather, most of the established creators are by themselves a brand, with their own teams managing almost every aspect of the creator as a brand.
By being an established creator on a platform like TikTok, you are more or less a celebrity that has the potential to endorse multiple brands, promote sales, have demand for your merchandise, and get invited to big events.
You also stand a chance to get exciting brand partnership deals from companies of all scales and sizes that offer lucrative opportunities to make more revenue.
Have an Influential Voice That Has Active Listeners
With great power comes greater responsibility and by being an established creator on TikTok, that's exactly what you get.
You have an influential voice that can help you get a message to a broader community.
That's why brands love influencers and creators, as they have the power to take their product to the doorsteps of tens and thousands of followers a creator has on TikTok.
However, it is important that you use this power to good use and help a struggling brand or idea to prosper and grow.
You can also use your TikTok account to share educational and inspirational content about your niche that can be used as guidelines for upcoming creators that want to get better.
FAQs about the TikTok Creator Fund
How much does TikTok pay with a creator fund?
The TikTok creator fund is a $1 billion fund for creators that qualify the content criteria to join the program. It is distributed to creators based on their video performance and varies from one creator to the other. On average, TikTok pays between 2 cents to 4 cents per 1,000 views (estimated at $20 to $40 per million views). You can withdraw from TikTok Creator Fund once you have at least $10.
Do you have to pay taxes on the TikTok creator fund?
Yes, you do. Even the tax rules vary from one country to the other, TikTok influencers are required to pay taxes to their respective governments unless there is a tax exemption for money made through donations or grants from a social networking platform like TikTok.