Expert
Does Instagram Shadowban, Block or Restrict Accounts?
Have you been shadowbanned on Instagram? Here is everything you need to know about Instagram Shadowbans, how to fix them, and how to avoid getting shadowbanned.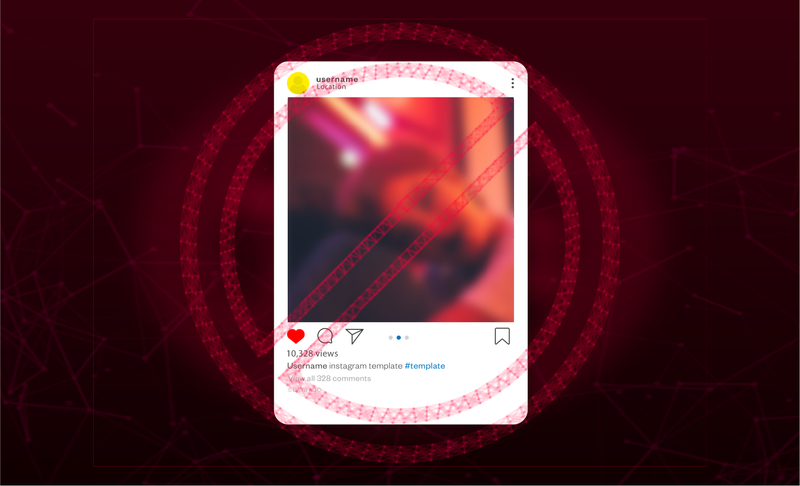 Yes, they do! Instagram can shadow ban, block, or restrict your account even though they have not officially confirmed the matter.
As a social media platform, Instagram has evolved constantly since its launch as a photo-sharing platform. Growing on the platform as a creator takes a lot of work and time.
The shadow ban on Instagram limits the audience and does not generate the usual engagement. Therefore, it is critical to avoid things that lead to a shadow ban and know how to identify the early signs of a shadow ban.
What is the Instagram shadow ban, and how does it limit, block, or ban accounts?
Here's what you need to know:
What is an Instagram Shadowban?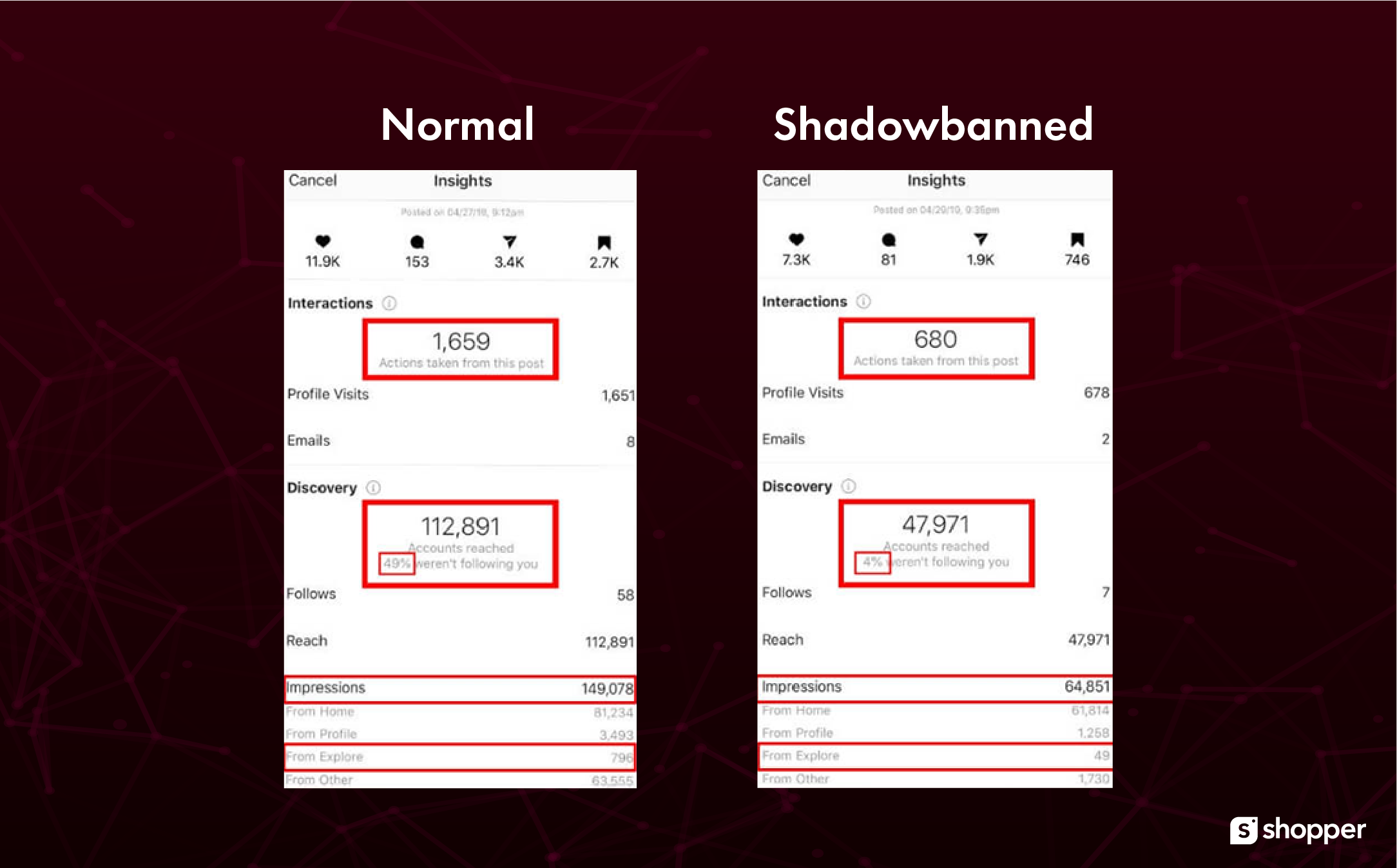 Before we dive into the technicalities and find answers to why Instagram shadow bans their users, let's examine what an Instagram shadow ban is.
A shadow ban on social media, in general, refers to the limited sharing of your content within the platform community.
In the event of an Instagram Shadowban, your content  would not appear on anyone's feed unless they followed your account. In turn, this will significantly decrease your visibility and affect your content's discoverability rate on Instagram.
Contrary to all other restrictions on Instagram, shadow bans will not be notified or informed to you.
You will be able to use your account like you normally do, and you will also be able to add content, descriptions, tags, and even hashtags as usual.
No matter how hard you try, your content won't rank for any hashtags or appear in the explore page even if you implement all the right strategies.
The content will not be shared with anyone who does not follow you.
When you add a hashtag, it usually appears under the recent tab on the hashtag search page. If your account is shadow banned, you will notice that your posts will not appear under any hashtag after being shadow banned.
Why Do Instagram Accounts Get Shadowbanned?
Even though Instagram hasn't confirmed the existence of a "Shadowban" on their platform, they did confirm back in 2019 that "inappropriate" content will be demoted.
In simple terms, this means that content within the community guidelines can still be shadow banned and prevented from being shared with a global audience on Instagram.
Instagram announced that a post deemed inappropriate for an audience, but within the confines of the community guidelines and Instagram rules, will now appear on the creator's feed. But it won't appear anywhere else, such as on the Explore page or hashtag results page.
Additionally, Instagram suggests that such an update was necessary to ensure that the content on their platform is appropriate and safe for the community.
In addition, any content that's inappropriate like sexually suggestive, containing nudity, abusive or hateful content and anything similar won't be shared with a broader audience on Instagram.
Using too many irrelevant or banned hashtags can get your Instagram account's content demoted or shadow banned.
How Do I Recover a Shadow Banned Instagram Account?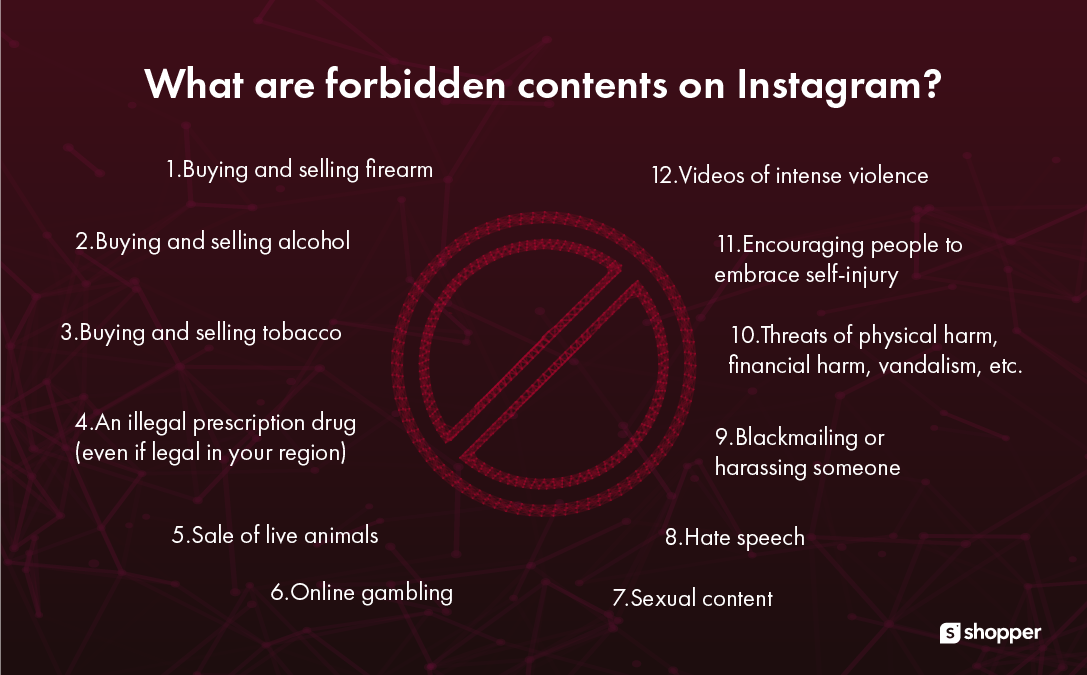 There is no definite answer to how long shadow ban on Instagram last or why Instagram shadow bans users that post regular content that are within community guideline restrictions.
However, you can still post normal content and get shadow banned if you are a creator that does some of these:
Using third party apps, tool and bots to get more comments, and views. Even sharing your content to telegram groups in bulk can easily land you in trouble.
Using the same hashtags on all your videos. This is bot behaviour and a practice that Instagram might consider as possible spam. Change your hashtags depending on the video content.
Copy pasting same comments on different posts is another bot/spam behaviour that will alert Instagram. Always comment authentic and genuine content in a respectful way to stay clear of Instagram shadow ban.
Using irrelevant hashtags or hashtags that are not related to the content you are sharing because they are popular. Hashtags are the main filtering mechanism for Instagram. Using irrelevant hashtags will therefore be considered as spam.
Instagram allows creators to use up to 30 hashtags per post as maximum. However, to be on the safe side, it is ideal to have hashtags in the range of 10 - 20 with 8 - 11 being the ideal range for number of hashtags per Instagram post.
Using content that's against the community guidelines can result in shadow ban, restricted usage or account suspension (for severe or repeat violations). Always publish content that is within the rules and requirements of community guidelines.
Using flagged or banned hashtags can result in a shadow ban. This is one of the easiest way to get your account shadow banned. You can manually search hashtags and if there are no results coming for hashtags, it's best to stay clear of those Instagram hashtags.
You don't need to recover a shadow banned account on Instagram if you don't get shadow banned in the first place.
Always use Instagram in an authentic way to ensure that your account is free from any form of blocks, restriction and bans.
How to Check if Your Instagram Account is Shadow Banned or Not?
There are a few ways to see if your Instagram account is shadow banned or not.
Let's take a look at some of these different methods creators can use to see if they have a shadow ban.
1. Manually Checking Engagement
The easiest option you have is to check out your Instagram profile after posting to see if new people are following you or reacting to your posts.
If your posts are only receiving engagement from your followers, then you might be going through an Instagram shadowban.
If you have a business account on Instagram, you can check out the insights to see how posts are performing and compare with another successful video on your profile to see if there are drop off in engagement.
2. Using Instagram Shadow Ban Test
There are a few Instagram shadow ban test websites and services like the Heist Social that can tell you if your account is shadow banned or not.
Instagram shadow ban tests are a clear cut way to confirm if your account has been shadow banned or not.
Does Instagram Block User Accounts?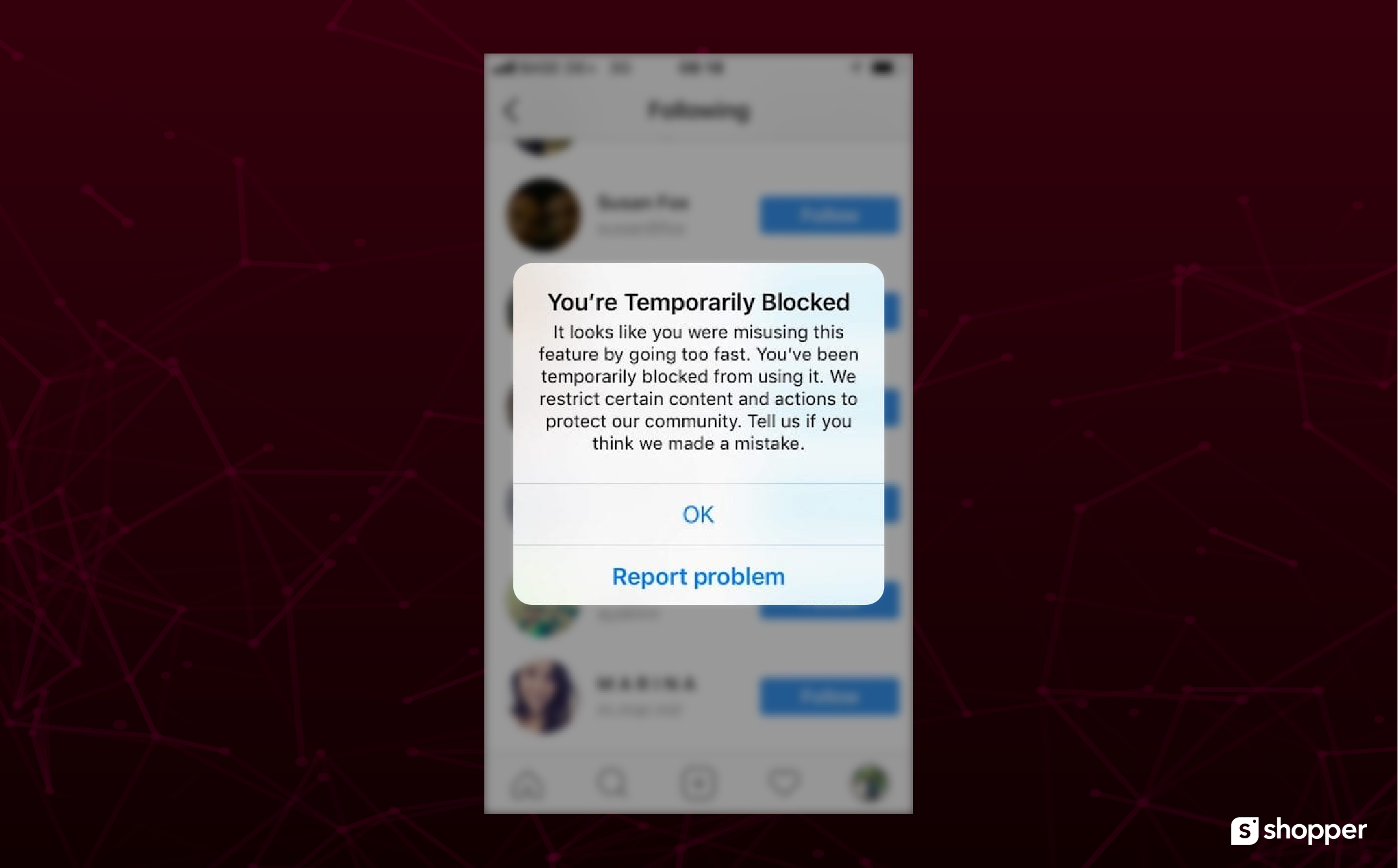 "You've been temporarily blocked from performing this action" and "Action blocked?" are two notifications that no creator who is growing on Instagram wants to see.
However, if you end up exploiting or over-using some of the many features on Instagram, you will end up getting the same notifications and limitations on using some of the main features of the app as well.
Receiving any of these messages is a clear indicator that you have probably crossed the hourly or daily limit and Instagram has temporarily blocked your account or specific actions for your account.
In most case scenarios, the blocks on Instagram vary from 24-48 hours to 2 weeks depending on the severity of the violation.
However, if you are a repeat offender that posts content that are against the community guidelines, you can end up getting your account suspended permanently.
Why Do Instagram Accounts Get Blocked?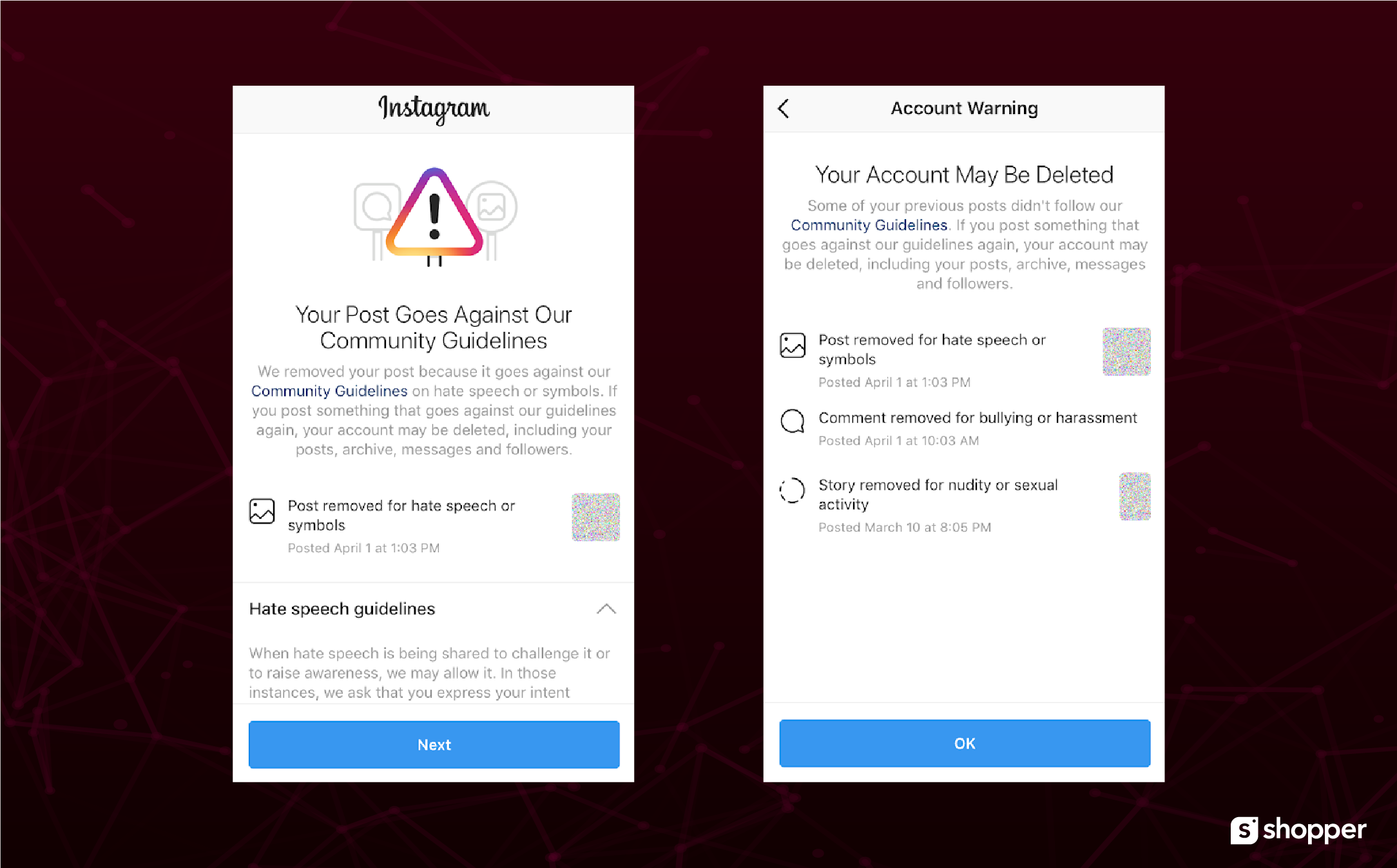 Instagram is one of the largest social media platforms today, that has a diverse community of users.
To make sure that all users are safe from content that goes against community guidelines, hateful messages, and other inappropriate content, Instagram has an active monitoring system along with a dedicated report feature to keep such content away from the platform.
Instagram is also actively upgrading their platform to make sure that there are more human users than automated bots.
As a result, you can get banned quite easily by not following any of the community guidelines, or committing bot behavior.
If you unfortunately ended up receiving a block on Instagram, here are some tips to consider:
1. Uninstall Third Party App
It is against the community guidelines to use a third party app for Instagram, and this can include anything from Instagram account managers to like and engagement bots.
If you got blocked from Instagram without any reason, chances are always high that it was due to a third party app.
Uninstall third party apps that are connected to your IG account, and change your Instagram password to automatically log out from all connected third party apps.
2. Liking or Commenting or Messaging Excessively
It is ideal to keep your overall engagement per day on Instagram between 0 - 500 and anything more can result in Instagram AI interpreting your actions as bot behavior.
Doing even the most basic actions on Instagram like adding likes, comments, and following profiles all count as actions, and by doing too much, you will end up being considered as a bot on Instagram.
It is important that you keep actions on Instagram under control and don't excessively use any of these actions.
3. Sharing Content Against Community Guidelines
Sharing content that violates the community guidelines on Instagram will result in an instant ban.
It's not just Instagram that keep tabs on your content, but they also offer the report option, that anyone on Instagram can tap once to get your content reported.
If your account gets reported frequently, it can result in your account getting shadow banned, restricted, and temporarily or permanently banned.