Intermediate
How to Use Hashtags on TikTok
Looking for tips on how to find and use the best TikTok hashtags? Get tips on how to increase reach and engagement on your TikTok posts.
Using hashtags on social media is a great way to get more eyes on the content you share.
TikTok is one of the fastest-growing social media platforms with more than a billion users as of 2022.
TikTok has such a huge user base of potential viewers that using the right hashtags will help you reach the maximum number of them.
How do you find the best hashtags on TikTok and use them effectively?
This comprehensive guide will show you how to use hashtags on TikTok.
Build the best hashtag strategy for TikTok that can help you accelerate your profile growth and engagement for your content.
Why Use TikTok Hashtags?
As a creator of TikTok, your primary goal is to make sure that your content reaches its intended audience.
Hashtags on TikTok help the algorithm understand who your video is actually targeting and ensure that your content reaches an audience who are interested in the niche you make a video on.
TikTok hashtags organize content by category and help users share and search specific content.
Hashtags can also be used to great effect by creators who want to get their video out to a target audience. This also helps to improve the overall discoverability of your content as it leads people to search for a specific phrase or tag that takes them to your content.
There are also plenty of viral hashtag challenges like #IceBucketChallenge and #FlipTheSwitch challenges which helped many creators shoot to fame.
All these are more than enough reasons that suggest that there is a lot of benefits to adding hashtags on your next TikTok video.
How to Add Hashtags to TikTok Video?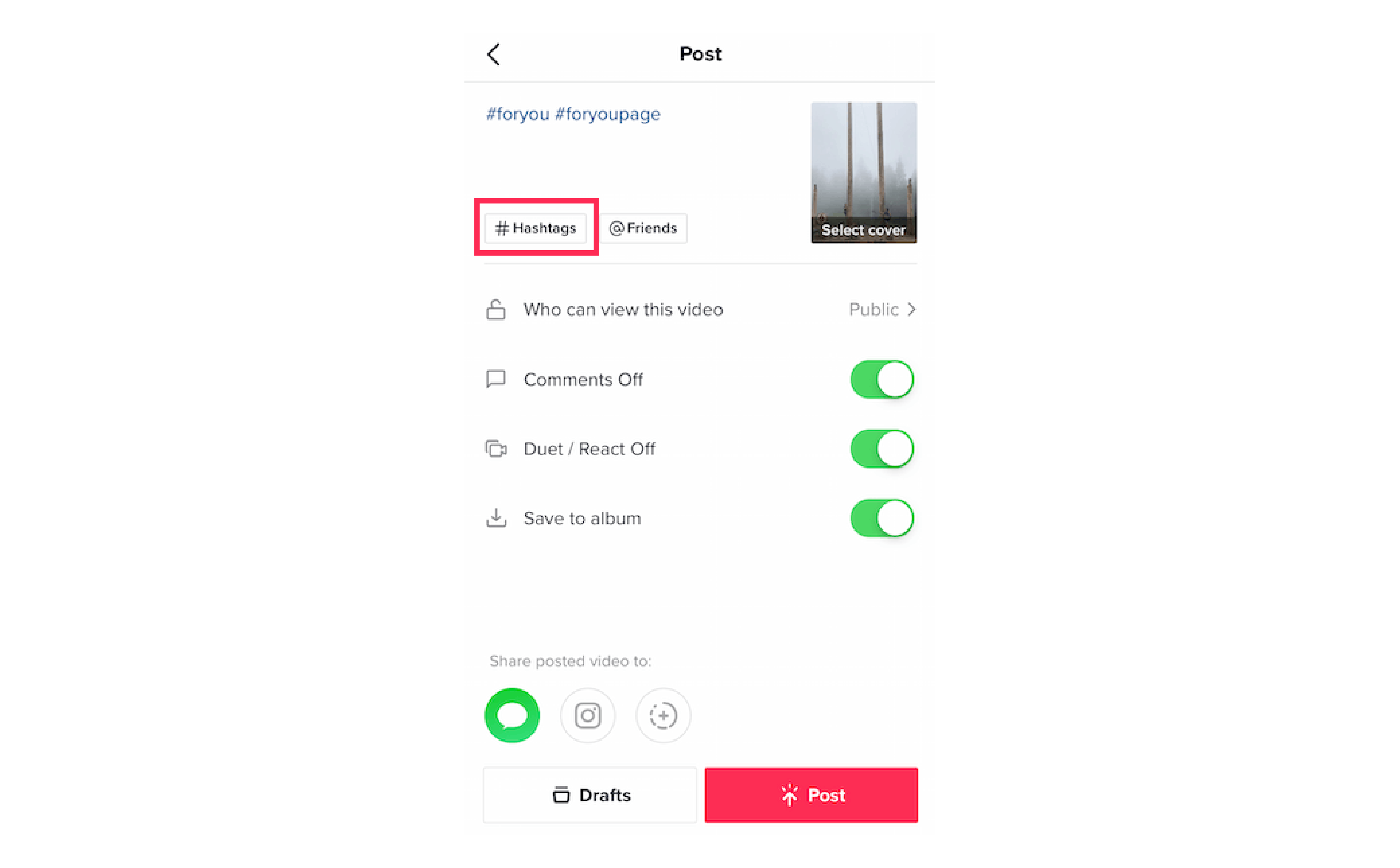 Adding hashtags to a TikTok video is pretty straightforward.
You only need to add the hashtag "#" symbol on the description and proceed to post the content. However, just adding hashtags to a video is not enough to ensure that your video is optimized for search.
Here is a detailed step by step guide on the best way to add hashtags to TikTok video:
Log in to your TikTok Account.
Now proceed to create a video or upload an existing video from your camera roll.
Add effects, filters, sound, caption or anything you need to the video.
Now click the checkmark and proceed to the next step.
You will need to add a title, description and have the option to add hashtags and tag a friend.
Add a description, and scroll down to the "hashtag" option to add hashtags.
On clicking "hashtags" you will get a list of default hashtags.
Enter a search query in the "hashtags" screen to get a list of related and relevant hashtags.
You can also get an idea about how popular a hashtag is by checking out the number of posts under the hashtag.
Mix up really popular hashtags with some of the less popular hashtags to get the best results.
You can enter up to a maximum of 33 hashtags in the TikTok caption.
Ideally, it's always best to spend some time doing your hashtag research to find the best hashtags you need to use for a particular TikTok video.
Alternatively, you can also check out some of the hashtag generators to get quick suggestions of TikTok hashtags that bring in the highest engagement and conversions.
How to Find Trending Hashtags on TikTok?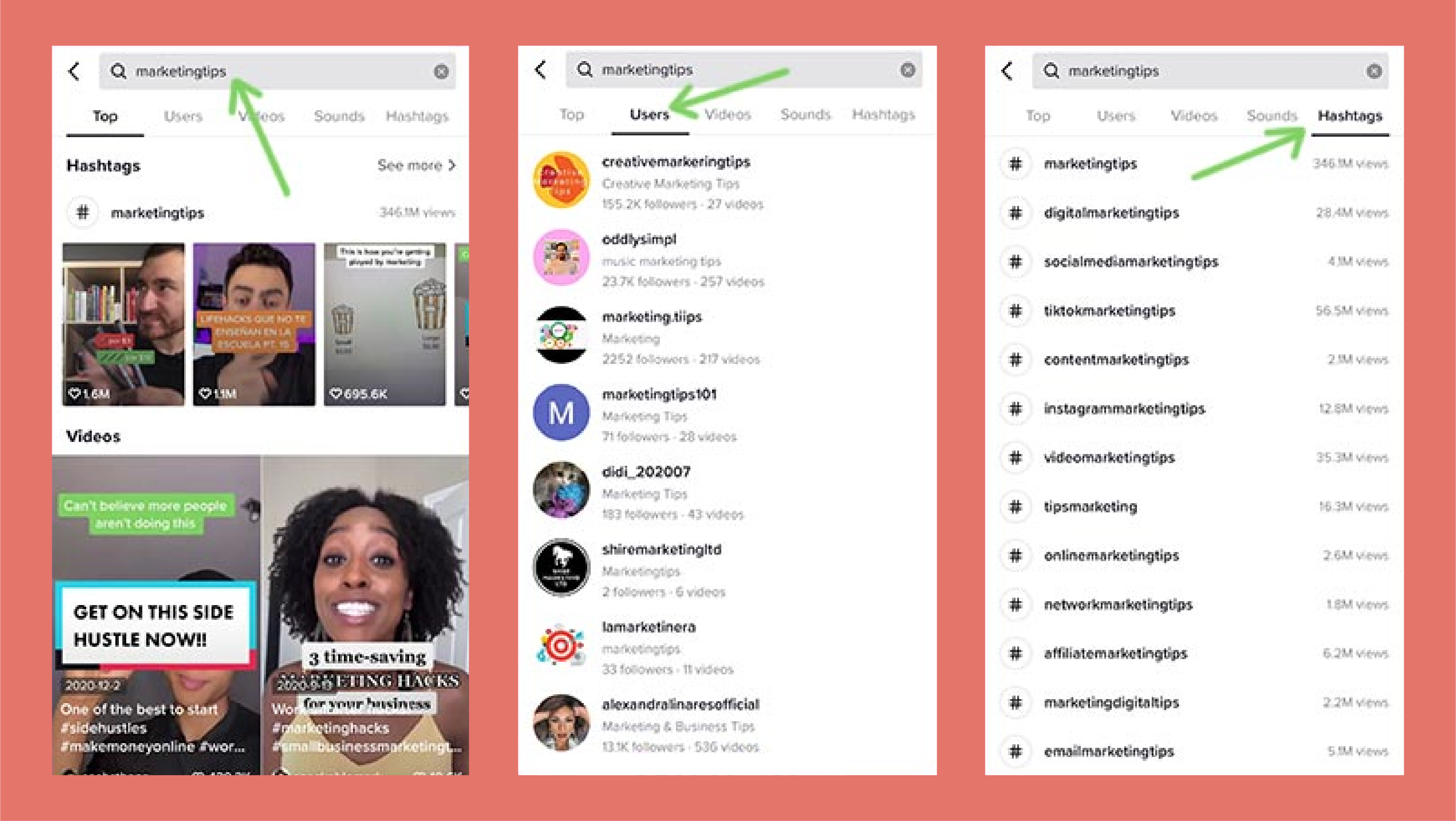 It is important that you make use of trending hashtags to improve your profile's overall engagement, discoverability, and reach on TikTok.
Trending hashtags also help your content reach out to a wider audience as the TikTok algorithm will give priority to sharing your video to an audience that is actively searching for the hashtag you used.
By consistently using trending hashtags on TikTok, you automatically also increase the number of people coming across your content on the platform, and this is really important for an account that's growing.
But how do you find trending hashtags on TikTok in the first place?
We have you covered with five essential tips that any creator on the platform can follow to find some Tiktok hashtags that are trending:
1. Make Use of Related Hashtags
If you already have a hashtag that has worked well for you, this is a great strategy to find even more amazing hashtags that are guaranteed to bring in a lot of engagement.
It is also relatively very easy to find related hashtags as you only need to type in the hashtag that worked in the search bar to get a list of related hashtags and how many posts are using the same hashtag.
If the initial hashtag worked, the hashtag is likely a topic that is searched by a lot of people.
Similar hashtags are also very likely to have a similar volume of search and this can help you find trending hashtags on TikTok at ease.
2. Research Hashtags in Your Niche
Spend some time to go through some of the most popular creators on your niche and see what hashtags they are using on their content. Having a better idea of your niche, helps you come up with a better hashtag strategy for TikTok.
Because of the impressive following of the top creators on your niche, it is very likely for the hashtags they use to be trending.
3. Use Hashtags Related to For You Page
As a TikTok creator, it is important that you get your content ranked on the For You page of the maximum possible users.
Now using hashtags that are related to "For You" might not necessarily help your content get to the for you page, however, hashtags like #fyp, #foryou, and #foryoupage are still pretty popular among regular TikTok users.
4. Check Out the Hashtags Your Audience Follows
Now, this is a strategy that acts as a double-edged sword that may or may not lead you to trending hashtags.
However, by following hashtags that your audience follows, you get a general idea of what hashtags are popular and what are mostly used by people that follow you.
There might also be engaging and trending hashtags that they follow, and is relevant to your niche and audience.
5. Go Through the Discover Tab
The "Discover" tab on TikTok is your number one destination to find a list of trending hashtags that are regularly updated.
The discover tab is regularly updated and enables creators to see what's new and trendy on the platform. It's also a great place to find videos and inspiration for future videos.
You can also run into some of the trending hashtags or hashtag challenges that have a surge in the number of related posts by going through the "Discover" tab.
How Many Hashtags to Use on TikTok?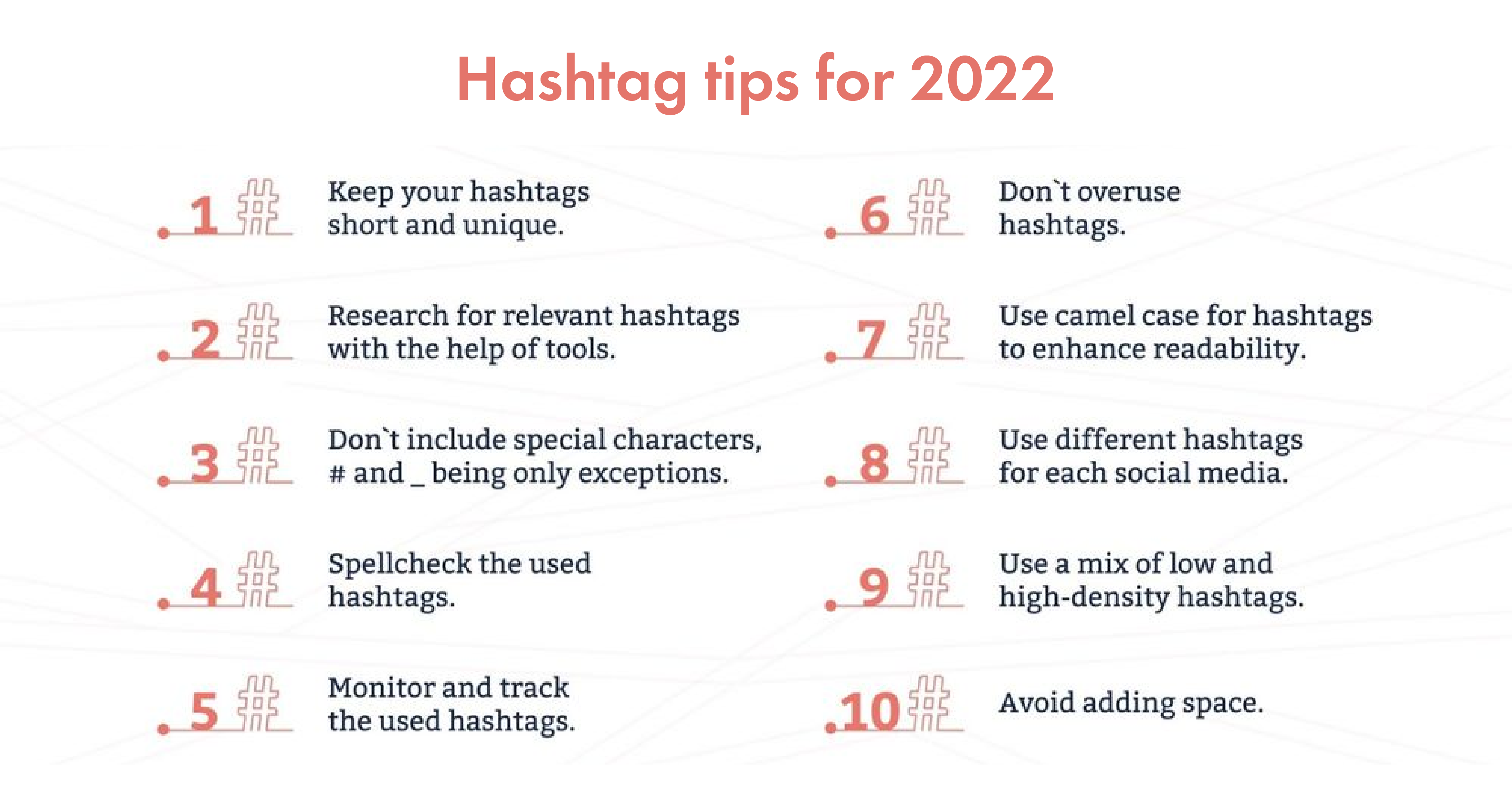 There is no real limit or restrictions on the number of hashtags that you can use on TikTok.
However, there is a character limit of 100 for TikTok captions. As hashtags are added to the description to be effectively considered by the algorithm, you can only enter a maximum of up to 33 hashtags per TikTok post.
There is a minimum limit of 3 characters required for every hashtag on TikTok. Considering, you are just using hashtags on the description, a creator can use up to 33 hashtags on their TikTok post.
However, this is not recommended, and posts that have an engaging description title followed by hashtags in the range of 5 - 15 are ideal to bring in the desired engagement.
Another reason we recommend creators to not use the maximum limit of 33 hashtags for their posts on TikTok is that it might end up confusing the TikTok algorithm and prevent the video from reaching an intended audience.
When hashtags are low in numbers, it is easy for a creator to add relevant hashtags that are focused on a particular topic or niche.
It is also easy for the algorithm to understand who the intended audience is when there is a focus and consistency for hashtags.
However, by using 20 plus hashtags, you are giving more combinations and categories for the algorithm to choose from, and this might cause the algorithm to end up not being able to find the best category.
Check out different combinations of hashtags and stick to a strategy that brings in the most views, engagement, and followers.