Beginner
How To Use Creator Studio For Instagram: A Beginner's Guide
Want to use the Instagram Creator Studio, but not sure about how to start? We have you covered with everything you need to know about the IG Creator Studio. Follow these simple tips to get a breakdown of its many features.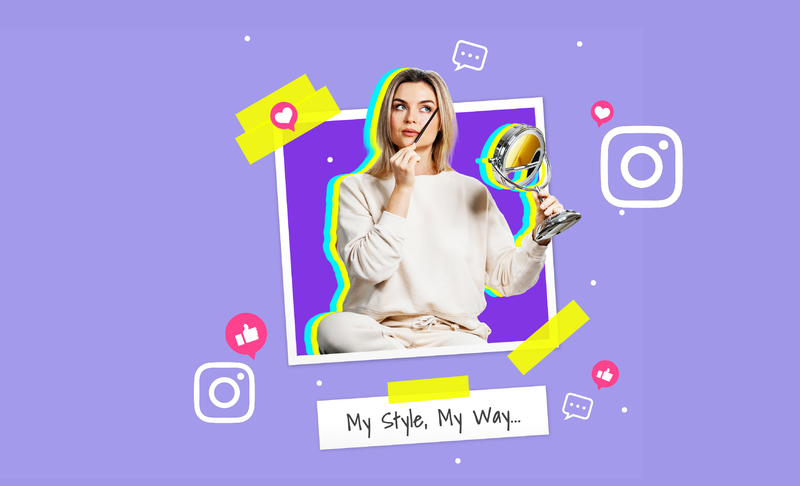 Planning to make the most of Instagram Creator Studio, but not sure how?
Worry no more, for we have you covered with everything that you need to know about the Creator Studio on Instagram. Take your Instagram growth to the next level by effectively posting, managing and monetizing your content.
Not sure about where to start right? We know the pain of getting familiar with a new interface.
That's exactly why we are coming with a detailed beginner's guide on how to use creator studio for Instagram.
You only need to follow some of the tips and tricks that we cover in detail to make the most of IG Creator Studio. Once you get a hang of how the Instagram Creator Studio works, you are guaranteed to increase your account's overall reach, engagement and discoverability rates.
Even though it's more or less similar to YouTube Studio, there are interesting differences between these interfaces.
We have already seen how creators benefit from being aware of YouTube Analytics and 10 metrics that you need to track. Instagram Creators Studio is equally good, or if not better in significantly improving your creator growth.
Before we dive into the benefits, let's take a look at what that Creator Studio on Instagram is all about and how you can connect it to your account.
Instagram Creator Studio Explained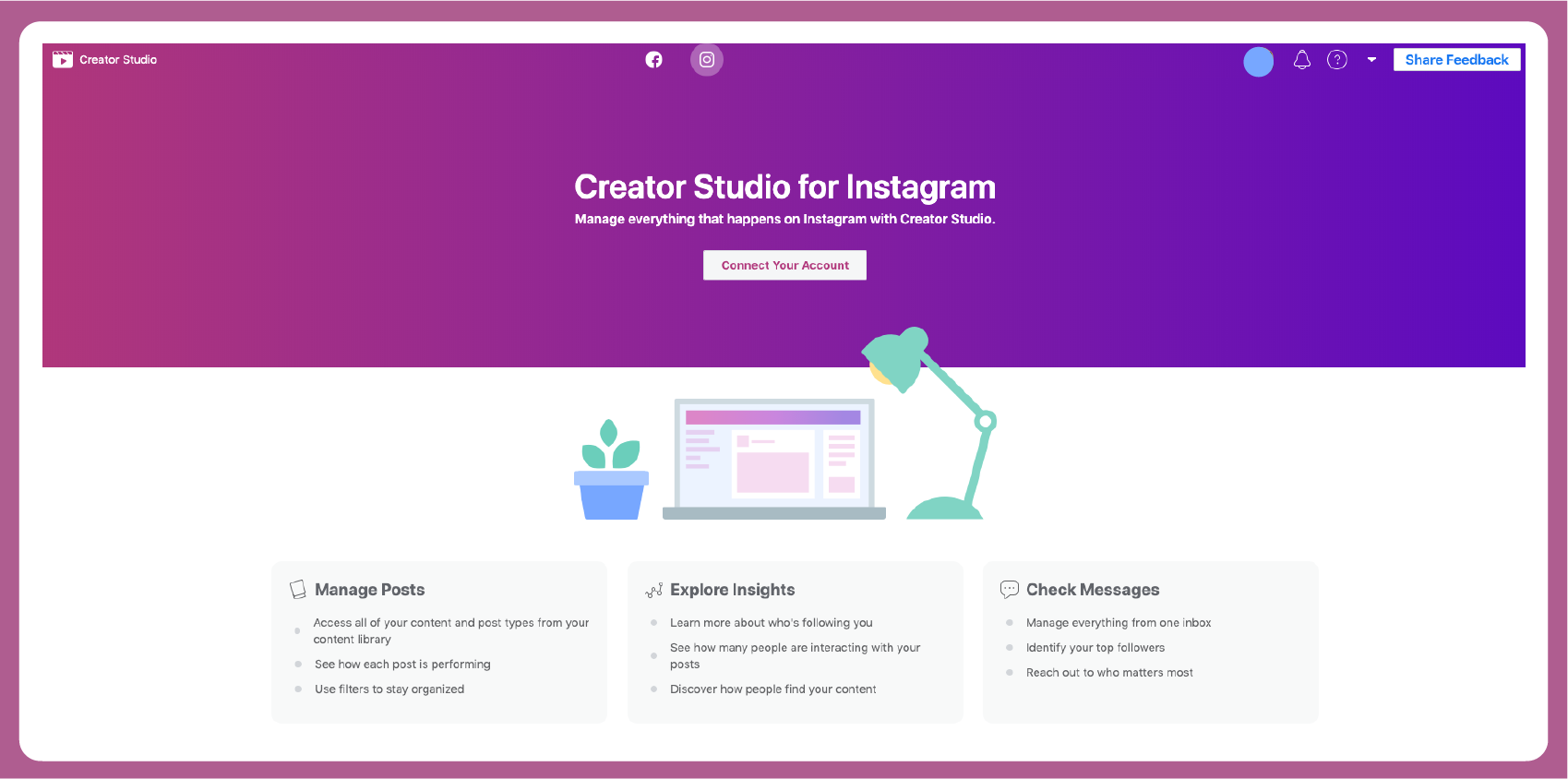 So what exactly is the Instagram Creator Studio, and who all can benefit by using this interface?
The Creator Studio in Instagram is more or less the same as Facebook Creator Studio, that shares some inspiration and resemblance to the feature of YouTube Studio.
Instagram's aim of introducing the Creator Studio feature was to introduce a classification between business profiles, from those of content creators and influencers.
While they introduced the Instagram Creator Studio to creators with at least 10,000 followers only at the beta stage, it is now available to everyone. You can schedule IGTV videos, optimize strategy, and manage marketing your content all through a single app.
The Creator Studio also comes with a set of creator growth tools that can help you monitor your follower growth, engagement, impressions, audience metrics, and earnings from shoppable posts.
Steps to Connect Your Account To Creator Studio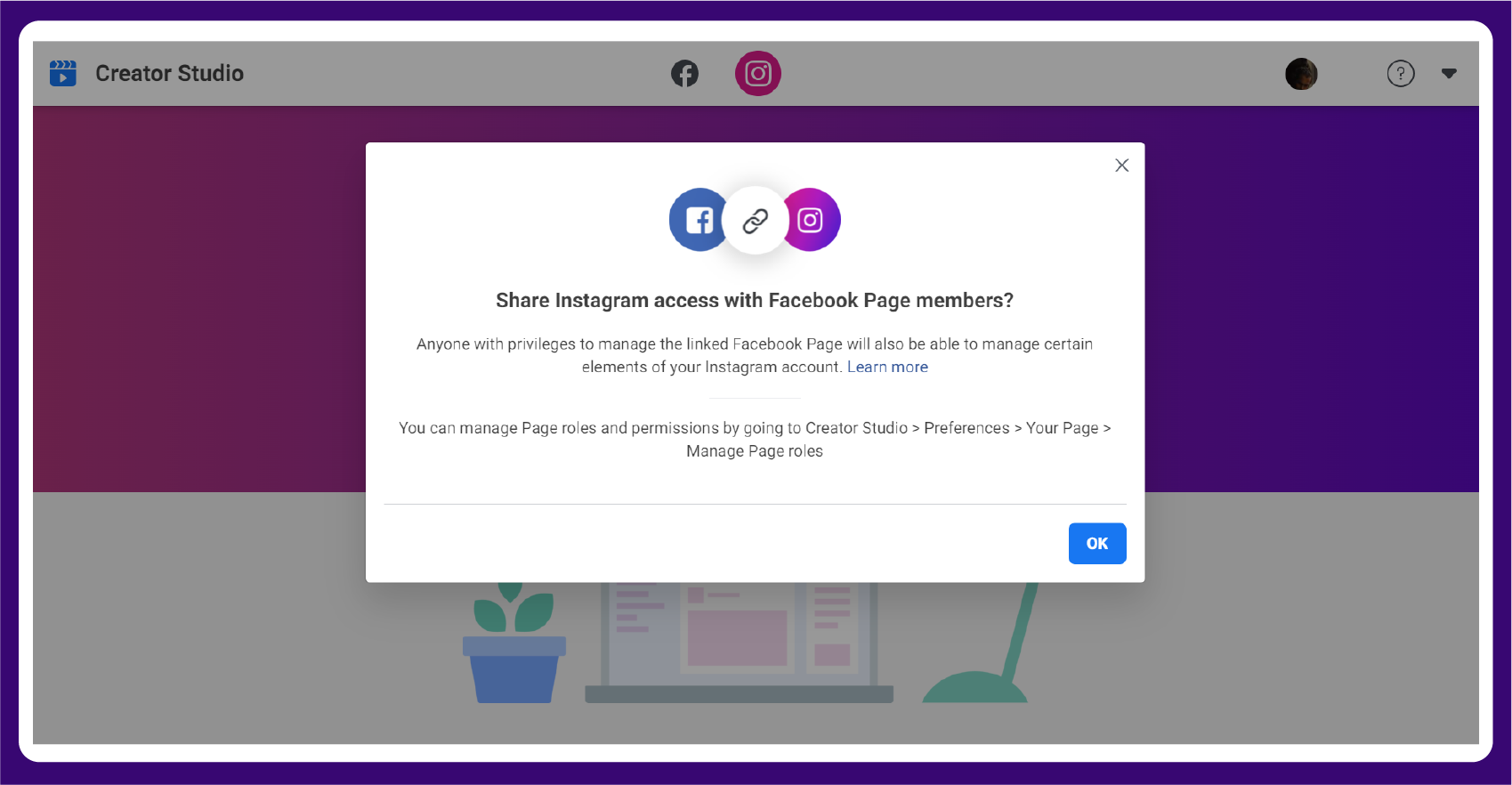 Instagram Creator Studio is only available on the desktop at the moment.
If you are new to the interface, follow these simple steps to connect your account to the Instagram Creator Studio. You will need to do this to manage posts, get insights, and publish your content.
Here is a step by step guide on connecting your account to Creator Studio on Instagram:
Head over to the creator studio for Facebook, and select Instagram
You will then be redirected to a screen that has the option to connect your Instagram account.
Connect your Instagram access by giving the necessary permissions.
Set your Instagram account to a creator account if you haven't yet.
Make sure that you have an Instagram account and Facebook page that is connected to your Instagram account.
If everything is good, you will be redirected to a home screen from where you can manage posts, explore insights, and check messages of your Instagram creator account.
If you do not have a Facebook page that is connected to your Instagram account, you can still click on connect your Instagram by directly logging in with your Instagram credentials. However, this will only work for creator or business accounts, and will not work for personal accounts.
Different Features of Instagram Creator Studio and Its Uses
The Creator Studio of Instagram is no slouch and has tons of cool features that let you significantly boost your Instagram profile.
Here's a quick look at the different options you have, and what they are capable of achieving.
1. Schedule and Publish IGTV Content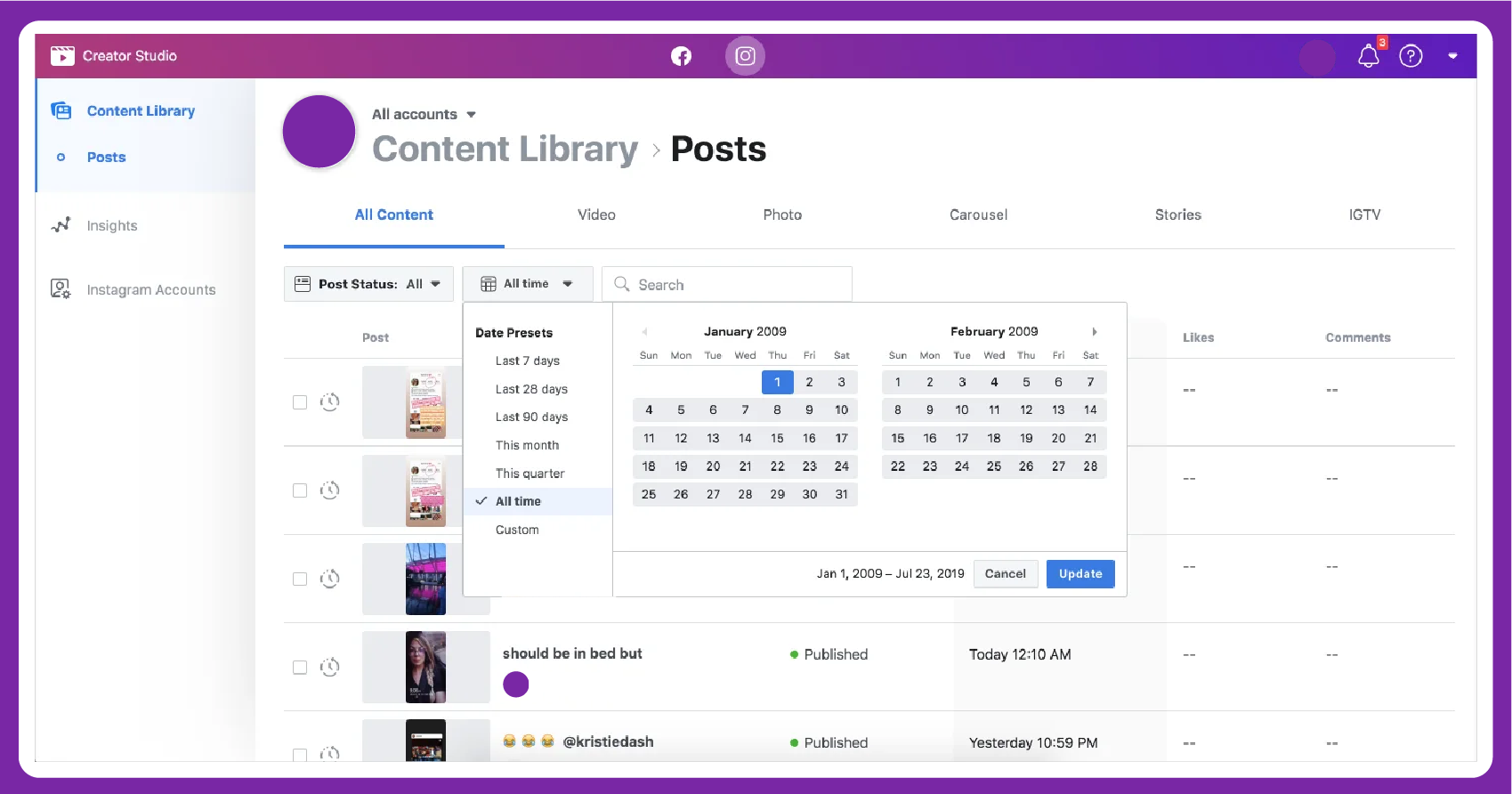 Consistency is one of the most important skills that a creator needs to have, in order to blow up on Instagram.
However, it can be difficult to remain consistent all the time.
That's exactly where the new scheduler introduced through the IG Creator Studio comes into play. Wave goodbye to lack of consistency for good, and get ready to reap the rewards of consistent posting on Instagram.
How? You may ask. The answer is not really complicated as you think.
You only need to get familiar with the Instagram Creator Studio and schedule IG posts in advance. Instagram will do the rest. Here's a step by step breakdown of how to schedule a post through the Creator Studio.
Open your dashboard from Creator Studio.
Click on 'Create Post' located on the top left corner of your screen.
Select IGTV (Instagram Feed, if you are posting pictures instead)
Choose the video you wish to upload, add a title, and description.
Select or upload a cover image that you wish to have for this post.
Schedule your video by entering the date and time you want, and that's it.
2. Managing Instagram Content With Library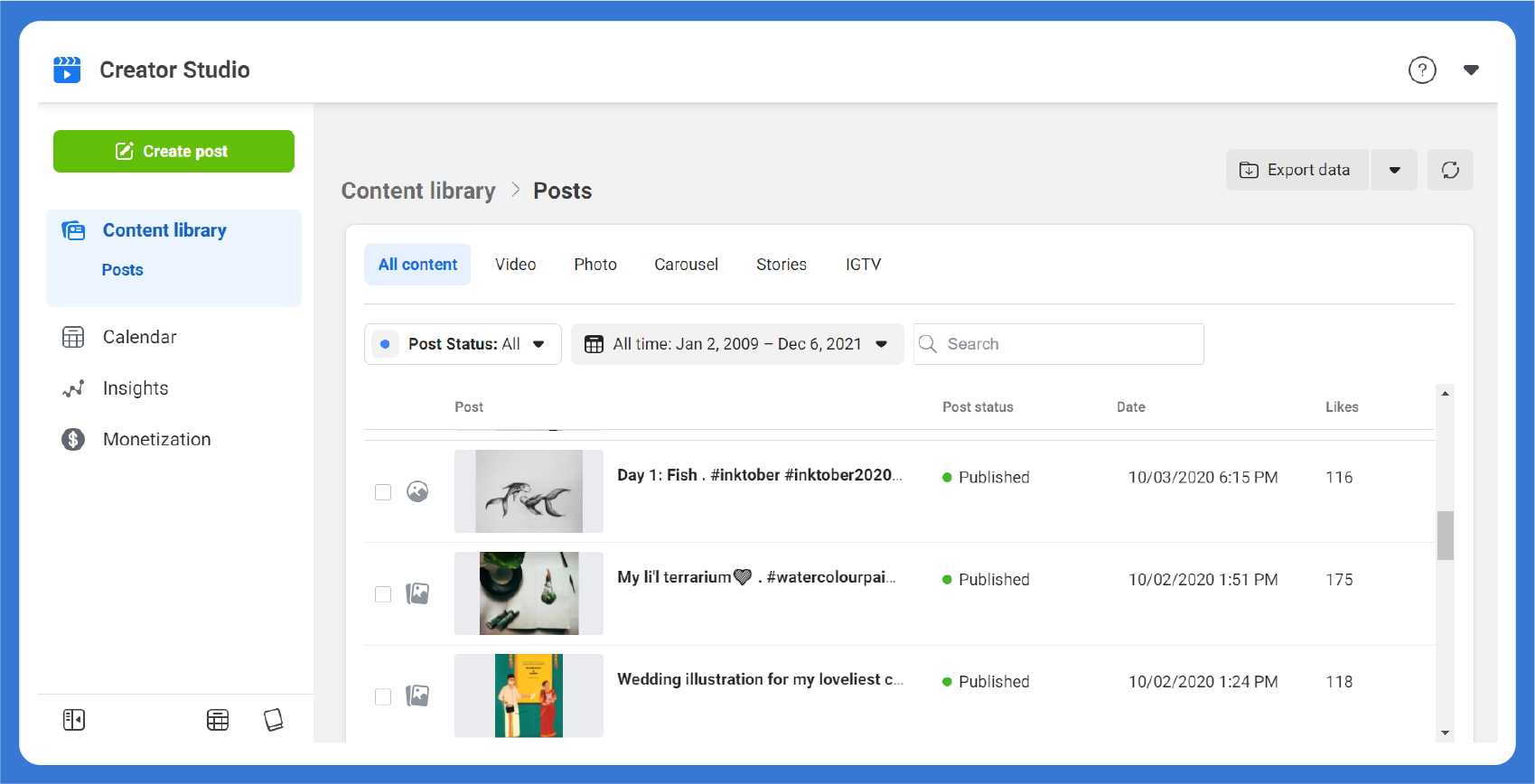 Once you are done connecting your account to the Instagram Creator Studio, you will be able to see and manage all the content you have published to date.
The overview will comprise of everything from photos, videos, carousel posts, stories and IGTV videos. You can get detailed analytics like how many people viewed the post, how many clicked and other related data.
There is also a good interface that can sort out your content based on their type (videos, photo, carousel, and IGTV), date published, and post status.
You will also have access to a search bar that can help you quickly find a video by entering its name.
In addition to the Content Library option, there is also a drop-down called Calendar that has a breakdown of posts that you made on your Instagram account.
Clicking on any of the dates will expand the details and performance of the posts you made.
One of the best features of Creator Studio is the ability to review, edit and delete a post that you already posted before. All users who have administrator access to your Instagram Creator Studio can make these changes and have them reflected.
You can easily make SEO changes, hashtag updates, and share access with others to do this for you through the Creator Studio.
3. Understand More About Activity and Audience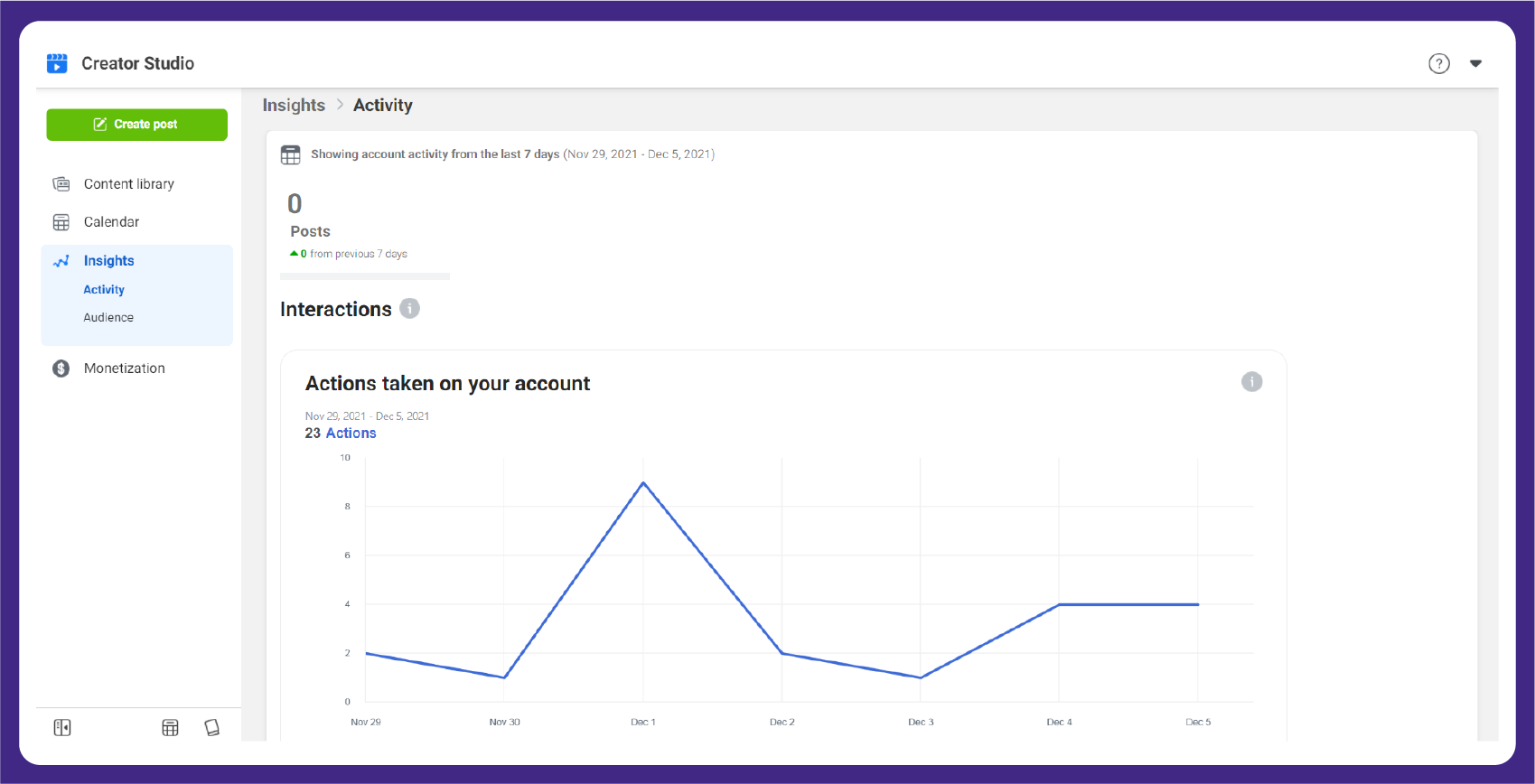 The Insight tab which is located on the top left corner of the Instagram Creator Studio below the Content Library and Calendar is probably one of the best features on the creator studio.
Getting access into two drop downs "activity" and "audience" which gives a detailed breakdown of overall activity on your channel lets you know the current performance level of your Instagram profile.
You can track data from the last 7-30 days which makes it a really useful option that helps you know how your posts are performing in real-time.
By focusing more on video content that performs, you are guaranteed to take your engagement and channel growth to the next level, almost instantly. You will also get a good idea about what videos or topics are not performing up to expectations, and stay clear of it.
So what does the "activity" and "audience" tab have on offer for the creators?
Activity
Activity tab on Insights comprises primarily of two sub-options:
Interactions - You can see the overall number of website visits, emails, or calls that people have taken from your Instagram account.
Discovery - You can see the total number of impressions and reach that your account has received in the past 7-30 days.
Audience
Audience is more of an analytical approach to the overall performance of your Instagram profile and lists out the following details.
Location - You can see the cities, countries, and related info of people who are visiting your creator profile.
Time - You can see the time frame where activities like engagement, and visits are highest on your account.
Demographics - You can see demographic details like age, gender, location, and related information.
By optimizing your content on the basis of this data, you can get a lot more engagement than what you are currently receiving.
4. Monetization and Brand Collabs Manager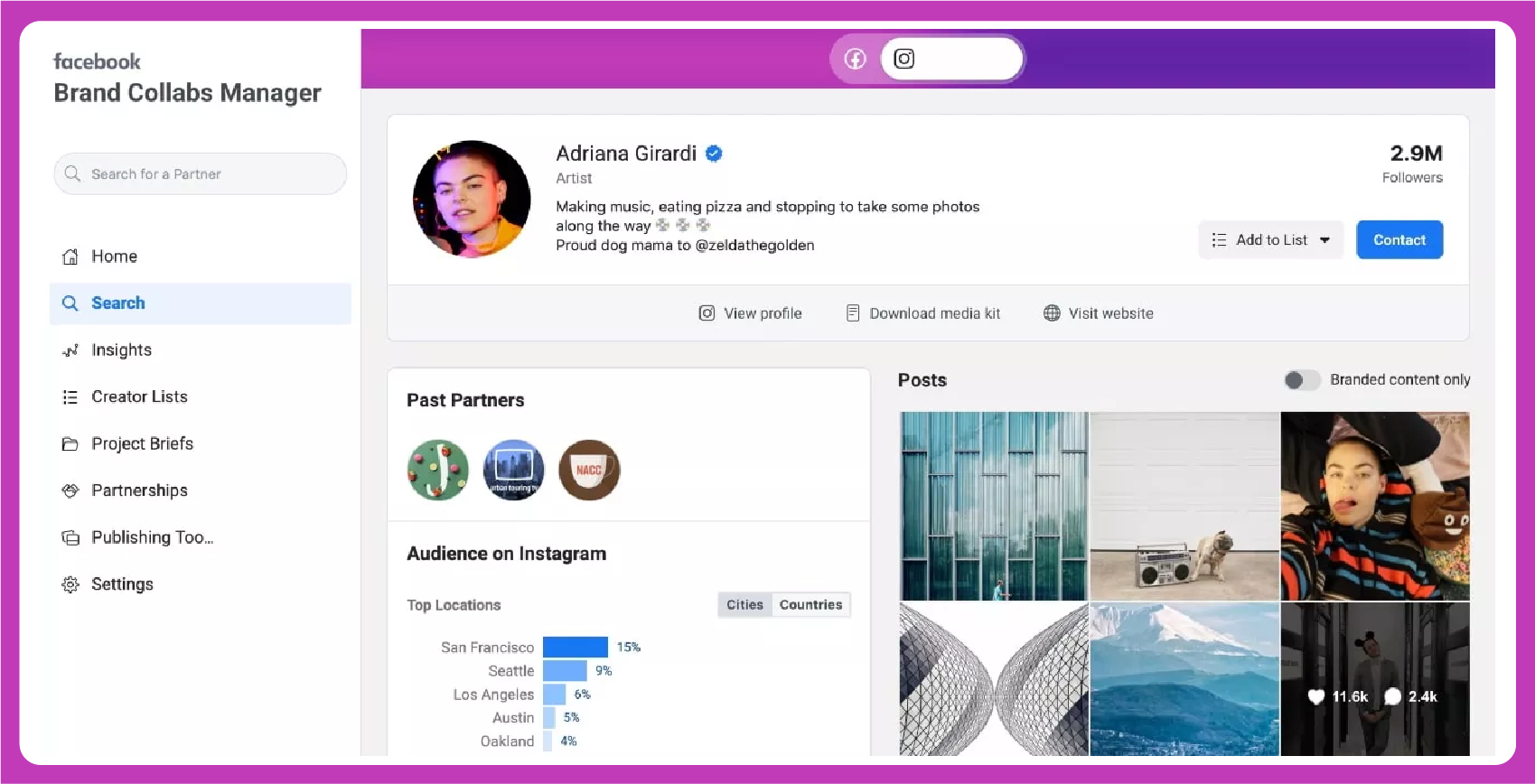 This is an advanced feature of the Instagram Creator Studio that is only available to creators that have at least 10,000 followers, 100 hours of watch time on original videos, and 1,000 combined engagement (likes and comments) in the last 60 days.
As monetization is still not available globally, this feature is currently available only for creators that are based out of the United States.
You are also required to have no history of content violations to be eligible for the monetization feature.
Creators that have monetization enabled will see an option called Brand Collabs Manager. This can be used to streamline the relationship of creators and their brands, export the result of brand collaborations, manage your portfolio and even give a content brief.
To Summarize,
As the Instagram Creator Studio is still more or less in a developing stage, you can always expect a lot more changes in its structure and effectiveness in the near stage.
That's why it's always good to start early and use its potential to the maximum.
Hopefully, our beginner guide on how to use creator studio for Instagram can help you get a better understanding of the interface's features and benefits.
Simply follow the tips and tricks we covered to get the best result on your Instagram content. It will take some time to get used to the interface, but once you are familiar with how it works, you can easily make use of the data you collect from the Instagram Creator Studio.