Intermediate
How to Get Verified on Instagram
This step-by-step guide will guide you through the steps of submitting an Instagram verification request and getting the coveted blue checkmark.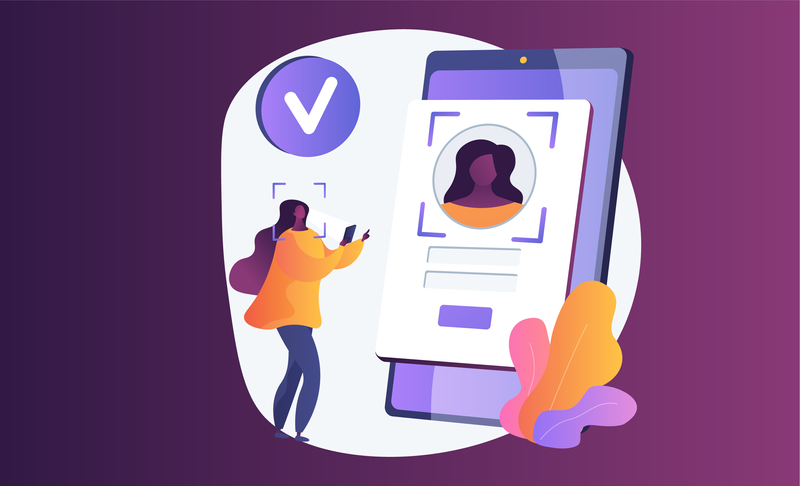 Instagram provides a wide range of opportunities to individuals to showcase their creativity to the world around them. Getting verified on Instagram is an essential task that everyone desires to achieve.
However, getting your account verified is not a complicated procedure as you might think. It is pretty easy to claim your verified badge. We have you covered with a step by step guide on how to get your account verified.
What does it mean to have your Instagram account verified?
You must have witnessed different social media accounts (Twitter, Facebook, YouTube) with a blue checkmark sign placed next to the name of the user. It is the mark that proves the authenticity of the user, also known as the verification badge.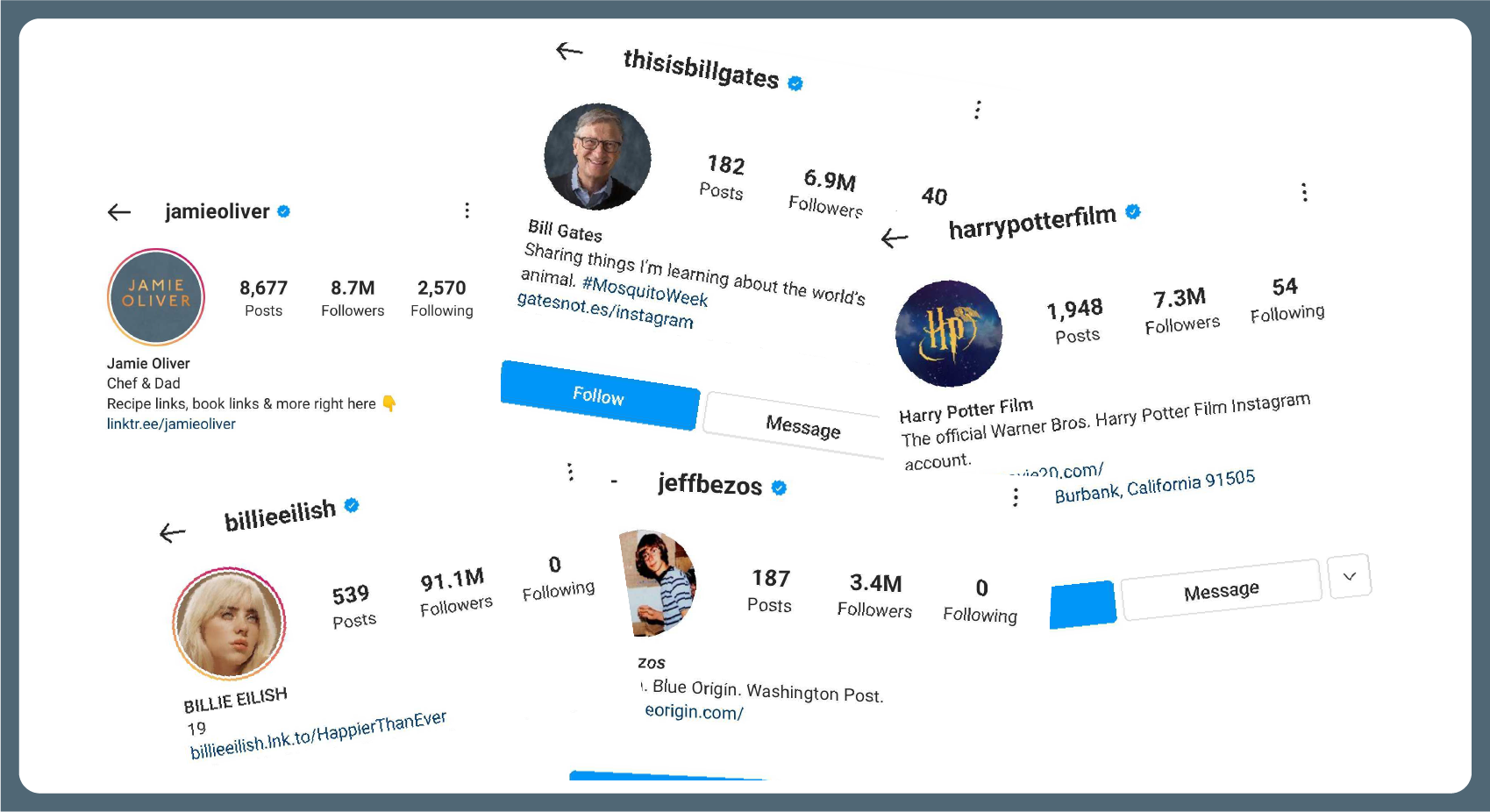 The Instagram badge provides a sense of authenticity to the Instagram accounts of public figures, celebrities, and famous individuals or organizations. Due to the massive number of accounts on every social media service, it's important to know which ones are genuine, and which ones aren't. This is especially true if they are accounts of celebrities or public figures.
It is a matter of reputation to have a blue-coloured badge flaunted adjacent to the account name. However, Instagram does not enable any special treatment in terms of an algorithm or reach to the holders of verified accounts; it just looks cool and provides an aura of importance to the users.
Criteria and requirements for getting your account verified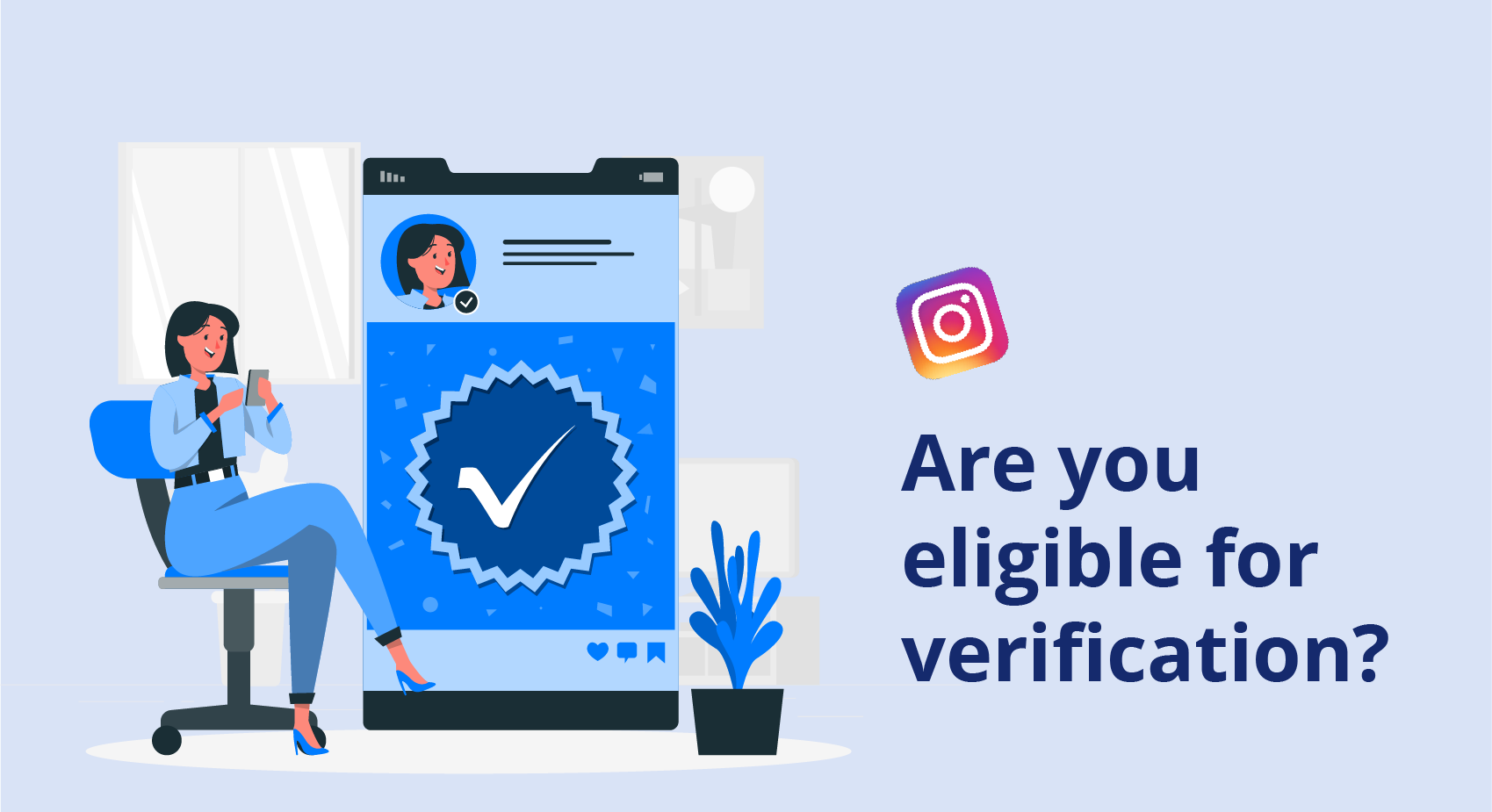 While almost anyone can apply for the blue badge, not everyone ends up with their desires fulfilled. Obtaining the verified badge on Instagram is a bit more difficult than other social media platforms like Facebook and YouTube. Instagram grants blue ticks to only those accounts of popular figures which have chances of getting replicated for fraudulent activities, impersonation or other purposes. There are also plenty of fundamental requirements that a user needs to qualify to be eligible for the blue tick. You can find the minimum eligibility requirements listed below.
Adhere to the regulations: You must follow the community guidelines and the Terms of  Service of Instagram. Breaching any of these rules might have a negative consequence on your wish to get your account verified.
Make your account public: There is no scope for verification of private Instagram accounts. Only the accounts that are public qualify to receive the verified blue tick/verification badge.
Must be authentic: The account must belong to a real person or a registered brand or organization. Pages of public figures run by fans or people with other intentions, and fake profiles do not qualify.
Only ONE account can get verified: If you own more than one account, you can only apply for verification from one account. There is no provision for two accounts of the same person or organization getting verified on  Instagram.
Are you famous?: Instagram verifies accounts of notable or famous people. This idea of being notable is relative, but according to Instagram the individuals must have a wide reach among the people and must be a  popular identity. They should have a marked presence on digital or print media.
Make the account wholesome: Do not apply for verification with an incomplete account. The account should have your profile picture, an interesting and attractive bio with a few good posts visible on your feed.
Verify your Instagram account: How to do it?
Now that you know the fundamental requirements to apply for the blue tick, it is time to get into the final stage of application.
1. To initiate the process head over to the account you want to get verified. Remember you can apply for only one account and that too should meet the above-mentioned criteria.
2. Tap on the three-lined hamburger icon on the top right corner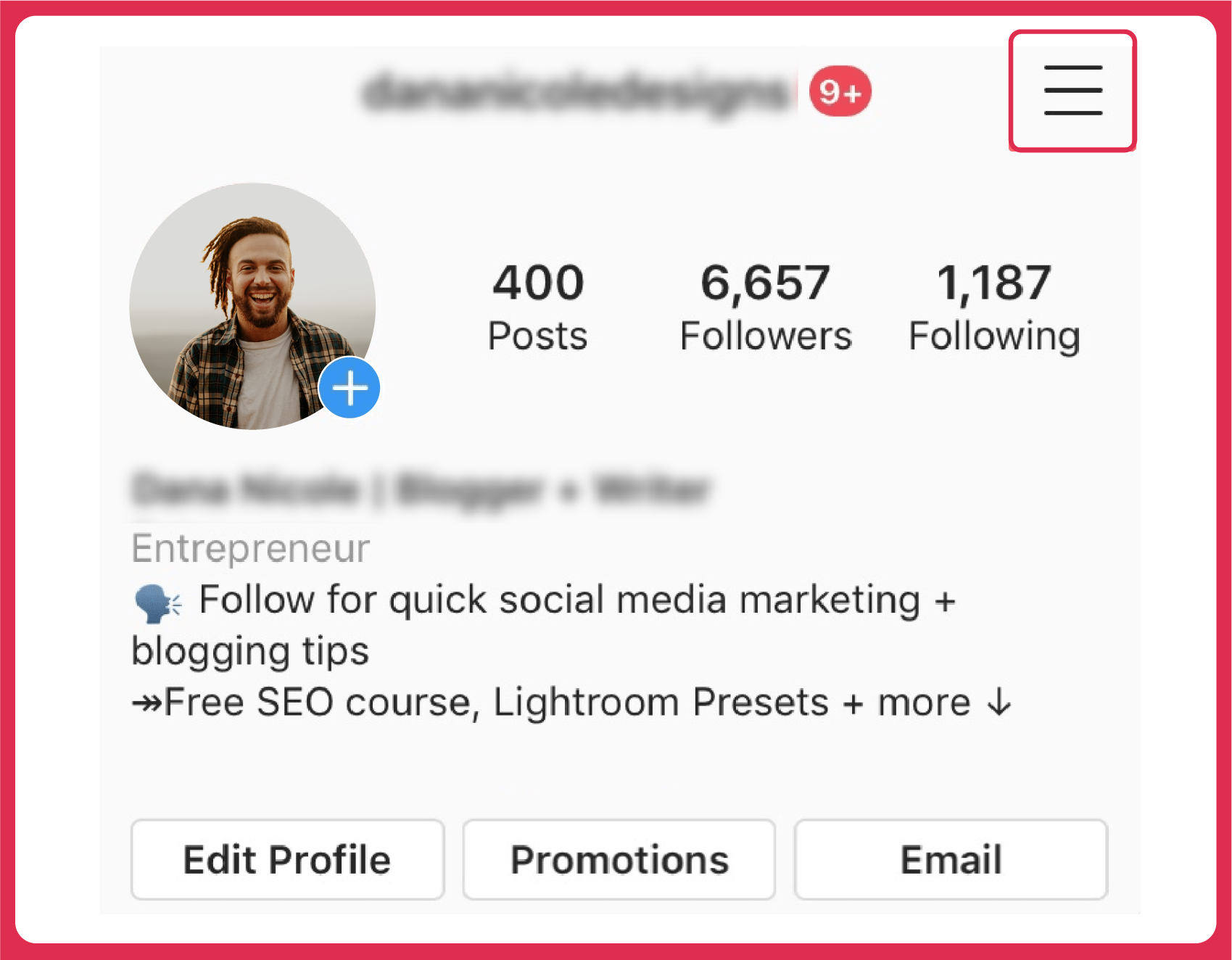 3. You will then be redirected to a new screen. From there, click on the Settings option which will unfold another array. From the new visible column go to the account section.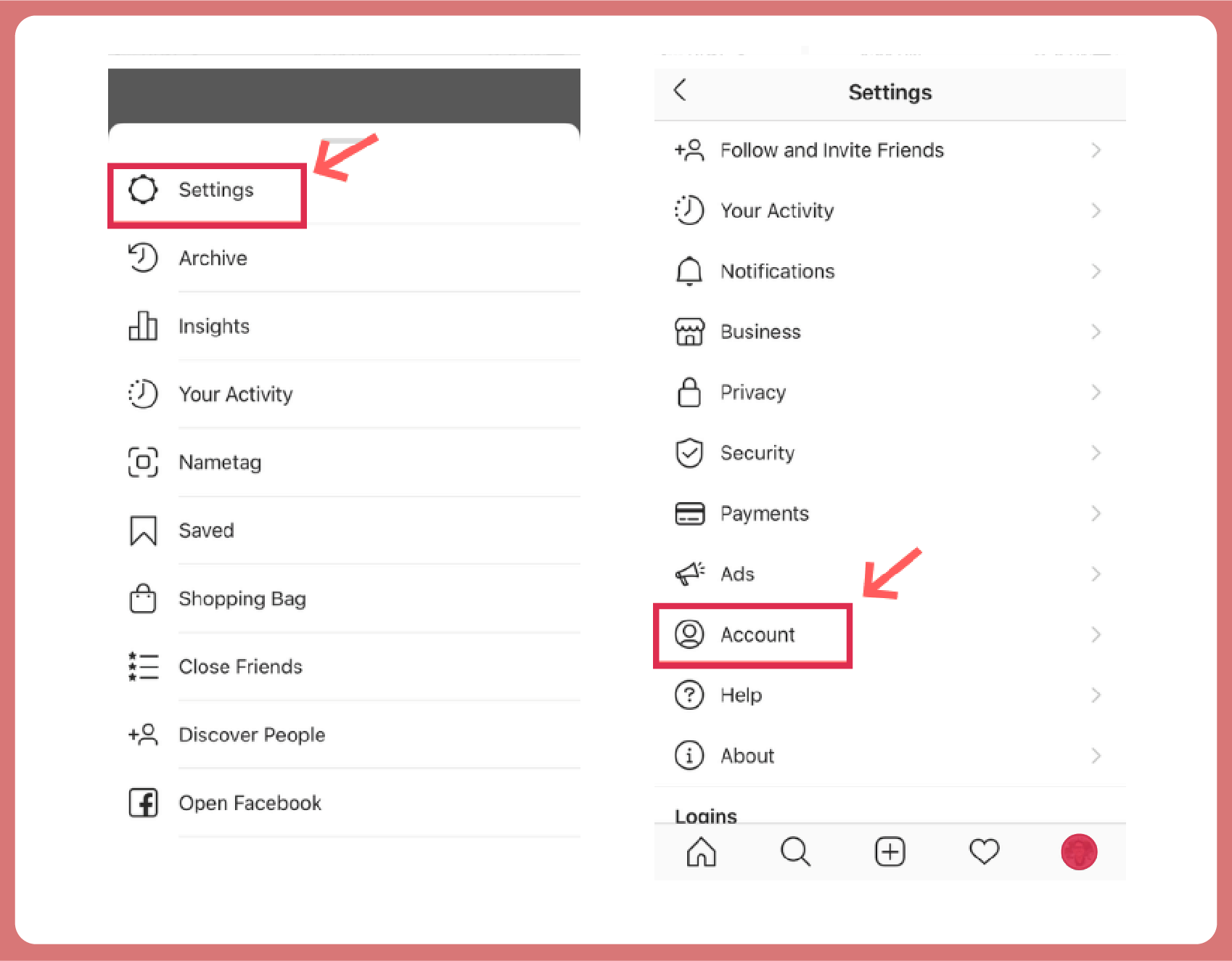 4. In the account section, scroll down towards the request verification tab and tap it. This is the area where you will have to finally fill up the required details to apply for the verification mark.
5. An application form will appear on the screen with the name already filled in. You will have to enter other details like
Your official or legal name
The name by which you are identified in the popular or  public realm
The domain or industry to which you belong. It can be music, films, journalism, sports, etc.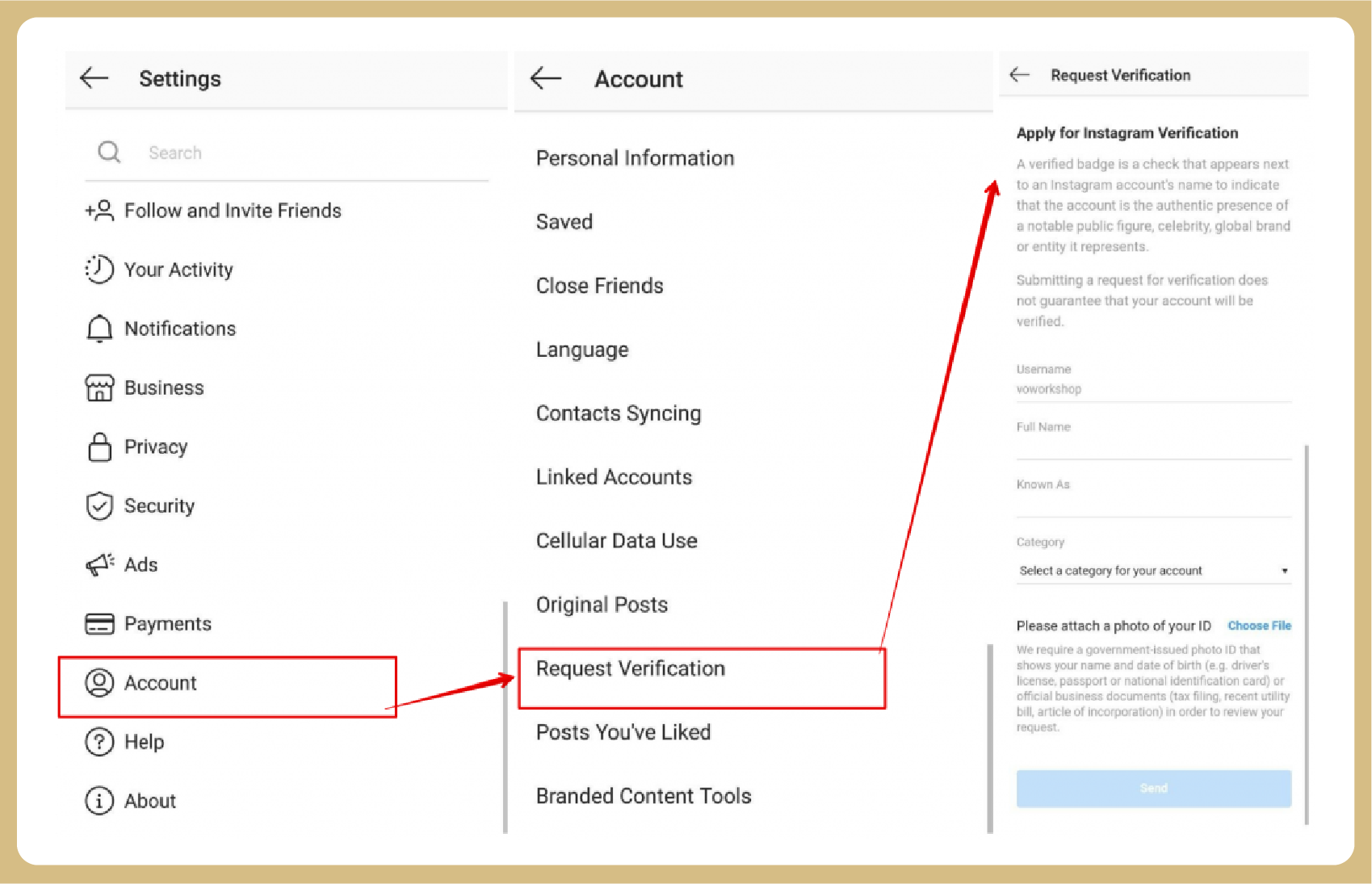 6. Finally, you will have to attach an official identification certificate authorized by the government. Once you are done filling in all the required information, you are now good to press the send button.
You will receive a notification from Instagram through the app about what they decide to do with your application. Even if Instagram rejects your application, you are eligible to reapply for verification within the next 30 days. Here is what the responses can look like in your notification box:
Beware of Instagram verification scams
While at times the prestige connected with the verification mark might make you desperate to somehow achieve it, it is important not to fall into verification scams on Instagram. There are people who promise to give you a verification badge by paying them money. However, Instagram has time and again made it clear that they do not ask for money under any circumstances. Always practice caution before falling for such fraudulent scams.
The procedure to achieve a verified account with a blue check sign is mentioned above. Therefore, follow those pointers and do not let anybody fool you or take advantage of your desire to achieve the mark.
Can a normal person get verified on Instagram?
I think by now it is clear that certain eligibility criteria are required to get verified. You have to try and apply when you are making it to the popular domain- like the newspapers or digital platforms. It is useful to get famous on other platforms first to make ground in Instagram.  Apart from these, make your account wholesome with profile images, engaging posts, and a good bio.
How many followers do I need to get verified on Instagram?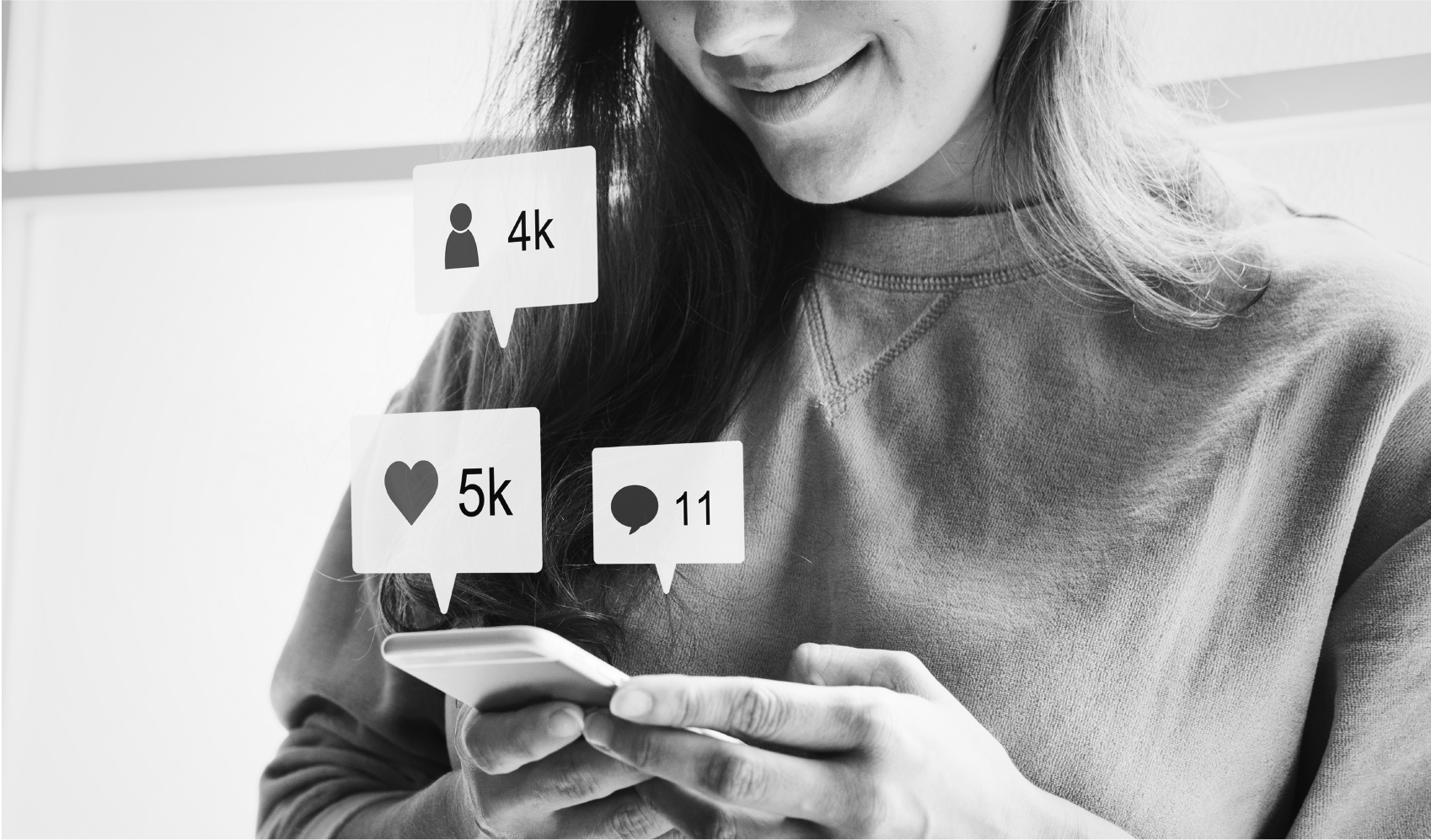 There is no definite number of followers required to achieve the verified status. However, as clear from the earlier eligibility list, you have to be newsworthy and make your presence marked in the public domain. People should recognize you which implies that indirectly you should have a certain number of people who can identify you as a notable person. The higher the degree of your popularity, the higher the chances are that Instagram approves your request for verification.
What is the benefit of being verified on Instagram?
Instagram does not offer any special treatment for the accounts that are verified. However, it is a well-known fact that Instagram grants this status only to notable users, one can identify the associated prestige, reputation, and regard that comes along with the verified symbol.
The blue mark enhances your brand image. Your chances of collaboration with other business houses also increase In this modern age of influencer marketing, users with verified profiles will also have a  prioritized demand to the organizations for promotional and marketing activities.
Conclusion
"Perhaps the best brand that you can wear is your own identity. Be unique, be yourself"
In this chaotic world, it is important to discover the uniqueness in your identity. You have to set yourself apart from the rest; the verification badge is just a representation of that symbol. Do something newsworthy- for the society at large. Good work and action will always invite consequences of good nature.  Till then, continue chasing your dreams.