How to find cheap flight deals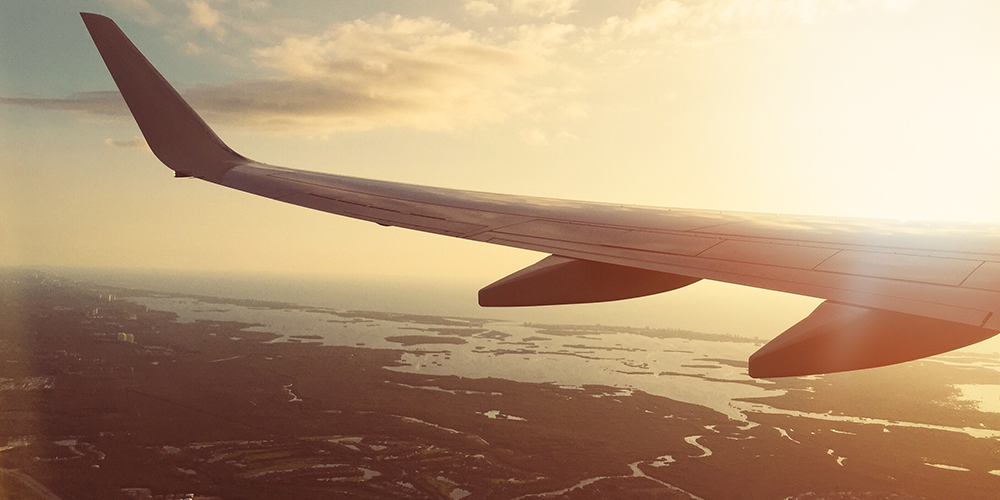 There are several factors that go into deciding flight fare. Massive machines networked with the computing power of thousands of computers weigh in every detail—holidays, off-season, fluctuations, political events— to spit out fares so that airlines have the winning hand every time in this hugely competitive industry.
This post will highlight what goes into picking fare and how you can have the winning hand.
Identify the cheapest day to fly out
You can get a quick look athe  prices determined for the whole month with the help of apps like SkyScanner.
Step 1. Open Skyscanner on your browser
Step 2. Enter where you catch your plane from and where you choose to go to.
Step 3. Choose either one way or round trip.
Step 4. Click Depart and instead of choosing a date from the menu choose the whole month option followed by cheapest month.
This way you get to see all possible dates and select the cheapest date for flying.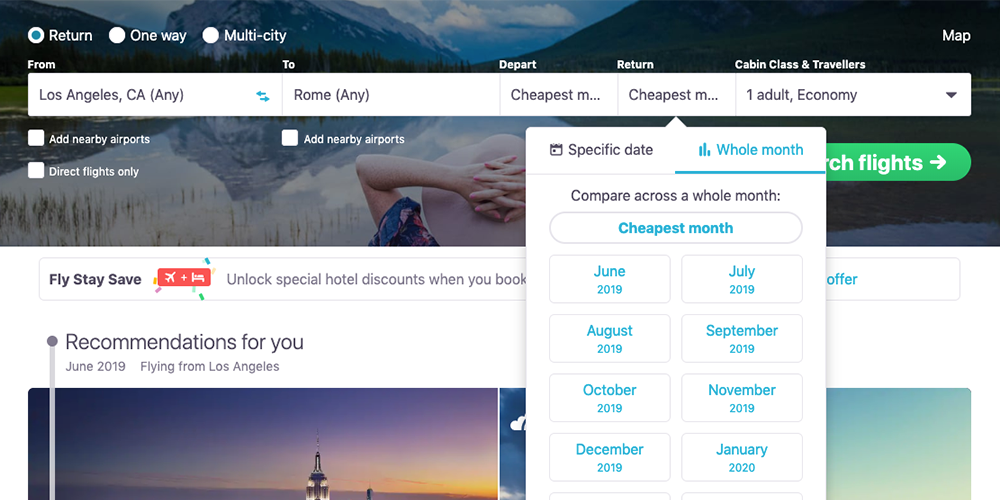 Fly for free with points
American Express card
Earn 5 times as many points on airfare booked directly and pn prepaid hotels. Membership reward points for up to 20 airline miles can be transferred to the airline's loyalty program.
60000 points worth a monetary value of $750 if you spend $5000 in first 3 months.
You get $200 in annual airline rebates.
Free $200 with Uber credits
$100 in credit at Saks Fifth Avenue
Rebate in TSA PreCheck fee
Lounge access, Delta Sky Club access
Annual fee: $500
Hilton Honors American Express card
Standout Benefits:
You get 150,000 points after spending $4000 within the first three months.
You get 14 points per dollar spent at Hilton
You get 7 points per dollar on flights booked directly with the airlines, on select car rentals and select restaurants in the US.
For all other purchases you earn 3 points per dollar
Enjoy one weekend night each year, plus earn an additional night after you spend $60,000 on the card in a calendar year.
$200 on incidental airline fee
$100 Hilton on-property credit when you book a two-night minimum stay with the card at Priority
Airport lounge membership
Annual fee: $450
Chase Sapphire Preferred Card
Chase Sapphire Preferred Card is one I prefer over other cards because of the low annual fee.
You spend $4000 in the first 3 months and you're entitled to 60000 points worth $750
That can get you a free domestic flight.
No foreign transaction fee either.
60,000 reward points whose monetary equivalent is $750 if you spend $4000 in the first 3 months.
Twice the number of points on international travel and dining
Points are transferable to airline loyalty programs.
And don't listen to anyone who tells you otherwise. Anyone who is telling you doesn't know what they are talking about!
For the other cards, the annual fee make sense if you're a frequent flyer who rakes up on thousands of miles and hundreds of diners globally. If you're not that much of an avid traveller the Sapphire card is preferrable.
Sign up for airline rewards program. You get free upgrades, tickets and free flights sometime.
If you sign up for United, you might also score points and miles on partner flights. This makes flight hopping easy and you'll still gain points. Ensure you sign up for all major programs. I have United Airlines miles and I have Delta points that get credited when flying air france.
I also use few travel oriented credit cards that provide bonuses and additional benefits like free lounge access.
I earn points when spending with these cards. With all the miles accrued and all the points saved up I can ensure I travel for free sometimes.
Being flexible helps…a lot
Depending on whether you plan to fly just before a holiday or on summer months when the population picks to fly around Europe. Primarily because kids are out of school are big travelling months. Airlines who know everything jack up prices just then.
When everybody is flying at the time picking up dates is the worst thing you can do for your travel ideas.
Don't fly where the popular opinion takes you. It's costly. At least try being flexible with the dates if you want to go to popular destinations.
Fly off-season
Anywhere you travel, airlines are trying to book profits. So to fill seats when nobody's that interested or excited about flying they reduce prices. If you fly during middle of the week rather than during the weekend you have better chances of scoring a better deal.
A major holiday later no one wants to wake up early. Prices are cheaper at that point in time. This means hundreds of dollars saved.
Be flexible with your destinations
Being flexible with where you fly to can make the difference between shelling out hundreds of thousands in extra or saving that much.
Manual searches isn't necessary to find the better tickets.
Google Flights has a good tool. Enter your departure city. Don't enter the destination and click on search. Being flexible with the destination gives you an array of options to choose from.
Step 1: Open up Google Flights on your web browser
Step 2: Put your dates and select anywhere from home to discover the cheapest available flights.
You will always have a destination where the tickets to are affordably priced.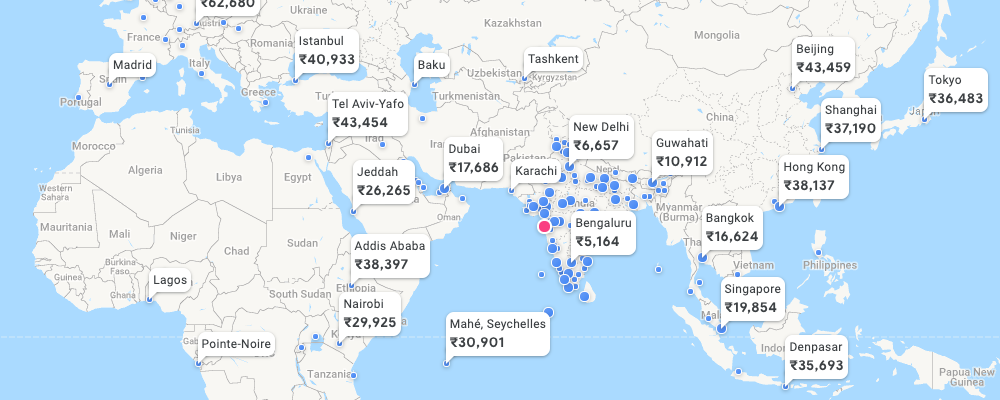 For instance, Paris is a popular destination but if you visit Paris at the dead of the season when no one's visiting the place you'll get the cheapest possible fare.
Fly budget carriers
Budget airlines made the entry several years ago and they service long routes. There are many problems vis a vis the list of benefits.
You can fly around to especially Europe for very little.
making it possible to fly around the world for very little money. Norwegian Airlines allows you to fly between Europe and Bangkok for about $250 each way. AirAsia offers crazy-cheap deals around Asia and Australia for as little as $100 each way. Indian and Middle Eastern airlines offer cheap flights throughout the subcontinent and Africa. You can fly most of the way around the world on a budget airline!
Here is a list of the biggest budget airlines in the world:
Budget airlines often have a comparatively pricing. The trade-off is you may miss many features that premium airlines dole out in the form of free wi-fi, better luggage carrying capacities, add-on carry bags and so on.
Another big tradeoff is the fee they charge for everything else, things you have accustomed to getting for free on big airlines such as additional carry ons. Some charge you for credit card use. Add both up to ensure you're not being fooled paying into a higher price than at at traditional airlines.
Don't always fly direct
Most times direct flights aren't the cheapest. Sure there's some discomfort in taking connecting flights but the costs saved offset the minor discomfort. You might find cheapest flights to a nearby destination and take another flight from that place. Budget carriers can help you take advantage of such good deals.
Doing this is easy. Find out how much the direct flight to your destination costs. Then on Google flights look for nearby airport flights.
Sometimes you get ones that are much cheaper and then you might want to book from there.
As long as your routes are flexible and you're willing to take connecting flights and price hopping on different airlines the method is gold.
Expand your research to other search engines and sometimes direct from their sites not all search engines are equal
Most search engines incorporate data from English speaking sites. They don't list AirAsia, small european carriers and chinese carriers.
To that end you might need to get directly from airlines.
Momondo – You might only need Momondo for your search every time. Because of their association with different airlines they are able to provide the cheapest flights. Mommodo is great because they list every kind of airlines and source data from budget airlines and non english websites even chines sites.
Google Flights – Great search engine that lets you see prices for multiple destinations.
Skyscanner – The app is pretty and features comparable to Momondo.
Keep an Eye for Special Deals
Special deals can be snagged only when you sign for lists from airlines and search engines. I would advise you to keep a separate account for deals and promos if you don't want to clutter your primary inbox.
Who does?
Cheap deals sometimes vanishing in 2 hours or so. Or deals courtesy of Mother's Day don't happen all too often and should be quickly snagged up as soon as they appear.
Concluding thoughts
Myths about regarding flight finding. You don't get deals if you stand on one leg and operate the system with your right. Those beliefs have to die. Tuesdays are not the best days to find fares. You can get lucky on any day as Tuesday.