Beginner
How to Create Instagram Reels like a Pro!
Making Instagram Reels takes skill, effort, and time. Discover how to create best-in-class reels in this step-by-step guide!
Reels is undoubtedly one of the best Instagram updates of all time.
Creators love Instagram Reels because it helps them expand their audience, multiply their engagement, and grow their fan base. Also, reels are the top choice for creators, since reels have a much higher chance of going viral than any other type of content on Instagram
How do you maximize your Instagram reels?
That's what will be covered in this detailed guide on how to make Instagram Reels. Follow our simple tips and tricks to take your Reels on Instagram to the next level.
What are Instagram Reels?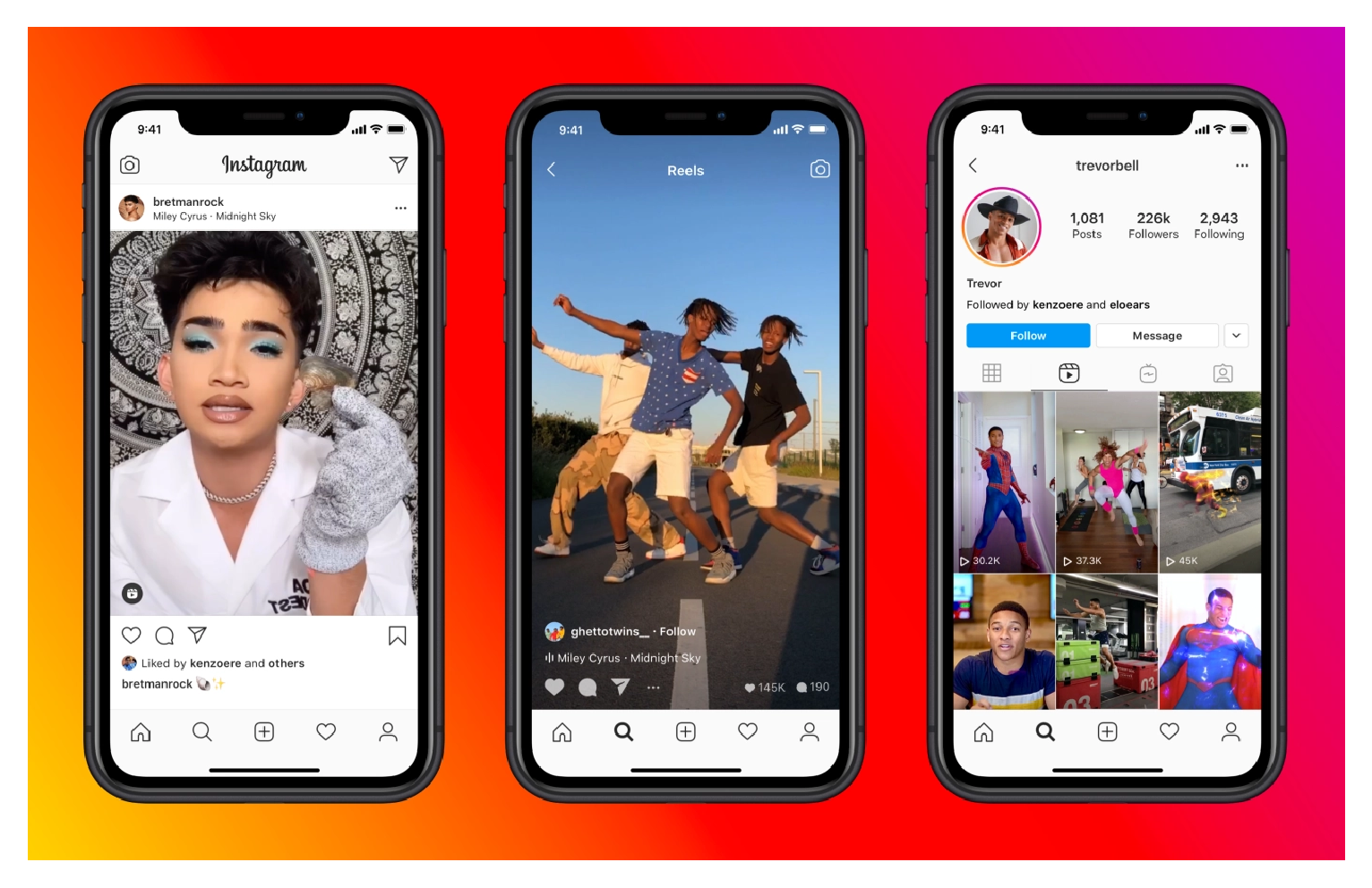 Instagram Reels are short-format videos in vertical format with a maximum time limit of 60 seconds.
Reels can be great to share entertaining, and educational content in a compact format. Instagram uses a scrollable format that plays one Reel after the other.
Instagram Reels can also be defined as Instagram's alternative to TikTok which introduced vertical, short-format videos. The popularity and demand for short-format videos have also led to another competitor, YouTube introducing their own short-format category called YouTube Shorts.
Instagram also makes sure that reels are recommended to viewers who has an interest in the niche your reels are based on. This significantly increases your creator growth on the platform and that's why it helps to have more focus on Instagram Reels.
How to Make Instagram Reels?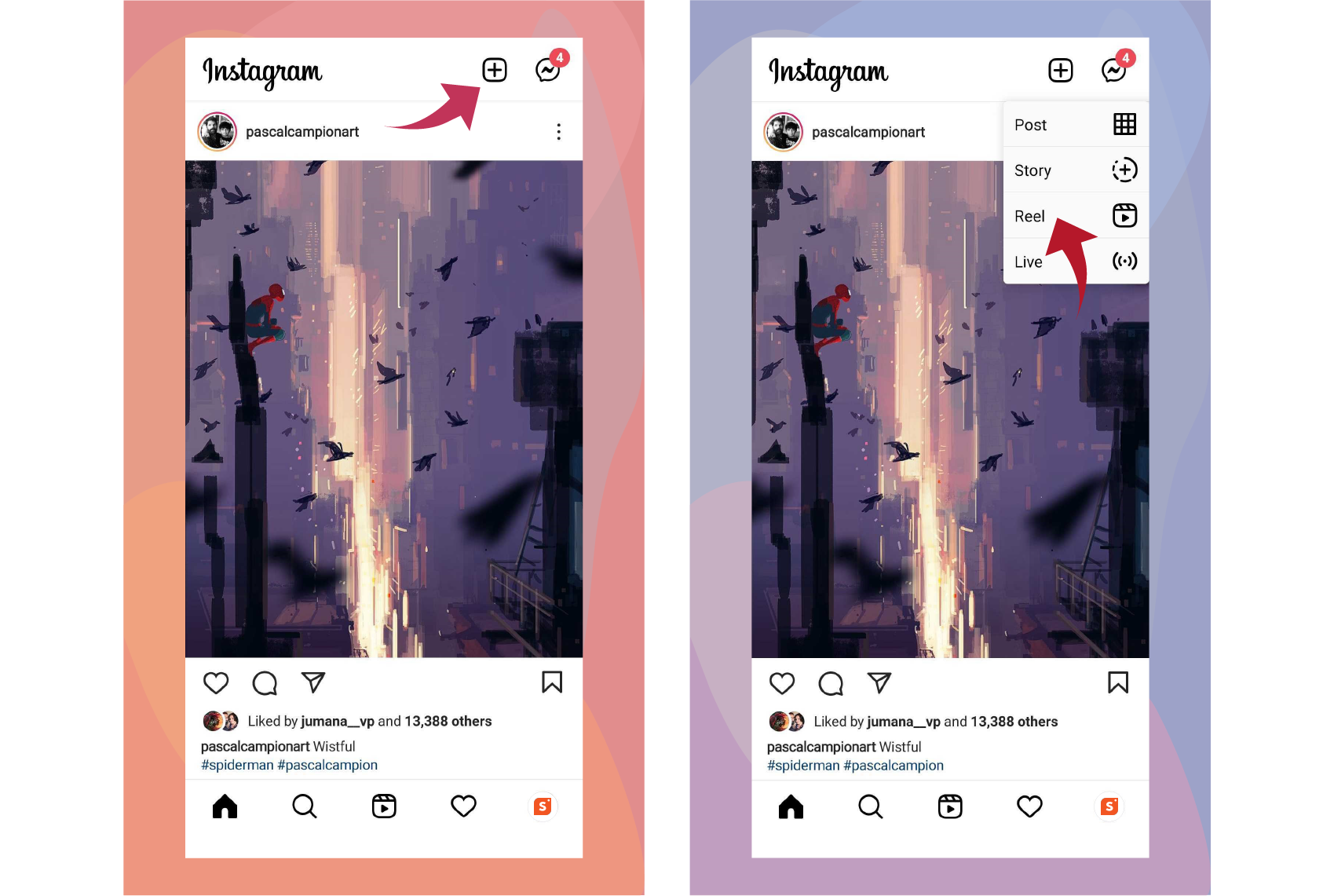 Making an Instagram Reel is similar to how you create video content on other social platforms.
However, you need to have a plan for the type of content you want, decide how you want to record the video and make sure that the video duration is restricted to 60 seconds or less.
Spend some time to research about hashtags that would work for your Instagram Reel.
Once that's done, you are all set to start shooting your video. For better clarity, here is a detailed step-by-step guide on how to make Instagram Reels:
Finalize the theme and song you want to include in your Instagram Reels
Now launch the Instagram app on your smartphone.
Log into your account and look for the 'Create' button (+ sign) towards the top right corner.
Tap the 'Create' button and select the 'Reel' option from the drop-down menu.
Choose the music track or audio you want by clicking the music note sign
Set the duration by selecting between 15, 30, or 60 seconds.
You also have the option to set the recording speed by either making it faster or slower.
Next, you can choose to go with frames and have up to three window videos.
For better control on recording the Reel, set the timer to get 3 seconds to 10 seconds.
To add effects, click the sparkle symbol towards the bottom middle to select filers.
Once everything's done, long-press the record option with the reel symbol to start creating your Instagram reel.
There are a few more alternatives to creating Instagram reels. Here is a quick look at these different ways:
1. Creating an Instagram Reels from the Reels Tab
Inspiration can come from anywhere for a creator.
Instagram being the popular hub for creators know this, and that's why they added a quick navigation button that makes it possible to do a reel on the go!
Yes, that's right, if you end up being inspired by a Reel, and get the urge to make similar content yourself, you only need to click the 'camera' icon on the top right corner of the Reel that's playing.
2. Creating an Instagram Reel from the Audio Page
Now the fun does not end there.
Sometimes, it is the audio or song that inspires you to make an Instagram Reel instead of the video. Instagram has you covered for that as well!
If you come across an interesting reel from someone you are following and like the track that's playing in the background, you can click on the music track on the video.
You can also click the 'Use Audio' option on the bottom of the 'Audio Page' option to be redirected to the reel editor from where you can instantly create a reel.
3. Creating an Instagram Reel by Swiping Left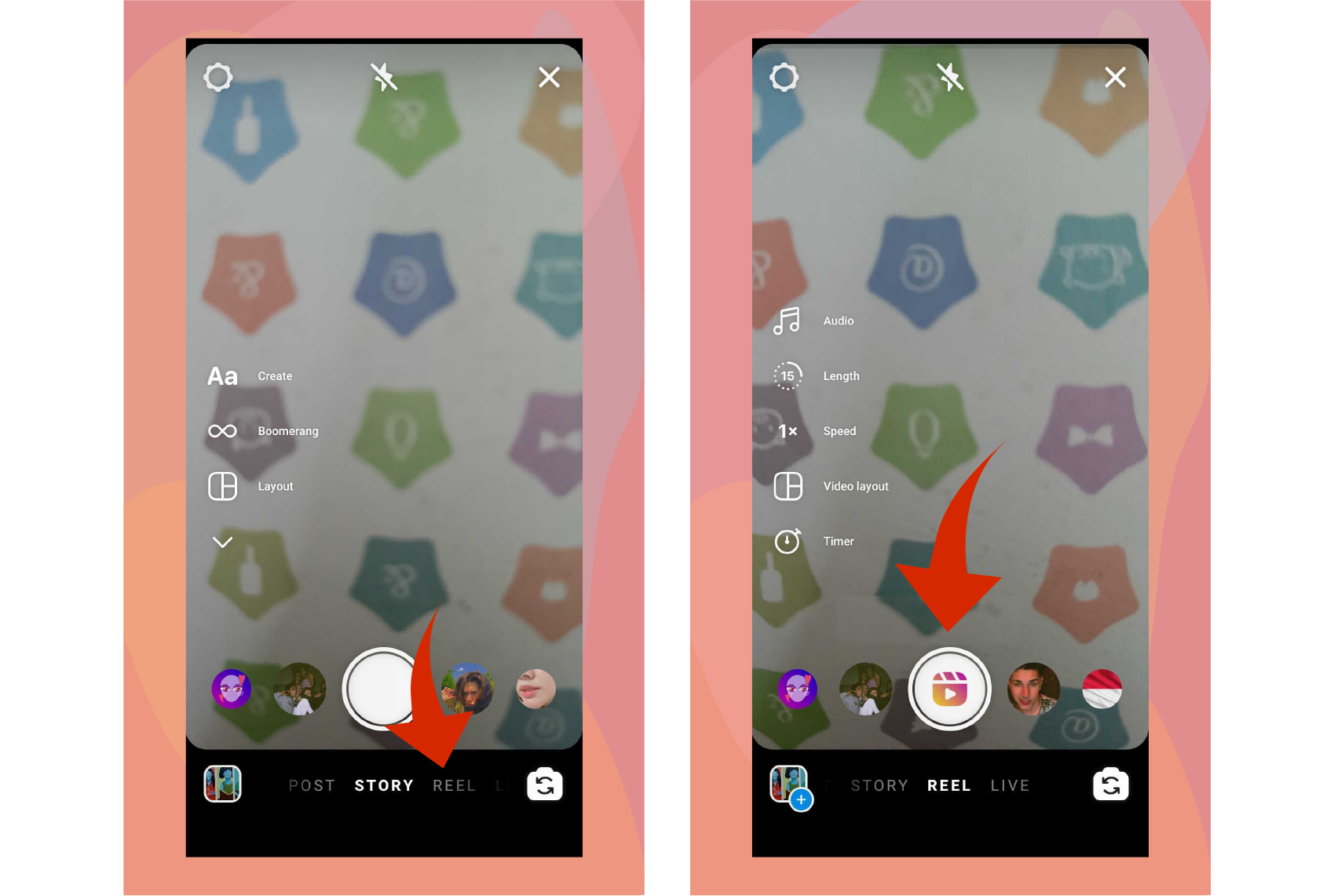 You can also create an Instagram Reel at ease by swiping left from the home screen.
However, you will still need to swipe the bottom option towards the right until you come across the reels option.
When you come across the reels tab, upload the video you want to add, include the music track of your choice, adjust the time and publish your reel with relevant hashtags.
How to Make Reels on Instagram with Multiple Photos?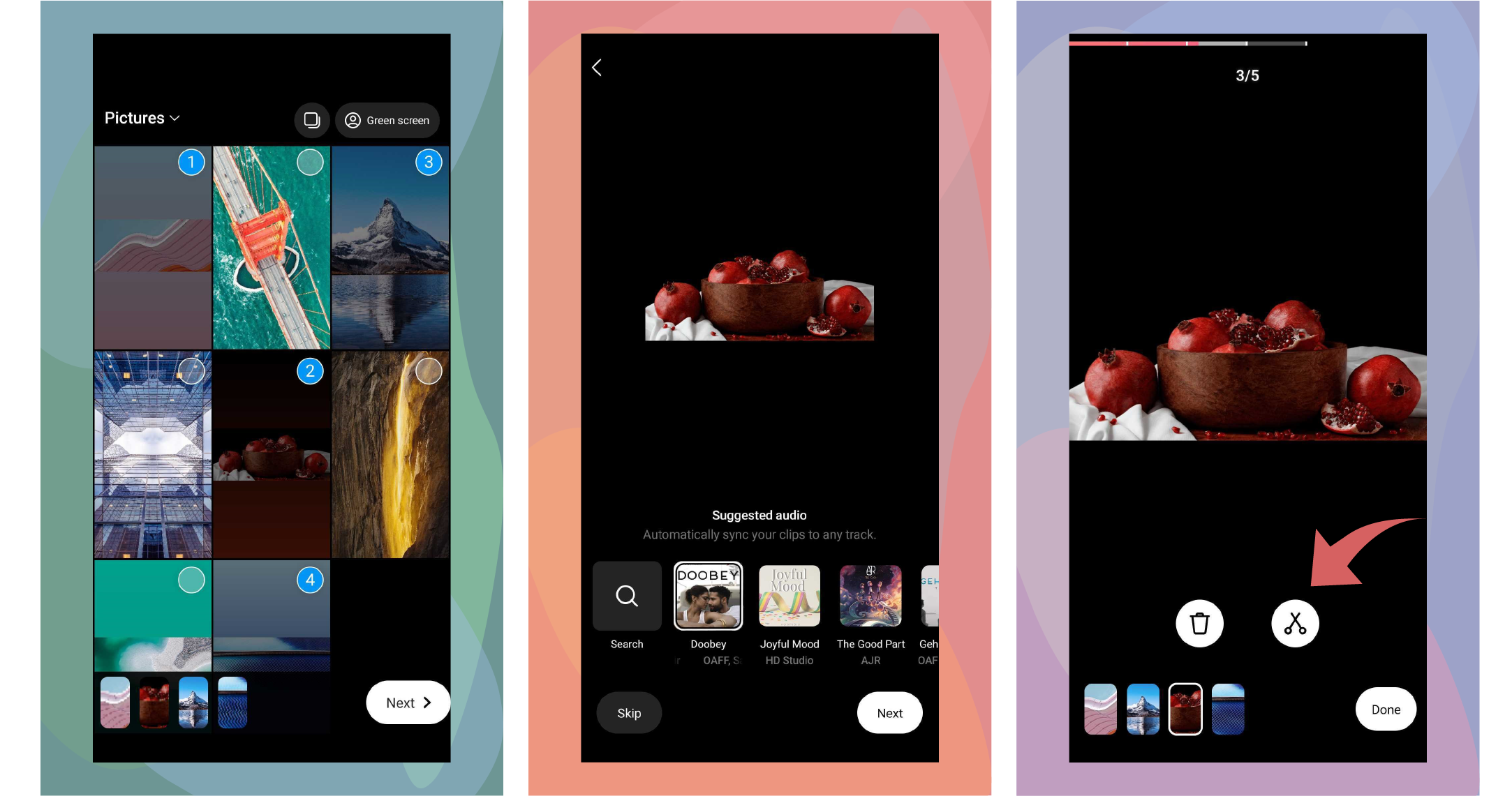 If you didn't know already, you can make Instagram reels with just photos.
That's right, you don't even need to have photos and can make photos that will automatically be synced by Instagram to make interesting reels.
Here is a step by step guide on how to make reels on Instagram with multiple photos.
Launch the Instagram app on your smartphone.
Log in to your account and click the plus (+) icon from the top right corner of the screen.
Select 'Reel' from the drop-down that appears.
Choose up to 10 photos that you would like to add as an Instagram Reel.
Click 'Next' and wait for the auto-sync to complete processing.
Pick the audio track that you would like to use on your Reel on Instagram.
Tap 'Next' again to be redirected to the editor screen.
Now, tap on the 'Crop' option (marked by the scissor symbol) to adjust the duration.
After reducing the duration of each photo, click the '+ sign' to add more photos.
You can add photos and repeat the same until photos make up the 30 seconds.
Tips to Making Trending Reels on Instagram
Instagram Reels is now the most trending format on Instagram and for good reasons too.
They are compact, entertaining, and straight to the point in most cases. They also have incredibly discoverability rates and better chances of going viral than any other format on Instagram.
However, how do you make those trending reels on Instagram that bring in plenty of engagement?
Here are some interesting tips to consider to make your reels on Instagram trending:
1. Jump on What's Trending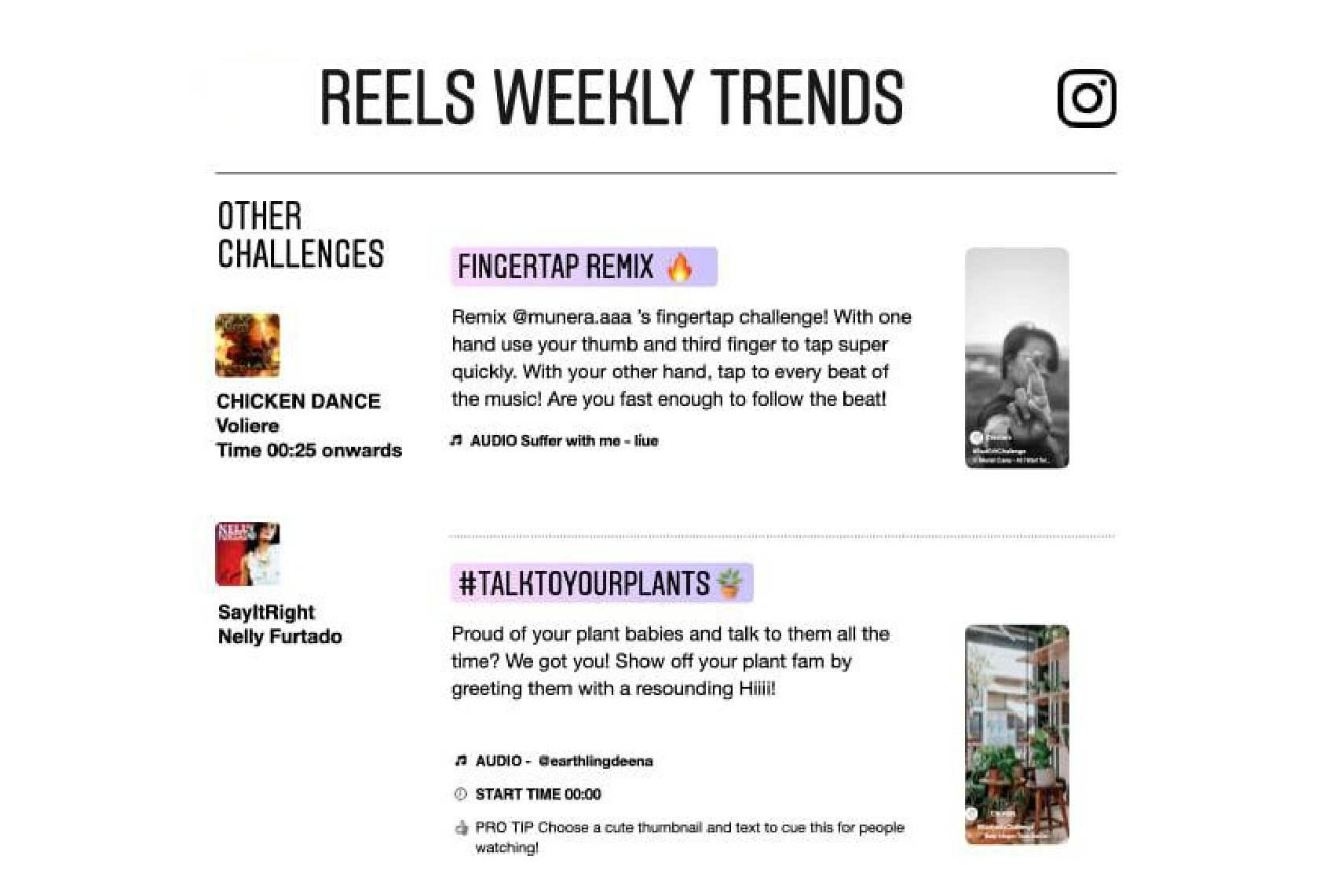 Knowing what viewers on Instagram want is key to the success and failure of an Instagram Reel.
Even if the video is of super high quality, it will make no impact if you post it when the trend or demand for the content is no longer there. If you notice a lot of people doing a video about a popular topic on your niche, jump on the opportunity before it's too late.
Early bird gets the worm and when something goes viral, make sure that you take part in it sooner, rather than later.
2. Find Your Niche at the Earliest
As a creator, it is important to have a niche or area of interest to focus your content on.
That way, you can be really successful in building up a community that will have a craving for the content you deliver. The best thing about having a niche is that you will have a subscriber base that is solid and there to stay.
By making multiple videos on the same topic, you can establish yourself as a creator that knows what his niche is all about.
You will be considered as a trusted source to get relevant information and content about your niche that entertaining and educational.
3. Never Create Content for the Sake of Creating Content
As a creator, you must never compromise on the quality of your content.
If you are dry of any ideas for your next Instagram Reel, take a break and don't post anything. It's perfectly fine to take a break rather than upload content that's not up to the mark.
Instagram is a flexible social network that has features like Instagram Stories that allow anyone to update their followers that there will be delays in the next content update.
Only post content that offers value for the time your followers spend going through the video.
Quality content also has better chances of going viral and increasing your overall growth and reach.
4. Always Share Reels to Your Feed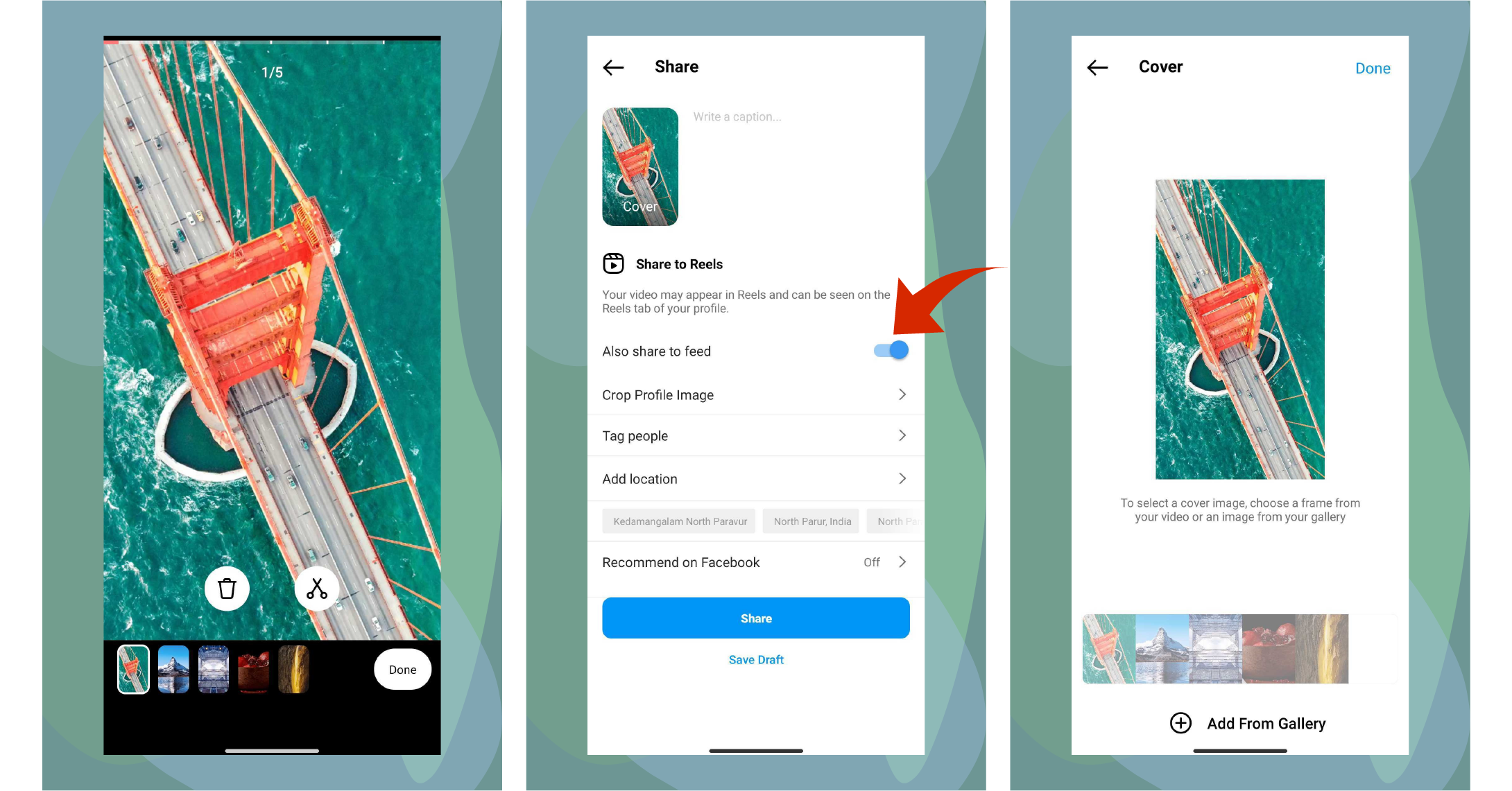 Instagram allows you to either share your reels on your feed or have it just in the reels tab.
To make sure that you get the most engagement and discoverability from people that follow you and people that don't, it is important that you share reels to your feed.
This ensures that your reels get maximum engagement and reaches the intended target audience, and your existing followers at the same time.
By sharing the reels to your feed, you also increase the chances of your reel getting featured on the explore page and becoming a trending reel.
5 Instagram Reel Do's and Don'ts
For any creator that wants their reel to go viral, it is important that they know the key do's and don'ts of Instagram Reels.
That's why we have you covered with some of the most important do's and don'ts that you need to remember before posting your next reel.
Let's take a look at the five Do's of Instagram Reels first:
1. Always Create Original Content
It's one thing to be inspired from Instagram Reels, but it is highly recommended to not go overboard and end up creating exactly the same!
Viewers love creators that make original content. Now, you can definitely work on Reels that are based on a viral topic, but always make sure that it has some fresh perspective or your own twist added.
That way, the reel will stand out from the hundreds and thousands of other creators in your niche and be more of original content than just another reel.
2. Consistency and Quality are Top Priority
When you are creating content for Instagram Reels, it is important that you give top priority to consistency and quality.
For reels to be interesting for viewers, it is important that they are unique, posted at regular intervals and have content that would make someone hit the follow button.
Being regular also makes sure that you get the maximum engagement from your followers as they are most likely anticipating and waiting for new content from you.
By coming up with a posting scheduling and making sure that you publish new reels at this time-frame, you increase engagement and followers.
3. Always Add Music from Instagram Library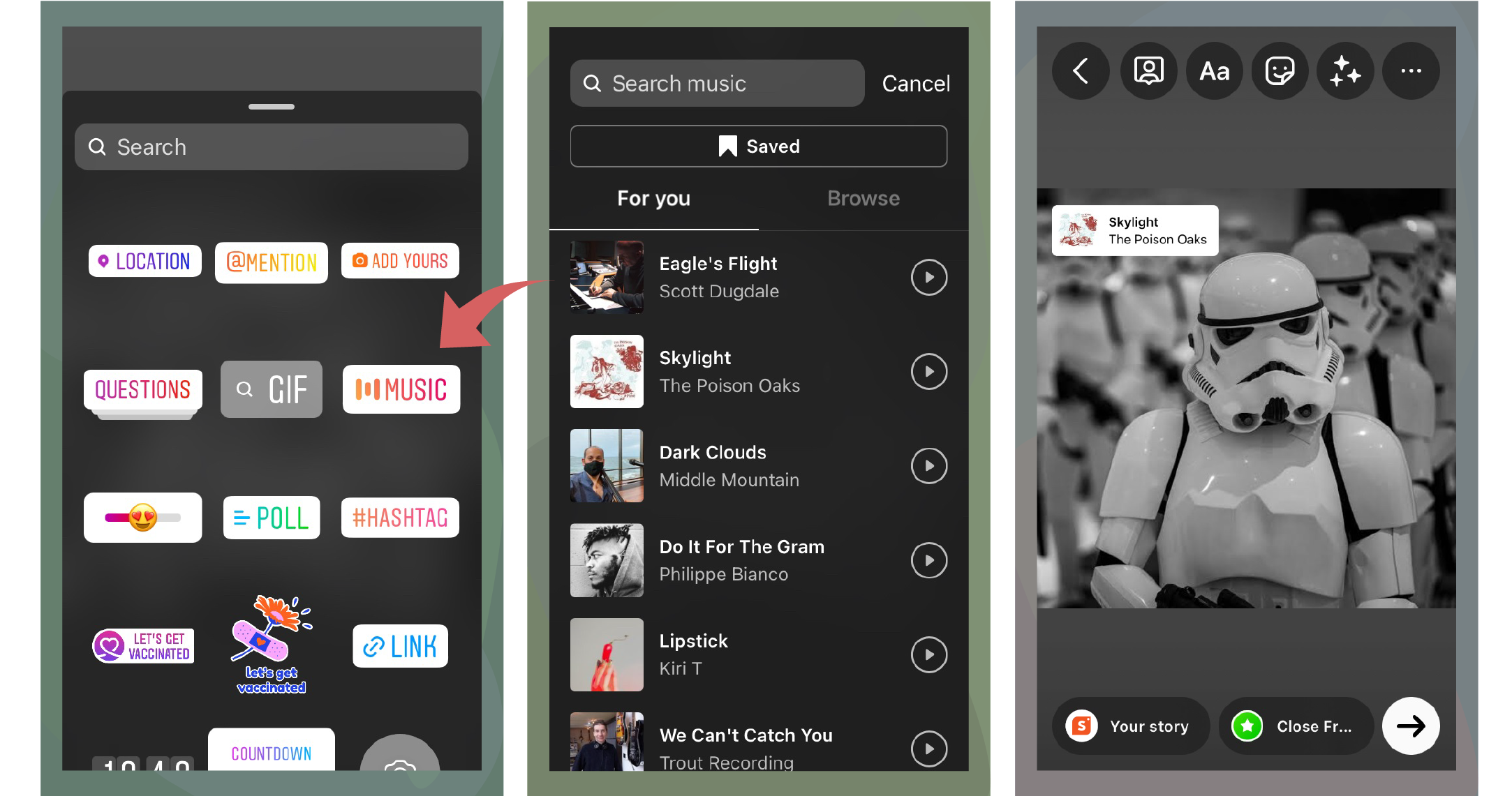 Another interesting but efficient tip that you must follow is to use audio from Instagram Library.
That way, you make sure that only licensed audio tracks are used on your content, and that can avoid getting your audio muted for copyright violations.
You can also add original audio to your reels, but they do have the potential of getting audio muted for possible copyright infringements.
It is also much more easier to add music from the Instagram library than to use a third-party app to do the editing and then upload it to YouTube.
4. Share Your Instagram Reels as Instagram Story
Instagram has plenty of powerful features that can assist a creator in their creator journey.
It is important that you use these features, or combine them if required to get the best possible results on all your content. Whenever you upload a new Instagram Reel, consider adding the update as an Instagram Story as well.
Make sure that the story stays there for the maximum duration of 24 hours. If someone that's following you missed the video, they get another chance of going through your new content.
Visitors that check your profile are also more likely to check your Instagram story, which again increases your overall exposure.
5. Add On-Screen Text and Closed Captions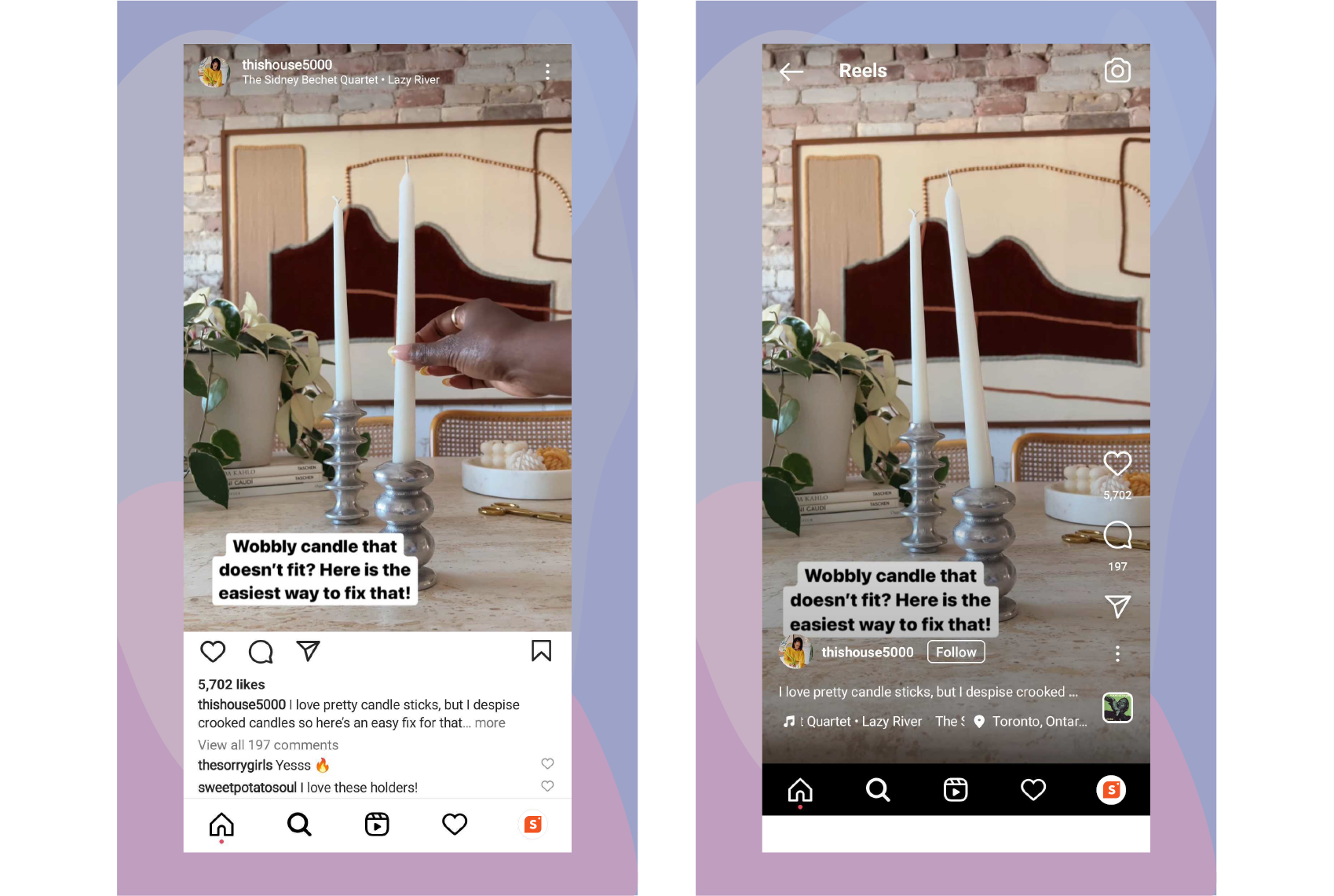 Adding on-screen text and closed captions to your content is never a bad idea regardless of the niche you create content on.
When there is on-screen text, the audience with hearing impairments or hard hearing will be able to comprehend the reel a lot better. Closed captions do the same, and they make sure that everyone has an equal opportunity to enjoy your content.
If you are a creator that works with a regional language, adding closed captions and on-screen text/subtitles makes it possible for your content to reach a global audience.
Now that we have covered most of the good parts, let's also go through the five don'ts of Instagram that you need to avoid at all costs!
1. Avoid Uploading Videos With Watermark
Think about it, if you own a brand, would you be happy to advertise a competitor for free?
That's exactly how Instagram thinks about watermarks as well. It is always best to avoid videos that are downloaded from websites with watermarks. Instagram does not like promoting their competitors like TikTok.
If your new Instagram Reel has a TikTok watermark, chances are really high that the video will never make it to the explore page or get the attention of its intended audience.
Always upload original videos and add music instead of going for videos that you downloaded from your other social networking platforms.
2. Don't Use Too Many Hashtags on Your Reel
Instagram allows users to use up to 30 hashtags on all of its content.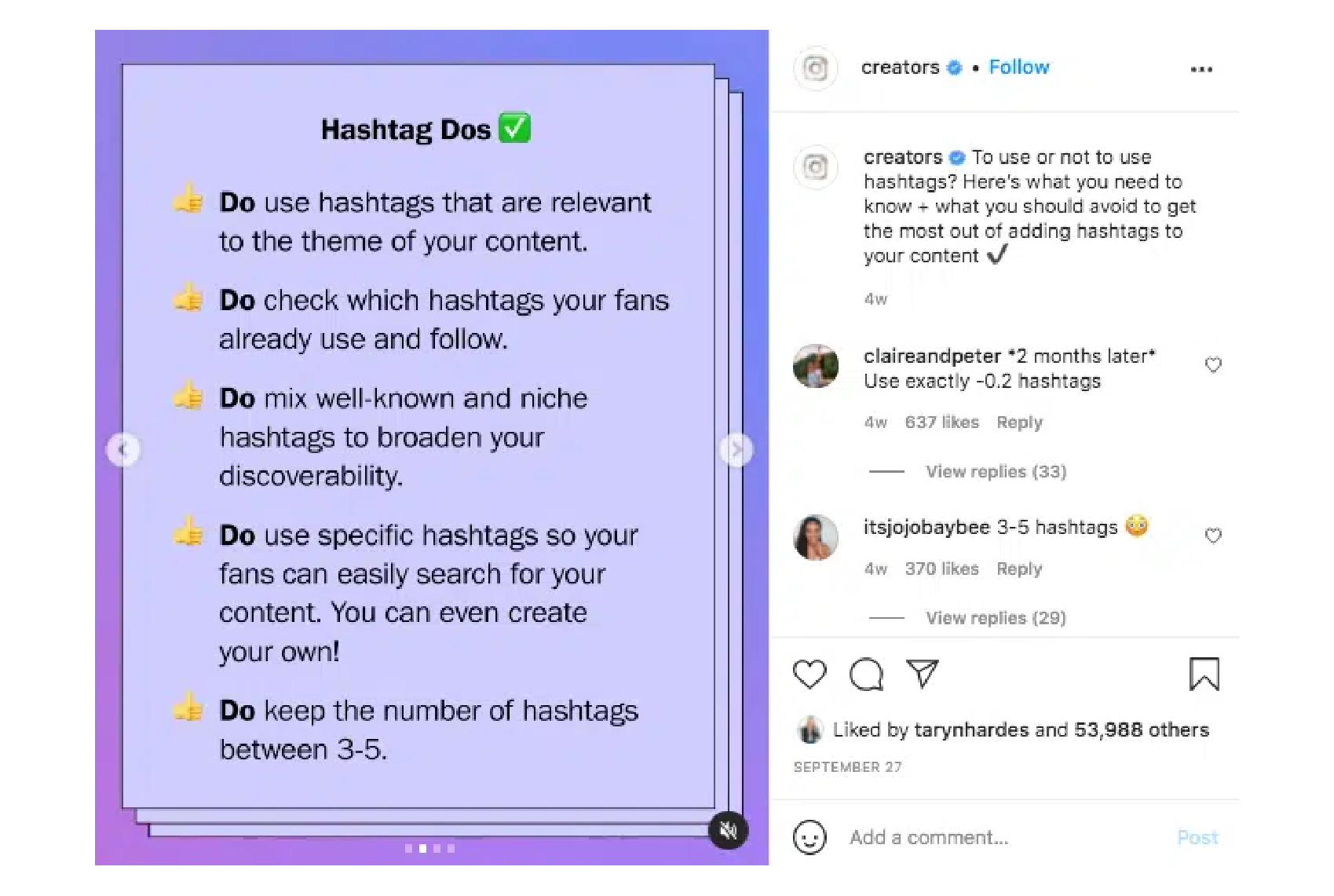 Be it a photo, video or Instagram reel, it is always best to keep your hashtags to a bare minimum. Only use relevant hashtags that are related to the content you are posting about.
The Instagram algorithm is a tough nut to crack, but you are not helping yourself by going all out with 30 hashtags. Having too many hashtags or irrelevant hashtags that have no connection whatsoever with the content you post will result in Instagram marking your new reel as spam.
Ideally, it's also best to combine trending hashtags with lots of posts and related hashtags with comparatively lesser posts to get the best results.
Instagram's official Creator handle suggests creators to use at least 3-5 hashtags for Instagram posts.
3. Don't Post Content That's Against Community Guidelines
This is a big no for all social networking platforms.
Always stay away from content that goes against the community guidelines of a platform. Even if the Instagram Reel gets approved when you initially upload it, Instagram will be onto it in no time and have it removed.
Content that has graphic violence, hate speech, obscene content, or derogatory language are all against the community guidelines.
The punishments for violations like these can range from minor temporary bans to even getting your account suspended.
4. Never Publish Videos That are Not Vertical
Reels are intended to be full screen on smartphones and tablets.
For that reason alone, it is important that you only upload videos that are in the vertical format. Anything that's not in the vertical format will look really odd as Instagram Reels.
If you intend to use the scale feature that automatically converts Instagram reels into the 9:16 vertical ratio, makes sure that you review it before publishing.
Your video can also end up being stretched out of proportion and this would really make its overall appearance really messed up.
5. Don't Use Too Much Text on Reels
Using subtitles or on-screen text on your Instagram Reels is really beneficial.
However, it is important that you limit the usage of such text to a bare minimum. Yes, that's right, only use it either towards the bottom of the screen or towards the middle.
Ideally, it's always best to use thin fonts rather than bold ones as they do not mess with the aesthetics of your Instagram Reel.
Don't get carried away and cover your reel with too much text as it can only do more harm than any good.
FAQs regarding creating Instagram reels
How do I show Reels on the feed after posting?
When you publish a Reel on Instagram, you want people who search the hashtags and people who follow you to both see your new Reel. To ensure that this intent is achieved, you must make sure that the 'Also Share to Feed' option displayed below the caption on the final edit screen of your reels is enabled. If it's greyed out, you can enable it by swiping the bar to the right. It will turn blue when the feature is turned on.