How to Become a Twitch Affiliate: Everything You Need to Know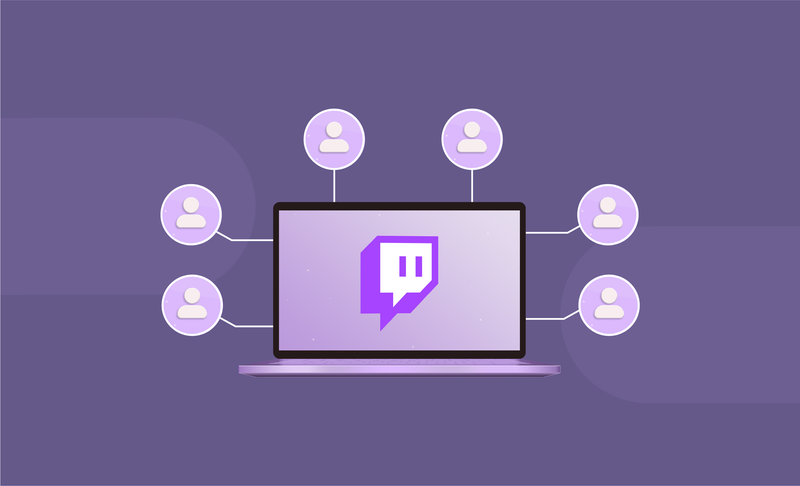 Twitch is one of the fastest-growing social media platforms out there today.
The video broadcasting platform has grown beyond a platform for gamers to stream their games. As of early 2022, Twitch is an inclusive streaming platform for creators of different genres and niches.
Twitch offers a number of monetization options to help creators get paid for doing what they love!
Joining the Twitch affiliate program should be at the top of your bucket list if you wish to become a full-fledged content creator on Twitch and monetize your account.
That's why we have you covered with everything you need to know on how to become a Twitch Affiliate. Continue reading to unlock answers to all the questions you ever had on Twitch affiliates.
What is the Twitch Affiliate Program?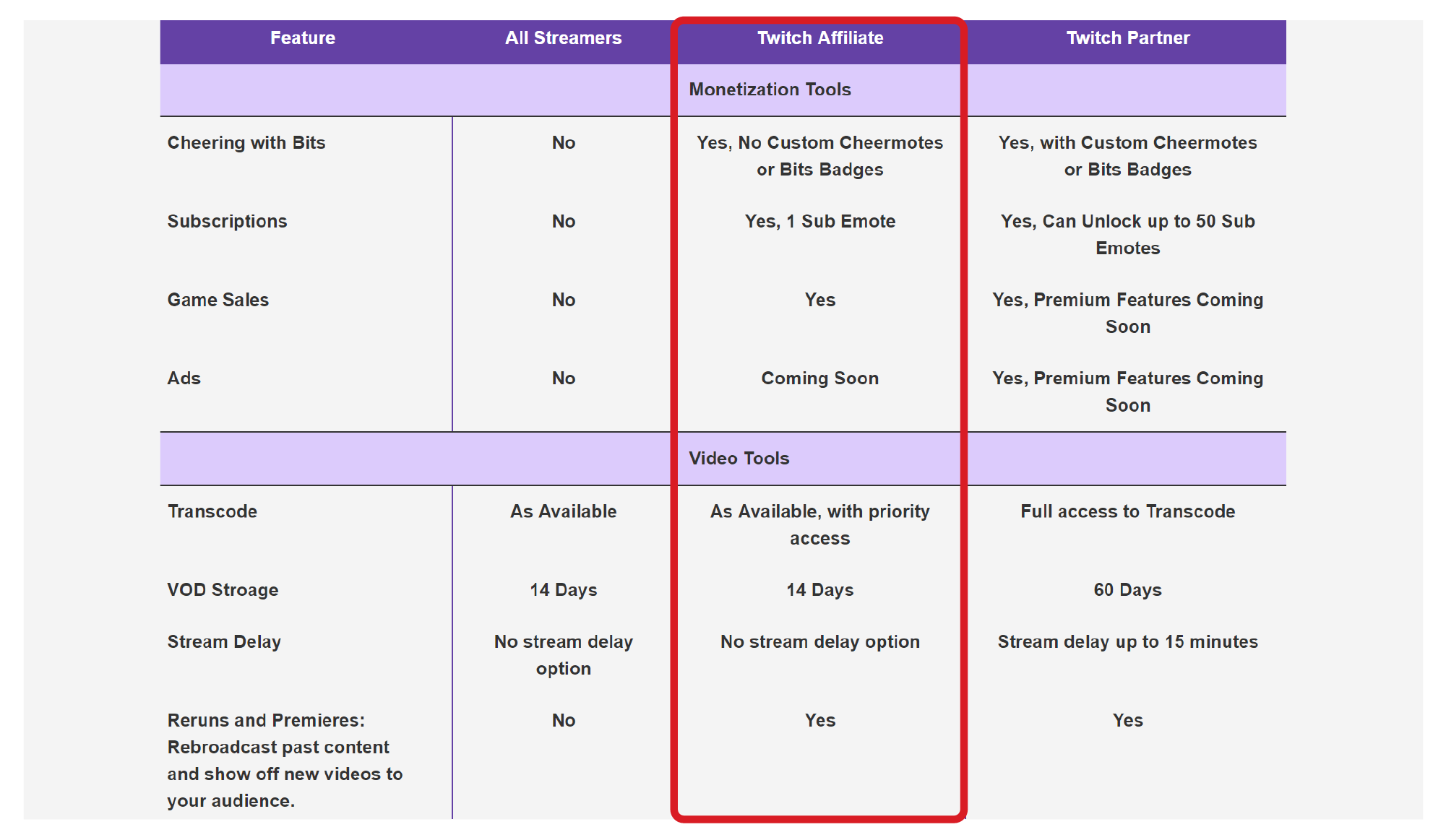 Twitch Affiliate membership is a partnership program offered by Twitch to creators who qualify specific requirements or have a dedicated viewer base on their channel.
If you are serious about pursuing your career as a full-time content creator on the platform, becoming a Twitch Affiliate will be one of your first major milestones.
Contrary to how some of the monetization programs work on rival platforms like YouTube, the requirements to join the Twitch Affiliate program are much easier to accomplish.
Another great advantage of joining the Twitch affiliate program is that it opens up features like bits, and donations, subscriptions, and helps you get closer to becoming a Twitch Partner.
What are the Requirements to Become a Twitch Affiliate?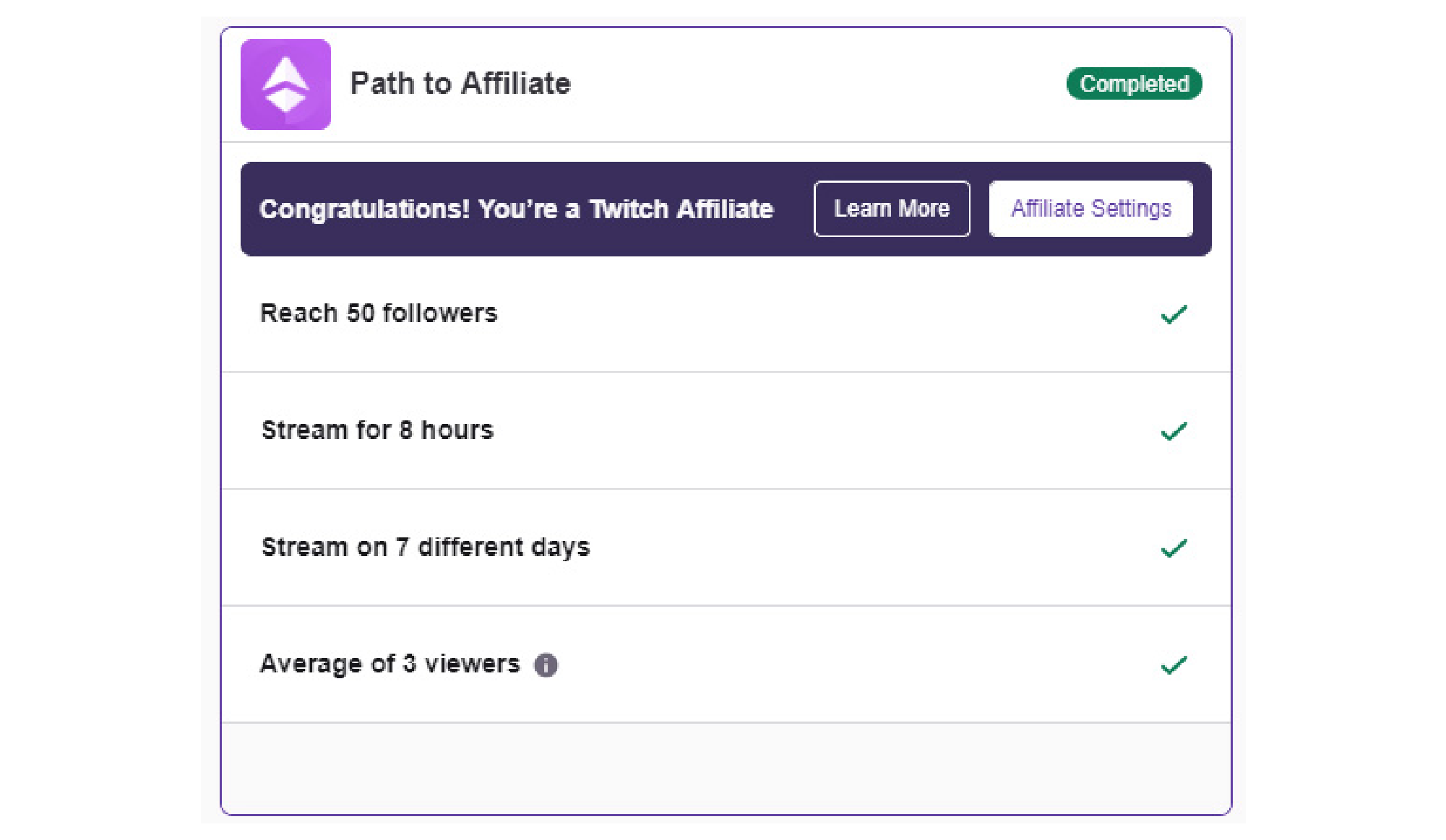 Can anyone on Twitch become a Twitch Affiliate and get their content monetized?
Not exactly! However, if you are an active streamer who is consistently building an audience on Twitch, it is relatively easy to become a Twitch Affiliate.
Here are the requirements you need to complete in order to become a Twitch Affiliate:
Have at least 50 followers.
Broadcast for at least 500 minutes in the last 30 days.
Maintain an average of 3 concurrent viewers over the last 30 days.
Have at least 7 unique broadcast days in the last 30 days.
Please note that Twitch has made it clear that the requirements to join the Twitch Affiliate program are likely to change with developments on Twitch as a social networking platform.
Once you complete these minimum requirements that are needed to join the Twitch Affiliate program, you will receive an invitation and an email from Twitch.
You will also receive a notification on Twitch.
How to Join the Twitch Affiliate Program?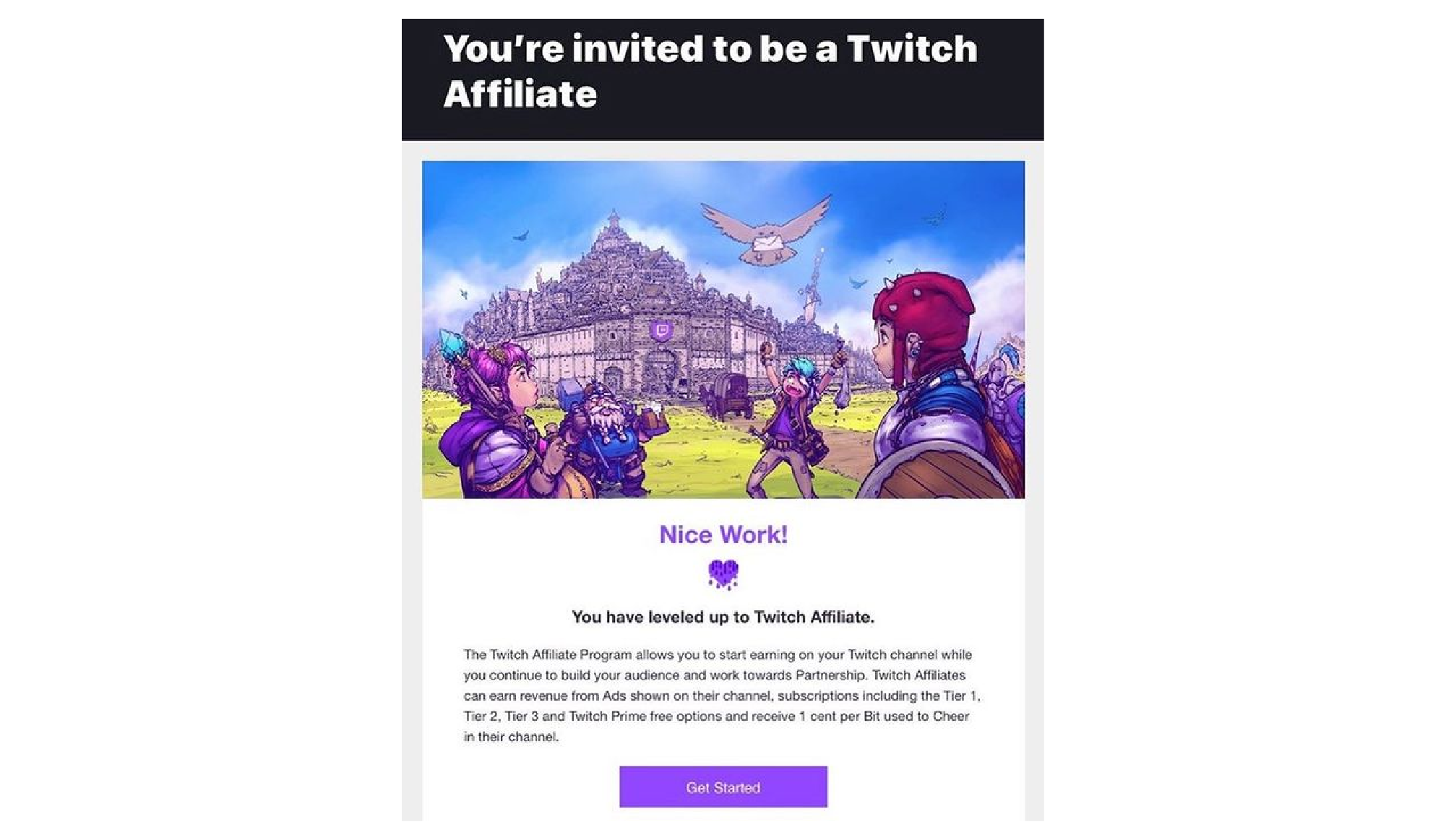 Once you receive the email invitation from Twitch to join their affiliate program, you are all set to become an affiliate partner.
Still not sure about how to become an affiliate on twitch?
Follow these steps to officially enroll in the Twitch Affiliate program.
Open your Twitch Affiliate invitation email and navigate to "Get Started" and click on it.
You will be redirected to the Preferences tab of your Creator Dashboard.
Complete the short process of monetizing your channel with bits by following the directions.
You will also be required to enable two-factor authentication on your Twitch account.
Enter general information as required to start registration for the Affiliate program.
Go through the Twitch Affiliate Agreement, and agree to the terms of the program.
You will be required to provide Amazon with your tax information by completing the Royalty and Service Tax Interviews (TIIMS)
Confirm your mode of payment, and enter the required details by completing the Tipalti form.
Choose your payment method from direct deposit to bank account, wire transfer, PayPal, or check payment.
If you need more time for setting up a payment method, you can choose the "Hold Payments" option and your payment will be held until you specify your payout information.
Once you complete all the above-mentioned steps, you will receive confirmation that you have joined the Twitch Affiliate Program.
How Does the Twitch Affiliate Payout Work?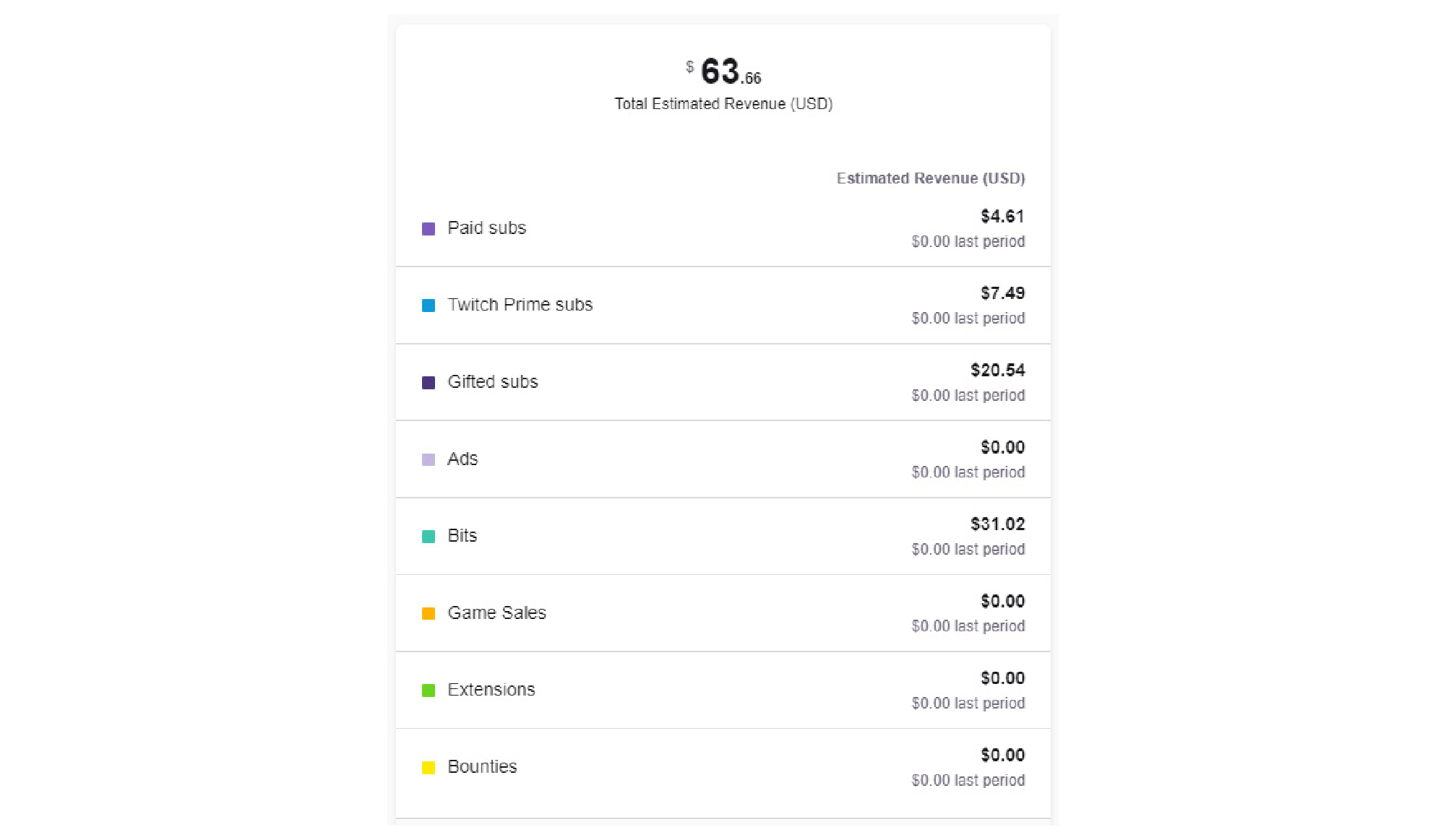 Twitch follows a standard payout period of 15 days (called Net 15). The minimum payout value required before a creator can withdraw it into their bank account is $100.
In short, when a creator generates a minimum revenue of $100, they become eligible to withdraw the amount into their account. However, the amount can only be withdrawn after 15 days of reaching the minimum threshold.
Imagine you generated a revenue of $100 on your Twitch account by May 17, your payment for the entire month of May will process on June 15.
Payout processing varies from one person to the other and generally takes anywhere from 3 - 5 business days to complete.
Twitch also has a dedicated Payout History page that can be used to track all your previous payouts and payouts that are processing.
Twitch also supports a wide range of different payout methods as follows:
ACH: This mode of payment is only available for affiliates that are based out of the United States. If you choose the ACH mode of payment, the deposit of your payout will be directly reflected in your bank account within 3-5 days.
Local Bank Payout Method or eCheck: Non-US affiliates can consider going for this method which involves your payout being converted from USD to local currency for an exchange fee. The exchange fee is a wholesale rate that is similar to the exchange rate charged by an ATM and the payout method takes around 1-4 days to process.
PayPal: Traditional PayPal method to easily transfer the revenue into your bank account and takes you 1-2 days only to process.
Check: This is the slowest mode of payment and can take a while before you can convert it at a local bank depending on where you are based.
Wire Transfer: This is also a traditional payment method that can be slow depending on your bank. Please note that wire transfer also incurs an additional fee in the case of your bank account requiring conversion into local currency.
What are the Benefits of Becoming a Twitch Affiliate?
Becoming a Twitch Affiliate is your first step to becoming a Twitch Partner and monetizing content.
However, that's not all! You also unlock a bundle of monetization features like bits, subscriptions, and ads. Subscriptions are one of the best ways to earn lots of money through your live streams.
You also have better brand value as a creator when you are an affiliate. With the added status of being an affiliate, you instantly improve the chances of getting brand collaborations.
People are also more likely to become a follower when they see that you are a Twitch affiliate, as it shows that you are a creator that is active on the platform.
Now that we've covered the basics, let's take a look at some of the key features that you unlock by becoming a Twitch affiliate:
Twitch Bits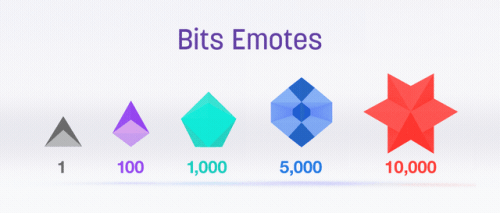 Twitch Bits is the virtual currency on the platform that can be used to make purchases of special animated emotes that can be used in chat.
Bits are basically tips feature on Twitch that followers can use to cheer up their favorite creator.
There are different types of bits that all have different values that can be brought by followers by paying actual money. To make use of a particular bit, they will need to buy the bit and use it on the chat.
Whenever someone uses a cheermote that was bought with bits, the creator gets around 1 percent of the cheermote's value-added to their overall revenue.
Even though cheermotes are limited to a standard set for Twitch affiliates, you do get access to customizable Twitch cheermotes by becoming a Twitch Partner.
2. Twitch Subscriptions

Subscriptions are often the best friends that a creator can get and for good reasons too!
It's one of the sure-shot ways to earn a lot of money from your Twitch live streams and helps you find your hardcore fans who wouldn't mind paying to watch your content.
There are three different tiers of subscription on Twitch at the moment with Tier 1 starting at $4.99, Tier 2 subscription starting at $9.99, and Tier 3 subscription at $24.99.
Each tier of subscription has different perks and benefits with Tier 3 having the best benefits.
Some of the benefits of subscribing to a Twitch creator include ad-free viewing, sub badges, emotes, and sub-only chat/streams.
Whenever someone subscribes to your Twitch channel, creators get 50% of the revenue depending on the tier they chose, and Twitch gets the other 50% for offering the platform.
3. Ad Revenue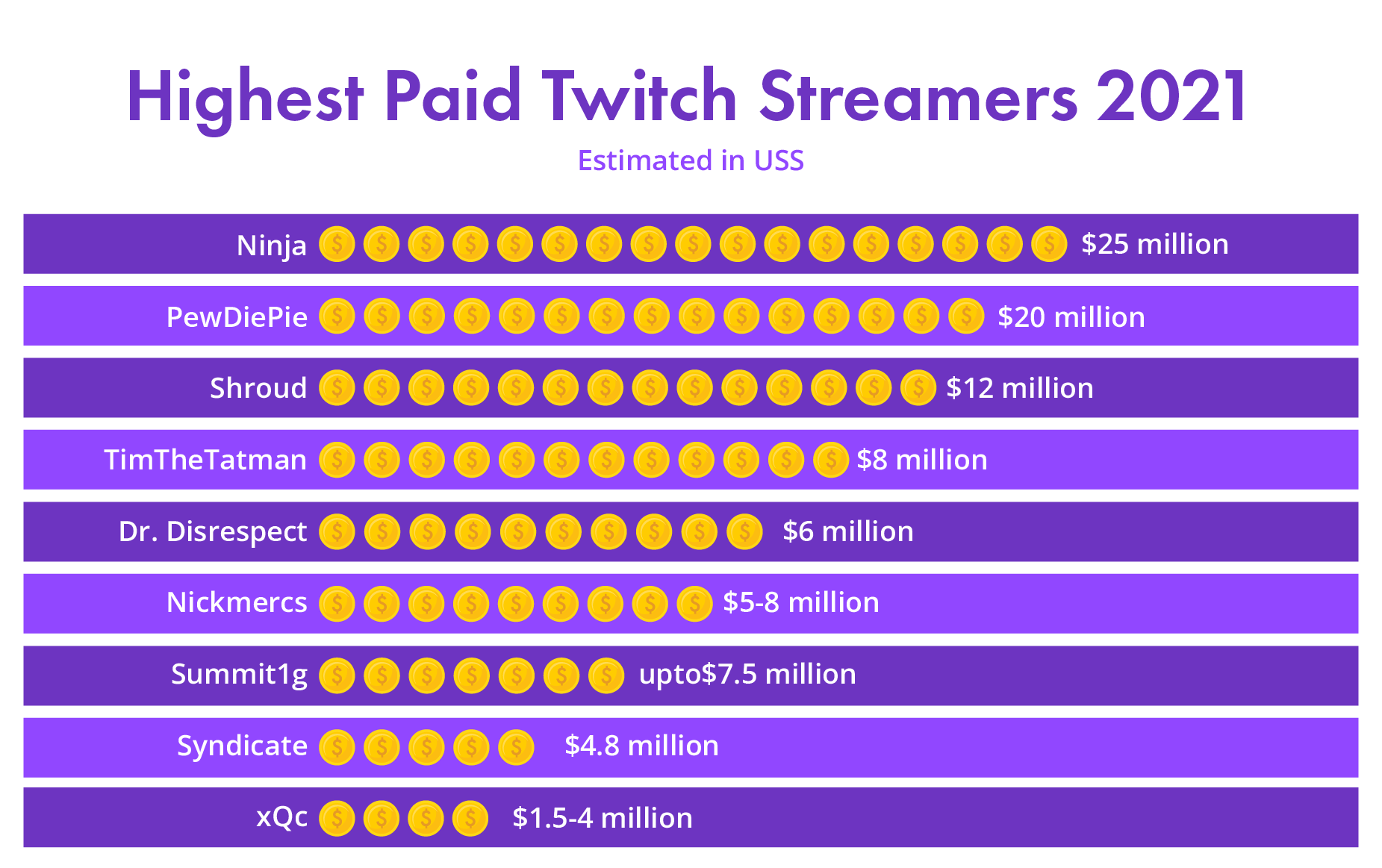 Twitch affiliates and partners get a share of revenue generated from any video ads that are shown on their channel.
What's even better is that creators have full access to decide what kind of video ads should play on their channel, the length of the ad, and the frequency of mid-roll ad breaks on your creator dashboard.
It should be noted that regardless of how much revenue your ads generate, Twitch will claim 50% of the ad revenue, and you get to keep the remaining 50% of the ad revenue.
However, if you are a Twitch partner, you can consider going into negotiations with Twitch to get a higher partner revenue share.