7 Instagram Hacks, Tricks and Features That You Need to Know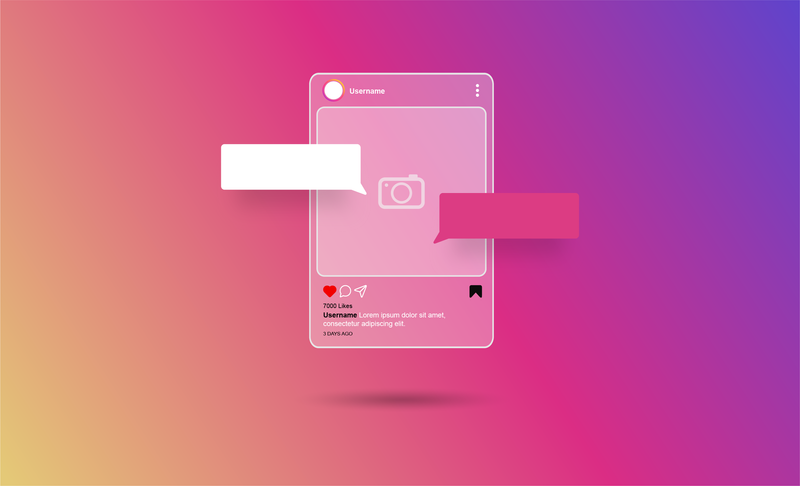 Today, Instagram is one of the most popular social media platforms.
You can get more views and engagement on your content by knowing some of the best features on the platform.
This is why we've got all the Instagram tips, tricks, and features that you need to know.
To consistently grow your Instagram profile, creators and Instagram users need to stay up-to-date on what's new on the platform.
You can stay up-to-date on Instagram by following some of the most popular creators on the platform, following official Instagram accounts, or keeping track of Instagram blogs.
Keep an eye on our blogs to find out what's trending
Here are some Instagram features that everyone needs to know in 2022 to take your content to the next level:
1. Switch Up Your Filters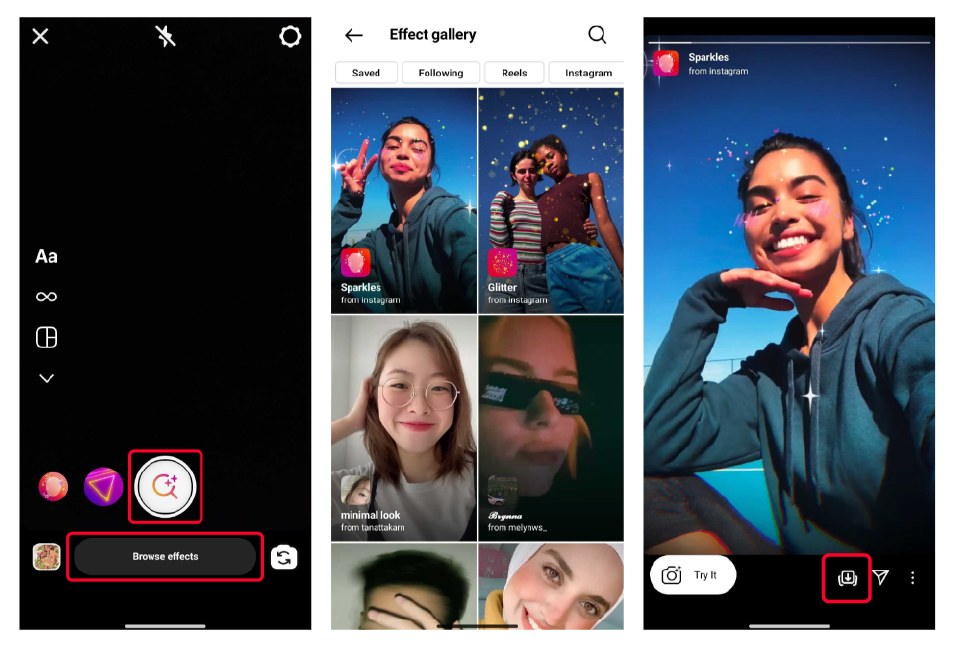 Instagram filters are really popular and often give life to images or videos that you share.
However, many users are unsure about how many filters there are that can be used on their content. Hundreds of new filters are added to the Instagram gallery everyday.
To make sure that you are not missing out on some of the best filters on Instagram, it's important that you switch up your filters by removing old ones and adding new filters in their place.
If you are not sure about how to do that, follow these steps.
Post a photo or video like you normally do.
Now access the filter option by clicking the "three glitter" icon.
Scroll until you come across the filter that you want to remove.
Under the filter, you will see the name and creator of the filter.
Click the name of the filter to open a details box.
Scroll down to the last option called "Remove Effect"
Confirm your decision by clicking on "Remove" in the pop-up that appears.
To add a new filter
Proceed to post a new story like you always do
From the filters, swipe left towards the extreme right corner
You will come across the "Browse Effects" option.
Click the magnifying glass and hit on search option.
Now search for the filter you want and click on "Save Effect".
2. Save Interesting Posts for Later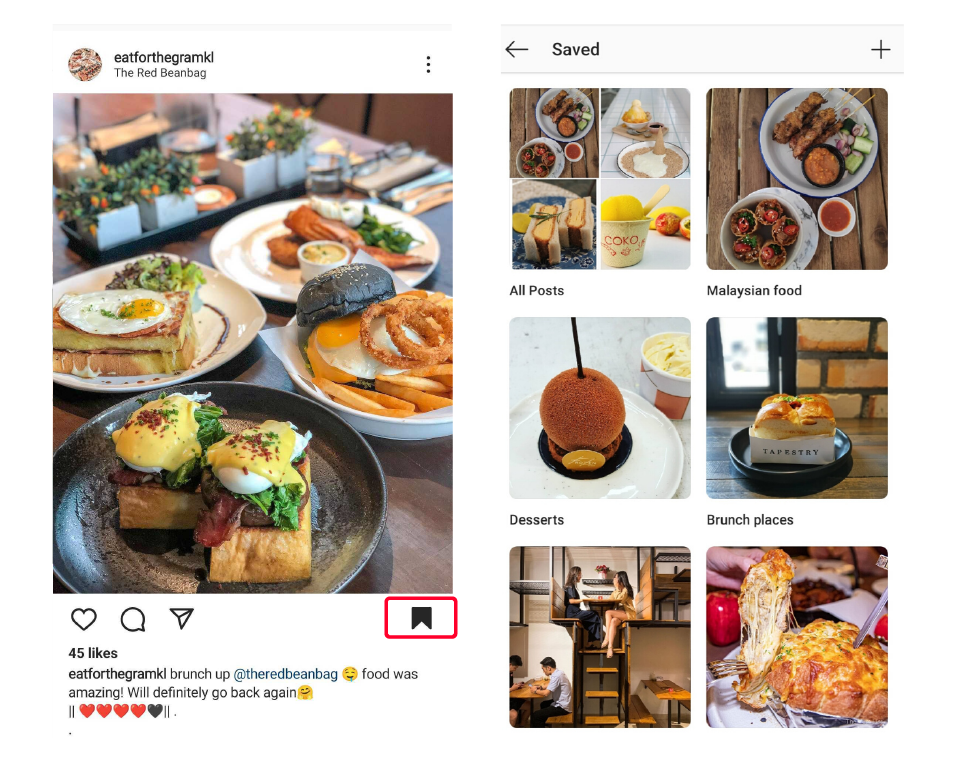 Came across an interesting Instagram post that you want to watch, but cannot right now, because you are short on time?
We've got you covered, or let's say Instagram has you covered!
The bookmark feature, also known as the save post feature was introduced for situations like these. By bookmarking a post, you can come back to it at a later time, and see the post in detail.
Here is how you can bookmark a post on Instagram:
Find the Instagram post that you want to save.
Now under the post, look for a bookmark symbol towards the right.
Tap it once so that it changes color to black.
You can create a collection by hitting the "+" icon
Now, if you want to view the saved posts, it is also relatively easy. Simple head over to your profile, and click the three horizontal bar to access the menu.
From there click on the "Saved" folder to get a list of all the saved content.
3. Hide Posts Without Deleting from Your Profile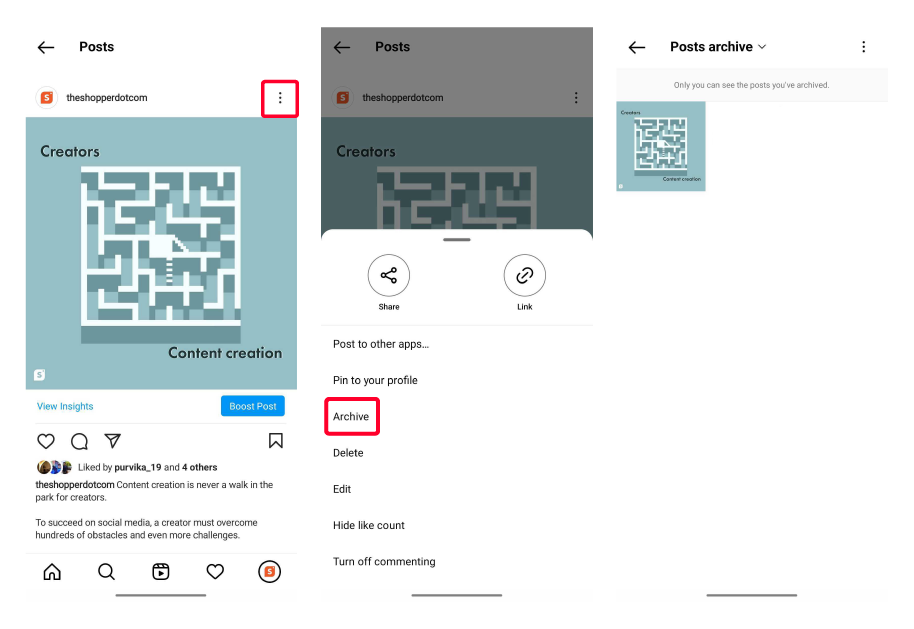 Instagram was launched back in 2010 and over the years, a lot has changed.
While it was an app that had a lot of emphasis on images during the initial years, it gradually changed and now with the introduction of Reels, there is equal emphasis to videos as well.
That's why it's pretty normal to have old posts on Instagram that are not something you as a user wants to show off on your Instagram profile.
Fortunately, gone are the days when you had to delete these content to get them removed.
With the archive feature on Instagram, you can now hide most of the unwanted posts, and add them back to your profile as required. It's also very easy to archive and restore a post on Instagram.
Here is a step by step guide on how to archive and hide a post without deleting:
Make your way to the post you want to hide from Instagram
Once you find the post, tap on it and look for the three dots.
Click on the three dots for a drop down menu to appear.
From there, click on "Archive" to hide your post from the feed.
To restore a hidden file
Go to your Instagram profile
Click on the three horizontal bar icon from the top right corner
Tap on "Archive" from the drop down that appears.
Select "Post Archives" and scroll to the post you want to restore.
Click on the three dots and select "Show on Profile"
This will restore the archived image or video to your Instagram profile's feed.
4. Use Custom Cover Images for Video Content
If you are someone that goes through YouTube video content on a regular basis, you would know how important thumbnails are for a creator on YouTube.
When it comes to video content on Instagram like Reels which has a lot of potential to bring in new followers, it is more or less the same.
That's why creating that first impression is very important.
As reels by default show up on your Instagram home feed, having a custom image improve the click through rate (CTR) and makes your profile stand out.
With some basic editing, you can add text on an image captured while recording the video or adjust the timeline of your existing video to capture that perfect image.
Here is how you can add a custom cover image on Instagram reels and videos:
Upload the video content like you normally do
Wait for the video to complete uploading.
Add description, and hashtags as required.
Now look for the "Cover" option which is displayed on the left side.
Tap on "Cover" and select the image that you want
The selected image will now be updated as the cover image for the new upload.
5. Temporarily Limit Comments on Your Instagram Posts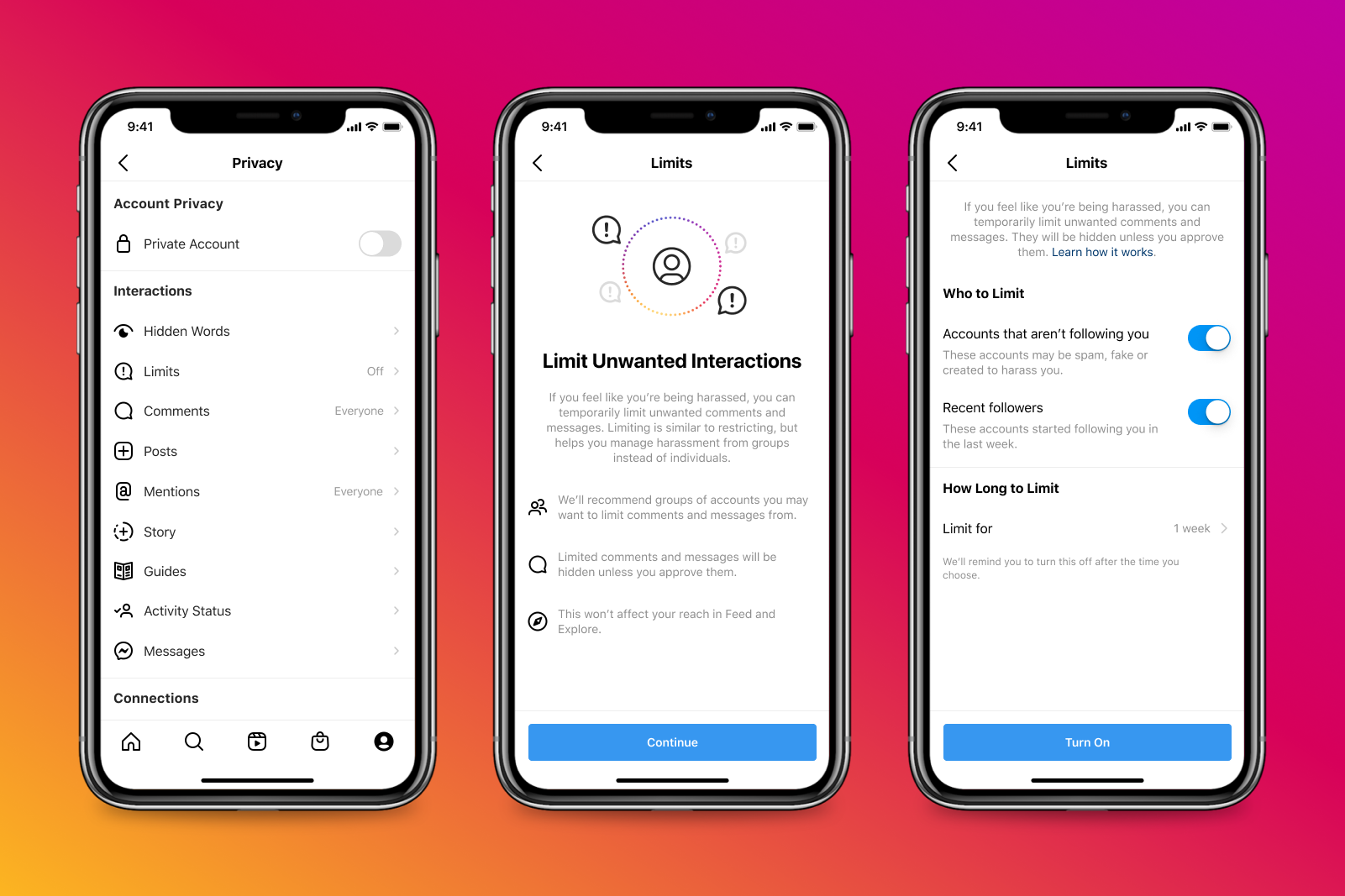 Harassment on social media platforms like Instagram is now one of the biggest issues that users face.
Anyone who has an account on social media can get harassed by another user, a group, or spam accounts that are created solely for the purpose of harassment.
Harassment can also come as hate comments, vulgar or obscene language, threatening direct messages, audio calls, video calls or even tagged posts.
If you are having issues with harassment comments, you can use the limit comments feature to restrict comments from people that you don't follow.
Here is how you can turn on the limit comments feature:
Go to your profile by clicking the profile picture.
Now tap the three bar icon and click on "Settings"
From there, click on "Privacy" and tap on "Limits"
Accounts that are not following you and recent followers from last week will now be restricted from adding comments to your posts.
You can choose to move the slider to off in order to turn any of these limits.
Tap on "Limit For" and scroll to number of days or weeks that you would like to limit comments and messages for.
You can also turn off the limit or restrictions by following the same steps and turning the "Limits" feature off.
6. Find the Most Relevant Instagram Hashtags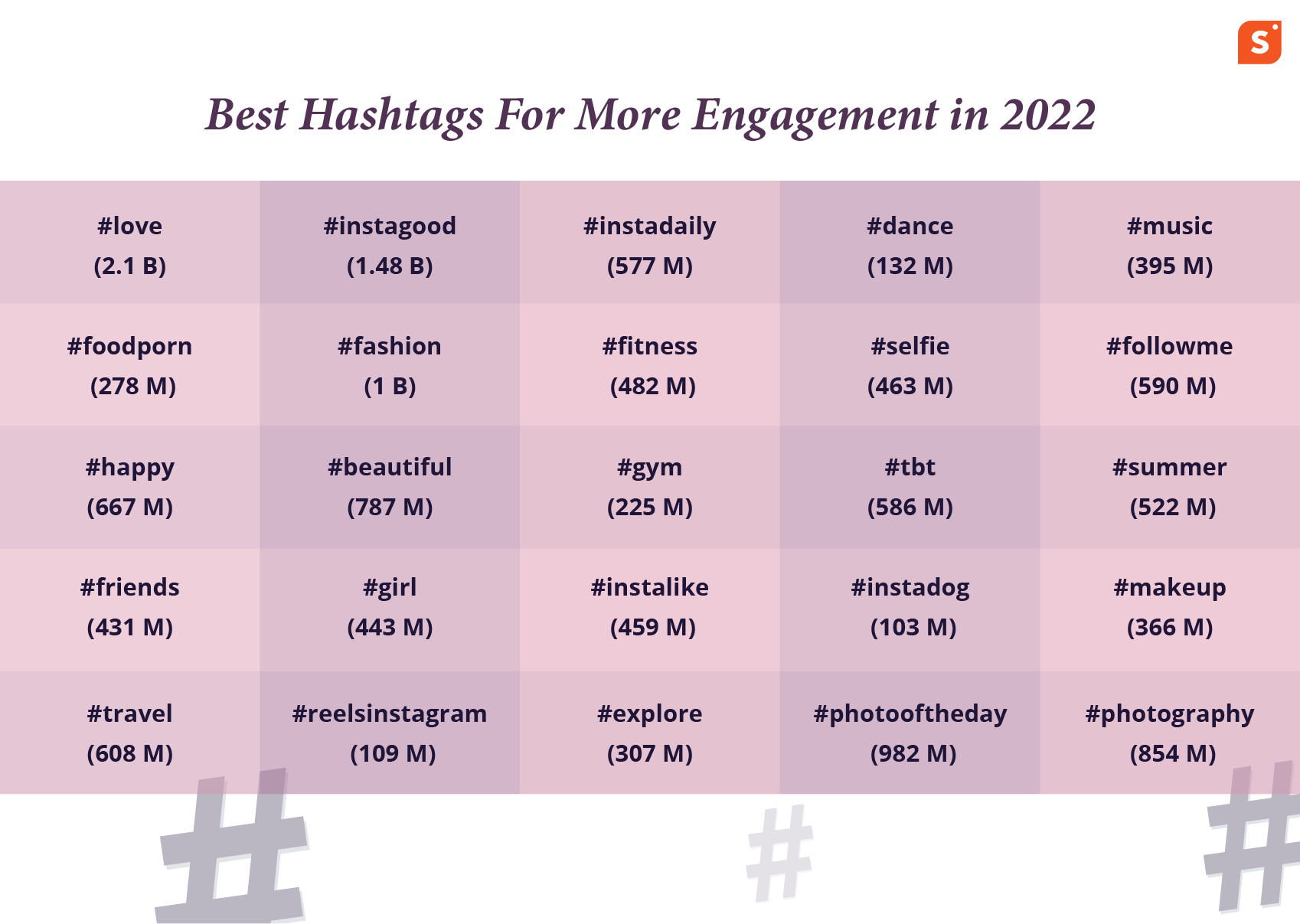 Hashtags are considered as the primary sorting filter for Instagram to identify the intended audience of a particular photo or video post.
Knowing which hashtags on Instagram are most relevant to a particular post and using these hashtags can make sure that you content reaches a target audience accurately.
That's why these Instagram hashtag hacks is a must know for anyone that's looking to grow on Instagram as a creator:
Use related hashtags: Before you publish new content on your Instagram page, check out some of the hashtags related to the video you are publishing. After you search for your primary hashtag, you will notice that Instagram will list out a few similar hashtags on the top part of the page. These are all related hashtags which can help Instagram get more clarity on the target audience.
Combine hashtag results: Another proven way to get more eyes on your content is to narrowing the scope of hashtag results. Ideally, you want Instagram to get the maximum clarity without confusion on who the intended audience is. When you search for the primary hashtag, you will come across a list of hashtags, that are sorted based on hashtag popularity and number of posts. Ideally it's always best to mix really popular hashtags with less used hashtags to get the best results.
We also have a detailed Instagram hashtag guide that has every information you need to know, so consider checking it out to get more information on how to use Instagram hashtags effectively.
7 Find Posts That You Previously Liked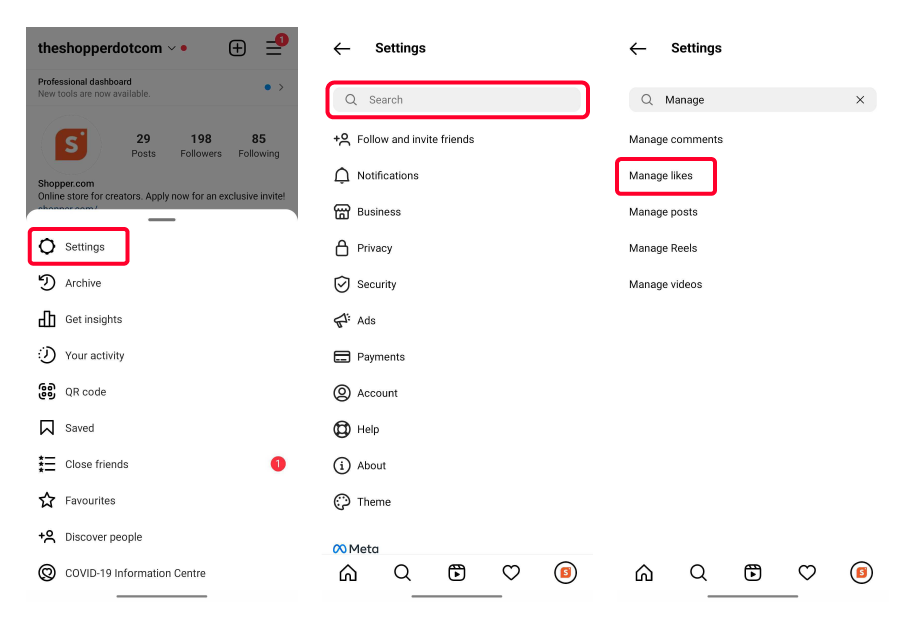 Instagram feed can get a bit hectic, especially when you are connected to a wifi and your homefeed reloads unexpectedly.
This could lead to missing out on a post that you liked.
Sometimes, you could also end up forgetting the creator who posted a particular post. So how do you find these posts again?
That's where Instagram's find posts that you previously liked comes into play.
With this innovative introduction, you can easily find posts that you liked on your first day on Instagram, even if it dates back to 2010 when Instagram was launched.
Here is what you need to do to find posts that you previously liked.
Head over to your profile page on Instagram.
Now click on the three bar icon (also known as hamburger symbol)
Click on "Settings" from the drop down that appears.
Now enter "Manage Likes" in the settings search.
Click on "Manage Likes" to get a list of all the posts you have previously liked.
You can change the sorting as "old to new" from the default "new to old" to see some of the first posts that you liked after starting your Instagram account.