50 Influencer Marketing Stats Every Marketer Needs to Know in 2022
Wondering how to make use of influencer marketing? We have you covered with 50 key influencer marketing statistics that can help you grow.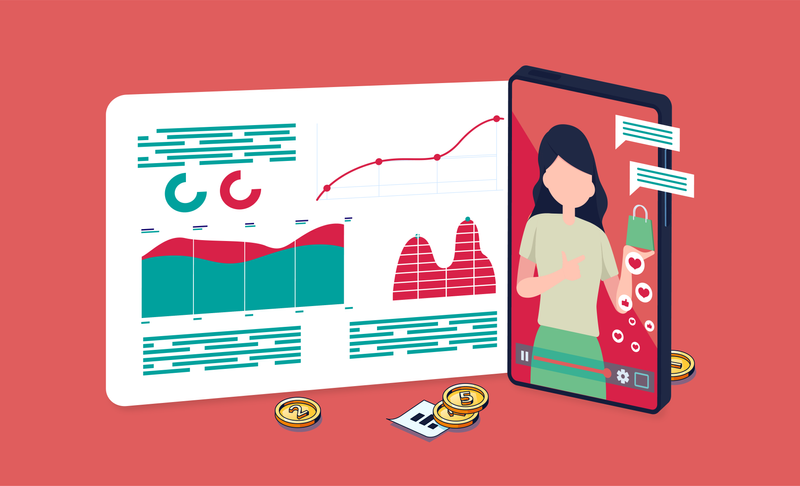 Influencer marketing has been growing at an unprecedented rate for the past few years.
Now more and more brands are exploring the potential of influencer marketing.
Startups in the creator economy can introduce tools and services that can help marketers improve their influencer marketing strategies and generate leads for new business partnerships.
We've prepared a list of 50 influencer marketing statistics that every marketer needs to know in 2022:
---
Statistics on the Influencer Market
1. There is a Focus on Creator Economy Like Never Before
Today, social media is turbocharged like never before, including OTT apps and social networking platforms such as Facebook and Instagram. Additionally, the number of creators has steadily increased as people spend more time at home or have the time to pursue their creative interests.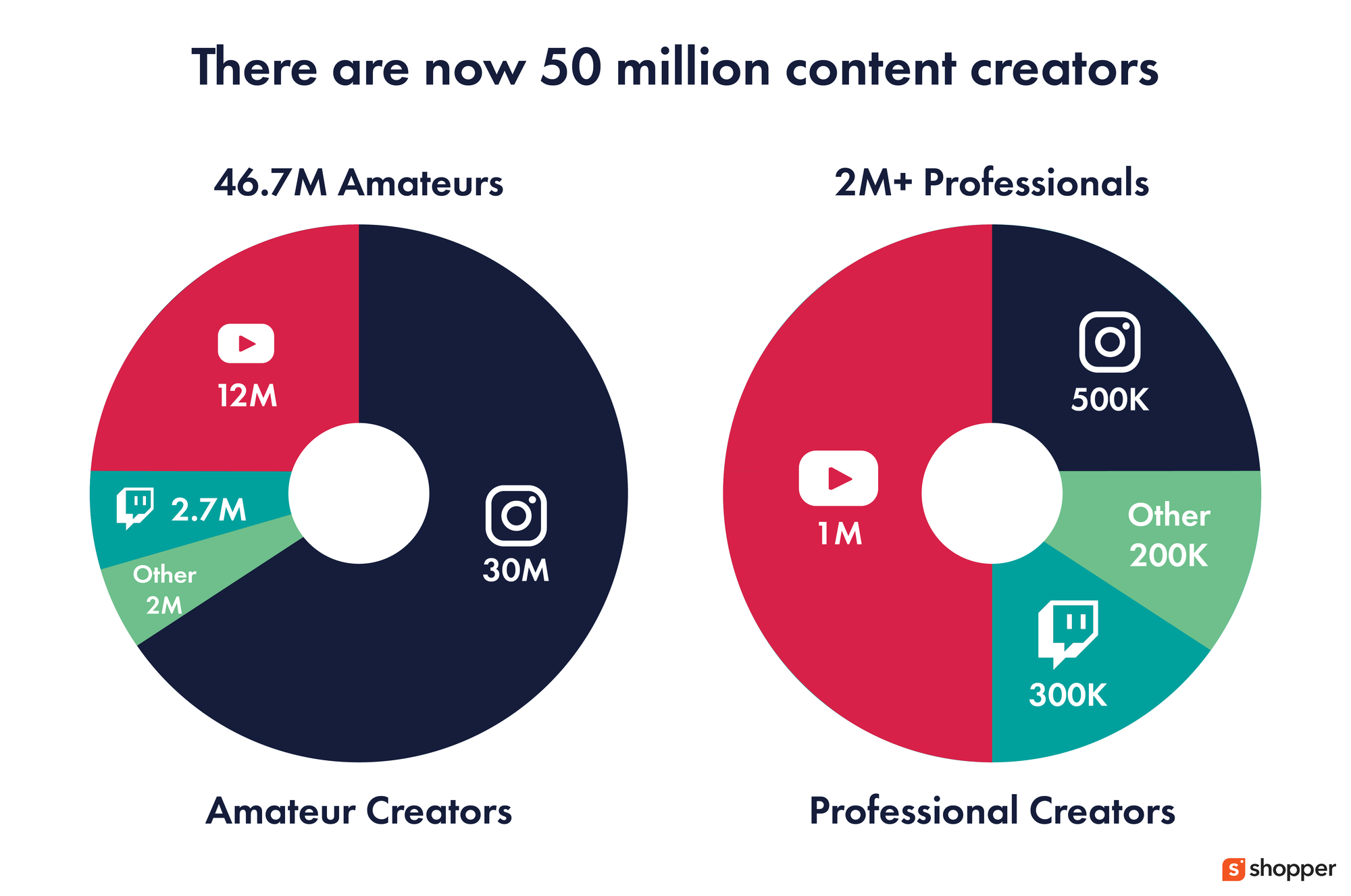 As of the last quarter of 2021, there were more than 50 million content creators on a market with a value of over $104 billion. What's really interesting is that creator economy startups raised more than $1.3 billion.
With the influencer marketing sector growing like never before, and more brands stepping up their game, the possibilities are only going to grow.
Moreover, studies on influencer marketing confirm that the creator economy is now more important than ever before.
---
2. Influencer Marketing Budgets are Expected to Increase in 2022
More than 90% of marketers have plans to increase their influencer marketing budgets as they consider influencer marketing as the "fastest-growing online customer acquisition method." It is expected that this will result in the global influencer marketing budget growing out and reaching up to $15 billion by 2022.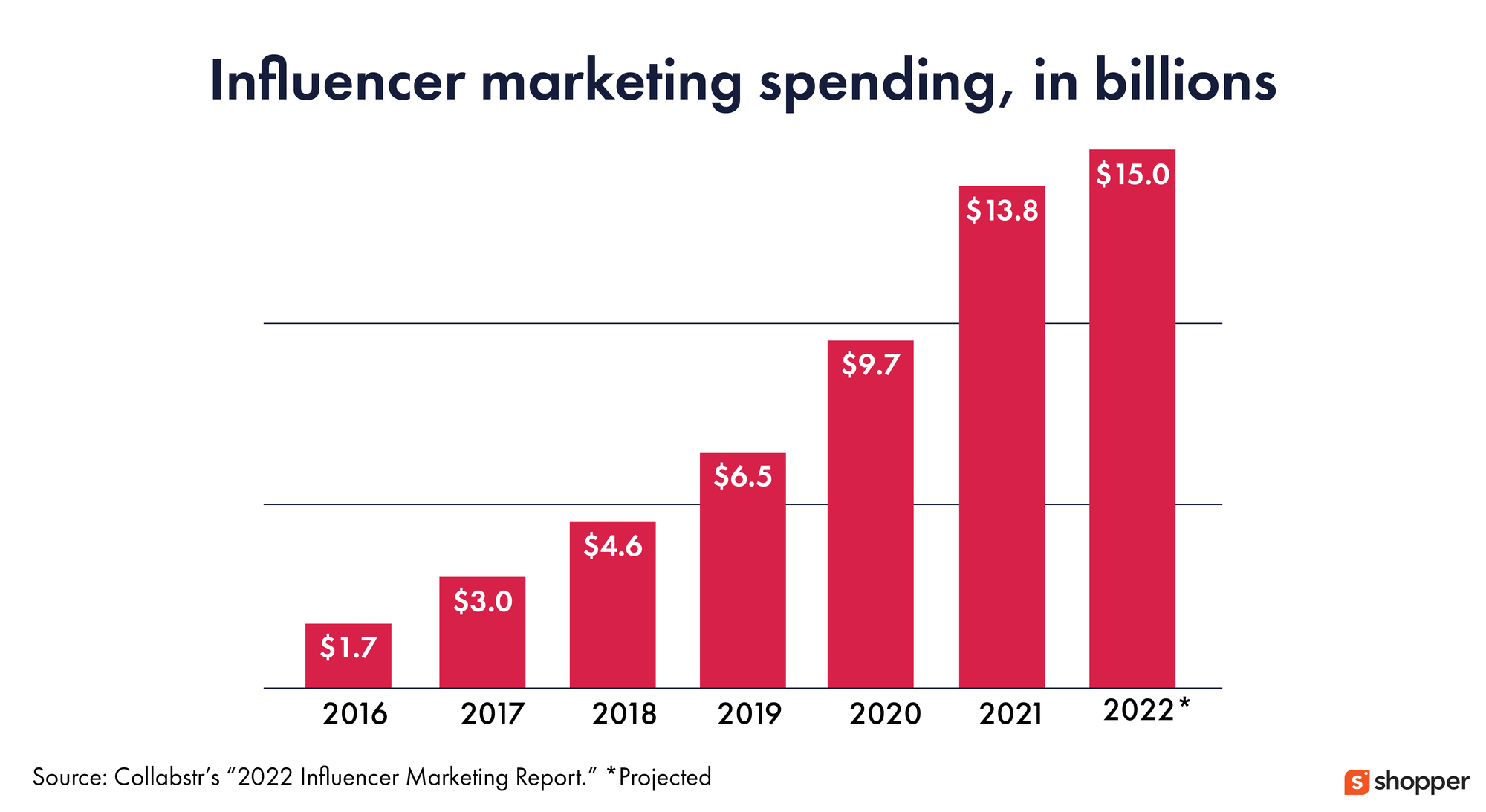 Statistics on influencer marketing growth also make it clear that Instagram will continue its dominance as the leading influencer marketing platform in 2022.
---
3. Influencer Generated Content will be Preferred More than Content Generated by Brand
Paid ads are fast becoming a thing of the past and more people now tend to skip branded posts as they trust recommendations from creators over ads. Recent studies on the behavior of consumers found out that 92% of consumers trust recommendations of others, 70%-80% also said that they skipped paid ads, and 70% listed online reviews as their second most trusted source.
Consumers are also more likely to trust a product endorsement or recommendation by an influencer or creator they follow rather than branded content.
---
4. A Blog or Social Media Post Has Influenced Buying a New Product
Another interesting static that has emerged due to the increase in popularity of influencer marketing is that consumers are now conscious of the products they purchase. Because influencers are now seen as trustworthy experts that are capable of recommending good products, consumers now check social media or blogs before purchasing a product in-store.
Products that are endorsed or recommended by an influencer are 60% more likely to be purchased in store than a product that isn't. Social media influencer statistics also highlight that the availability of accessible information and posts from influencers to reveal a product's reputation helps generate more sales.
---
5. Fashion and Beauty Companies Love Influencer Marketing
While influencer marketing has been a game changer across different sectors, it was the fashion and beauty industry that profited the most. Based on a study by Influencer Orchestration Network (ION), more than 57% of companies in the beauty and fashion industry now use influencers in their marketing campaign.
Another 21% of companies confirmed that they are planning to introduce influencer marketing into their marketing strategy for 2022.
---
6. One Billion Creators Will Be Working Within Influencer Marketing
One of the leading influencer platforms Mavrck has predicted that there will be one billion creators working within the influencer marketing space within the next five years. Influencer marketing spends increasing by 16x, fintech companies developing more tools, significant growth for Metaverse, and creators becoming a trusty stronghold of business are considered as factors that will assist in this significant creator milestone.
In 2020, venture capital firm SignalFire had also reported that there are currently 50 million independent creators worldwide, and this was an influencer marketing statistic that would flare up in the coming years.
---
7. The most suitable influencers for influencer marketing have followers between 10K and 100K
A recent study on statistics about influencer marketing by influencer technology platform Markerly has found out that influencers in the 10K - 100K follower range offer the best combination of broad reach and engagement. The study has revealed that influencers in this range get likes and comment rates that exceed influencers with even bigger followers.
As the follower range is smaller, these influencers are also much more affordable than mega or celebrity influencers and get you more engagement for less spending which makes it ideal for marketers planning to start influencer marketing campaigns.
---
8. Influencer Marketing Will Continue to Grow in 2022
The influencer marketing industry which is at an all time high by the end of 2021 is set to grow even bigger and increase the overall value from $13.8 billion to $15 billion by the beginning of 2023. The market which opened at $1.7 billion in 2016, hit $9.7 billion by 2020 and made its way to $13.8 billion by 2021.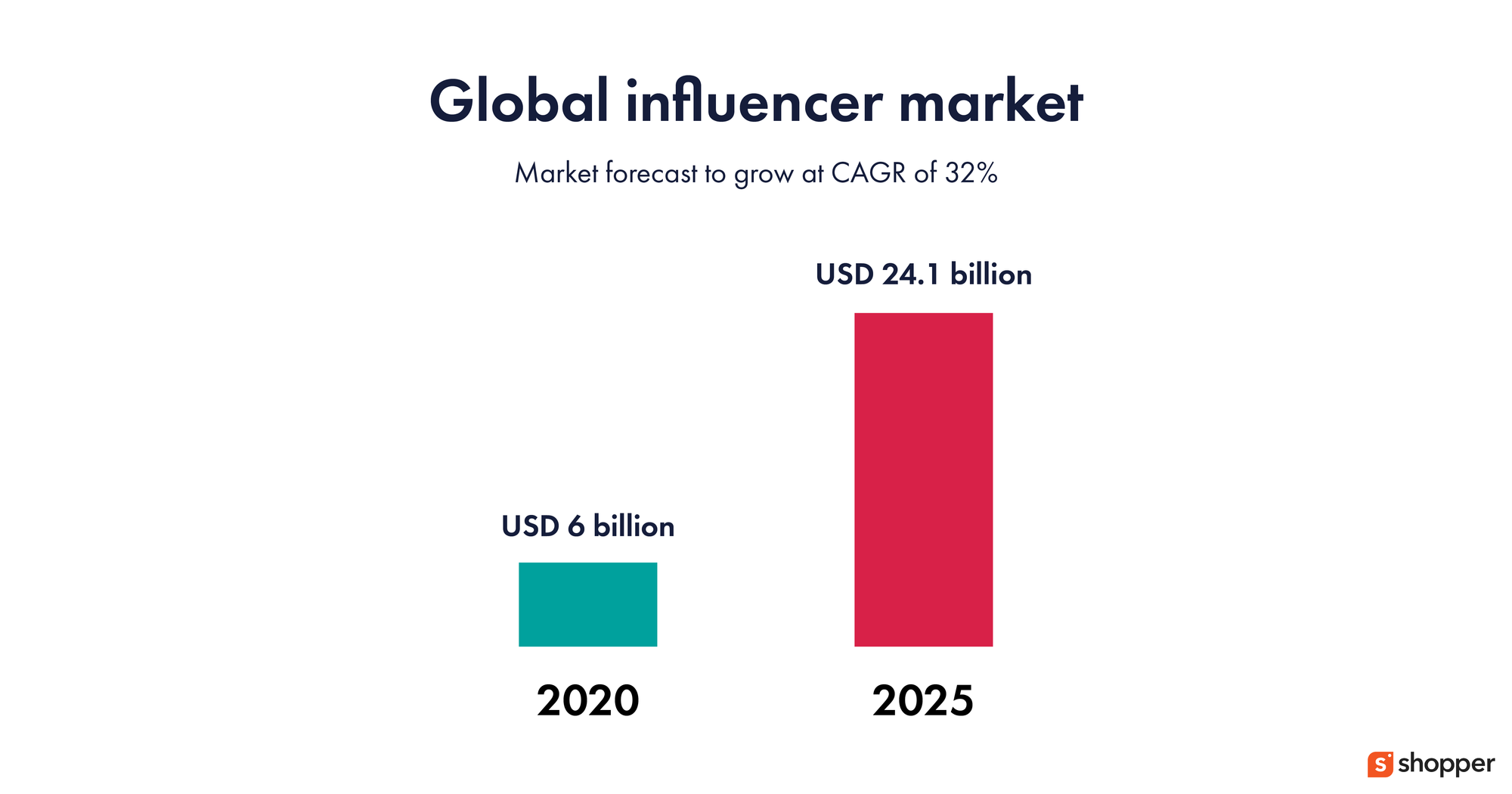 Short video formats like YouTube Shorts, Instagram Reels, and TikTok, along with the increasing popularity and viewer base of Facebook and YouTube in general are all considered as leading factors for this interesting influencer marketing statistic.
---
9. Influencer recommendations will play an important role in purchases
Product recommendations and endorsements from influencers are now seen as trustworthy expert advice. Influencer marketing is no longer restricted just to brand recognition anymore and marketers are cashing in on the opportunity to direct more sales through influencers.
Almost 80% of consumers have purchased something or the other after listening to an influencer recommendation or product endorsement.
Influencer marketing trends also indicate that most of these consumers are don't mind clicking on a link that the influencer shares to make a purchase.
---
10. Majority of Brands Working With Influencers have e-Commerce Stores
Influencer Marketing Statistics, Facts, And Trends indicate that around 50.7 of brands that work with influencers have e-commerce stores. The accessibility of influencers to share products without being restricted is a key factor for the combination of influencers and e-commerce brands coming together.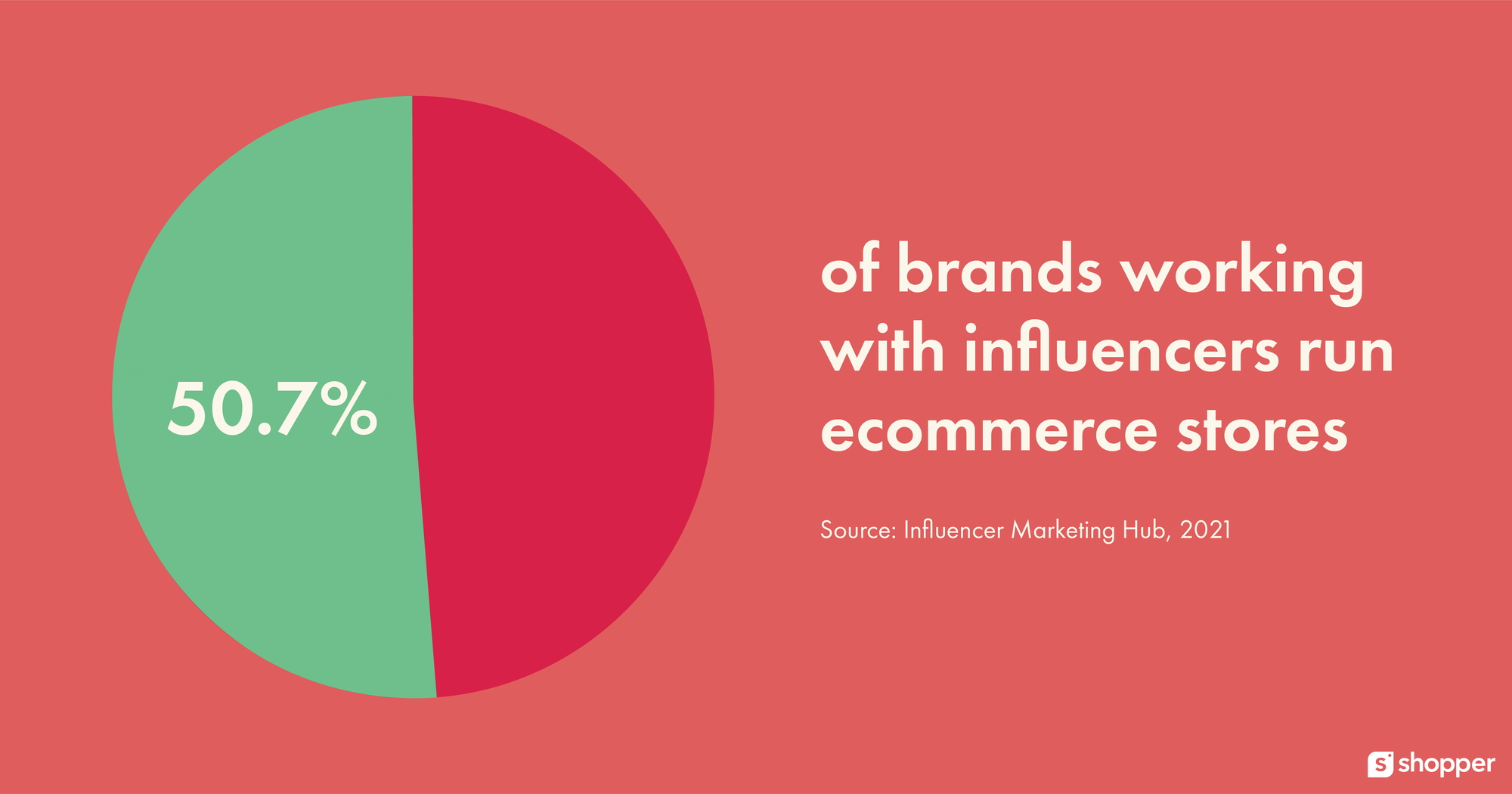 Influencers can also link products to their store which again makes it a win-win solution for both the brand and influencer when there is an e-commerce store involved.
---
11. Influencers That Engage with Followers Have Better Conversion Rates
When it comes to influencer marketing, marketers want better success rates and conversion into sales. A recent study on influencer marketing statistics and graphs by GRIN has revealed that influencers who regularly engage with followers by responding to their comments are trusted by their followers more than those that do not engage.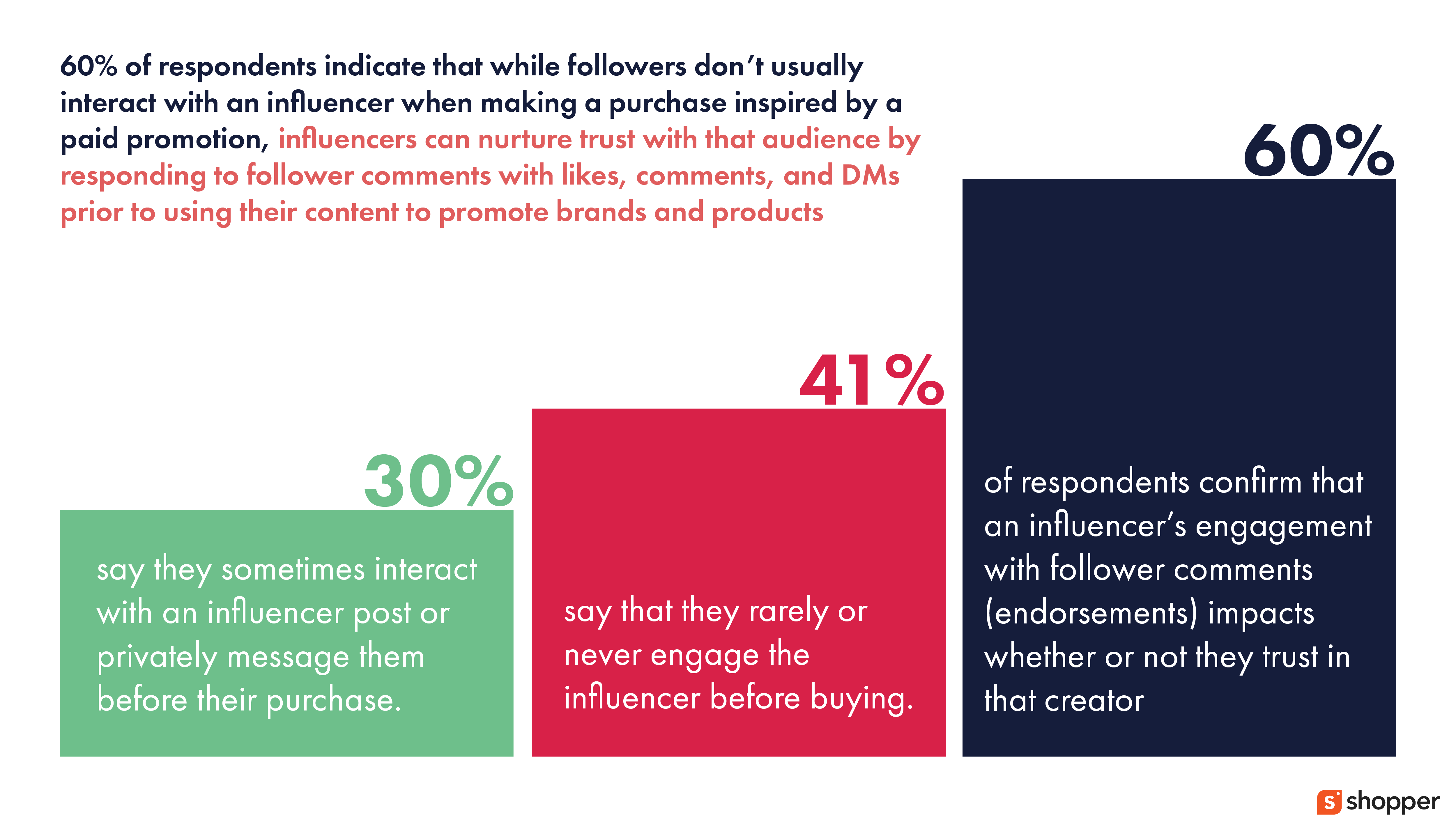 More than 60% that participated in the survey said that they trusted an influencer who responded to them than someone that did not. 30% of the correspondents said that they would interact with an influencer post or messaged them privately before making a purchase of products the influencer endorsed.
---
12. The majority of companies now use influencer marketing
Majority of the companies around the world are now using influencer marketing. According to a survey by Association of National Advertisers (ANA), about 75 percent of marketers are using influencers as a marketing tool. Many of the companies also have plans to increase the spending on influencer marketing by at least 43% in the next 12 months.
Their survey on statistics about influencer marketing also found that among the marketers that are not currently using influencer marketing, more than 27% agreed to include influencer marketing in their marketing campaigns.
---
13. Men That Follow Influencers Make More Purchases Than Women
Based on the results from an influencer marketing statistics study by GRIN, men trust influencer endorsements more than women. Around 26% of men said that they trust influencers for purchasing decisions. However, only 13% of women were of the opinion that they would trust an influencer for making the next purchase.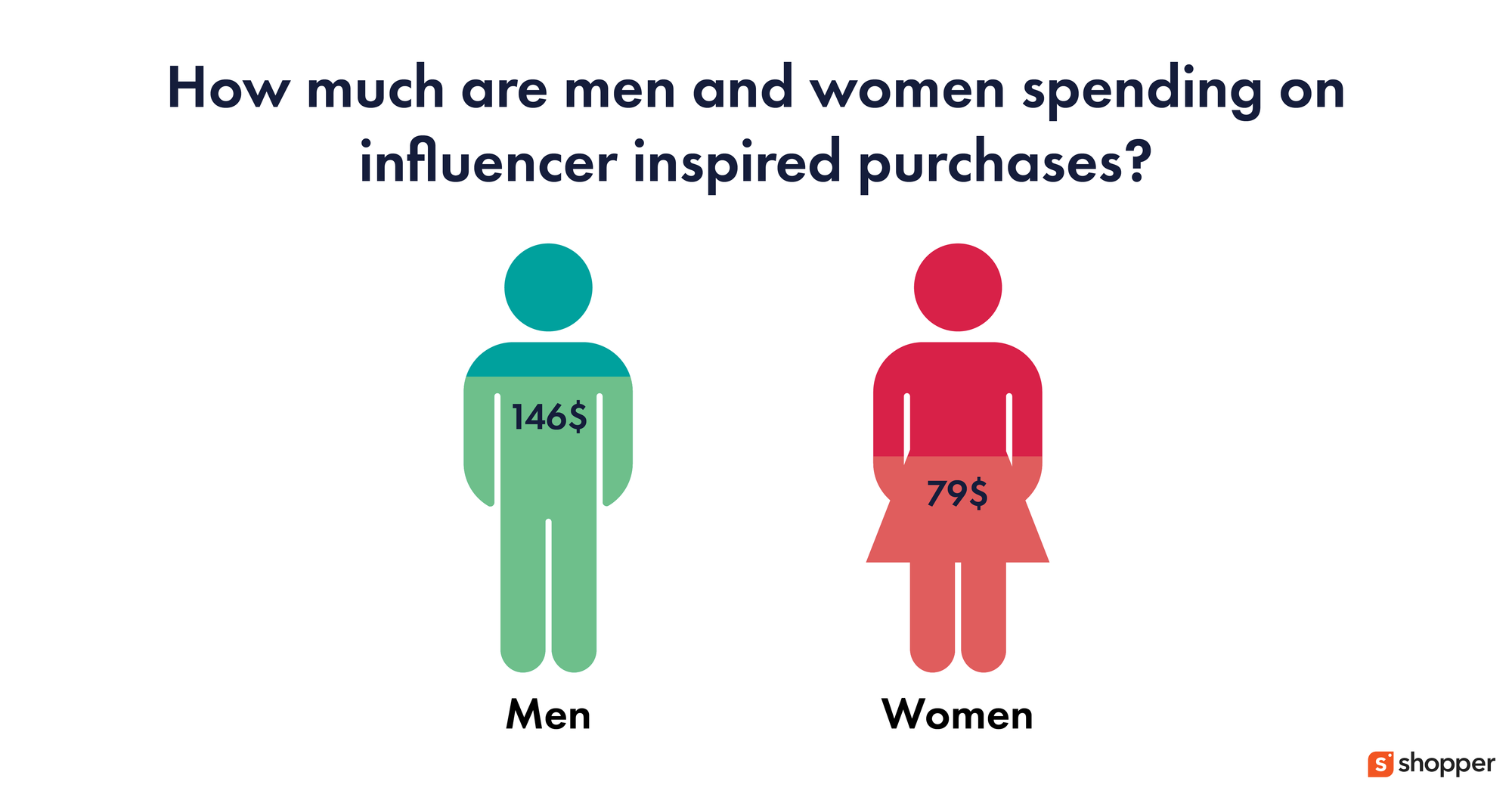 Men are also more likely to spend around $500 more per purchase than women when it came to influencer endorsements.
---
14. Brand Collaborations Continue to Be the Main Source of Influencer Revenue
Influencer marketing is a major talking point because of the success rates a collaboration between creators and brands are bringing in for companies. Because brands are more than happy to offer amazing deals to influencers, brand partnerships remain the top revenue stream for most creators.
However, 2022 is promising to see a boost for alternative means of revenue generation like affiliate marketing, sales of physical or digital products, and ads. Tipping and subscription becoming globalized across social networks are also expected to change the revenue stream for creators.
---
Statistics related to Earnings and ROI
15. For every $1 spent on influencer marketing, brands get $5 - $6.50 in return
A joint survey by leading influencer platforms Influencer Marketing Hub, Viral Nation and NeoReach have found out that companies get average returns that range from $5 - $6.50 for every $1 they spend on influencer marketing. Another interesting observation of this statistics on influencer marketing is that the top 13% of businesses that invest in influencer marketing make $20 or more with only the bottom 25% failing to generate any revenue.
All brands that understand the mechanics of influencer marketing successfully generate an average revenue of $5 - $6.50 for every dollar they spend.
---
16. By 2022 marketers will spend 4.5 billion dollars on influencer marketing
Market and Consumer Data Experts Statista based on their statistics on influencer marketing growth claims that marketers across the United States alone will spend a total of $4.5 billion on influencer marketing by the end of 2022.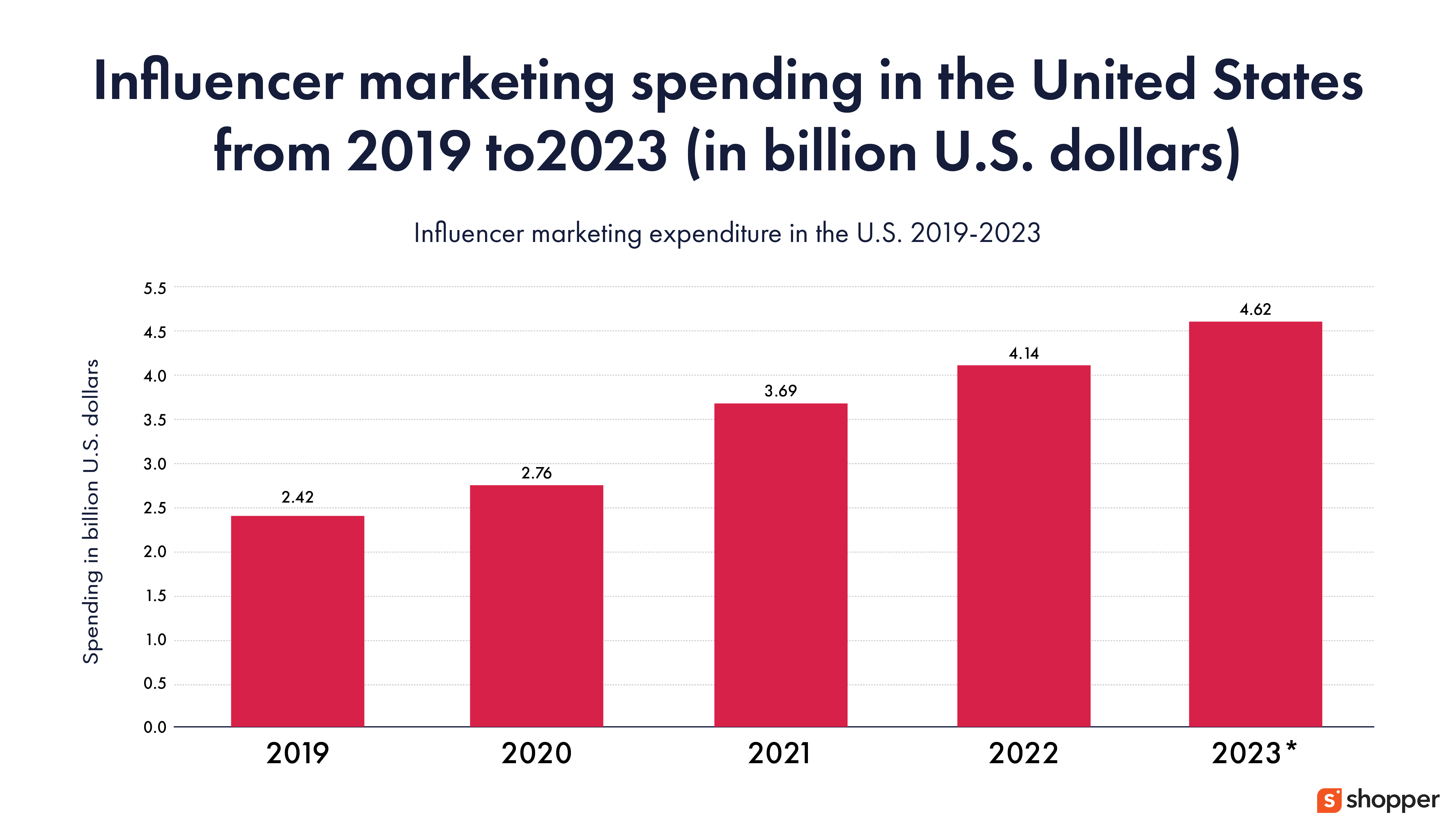 The overall spend on influencer marketing was just $2.4 billion at the end of 2019, $3.69 billion by 2021 and expected to reach a maximum of $4.62 billion by end of 2022.
---
17. Only 32.4% of Brands Pay Cash to The Influencer They Onboard for Marketing
Even though influencer marketing as an industry is at an all time high, not all influencers get paid in cash. Interestingly, around 36% of the brands that are involved in influencer marketing still pay the influencers they onboard with free product samples or discounts on expensive products. Another 10.5% of brands that took part in the influencer marketing statistics survey said that they preferred entries for giveaways as the preferred method of payments.
Only 32.4% of the total brands that are involved in influencer marketing said that they would pay influencers with cash as payment for their marketing services.
---
18. The Most Common Influencer Marketing Budget is $1000 - $10,000 Per Year
The budget range between $1,000 to $10,000 per year was considered to be the most common budget for influencer marketing. Based on a survey by ecommerce platform BigCommerce, around 19% of marketers have plans to spend an annual budget in the range of $1,000 to $10,000 whereas another 18% will be spending between $100,000 to $500,000 every year.
However, an interesting group that features 7% of brands will consider investing over a million dollars in influencer marketing. This is a group that is mostly comprised of larger, more established brands though.
---
19. Influencer Marketing Across B2B Sector to Grow by 40% and More in 2022
Influencer marketing has been most effective across B2C ecommerce brands to such a large extent that B2B industries are catching up to the trend and cashing in on influencer marketing. Global media platform and leading marketing website the Drum expects B2B sector to grow by 40% - 50% on influencer marketing.
Big brands and niche audiences are considered as key reasons that would credit to the major growth of influencer marketing in the B2B sector.
---
20. Social Commerce Sales are Seeing a Boost With Increase in Influencer Marketing
The increase in influencer marketing and its subsequent impact is reflected in social commerce sales. Based on influencer marketing statistics, facts, and trends that was released by Statista, the period between 2020 and 2021 has seen social commerce sales increase by $10 billion overall. On average the social commerce sales in the United States is expected to increase by 34.8% by end of 2022.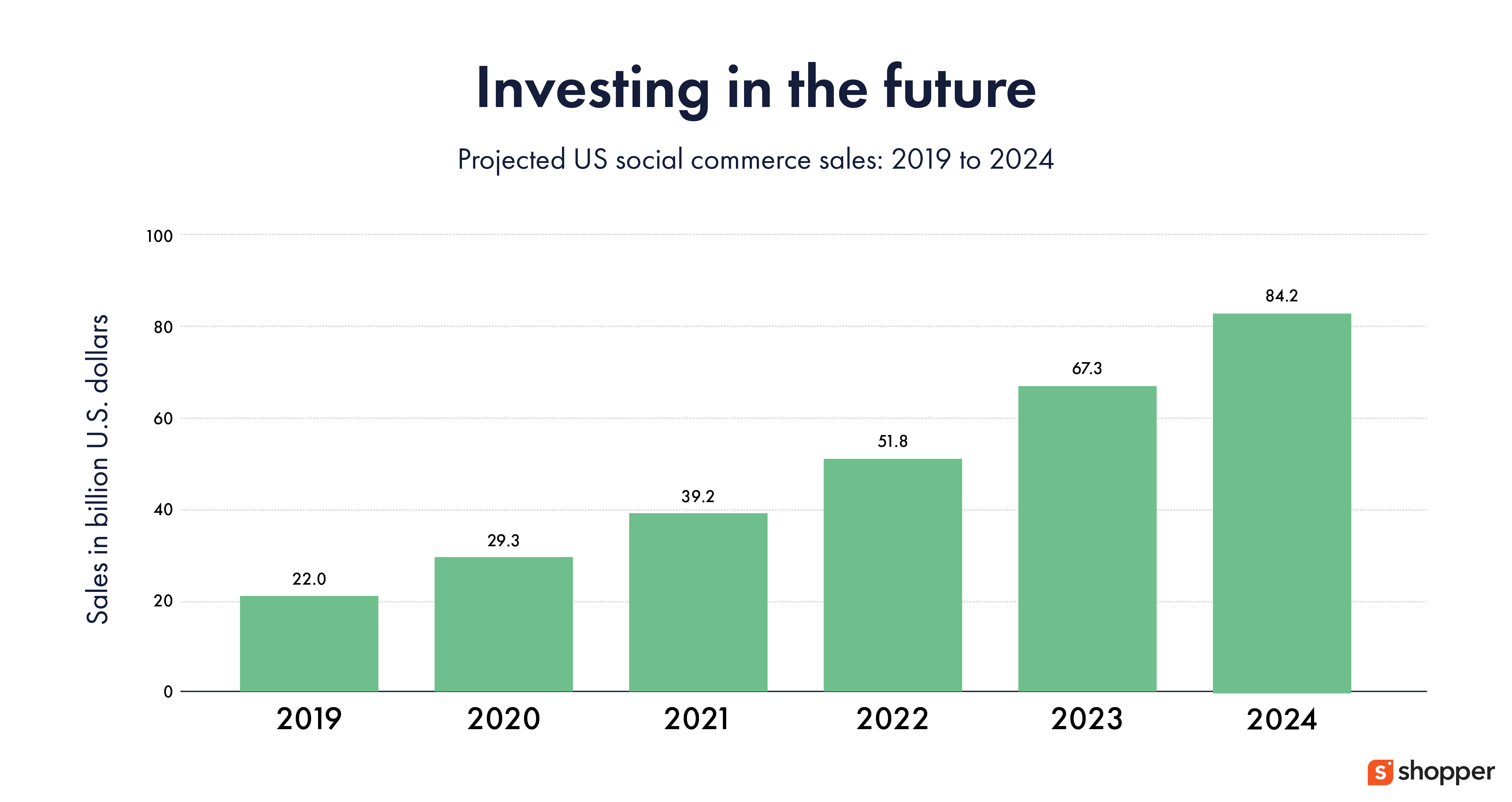 If you are new to social commerce, it is the process of using social network platforms like Facebook, Twitter, Instagram and TikTok to buy and sell services and goods.
---
21. Marketers Broadly Classify Influencers Into Five Categories Based on Reach
As influencer marketing goes mainstream with the increase in its overall popularity, marketers are now classifying influencers into five different tiers based on the reach they have. Based on these statistics about influencer marketing, any influencer with the following reach are classified as below
Nano-influencers: 1,000 - 10,000 followers
Micro-influencers: 10,000 - 50,000 followers
Mid-tier influencers: 50,000 - 500,000 followers
Macro-influencers: 500,000 - 1,000,000 followers
Mega-influencers: 1,000,000 plus followers
---
22. Micro Influencers and Nano Influencers Will Get More Attention Than Ever
Marketers are fast realizing that the average engagement rates of micro-influencers at 3.86% and nano-influencers at 4% is much higher than mega influencers at 1.21% on the biggest influencer marketing platform - Instagram. This is similarly reflected on YouTube with micro influencers having the most engagement at 1.64% whereas mega influencers only get 0.37%.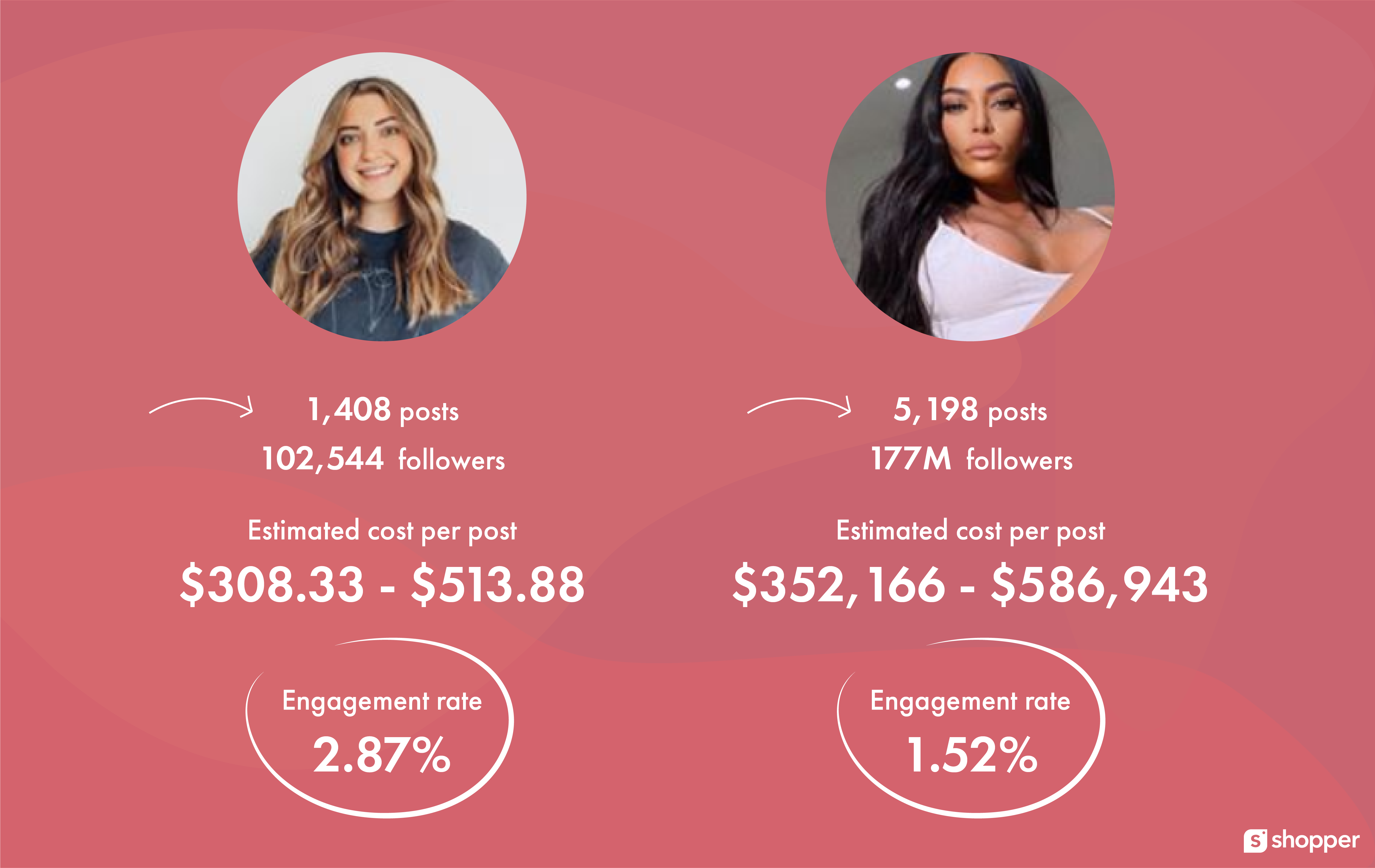 Statistics on influencer marketing by Influencer Marketing Hub claim that on average, a nano-influencer charges $10–$100 per post, whereas micro-influencers charge anywhere from $100–$500 per post on Instagram. In contrast, mega influencers cost $10,000+ per post on Instagram which makes it all the more sense to invest in micro and nano-influencers.
---
23. Fashion Will Continue to Be the Category That Brings in Most Influencer Engagement
Fashion continues to be a dominant category for influencer marketing and claims state to more than 25% of all sponsored posts on Instagram. Apart from Fashion, categories like food occupied 12% of sponsored posts, followed by entertainment at 11%, baby products at 10%, automotive and decor at 2% each, and technology at 1%.
Knowing the right influencer to invest in and offering them deals that are in accordance with the popularity of the niche and target audience potential would be the best approach marketers can consider to get the best ROI.
---
24. Quality of Influencer Marketing is Better Than Any Other Marketing Sources
Based on Mediakix survey of statistics on influencer marketing growth, 71% of correspondents agreed that the quality of customers and traffic from influencer marketing is much better than other sources. Another great takeaway from the survey on influencer marketing by Mediakix is that around 80% of marketers find influencer marketing effective with 35% finding it very effective.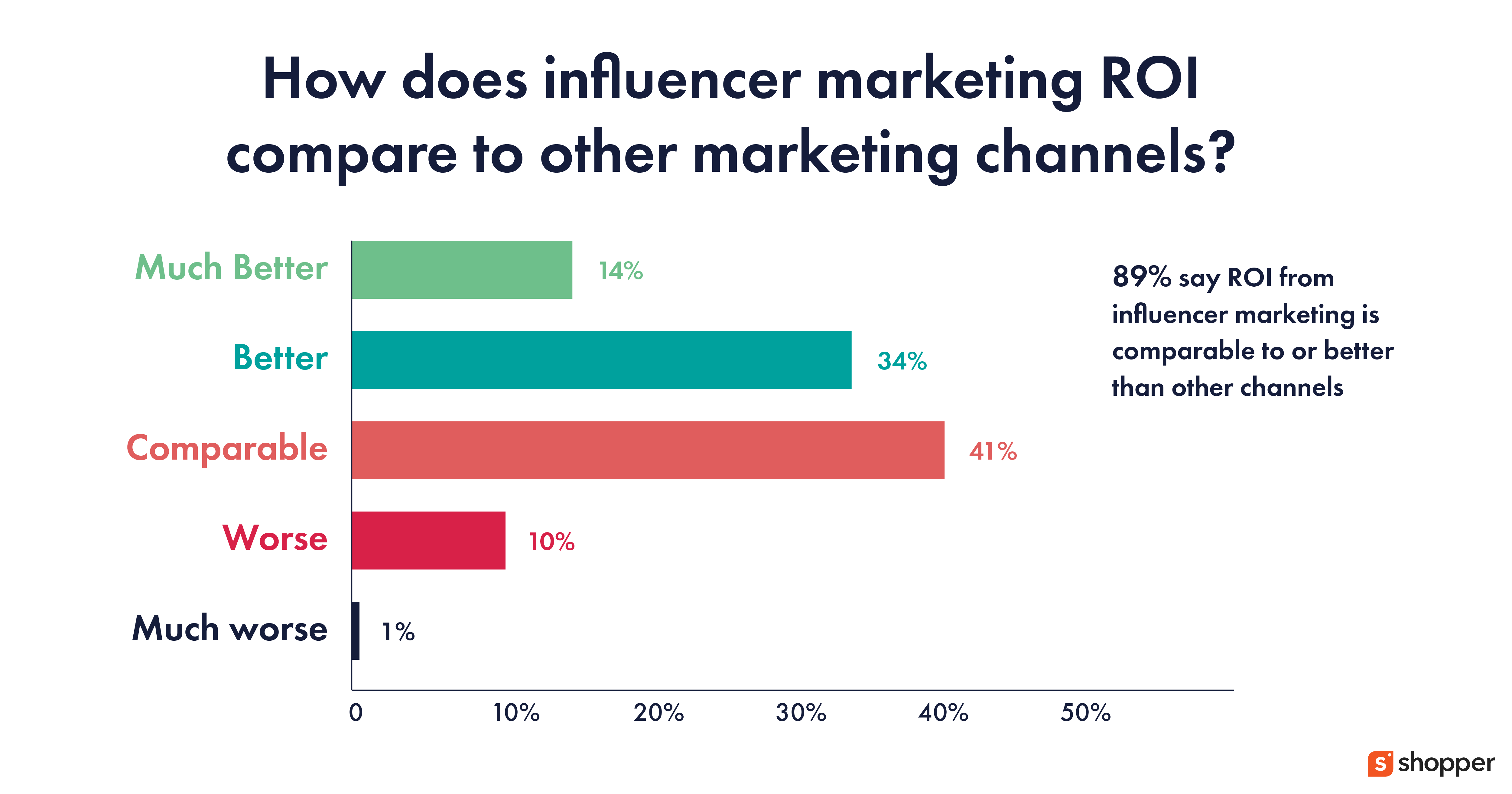 The study has also found that the ROI for influencer marketing was almost 11 times higher than all other digital media channels.
---
25. Brands That Invest on Influencers Measure the ROI of their Influencer Marketing Campaign
Majority of the brands that invest in influencers now measure the ROI of their influencer campaign. Based on a study by Influencer Marketing Hub, about 67% of brands that invested in influencers confirmed that they did measure their ROI. The statistics on influencer marketing growth also revealed that 33% of the firms did not measure their ROI.
Engagement or clicks generated during a campaign, views, reach, and impressions were considered as some of the key factors for measuring the ROI of Influencer Marketing Campaigns.
---
26. Measuring ROI of Influencer Marketing Campaigns is Still a Challenge for Marketers
As influencer marketing becomes more widespread, brands are now looking into different ways to measure their ROI with 38.5% of brands gauging a campaign by the conversions/sales it generates. 32.5% of brands measure their ROI with engagement or clicks generated, whereas another 29% depend on views/reach and impressions.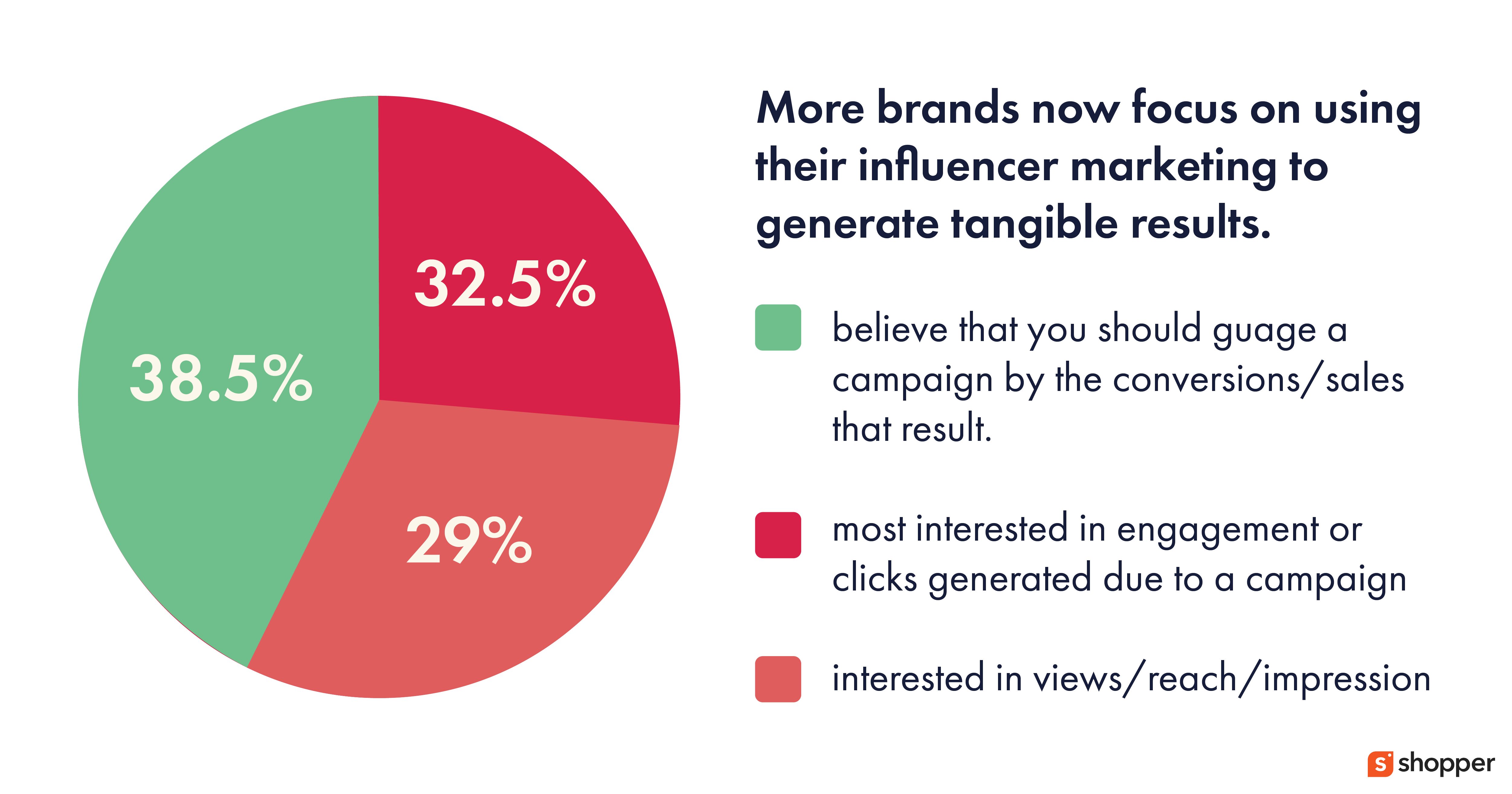 Another interesting development from an ROI focused social media influencer statistics study by Influencer Marketing Hub is the rising popularity of Earned Media Value being considered as a major determiner. 80% of marketers agreed that they would use EMV to determine the ROI of an influencer marketing campaign.
---
27. Sponsored Video Posts Continue to be The Most Expensive Investment on Influencers
One of the primary reasons for influencer market campaigns running effectively on Instagram is down to the fact that there are better engagement rates for Instagram posts. Highly visual social media platforms also work better than those that give equal importance to the audio-visual text format. Sponsored video content is one of the most effective ways of influencer marketing.
It typically costs an average of $111 for a nano-influencer to post a video on Instagram, with micro-influencers charging $261 and mega influencers costing up to $4678. However, marketers still consider video campaigns as the most profitable influencer marketing campaign.
---
Statistics about Influencer Platforms
28. The most dominant influencer platform will continue to be Instagram
Instagram has been the preferred platform by companies for influencer marketing and creator partnerships. This is an influencer marketing trend that is estimated to continue in the year 2022 as Instagram continues to roll out creator updates that help it easier for influencers to work with brands.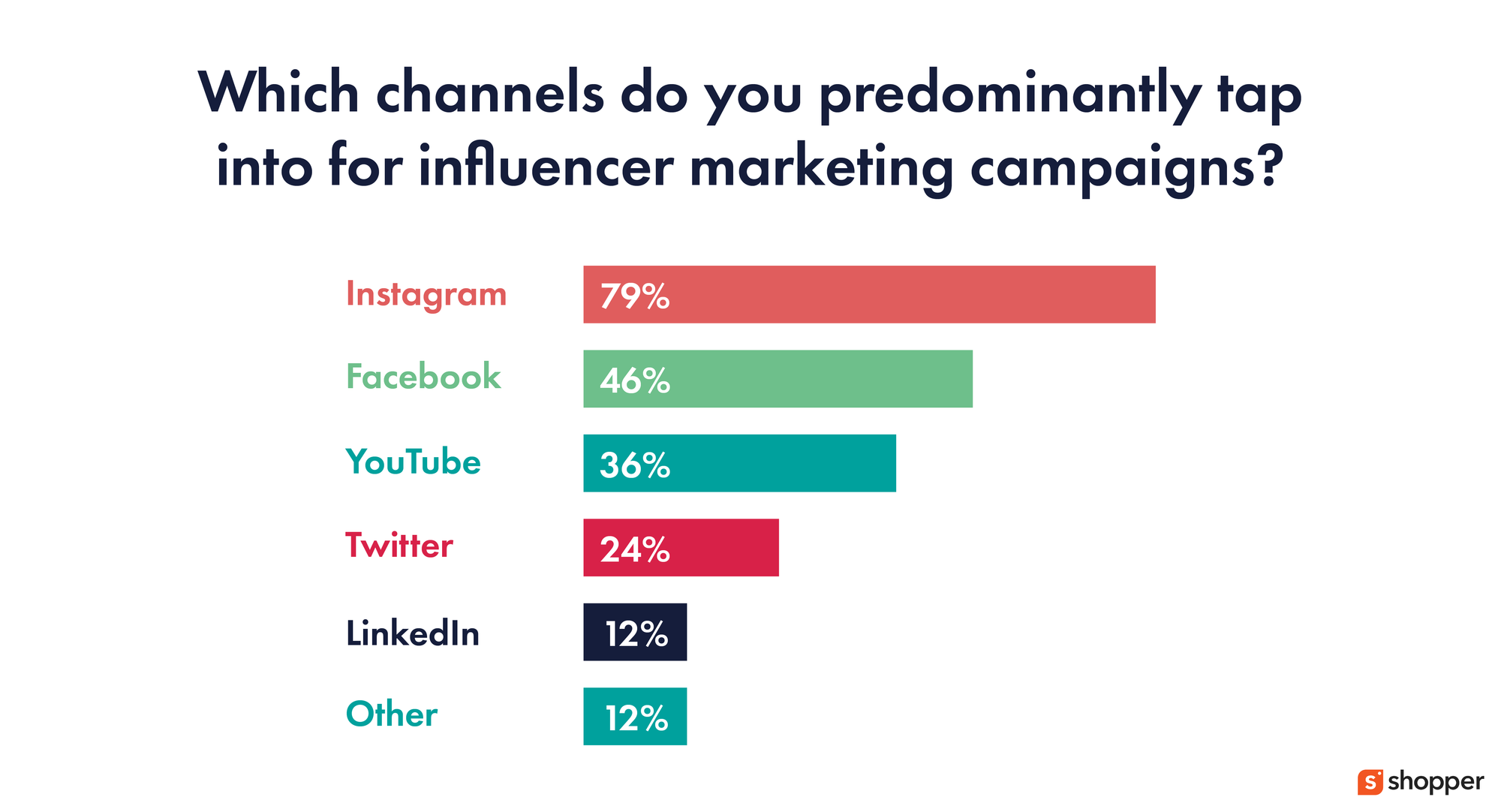 Instagram because of its user friendly interface is a growing network that is estimated to reach 1.2 billion by 2023, and regular updates to features like Instagram Stories, and Reels will continue to remain the dominant influencer platform.
---
29. Facebook Remains the Biggest Influencer Platform in Terms of Monthly Active Users
Even though Instagram is more preferred by marketers, Facebook still has the most potential to find leads and generate sales thanks to their impressive monthly active users (MAU). As of early 2022, Facebook has around 2.89 billion MAU compared to Instagram's 1.39 billion.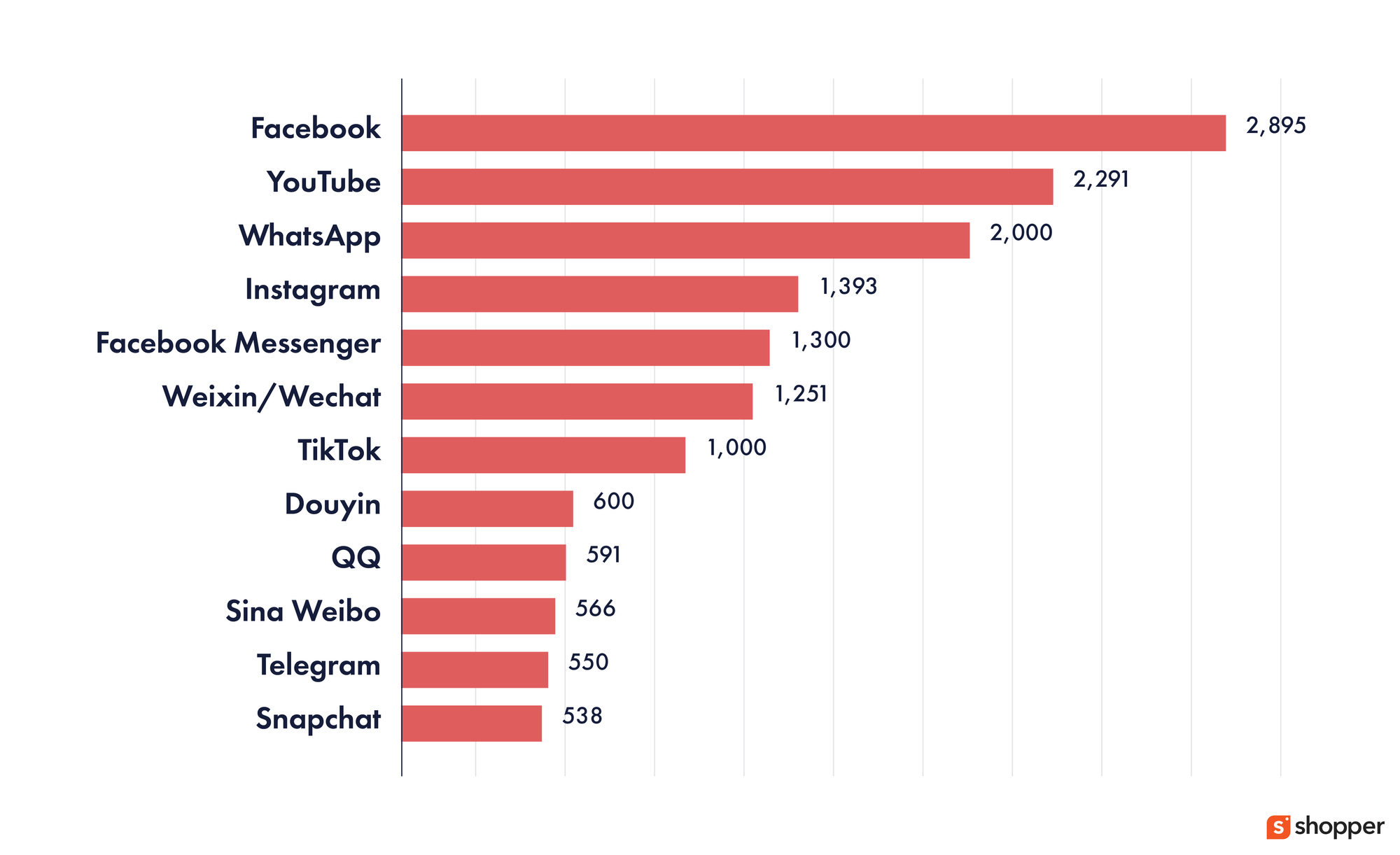 YouTube is also ahead of Instagram, but behind Facebook with 2.29 billion monthly active users.
---
30. Instagram Influencers Now Create 50% More Content Than Pre-Pandemic
The boost in growth of influencer marketing during the pandemic is pretty visible when you check the statistics on influencer marketing growth after March 2020. Overall social media usage increasing by 32% has led to creators and influencers responding to the trend with up to 50% more content than what was posted before.
Sponsored posts on Instagram are also seeing the effects of this change with an increase of 76% in likes according to influencer marketing statistics and graphs
---
31. Majority of Influencer Marketing Campaigns Include Instagram
Even though there is a global increase in the demand and availability of influencer marketing campaigns across all social media networks, majority of the campaigns still feature Instagram. Based on the social media influencer statistics report by Klaer, 94% of influencer marketing campaigns include Instagram.
The 2022 State of Influencer Marketing report by Klaer also concludes that Facebook appeared in 43% of the campaigns, whereas it was 13% for TikTok and 10% for YouTube.
---
32. Brand Influencer Partnerships Increased in Most of the Social Media Platforms
Apart from Facebook and Twitter, almost all social media networks like Instagram, TikTok, YouTube, Pinterest, Twitter, Snapchat, and Twitch all saw an increase in brand influencer partnerships between 2020 and 2021.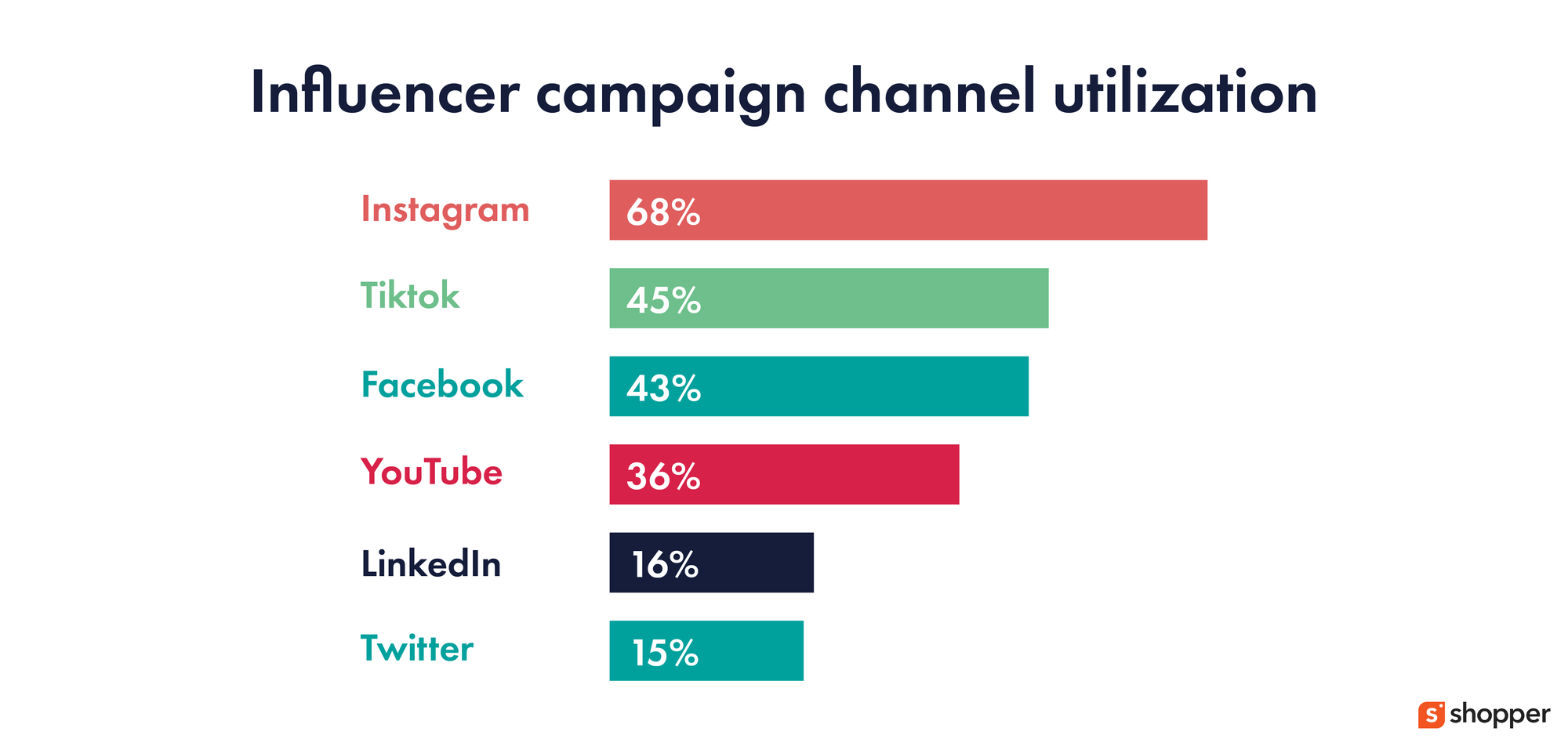 While Instagram reported an increase of around 4% from 2020, Facebook and Twitter decreased by 3% and 7% respectively.
---
33. Majority of Creators on Instagram Now Have Between 1,000 - 50K Followers
There is a huge increase in the number of Nano Influencers (influencer that has followers in the range of 1k - 10k) on Instagram. That roughly translates to about 87% of Instagram Creators having more than 1k followers.
From a marketing perspective, that means that there is great potential for finding nano influencers to promote a particular product in almost every niche.
---
34. Instagram Continues to Be the First Choice to Find New Products and Services
Influencer Marketing Statistics, Facts, And Trends all concludes that Instagram is still the primary choice for influencer marketing. Almost 79% of marketers consider Instagram as the most viable platform to find influencers that can promote their products or services that are on offer. It is interesting to note that 83% of Instagram users confirmed that they are able to find something new on Instagram.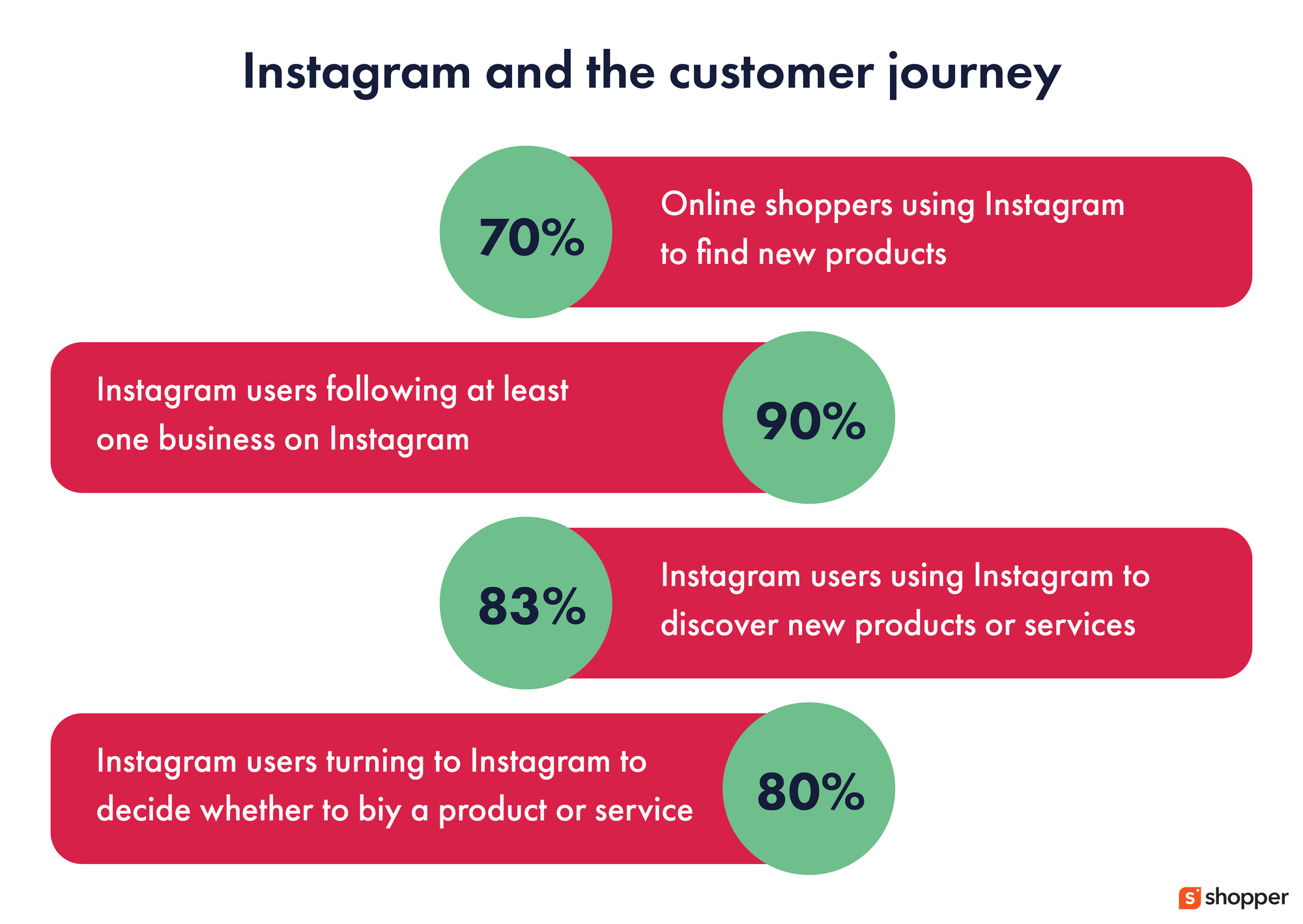 Another 87% either visited the retail store, followed a brand or made a purchase after coming across a new product through an influencer.
---
35. Tweets from Influencers on Twitter Can Prompt in Purchases
A recent collaborative study on influencer marketing statistics by data-powered marketing brand Annalect, and Twitter found out that nearly 40% of Twitter users say they've made a purchase as a direct result of a Tweet from an influencer. Around 49% of respondents that participated in the  survey, also said that they relied on influencers for product reviews and recommendations.
The purchase intent of a tweet that featured both the brand and influencer tweet was registered at 5.2x. When the tweet only featured the brand, the purchase intent was registered at 2.7x which reflects that purchase intent doubled with an influencer tweet.
---
36. TikTok and Twitch are Fast Becoming Mainstream Platforms for Influencer Marketing
TikTok and Twitch have been witnessing huge growth from 2020 onwards.
There are more than 106K influencers n TikTok and about 37K influencers on Twitch as of the end of 2021 and this is only going to increase in 2022. Most of the influencer campaigns on TikTok and Twitch also feature more influencers than what used to be.
The majority of the audience also falls in a younger age group for both Twitch and TikTok which again makes it ideal for influencer marketing campaigns. On average, 55% of the audience on Twitch belong to the age group 18-34.
---
37. Instagram and YouTube are The Most Effective Platforms for Influencer Marketing
Instagram and YouTube are still considered to be two of the most effective platforms for influencer marketing even if other platforms like TikTok are increasing their potential. Instagram posts which generate 78% sales, followed by Instagram stories at 73% and YouTube videos at 56% are considered to be the most powerful formats of influencer marketing.
Vlogs, product reviews and tutorials are considered as the three most popular topics for YouTube videos that are found to be effective.
---
38. A product endorsed on YouTube by an influencer is more likely to be bought
Mediakix study on statistics about influencer marketing found out that viewers on YouTube are more likely to buy a product that is recommended by their favourite influencers. 8 out of 10 consumers who took part in the study said that they would immediately purchase products recommended by an influencer on a YouTube video.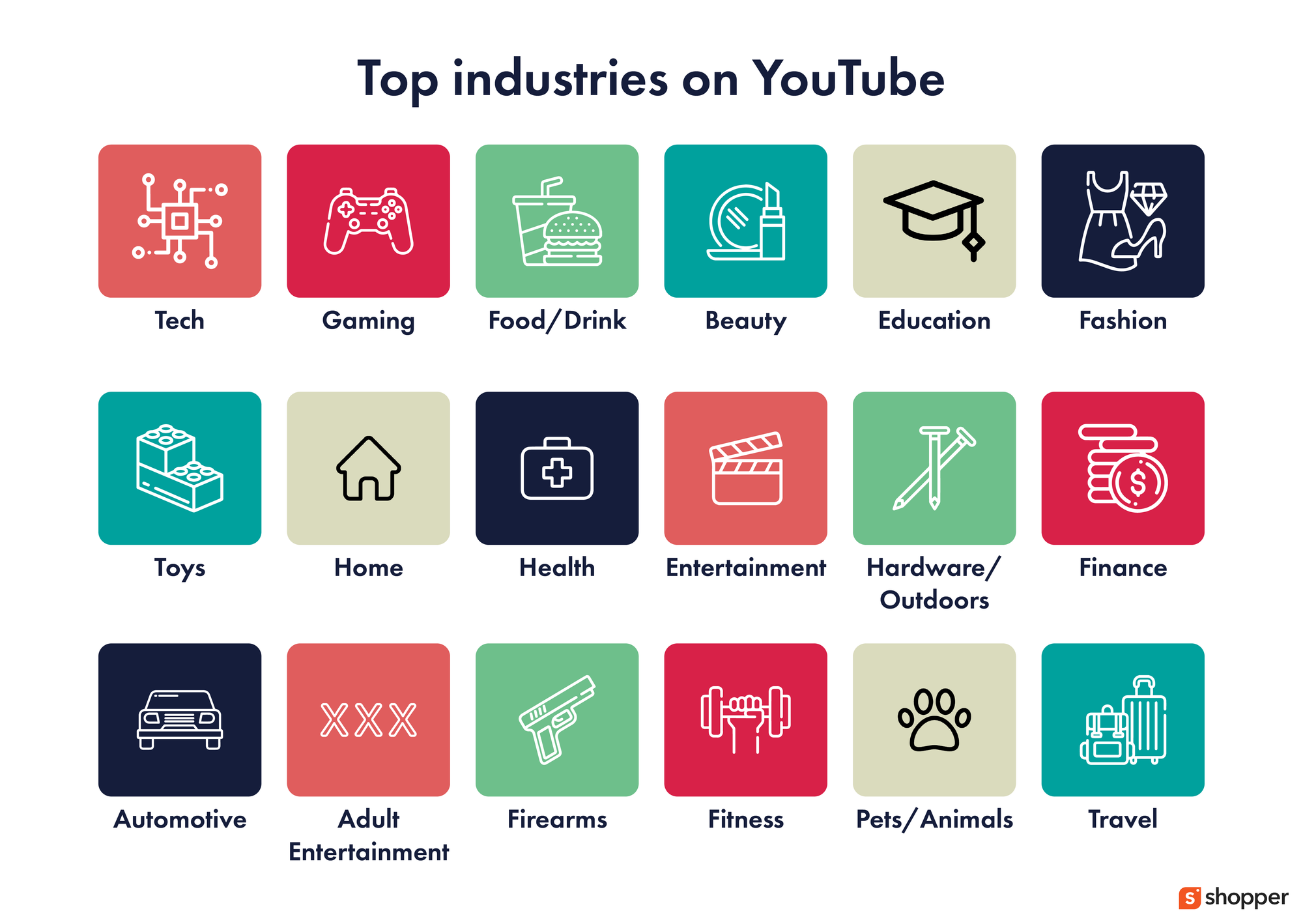 About 50% of the consumers also admitted that they listen to influencer recommendations before confirming a purchase.
---
Statistics of Influencer Engagement
39. Influencer Generated Content Performs Much Better Than Branded Content
Statistics on influencer marketing growth for the last few years show that influencer generated content receives up to 8 times more engagement than branded content. More than 60% of marketers also reported that influencer content performed better than their own brand content on social media.
The increase in user engagement also suggests that brand promotion through influencers helped improve the overall discoverability of a product with the audience than branded content.
---
40. Market Share of Micro-Influencer Will Reach an All-Time High in 2022
The market share of micro-influencers (anyone with followers between 5k to 30K are micro influencers) has been growing at a steady rate during the last few years. The share of market for micro-influencers increased from 89% in 2020 to 91% in 2021 and is expected to get even better by end of 2022.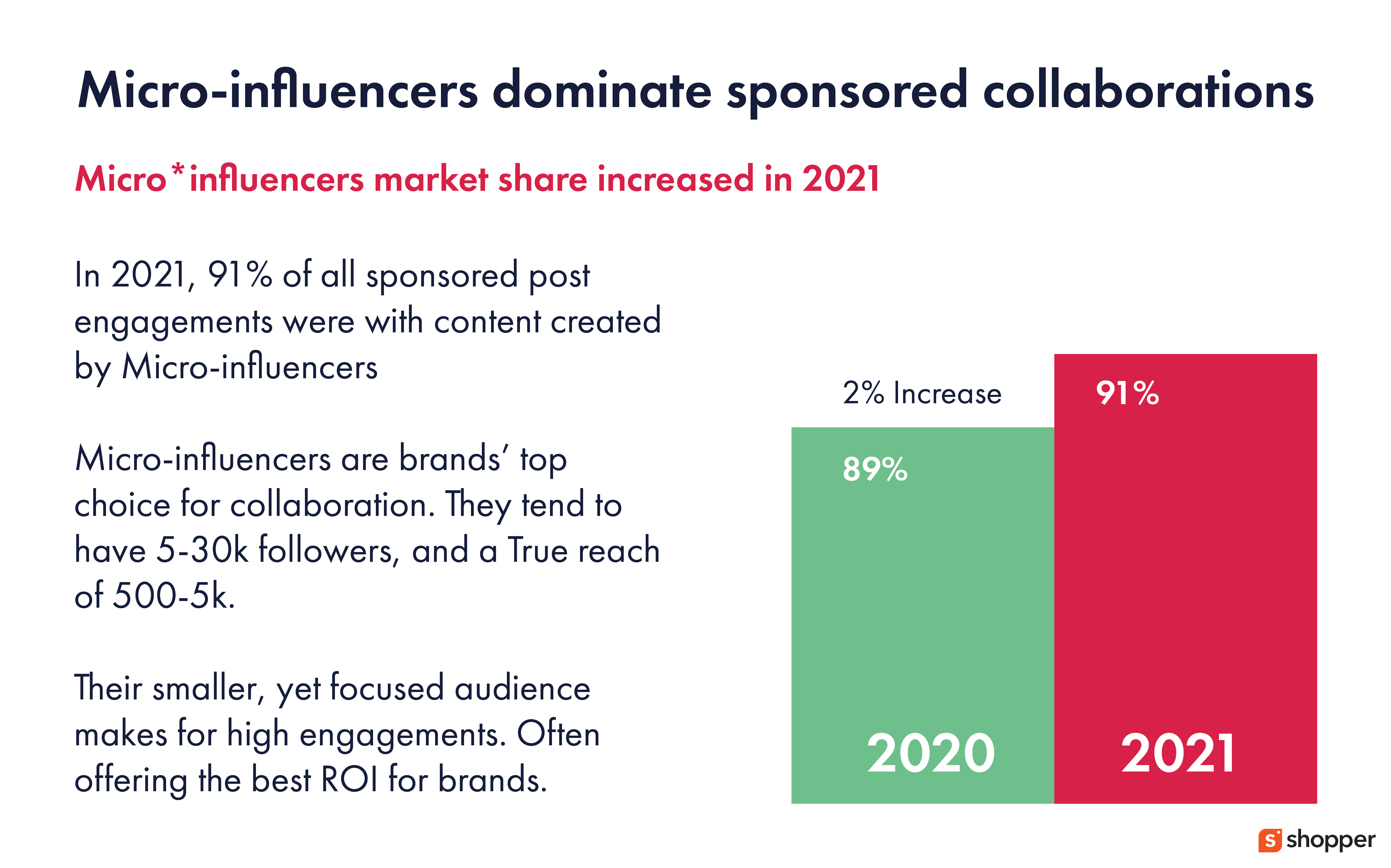 Micro-influencers are also preferred by brands as they have better engagement rates and are more affordable than mega influencers. They are also easier to approach than influencers with bigger following.
---
41. Influencer Marketing is the Fastest Growing Online Customer Acquisition Method
There has been a rapid increase of 13% YoY (year over year) for search interest and volume in influencer marketing since 2017. Studies on influencer marketing statistics, facts, and trends are also suggesting that influencer marketing is the fastest growing online customer acquisition method.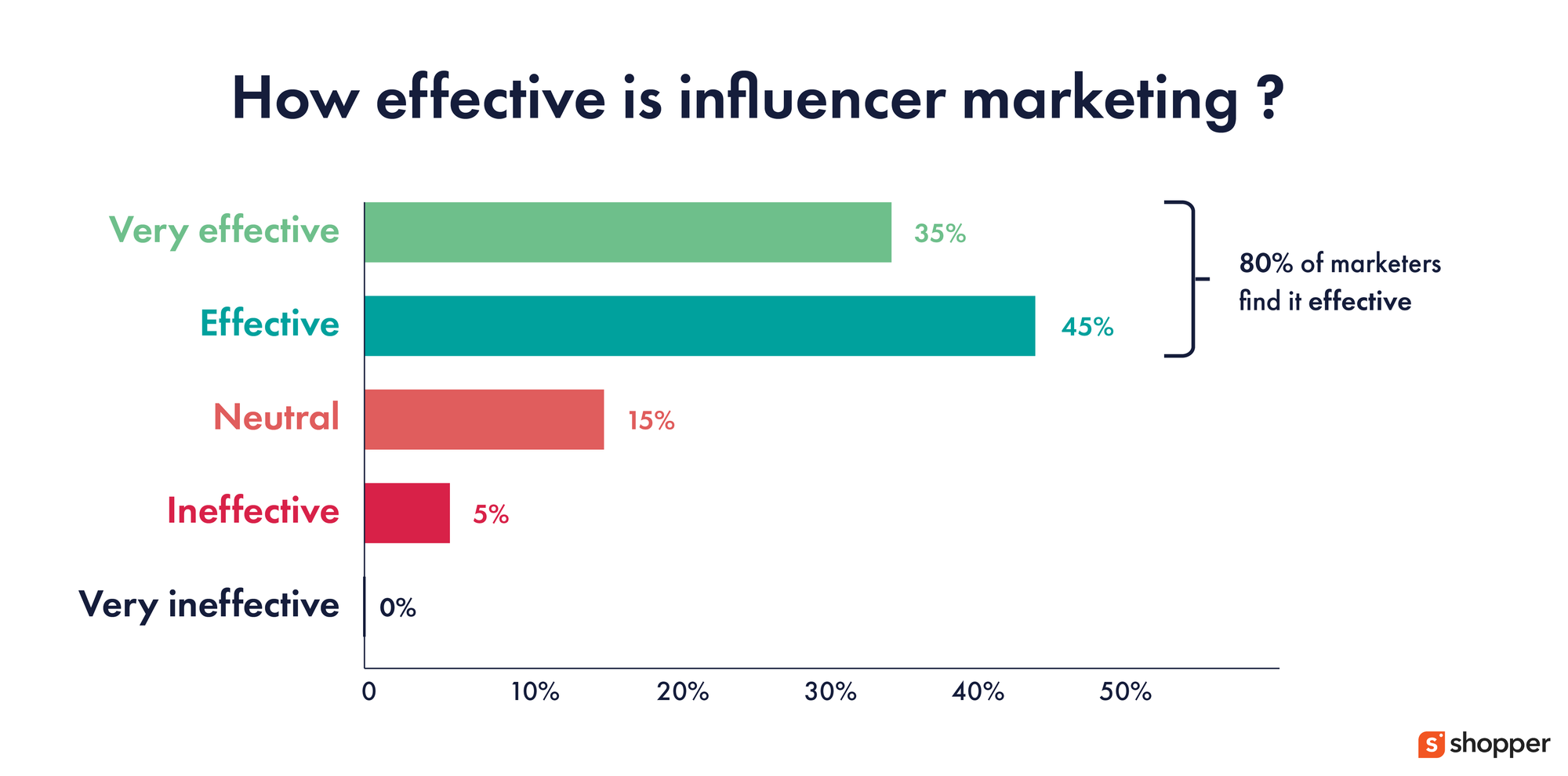 Based on the results from surveys, nearly three quarters of consumers would spend anywhere around $600 every year, on products that are recommended by an influencer.
---
42. More Brands Will Start Using the Same Influencer for Different Campaigns
With the rise in demand for Influencer Marketing, brands are now looking to make long term partnerships with the same influencers. Finding the right influencer for a brand is considered a challenge by more than 73% of brands. That's why larger brands now have a roster of influencers they work with based on their target or product category they focus on.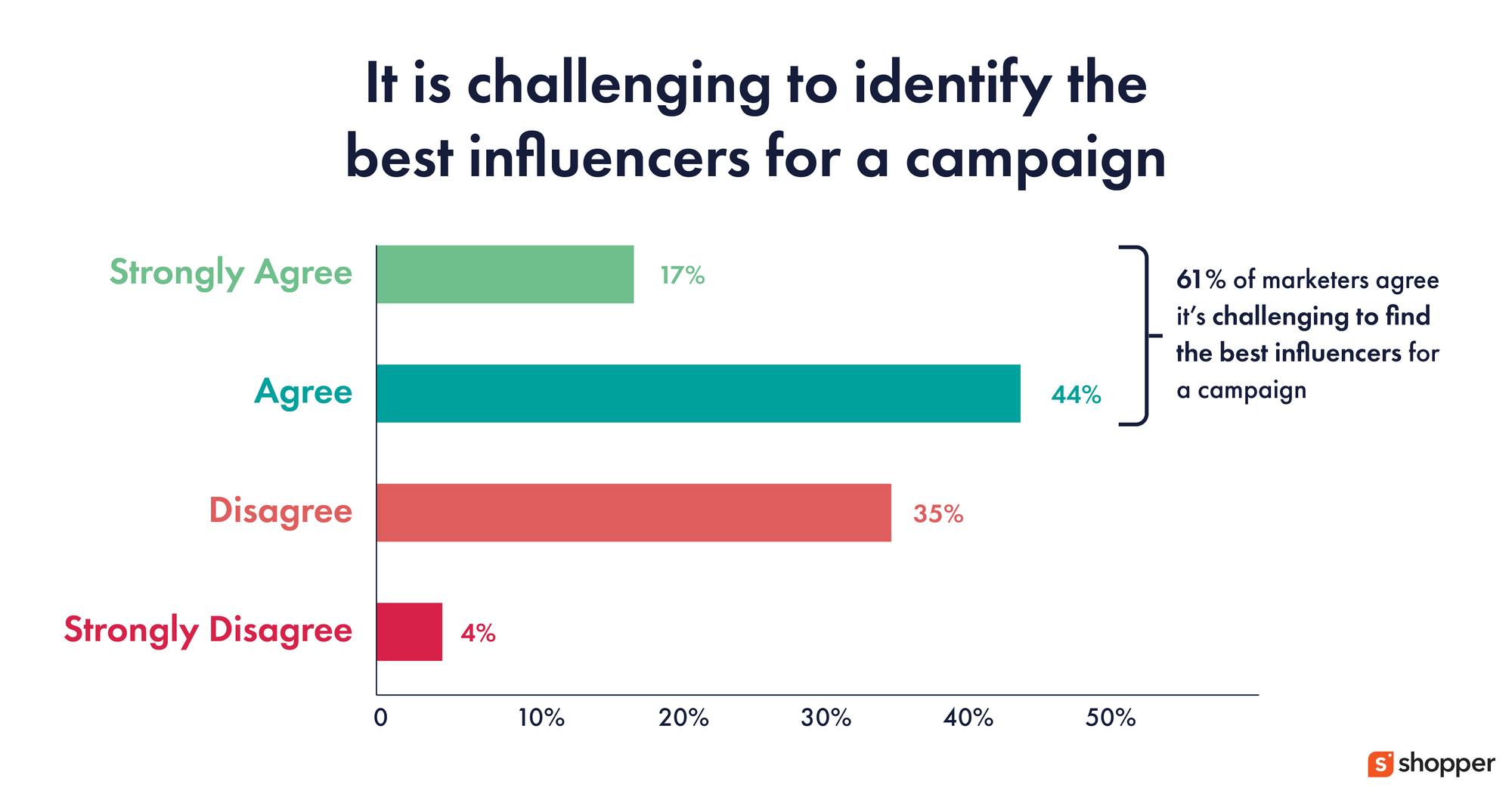 There is a consistent effort now from the side of influencer marketers to improve the relationship with influencers instead of looking for different influencers for every new campaign.
---
43. Influencer Marketing can Expand Reach and Acquire New Customers According to Marketers
The majority of marketers are of the opinion that influencer marketing helps improve overall reach to generate more sales and conversions. More than 64% who took part in a statistics on influencer marketing growth survey by Mediakix reported that expanding reach, generating sales and acquiring new customers are key reasons for investing in Influencer Marketing.
Influencers also had a role to play in the decision making of purchases and motivated businesses to purchase a product. More than 40% of survey correspondents admitted that they would purchase a product recommended by an influencer they follow.
---
44. Word of the Mouth and Social Media are Preferred Ways to Find New Products
Influencers are basically a combination of social media and word of the mouth and that's why they work well to promote new products and generate sales. American information data and market measurement firm Nielsen (Nielsen Holdings) report on Global Trust in Advertising and Brand Messages found out that 74% of consumers identify word of mouth as a key influencer in their purchasing decisions.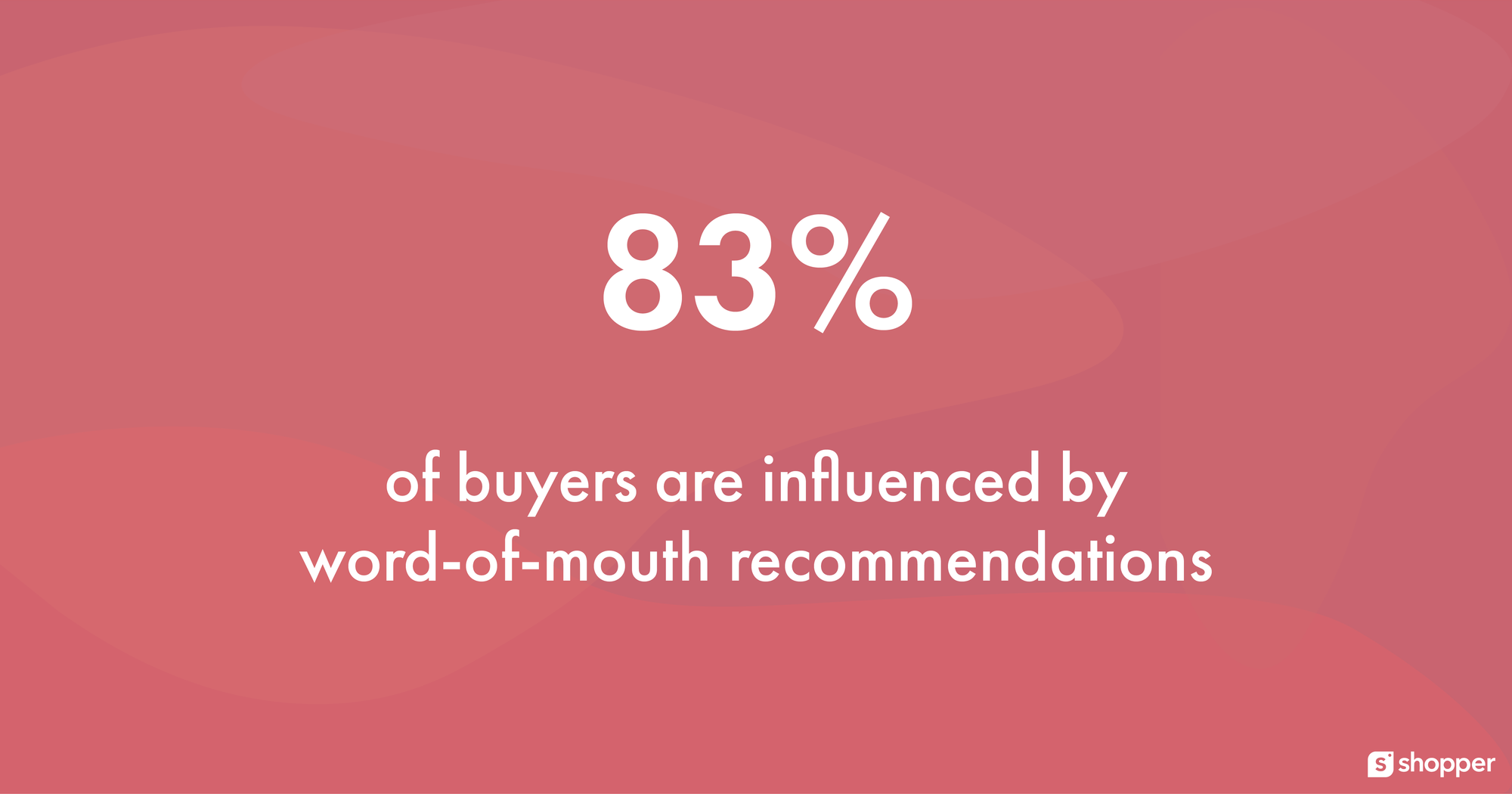 With Influencers now having a significant role to play in the decision making of online purchases, there is greater scope for marketers to make use of Influencer Marketing to improve sales.
---
45. Spotting Fake Followers and Algorithm Changes Will Continue to Challenge Marketers
As influencer marketing spreads its wing to fly higher, there are still challenges that marketers have to deal with on a regular basis. Based on the Mediakix survey on social media influencer statistics, spotting fake followers continues to be the common problem that 50% of marketers need to combat. This is closely followed by social algorithm changes reducing discoverability at 49%, and strategy concerns at 41%.
38% of marketers also confirmed that they are worried about the rising influencer costs.
---
46. Brand Collaborations Continue to be the Main Source of Revenue for Influencers
An influencer marketing trends survey which was jointly conducted by communication software company Vuelio and Canterbury Christ Church University has revealed that brand collaborations are considered by influencers as a primary source of revenue generation. Among the correspondents surveyed, 61% said that they charge for sponsored posts with 16% charging more than $670 per collaboration.
Another 9% of the correspondents who had partnerships with brands for extended durations said that they would charge more than $1300 for brand collaborations.
---
47. Social Selling Will Boost Influencer Marketing Campaigns to the Next Level
The increasing popularity of social selling combined with social networks platforms improving their features have also boosted influencer marketing campaigns to the next level. That's also a reason why brands continue to focus on multiple social media platforms even though TikTok and Instagram are two platforms with the largest scope and potential for influencer marketing.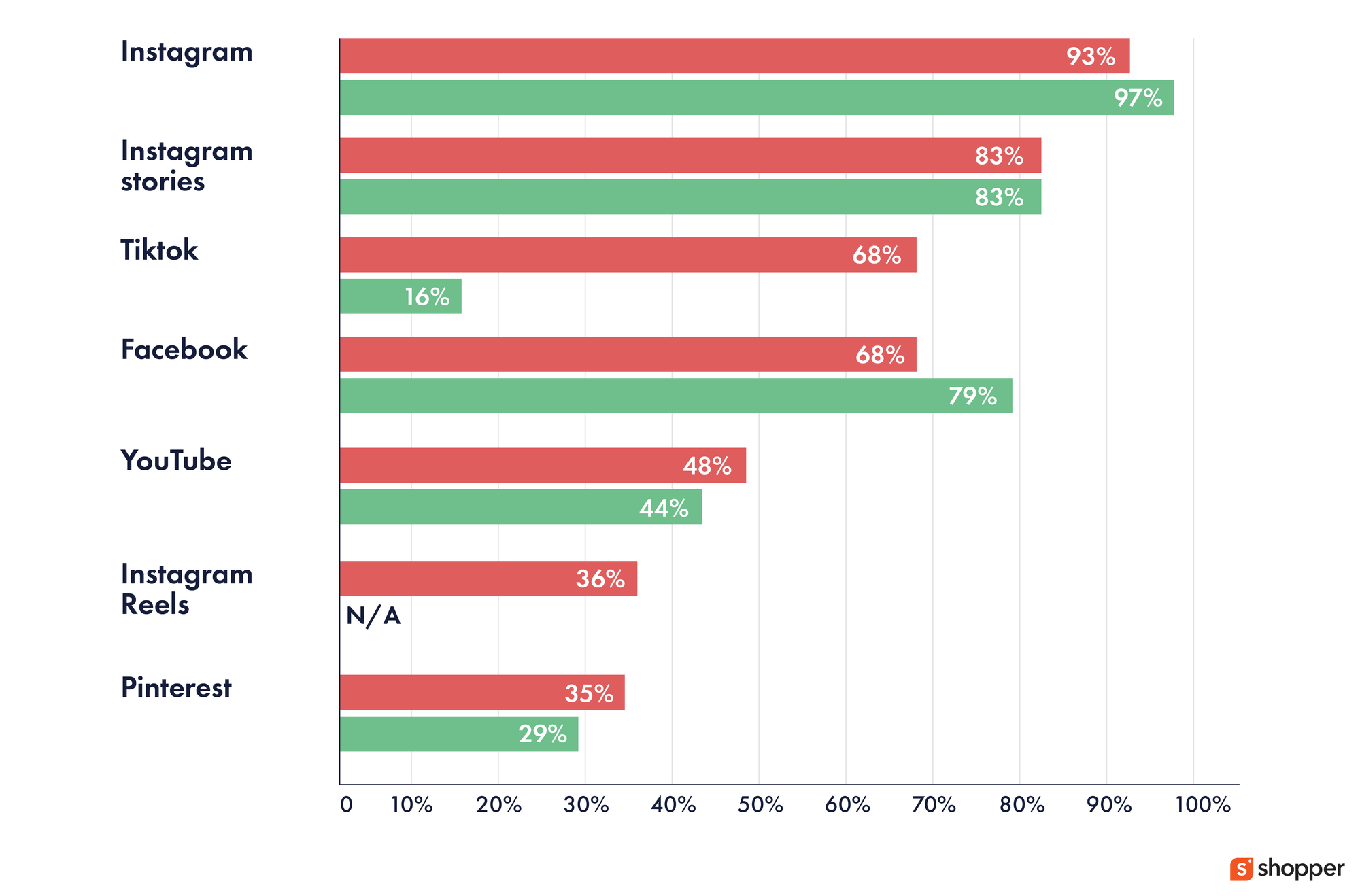 Based on the results from an influencer marketing statistics survey by Influencer Marketing Hub, Facebook use has decreased by 3% from last year, but YouTube and Linked usage have stayed the same. TikTok, Instagram and Twitch (which gained an increase of 8% more usage) are the winners as platforms with the most potential for influencer marketing.
---
48. The Number of Social Commerce Buyers Increased by 40%
The global social commerce market is also growing across the world and is estimated to grow up to two and a half times bigger which is roughly an increase of more than 40%. A study by leading consulting firm Accenture reported that the social commerce market which is at $492 billion as of 2021, will hit $1.2 trillion by 2025.
The pandemic accelerating the use of social platforms as an entry point for everything users do online is a crucial factor in this increase in social commerce.
---
49. Consumers Engage With Influencers Weekly Across Social Media Networks
Shopping decisions are now impacted by the interactions of consumers with their favourite creator or influencer that they follow. The pandemic increasing social media consumption rates has resulted in more than 90% consumers engaging with influencers weekly on Instagram, YouTube, TikTok and Snapchat.
Depending on the level of connection and engagement, influencers can convey the marketing message of brands they have partnerships with a friendly tone and convince their viewers to make purchases.
---
50. TikTok is Now The Fastest Growing Influencer Market in Social Media
TikTok is fast becoming one of the leading platforms for influencer marketing and continues its growth rate of 30% as we move into 2022. This is the second year in a row that TikTok has seen such an impressive growth in the number of monthly active users.
TikTok also has the most average engagement rates at 15% - 17% whereas Instagram only reported around 2.9% - 3.86% on average.
---
In summary...
Marketers should take advantage of all opportunities that can help them grow their brand.
Influencer marketing accomplishes exactly that and helps you get discovered on the internet.
With a solid strategy and knowing what to include and what to exclude, you can profit greatly from Influencer Marketing.