YouTube
10 British YouTubers That You Must Follow in 2023
Looking for some inspiration to launch your British YouTube Channel? Check out our comprehensive guide on 10 British YouTubers that you must follow in 2023!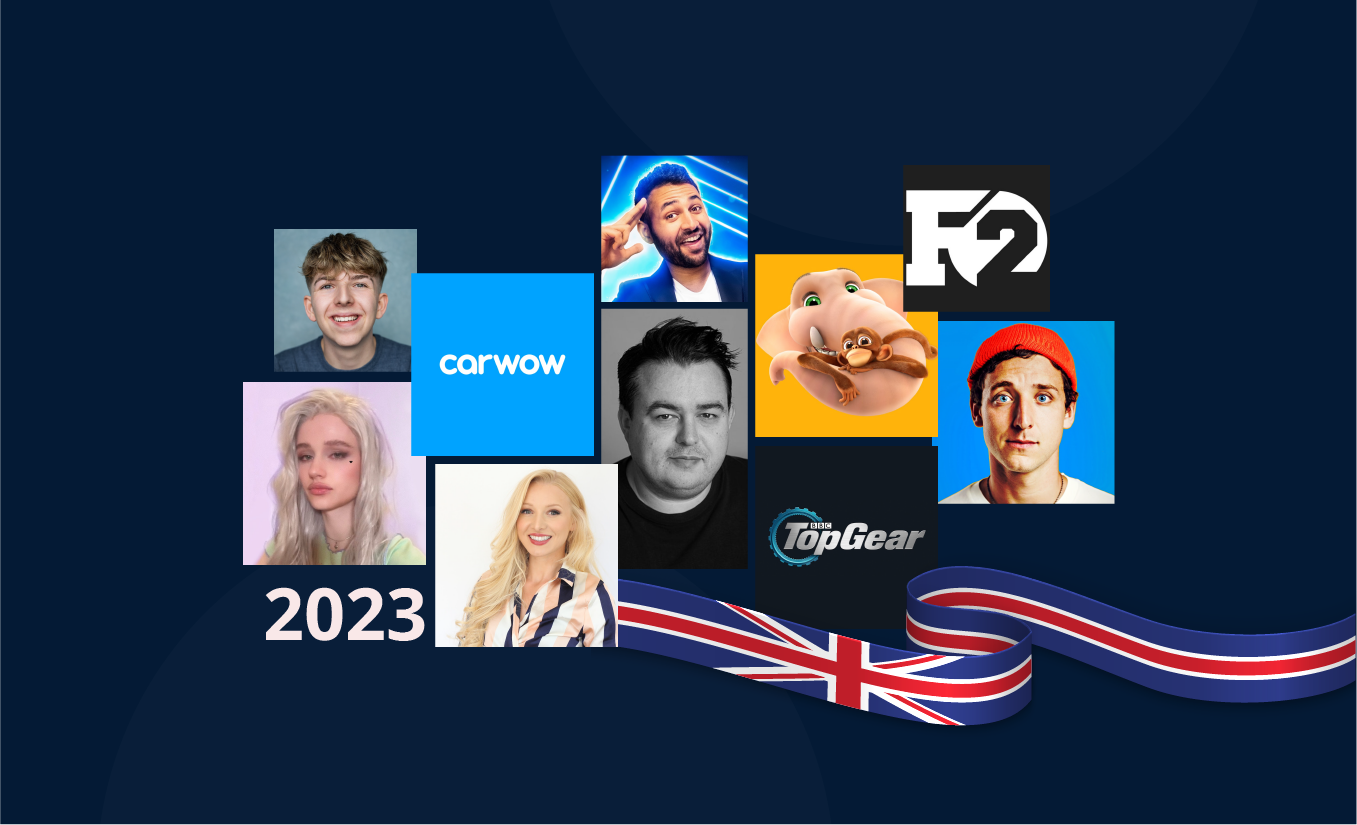 British YouTubers make some of the best quality content for YouTube. One of the best things about British YouTubers is that they create content in a wide range of niches.
Whether it's science, DIY, fashion, or daily vlogs, these top YouTubers from Britain make it their business to create engaging and entertaining video content for YouTube.
Our curated list of 10 British YouTubers that you must follow in 2023 is a great way to spend your quality time browsing some of the best content on YouTube:
1. Dan Rhodes
Daniel "Dan" Rhodes is a British YouTuber who is popular for his insane magic tricks on his YouTube channel Dan Rhodes.
Even though Dan started YouTube way back in 2015, it was the recent introduction on YouTube Shorts that projected him to become one of the fastest-growing British YouTubers out there today with his channel averaging around 100 million views every day.
The best thing about Dan Rhodes's YouTube channel is that you will never be short of content as he uploads a new magic trick video every day as a YouTube short.
With incredible upload consistency and unique content, there is reason to look forward to new videos from Dan Rhodes every day, making him the absolute best British YouTuber to check out in 2023!
2. F2Freestylers
If you are into football, you are going to love F2Freestylers, the YouTube channel run by Jeremy Alistair Lynch, and William Jonathan "Billy" Wingrove.
The channel which primarily uploads all things football content features some of the key players, coaches, and teams of English football, along with interesting football challenges as well.
In addition to offering engaging football challenges, F2Freestylers having guest appearances from famous football personalities and sharing their knowledge and insights on video is what makes their YouTube videos, even more exciting.
Both Billy and Jeremy started out as semi-professional football players but decided that freestyle football is what their passion should be and this is well reflected in the content for F2Freesylers.
3. Mrwhosetheboss
Arun Maini, better known online as Mrwhosetheboss is a British YouTuber who is known for his exclusive unboxing videos that feature cutting-edge tech, and useful reviews on the latest gadgets.
Mrwhosetheboss initially started uploading gaming videos to YouTube but decided to do a video about his first smartphone, a ZTE Blade that would change the course of his YouTube channel forever.
Most of his early videos that came out later featured reviews on smartphones.
Today, he uploads a wider scope of content that features anything and everything from smartphones, to consoles, fitness gadgets, fast charges, and many more.
However, the majority of his videos continue to focus on smartphone reviews.
If you are looking for a British YouTuber who can give you the best smartphone recommendations before you make that purchase, look no further than Mrwhosetheboss
4. Jungle Beat
If you have kids at home, Jungle Beat is one British YouTube channel that you should be frequently visiting when you are browsing through YouTube with kids.
This British YouTube channel features animation videos with two main characters - Munki and Trunk, a monkey-elephant best friends duo that live in a big and twisty tree in the jungle.
The animation series follows the adventures of Munki and Trunk who usually start looking for solutions to clear small problems like finding a shady spot to rest or watering a flower.
However, most of their adventures have major twists that result in Munki and Trunks escalating the adventure into extreme mayhem.
Their friendship always triumphs in the end and gives children a positive message on the importance of a solid foundation of trust and friendship!
5. English With Lucy
Lucy Bella Earl Simkins, better known as English with YouTube is a British YouTuber who is famous for her YouTube educational videos on grammar, vocabulary, and pronunciation of British English.
Lucy started her YouTube channel in 2016 while she was doing her final year of University and started uploading videos of her teaching English.
These videos immediately went viral and by 2017, she had already crossed 350K subscribers on English With Lucy.
If you are looking for British YouTube channels that can help you improve your British English, vocabulary, and grammar or simply know more about British culture, there are very few options better than English with Lucy on YouTube today.
6. Top Gear
Top Gear is one of the most popular international motor shows hosted by Chris Harris, Andrew Flintoff, and Paddy McGuiness.
When Top Gear initially shot to fame, the program was hosted by Jeremy Clarkson, Richard Hammond, and Chris May.
The motor show also has wide acceptance for their British YouTube channel, which now has more than 8.51 million subscribers.
Top Gear YouTube channel which covers everything related to cars features some of the best auto reviews and amazing clips from Top Gear episodes.
There are also star guest appearances from some of the best personalities in the automobile scene like Ken Block and his Hoonicorn, Freddie Flintoff bungee jumping off a bridge, and trailers from some of the new series.
Of course, the highlight of the YouTube channel continues to be the power laps of Stig, the anonymous driver who wears a full-white racing suit with a helmet that covers his face.
There are also occasional drag races between the Stig and other casts of Top Gear coming face to face with each other.
7. Daz Games
Darren "Daz" Black, better known online as Daz Games is one of the most engaging and entertaining British YouTubers who does try not to laugh at challenges, reaction videos, and sketch videos.
In addition to some of this content, Daz Games also does content like commentary walkthroughs, and playthroughs of popular games like GTA V, Sims, Uncharted 4, Minecraft, and many games.
Daz Games is also very active and posts anywhere from five to six times a week.
Interestingly, Daz Games did not initially start creating gaming content, even though his name is very suggestive of a gaming channel.
It was comedy sketches on the social network platform 'Vine' that initially projected him to fame.
However thanks to his engaging and entertaining horror game walkthroughs, along with his following from Vine, he managed to replicate a similar audience on his British YouTube channel.
8. Julius Dein
Julius Dein is a British YouTuber, popular for his magic tricks and hilarious comedy videos.
Julius combines everything from street magic, to interactive magic tricks with an engaged audience on whom he does his magic tricks.
Regardless of whether you are looking for some content to relax watching, or want to get mesmerized by superior magic tricks, Julius Dein has the answers to your queries.
The style of Julius is a mix of modern-day magic, combined with a mix of street magic in new places, which makes it a perfect combination of video content on YouTube.
In addition to creating videos on YouTube, Julius Dein also loves traveling to new places and has performed magic tricks in more than 50 countries and more than 1000 international events.
With more than 8 million subscribers, Julius Dein is one of the most subscribed British YouTubers out there today.
9. Carwow
Carwow is one of the most popular car comparisons and buying sites in the United Kingdom.
If you want to sell your car or buy a new car, but are not sure about which one to choose, you need to visit the Carwow YouTube channel today.
Buy or sell with more than 3000 trusted dealers through Carwow.
In addition to reviews, Carwow also offers more details about cars like car prices, comparison between petrol cars and electric ones, drag racing videos between cars in the same class, and all other forms of comparison between cars.
Carwow is also home to one of the biggest networks of dealers that bid to buy a new car, sell your next car, and simply get a great price.
All videos on this British YouTube channel are hosted by Mat Watson who also does a fair job of offering great advice on cars, more information about tuning mods, car trends, and many more.
10. Julia Gisella
Julia Gisella is a British YouTuber who is popular for her let's draw and other creative videos in which she draws and mixes celebrities.
Even though she has more than 7 million subscribers on YouTube today, she initially shot to fame through her TikTok account which has amassed more than 12 million fans of late.
Julia started drawing and painting at around 4 years old.
That's what motivated Julia to start creating videos for social media accounts. Initially, Julia started creating videos for her TikTok account, but she would later move on to YouTube.
Julia is a self-taught artist who does not have any formal training in drawing and art, but she has now mastered a wide range of art techniques and works on a variety of original artworks, prints, and is open for commissions and collaborations.
If you are looking for a British YouTuber that creates artwork and let's draw videos, you must check out Julia Gisella.